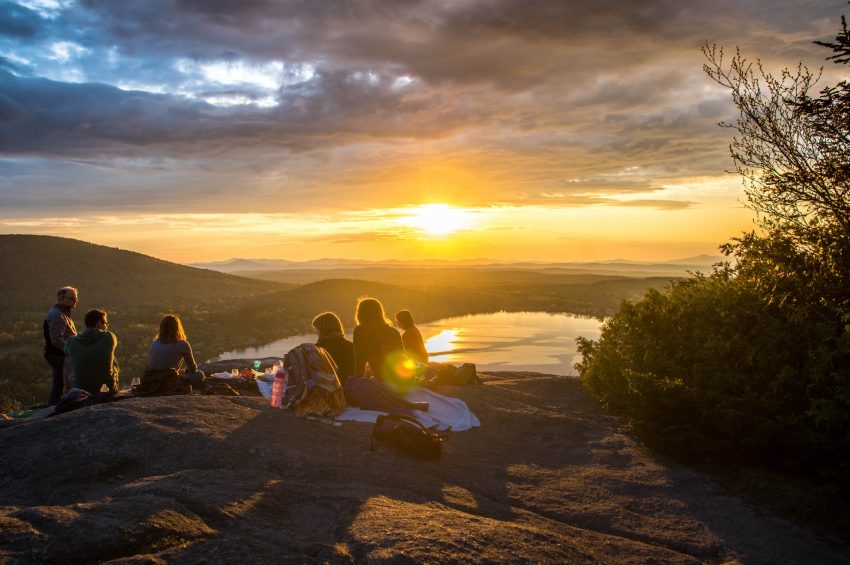 Disclamer: This is a guest post by Hussain from Hiker Needs. You can also visit his pinterest board.
Camping is a wonderful experience that's enjoyed by people of all ages. There's nothing quite like setting out into the woods for a relaxing evening or two away from the demands of your technologically inclined life.

Seniors may have some hurdles to overcome when they go camping. Physically, you may not be as strong as you used to be, and your body probably won't enjoy sleeping in a sleeping bag on the hard ground as it used to.

That doesn't mean that seniors can't enjoy a camping trip! With the right tips, you'll find yourself forgetting about the limitations of age and enjoying the great outdoors stress-free. Read on to discover the best camping tips for seniors.
Tip #1 Get an Easy to Assemble Tent
Setting up a tent can feel strenuous and won't be an easy task for seniors. Bending down to connect the poles and stake them into the ground is physically laborious and can leave you feeling exhausted and sore.

That's why it's so important for seniors to get a tent that's easy to assemble. Seniors will do best with a tent that does most of the work for you. A great option for seniors is pop-up tents.

They're usually lightweight, and super easy to assemble. All you need to do is open the bag, take the tent out, and toss it into the air. Your tent will pop up into its proper shape within seconds! This saves you invaluable time and effort.
Tip #2 Have Support
One of the biggest joys of camping is the activities that you participate in while you're at your campsite. Whether you enjoy fishing, hiking, bird-watching, or simply going for a short stroll, it's important to bring along some walking support.

There are tons of great options for walking poles for seniors, and the benefits are enormous. Having a walking stick or pole will take most of the strain off of your joints while you're walking.

Most seniors struggle with arthritis and joint pain, especially in the knees or ankles. Using a walking stick or pole will allow you to shift your weight so that it doesn't all fall on your most sensitive joints. This will enable you to walk easier and for longer distances.
Tip #3 Bring a Sleeping Pad
Maybe in your younger years, you enjoyed rolling out your sleeping bag and enjoying a night right on the ground, but most seniors will find this uncomfortable. Sleeping bags offer very little in the way of support for your body, and especially your back.

A great solution to this is to bring along a sleeping pad. They'll help cushion your weight and allow you to get a more comfortable night's sleep. They aren't heavy or difficult to use. All you need to do is roll it out and place your sleeping bag on top.

Bringing a sleeping pad is an important camping tip for seniors because the benefits can't be understated. As the years pile on, so do the pounds in many cases, and a sleeping pad will help you enjoy camping while fat and at an older age!
Tip #4 Double-Check Your Pack
As the years roll by, most people's memories will fade. It's an unfortunate fact of life and a struggle that many seniors deal with. It can affect your camping trip if you leave behind needed medications or essential gear.

You should always double-check that you have everything you need before setting out camping. Write out a list before you start packing, and refer to that list as you check your pack.

If you're going camping with family or friends then have them help you out too. Make sure everyone knows what you need to bring, and let them check your pack before you head out.
Tip #5 Choose Your Campsite Wisely
Some campers pick their site based on the activities they have available, or the hiking trails that are nearby. While these are all perfectly valid considerations for choosing your campsite, seniors should take a little more care when scouting out potential campsites.

Some campsites are going to be more senior-friendly than others, and there are a few things you should look out for. The first is the distances. Do they offer shorter walking trails? Is the distance from your campsite to the amenities you're planning on using reasonable? Can you drive up to your campsite, or at least very close by?

These are all excellent questions seniors should be asking themselves. If you can't determine this information by looking at the campsite online, then feel free to call and even go visit the campsite ahead of time. This way you'll know the layout of the campsite ahead of time and can plan accordingly.
Tip #6 Bring Extra Layers
Seniors tend to be more sensitive to temperatures than others, and you'll be able to feel this more potently when you're outside. Even if you're camping in the summer, temperatures can still drop more than 10 degrees at night.

The last thing you want is to be shivering all night long, so it's important to bring extra layers and blankets to keep warm. Don't assume that the weather is going to hold just because the forecasters said so.

As most seasoned campers know, weather can change on a dime. So, don't feel shy about bringing extra sweaters, blankets, jackets, or even a scarf and gloves! There's no reason to compromise on your comfort and if you're not sure if you're going to need something or not- then bring it anyway. It's always better to be safe than sorry.
Tip #7 Bring a Chair
Many campers feel that one of the best parts of camping is being a part of nature. That means sitting right on the ground or using a log or stump to rest on for a minute. Most seniors won't be able to do this comfortably, and it can turn your relaxing trip into a painful experience.

Instead, bring along some solid camping chairs. A good camping chair will be light, made of comfortable material that is easy to wash and offers plenty of support. You can set up your camping chair right in front of your tent, or pack it in its bag and bring it with you when you go for walks.

This will keep you comfortable and give you the ability to rest whenever you want without having to worry about heaving yourself on and off the ground. A good camping chair won't be expensive, and it will save your body a ton of stress.
Final Thoughts
Camping is an experience that everyone can enjoy. Whether you're young, old, fat, skinny, have limitations, or don't, there's always a way for you to enjoy the great outdoors. All you need are the right tools and tips to help you make the most out of your camping trip. These camping tips for seniors will help you transform your camping trip from one fraught with worry to one of complete relaxation.

About the Author
Hussain from Hiker Needs is a passionate hiker and traveler that loves the outdoors and enjoys what nature has to give, whenever he can he loves to write and give tips & honest reviews to help others get outdoors and just seek more unforgettable experiences. You can find him for more on Pinterest as well.