Missouri offers a wealth of natural beauty. The state is a haven for camping sites, thanks to the abundant natural beauty. There are over 3591 campsites spread across the state, and more than a thousand miles of trails to enjoy. Nature lovers can fawn over the 6 National Parks and 56 State Parks in the state. Clearly, there is an abundance of options. Let's look at 15 sites for the best camping experience in Missouri and enjoy the wonders of nature.
15 Best Campgrounds And Camping Sites In Missouri
1. St. Louis West / Historic Route 66 KOA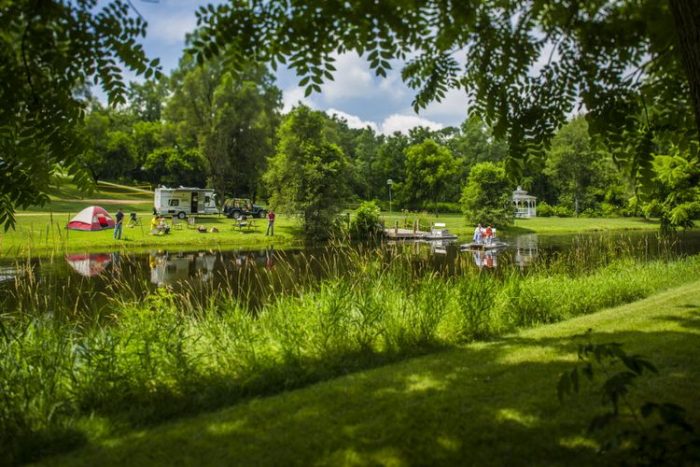 With all its amenities and options, Historic Route 66 KOA is an excellent place for a family vacation. A well-known site from Kampgrounds of America, this one could almost be a resort. Even so, it has kept in touch with the basic feel and expectations you could have from a campsite.
There are a lot of fun family activities to enjoy. Amenities available make this place more desirable, especially if you're traveling with kids. In the list of available services, you'll find electricity, cable TV, and Wifi. Conventional facilities include firewood and propane. Hell, they've even got a heated pool!
Covering everything from basic tent sites to RVs and lodging, Route 66 KOA has excellent value for families on vacation. There are a lot of features directed at kids, and they will love this place.
2. Meramec State Park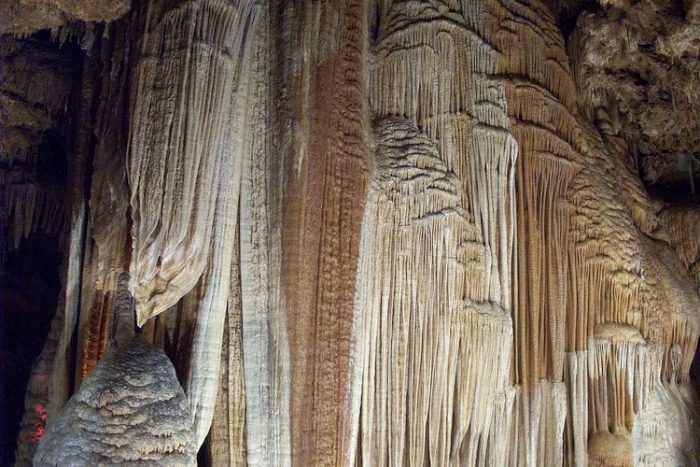 Caves at Meramec State Park are an amazing sight to behold. Views at this state park are exemplary, but the presence of its much-adulated caves makes it a unique experience. Camping enthusiasts throng to this state park.
That presence has resulted in several campgrounds coming up in the area. There are three primary campgrounds and a group tent camping area available in the park. All of them have electricity, water, showers, and restrooms available. While electricity is available year round, some other facilities are not available in the winter. Most of the amenities are available between April 1 – October 31.
To keep things more lively, the park also offers biking, walking, and backpacking trails. You can also find some great fishing spots or take a canoe down the river. There's a restaurant available as well, in case you don't want to carry your own food.
3. America's Best Campground
Located in Branson, America's Best Campground lets you enjoy your stay in luxury. Amenities include electricity, wifi, satellite TV, laundry, pool, and a spa, among others. Patrons can bring their RVs to the campground or rent a cabin.
There are plenty of things that children and adults can enjoy in this campground. Bear in mind, this is not a rustic campground that would be seen conventional. This is a luxurious campground.
4. Bennett Spring State Park

Bennett Spring State Park is one of the most visited and best campgrounds in Missouri. The major attraction of this state park are its clear waters. About 100,000 gallons of water flows through the stream every day. The water is rich with rainbow trout, and that too attracts many people to this state park.
There are five campgrounds in the park. Campground 1 is open throughout the year, but has water available only April 15 through October 15. The other campgrounds are open during the park's on-season. Amenities available in the campgrounds include water, electricity, and restrooms. You can also enjoy meals at the park's restaurant. It is open during the season and offers a diverse menu to patrons.
As you can guess, water plays a big part in these campgrounds. Visitors can enjoy fishing, rafting, canoeing, and kayaking. There are trails available for hiking as well, with the largest going for 7.5 miles.
5. Table Rock State Park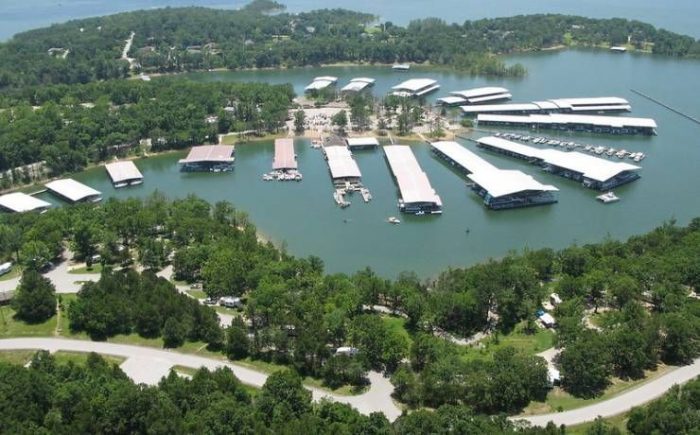 Table Rock State Park has a beautiful setting and a very accessible location. Located in Branson and along the shoreline of Table Rock Lake, this park has a lot to offer. There are two campsites available, both offering electricity, showers, water, restrooms, etc. Although water is available only during the on-season from March 1 to November 30. There's enough room for tents and RV hookups, and if you want something luxurious, they even have a yurt!
As for activities available… well, take your pick! Visitors to the park can enjoy biking or hiking trails. There is a lot more to do if you enjoy water! There are two marinas in this park. You can rent boats for fishing, or get ski boats, paddleboards, even catamarans! And that's just to name a few things you can do at this park.
6. St. Joe State Park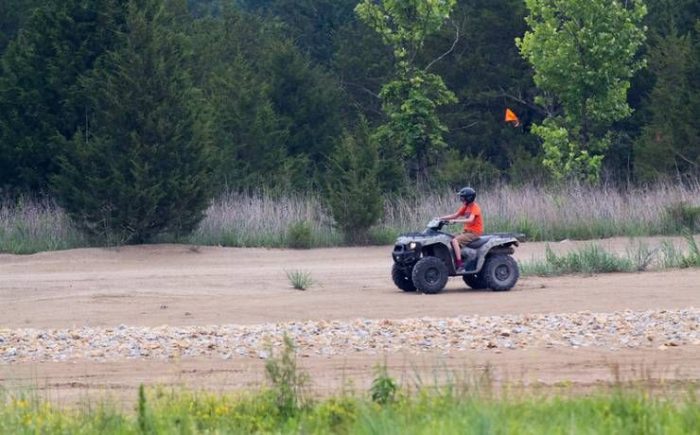 Do you enjoy ATVs? St. Joe State Park is the way to go. This is one of the two parks that has special trails built specifically for ATV enthusiasts. These special off-roading vehicle areas and trails add a special attraction to this park. Other notable activities include horse-riding, hiking and bicycling trail, and a water trail.
Presence of four lakes in the park also provides opportunities for fishing and swimming. Those into bird-watching /ornithology certainly will find something of interest in the 138 bird species that inhabit this park.
Overall, there are two camping sites available at St. Joe State Park, plus arrangements for ORVs and horses. Electricity, water, showers, restrooms and other amenities are available at campground 1. However, water is available only during the on-season from April 1 – October 31.
7. Sam A Baker State Park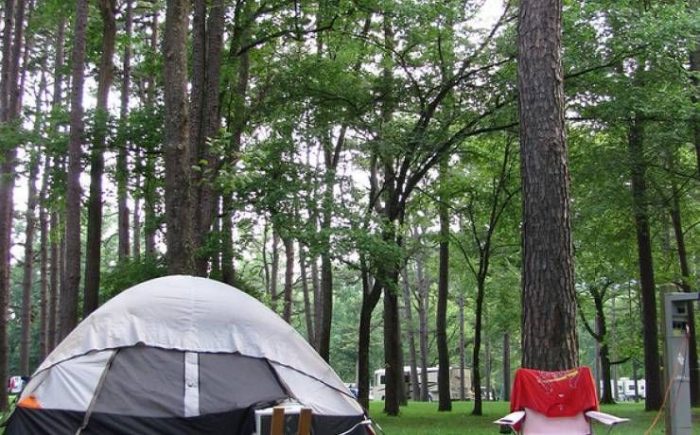 Sam A Baker State Park sprawls across 5,000 acres in the St. Francois mountains. One of the busiest state parks in terms of visitor traffic, this state park offers wonderful natural landscapes, mountains, streams, and creaks.
Several trails are available, as well as those meant specifically for hikers, bikers, and horse-riders. There are two campgrounds available, and one Equestrian Campground. Visitors can also rent cabins.
8. Echo Bluff State Park
The scenic cliffs of the Echo Bluff State Park, which give the park its name, won't fail to catch your attention. These cliffs rise majestically along the side of the Sinking Creek. Biggest attractions for visitors to the park are swimming, fishing, and hiking.
One large campground is available to visitors, with access to 74 camping sites. Should you prefer a bit more comfort, you can choose the cabin instead. Those looking for luxury can stay at the Betty Lea Lodge. As the park puts it, "camping opportunities range from primitive to full-service campsites".
Echo Bluff State Park also has arrangements for special events, and an amphitheater for some occasions. If you're interested in birds or wildlife, the park is home to 105 bird species.
9. St. Peters' 370 Lakeside Park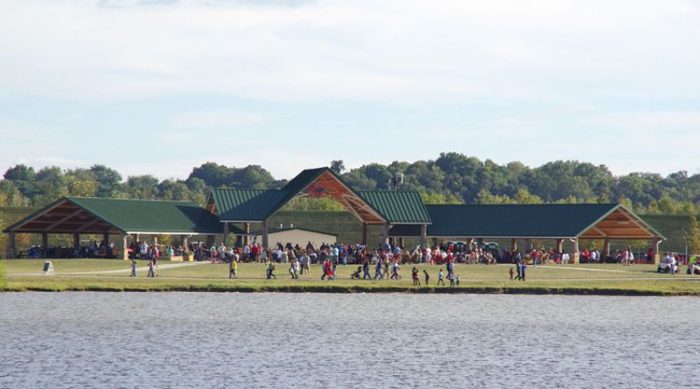 Located in St. Peters, the 370 Lakeside Park is a nice site for family camping and fun activities. The park is spread over 300 acres, including a 140-acre lake. As you can guess, there are plenty of water activities available at this park. You can't use anything with engines, but there's still room for kayaks, canoes, and paddleboats. Visitors can also enjoy fishing.
The campgrounds have room for RVs and tents, though the preference here seems to be more towards RVs. Other noteworthy activities and amenities include an archery range and a sprayground. The campgrounds also contain a dog park, which is split into a large dog park and a small dog park.
10. Roaring River State Park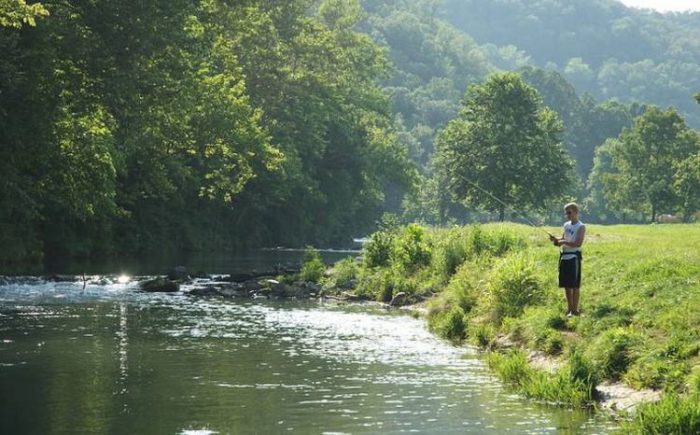 Roaring River State Park is a wonderful site, especially for those fond of fishing. Located in the southwest Ozark hills, Roaring River is one of the three destinations in Missouri that have Rainbow Trout. The abundance of fishing spots and opportunities brings enthusiastic visitors to this park every year. There are different zones for fishing, and those with licenses must stick to the approved and marked spots.
Of course, it isn't just fishing they have to offer. The scenic and beautiful sights of the park are also available to be explored via hiking trails. Visitors can also enjoy swimming pools and swimming areas, and picnic spots.
There are three campsites available, each with basic amenities at the least. Campsite 1 is available throughout the year, but the others are available only in the on-season. Roaring River State Park has its on-season from end of February to the end of October.
11. Dr. Edmund A. Babler Memorial State Park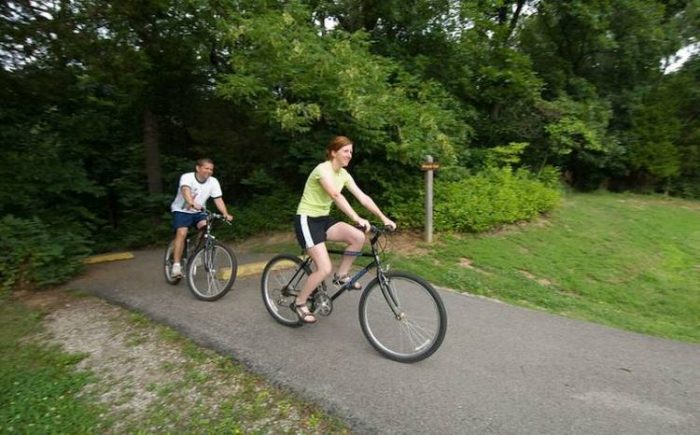 Located close to St. Louis, Dr. Edmund A. Babler Memorial State Park is one of the busier state parks in Missouri. The beautifully maintained park has several interesting trails for hikers. A 1.75-mile long paved bicycle path is shared between hikers and bicycles. Should you have a deeper interest in horse-riding, you will enjoy the 6-mile long Equestrian Trail that presents some amazing scenic views.
June through August is a good time for a family vacation in this park. It is in the middle of the on-season, and you can also enjoy programs at the park's amphitheater. One campground is available in the park, with several amenities. However, availability of showers and water is limited to the on-season of the park, which lasts from April to October.
12. Thousand Hills State Park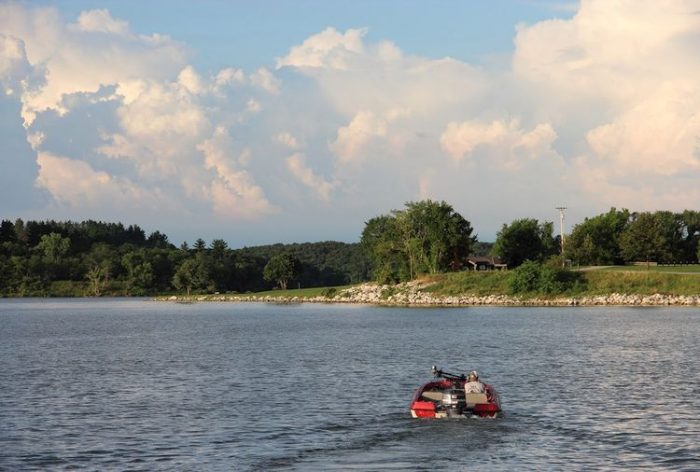 This is the park to enjoy nature and perhaps even explore a part of ancient human history. Thousand Hills State Park shows off petroglyphs that were made more than 1500 years ago. These rocks offer a unique view of the inhabitants of the region during that time.
The petroglyphs are a curiosity and an attraction, but camping enthusiasts are more enamored by the natural beauty of this state park. Lake Forest is the major attraction, and visitors can enjoy fishing, swimming, and boating. For those whose interests lie beyond the waters, the park offers excellent hiking trails. Mountain biking enthusiasts will find trails to their taste. There's abundant wildlife in the park.
Visitors can choose to live in cabins or take the conventional route to tents. Two campsites are available. Campground 1 is the main site with several available amenities and stays open throughout the year. Campground 2 has somewhat limited amenities in comparison, and is available only during the on-season that lasts from April to October.
13. Alley Spring Campground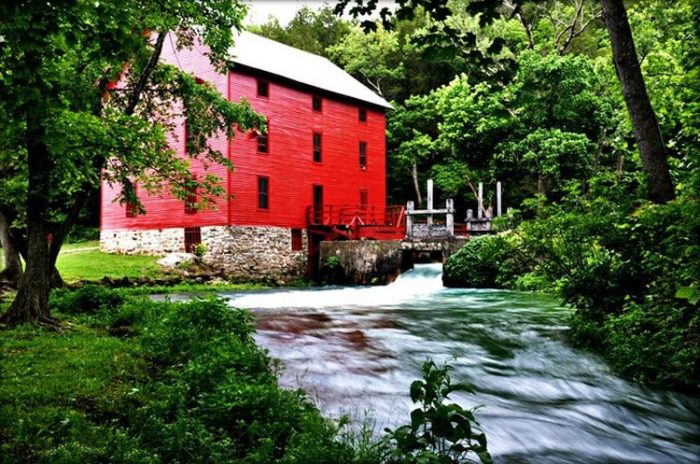 Alley Spring is a part of the Ozark National Scenic Riverways, which have their origin within this park. Incidentally, this was also the first national park to protect a river system. There are several caves in this park that are available for exploration by visitors. The scenic beauty here is second to none, and does not fail to capture the imagination.
There are several activities for visitors to enjoy. These include fishing, swimming, hunting, hiking, boating, biking, horseback riding, etc. Camping is available throughout the year. However, some amenities like flush toilets and showers are available only during the on-season that lasts from April 15 to October 15.
14. Shadow Rock Park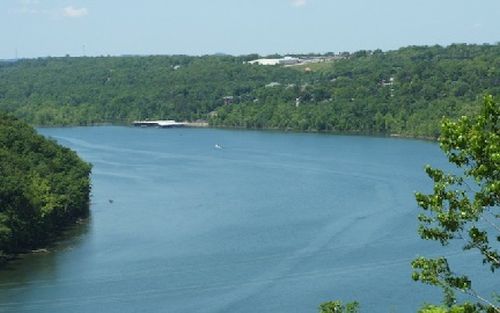 Shadow Rock Park and campground is located in Forsyth. The park is located along the shoreline of the Bull Shoals Lake. As such, you can imagine that water activities form a major attraction for the park. It also serves as the main recreational hub for the surrounding area.
The tent camping sites available go from the bare-boned tents without electricity or water, to those with water, electric, and sewer facilities available. There's also room for RVs. Since the park is located along a lake, swimming and boating are available as activities. Should you want something more, you can have access to playgrounds, picnic spots, and tennis courts.
15. Lake of the Ozarks State Park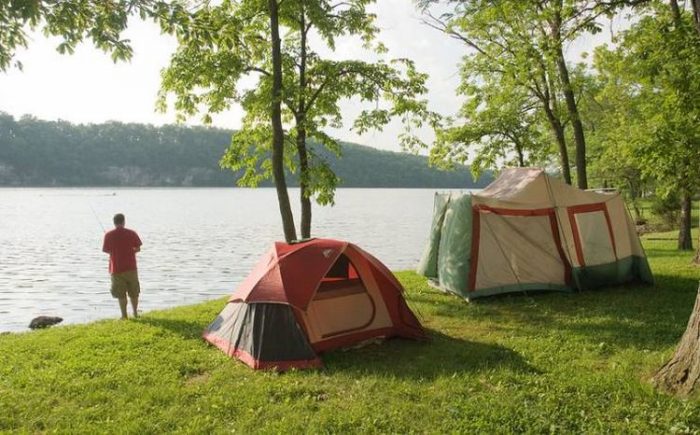 Arguably the most popular state park in Missouri, Lake of Ozarks has no dearth of day visitors and camping enthusiasts. Some even consider this as the unofficial party destination of Missouri. There is a lot on offer in this park, and it can be an excellent family vacation, or even the place for a rewarding hiking trip alone.
Activities include fishing, swimming, and boating. Several rewarding trails are available for hikers and backpackers, that highlight the abundant beauty of this state park. There's a lot to explore, and a lot to enjoy. Those interested in bicycling and horseback riding will find some trails fit for their specific pursuits. Other worthy attractions in this park include caves, rock climbing, and well-situated picnic spots. The park even allows metal detecting.
Visitors can stay in outpost cabins and yurts that are available throughout the year. Our main interest, however, is in the best camping sites available. To that end, the park offers four campgrounds, each available around the year. The campgrounds vary slightly in terms of amenities available. Showers are available only during the on-season. For sites 1 and 4, this goes from March to November. For sites 2 and 3, the season is from April to October.