Osprey Porter 46 and Osprey Farpoint 40 are both remarkable backpacks. Since these are different models/products, there is an inherent difference in design. We take both backpacks to a review and comparison to see how they perform. Our Osprey Porter 46 vs Farpoint 40 comparison isn't so much a battle of the backpacks. It's a nuanced look at both to see their best use-cases, and if they're worth their respective price tags.
Osprey Farpoint 40 Pros And Cons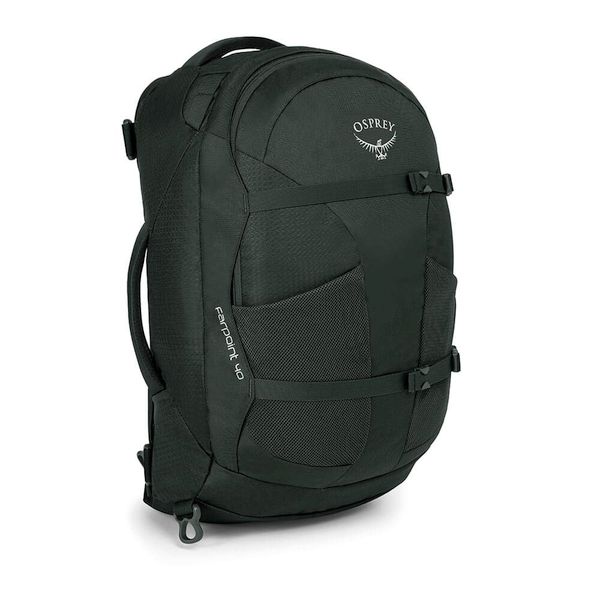 Pros
Very comfortable
Good storage space
Several pockets for storage
External compression straps can be very useful
Compatible with most airlines as carry-on luggage
Cons
Laptop pocket location is inconvenient and feels incorrect
When completely filled, the main compartment takes over space from other compartments
Osprey Porter 46 Pros And Cons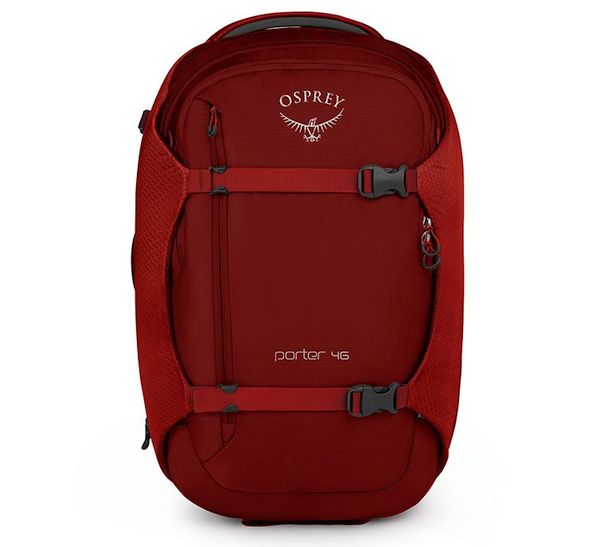 Pros
Excellent storage organization
Laptop sleeve at the back of the backpack
Plenty of space
Compatible with Daylite daypack
External compression straps come in handy
Cons
Harness is not as comfortable, making it difficult to carry the backpack for longer times
No water bottle holders
Osprey Farpoint 40 Review — The Backpack For Comfort
Specifications For Farpoint 40
Osprey makes the Farpoint 40 available in two sizes. These sizes, along with the advised torso length and volume/storage are:
S/M – 15 – 19 inches, 38-Liters
M/L – 18 – 22 inches, 40-Liters
As you can see, there is only a small difference between both sizes. But any backpacker knows that extra 2-liters can be significant. This small change in volume is also characterized by the small change in dimensions. For the general purpose in this review, we'll stick to the 40-liter backpack, unless otherwise specified.
The S/M Osprey Farpoint 40 measures 20H X 14W X 8D (inches). The M/L version comes in at 21H X 14W X 9D (inches). Small as the change in dimensions and capacity is, the weight follows a similar trend, going from 3.11 lbs for the S/M to 3.17 lbs for the M/L.
The material used in the construction of the Farpoint 40 is 210D Nylon and ripstop. Both of these are strong, high-quality, and durable materials. You can expect this bag to last fairly long in terms of normal usage.
Where aesthetics are concerned, the looks of this bag aren't anything to write home about. It is fairly normal in its appearance. It is the structure and use that make it one of the best travel backpacks available.
Storage
Storage is the primary factor where we consider the usefulness of a backpack. Osprey Farpoint 40 has a clamshell-style and opens all the way from top to bottom. This makes packing and unpacking a lot more convenient.
Consider the conventional top-loading backpacks. They have their advantages, but things would be oh-so-convenient if the bag opened up like a clamshell. There's a good reason that doesn't happen, but one can dream.
Coming back to the topic, the main storage compartment offers easy organization once you open it up. I'm tempted to use packing cubes and perhaps get some extra compression. It isn't always necessary, but worth noting as an option.
Once the backpack is opened, an internal mesh pocket is also visible. This pocket is located on the backside of the front face and is accessible from the main compartment. It is good enough to be used for small things you want to store separately. Bulkier things should go into the main compartment, while the flatter items should make their way to this mesh compartment.
Farpoint 40 has its laptop and tablet sleeve located towards the front of the backpack. The compartments are lockable and can hold a 15.6-inch laptop and a 10-inch tablet. Both these sleeves have some padding to make sure the devices are protected. I'm not a fan of the arrangement of the laptop sleeve. It feels just wrong.
Other noteworthy storage options include two mesh water holders on the front, and a soft-line slash pocket at the front face of the backpack.
Harness And Comfort
Osprey Farpoint 40 is impressive overall, but if there is one area where this backpack excels, it is comfort. The harness is excellent and works beautifully at distributing weight. You should be able to comfortably carry your backpack on your back! Farpoint 40 can be carried on the back with ease and stays comfortable.
Shoulder straps on this backpack are wide and well-padded. The thick straps sit conveniently on the shoulders of the user, and steer clear of causing pain or inconvenience. Moving further, the padding is mesh and foam. Designed to keep the user comfortable and well-ventilated, the company has put in a healthy dose of mesh foam throughout the contact areas. Your back, shoulders, and waist are all covered with generous layers of padding.
Convenience Of Use With The Farpoint 40
With the focus on comfort, convenience isn't left behind. There are some great features here, like the three carry handles. Strategically placed carry handles let the Osprey Farpoint 40 be used as a backpack, briefcase, and duffel bag. All these handles are padded and feel comfortable when used.
Of course, the primary use stays as a backpack. But there are times when you may need to carry or grab hold of your backpack in different positions. The handles also make it convenient to pick the backpack out of the overhead compartment of an airplane.
When you use the backpack as a suitcase or duffel bag, you certainly don't want the harness, straps, and flaps flying around. To that end, all the aforementioned can be hidden away in the stowaway flap, making things more convenient. These are small things, but they make all the distance in the world!
One big problem with the Farpoint 40 in terms of convenience is the location of the laptop pocket. Placing the pocket at the front-end imbalances the bag to a degree. The weight of the laptop pulls the bag, and does not feel convenient at all. It would fair better placed closer to the back. However, if you don't intend to carry a laptop, that problem goes away; so does the need of a laptop pocket.
Similarly, while the two mesh pockets are useful for carrying water bottles, they become less useful once the bag is fully packed. The packed bag pushes against these pockets, and it becomes difficult to place bottles there. At this point, they'd be more suitable for random tidbits rather than water bottles.
Check size and pricing options for Osprey Farpoint 40 on Amazon
About The Osprey Fairview 40
Osprey Farpoint 40 is designed as a backpack for men. The women's analog for this backpack is Fairview 40. As far as features go, there aren't many differences between the two. Fairview 40 keeps in line with Osprey's "Custom FIt Philosophy". These bags are therefore designed to complement the physical form of women.
Generally speaking, this means the pack goes narrower with added depth, and the shoulder straps get somewhat different angles and padding. The same goes for the hip belt. Overall, the shape of the bag takes a form more suitable to the female body.
Buy the Osprey Fairview 40 on Amazon
Measuring Your Torso Size
In case you are unsure, here's how you can go about measuring your torso. The torso size is the distance between your C7 Vertebra and the Iliac Crest (top of your hip bone). To find the C7 vertebra, stand with your chin placed against your chest. Feel around your neck; the large protruding bone is the C7 vertebra. For the Iliac Crest, feel the top of your hip bone on the side of your body.
The distance between these two, measured along the spinal cord is the length of your torso. It might be easier to have the measurements done at a store or have your friend do it. Another way is to use a string tied on a finger. Put this finger at one point, then take the string in your other hand and place it against the next point. Measure the string!
When in doubt, always go for the smaller size. Picking the larger size will not let the pack distribute its weight on your hips.
Osprey Porter 46 Review — Backpack For Organization
Specifications For Porter 46
Osprey Porter 46 is available in a one size fits all setting. Although, there are other versions available for different volumes, like the Osprey Porter 30, which is a smaller bag. As its name implies, the Osprey Porter 46 holds 46-liters. It has slightly more space than the Farpoint 40, and it makes good use of the available space. Comfort is high on the agenda of Farpoint, the Porter is more about organization.
Overall dimensions of the bag are 22H X 14W X 11D (inches) and it weighs 3.4 lbs. It is significantly heavier than the Farpoint 40, but then it has more space as well. The fabric used on the Porter 46 is 420HD nylon packcloth, while the accent and bottom get 420D nylon ripstop. This is a durable and high-quality fabric, exactly something you would expect from a backpack like this.
This one isn't a killer when it comes to aesthetics either, but it too has functional qualities that make it desirable. And of course, none of these two backpacks have a poor aesthetic. They simply look average, which isn't a bad thing.
Storage
Storage options are the time to shine for the Osprey Porter 46. It has a large volume to store plenty of things, and this backpack makes it a point to store them all well. The bag has a clamshell-style and opens up all the way from top to bottom. This makes it very convenient to pack and unpack the backpack.
Once you open it up, you'll be led straight to the main storage. Use it up as you will, and throw in all the things you want to carry. Using packing cubes for compression is a good idea, though there's no harm in packing it all up in one go either. The storage at least appears to be more than the 46-liters on offer. Depending on how deftly you pack it, there's more value to be had.
There's a side mesh pocket with the main compartment for storage. It doesn't offer a lot of space, but it can be used to store some things for quick access. Just behind the main compartment is the sleeve for your laptop and tablet. The laptop sleeve measures 15-inches, while the tablet goes to 10-inches.
Porter 46's front panel organization compartment offers great space to store your stuff while also keeping it well-organized. The travel organizer has a good amount of space and is easy to access. Things that you may need quickly, without fumbling around in the luggage are better stored here.
But that's not all, there's a front compartment, accessible directly using the vertical zipper at the front. Then there's the top pocket that can be used to store a fair amount of stuff. It can be used to better organize the luggage. The pocket is big enough to hold the shoes, so you have a lot of space to work with.
Harness And Comfort
This is one section where the Porter lags a bit. It is not terrible, it just isn't at the top of its game where comfort is concerned. The harness is obviously a big part of this problem. It almost feels like the company swore off foam and padding while manufacturing this one.
The shoulder straps aren't as well padded and broad as expected. For a backpack that is supposed to be packed heavy, the harness certainly could be more comfortable. The theme of the shoulder straps continues on to the back, where there is no padding. Some of this could be excusable, considering the laptop sits right against the back of the user. Still, I believe the harness could be improved in comfort by leaps and bounds.
Hip belt on the Porter 46 does get some padding. So… yay. It isn't quite as fluffy as the weight would demand, but it can be accepted without much problem. As a backpack, this isn't really that comfortable to carry. You could easily walk around with one for several minutes, and those minutes are about the best use you'll get. This is not the backpack you want on your back the entire time you're out hiking. It is however, one you want for traveling. Some airlines may not accept this backpack for carry-on luggage. It's better to check up on this. But if necessary, you can use the compression straps and try to get the dimensions of the backpack in line with the airline's policies.
Convenience Of Use
Porter 46 comes with three handy carry options – backpack, briefcase and duffel bag. There are conveniently placed and well-protected, so your hand does not feel uncomfortable holding them in this position. Of course, you don't want those harness things splashing about as you carry the bag as a suitcase. That's one reason to be thankful for the stowaway strap.
There isn't much available by way of external mesh pockets. So you can imagine this backpack does pose some challenges to the way of hiking. Although, on the plus side, it does offer a lot in terms of usage and storage.
Not having a good harness is a reason that convenience and comfort go down. The pack does fit nicely. In the absence of padding and the presence of thin straps, the user can't carry it around for longer than maybe an hour. Of course, that is assuming that the harness did not fit you right. Remember, this was designed as an all-size-fits-one approach. For those where the harness fits perfectly well, this bag is an excellent piece
Location of the tablet and laptop sleeve is most fortunate. They're packed closer to the back of the Porter46. This allows proper distribution of weight, since there is no worry of the laptop's weight moving things around.
There are a total of six pockets on this backpack, and all of them have well-defined, and very useful functions. I like the idea and presence of organizers, it's convenient and well-thought out. Unless you intend to carry this backpack on your person at a long time, it is worth the effort. Although if its profile does suit you, it makes good sense to carry this backpack.
Buy Osprey Porter 46 on Amazon.
Osprey Farpoint 40 Vs Porter 46 — A Full Comparison
Now that we have a review of both backpacks, let's put them side-by-side to see how they stack up. Like we saw in our Osprey Aether Vs Atmos comparison, while both backpacks are formidable at their job, they specialize in different things.
Harness
The harness is a major difference between these two backpacks. In simple terms of Osprey Porter vs Farpoint, the latter does a better job with the harness. Farpoint 40 has a broad and padded shoulder straps, a padded mesh foam back, and padded hip belt.
In comparison, the Porter 46 covers the bare necessities. There's little by way of padding on the shoulder straps, none on the back, and the padding and width of the hip belt is substantially less in comparison to the Farpoint.
Having the Farpoint on your back throughout the day won't be much of a problem. It's well padded, and does a good job of ventilation. On the other hand, the Porter 46 can start to feel bothersome after a few minutes.
Laptop Sleeve
Several backpacks choose the front as the location of the laptop sleeve. I say it is uncomfortable and creates an odd feeling of poor weight distribution. Farpoint 40 falls into this category. Porter 46 takes a better approach and places the laptop and tablet sleeves right at the back of the backpack. Having the laptop at the back feels more secure and comfortable.
How Do These Backpacks Perform On Waterproofing?
Neither of these backpacks claims to be waterproof. However, the high-quality nylon they use, along with proper covering of all zipped areas, makes both these bags water-resistant. Some rain won't be much trouble. But a downpour very well could put your stuff in jeopardy.
Storage
In terms of pure dimensions as well as storage volume, the Porter is ahead. This bag is larger, offers more space, and focuses more on storage available. Presence of several pockets and a travel organizer makes things easier to manage. Additionally, the Porter 46 is compatible with Osprey's Daylite daypack. It has to be purchased separately, and the reinforced cord loops can be used to attach the Daylite to the Porter.
Farpoint may not be as advanced in terms of storage, but it does offer a decent option. There's plenty of space available, and it can be used with ease. Both bags open in a clamshell-style, which makes packing and unpacking remarkably convenient.
Using These Bags For Hiking And Camping
Both these bags have excellent storage, and can be taken to camping and hiking trips. Although it would be better to use them for travel. Both of them can be used as carry-on luggage for most airlines, and the convenience makes it easy to travel with them.
If you do take them to the great outdoors, perhaps its best to keep the trip to 1-2 days. For the outdoors, something more focused on camping, like the Teton Sports Scout, should be considered.
Osprey Farpoint Vs Porter — Which Backpack Suits You?
Now that we have seen both these backpacks and their comparison, which one would be the best for you? In the opinion of this reviewer, in terms of Osprey Porter Vs Farpoint, there are clear niches for the use of each bag. Farpoint is a better option for those who value comfort and intend to walk a long distance with their backpacks. Porter focuses on travel organization, and is compatible with Daylite daypack. It has more versatility, though it is uncomfortable to carry for a long time.
Get the Osprey Farpoint 40 on Amazon
Get the Osprey Porter 46 on Amazon