Teton Sports Scout 3400 backpack is amazing where value is concerned. The backpack comes highly recommended for beginners and the budget-conscious. I prepared this Teton Sports Scout 3400 review to consider how well it performs. This is a backpack priced significantly lower than the competition. Rather than pushing solely for value, let's see where this backpack stands in features and actual usability.
Tetons Sports Scout 3400 Pros And Cons
Pros
Excellent value
Durable
Integrated raincover
Cons
Heavy
Lacks good back support
Pockets can be inconvenient to use
Teton Sports Scout 3400 Features And Qualities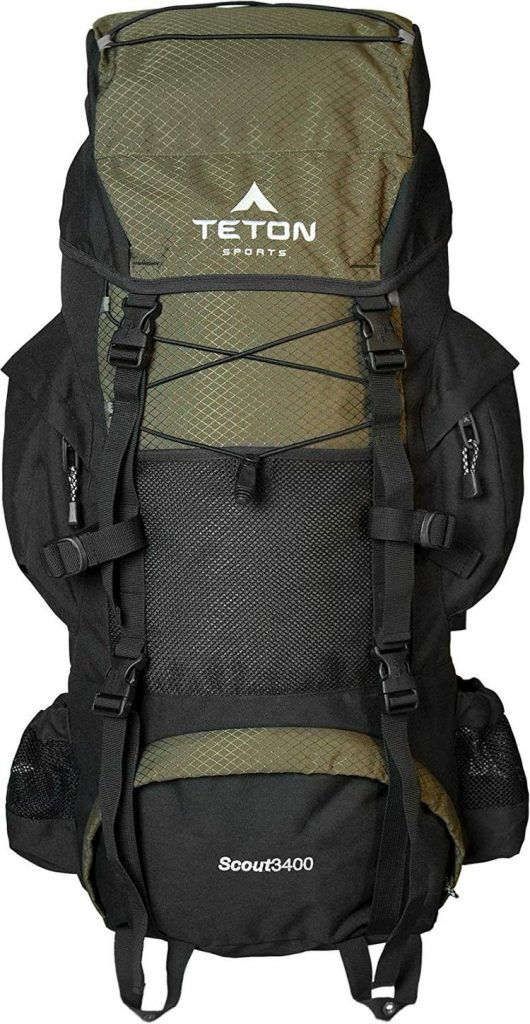 Appearance And Design Of This Teton Backpack
Teton Sports Scout looks familiar. It has that old-timey backpack look that I'd almost call retro. I don't think they were going for that old-fashioned look, considering that they make every attempt at modern features and functions. The look isn't bad, I have nothing against that appearance, it's just more of a happy coincidence.
In terms of construction, the backpack appears solid. The shell is made from 600D ripstop and Oxford Canvas. It is a solid material, and you can expect this bag to last.
Access to the bag is through the top, like most conventional backpacks. The opening is somewhat small and can be considered problematic. The lack of front zippers to directly access the main compartment is painfully evident. Teton has divided the main backpack into two separate compartments.
There is the main compartment, and at the bottom, you'll find room for a sleeping bag. A removable divider separates both compartments. You can access the sleeping bag compartment directly by means of an included zipper. However, this one too suffers problems like the top of the backpack. The length of this zipper is too small to be convenient. If only the zipper was slightly longer, we wouldn't have to struggle with placing the sleeping bag, and the experience would be much better.
A rainfly has been placed in a velcro pocket under the bag. It increases the weight slightly, but I prefer having a rainfly (or raincover) readily available, rather than go around looking for one. It is large enough to cover the entire bag and is brightly colored to be clearly visible. The rainfly is miles from being glamorous, but glamour isn't what raincovers are supposed to present.
Pockets, Storage, And Suspension
Storage and suspension are our primary concerns where a backpack is concerned. How well a backpack stores things, and how well we pack things into a backpack decide comfort and usability of a backpack.
Teton Sports Scout 3400 promises a storage space of 55 liters. Theoretically, that space is plenty and should be good enough to pack things conveniently for a 1-2 day trip. Two compression straps at the bottom of the backpack give good room for placing a tent.
As for pockets, there are four zippered and three unenclosed pockets. There is one water bladder pocket on the main compartment. It is large enough to hold a 3-liter flask or bladder. Additionally, there are two large zippered pockets on the side. They're big enough to be used for storage, but the positioning makes it difficult to access them easily. It's a tough call to access the side-pockets while you've got this bag on your back.
Moving on to the suspension, the Teton backpack uses an internal frame and has aluminum stays. The frame is sturdy enough to handle up to 50 lbs of weight. That's good enough for you to pack all the necessities.
Fully adjustable and accessible front loops for an ice ax and trekking poles can be pretty useful. Additionally, should you need it, there are gear loops at the bottom of the bag for easier placement for tent poles. And, should you need more options, there are dual loops along the sides that can be used as storage for tent poles or fishing poles.
Comfort And Convenience
Teton Sports Scout 3400 internal frame backpack takes some well-meaning steps to provide comfort and convenience for the user. There are layers of foam that press against the upper back, lower back, shoulders, and hips. This should make for a good and convenient setup.
However, the reality is a bit far from expectations.
For starters, the foam doesn't ventilate all that well. You will soon feel sweat building up while you walk. Although, you may forget to focus on it, since you will likely be too busy preoccupied with the unsatisfactory distribution of weight. It doesn't quite transfer the weight to the lower back and hips like a backpack should. Instead, it is a bit of a problem getting the weight right.
I guess this is one reason why the more expensive backpacks over-engineer themselves to distribute weight. The skill with which the Osprey Atmos transfers and manages your weight, certainly isn't present in the Scout 3400. The same is true for ventilation and padding as well.
You can make adjustments to the harness for a better fit. That helps, but I won't say it gets very comfortable. Teton says the bag is best used for people with a torso size of 15″ – 19.5″. That includes the height range of 5-feet to 6-feet 4-inches. That's a pretty wide range, and I'm fairly certain that a majority of the bag's users fall squarely in this range.
Hip Belt
The hip belt is thick and makes for a great support. Teton says the strap can be adjusted for any waist size ranging from 26-inch to 60-inch. Again, a pretty wide range that should cover most of the consumer base. The belt is fairly comfortable, and quickly adjusts or molds itself to the body of the user. It is convenient and easily usable.
There is one nagging thing missing from this belt – there are no pockets. For a thick hip belt that goes from 26-60 inches, that is an oversight. Pockets on the hip belt are extremely useful. Storing random things, gadgets, even simple snacks to chomp on while you hike.
I am disappointed at the lack of pockets. Although, in its primary function, the belt does not disappoint.
Teton Scout 3400 Usage Review — The Bag In Use
On Packing And Unpacking
Here's the thing, the Teton Sports Scout 3400 has a lot of storage space, pockets, and zippers. All of them feel like they were built for something smaller. The bag top, the zipper for the sleeping bag compartment, even the side pockets. Every one of these holds stuff the way they are supposed to. However, getting things in and out of each of them is a small struggle. The zipper and the top opening are too small. Same goes for the side pockets. They will hold their advertised volume, but they will make you work for it.
The dual side loops and the zippers too suffer from this problem. Zippers feel weird and seem to resist movement. The loops don't feel like they were built for their exact purpose, even though they will eventually complete their purpose.
On Comfort In Using The Backpack
Using the bag, there are some points that affect your comfort. For one, the fabric is too tough, and feels uncomfortable at times. There is some chance of chafing, and the overall feeling isn't all that pleasant either.
Carrying the backpack feels a bit uncomfortable too. As I said earlier, it struggles with transmitting all weight to the lower back and hips, like would be expected from a backpack. It can be slightly discomforting. On top of that, there is improper ventilation by the foam at your back, and you will sweat.
The overall weight of the bag is 4.5 lbs. That is undeniably heavy, although not entirely unexpected. It will impact your comfort and experience as well. When compared to some other bags, this one can be considered almost twice as heavy.
Continuing the same theme, the straps on the bag are adjustable. Yet, it isn't an easy thing to do. You will spend some time to get things in order, and after ann annoying round of pushing, pulling, and tugging at the bag, there is finally success.
Now that you've heard me rant and rave… here's the bottom line. This is a fairly good bag, and it pretty much succeeds in delivering all it claims. I won't call this a feature-rich bag. It is pretty much on the simple side. It does, however, offer enough usability to be considered worth putting some money into, and even competing with its higher priced competitors.
Who Can Use This Backpack?
At several points in this review, you've seen me point deficiencies in the bag. And yet I say this bag manages to do everything it promises. That isn't entirely unexpected, considering the foremost thing this bag offers is value for money.
Things that most regular backpacks can do with relative ease require some effort on the Teton Sports Scout 3400. Call it a side-effect of the cost-efficient production attempts, or something else. This bag is more than its annoyances. However, the annoyances are also the part you will deal with most often. The push and pull to get the sleeping bag out of the bag, the slight extra effort that needs to go into working the zip, and the top opening that could be larger.
Are either of these dealbreakers? No. But small annoyances should not be considered insignificant either.
Where this bag shines most is when targeted at the beginner. It's a good backpack to get in the game. Cost-effective and sturdy, the bag doesn't leave much to be desired. Another potential use here is for the person who goes camping/backpacking rarely. There is no point in dropping a big dollar amount on a backpack if you are only going to use it once or twice a year.
This sturdy, well-made backpack is absolutely on top with its value and uses. While this Teton backpack undeniably has its fair share of problems, none of them get to the point of being dealbreakers. The bag is available in three colors: Hunter Green, Mecca Orange, and Coyote Tan.