Taking along your favorite hammock to your trip is one part, the other part of successful hammock camping is the straps. Many hammocks are not sold with straps. In some cases where you get straps, you may need/ want to get yourself a better suspension system. Getting the best hammock straps plays a big role in a successful setup for your hammock.
10 Hammock Straps With A Proven Record
Things To Know When Choosing A Strap System For Your Hammock
Why Use Hammock Suspension Straps?
Hammock suspension straps can be more convenient than ropes. One big advantage is that they don't harm trees or their bark, like ropes can. An important part of camping is leaving no trace behind. Not damaging the environment and trees is a pretty important part of that philosophy. Besides, straps don't require you to drill holes or pounding pegs into trees.
Choosing Strap Length And Strength
Straps should be sufficiently strong to hold your weight and the stress caused by movement. Similarly, they should be long enough to be placed conveniently so the hammock can be tied safely.
Weight range or capacity offered varies with the straps, but you should be sure to keep a healthy margin between your weight and the recommended weight for straps. Being just lower than the maximum allowed is not a good idea.
As for length, if you're experienced and know your destination well, things can be easier. However, if you're unsure of the presence of support on the campground, take longer straps along. Straps that are 15 feet in length should work well. It's extra weight to carry, but it can keep you out of difficult situations. Oh, and don't forget to account for carabiners if your straps need them.
10 Top Hammock Straps Reviewed
1. Eagles Nest Outfitters Helios Hammock Suspension System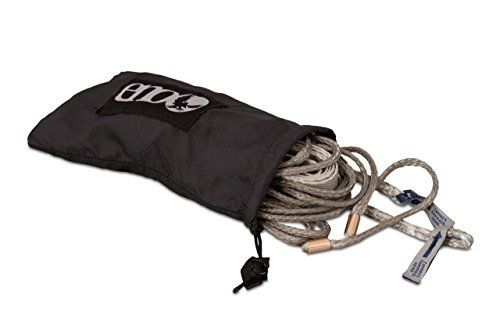 Helios Hammock Suspension System from Eagles Nest Outfitters (ENO) is a fairly popular choice. ENO hammock straps are adjustable and resist slipping. So you can tie them up securely, and rest with the knowledge that your hammock won't slip or face jitters due to slipping straps.
The package includes two straps, measuring slightly over eight-feet each. This makes it a pretty good system for an area where trees or other support for tying the hammock is close enough. Helios Suspension system weighs just about 4.1 oz. It is made from Dyneema line with a polyester blend tree sling for better performance. ENO recommends a maximum weight of 300 lbs for this system, so be careful to not exceed that limit.
Highlights:
Strap length at 8-feet
Suspension system weight 4.1 oz
Maximum recommended weight of 300 lbs
Multiple adjustment points for easier use
2. Wise Owl Outfitters Talon XL Hammock Straps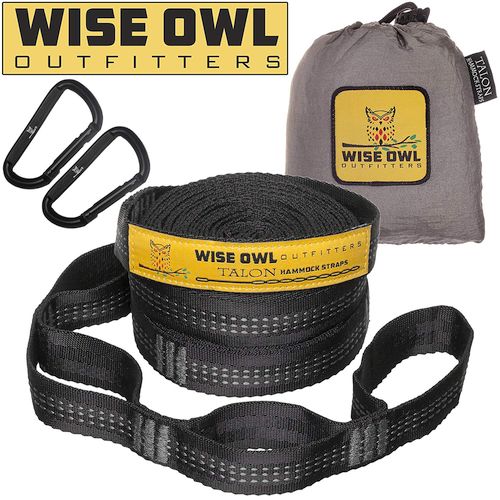 Wise Owl Outfitters XL Hammock Straps includes two loops, each about 10 feet in length. Two carabiners are also included. The length and setup allow for more convenient use. Each strap has 19 loops, making it easy to adjust and manage.
The company claims setup is so easy, even kids could do it. I find that the setup is indeed easy and convenient. Both the straps hold up pretty well, and can be expected to take some pressure and beating that's a part of the life of hammock straps. They hold on to the hammock pretty well. Wise Owl recommends a maximum weight of 400 lbs for these straps.
Highlights:
Length of each strap is 10 feet
Maximum recommended weight is 400 lbs
There are 19 loops and adjustment points per strap
The full set weighs 16.1 oz
3. Grand Trunk Tree Trunk Straps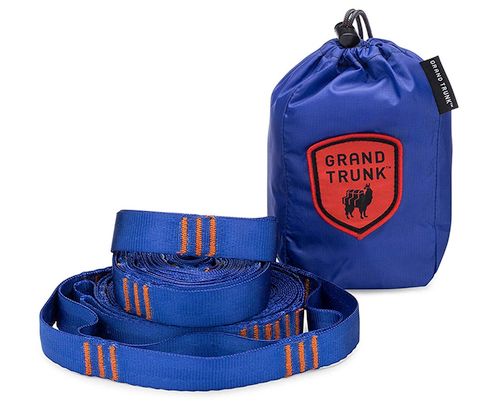 One interesting thing about the Grand Trunk Tree Trunk Straps is that it is available in several colors. A minor detail that could be considered irrelevant to trunk straps, but I feel having options is a good thing. The conventional black isn't bad, but for those of us who want more, it's good to know more color options exist.
Going beyond colors, these straps make for a pretty competent, and one of the best hammock suspension system. Between both of them, the two straps have 36 adjustment points, thus letting things be customizable. Each strap is about 10 feet long and 1-inch wide, and with 70D nylon triple stitch to ensure good support. The straps weigh just 12 oz, which allows them to be easy to carry along for hiking and backpacking.
Highlights:
Available in several colors
Maximum recommended weight of 400 lb
Each strap is 10-feet long and 1-inch wide
Each strap has 18 adjustment points
Check current price and discounts
4. Eagles Nest Outfitters Atlas XL Hammock ENO Hammock Straps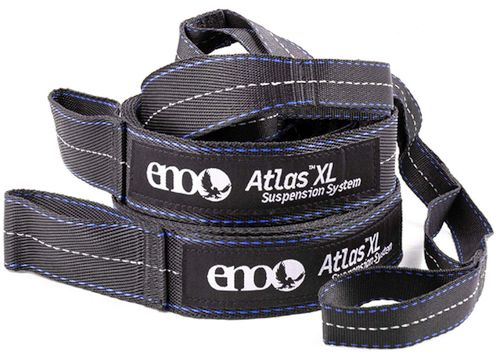 Eagles Nest Outfitters Atlas XL Hammock ENO Hammock Straps are one of the better-known straps available. ENO Atlas suspension system is well-regarded for its quality and dependability. And that's exactly the quality you want in your hammock straps.
Each strap is 13'6" long and has 20 attachment points. The length makes these more versatile since you have more flexibility to decide on where to place the hammock. Additionally, the straps are made super strong thanks to the use of 1000D Polyfilament webbing. There are relatively cheap eno hammock straps available, but something like this is often the better choice, even if you have to pay more. The maximum recommended weight for these straps is 400 lbs.
Highlights:
Each strap has a length of 13-feet, 6-inches
Availability of 20 attachment points on each strap
Total weight of 12 oz
Maximum recommended weight 400 lbs
Does not include carabiners
5. MalloMe XL Hammock Straps
MalloMe XL Hammock Straps are the ones you choose when you want to do some seriously heavy lifting. Each strap is capable of handling a maximum weight of 1000 lbs, taking the total capacity of these hammock straps to 2000 lbs.
To make adjustments easier, each strap of 10-feet is accompanied by 12 loops. Each loop is secured with triple seams to ensure that the heavy-duty hammock straps stay true to their job. To be a complete suspension kit, the set also includes carabiners capable of handling the weight offered by the hammock. The straps are made from 100% polyester webbing material and do not stretch or slip.
Highlights:
Suspension system capable of handling 2000 lbs total weight
Each strap measures 10-feet in length
Made from 100% polyester webbing
6. WEHE Hammock Straps
WEHE Hammock Straps are another set of heavy-duty and dependable hammock straps that can make light of the heavy weight you place in the hammock. The total acceptable weight for these hammock straps is 2000 lbs.
These straps have a generous length that allows for added agility and convenience in setting up camp. Additionally, there are 18 attachment loops in each strap, taking the total number of loops available to 36. The heavy-duty triple stitched seams ensure that the straps stay put.
Well, the triple-stitched seams and daisy-chained loops are fairly standard for most of the quality hammock straps available. It is the quality of the stitch and that of the strap that defines the actual usability of a strap. To that end, the WEHE Hammock Straps function pretty well.
Highlights:
Heavy-duty straps have a total available weight of 2000 lbs
Each strap has a length of 10-feet
Has 18 attachment loops for each strap
Includes 2 carabiners with straps
7. Rallt Hammock Tree Straps
Rallt Hammock Tree Straps make a good mix of value and quality. Each strap of 10-feet length has 18 loops to offer. The straps are rated for a total weight of 2000 lbs and weigh just 11.7 oz. The package does not include carabiners. Interestingly, these straps make a departure from the usual width of inch-width; these measure ¾ inch in width.
The straps are made from non-stretch polyester tubular webbing. Reflective tracers make the straps more visible at night and under poor-light situations, which can be helpful. At the very least, you won't have to worry about other campers mistakenly bumping into the straps!
Highlights:
Heavy-duty straps have the maximum weight limit at 2000 lbs
Each strap is 10-feet in length
There are 18 loops on every strap
8. Pro Venture Hammock Tree Straps With Carabiners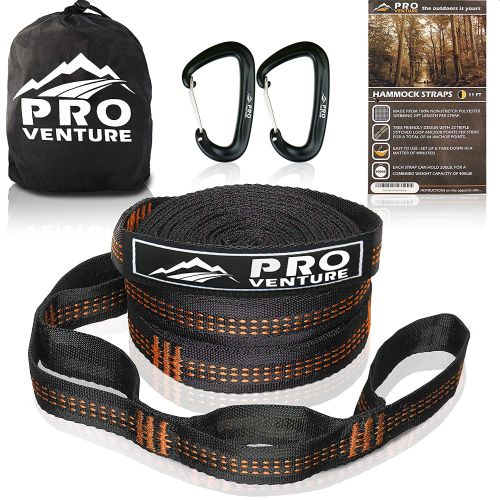 Pro Venture Hammock Tree Straps With Carabiners are available in two size options, viz 8-feet and 11-feet. The length of the straps is the only difference between the two, and I tend to favor the longer version. Pro Hammock has a relatively large number of loops available. Each strap has 22 loops, taking the number of total loops available between two straps to 44.
The straps are made from non-stretch polyester webbing and include the standard triple-stitch to keep the loops in position. Two carabiners are included in the package. The recommended maximum weight is 400 lbs. These are one of the more budget-conscious hammock straps available. Add to that the inclusion of carabines, and you're looking at some pretty good value for money!
Highlights:
Strap length of 11-feet, width of 1-inch
Suggested maximum weight at 400 lbs
Includes carabiners
Good value for money
9. Foxelli Hammock Straps XL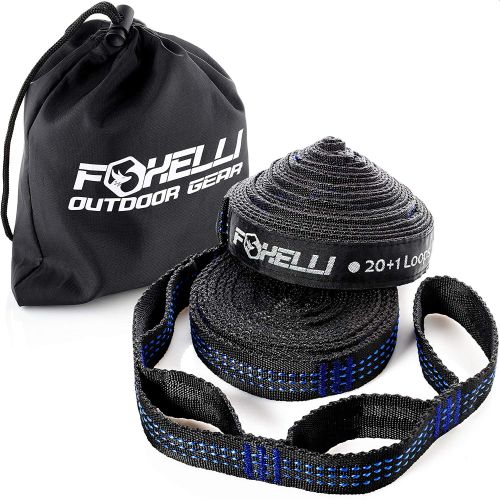 Interesting as these Foxelli Hammock Straps are, the XL claim is a bit out there. The length of the straps is 10-feet, which is pretty much standard, and I'd go as far as to say, it's not anywhere near XL. Nope, nothing extra large about it. Anyways, the two straps have 40 loops between them. That's quite some room for customization, but can also feel somewhat overdone.
The straps are rated for 2000 lbs and are priced sufficiently low to be considered good value for money. Of course, the quality straps that are more expensive offer more value and longevity, but the Foxelli is good enough for some occasions.
Highlights:
Strap length of 10-feet
Maximum weight of 2000 lb
Has 20 loops for every strap
Cheap
10. pys XL Hammock Tree Straps
pys tree straps measure at 10-feet each and have 20 loops available for each strap. The straps are 1-inch wide and aim to have enough friction to prevent them from slipping off the tree. The material used is non-stretch polyester webbing. A combination of quality material and good construction allows the company to claim a maximum allowed weight of 2000 lbs.
These straps offer pretty good value for money, and I would not hold their low cost against them. It can be considered that the 2000 lbs claim is a bit of an exaggeration. While these won't break in a jiffy with weight like that, it should be remembered that massive weights will damage the straps. It's better to stick to the more reasonable 300-400 lbs maximum weight ratings.
Highlights:
Each strap measures 10 feet
A total of 40 loops are available – 20 for each strap
Maximum recommended weight is a 2000 lbs
Cheap