Child carrier backpack for 4 year old becomes a blessing when you're negotiating trails with the young one. Backpacks with child carriers make things easier for you and the child. By placing the child in a position that is comfortable, secure, and convenient, you can both continue the journey without worry. Child carrier backpacks usually have feature-rich builds. They carry the most precious cargo of all, and so their quality and performance become all the more important.
12 Best Child Carrier Backpacks In 2019
Buying Guide For Child Carrier Backpacks
Carrying Comfort And Padding For The Best Baby Backpack
Carrying comfort applies best to you, the person who is going to lift and move the backpack. And padding and comfort apply to both you, and the baby seated in the backpack. The backpack is simply not worth it if either of you is uncomfortable. Most child carrier backpacks take good care of this scenario.
Backpack construction that distributes weight and a hip belt that moves weight to your hips from your back is important. In essence, it is quite similar to weight distribution techniques used by regular high-quality backpacks like the Osprey Farpoint 40.
The second and perhaps more important point of order is the comfort of the child seated on the backpack. Most backpacks have ample padding to ensure the child is comfortable. The top of the line picks work to make sure that the child remains comfortable for a hike that takes a couple of hours. A soft-touch fabric and a harness to keep the baby in place can work pretty well.
Ventilation And Protection Against The Elements For Baby Hiking Backpack
Ventilation can be an issue when you're someplace that's even remotely warm. The child and you should both stay well-ventilated and somewhat protected from each-others body heat. The general idea is to use mesh panels to allow air to move through freely, thus keeping you both relatively comfortable. A good-quality mesh is fairly useful in keeping you and the baby well-ventilated.
While hiking, you'll also want the baby hiking backpack to protect the child from the sun and the elements. I think a sunshade is an absolute necessity. Rain protection should be up on the list too, whether by means of a built-in system, or a place to keep rain-protection gear.
While sunshades are available with most backpacks, dedicated rain protection is rare. So be sure to make arrangements for all eventualities.
Pack Weight, Features, And Adjustability For Hiking Baby Carrier
Best baby carrier for hiking should also be up to the mark as a decent backpack. Most quality backpacks include an array of pockets for storage. This ensures the necessary items for you and the baby are always within quick reach.
Additionally, since you will be carrying weight – the baby and a packed backpack, a lightweight carrier makes things easier. A common theme with many hiking baby carriers is to have the main compartment at the front along with some pockets. This keeps things within easy reach, while the baby can rest comfortably on your back. Some storage may be available at the back as well, to maximize capacity and make best use of available space.
An adjustable backpack is easier to conform to the carrier's body. You'll want one that can adjust close to most users, so the padded areas can offer maximum comfort and support for your body. The top line backpacks usually have these features available. Generally, I'm an advocate for looking at value for money. In the case of a child carrier backpack, I'll recommend going for quality.
These are more expensive, but for good reason. Whether it's a backpack for a 2 year old, or for 5 year old child, quality is an important metric.
Finding The Best Toddler Carrier For Hiking — Top 12 Reviewed
1. Deuter Kid Comfort Pro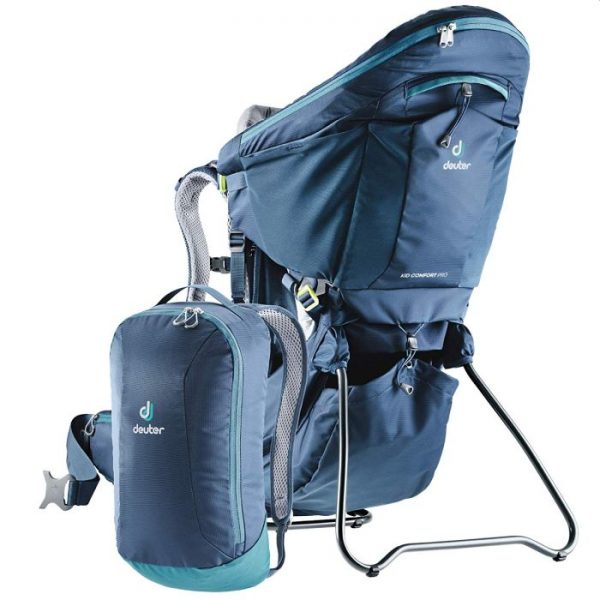 Deuter Kid Comfort Pro is generally regarded as the best child carrier backpack. This is a well-engineered solution that takes care of the most important aspects. You get good comfort, quality, and safety.
For the comfort of the child, this backpack gets a tall back, supportive sides, and a five-point harness to secure the child. A height-adjustable seat ensures an ergonomic and healthy sitting position. Along with that you also get an integrated head-rest, fold-out sunroof, and adjustable height foot rests. There's also a side entry option that could be more useful for children who want to get in/ out of the seat on their own.
Adults will find more comfort in the plush padding and excellent ventilation. The hip belt is easy to adjust and comfortable enough to distribute weight evenly, so you don't end up with back troubles. A mesh net is included between the child's seat and the adult's back so things don't get uncomfortably hot.
The locking kickstand is a nice touch and can make things way easier for times when you want a stop. Its build is also convenient enough to allow passing the bag between adults as they rotate carrying duties.
Pros:
Excellent comfort for child and adult
Premier build quality with excellent materials
Integrated sunshade
Well-ventilated
Distributes weight evenly
Cons:
2. Osprey Packs Poco AG Plus Child Carrier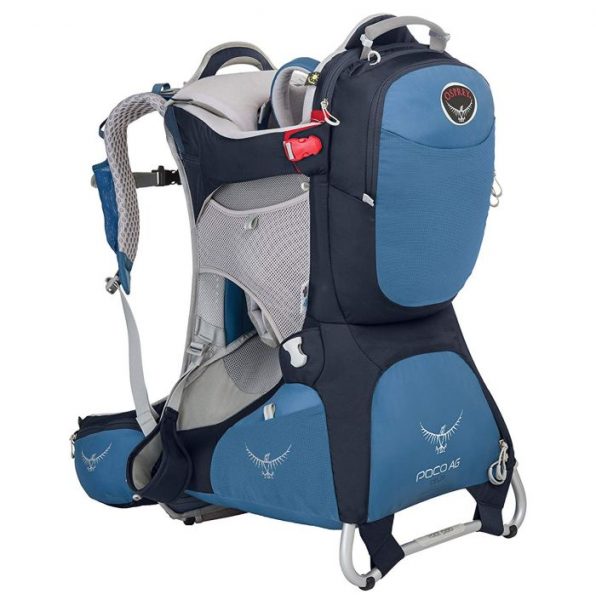 Osprey is well-known for its quality backpacks. So it is no surprise that the company has a good quality option for a child carrier backpack as well. Osprey Packs Poco AG Plus Child Carrier is a quality backpack and has every quality you want from a child carrier backpack. The backpack is built over a lightweight aluminum frame that keeps the bag stable when it is placed on the ground.
The fully framed and padded cockpit ensures that the child remains comfortable when seated in the backpack. A built-in sunshade is placed in a zippered pocket and can be deployed fairly easily when necessary. The included harness is easy to apply and does well in securing the child.
Adults will find the mesh for ventilation very useful, especially in hotter climates. A removable daypack is available for extra storage. The total storage volume available is 26 liters, a fairly generous number. It uses a similar system as conventional Osprey backpacks to distribute weight and ensures you remain comfortable while carrying the backpack.
Pros:
Excellent comfort for child and adult
Aluminum frame keeps the bag stable
Well-ventilated
Integrated sunshade
Includes a daypack
Even weight-distribution
Cons:
3. Kelty Journey PerfectFIT Signature Series Child Carrier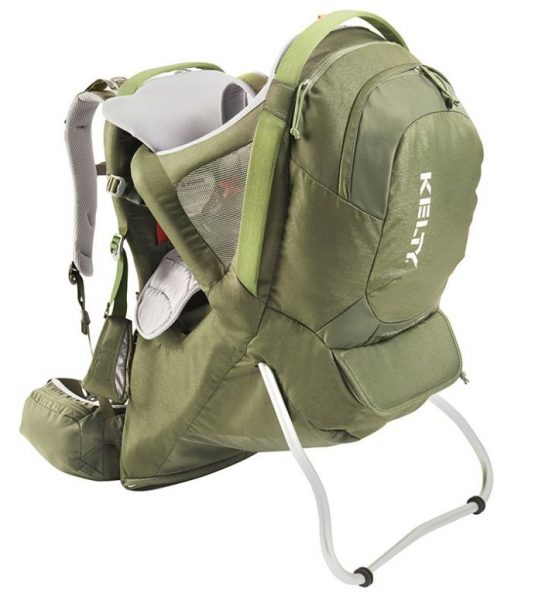 Another premium child carrier backpack, the Kelty Journey PerfectFIT Signature Series Child Carrier is quite a draw. It is made from high-quality materials and takes every possible care to ensure the child and the adult stay comfortable and well-protected.
Its child seat is well-padded, wide, and the backpack also has adjustable foot stirrups to keep the child comfortable. The integrated sunshade and headrest can come in pretty handy and make a big difference in terms of comfort. A five-point safety harness ensures that the child remains securely in place.
Adults benefit from the aluminum frame and the adjustable Kelty PerfectFIT Suspension System. The backpack is easy to adjust, which makes it convenient for two adults to take turns in carrying the backpack. Parents, for example, will find it pretty useful as they lift the backpack and customize the suspension to fit their body. An included stand makes it possible to keep the backpack safely on the ground, while strategically placed grab handles add to the convenience.
Pros:
Made from high-quality materials
Comfortable for child and adult
Good weight distribution
Integrated sunshade
Well-ventilated
Cons:
Check current price and discounts
4. Ergobaby Carrier, Omni 360 All Carry Positions Baby Carrier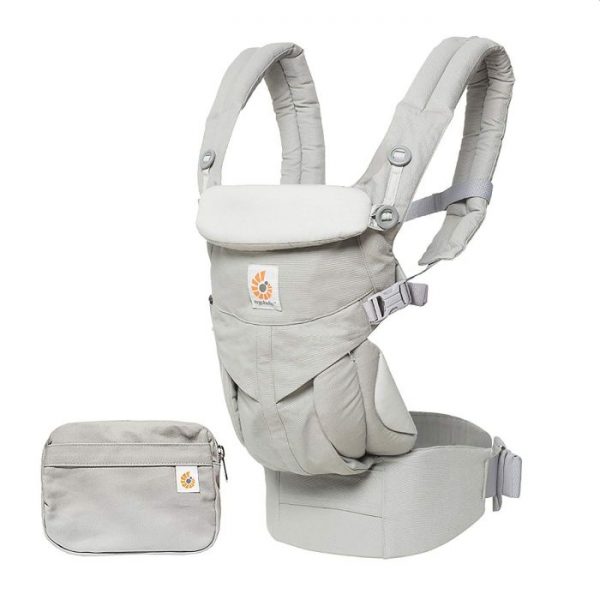 Ergobaby Carrier is a slight departure from most other models we see on this list. While those dedicated hiking backpacks are excellent, there are situations where they might be an overkill. Ergobaby Carrier is a simple carrier for those situations.
The carrier is designed for toddlers up to 48 months in age and up to 48 lbs in weight. Though very close to the 50 lbs mark, I wouldn't call this a child backpack carrier 50 lbs weight capacity. A more comfortable limit would be somewhere near 36 lbs of weight.
Anyways, there's plenty of padding to be comfortable for the baby. Several pockets are included for storage of some items as well. Adults will find the style convenient, and easy to carry the baby. The compact size makes it more convenient than a conventional child carrier, though the load-carrying capacity is limited. Still, a great choice for most cases that don't involve long hiking trips!
Pros:
Comfortable for adults and child
Simple and convenient
Includes several pockets for storage
Can be customized to suit various body types
Cons:
Low storage compared to conventional carrier backpacks
Not the most convenient choice for hiking families
5. Thule Sapling Child Carrier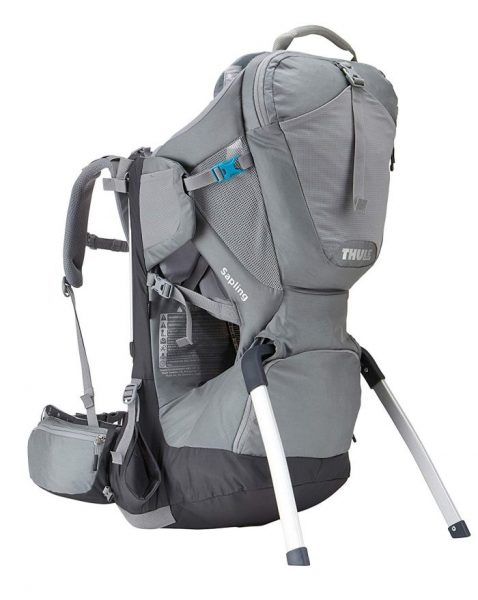 Thule Sapling Child Carrier is a conventional hiking child carrier backpack. The company is best known for their car carrier seats, but the company has made good use of the knowledge there to create carrier backpacks.
As such, the child is well-secured and comfortable in the backpack's seat. They've also included dual access, which makes it convenient for the child to be placed from the top or the side of the carrier. Other features for child comfort include integrated sunshade, headrest, and foot stirrups.
Adults too will find the backpack fairly comfortable. It is well-ventilated and padded to be easy to carry. The hip-belt helps distribute weight and the bag can be quickly adjusted to suit various body types. They've also included a removable daypack for extra carrying capacity.
Theoretically, this backpack has everything you'd want from a child carrier. Practically, it isn't as convenient and comfortable as the Deuter and Osprey backpacks. The hip belts seem overly huge, and the back panel could use some work. This doesn't mean that the Thule Sapling is below-par, just that the Deuter and Osprey are much better at dealing with these issues. In fact, Thule fairs better than most other backpacks that are not Deuter or Osprey.
Pros:
Comfortable for child and adult
Includes removable daypack
Integrated sunshade
Fairly good load distribution
Cons:
Expensive
Hip belt feels oversized
6. Luvdbaby Premium Baby Backpack Carrier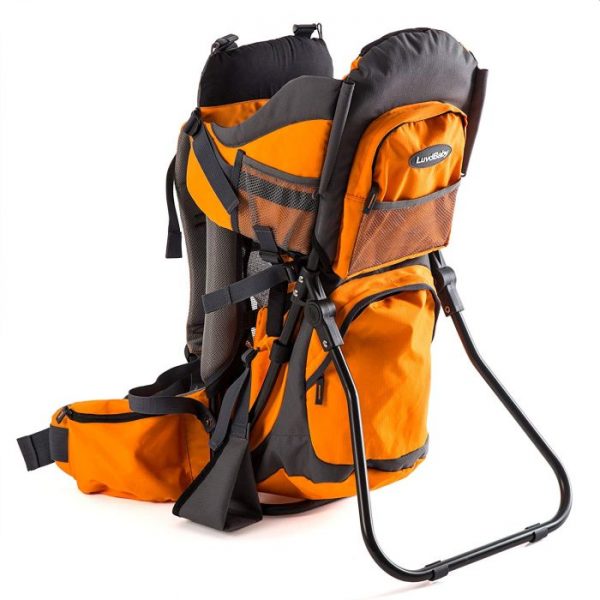 Luvdbaby Premium Baby Backpack Carrier aims for a mix of value and comfort. You'll find most features available in premium backpacks present in this carrier as well. The baby seat is comfortable, padded, and height adjustable. A removable sun visor is included and can be used as necessary.
Adults will find the multiple pockets to be convenient, and the heavily padded straps help carry the weight. I think the insulated water bottle carrier is a nice touch worthy of note. The backpack is easily adjustable for different body shapes and its well-padded hip belt adds to the convenience.
Pros:
Good value
Comfortable for adult and child
Can be easily adjusted to different body types
Removable sun visor
Cons:
Could use better ventilation
7. phil&teds Parade Child Carrier Frame Backpack
phil&teds Parade Child Carrier Frame Backpack keeps its focus solely on carrying the child and includes only a (relatively) small storage space. In some ways, it is just the child carrier backpack like any other, but without the backpack options to carry more stuff. It does have some small storage options and a tiny backpack included, but that's that.
The backpack is comfortable to carry and is very well padded for the comfort of the child. It weighs just 4.4 lbs, so it remains easy enough to carry. The maximum weight of the child recommended for phil&teds Parade is 40lbs.
Pros:
No frills simple child carrier backpack
Easy to adjust harness suited for different body types
Comfortable seating for children
Cons:
Does not include a sunshade or visor
Minimal storage options
8. Clevr Canyonero Camping Baby Backpack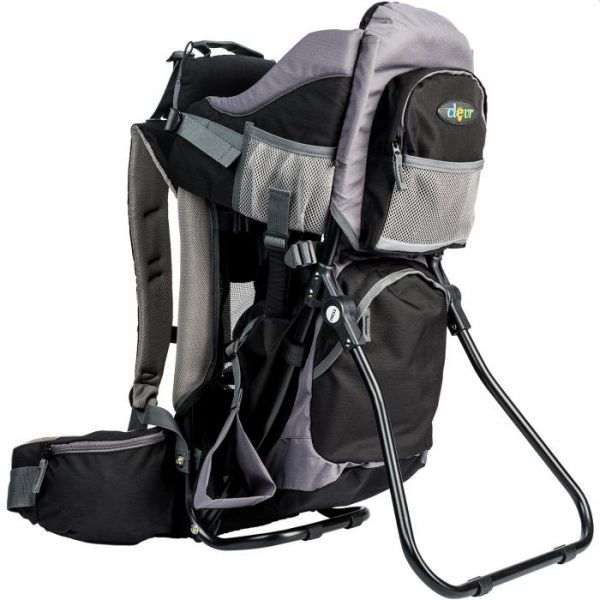 Clevr Canyonero Camping Baby Backpack is made for children between 9 to 48 months of age, and a maximum weight of 42 lbs. There's an adjustable-height seat for the baby, and included sun visor, and adjustable foot stirrups for convenient placement.
Adults will like the adjustable harness that makes it fit for use by most body types. The foldable frame makes it easy to store the backpack. Additionally, the included kickstand can be useful when placing the backpack on the ground.
This is a budget backpack, and though it includes a long list of features, it has its limitations. It is best employed for those who need a baby carrier rarely, and do not wish to splurge on a premium backpack.
Pros:
Good value
Includes detachable sun-visor, adjustable seat, and stirrups
Cons:
Child headrest is not proper
Several consumer complaints about the kickstand and adjustable-height seat giving up
9. ClevrPlus Premium Cross Country Baby Backpack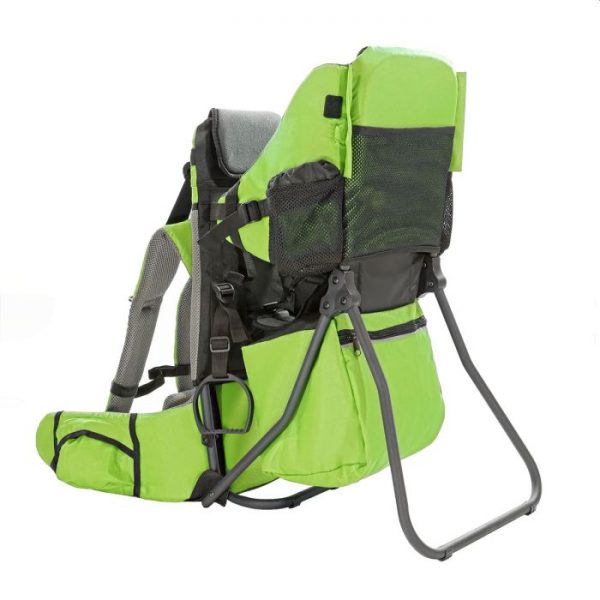 ClevrPlus Premium Cross Country Baby Backpack is the more budget-friendly sibling of the Canyonero we just saw. The backpack has an aluminum frame and weighs just 5.5 lbs.
For the comfort of the child, it includes padded seats, a sun visor, and adjustable stirrups. Adults will find the lumbar padding and easily adjustable straps to be pretty useful. There are several well-placed pockets for easy storage and access.
Pros:
Inexpensive
Includes sun visor and kickstand
Fairly useful for the occasional user
Cons:
Construction looks cheap at several points
Could use a better headrest or the child
10. Beco Gemini Baby Carrier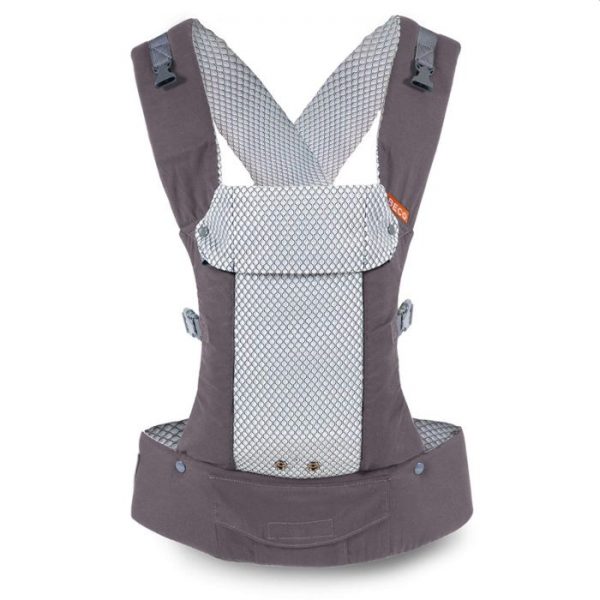 Beco Gemini is quite similar to the Ergobaby Omni 360 carrier we saw above. The soft-structured baby carrier is versatile and has several carry options, making it convenient for various uses. It's well-padded, so it remains comfortable for the baby and the adult.
Again, this is a child carrier you use when taking a conventional child carrier backpack may be overkill. Fairly comfortable in their own right, these carriers are lightweight and convenient to use. There isn't much storage space available, so this functions more as a simple baby carrier.
Beco Gemini recommends its use for a maximum weight of 35 lbs.
Pros:
Easy to carry
Available in several color options
Can be customized to suit various body types
Cons:
11. Piggyback Rider Scout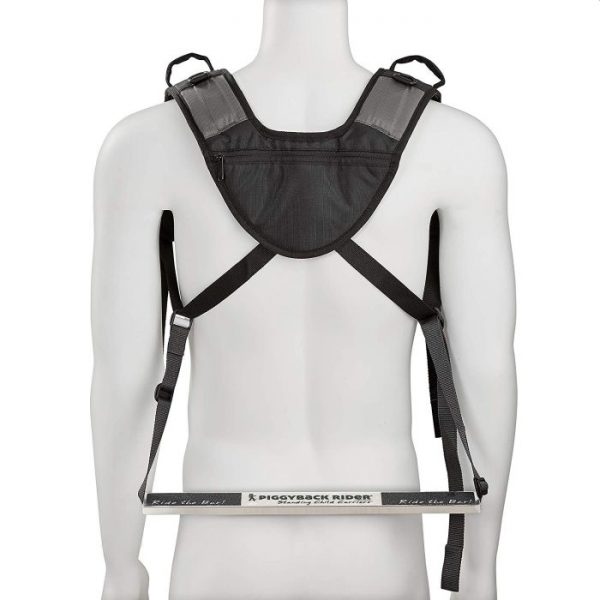 Piggyback Rider Scout is a standing child carrier. It's different from other products in the sense that the child stands at the back, rather than sitting down. It's a nice touch for piggyback riding, but it's pretty bareboned and there's no comfortable spot for sitting. A child safety harness is included for security.
While this is convenient, it does not work as well for longer distances. A short hike or walk is good enough — and this will feel pretty awesome there. However, things get less fun for longer rides, and you may find the child getting restless. Plus, given the lack of padding, it's not that fun for adults over longer distances as well.
Pros:
Fun carrier for piggyback rides
Safely secured for child and adult
Standing can be a more enjoyable and convenient position
Cons:
No padding can make it uncomfortable
Best used for short trips
No storage
12. SUNVENO Baby Hipseat Carrier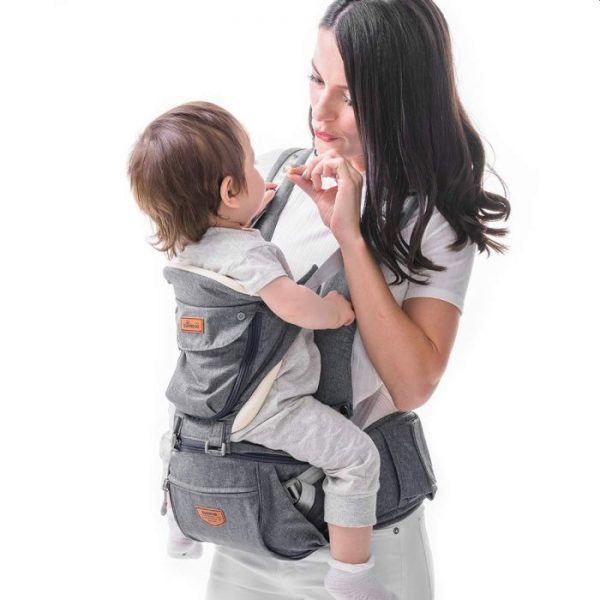 SUNVENO Baby hipseat carrier is quite similar to the Ergobaby carrier we see further above in this list. The difference is that the Sunveno is bestowed with more storage space, and has plenty of pockets to carry around baby essentials.
It's fairly well padded and the baby can be put in several positions. You can use it for front carry or regular back carry. The wide hip belt distributes weight evenly. A nightcap is included, which can be used to protect the child from the sun and/ or wind.
It's pretty useful, though perhaps not as convenient as the sun visor in baby carrier backpacks. Still, for a compact carrier, the nightcap does a pretty good job.
Pros:
Lightweight and easy to carry
Comfortable for the baby
Good value for money
Cons:
Padding along the hip belt could be better
The construction could be more robust
The Carrier Backpack For Your Child
When choosing a child carrier backpack for 4 year old, remember that the comfort of the baby comes first. If the baby is going to stay in a backpack seat for several hours, that seat better be comfortable. Soft, padded seats, quality harnesses, and sun visor are a necessity. Backpacks with quality straps and harnesses and the ability to distribute weight as necessary will be easier and more comfortable to carry for adults. Quality of construction comes first and is better for the benefit of your child and yourself.