The mobile phone has become the favored GPS device of choice for many of us. But there are times when a dedicated device is needed. While the occasional backpacker might do just fine on smaller treks with a mobile phone, a seasoned backpacker knows the importance of quality maps.
Also, there's no need to be stuck to your mobile phone while in the great outdoors. So here's our Garmin 64st review, where we look at the offerings of one of the most popular GPS devices. 
Once you start with a device like this, its usage and popularity become very obvious. It helps that the device is geared for the outdoors and has several features that hikers and backpackers look forward to.
A Quick Overview Of The Garmin 64st

Pros
Crisp touchscreen display
Additional buttons for control and operation
GPS and GLONASS compatibility
Works off AA batteries as well as NiMH battery pack
IPX7 waterproof
Includes 8GB internal memory, expandable with microSD cards
Has access to high-resolution topographic maps
Cons
Bulky
Small display/touchscreen
Can be a pain to set up for advanced features
Only paid access to Birdseye satellite imagery after the first year
Features And Usability Considerations For Garmin 64st
Let's Talk About The Display, Screen, And Controls
A fruitful discussion of this outdoor gadget must start with its screen. And since it's a touchscreen, the controls become an inherent aspect of this feature.
The display is just 1.43 x 2.15 inches (2.6 inches diagonal) and feels rather small. For comparison, the new Apple Watch Series 6 has a 1.78-inch display. So yeah, in this era of big screens, where even watch screens are getting bigger, the display on this handheld device feels small.
In its defense, Garmin 64st uses the display remarkably well. It's crisp, clear, and the touchscreen functions work great. Also, while it could use looking a little pretty, a smaller display is important considering battery use and longevity.
My initial impressions of the display size may not have been favorable, but I don't see it as a negative. It's useful, thoughtfully created, and serves its functions very well.
Garmin's screen is a transflective, 65K color TFT. Display visibility and screen clarity remain undiminished even under the sun. And that's the key takeaway here. After all, you're going to use this device outdoors. Staying legible even under the sun is pretty much the bread and butter of this gadget.
One of the reasons the display is (relatively) smaller is because Garmin has included a series of buttons for controls. There are a total of nine buttons here, one of them being the central button that also has up, down, left, and right arrows.
Why the buttons when we have a touchscreen? Because it may not always be possible to use the touchscreen. A hiker wearing thick gloves will obviously prefer buttons to the screen.
Build Quality And Overall Design

Garmin GPSMAP 64st can feel a bit bulky, But it sure does have an undeniably strong and interesting build. It weighs 8.1 ounces (230 grams) including batteries. Dimensions for this GPS device are 1.4 x 2.4 x 6.3 inches, plus there's an antenna jutting out. In a sense, it looks incredibly similar to the conventional walkie talkies for camping.
Even as you hold it, you know the build quality is robust and dependable. It feels sturdy and well-built. The rubberized exterior and the rugged construction together form a rather formidable combination. This GPS is built for the tough outdoors and that shows with its build.
Garmin GPSMAP 64st is rated IPX7 waterproof. That's an encouraging rating, which means this device can survive water. Rain and snow are no problem at all. Even if this were to be dropped into water, it can stay unscathed in a depth of up to 1 meter for 30 minutes.
That said, it's always a good idea to keep general sensibility in mind. Treat the device well and avoid exposing it to water when you can.
Another nice touch here is the inclusion of a carabiner at the back of the GPS. It might be more suitable to attach the GPS device to your gear rather than placing it in your pocket.
Battery Life And Charging The Garmin 64st
Flexible battery usage is a big plus for this device. You can use two standard AA batteries to power this device, or an optional rechargeable NiMH battery pack. If you choose to use the battery pack, it is possible to recharge the battery while it's inside the device. That way, it might work pretty much as any rechargeable gadget.
The flexibility of using standard AA batteries is useful as well. They make it possible (and convenient) to keep backups, so you won't get stuck in case the battery dies out.
Garmin says the battery can last for up to 16 hours. As with similar claims, this implies usage in specific conditions that are rarely available in actual usage. However, their claim isn't that far off from the truth. Going by conventional use, a hiker might be able to get more than 10 hours of action from the battery. Of course, if you're continuously on the device, the numbers might go down,
Location Accuracy And Other Features
Garmin has a reputation for its quality GPS devices. This one's no different. Garmin 64st accuracy is remarkable and well-placed. It can make use of GPS and GLONASS for accurate position tracking. Additionally, the use of two systems provides a failsafe, so even if it were to lose contact with one system, the other will keep the location available.
Another useful feature is the presence of 3 axis compass and barometric altimeter. Both of these can be useful in tracking your position, reading maps, and charting out the route to take.
Most 64st devices can also pair with ANT+ sensors. These include compatible devices like heart rate monitors, temperature sensors, or Garmin VIRB action camera.
This is a modern device, so it should come as no surprise that it can interact with your phone. You can wirelessly upload the data to Garmin Connect smartphone app, show activities as they happen with Live Track, or even receive notifications from your phone. Garmin GPSMAP 64st can receive texts and emails in lieu of your phone. It's also possible to share waypoints, routes and geocaches with other users.
Garmin 64st Review On Impressions And Use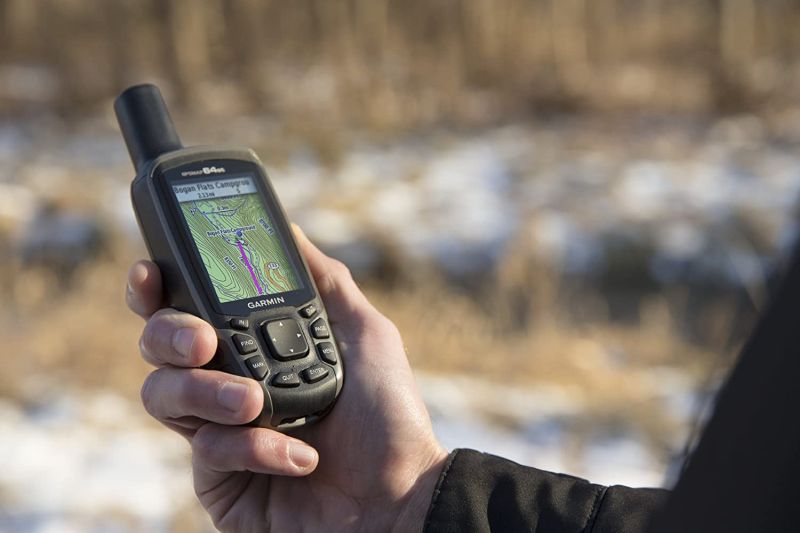 Setting Up The Device
The initial setup is a breeze. You can get the device ready for action in minutes. However, this implies just the basic set up. A full-featured setup is going to take longer. And since no one is going to buy the 64st to use as a basic device, expect the setup to take longer.
The process is simple, even if it takes a longer time, but yeah, there is a larger potential of tripping up and getting in a tight spot. If you haven't used Garmin devices before, it is a good idea to carefully follow the available instructions.
Take a look at the Garmin 64st manual to stay on top of available options.
They've used the same platform and icons as classic Garmin devices. If you've used Garmin devices before, getting used to this one will take seconds. If you're new to Garmin, take a few minutes to check and scroll through various options.
Available And Downloadable Maps
We wouldn't be doing much of a Garmin GPSMAP 64st review if we didn't talk of maps. Garmin GPSMAP 64st, TOPO U.S. 100K with High-Sensitivity GPS and GLONASS Receiver comes pre-loaded with a worldwide base map.
You also get one year subscription to BirdsEye Satellite Imagery for more detailed maps and information. However, after the year is up, the subscription will have to be kept up at $29.99 a year. I'm not quite happy with this arrangement. This isn't a cheap device and being sold with just one year of service feels like a cash grab.
Sure, you can use this device without Garmin BirdsEye Satellite Imagery, but that takes off a chunk of functionality.
The device has some preloaded Topo maps, waypoints, and routes for users. If you want more, there's always room to download new maps. Garmin has included 8 GB internal memory in this device, so there is plenty of room for storing additional data. It's also possible to expand available memory using a microSD card.
Topographical maps show relief, altitude, and geographic features in greater detail. They are pretty much indispensable for hikers and continue to be widely used. Getting access to them on your GPS device is a huge improvement.
There is no need to carry paper maps with this advanced device. Even so, I'll suggest you keep one as a backup anyway.
Paperless geocaching is supported on this device and it comes preloaded with 250,000 caches, including descriptions and hints.
Garmin GPSMAP 64s vs 64st
What sets apart these siblings? Garmin GPSMAP 64s is pretty much the same as 64st, with a few subtle differences thrown in. The biggest difference by far is that the 64s has a 4 GB internal memory, compared to the 8 GB on 64st.
Garmin 64st comes preloaded with TOPO U.S. 100K or TOPO Canada maps, while the 64s has a worldwide basemap. Although this isn't that big a difference, considering maps are downloadable for both devices. The 64s is cheaper, but the 64st seems to have a better performance.
As we see, a comparison of Garmin GPSMAP 64s vs 64st shows only tiny differences. There is a difference in overall pricing and performance as well, but it's minimal and easily managed.
Consumer Opinions On Garmin 64st
Consumer response to this device has been decidedly positive. Thousands of Garmin 64st reviews around the web suggest that the device is a good choice and has an excellent performance.
Pretty much all consumers appreciate the accuracy of the device and Garmin 64st maps. Easy access to maps, downloading, and geocaching has won approval from the users.
Predictably enough, the touchscreen doesn't get much love, even though reviewers don't seem to hate it. Garmin sticking to its tried and tested interface could be running out of its welcome as well. It's dated and consumers have picked up on this fact.
Perhaps a facelift that gets in touch with modern sensibilities is in order.
Yay Or Nay? Garmin 64st Bottom Line
It might initially seem a bit rough around the edges, but it's a device we want for rough use. This Garmin 64st review saw the device's excellence in accuracy, topo maps, and customizations for maps. Quality waterproofing and tough build are huge assets too.
Bluetooth connectivity with your smartphone and the ability to receive texts and email are welcome additions. Similarly, the battery life is good and lasts fairly long. But yeah, the dated looks and design are apparent too and don't do this otherwise excellent GPS much favors.
Overall, yes, it's a good pick.