Walkie talkies are simple, cost-effective, and useful gadgets to take asking for your camping and hiking adventures. Cell phones often aren't reliable in the great outdoors, so walkie talkies are the way to go.
Whether parking an RV on the campsite or staying in touch during a hike, walkie talkies can be immensely useful. On treacherous treks, they can be potential lifesavers that enable reaching out to help and rescue. You can read the ultimate buying guide for walkie talkies and take a look at our recommendations here.
5 Walkie Talkies For Camping And Hiking – Reviews
1. Midland GXT1000VP4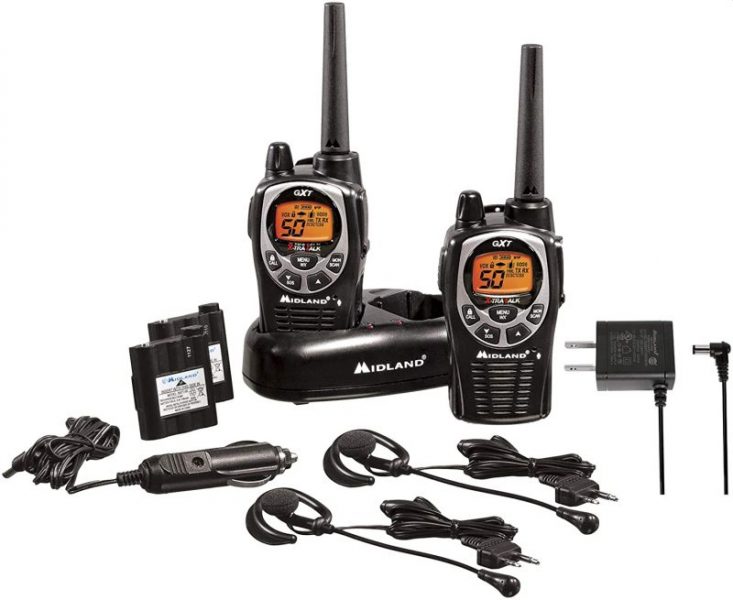 Midland GXT1000VP4 is a well-regarded workhorse walkie talkie system. The radio is feature-rich and has several options that will come in handy when you're in the great outdoors. This two-way radio works on 22 channels, though with the additional pre-programmed privacy channels, the total goes up to 50 GMRS channels.
Its bright, backlit LCD screen shows information crisply and remains visible under glaring sunlight or the dark of night. Midland GXT1000VP4 scans ten available weather (WX) band channels and looks for the strongest signal. It also offers NOAA weather alerts and will warn you if inclement weather is headed your way.
Midland GXT1000VP4 claims a 36-mile range. As with all other walkie talkies, the claimed range has little to do with actual practical usage! Expect a range of 1-2 miles with some possible variation. The voice quality is good enough and the reception as well as transmission are fairly clear.
Other notable features include eVOX with nine sensitivity levels, 142 CTCSS/DCS privacy codes with the option to block other conversations on your channels, and SOS siren. The walkie talkie is rated at JIS4 protection, which means it is splash resistant.
Midland GXT1000VP4 two-way radio packaging includes the walkie talkie, rechargeable battery pack, mic headset, belt clip, charger, AC adapter, and DC adapter.
Pros
Excellent value for money
Feature-rich walkie talkie with several options
Acceptable signal strength and range (claimed range 36 miles)
Water-resistant with JIS4 weatherproofing
Cons
Headset is unimpressive – average audio, below average mic
Accessing several features requires navigating complex menus
2. Motorola T600 Talkabout Radio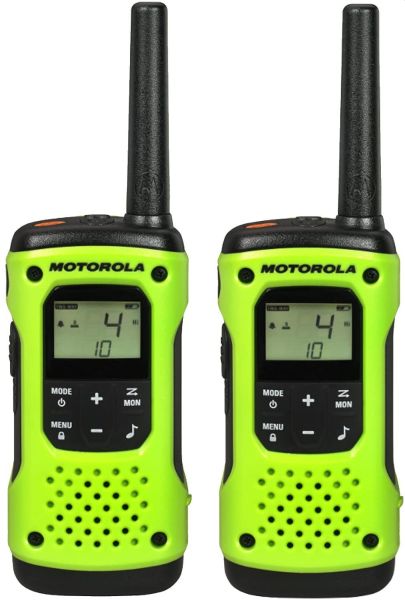 Motorola's Talkabout series is one of the best in two-way radios. Usability and practical features rule the roost with the Motorola T600 Talkabout Radio. This one doesn't have a long list of features that most customers will never use. Instead, you get straightforward features that are relevant to most users.
This radio is a great pick when your camping destination activities involve water. It is rated IP 67 waterproof, which means it's well protected from dust and water. It can survive for up to 30 minutes when submerged in up to 1 meter of water.
Well, submersion won't be much of a problem because this radio floats. Dropped the radio while on your canoe? Pick it up off the surface of water! Sure, it can survive underwater, but you won't always be on shallow water.
VibraCall feature on the walkie talkie enables shifting from ringing to vibration mode, so the radio can be less intrusive. You get 22 channels and 121 privacy codes for plenty of conversation options. The radio also checks 11 NOAA channels for weather information.
Other features include a white and red LED system that can be used as a torch or during emergencies. An SOS alert siren is also included. Motorola T600 Talkabout Radio comes with a rechargeable NiMH battery that lasts about 9 hours on a full charge. You can replace it with 3 AA batteries if required.
Pros
Easy to use with practical features
IP67 waterproof and floats on water
Good range and signal strength (maximum claimed range 35 miles)
Can run on rechargeable battery or AA batteries
Cons
Flashlight button isn't well-placed – it can turn on and drain battery while in your pocket
Build quality is questionable
3. Cobra PR562BLT Pro Series 28-Mile Bluetooth Two-Way Radios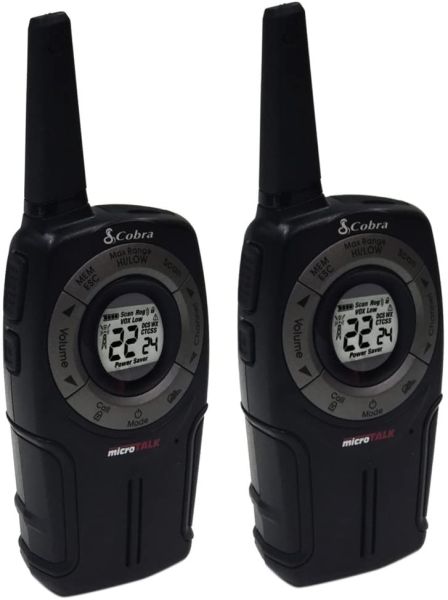 Headsets make walkie talkies more convenient, and Bluetooth makes headsets more convenient! This Bluetooth radio can easily connect with the headset and make your conversation hands free. Cobra PR562BLT Walkie Talkies Pro Series claim a range of up to 28 miles.
The walkie talkie is rated water resistant IPX2, which means its water resistance is basically minimal. It can maybe withstand a drizzle, but prolonged exposure to water will damage the radio.
You can work with 22 channels and 121 privacy codes to get a large number of usable channels for your use. Additionally, the walkie talkie scans 10 NOAA channels for information on weather and alerts. A vibration alert system can be used when you want to avoid noisy ringing.
Other features include NiMH rechargeable batteries that can be replaced with 3 AA batteries, VOX, and built-in LED flashlight.
Pros
Bluetooth-enabled walkie talkie
Acceptable signal range and strength
Can use rechargeable NiMH battery pack or AA batteries
Cons
4. Motorola T100TP Talkabout Radio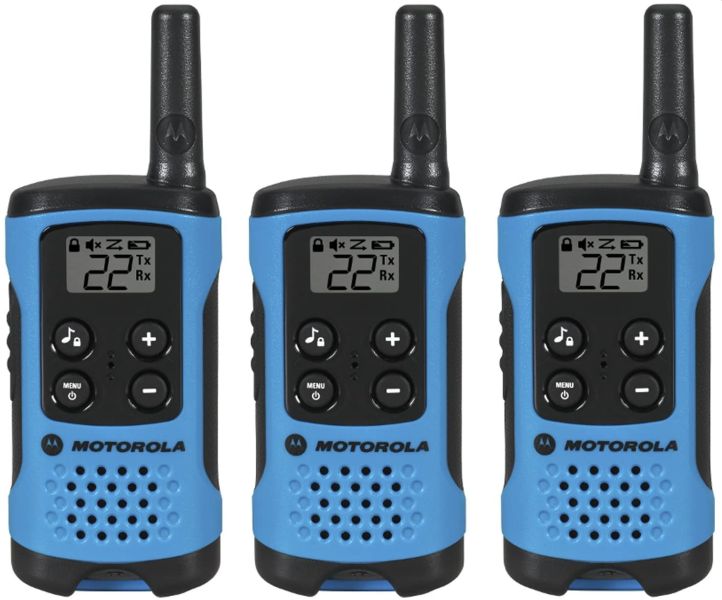 Motorola T100TP Talkabout is a basic radio with a straightforward feature set. This is the one you pick when you want a reliable, but basic solution. The claimed maximum range here is 16 miles, though of course users will see it reduced drastically.
This is a good solution when you want a walkie talkie around the campground or the beach. It has minimal buttons and controls, so anyone in the family could make use of these radios. From parking your RV to keeping in touch around the campground, these radios perform admirably. Don't expect to be impressed, and you won't be disappointed!
Motorola T100TP Talkabout Radio has 22 channels, NOAA alerts, auto squelch, and a crisp LCD screen. The audio quality is crystal clear, though the practical range isn't something to write home about. The walkie talkie needs three AAA batteries for operation.
Pros
Simple to operate, no-frills unit
Good value for money
Good audio quality
Cons
See buying options and discounts
5. Midland X-TALKER 22 Channel FRS Walkie Talkie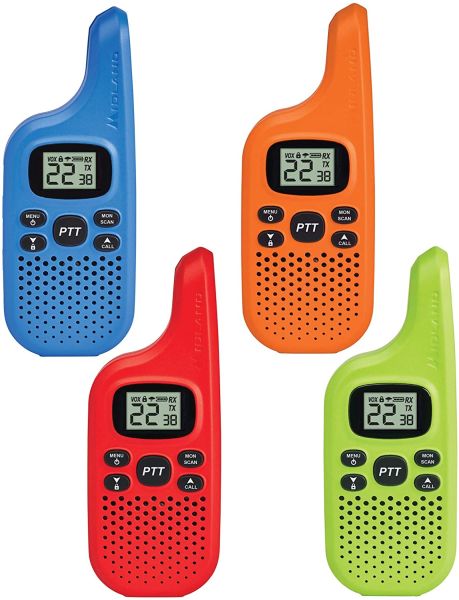 Midland X-TALKER 22 Channel FRS Walkie Talkie is another simple-to-use, no-frills walkie talkie. There aren't many features here, but the average user won't be troubled in the least due to this. If you want a simple walkie talkie that keeps the conversation going while you're outdoors, this is a good choice.
Don't expect it to go long-distance, but it's great for simple usage like parking the RV, campground tasks, boating, or hiking. Midland X-Talker is available in bright colors and is easily used by kids and adults alike.
Notable features include eVOX, 22 FRS/GMRS channels, 38 CTCSS privacy codes, and NOAA weather alerts. The avowed range in 16 miles, the practical range is a fraction of that. The two-way radio is powered by four AAA batteries.
Pros
Lively, bright color scheme
Good value for money
No-frills, easy to use design
Cons
Low practical range
Questionable durability
Things To Know When You Buy A Walkie Talkie
The Advertised Range Is Not What You'll Get
Most walkie talkies advertise ranges like 16-miles, 36-miles, or maybe more. You're unlikely to see that range on your device. The advertised range is achieved under "ideal conditions", which are rarely experienced in actual use. Range will be affected by the presence of obstacles, weather, electromagnetic conditions, battery power, etc.
In most cases, the range in a city or wooded area will barely be a mile, You can expect to reach 2-3 miles over water when on a lake or similar open area. Finally, an open area without any obstructions might see a five mile range. So keep your expectations realistic.
The Power And FCC License
The average FRS channel walkie talkie doesn't need a GMRS FCC license. However, if you need to communicate over a larger area and thus want to use a more powerful transmitter and receiver, an FCC license is required. Higher power range allows communication over five to twenty-five miles.
A GMRS license doesn't require you to take an exam, though some documentation will be necessary. It is valid for 10 years and allows the use of qualified radios by the license holder and their immediate family.
If you find yourself in the outdoors often and need more powerful radios, the license is a worthy investment.
Making Your Walkie Talkie Choice
Choosing the best walkie talkies for camping and hiking doesn't need to be overwhelming. This article reviews the best choices available in the market today. These are great for communication and use while on a vacation and on the campgrounds. Spotty cell service shouldn't push communication out of your trip – and these walkie talkies ensure you stay connected.