Camping can be a very fun and relaxing experience everyone should look forward to. Nature, the morning vistas, the smell of trees, the adventure…
However, there are many things you should plan beforehand to avoid difficulties and to provide yourself a rest you deserve. One of the important things for your camping expedition is storing and keeping your foods cold and at the right temperature.
In fact, this is very important, because otherwise, not-proper stored food can lead to food poisoning, and we want to avoid that.
Therefore, here is a list of top ways to store your food fine and cold and avoid any food-related problems.
Bear proof coolers
Wild animals in nature looking for food – not a coincidence, but do you know how to keep them away from your supplies. Leaving your site unattended can results in a mess, if animals, like bears, for example, loot around and rifle your tent and food supplies.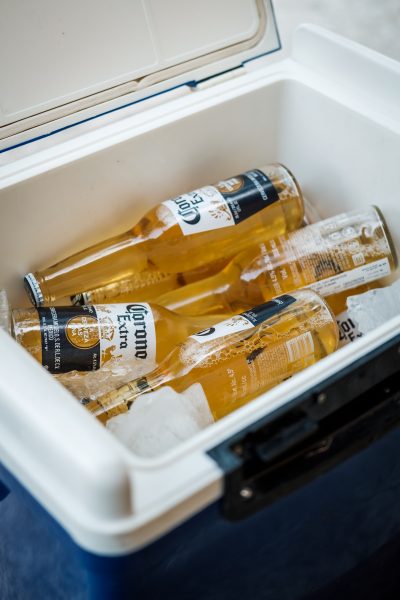 Therefore, bringing a strong and durable bear-proof cooler will save you from the mess of staying without your foods while keeping it cold. What's more, good quality coolers will keep away the outside odor and provide extended periods of cold inside while efficiently blocking the heat from the outside.
Furthermore, bear-proof coolers are greatly enforced and strengthened, and they can withstand incredible amounts of impact, strain, and pressure. However, make sure to look for a cooler with IBGC certification (Interagency Grizzly Bear Committee).
Choosing a proper cooler can require a lot of research, so you should check this how to pick a bear-proof cooler guide and save yourself some time.
Lower budget coolers and improvisation
Along with higher and coolers comes the price tag factor. So, if you are low on a budget and currently don't want to invest in a better cooler, that's ok. There are some tricks that can make an ordinary cooler level up and maximize your camping experience food-wise and time-wise.
So, here are some good tips and advice on extending the capabilities of your basic food cooler:
What's better than one cooler? I would say two of them, you'll agree. Nonetheless, this trick is about bringing two coolers along- one for foods and the other for drinks. Not only that your food will be cooled but this is also great for better organization of your supplies.
There are many options for the market, and if the budget is not a problem, then invest in better-insulated ones with more spaces. Even more, some coolers can store large amounts of beer bottles, and some even offer comfort for storing wines.
Suffice to say, cooler needs ice bags/ice packs to keep the food cold. Moreover, not every ice pack is created equal and will not provide the same properties. While there are many options, some which provide longer "freeze periods" and some shorter, the trick is to know how to pack them.
Firstly, after buying the ice bag, a good trick is to fill it with two cups of water and one cup of rubbing alcohol. But, don't use a big cup!
Second, make sure to get as much air out from the bag as you can, before sealing it. This will ensure that the ice bag is properly packed and that supplies will be in cold. Furthermore, you can add a few dry ice packs to your cooler.
Finally, the last trick is to put a bit of ice in your cooler and put the ice bags/packs on top of it. This is a great way to maximize the retention time of the ice.
To bring frozen water bottles to your camping trip is to kill two birds with one stone. In that light, frozen water bottles will prolong the periods of cold of your casual cooler. But, guess what, you'll also have plenty of water to drink once the water inside them melts. Seems quite convenient, huh?
On top of that, there is a trick to maximize the period of ice-state in the bottles. You should use large, 2L plastic bottles to achieve this. Even more, it is best to freeze your water at least one week before your expedition. You can do it, a night before the trip, but the ice in bottles will melt faster (within 24 hours period).
Overall, freeze a few bottles a week before the trip and see how many bottles will fit in your cooler, after you pack it with the rest of the food.
This is a tip from expert campers, those who have many years of camping experience under their belt.
So, the purpose of adding salt is to reduce the melting point of the water. In particular, when you mix melting water with rock salt, water becomes even colder than the ice. Additionally, apply this trick to your food and beverages, and they will also retain coldness and stay fresh for longer periods.
On the other side, don't overdo it, because as we all know – too much salt will mess up with a food taste. Also, this is a great tip for freezing water, as it will give even longer periods of coldness when you apply it with previous tricks. Once again, just don't overdo it – too much salt in water is not a good option.
Finally, there are some things which are common sense, but let's sum it up.
Keeping your freezer in shade is a logical thing, as it will additionally slow down the rise of temperature inside cooler.
Freezing your food in advance is also a smart move and it keeps it safe from contamination even more.
Double wrap meat in aluminum foil and freezer bags. This is useful from keeping any liquids getting into cooler while meat thaws.
Bring a hanging thermometer to make sure that the interior of your cooler doesn't cross 40°F and add an additional layer of security to your supplies
Final Thoughts
This is always a way to preserve your foods, whether it's buying high-quality equipment (which I highly suggest) or improvising.
Whatever you choose, be sure to know your exact needs and how long your trip will take and then decide what is the best fit for you. If you decided that you won't go for a high-end cooler, then make sure you apply and mix the improvisation technics from this guide to best suit your needs.
Have a great, wild, and relaxing camping, and, keep your food safe!