Countless camping trips have been ruined by rain. The best way to ensure that your vacation isn't sacrificed at the same altar is to prepare. Rain happens, even when you least expect it. Some areas are more at risk of a random shower than the others, but the smart play is to always be prepared.
Here are some tips for camping in the rain. Our goal is to prepare for the eventuality, but stay practical and use feasible ideas.
1. Waterproof And Prepare Your Tent Before You Leave
Your tent is your shelter. If you aren't prepared, there isn't much to do once it starts raining. A rainy tent is a terrible place to be in. You can ensure that the problem never comes up by routine maintenance of the tent.
Waterproof your tent before you head outdoors, even if rain isn't expected. Learn your way around a seam sealer, and you'll be set for the outdoors.
You can't seam seal a tent or add a waterproof coat if you're already in the rain. So do it ahead of time, and give your tent a test run before you leave home.
2. Watch The Weather Forecast
See the weather forecast of your intended camping destination. Whether you use an app on your phone or a NOAA broadcast is entirely up to you. Point is, it is better to know what to expect. If there's a chance of rain, you can always make additional preparations for a more comfortable camping experience.
3. A Good Place To Pitch The Tent
Deciding on a good campsite can mean everything. Here are a few things you should do when setting up a camping rain shelter.
Avoid setting camp under a tree: The tree leaves will keep the drizzle going long after the rain has stopped. The pitter-patter on the tent isn't music to the ears! Also, if it gets windy, there's always a risk of falling branches.
Avoid lakes and rivers: Setting up a tent near a river or lake sounds like an idyllic setting. It's also a terrible idea for camping in the rain. You're very likely to wake up with your tent floor swimming in water.
Setup the tent on higher ground: Look for a nice high ground where there isn't a risk of water pooling. Look for telltale signs of natural drainage. If an area looks like it will be in the way of rainwater draining, take your tent elsewhere!
4. Tarps. Tarps Everywhere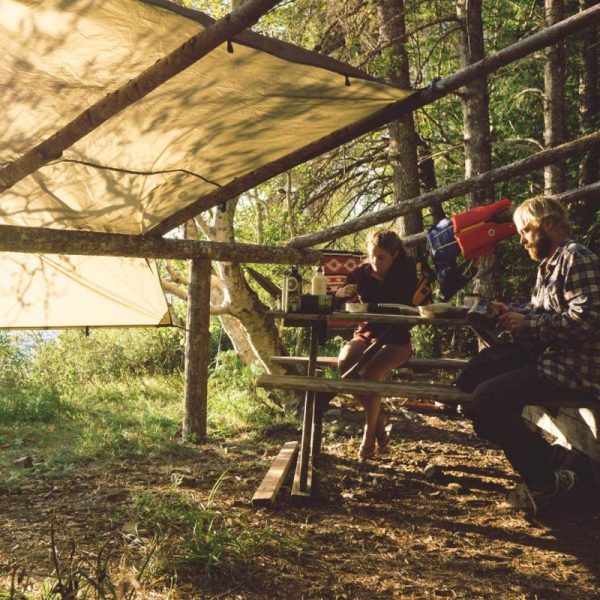 There's a lot that can be accomplished with plastic sheets and tarps. I'm going to list several possible uses here, you don't have to do everything, but these ideas can be employed depending on how heavy the rainfall is.
Give your tent a footprint: Place a plastic sheet or tent footprint on the ground before pitching the tent. This gives your tent extra protection from moisture. It's also a useful way to prevent damage to the tent floor. Tuck or fold away any parts of the footprint that could cause water pooling.
Hang a tarp over the tent: Put a tarp over your tent for extra protection from the rain. This tarp isn't supposed to hug the tent, instead, it's a shelter placed over the tent. Use guylines and stakes to hold the tarp in place. The tarp should be angled or sloped, rather than flat to prevent water from pooling in the center. Something like a hammock tarp can fit in nicely.
Tarps inside the tent: Putting a tarp on the tent floor offers greater protection and some insulation. It also makes it easier to clean the tent if some dirt gets dragged in.
5. How To Camp In The Rain And Have Fun
Knowing how to camp in the rain goes beyond staying dry. After all, we expect more than staying cooped inside the tent all the time. Here are some ideas for camping in the rain and keeping it lively!
Light it up with LEDs: Ambiance and lighting matter. Add some lights around your campsite to liven things up a bit. You can bring small LED string lights to drape around the campsite. Maybe don't go full Christmas, but create a brighter campsite. Of course, use good sense and don't put lights somewhere out in the rain.
Create an outdoor living room: Put up strategically placed tarps to create an open, but dry living "room" near your campsite. Put up a tarp overhead, and if necessary, on the sides and the ground. Bring out the camping chairs and relax or play games. You can also put a clothesline in this area and use it to dry any wet clothes, rather than hanging them in the tent.
A hot, comforting beverage: Coffee, hot chocolate, or tea, whatever your choice of beverage is, now is the time to enjoy it. The rain has a way of making these little things feel more enjoyable, so take in the pleasure and enjoy your drink! Also, throw-in some comfort food and snacks into the mix and you've got yourself a party!
6. Layer Up And Stay Warm
Staying warm is a good tip for any situation and equally important when you're camping. Rain brings down the temperature and you can expect pleasant weather to turn chilly. The nights can get especially cold and the smart play is to stay ahead rather than reacting after you catch a cold.
Layer up carefully to keep the cold away. A waterproof jacket or poncho goes at the top. Wear a t-shirt or clothing that wicks sweat away from the body. Don't wear anything cotton. It has a terrible habit of drawing moisture and staying wet.
Clothing made from synthetic materials designed to wick away sweat and keep you dry is a good idea. Wool blends are better. Many people swear by merino wool. It certainly is a very useful option, but it can be more expensive than other clothing choices.
7. Dressing Up And Staying Dry
Dressing up in bright colors is important when you're camping in the rain. You increase your visibility and don't get mistaken for an animal by other campers/hunters. At least the top layer should be bright. An orange jacket, or for that matter, red or even fluorescent clothing work just fine. The key is visibility.
Carry large plastic bags to keep your clothes and gear dry. These can be large garbage bags or smaller Ziploc bags. Anything goes, as long as they're waterproof and capable of keeping their contents dry. A change of clothes must go into these bags to ensure it stays dry.
Make it a point to carry a clothesline. There may be times when it's impossible to stay dry. Putting up a clothesline will give you a chance to dry the clothes. At the very least, you can put the clothesline inside the tent and hope the clothes get dried.
Wear rain pants or take gaiters along. It's remarkably easy for trousers or pants to get wet. Even wet leaves and morning dew can soak through the pants and then it takes forever to dry. Gaiters or rain pants can solve this problem. While we're on the topic, don't forget to bring along waterproof hiking boots so your feet stay dry. Wet socks… Ugh.
Here's a quick review of things to bring along:
Bright, waterproof top layer or jacket
Large plastic bag(s) big enough to hold a change of clothes
A clothesline
Rain Pants or gaiters
Waterproof hiking boots
8. Necessary Camping Gear For Staying Warm
Don't forget to pack along a few necessary things to keep things on track. These should be a part of your camping rain gear and a necessity to pack.
Flashlight: Keep a flashlight or LED lantern handy. You'll need these things when it gets dark. The clouds, rain, and fog can really creep up on you. Cree XML-T6 flashlights are pretty popular and useful in these situations.
Waterproof matches: Regular matches are useless if they get wet. They aren't much good in the rain either. Waterproof matches will make life easier and they're more useful in getting a fire started to keep you warm.
Swiss Knife/Survival Knife: A knife or multitool to tweak things and get the job done. This can include dealing with guylines or clothesline, preparing tinder, and several other jobs.
Rain Isn't The End Of Camping Fun
These tips for camping in the rain should be good enough to keep your vacation on track. Sure, the rain can make things slightly tougher, but it shouldn't ruin a good time in the outdoors! You don't have to go out of the way to prepare for the rain, but careful preparation is necessary.