When you're visiting the great outdoors, sometimes you want more space and comfort at your disposal. Getting hold of the best 5 person tent should be able to satisfy that requirement. As the name implies, there is enough room in these tents to accommodate five people.
However, I'll suggest keeping them limited to 2-3 people. That will give you enough room to place your gear and walk around freely in the tent. A five person tent could be very useful for two adults and a child on a family camping trip.
Top Of 5 Person Tents For 2020
Editor's Choice: Coleman Evanston Dome Tent with Screen Room
Coleman Evanston is a spacious and wonderful family camping tent. The screen room provides an excellent area for activity. The main room is spacious enough to comfortably hold 2 people with their luggage and leave enough room to walk around. Sure, you can shove 5-6 people in this tent, but why not enjoy some luxury?!
Reviewed: Best 5 Person Tents You Should Consider
1. ALPS Mountaineering Meramac 5-Person Tent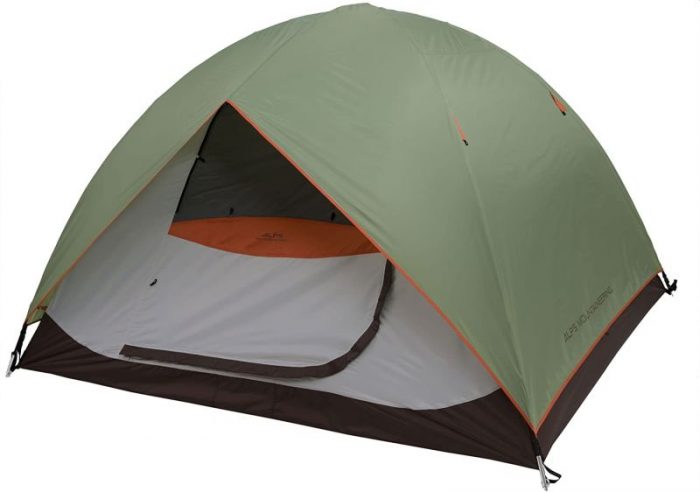 ALPS Mountaineering Meramac 5-Person Tent has a reputation for being a sturdy and comfortable tent. It is quite adept at handling the weather and has sufficient protection against the wind and the rain.
There are two doors on the tent, each covered by an awning formed by the rainfly. The large, D-shaped doors allow easy movement in/out of the tent. Thanks to being covered by the awning, they remain comparatively dry in the rain.
Each door also has a big mesh window to allow easy ventilation. Since the window is placed towards the top and is covered by the awning, your tent can have good ventilation even if it's raining outside.
Specifications And Other Features
The base area of the Alps Meramac tent is 8×10 feet. That's just about enough to get five sleeping bags into the tent. Of course, each person gets just 2 feet of width. This is why I suggest this tent (and others like it) are best suited for 2-3 people.
Storage options inside the tent include pockets and a gear loft. Apart from the windows on the doors, there are large side windows as well. They'll be exposed once you remove the rainfly and make this a well-ventilated and open tent.
Alps Meramac is a free-standing tent with a 2-pole design. They use relatively thick, shock-corded poles made from fiberglass and aluminum.
Pros
Good value for money
Large doors for easy entry and exit
Waterproof and UV resistant
Cons
Tent floor is thin and practically the same material as the rainfly, making it unsuitable for heavy rain
2. Browning Camping Big Horn Tent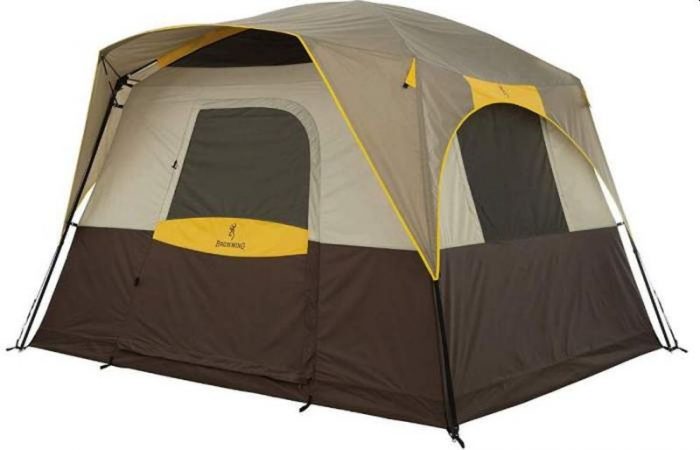 This is a big and spacious tent. You'll get plenty of room and can get along comfortably in the Browning Camping Big Horn Tent. Value and quality come together in the 5 person tent.
The tent comes in the classic cabin shape. The rainfly covers the roof and forms an awning over the door and windows. It doesn't drape around the tent but stays at the roof and corners. Interestingly, this tent was first released under the name Browning Camping Ridge Creek 5 Person Tent. It was later renamed to Big Horn – a name it shares with the company's 8-person tent.
Specifications And Other Features
Dimensions for the 5-person Big Horn tent are 10 x 8 feet and the max center height is 7 feet. There are three independent windows on the tent, plus a smaller one placed on the door. All windows are covered in no-see-um mesh and offer plenty of ventilation.
The roof is practically all mesh and offers a clear view of the sky. If you're camping in mild weather, it might be possible to remove the rainfly and sleep under the stars. Given the height of the tent, privacy won't be a problem.
Browning Camping Big Horn freestanding tent is fairly waterproof and can withstand a small bout of heavy rain with ease. It doesn't do so well with wind though, so that's something to keep in mind. Another gripe here is that the floor feels thin. It might be better to carry along a footprint or tarp to protect the tent floor.
Pros
Excellent value for money
Spacious with plenty of storage room
Good ventilation
Acceptable waterproofing
Cons
Doesn't hold very well in the wind
Tent floor could have been thicker and sturdier
See buying options and discounts
3. NTK Colorado GT 5 to 6 Person Family Camping Tent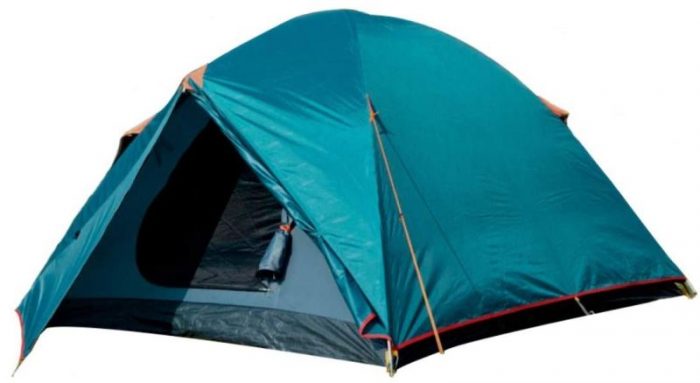 NTK Colorado GT has quality on its side. The looks of the tent are rather plain and simple but it remains practical and useful. The tent body makes generous use of fine mesh in an attempt to improve ventilation, even with the rainfly draped around it.
There are two doors for this tent located on opposite sides. When covered by the rainfly, an awning is formed over both doors. If you so choose, the rainfly can form a vestibule in front of each door for a bit of extra space. A zipper keeps the rainfly in position over the doors and can be easily manipulated.
The dome shape of this freestanding tent keeps it safe from the rain and wind. What's really good is that even with the rainfly in position over both doors, the tent manages good airflow. Ventilation seems to be the strong suit of this tent.
Specifications And Other Features
Dimensions of the NTK Colorada GT 5 person tent are 10 x 10 feet. That's spacious enough for five people. However, if you feel like it, you can squeeze another person in and everyone can be tightly packed and truly uncomfortable.
Overall, the tent has good waterproofing and its seamless bathtub-style floor ensures that no moisture seeps in through the ground. Be sure to maintain it well and treat the tent with seam sealers as necessary. The rainfly is made from 190T polyurethane laminated polyester fabric and is 50+ UV resistant.
Pros
Good value for money
Excellent waterproofing
Good ventilation
Cons
The tent material can feel flimsy at some points
4. Coleman Evanston Dome Tent with Screen Room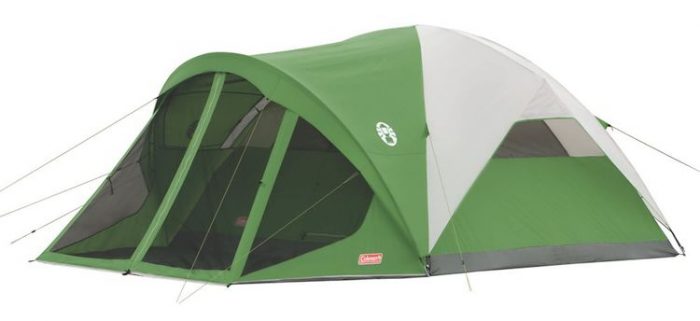 Here's the editor's choice for this category, the Coleman Evanston Dome Tent with Screen Room. This is an excellent family tent with a spacious main room and attached screen room. Together, these areas provide plenty of room for fun activities or just chilling out.
This tent is technically large enough to hold six people. The smart move would be to stick with two or three – enough to stay comfortably in the main room. As this is a tent with a screen room, you can utilize the porch area for sleeping. The better choice would be to use it for activities, rather than sleeping.
Specifications And Other Features
Coleman Evanston uses the company's Weathertec system to stay waterproof. This includes a welded bathtub floor, inverted seams, and welded corners. They've extended the bathtub floor to the screen room, so it can resist moisture from the ground. Don't expect the screen room to stay dry in the rain, mainly due to the sloped construction of the doors.
As for the main cabin, it stays waterproof and well-ventilated. The rainfly forms large awnings over the windows. This ensures that the tent stays dry and well-ventilated. Besides, the screen room can be leveraged for ventilation as well.
The main room of the Coleman Evanston measures 10 x 9 feet and has a center height of 68 inches. As for the screen room, it measures 10 x 5 feet. The tent is also available in an 8-person variant with slightly larger dimensions.
Pros
Spacious and convenient tent with screened porch
Good waterproofing
Excellent ventilation
Cons
It can take some effort to pack the tent
The tent could use better quality stakes
5. Coleman 5-Person Instant Dome Tent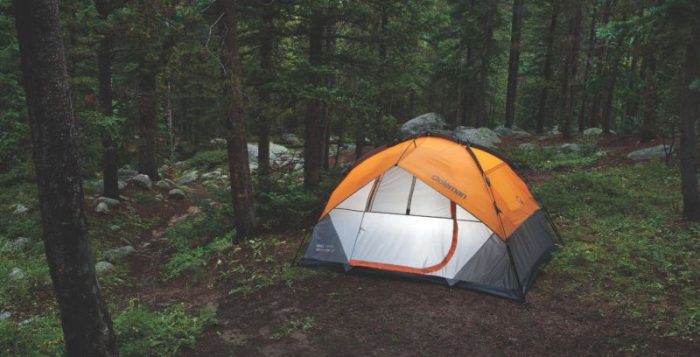 Coleman 5-Person Instant Dome Tent tries to stay true to its name. It's quick to set up – it might take longer than the claimed 60 seconds, but it's faster than the competition. The large D-shaped door and massive windows on the sides keep it well ventilated and provide great views of the outdoors.
The rainfly forms an awning over the door and keeps water away. Overall, by looks and specs, you can't help being impressed by the tent. Unfortunately, the tent has some real problems that are practical, rather than the theoretical benefits it presents.
Specifications And Other Features
The tent is indeed very quick to set up. However, it seems to suffer from problems due to this process. The fiberglass poles with the touch of steel don't seem to hold up well. Many customers complain of the poles or hubs breaking. It seems common enough to prevent us from fully recommending this tent.
However, if you're willing to overlook this risk, the tent is rewarding in its spacious and open space. The quick set up sure does help, making the setup of this tent quite a breeze. Floor dimensions for the Coleman 5-person Instant Tent are 10 x 7 feet. Maximum center height is 64 inches. The tent has two mesh pockets for storage.
The questionable behavior of the poles is not a problem to ignore. If you're considering buying Coleman 5-person Instant tent, consider looking at the Coleman Sundome 6-person instead.
Pros
Spacious tent
Quick to set up – claims to be done under 60 seconds
Well-ventilated and waterproof
Cons
The poles are unreliable
Questionable longevity
6. ALPS Mountaineering Taurus 5 Outfitter Tent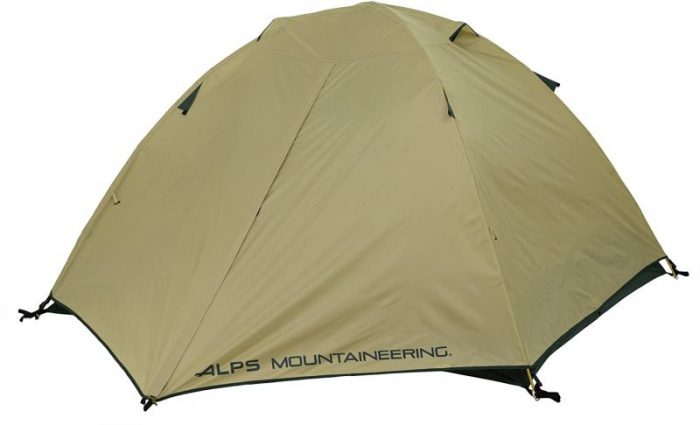 ALPS Mountaineering Taurus 5 Outfitter Tent is a heavy-duty and high-quality big 5 tent. This tent is made from good quality materials and it becomes evident on a touch. You'll find the fabric and material of the Taurus to be more reliable than other tents, including the Alps Mountaineering Meramac.
This is a freestanding tent with two pole design. The aluminum poles have clips that snap over them and keep them in the right position. The Taurus tent is a very light set up and weighs just 13 lbs and 5 oz.
Specifications And Other Features
Let's start with the dimensions. The floor area is 8×10 feet and the center height is 72 inches. Two key changes that set this tent apart from its lower cost siblings are the heavy-duty nylon oxford floor and oversized #10 door zippers.
The floor looks remarkably well made and can conveniently handle the ground. Taurus tent uses the rainfly to wrap around the tent. When in position, the rainfly zippers at the doors can be placed to create small vestibules for extra storage.
It performs well in the rain and affords good protection against the wind. However, with the rainfly wrapped around, the ventilation seems to suffer. You can make changes like unzipping the rainfly and folding it to the side of the door, but it doesn't make much of a change.
Pros
Tent made from high-quality materials
Waterproof and windproof
The rainfly adds vestibules for extra storage
Cons
The ventilation suffers a bit
7. Oztent Expedition 5-6 Person Tent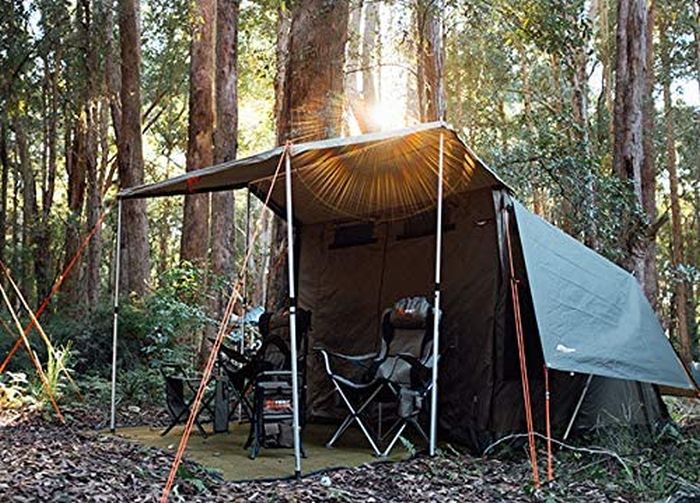 This offering from Oztent looks has a rather unique look. It looks like an old design, but with a very modern inspiration. This is a large tent – it's big enough to hold five people, it's also bulky and heavy.
It's easy to understand why the Oztent Expedition is bulky. It's made from high-quality 8-ounce Ripstop Polycotton Canvas. As a canvas tent, this is a breathable, comfortable, four-season tent that can handle pretty much any weather condition. Expedition's simple shape allows it to be quick to set up – this one takes barely 30 seconds to be done.
That time limit can be considered an exaggeration. Pulling this heavy tent is the job of at least two people. Unless you're setting it up like it's competitive tent pitching, you're likely to take at least a couple of minutes.
Specifications And Other Features
Canvas by itself is a fairly waterproof material. This tent will stay up in the rain without letting water through. I like the large awning here – it gives the tent a nice and stable look. The floor is made from heavy-duty, heat-sealed PVC that will keep the moisture out and feel stable.
Should you choose to extend the area of this tent, Oztent sells a front panel that will cover the awning area. Though this panel can be used as an awning too! Finally, though this can be considered a 4-season tent as a canvas tent, it doesn't have a stove jack. It's best not to take this tent for camping in the cold!
Pros
Good quality material that can last for years
Breathable, waterproof fabric
High-quality construction
Cons
Expensive and heavy (like most canvas tents)
No stove jack
8. Mountainsmith Conifer, 5+ Person Tent
Mountainsmith Conifer 5+ Person Tent has an interesting idea. This tent is built to accommodate five people, and a dog! That sounds pretty awesome, but make sure your pupper is prepared to spend time in a tent. Also, don't put a dog and five people in the tent – you'll all be packed and uncomfortable.
The tent has two large doors, and once you place the rainfly, you get a vestibule in front of each door. Windows on the doors and the larger windows on the side, all have no-see-um mesh. That way, you can enjoy good ventilation without worrying about insects and critters getting in.
Specifications And Other Features
Floor dimensions for the Mountainsmith Conifer 5+ tent are 10×10 feet, with a center height of 74-inches. The tent is built to be waterproof and apart from its quality rainfly, it also boasts a bathtub-style floor with taped seams. Storage options are provided by a gear loft and a few mesh pockets inside the tent.
Pros
Good waterproofing
Slightly more floor area than the average 5 person tent
Vestibules for extra storage
Cons
Average to poor ventilation
The tent can be difficult to set up and pack away
9. Coleman Rocky Mountain 5 Plus Family Tent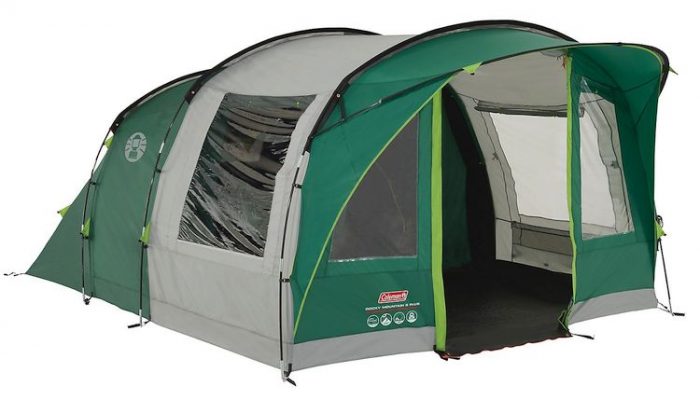 Coleman Rocky Mountain 5 Plus Family Tent is quite possibly the coolest tent in this category. Its biggest problem, however, is its shaky availability. The tent has a large living area that opens up to the main room. This main room can be divided into two rooms with a curtain.
Oh, and what makes it better is the presence of a dark layering in the main room that keeps the glare of the sun away. It's an exceptional blackout tent with plenty of space and comfort.
Specifications And Other Features
The total usable area inside this tent is 120.5 square feet. That's a large usable area with almost three rooms, if you count the living area/porch. Rocky Mountain Tent's living area features two large PVC windows on the sides, along with large windows on either side of the door. One window is available at the back of the tent to complete its ventilation profile.
Rainfly on this tent offers protection from the rain and the sun. The tent offers SPF 50 protection from the sun. Taped seams and fully sewn-in groundsheet keep water away from the living area, making this an excellent waterproof solution for the outdoors.
Pros
Excellent waterproofing
Spacious and very comfortable
Blackout tent blocks the glare of the sun
Cons
The tent can have trouble with airflow
If divided into two rooms, the main area can feel rather small
A Quick Guide To Buying A 5 Person Tent
Actual Occupancy And Number Of People In The Tent
As I've mentioned several times here, most five person tents will fit five average-sized adults. However, they'll be packed together, usually with barely two feet of width available to each person.
In simple terms, the person count is the number of sleeping bags the manufacturer can shove into the tent. It's unlikely that you intend to spend your vacation the same way. Which is why, these tents are best used by two adults, and maybe one or two children.
If you buy a 5-person tent, you buy it for the extra space and comfort, not to house five people. This principle applies to pretty much all tents, so be mindful when picking the right tent for you.
Big 5 Tents And Their Characteristics
Once you get to 5 person tents, you've basically reached the domain of large tents. While most modern campsites won't have trouble accommodating these tents, some campsites may have problems. Simply put, these tents may overflow from the campsite to nearby areas. The easiest solution is to call ahead and check the campsite area via phone or email.
We want waterproofing for our tents. They should be able to withstand a moderate rainfall, at the very least. Bonus points if they can take the brunt of heavy rain. A leaky tent while vacationing with your kids isn't something anyone's ever going to enjoy.
Good ventilation ensures you don't feel stuffy and can stay comfortably in the tent. Finally, the ease of putting the tent up and packing it away. As large tents, these are going to take some time and effort to set up. Even though there are tents that claim to complete setup in mere seconds, putting up a conservative estimate is more practical.
Pricing For Your Tent – Cheap Or Expensive?
Given the variety of tents available, you have a very wide price range to work with. Something near a hundred bucks could get you a tent good enough for a few trips. A good quality canvas tent will likely stay on for years and keep; you be more comfortable.
Canvas tents are generally more expensive than their counterparts made from synthetic materials. They also tend to be far heavier than their cheaper competitors.
Deciding can take some time, but a cost-benefit analysis is definitely in play. A polyester tent with cheap pricing can be more useful than an expensive pick. Point is, put your requirements first, but don't randomly go for the cheap. You can easily find quality tents that offer great value (like this list here!).
The Large Tent You Want For 5 People
A comfortable camping vacation awaits you – all you need is a high-quality tent that's spacious and answers to your requirements. My top suggestion for the best 5 person tent is the Coleman Evanston Dome Tent with Screen Room. If that doesn't quite tickle your taste buds, take a look at the reviews above and find the tent you want!