Camping trips with the family have long been a tradition for many. The tradition is growing. Nowadays, more people than ever are making camping a part of their vacations. Comfort is something you should never overlook for a family camping trip. Having enough room to sleep and walk around in your tent is a big part of that. The best family tents offer exactly that – you get to stay in relative comfort while enjoying a nice family vacation.
10 Best Family Tents In 2019
Buying Guide For Choosing A Family Tent
Size Requirements Of Your Family
There is a good chance you will need to go over the listed size relative to the number of people. Buying a 4-Person tent is not the best idea. Person count for a tent is generally based on the number of average-sized people who can sleep in the tent when laid side-by-side. You have fairly good chances of your tent feeling cramped and stuffy, and there won't be any room for your luggage.
A good rule of thumb is to go a few sizes over. For example, if you want a tent for four people, consider a 6-Person or 8-Person tent.
Larger tents can also be convenient. Having parents and children stay in separate, small tents is no fun! Larger tents are more spacious and allow the family to be together, along with easy storage of luggage. Many of these tents also have room dividers for increased privacy.
Do I Need A Waterproof Tent? (Hint: Yes)
Waterproofing your tent is important, A lot of people forget this simple step, and end up getting themselves and their stuff wet even in a slight drizzle. If you are buying conventional polyester or nylon, look over their waterproofing status and reviews. The product page or website may also pertinent information.
Most modern tents are built to be waterproof. However, not all of them will take a beating from the rain. See how much rain they can handle, and if necessary, use a sealant or spray to improve waterproofing.
Those using a canvas tent will want to let their tent season before taking it to its voyage. In case you're unsure, here's how you can waterproof a tent.
Accessorize Yourself And Your Tent!
Families going car camping can allow themselves some luxuries and must carry some necessary tools. Consider carrying a few good-quality stakes. If your tent's stakes aren't high-quality, replace them. You could also carry tools to waterproof your tent, and a nice changing/showering tent.
Then there's the question of comfortable sleep. Carrying an air mattress along has been fairly popular, though should consider using a nice camping cot.
Top 10 Family Tent Reviews
1. ALPS Mountaineering Camp Creek 6 Person Tent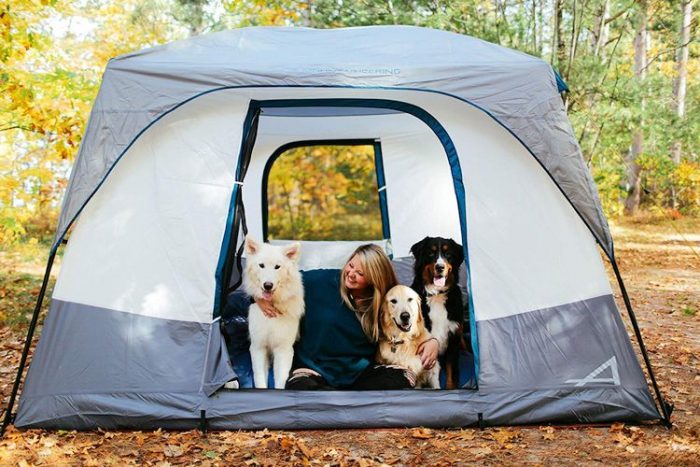 Simple and quick to set up, the ALPS Mountaineering Camp Creek 6 Person Tent has plenty of room and plenty of height to offer. This is a cabin-style tent with almost vertical walls that give it a good height. In pure numbers, the floor area is 10×10 feet, and the center height is 84-inches.
You can easily place a queen size mattress air mattress in here, and still have plenty of room. Given the height of the tent, cots or an air mattress would fit in without any trouble.
The tent material is waterproof, and the rainfly creates an awning over the big tent door and the rear window. Windows on the tent have a fine mesh and provide excellent ventilation. The tent floor is made from the same material as the walls but is thicker. I'll say you place this tent over a tarp, and add another one on the inside as well.
Pros
Looks good
Well ventilated
Acceptable waterproofing
Easy to set up
Cons
Does not hold up well against wind
Rainfly seems flimsy
2. Browning Camping Big Horn Tent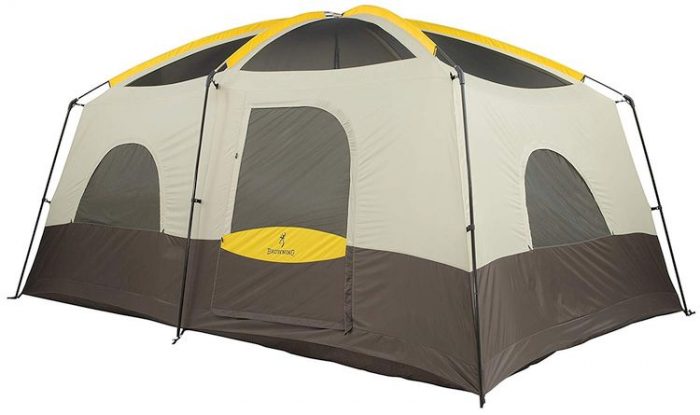 Browning Camping Big Horn Family Hunting Tent is a very popular tent, and also one of our top choices for the best 10 person tent. These 10 person tents may be considered extra large family camping tents, but they're pretty great with lots of space for children to play around.
Browning Big Horn Tent is available in two versions – 10 person tent, and a five person tent. The 10 person tent includes a room divider that bisects the tent into two rooms. Base dimensions of this tent are 10×15 feet, and the center height is 87 inches. Now that's a number any tall person would love!
Mesh windows on this spacious tent will allow air to flow through freely, and the large door makes it easy to enter and exit. The rainfly creates a small awning over the door, and that looks pretty cool too. Overall, the tent has excellent build quality. The bathtub floor is somewhat thin. It holds well, but I'd throw a tarp under it anyway. The company also sells a floor saver, you can consider that for the interiors as well.
Pros
Freestanding
Great headspace
Spacious with great ventilation
Waterproof
Cons
Roof mesh isn't fine enough to stop some insects
Bathtub floor could have been a bit sturdier
3. Coleman Evanston Dome Tent with Screen Room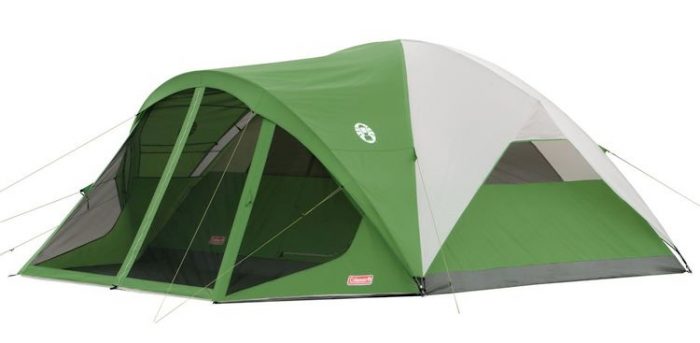 Coleman Evanston is a nice tent with a screened porch. This is an 8-person tent, with room for five in the main cabin, and three in the porch area. You can place a queen size air mattress in either room. I'd say it is spacious enough for 5-6 people, with room left for luggage and the ability to move about freely.
There are large windows to keep the main cabin well ventilated. Full dimensions of the tent are 15×12 feet, and the center height is 6 feet. Coleman Evanston Dome Tent with Screen Room is completely waterproof, with the cabin receiving WeatherTec treatment. This tech gives it a bathtub floor with the seams welded and inverted for enhanced waterproofing. The screen room doesn't receive the same exhaustive treatment, but it does hold up fairly well against rain.
Coleman has also made available a 6-person variant for this tent, and it is as well constructed. When camping with kids, the porch area would be great for kids to play, or for the adults to sit back, relax, and sip some wine.
Pros
WeatherTec system keeps the cabin safe from wind and rain (not suitable for heavy rain)
Good ventilation
Easy to access pockets on the interiors
Cons
Insufficient waterproofing on the porch means it gets drenched in rain
No zip-up cover for the back window
4. CORE 9 Person Extended Dome Tent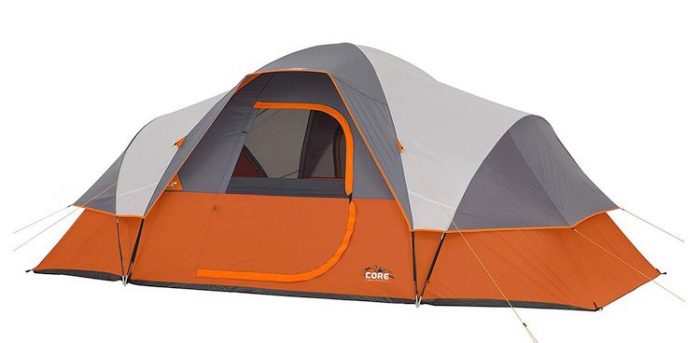 A beautifully designed tent with great looks, the CORE 9 Person Extended Dome Tent does not fail to catch attention. With the floor dimensions of 16×9 feet, the tent is spacious, comfortable, and will hold three queen size mattresses, although that won't leave much room for anything else.
The tent is waterproof and has taped seams for additional waterproofing. Its rainfly creates a small awning over the large D-shape door, which serves to protect the door and zipper from getting wet. Large, adjustable vents and windows are great features that ensure the tent has good airflow.
Pros
Good airflow
Acceptable waterproofing
Spacious, roomy, yet feels cozy as a family tent
Cons
The material seems flimsy
Questionable longevity
5. Wenzel 8 Person Klondike Tent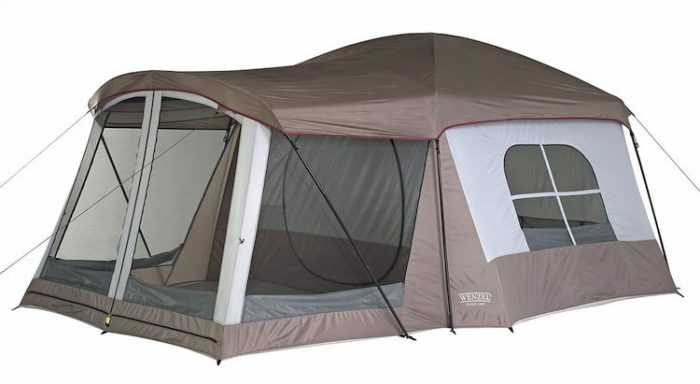 Wenzel 8 Person Klondike is a wonderful family tent, and one of our top choices as the best 8-person tent. This one is quite similar to the Coleman Evanston we saw further up the list. An important difference is that this tent is cabin-style, unlike the dome style of the Coleman tent.
Wenzel Klondike has one main cabin and a large screened porch area. You can fit three queens size air mattresses in this tent, with two going in the cabin and one for the porch. I am a bit partial to tents with a porch area for family camping. It's great to use the cabin as a bedroom, while the screened area becomes something of a living room. While you can fit a queen size mattress there, I say leave it for gear and fun, and keep sleeping for the cabin.
Pros
Very spacious
Well ventilated
Easy to set up
Waterproofing is good enough for medium rain
Cons
Has only one door out
Included stakes aren't much good even if you expect some wind
See price and color options on Amazon
6. Tenaya Lake Lighted Fast Pitch Cabin Tent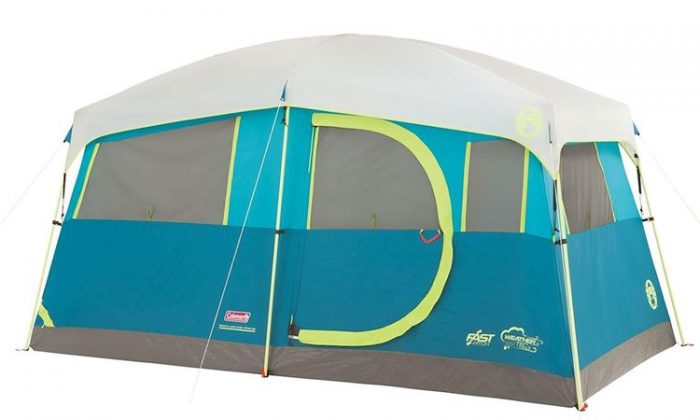 Coleman Tenaya Lake Lighted Fast Pitch Cabin Tent is available in 6 and 8-person variants, each offering its own touch of cool features. The 6 person Tent has these cutesy cabinets that give you extra storage space. They attach at the bottom of the tent, letting you place some gear for storage. The 8 person version offers some extra features, like a full 2×2 close.
You can install mesh shelves in the cabinets as well as the closet to make the best use of available space. The ability to free up and use extra storage space makes this tent great for family vacations. The cabinets especially is a lovely storage space for kids to keep their belongings.
As a lighted tent, this tent also includes an overhead LED light.
Tenaya Lake tent also benefits from Coleman's WeatherTec system, which gives it better waterproofing. Even so, I'd consider this more of a mild weather tent.
Pros
Cabinets/closet for the 6/8 person tent are excellent
Spacious
Hard carrying case with wheels
Cons
Best suited for mild weather
Questionable value for money
See deals for this tent on Amazon
7. Coleman Signature Prairie Breeze Tent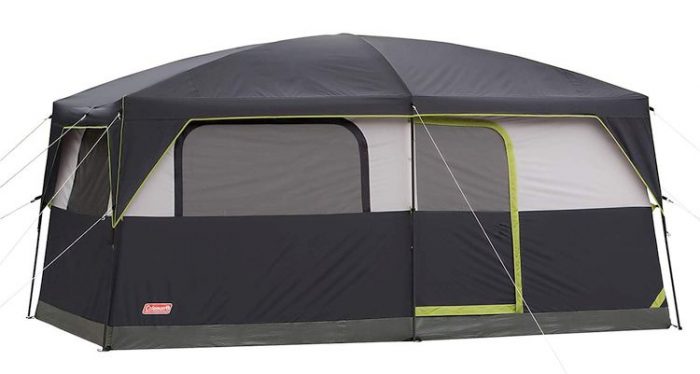 Coleman Signature 2000008055 Tent 14X10 Prairie Breeze tent is rated for nine people. The cabin-style tent has a 14×10 feet interior, giving it room for 2 queen size beds, with plenty remaining as open space.
For added convenience, the tent is compatible with Coleman's CPX 6 battery system, giving it enough juice to run an LED light and small fan. Or, you could use four D batteries. An illuminated wall switch makes it easier to control electrical appliances in the tent. Should you need more power, the included E-port will make things easier.
While the cabin style doesn't quite lend itself to handle wind, the tent works fairly well with rain. It uses Coleman's WeatherTec system, where the bathtub floor connects to the tent walls with welded seams to minimize water contact. All seams on the tent are inverted to further enhance the waterproofing.
Large windows give the tent an excellent airflow, and the big D-shaped door is pleasingly easy to handle.
Pros
Built-in electrical system can run off batteries or draw power from mains
Very spacious
Excellent ventilation
Cons
Waterproofing leaves much to be desired
Does not hold well against wind
8. Kelty Trail Ridge 6 Tent with Footprint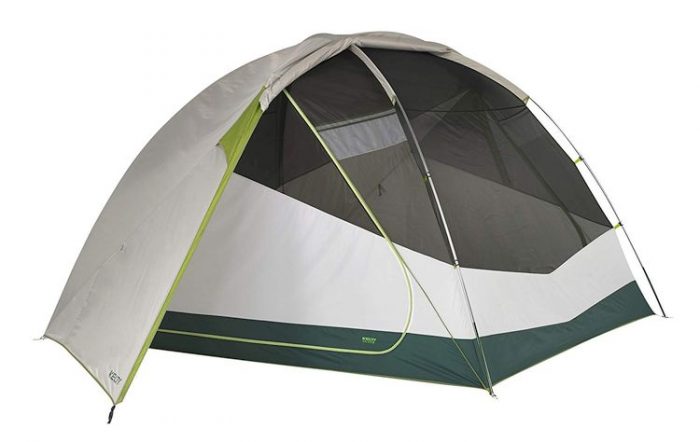 Kelty Trail Ridge 6 Tent is built for six people and has great looks to boot. The arrangement of the rainfly gives it an intriguing, sweeping form and elegance. It comes with color-coded clips and poles for easy setup and will be on its feet rather quickly.
Kelty Trail Ridge tent is rated for six people, and has two vestibules for additional storage. It's pretty disappointing in terms of privacy – rainfly covers the entire tent. With the lack of windows, you either remove the rainfly and end up in a transparent mesh platform, or keep the rainfly and forget ventilation.
The tent has two easy entry D-style doors for comfortable movement. There's a cool stargazing fly on the tent that can be unzipped to… well, stargaze. It's pretty simple, and yet one of those things you never knew you wanted!
Pros
Looks good
Very spacious
Easy to set up, remove, and pack back up in its carry case
Stargazing fly is great
Cons
The floor is pretty thin, placing a tarp under the tent and on inside as well
Pretty troublesome in terms of rainfly and privacy
9. Kodiak Canvas Flex-Bow 6-Person Canvas Tent, Deluxe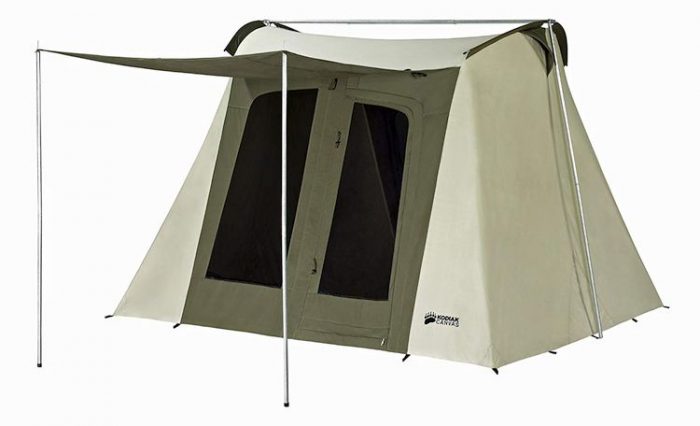 Truly a 4 season tent, the Kodiak Canvas Flex-Bow 6-Person Canvas Tent, Deluxe is deliciously feature-rich. And it looks amazing. The two large D-shaped doors open up under a large awning, which gives the tent a pretty good look.
As the name implies, the tent is made from cotton Canvas. The material is thick, waterproof, and breathable, which makes the tent very comfortable. Even with the versatile material, they've not ignored ventilation. Kodiak Canvas Flex-Bow 6-Person tent has four large windows with no-see-um mesh, and two tunnel flow vents.
The height of the tent is 6'6", giving you enough room to walk around comfortably in the tent. Its heavy floor is pretty good. Not only does it waterproof, but it also provides somewhat decent insulation. The downsides, of course, are the price and overall weight of this tent. But if you want a tent that offers some luxury and lasts years, this one is a pretty good contender.
Pros
Great waterproofing
4 season tent
Breathable fabric and well-ventilated tent
Durable
Looks great
Cons
10. NTK Arizona GT 9 to 10 Person Waterproof Tent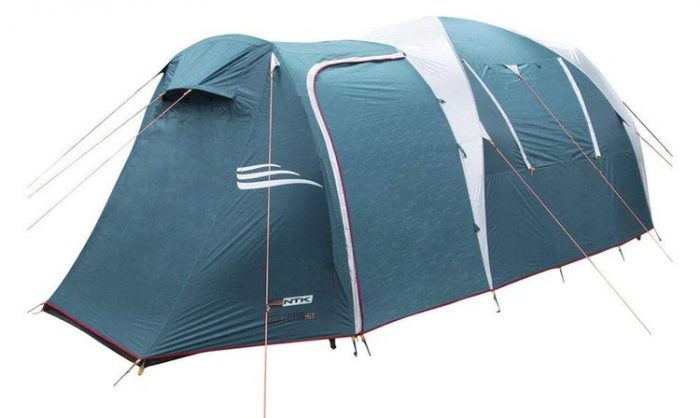 NTK Arizona GT 9 to 10 Person tent is another of those oversized family tents. It has a dome-shaped structure, but the sharp walls give it a rather impressive center height of 6.2-feet. Its spacious, well-formed interiors can be divided into two rooms, each with its own door. There are three large windows on the tent to ensure good airflow and ventilation.
The tent uses high-quality materials for its construction. It is comfortable and will hold up well against rain and wind without disturbing you. To ensure waterproofing, all seams have been welded, inverted, and sealed. The rainfly offers full coverage to the tent and adds another layer of protection against rain.
Pros
Great ventilation
Works very well in rain and winds
Great looks
Comfortable and spacious
Cons
Windows can only be closed from the outside
Rainfly controls window closure. So either you have open windows, or closed rainfly
See deals for this tent on Amazon
The Best Family Tent For You
Having a fruitful, enjoyable, and refreshing camping vacation is awesome. Some of the best-rated tents have been listed here, with the hopes they will be helpful in your hunt for a new tent. While the budget is an obvious consideration, choosing the best family tent is also about comfort and convenience. If it's new, practice setting up and taking down the tent at home so you don't get any surprises when camping.