Buying the best canvas tent is an investment for a camping enthusiast. These are heavy duty tents that are built to last years and can be used for camping in all seasons. Some canvas tents also include stove pipe jacks to stay useful in a cold environment. In this guide, we'll look at the features of canvas tents, and see some of the best available in the market right now.
10 Best Canvas Tents
What Makes Canvas Camping Tents A Good Choice?
Something to keep in mind is that canvas tents are car camping tents. They don't quite work as backpacking tents. This is simply because of the weight. Canvas, while a useful material for tents, is also a heavy one. More often than not, you'll want your tent placed a short distance from your car.
Factors working against canvas tents are the weight and cost. These tents are heavier and significantly pricier than most comparable nylon or polyester tents. However, there are a lot of things working in favor of canvas tents, let's take a quick look.
Canvas Tents Are Durable
You can expect your canvas tent to last years. The material isn't very prone to deteriorating and has a long life. Some manufacturers go as far as to claim that this is a tent you could hand over to your grandchildren. It might be an exaggeration, but with good care, you really can expect these tents to last several years.
These Are 4 Season Tents
Most tents work best in mild weather. It is the cold that most tents find difficult to deal with. Canvas tents are a great choice for cold weather as well. The thick cotton fabric provides better insulation from the elements and makes it easier to retain heat into the tent.
Many tents listed here include stove jackets or stove pipe jacks. When camping in cold weather, you can make use a stove to heat up your tent. Since your tent won't be as vulnerable to heat as polyester or nylon tents, setting up and using a stove is easier and safer.
The thick, insulating canvas is also pretty good at blocking outdoor noise. Some of these tents place greater importance on sound insulation, making them quieter. You won't have to worry about the tent material flapping in the wind, filling up the interior with noise.
Breathability And UV Resistance
Any tent will suffer damage from UV radiation from the sun. Canvas as a material is better prepared to handle this problem and will last fairly well against UV radiation. As a huge plus, it offers decent protection against UV rays for tent occupants.
Canvas is a breathable material. While it does block away water, it will allow water vapor and air can conveniently pass through the tent. This makes the tent feel far better ventilated. Canvas tents will avoid getting too warm on a hot day, or getting cold in the cold.
The ability to handle moisture also means you won't have to worry about condensation problems, like with synthetic tens. People can exhale a significant amount of moisture in the night. Without proper ventilation, it starts to gather on the tent walls and other stuff, causing discomfort. Good breathability of canvas tents prevents this issue.
Waterproofing And Seasoning Your Canvas Tent
Seasoning is a way to improve the water resistance of your heavy duty canvas tent. Knowing how to waterproof a tent, or season a canvas tent is important for your comfortable use of the tent. Simply put, set up your new canvas tent, and let it spend some time in the rain. For the tent interior, you can use a spray water bottle to wet the walls and roof.
While the continuous and uniform pour of rain is better, you can use sprinklers or light, distributed hose spray. During seasoning, cotton will expand as it gets wet, and contract as it dries. This will help close small gaps in the tent material, increasing its water resistance.
Over the course of a tent's life, you may have to perform waterproofing maintenance. Seasoning isn't the default answer, and you will need to employ a sealer. Silicone sealers are common, but be sure to ask the seller/manufacturer about the preferred material.
Some manufacturers add a coat of waterproofing material. While this certainly helps with the waterproofing, it reduces the breathability of the tent. Since canvas is flammable, many manufacturers add fire-resistant materials to the canvas.
Canvas Materials And Care
The fabric for your tent will likely be made from one of the following materials:
100% Cotton Canvas: As the name implies, the material is entirely cotton canvas. It is remarkably durable and will last for decades.
Poly-cotton: This material is a blend of polyester and cotton. Though still heavy, it is lighter than pure cotton canvas, it is also easier to dry. Depending on the percentage of materials used, poly-cotton brings on the qualities of both the fabrics.
Care is essential for a longer life of your canvas material. The material takes a fairly long time to dry. You must allow it to dry completely before storing it in a cool, dry place. Canvas is prone to mildew, so a wet tent or one stored in moisture will likely be spoiled. Mildew will not only harm the look of your tent, but it will also considerably shorten its lifespan.
Best Canvas Tents Reviewed
1. Kodiak Canvas Flex-Bow 6-Person Canvas Tent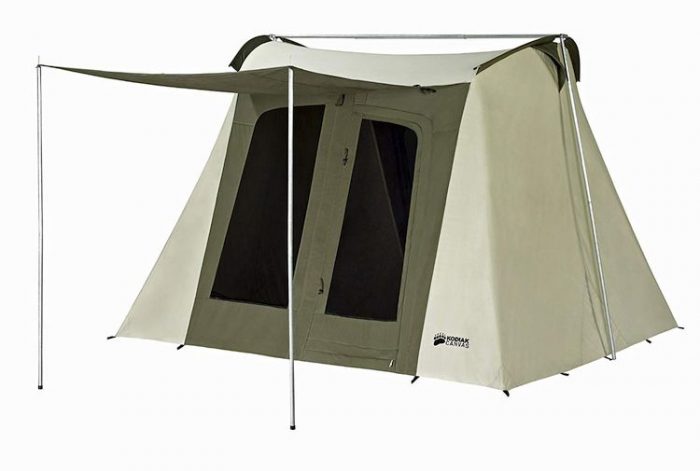 This tent seems like a pretty good product to start our best canvas tent review. Kodiak is one of the more prolific companies in the niche of canvas tents, with many wonderful products. Kodiak Canvas Flex-Bow 6-Person Tent is a pretty spacious, offering an area of 10×10 feet, and a height of 6'6". This is a pretty good family tent, both spacious and comfortable.
The tent has two large D-shaped doors, and four windows with no-see-um mesh. Two funnel flow vents further help keep the tent well ventilated. Right over the doors of the tent, an awning extends to about 4-feet. It gives the tent a pretty decent look, which works pretty well with its large windows and doors.
Kodiak Canvas Flex-Bow weighs 73 pounds, including the stainless steel poles and stakes. Other features include a polyester-reinforced vinyl floor, organizer pockets, customizable gear loft, and a handy strap-and-cinch storage bag.
2. SPRINGBAR Highline 6 Person Tent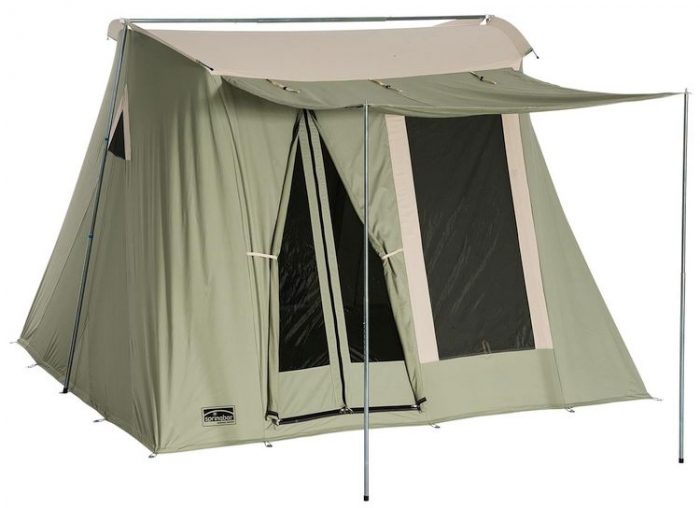 A direct competitor to the Kodiak Flex-Bow mentioned above, the Springbar Highline is every bit as cool looking and useful. As a 6-Person tent, this one is pretty good for a small family, maybe or just a couple of adults.
The spacious 10×10 floor area can hold a queen sized air mattress, though you can as easily use camping cots to accommodate about four people. Center height of the tent is 6'5", making it possible to stand upright. Springbar Highline has a wider awning than the Kodiak Flex-Bow, but the door is not as wide. Space saved this way is made up by the inclusion of a large window beside the tent door.
Large windows with no-see-um mesh are placed at the back of the tent as well, giving it a great view and extra ventilation. The tent weighs 74 pounds, including the stakes, steel poles, and other gear.
3. Alpha Kilo 4000 Canvas 6 Person Bow Tent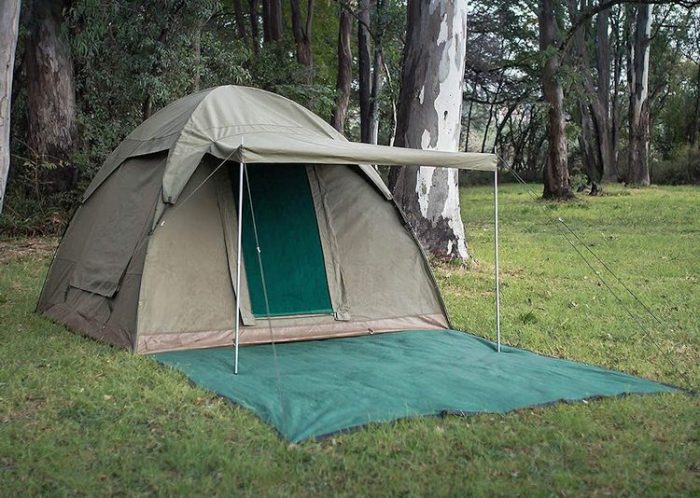 Built to accommodate six people, the Alpha Kilo 4000 Canvas 6 Person Bow Tent is another tent to consider. According to the seller, the tent is made from "military grade" canvas, and built to last "forever in any conditions". That's an upsell if there ever was one.
Looking beyond the marketing, however, while this tent won't last forever, it will last as well as any of the heavy duty canvas tents. The dome-shaped tent has a center height of 7-feet, making it possible to stand upright and walk. A large door with awning makes entry and exit pretty easy, while two big double-flap windows on the side ensure good ventilation.
In good weather, you can make use of vents on the roof as well for better ventilation. All windows and the door are covered in see-no-um mesh. The tent has a double flap ceiling as an added protection against the rain and the cold. Alpha Kilo 4000 is a 4 season tent that won't be bothered by the rain. It does well in the cold as well, as long as the snow doesn't start to pile up.
4. DANCHEL Cotton Bell Tent with Two Stove Jackets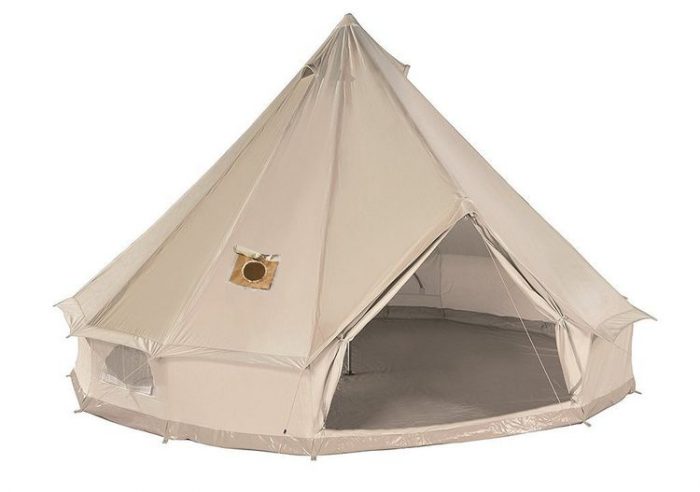 DANCHEL Cotton Bell Tent with Two Stove Jackets is one of our choices for the best 8 person tent. This bell-shaped canvas tent has been built to handle 4 seasons. Bring along your stove(s), and those two stove jackets should give you plenty of options for heating for winter camping.
Their suggested configuration with stove jackets is to use the top jacket for the stove and put the wall stove jacket (if and when needed) to use for other facilities like air conditioning tube, power-line, or a solar panel line. A thick layer of PVC for the floor makes the tent well insulated from the ground.
The tent is waterproof and holds up well against the wind. Its carbon steel stakes are high-quality and help hold the tent in its place. When you're enjoying some warm weather, the DANCHEL Cotton Bell Tent can be used as a canopy. The tent is available in several sizes, meeting most size requirements.
5. TETON Sports Sierra 16 Canvas Tent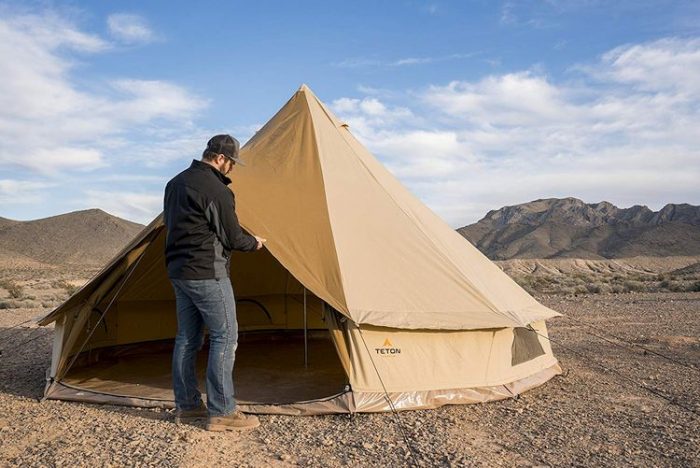 Another excellent bell-shaped tent, the TETON Sports Sierra 16 Canvas Tent offers a spacious diameter of 16-feet and a usable floor area of 201 square feet. Much like the DANCHEL tent we saw above, the TETON Sports Sierra can be used as a full tent or a canopy.
The oversized door could very well be called humongous, and once open should make an excellent entry/exit point. Coupled with the large door, the windows work exceptionally well at keeping the tent well ventilated.
6. Trek Tents 246C Cotton Canvas Cabin Tent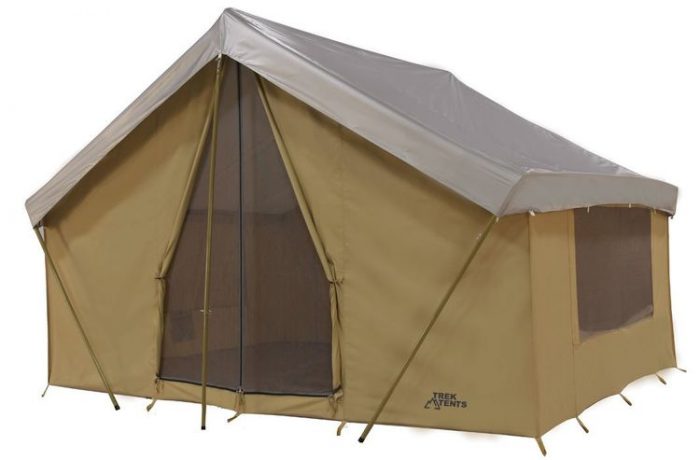 Trek Tents 246C Cotton Canvas Cabin Tent is a nicely built and very tall tent, with great headspace and plenty of room. Amongst the best available Trek canvas tents, this one is rated for 9 people, though of course, you should have fewer people (around 6 at max) for a more comfortable stay.
Center height for the tent is 96-inches, and the floor area available is 140 square feet. The tent has three large windows and a large door, each with rain flaps and no-see-um mesh. As most tents on this list, this one is a 4 season tent as well.
7. Kodiak Canvas Mid Size 5-6ft Truck Bed Tent 7211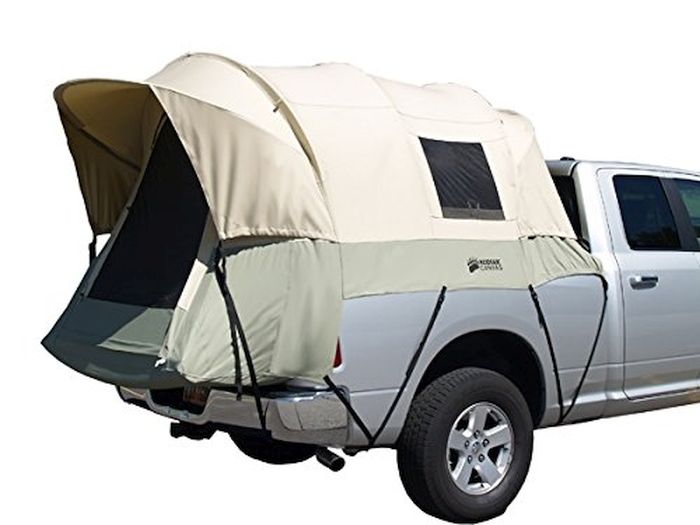 Kodiak Canvas Mid Size 5-6ft Truck Bed Tent is one of the best, if not the best truck bed tents. Variations of this tent are available for practically all truck bed sizes. There are five windows which work very well with canvas to keep the tent breathable and well ventilated. And of course, there's the massive door which makes climbing on to your truck bed less of a chore.
A cabin-access window lets you reach the truck's cab for extra storage, or maybe just for some music. The tent uses a steel tube frame and clamp-on rails for an easier but solid set up. This is not a fully-enclosed tent and lacks a floor, so be sure to carry something like an air mattress for your comfort.
8. White Duck Outdoors 10'x10′ Deluxe Brown Tent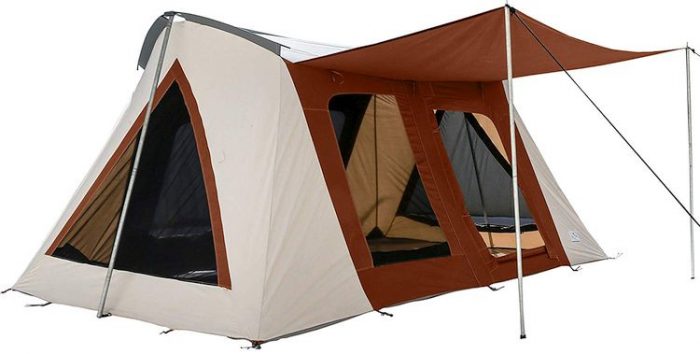 White Duck Outdoors Deluxe Brown Tent is another fine canvas tent for a family outing. The floor area measures 10×10 feet, giving you plenty of space. The floor is a bathtub-style vinyl groundsheet for extra waterproofing and better comfort.
A large D-shaped door and a window highlight the front of the tent, shaded nicely by a large awning. You'll find a similar view at the back of the tent as well. The tent has four large windows covered by a no-see-um mesh. The two side windows are large triangles, and ensure that the tent has great ventilation.
9. White Duck Outdoors Complete Canvas Wall Tent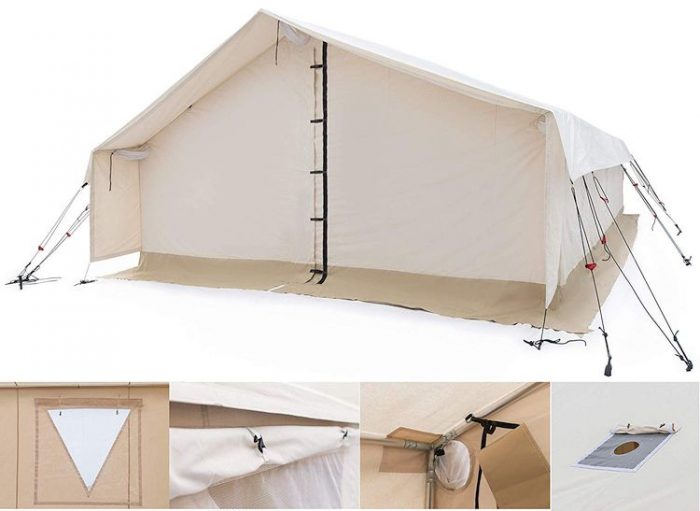 White Duck Outdoors Complete Canvas Wall Tent is one of our top choices for the best 10 person tent. And really, if you are looking for a 4 season luxurious camping tent, this tent is a pretty good choice. This is the most expensive tent on our list, but then luxury carries a price.
Apart from conventional features of canvas tents, this one has better UV resistance, (optional) added fire retardants, durable and large zippers, and three-layer triangular windows. The windows are designed to have better resistance to weather, while still allowing ventilation. Windows have a polyvinyl storm flap with velcro fastening, so you can enjoy the view without losing heat from your stove.
You will need two or three people to set up this tent. The canvas, powder-coated metal brackets, and anodized aluminum are all fairly heavy. Set up with strong guy lines and stakes, the tent holds up pretty well against the wind. An added advantage for the setup is the use of bungee cords installed with straps. These cords absorb some movement before putting pressure on the strap, thus keeping the tent more stable, and less prone to disturbance. You can also add a porch to give your tent another room, or just have a nice sitting area.
10. Kodiak Canvas 1-Person Canvas Swag Tent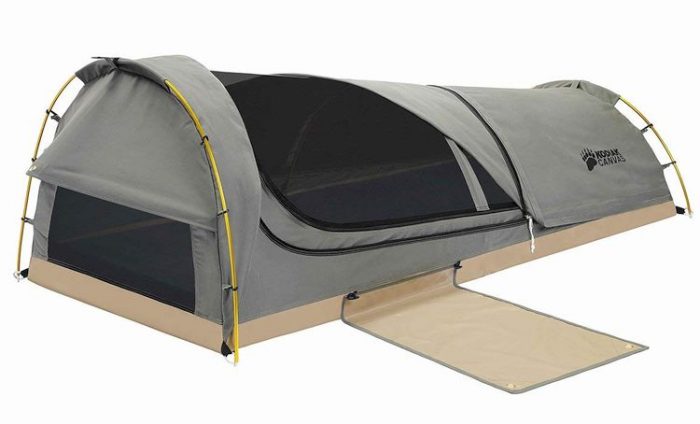 Another entry from Kodiak to this list, the Kodiak Canvas 1-Person Canvas Swag Tent is a pretty good tent to catch some sleep. Though this is a one-person tent and is lighter than other canvas tents, this is still a tent best suited for car camping. Its weight won't do well with backpacking trips.
The tent is 6'8" long, and about 3-feet wide. That should give you plenty of space to place some personal items with you. And of course, you could (and should) consider pairing it up with a camping cot. There's a 2-inch foam mattress in the tent to keep you comfortable, and a zip-window for ventilation. The top of the tent can be unzipped and rolled back to form a screen shelter.
Did You Spot Your Best Canvas Tent?
Canvas tents make it possible to have your trip outdoors be comfortable and relatively luxurious. That dose of luxury comes at a price and a heavier weight, but it's often worth the effort. And that's not just for comfort, but also for the longevity of these tents. While pretty similar, these tents have a lot of additional features available. When choosing the best canvas tent, be sure your tent matches your requirements, especially if you want 4 season camping.