Truck bed tents give you the comfort of carrying your camping ground along with you. The truck bed turns into your bed with the tent securely in place. Of course, you have to be sure your pickup truck (or SUV/minivan) has enough space to house you in comfort. A good truck bed tent can play a part in good utilization of that space and maximizing available space.
7 Best Truck Bed Tents Of 2019
How To Choose The Best Truck Bed Tent
Type Of Tent And Vehicle
Truck bed tent has become something of a catch-all phrase, though many tents (but not all) can be used with other vehicles like SUVs and minivans as well. Similarly, the tent does not have to be confined to the bed of your truck. Some options will also occupy the ground near the vehicle, which gives you some extra room and more privacy.
You could also consider tents with cab access if your pickup has a rear-mounted window. It can give you more storage space, easier access to music, and if you really need it, some air-conditioning. If you are unsure if a tent is built to your vehicle's dimensions, it's always better to ask the tent manufacturer rather than DIY or guesswork.
Ease Of Installation And Packing Up The Pickup Bed Tent
Most truck bed tents need anything from 10 to 30 minutes in setting up. Yes, it is a lot more work than pop up tents that take mere seconds and will require some dexterity. You'll have to use straps to ensure the tent securely stays in place on your vehicle. It is also worthwhile to look into straps coated in softer materials that play well with your vehicle's paintwork.
Packing up will require a similar amount of time. Thankfully, both these processes are made easier with detailed instructions provided by most tent manufacturers.
Adding More Comfort To Truck Tent Camping
Not all truck bed tents include flooring. An average sleeping bag won't be enough for comfort in these situations. If the tent of your choice does not have a floor, consider investing in a good truck air mattress.
Avid campers who often find themselves outdoors with their pickup should also look into a nice truck bed liner. A thick, carpet-like liner can do wonders for your comfort. Just be sure to measure it up against your tent to ensure you still have the dimensions correct!
Which Is The Best Tent If I Have A Toolbox Or Other Items On The Truck Bed?
It's fairly common for pickup trucks to have a toolbox on their truck bed. Or, you might have chosen to place something else you need. In such cases, use a tent without a built-in floor. It is a common enough phenomenon that tent manufacturers give it special consideration. Good quality truck bed tents without floors are common and built to accommodate a toolbox or similar items.
The Best Truck Bed Tents
1. Kodiak Canvas Truck Bed Tent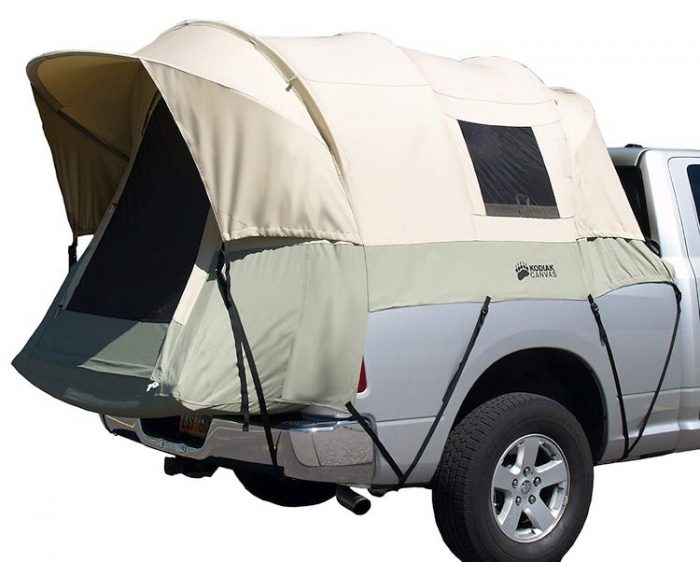 Kodiak Canvas is an expensive but high-quality tent that will afford you greater comfort. As the name implies, the tent is made from canvas. This is a higher quality material than the polyester and other plastic variants used in most tents. Made from 100% cotton canvas, this tent is durable, sturdy, and will last a long time.
The interesting tunnel-shaped design affords you more headspace and greater storage space in general. Slightly more space is afforded by the tailgate down design. The tent is easy to set up, but canvas is a thicker and heavier material and will require some extra work, especially if you're alone. In the same vein, this tent will also be a bigger package to store and move. The tent is not fully-enclosed and does not have a floor, so you should make arrangements for your comfort.
Kodiak Canvas 8-ft. long-bed truck tent is very popular and works great with Ford F150 and the F-series in general. This tent plays well with other full-size pickups as well. Kodiak Canvas has two more variants, one with a 6-ft bed, the other is the Kodiak Canvas mid-size 5-6ft truck bed tent 7211. The latter works well with mid-size and compact trucks like the Toyota Tacoma and Chevy Colorado.
Pros
High-quality, breathable, marine-grade duck canvas material
Steel tube frame secures the tent firmly
Great for all seasons
Excellent storage
Cons
Expensive
Heavier, thicker material that requires more space
2. Rightline Gear Truck Tents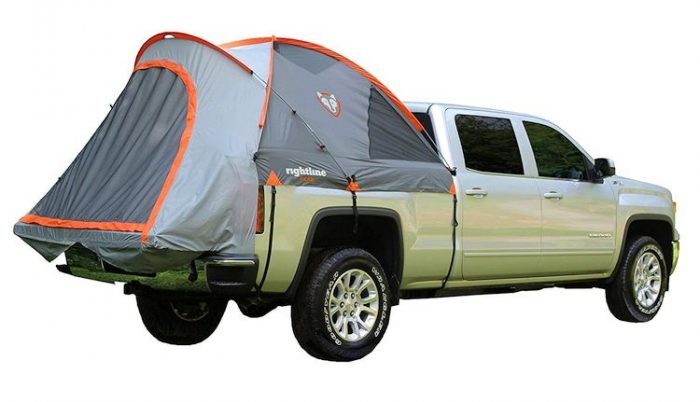 Designed to be simple to set up thanks to color-coded poles, the Rightline Gear Truck Tents put ease of use and comfort as the top priorities. The tent has been carefully designed to go well with most pickup trucks. It has no floor and uses straps that are mindful of your pickup's paintwork.
It has a relatively quick set up that takes about 15 minutes with two people. It's similarly easy to pack up and stash away as well. Rightline tents are water resistant and make use of sealed tape to ensure water does not get into your tent. The one part these tents lack is a good truck bed lining. Lack of this part makes the tent susceptible to high winds, which may cause some discomfort.
Rightline Truck Tents are available in several sizes to match most truck bed requirements. There are options for the usual compact, mid-size, and full-size truck. However, you can also get tents that match sizes for short, standard, and long bed trucks.
Pros
Relatively easy to set up
Waterproof
Heavy-duty straps designed to prevent damage to the truck
Cons
Low wind resistance, especially for high/strong winds
Only water-resistant unless a rainfly is added to make it waterproof
See options and price on Amazon
3. Napier Backroadz Truck Tent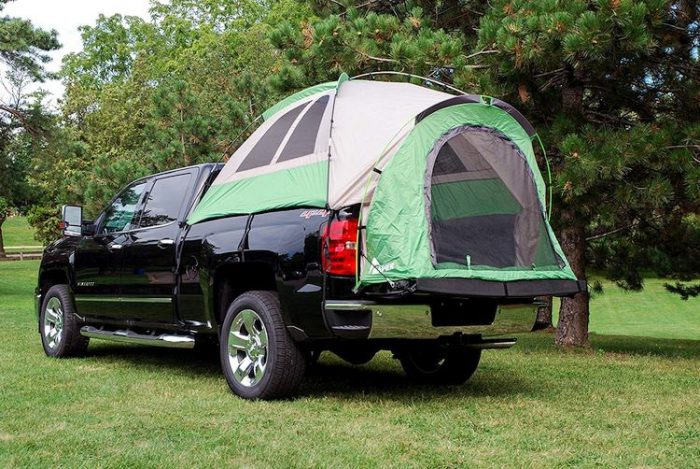 One of the most popular products in this niche, the Napier truck bed tent offers great features at excellent value. Napier truck tent is lightweight, easy to set up, and easy to pack up and store. It also has great height, with 5.5-feet of headroom. This should be sufficient to move comfortably, even though most of us won't be able to stand upright in this tent.
Napier Backroadz Truck Tents have a built-in full floor for more comfort and protection against the elements. You'll find the color-coded, shock-corded fiberglass poles easy to maneuver and strong enough to hold the tent in place.
It is available for most requirements, with sizes ranging from truck tent 5.5 bed to 8-feet full size long beds.
Pros
Waterproof fabric and rainfly ensure tent stays dry even in heavy rain
Easy to set up
Good height for the interiors
Good construction
Cons
Windows lack covers
Could have better ventilation
See options and pricing on Amazon
4. Guide Gear Full Size Truck Tent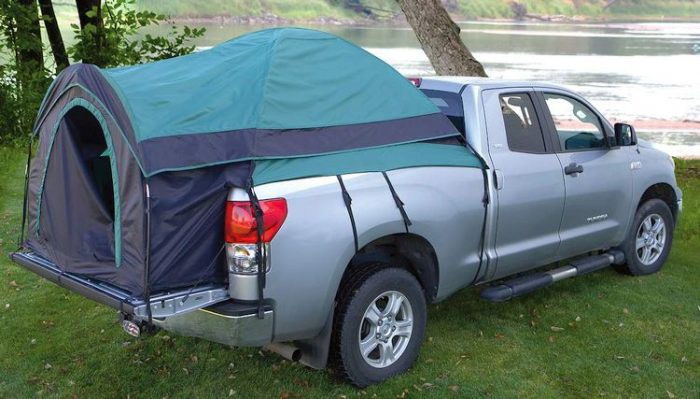 The name itself is pretty descriptive of what you can expect from the Guide Gear Full Size Truck Tent. It is very well priced and is the cheapest full size truck tent on our list. The price makes this tent a great option for people who camp occasionally and don't want to shell out big bucks for the rare occasion.
It does look the part of a budget model, but it has a solid construction, waterproofing, and a built-in floor. The large mesh windows and a sizeable door provide the tent with excellent ventilation. Weighing in at just about 11 pounds, this is also one of the lightest truck bed tents you can find.
Guide Gears Tents are available in several sizes, though I'm focusing on the full size truck tent for this review. The tents are also available for mid-size and compact truck beds.
Pros
Excellent value for money
Lightweight
Great ventilation
Waterproof
Cons
Lack of clear instructions or booklet
Low longevity
5. SportZ Truck Tent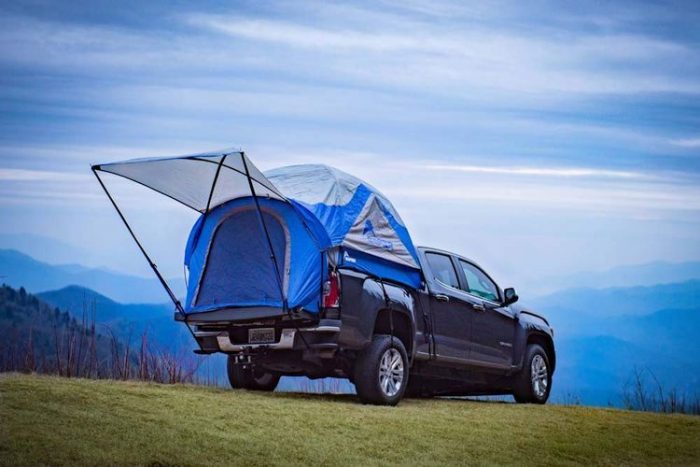 Napier SportZ Truck Tent looks somewhat more cheery than the Backroadz tent we saw further up the list. It has the sizing options, headspace, good-quality construction of the Backroadz truck tent, and a few features to differentiate the two.
The most obvious is the 4×4-feet shade awning at the tailgate. Another difference is the presence of a sewn-in floor. SportZ has great ventilation thanks to large mesh windows and side-vents. You also get a big rear-access panel that can be used to reach into the truck's cab for extra space.
Pros
Excellent ventilation
Easy installation and pack up
The awning looks great
Access to pickup cab
Cons
Expensive
Awning pole clamps are annoying terrible at their job
6. Rightline Gear 110907 SUV Tent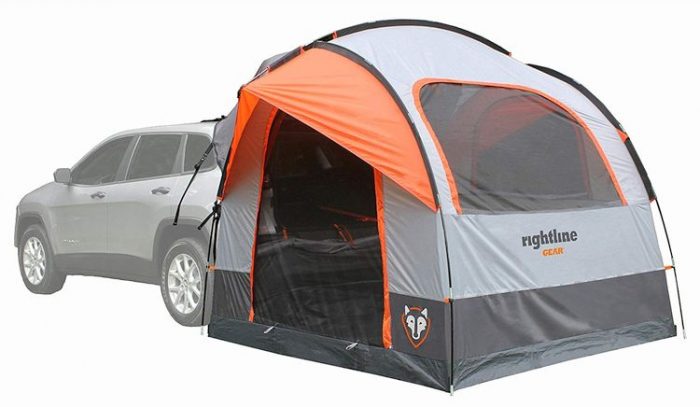 Most truck bed tents are comfortable for one or two adults. When camping with the family, you may prefer a more spacious option. The tent connects to the back of your SUV to create a big, spacious, sleeping space.
Rightline Gear SUV Tent is spacious and claims to comfortably house four adults in the tent area, and two adults in the SUV cargo area. I'm pretty sure that's going to end up very cramped. Two adults and 2-3 children sounds way more comfortable.
Rightline SUV Tent has a water-resistant fabric and includes a rainfly to ensure better protection against the weather. The bottom of the tent – the area in contact with the ground – has a bathtub floor that ensures waterproofing and keeps moisture out.
Pros
Good waterproofing with rainfly
Bathtub floor keeps moisture out
Spacious
Tape-sealed seams for better protection against wind and rain
Cons
Can be rather complicated to set up
Tent material seems rather flimsy
7. Napier Outdoors Sportz #84000 5 Person SUV Tent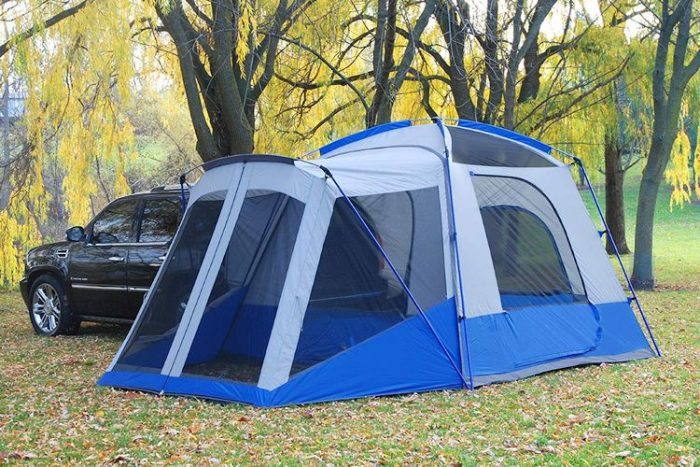 This huge 10×10 foot tent is practically a massive cabin tent on its own, but it works especially well with an SUV in the mix. Napier Outdoors Sportz #84000 5 Person SUV Tent can connect to the cargo space of your SUV to make the best use of available sleeping space.
The tent has a height of 7-feet, so you can walk around comfortably without having to stoop or bend. One side of the tent opens up into a screen room where you can relax. It has no floor, so the screen room is simply a nice sitting area. There's an awning on the other side that can be put to good use as well.
While the tent connects easily to any SUV or minivan, it doesn't have to be connected to a vehicle. You can remove the vehicle sleeve and use this as a regular ground tent.
Pros
Very spacious
Can work as a regular ground tent
Plenty of headroom
Cons
The tent is pretty bulky
Fairly expensive compared to standalone tents with similar features
Chronicles Of Truck Tent Reviews
Truck bed tents allow spontaneity and the ability to set up camp anywhere your pickup can go. Pricing, comfort, and the ability to work well with the existing structure of your pickup are all features to consider. Most truck tents offer options that can work with common truck bed features like a toolbox, and similar fixtures. The tents listed here have proven themselves, and are excellent choices to consider.