Ozark Trail Tents have long been established as the go-to tents for great value for money. They might lack some frills and features, but they have a wide range to offer and are great value for the occasional camper. For this set of Ozark Trail Tents reviews, I'll explain various offerings to paint a clear picture of the tents on offer.
The Best Of Ozark Trail Tents
Choosing The Best Of Ozark Camping Tents
Brand And Value Proposition Of Ozark Trail Tents
Named after a famous trail in Missouri, Ozark Trail Tents have their biggest selling point as value. At their inception, the tents were sold at Walmart, and value for money became their USP. The value proposition continues to be the guiding force to this day.
Do keep in mind, value for money is not the same as "cheap". These are fairly well-made tents, only the target buyer is the occasional camper, not the person who spends the year exploring the great outdoors. So if you go camping once or twice a year, or need a tent for a festival or concert, an Ozark Trail Tent is a viable option.
Considerations When Buying An Ozark Tent
Ozark tents are available in a variety of options, and you can easily find a single person tent or a massive 14-person tent. Generally speaking, the Ozark Tents are preferred by families for their occasional camping trip, so you'll probably be looking at mid-size tents.
Check waterproofing of the tent, but avoid any trips where heavy rainfall is expected. Ozark Trail Tents come with stakes, but it is a good idea to buy a few extras. In fact, look for better quality stakes as there's a good chance you will need them. Finally, be sure about the area of the tent. Ozark Trail Tents are pretty spacious, but your tent might end up feeling cramped because of your luggage and air mattress.
Top Ozark Trail Tents Reviewed
1. Ozark Trail 10 Person Tent 3 Room XL Family Cabin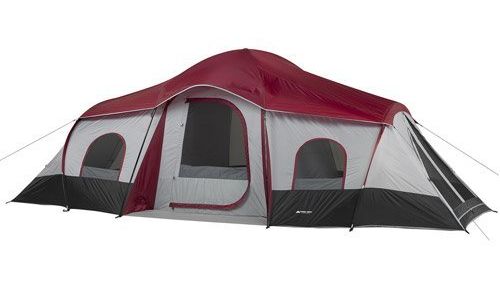 This 10 person tent lets you go to the outdoors while living in relative comfort similar to home. The massive tent has two removable room dividers, which when put to use create three rooms. Each room is capable of holding a queen-size air mattress and has enough space for 10 people. Even so, there's enough space to spare for luggage.
Each of the three rooms has its own door, guaranteeing some privacy. There are plenty of windows to go around as well, ensuring good airflow and ventilation. Considering this is a fairly large tent with an area of 20×10 feet, be sure to carry along some replacement parts, especially stakes and guylines. A similar, slightly smaller version is available as Ozark Trail 8 person instant cabin tent.
Pros
A 6-ft center height allows most people to stand up comfortably in the tent
Excellent ventilation and airflow
Easy to set up
Cons
Lacks quality waterproofing and should be considered water-resistant
The central cabin has good center height, but the others slope and have low vertical space
Room dividers are flimsy
2. Ozark Trail Base Camp 14-Person Cabin Tent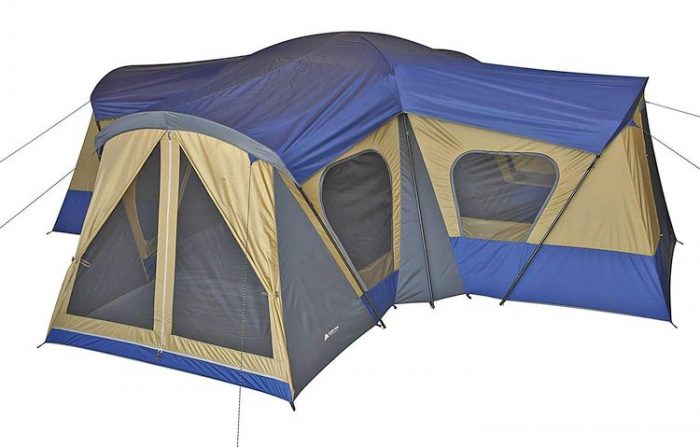 Speaking of larger tents, this massive Ozark Trail Base Camp 14-Person Cabin Tent offers both comfort and luxury. While larger families will obviously find it useful, smaller 4 person families too can enjoy camping in relative luxury with this tent.
The tent has four rooms, each with its own door and enough space to place a queen size air mattress. It has a good center height that remains largely constant throughout the tent. This is thanks to its walls that are only slightly angled and could very well be part of a vertical wall tent.
Given the size, it does take more effort setting up than a pop up tent, but the overall process is convenient. The 14-person cabin tent is also relatively easy to pack up, so you don't have to look at the massive sprawl and dread how you're going to get it back in a box!
Pros
Great, relatively constant center height
Each room has its own door offering privacy
Large doors and windows offer good ventilation
Remarkably spacious
Cons
Lacks the classic value for money USP of Ozark Trail Tents
Poles seem flimsy for such a large tent
See current price and more reviews on Amazon
3. Ozark Trail 4-Season 2-Person Hiker Tent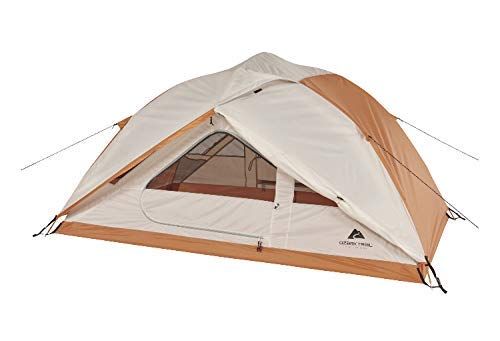 Competitive pricing and a low weight make the Ozark Trail 4-Season 2-Person Hiker Tent a very attractive option for backpacking and hiking. It's a tiny tent that comfortably shelters one person, but yeah, you could squeeze in another person as well. It probably won't be as comfortable, but we'll just call the 2-person combo cozy.
Ozark's simple two-pole design makes this tent easy to set up, and as easy to pack away. The interiors do have some room for luggage in the shape of gear-storage vestibules for two people. Two doors promise easier access to the tent, though their practical use is more about bringing solid airflow and ventilation.
Pros
Easy to set up and pack away
Lightweight
Interior pockets make storing luggage easier
Cons
The floor is ill-equipped to deal with moisture
For the casual camper, it may be more work than a pop up tent
4. Ozark Trail 10-Person Dark Rest Instant Cabin Tent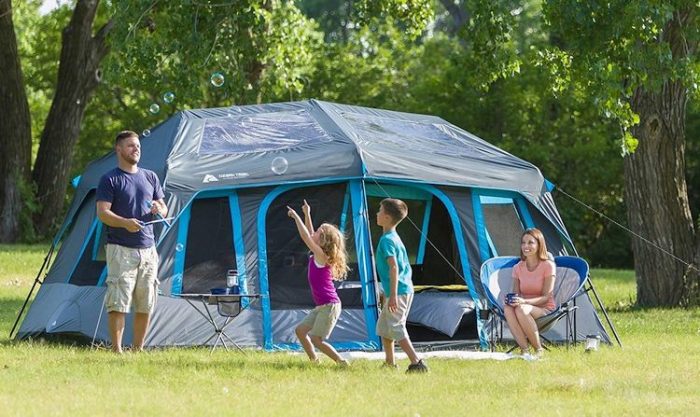 What do we want from a 10-person tent? A lot of room! That's exactly what this cabin tent offers. There's plenty of room to fit 10 people in there, but if you intend to use queen size air mattresses, perhaps counting this as an 8 person tent would be better.
A more interesting part of the tent is its "Dark Rest" system. To put it rather simply, the interiors of the tent are painted black, while the exteriors are brighter. This approach helps the tent do some temperature regulation. Meaning, it will be cooler inside in hot weather, and slightly warmer when cold strikes. The black color also makes it more convenient for sleeping.
You'll find plenty of doors and windows on this tent, so ventilation and natural lighting aren't an issue. Another interesting feature are the skylights in the ceiling panel, allowing you to enjoy the night sky. While it is rarely used, the Electrical cord access could be helpful for many people.
Pros
Great ventilation and airflow
Spacious
Easy to set up and take down
Dark Rest cabin is innovative and useful
Cons
Feels cheap and flimsy
Floor vents can be troublesome in cold weather
5. Ozark Trail Connectent, 4-Person Tent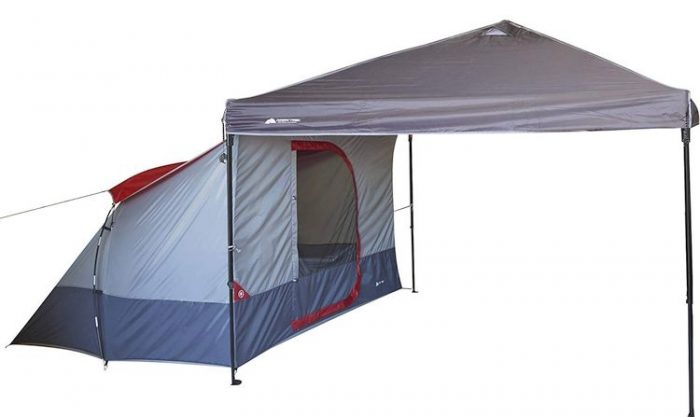 What I like about this tent is its spaciousness, the nice canopy on the "porch", and its ability to play well with other tents. The shelter itself is a simple, dome-shaped tent with enough room for 4 people. Or more like two adults, a child, and luggage. You could see it as something comparable to the Ozark Trail 3 person dome tent.
The feature that sets it apart is the presence of a canopy out the main door. The 10×10 feet canopy creates an incredible open area right outside your tent door. It becomes all the more useful if you have friends camping along in similar tents. In these cases, the canopy can become an open, common area that connects your tents. Pretty useful!
Pros
Spacious with great ventilation
Easy to connect with other tents
Great value for money
Cons
The tent cannot stand without canopy
Somewhat complicated setup
Which Ozark Trail Tent Is Right For You?
There are plenty of Ozark Trail Tents to choose from, but I'll suggest you take a closer look at the mid-size to larger tents for your use. It's best to use these as tents for the family, especially for people who only camp occasionally. Use these Ozark Trail Tent reviews to find your preferred tent, and tell us about your experience in the comments.