Big tents become important if you are out camping with a group. A sturdy and spacious accommodation where you have enough space for people and their luggage works very well. A 10 person tent is a popular choice for people camping in groups, and with good reason. People have different preferences, and climate conditions at various locations require a different tent type. Objectively, there is no single best 10 person tent. We've put together a list of top performers in the category for your convenience.
Best 10 Person Tents For 2019
Things To Know When Buying A 10 Person Tent
Size Is Subjective
A conventional 10 person tent isn't necessarily going to hold ten people. People often bring along their air mattresses, luggage, and other items. You'll soon find that a 10 person tent doesn't necessarily hold ten people.
Another important factor is the shape of the tent. For example, cabin tents with their vertical walls will have more vertical space. On the other hand, tents with tapering walls will have a lower amount of usable floor space with similar areas.
Number Of Rooms And Doors
Some large tents are divided into distinct areas that can function as rooms. Many even offer partitions and door structures to create separate rooms. This simple change can be a nice way to give all occupants some privacy.
Many tents have multiple doors to make it more convenient to enter/leave the tent. This facilitates movement, and people entering/leaving while others are asleep can be less of a disturbance. Tents with rooms often offer doors for each room. While adults will appreciate it, those camping with children may prefer not to have a separate door for the kids' room.
Seasonality And Weatherproofing Of Your Tent
Sometimes tents may need to compete with the weather. Practically all tents will work in mild weather, but their suitability in slightly harsher conditions is worth considering. Rain is the most common problem. While most tents offer some form of water resistance, many will need a rainfly to deal with water. Even so, a sustained medium to heavy rainfall will test the limits of most tents.
The wind is another issue. Poor quality tents with unsteady guylines and stakes often get torn. The shape of the tent is also important. By virtue of their shape, cabin tents will offer more resistance to wind than dome tents.
Generally, suitable weather conditions are mentioned with tents. A 3 season tent works best in milder weather where it doesn't have to deal with heavy rain or snow. A 4 season tent, on the other hand, is built to be tougher and capable of handling rains, snow, and winds in more demanding weather conditions.
10 Best 10 Person Tents Reviewed
1. Coleman Weathermaster 10 Person Tent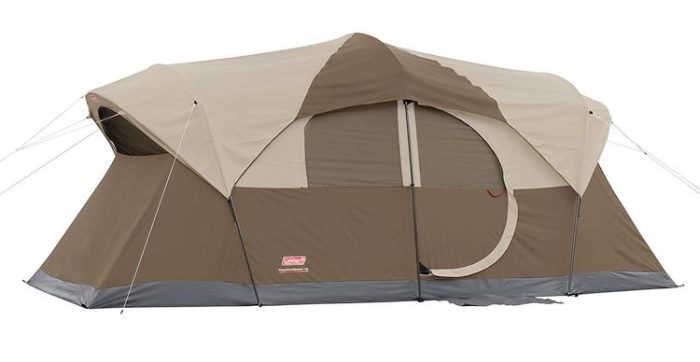 This Coleman 10 Person Tent is built to handle the variations of weather in relative comfort. The tent makes use of Coleman's WeatherTec technology to provide better protection from weather conditions.
Its waterproof, resilient floor is welded shut to prevent any leakage or seepage of water from the ground. The seams are protected and inverted, and the zipper is made from water-resistant material. The dome tent has windows angled away from the sky to enhance protection against the rain. Adding a rainfly makes things better.
The spacious tent has two doors, one at the front and the other at the back. The hinged door is a nice touch. It's an easy to manage door and feels more like a "regular" door than zipped flaps that some tents have.
There's space enough to keep three queen size air mattresses. You can keep the tent as one large room, or use the included room divider to have two rooms, each with the dimensions of 8.5×9 feet. When divided, each room will have access to one door.
Pros
Color-coded poles make it easy to set up
Hinged door provides easy access
Excellent ventilation
The 6-foot 8-inch center height makes it possible to stand in the tent, rather than having to stoop
Cons
Included stakes are flimsy. It's advisable to invest in better quality steel stakes
Extra attention needed to set up the rainfly, or the tent won't offer much protection against rain
2. Timber Ridge Large Family Tent 10 Person 3 Seasons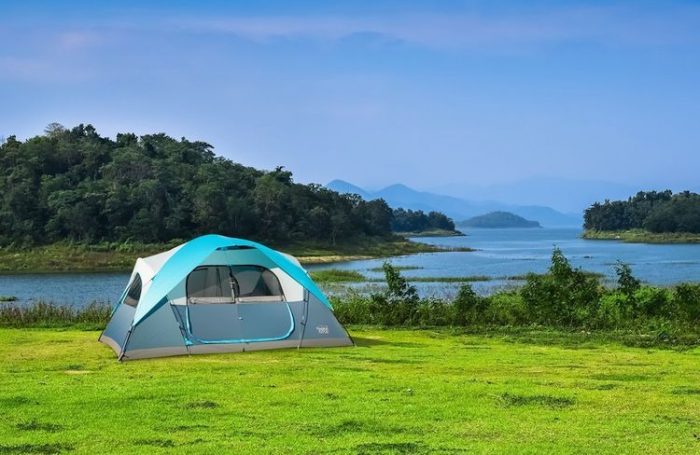 Timber Ridge Large Family Tent is a well-priced tent for camping in mild weather. It's an excellent family tent that is convenient to set up, and comfortable to stay in. The center height of the tent is 80-inches, so most people will be able to walk around comfortably.
Two "D" shaped doors are placed right at the front. Together, they make a rather impressively large doorway. If you choose to employ the room divider, each room will have access to one door. The tent has plenty of windows and a mesh roof so you get good ventilation, and can enjoy the outdoors and the sky from the comfort of your tent.
Timber Ridge Large Family Tent comes with strong guylines and steel stakes, so you can be sure that the tent is on a reliable footing. While the tent has basic waterproofing, it cannot handle heavy rain. Though the tent has strong guylines and stakes, the arrangement leads it to be troubled by strong winds. Your tent won't come off, but it could sway uncomfortably. Overall, this is a tent for mild weather.
Pros
Good value for money
Strong guy ropes and stakes
Excellent ventilation
Cons
The tent has troubles with waterproofing, you can expect problems with rain
Material of the tent feels flimsy
3. Mountain Trails Grand Pass 10 Person Tent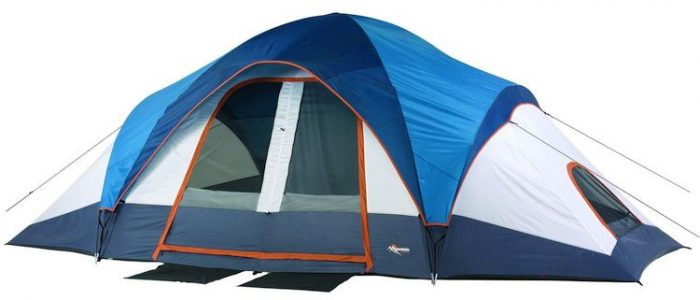 Much like the previous two tents, the Mountain Trails Grand Pass 10 Person Tent has "D" shaped doors for easier access. There's a divider panel to bisect the tent into two rooms, with each getting access to one door. The tent has large roof vents as well as zip-open windows that give it excellent ventilation and view.
Its center height is about 6.3-feet, which should be comfortable for most people. Interiors are spacious, so you don't have to worry about comfort. As for the problem areas, this is a mild weather tent. Even medium rainfall could lead to leaks. And the cheap stakes don't hold up well against the wind. Entry zippers can be a hassle, and that's a real annoyance.
I'll say it seems pretty good for the beach in good weather. Wind and rain are not your friends with this tent.
Pros
Spacious
Easy to set up
Excellent ventilation
Good value for money
Cons
Entry zippers are troublesome
Does not hold well in rain
Cheap stakes can't provide adequate support
4. Wenzel Great Basin Tent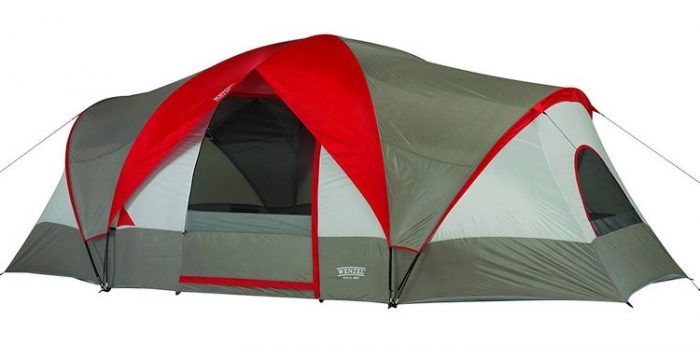 Wenzel Great Basin Tent is large and spacious. A hanging divider curtain can be used to create two separate rooms, each with enough space for a queen size air mattress. Ventilation is rather impressive with three mesh roof vents, four mesh windows, and an inside flap zippered window.
Much like the Coleman, this tent has a bathtub floor welded at the seams to ensure waterproofing. Another step in the direction is the inclusion of a ridgepole over the front door and rear window. Doors and windows are generally the weak points for waterproofing, and even a nicely waterproofed tent might have to deal with puddles of water if a door is opened during or after rain. The ridgepole keeps the entry point relatively dry, thus reducing risks of water seepage.
Pros
Easy to set up
Excellent ventilation
Good waterproofing with bathtub floor and ridgepole on fly over the front door
Cons
The door zipper can get come off its track
The poles are a bit flimsy
5. Ozark Trail 10 Person Tent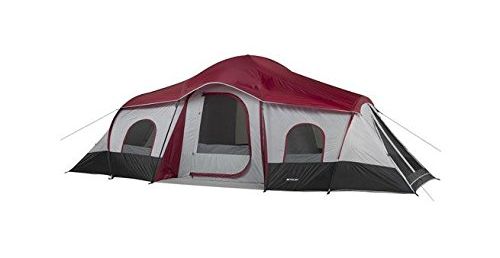 Offering plenty of space and good value for money, this tent exemplifies the qualities of Ozark Trail Tents. Ozark Trail 10 Person Tent has 184 square feet of usable floor space and 78-inches of headroom. The dimensions make it ideal for large groups, which is exactly what you want from a 10 person tent.
The tent can be divided into three rooms, each capable of holding its own queen size air mattress. Its room dividers are a bit flimsy, but that's just a minor nitpick. They complete the function of privacy in a tent, and each room has its own exit for added convenience.
To expand its waterproofing abilities, the tent uses a canopy over the main door, much like how the Wenzel tent above uses its ridgepole. It has plenty of windows which provide excellent ventilation. Unfortunately, the same windows are also a conduit for water to enter the tent, especially at the seams.
Pros
Excellent, spacious design
Easy to set up
Great ventilation
6-feet center height
Cons
Risk of water entering through the mesh windows
Included stakes are cheap and flimsy
6. NTK Arizona GT 9 to 10 Person Sport Camping Tent
Even with a conventional dome-shaped structure, the NTK Arizona GT Sport Camping Tent looks rather fresh and elegant. It uses high-quality materials for its construction, and that sort of reflects with the price tag. The extra bucks you spend are more of a good investment in trouble-free camping.
Arizona GT can be expected to weather heavy rain without trouble. The bathtub-style floor ensures the base doesn't spring water leakages. Since windows and seams are a weak link for waterproofing, the tent has them heat welded, inverted, and sealed. The included rainfly offers full coverage and can withstand heavy rain.
The NTK Arizona GT Sport Camping Tent has a center height of 6.2-feet, and the interiors can be divided into two rooms. Each room has access to a large, D-style door covered with mosquito mesh. This gives the tent a great view, without the worry of insects or mosquitoes getting in.
Pros
Color-coded poles for easy assembly
Waterproof, and can withstand heavy rain
High-quality construction
Spacious and well ventilated
Cons
Expensive
Once opened, windows can only be closed from the outside
Window closures are on the rainfly, so there is no privacy unless you always use the rainfly
7. Browning Camping Big Horn Tent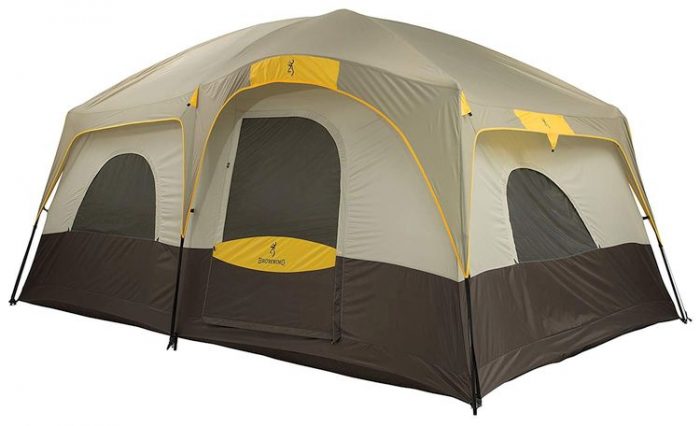 This is a free-standing tent with fiberglass poles and steel uprights to keep it in position. Its hub design allows the Browning Camping Big Horn Tent to be set up quickly. The straight side walls ensure there is plenty of available room. Space isn't really a problem with this tent, and there's plenty to use. Like most tents on this list, this one can be used as one large room, or two rooms with a divider bisecting the tent.
Browning Camping Big Horn Tent comes with steel stakes, which are pretty helpful in keeping this straight-walled tent upright. Excellent waterproofing goes along with other high-quality materials used in the tent, and you can expect it to stay dry even in heavy rain. The tent has two D-style doors, a mesh roof, and six windows. So ventilation is awesome.
Pros
Excellent waterproofing
Center height of 87-inch means everyone can walk around comfortably without stooping
Spacious with great ventilation
Comes with steel stakes
Cons
Roof mesh isn't fine enough to block small insects
The bathtub floor seems thin, and the manufacturer sells a Floor Saver separately
8. CORE 10 Person Family Cabin Tent with Screen Room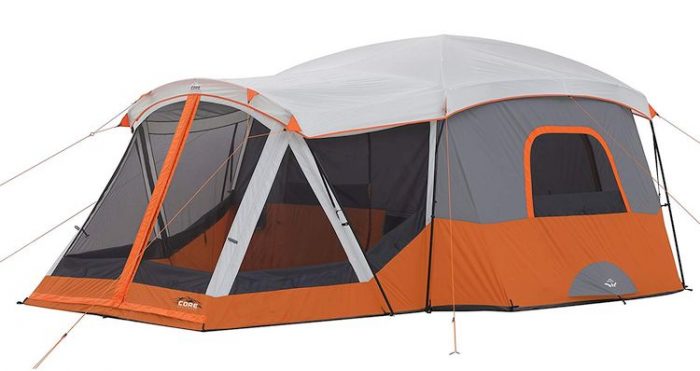 Core Family Cabin Tent is not only spacious on the inside, but it also offers a rather nice screen room to enjoy. Being a cabin tent, it has straight walls and offers plenty of space. The center height is 86-inches and the floor has enough room to fit three queen size air mattresses. Complete dimensions of the tent are 17×12-feet, with the screen room measuring 7×7-feet and the cabin at 12×12-feet. The cabin and the screen room have a floor, so you don't have to worry about stepping into a puddle in a floor-less screen room.
Where camping tents with screened porches are concerned, this tent fares pretty well. Wide windows and a nice mesh roof ensure excellent ventilation for this tent. The waterproofing is adequate and the tent can handle light to medium rainfall without springing leaks.
Pros
Excellent ventilation
Durable, good quality construction
The screened porch is spacious and useful
Cons
Needs more (and better) stakes
Cabin-style is susceptible to being disturbed by wind
Cannot handle heavy rain
9. Ozark Trail 10-Person Dark Rest Instant Cabin Tent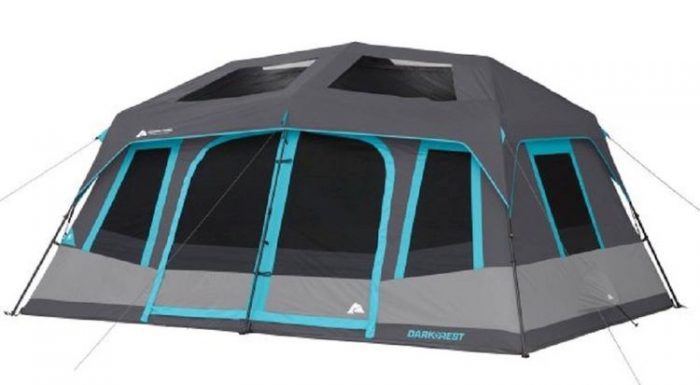 This Ozark Trail tent is so quick to set up, it could practically be considered a pop up tent. The quick set up allows the Ozark Trail 10-Person Dark Rest Instant Cabin Tent to be ready in just a couple of minutes.
The highlight of this tent is its "Dark Rest" technology. Its interiors are painted dark, which purportedly helps in keeping the interior temperature comfortable. It is claimed that the cabin temperature stays cooler than the outside in summers and warmer in winter. Although this isn't a 4 season tent, so it's probably best not to test how its temperature fares in the snow!
You can place three queen sized mattresses in the tent, but if you use the room divider, that number changes to two. A mattress for each room with plenty of space to walk around and place luggage doesn't sound like a bad deal!
Pros
Great ventilation and airflow
Easy to set up and pack away
Dark Rest cabin sounds innovative
Cons
The material seems flimsy
Questionable longevity
Included stakes are worthless
See deals for this tent on Amazon
10. White Duck Outdoors Alpha Wall Tent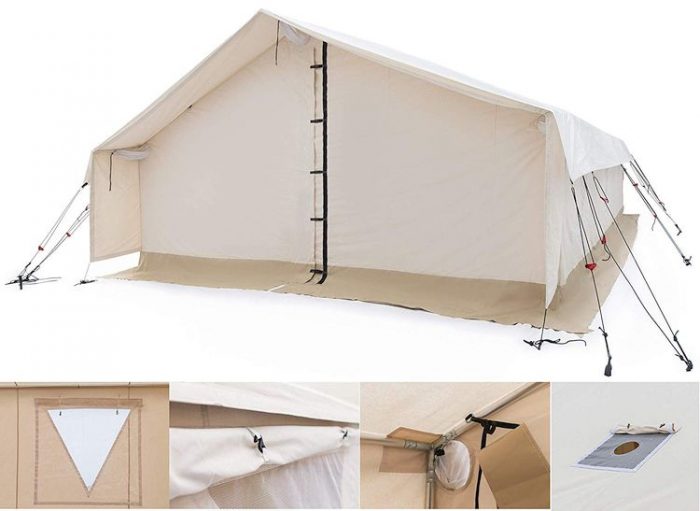 Those who prefer to spend their camping trip in greater comfort and luxury will certainly appreciate the White Duck Outdoors Alpha Wall Tent. This is an expensive tent, but then luxury comes at a price!
The material used in the construction of this tent is cotton canvas, which is superior to polyester and nylon used by most modern tents. Canvas is breathable, offers better waterproofing, and is UV resistant. The manufacturer also offers additional fireproofing for the tent.
Employing bungee cords with straps is a rather creative use. These cords work as shock-absorbers and offer the tent greater stability during heavy winds. There's room for several triangular windows on the tent, so ventilation and airflow are not a problem. The White Duck Alpha Wall Tent also includes a, 5" Stove Jack with flap that can be employed to keep the tent warm in cold weather. Overall, this is an amazing 4 season tent, though an expensive one.
Pros
Very high-quality, durable construction
Excellent protection against rain and high winds
Includes a stove jack to keep warm when necessary
Breathable cotton fabric is comfortable and useful
Cons
Very expensive
Heavy! It weighs 172 lb and requires two large bags to move around
Which 10 Person Tent Is Best For You?
As large tents go, there are several amazing options available for you to pick your best 10 person tent. While most tents will handle mild weather, you'll have to look more carefully at tents if you expect heavy rain or strong winds. If you are a frequent camper, it is better to invest in a high-quality tent. The occasional, mild-weather camper, however, can consider cheaper tents that offer better value for money.