Convenience is the mantra that drives our desire for a pop up tent. Conventional tents require some skill and effort by the user. Pop up tents, on the other hand, can be placed effortlessly in a few seconds. These tents can be pretty handy for the occasional camper, or for your visit to that event or festival. Here's my selection of best pop up tents that will make your camping more convenient.
10 Pop Up Tents To Buy In 2019
Considerations On Picking The Best Pop Up Tent
The Tent Should Be Easy To Set Up And Take Down
For most people, the primary motivator in buying a pop up tent is the ease of setting it up. That's a primary requirement for your tent. Ideally, your tent should be ready and staked in a couple of minutes.
You should not have to hammer in the stakes of your tent. Simply pushing them in with your hands or feet should do the trick, if that doesn't work, find a different place to put up your tent.
Easy pop up tents are everywhere, the larger concern with a pop up camping tent is taking it down. Takedown can be difficult with many of these tents, which is why you see many people simply abandon their tents. If you are absolutely new to these tents, it's useful to do a practice run on packing it away after use.
Waterproofing, Ventilation, And Materials
Pop up tents are generally made from nylon or polyester. Some use metals to keep their structures in shape, while many have moved to alternative options like fiberglass. All of these are acceptable options.
Since pop up tents are generally used during the summer, check ventilation and UV protection coating options on the tent. Good ventilation isn't just important for keeping cool in the hot summer, it is also useful for windy weather. If the wind can simply pass through, there are lower chances of the tent being knocked over.
Tent Size And Center Height
It is a rarity for pop up tents to allow you to stand straight once inside. Even so, a convenient center height is desirable. Check the center height of the tent and compare it with your own to ensure you can comfortably sit up, at the very least.
Whether you are considering a custom pop up tent or even an instant pop up gazebo, look at the size, and then leave some room. For example, when picking a four-person pop up tent, make sure you have enough room for your luggage as well!
If your tent is going to house multiple people, also check the number of doors. A family with kids may be satisfied with one door. Adults, on the other hand, could prefer multiple doors simply for the convenience of getting in and out. Not getting trampled in your sleep by someone fumbling to get in/out is worth the extra effort!
10 Best Pop Up Tents
1. Coleman 2-Person Pop-Up Tent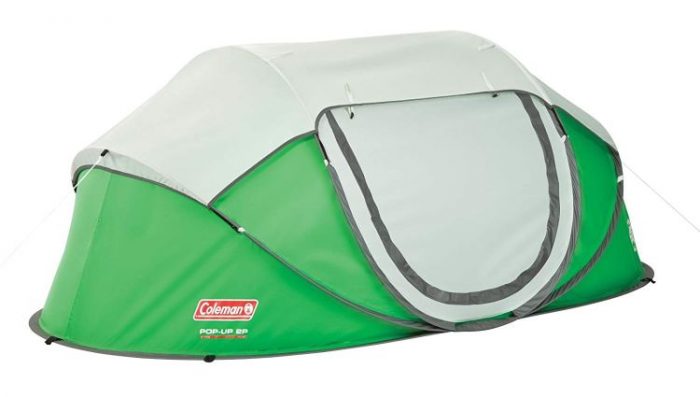 Coleman 2-person pop-up tent is one of the easiest to set up. It's practically ready to go as soon as you unpack it, though some intervention by the user may be necessary to get this tent going. It's practically an instant pop up tent and the sellers claim that the tent will be ready in just about 10-seconds. The same is also true for its sibling, the fastpitch Galiano pop up tent for four people
This tent is 7.5-feet long and 4-feet 5-inches wide, with a center height just shy of three feet. The shelter material is polyester and the tent is waterproof enough to handle light to medium rainfall without trouble. Although water might pool around some points, so it is best to give the tent a slight shake before you open it.
Coleman pop up tent is remarkably easy to open up, but it does take some effort to pack it back. It is not a deal breaker, and some practice using along with tutorial videos from the company should make things easy. Look at the dimensions again, and you'll see the real problem – the tent isn't really built for two people. Two adults in there will make it feel cramped.
Pros
Lightweight
Quick to set up
Made from fire-retardant materials
Fairly good waterproofing
Cons
Small pop up tent size not ideal for two adults
Packing shape not conducive to backpacking, but good enough to carry in a vehicle
2. FiveJoy Instant Popup Camping Tent (1-3 Person)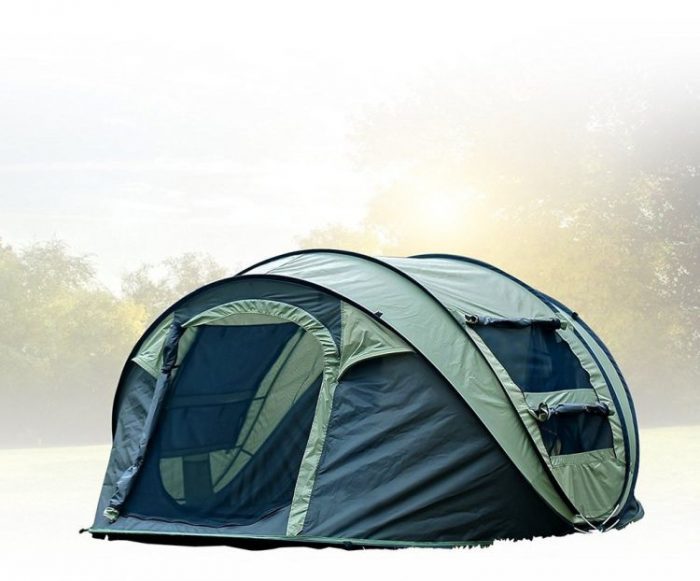 FiveJoy pop up tent is one of the most popular, and for good reason. As pop up tents go, this one is remarkably easy to set up. More importantly, the FiveJoy is as easy to pack up as well. Well, you might need some practice, but the general process is fairly simple.
Its center height is just an inch shy of 4-feet, and the base dimensions are 80.7×78.7 inches, giving you plenty of space to work with. The main material for the shelter is polyester, and it has nylon flaps for easy ventilation. Make use of the guy lines at the window flaps, and you'll have a well-ventilated shelter for beach adventures. Or for that lovely breeze when you camp outdoors.
This FiveJoy instant camping tent is waterproof enough to handle light or medium rain, but it won't hold up as well in heavy rain. Overall, it's fairly durable and sturdy. It's fairly compact when packed, but not convenient enough for backpacking.
Pros
Sturdy with good construction
Easy to set up and pack
Fairly spacious
Good ventilation options
Waterproofing good enough for light to medium rain
Cons
Slightly expensive compared to similar options
Not fit for backpacking, though easily portable in a car
Not suitable for heavy rain
3. Zenph Automatic 2-3 Persons Family Camping Tent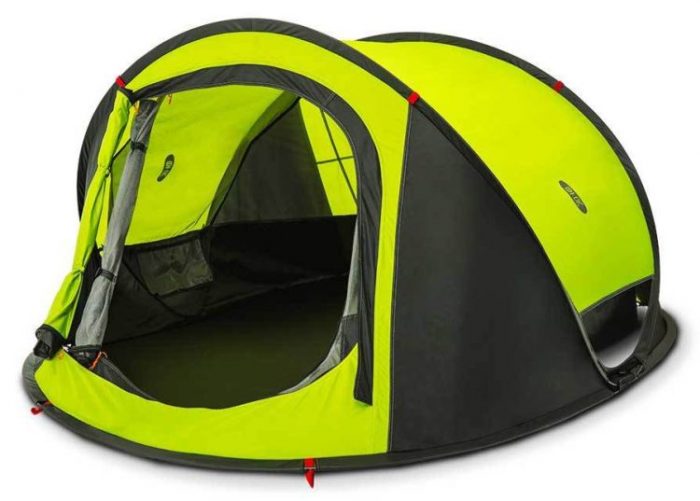 Spacious and convenient, Zenph Automatic Family Camping Tent will have you feeling like a wizard. At your desired location, simply flip the (packed) tent into the air, and it will land all set up. Optionally (and if you're fast enough), whip out your magic wand and yell Erecto, preferably while acting like Hermione Granger.
Ventilation outlets and the door on the tent are equipped with B3 gauze. This makes it easy for the wind to flow through but keeps mosquitoes and other critters out. Zenph claims this is a 4 season pop up tent, but I'm skeptical. It is waterproof enough to hold up in light rain but does get into trouble keeping up with even medium rainfall.
The Zenph is spacious enough for three people, but if you're using a larger air mattress, two people should be good enough. Small caches built for storing knick-knacks add to the overall usefulness of this pop up tent.
Pros
Spacious
Convenient storage options/areas inside the tent
Easy to setup and pack
Thicker floor adds to the convenience
Cons
Waterproofing may have some trouble in medium rainfall
Tent poles seem somewhat flimsy
4. Quechua Waterproof Pop Up 2 Second Camping Tent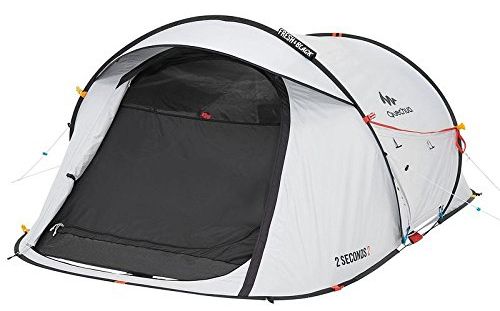 Quechua waterproof pop up tent brings in some interesting technology along with its cool looks. Interiors of the tent are black, with a claim of being 99% dark even in broad daylight. This makes it a good place to sleep in, with attempts to minimize external stimuli from messing up your sleep or circadian rhythm.
Its outer side, on the other hand, is shiny white to ensure that the tent stays cool. The ability to stay dark in daylight costs it some ventilation, but you have to pick your battles! To be clear, the ventilation is not terrible, but it leaves something to be desired in warm weather.
Quechua tent is waterproof and will take on heavy rain and windy nights to keep you in comfort. The tent is fairly spacious, even as a 2 person pop up tent. It is also easy to set up, and conveniently sewn instructions make it easy to pack up as well.
Pros
Waterproof
Can handle windy weather
Convenient to pop up and pack
Dark interiors make it easy to rest and sleep
Cons
Ventilation leaves something to be desired
Expensive compared to similar products
5. G4Free Pop up Tents 3-4 Person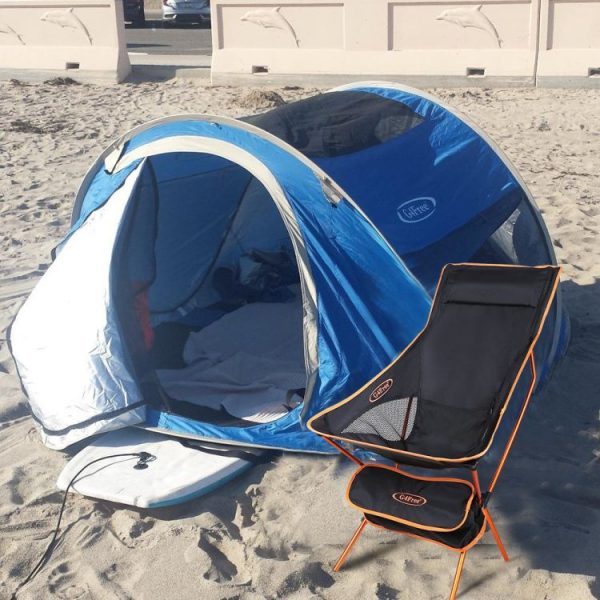 G4Free is one of the best pop up tents to consider when pricing is important. This tent offers great value for money and will comfortably fit two adults and a child. You could push four people in there, but things are going to get cramped.
The tent is made from polyester treated to be resistant to UV rays. It has two mesh doors, two windows, and even a mesh roof. Ventilation is no problem with this pop up tent, and the airflow is probably the best any pop up tent has to offer.
On the negative side, it does suffer from poor waterproofing, and can only be called water-resistant. This tent is great for the sunny beach, not so much for camping.
Pros
Excellent value for money
Great ventilation and airflow
Lightweight at just about 5 pounds
Cons
Water-resistant, not waterproof
Large folding diameter
6. CORE 10 Person Instant Cabin Tent with Screen Room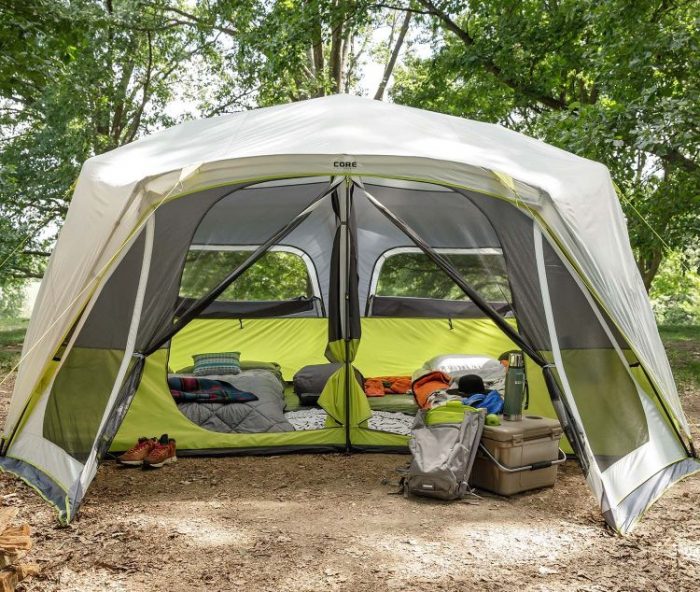 Core 10 Person is an amazing tent when you're traveling with family, or if you just want some extra comfort and luxury. Big enough to fit in 10 adults, this tent is righteously massive. You will have to put in some effort to set this tent up, and it might take a few minutes.
The effort is worth it. Core Cabin Tent may take a few extra minutes compared to smaller pop up tents, but when you consider the size, it is much faster than other large tents! To make setup easier for this tent, poles come pre-attached to the tent. So all you have to do is put things in their place.
What makes it one of the best pop up tents is not just the available space, but customization options. You can divide the tent into two rooms, and make a screen room with awning. Core 10 Person is very well ventilated and is tall enough as a pop up tent you can stand in.
Pros
Very spacious
Great ventilation
Screen room and room divider allow some use as custom pop up tents
Easy to set up
Tall enough to allow an adult to stand up straight and walk
Cons
Very heavy to move
Can be troublesome to pack up
7. Toogh 3-4 Person Camping Tent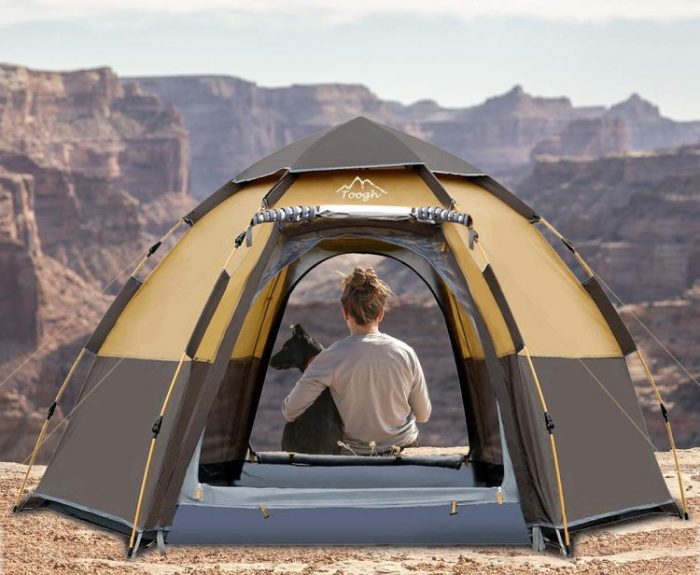 Toogh camping tent basks in the glory of its use of high-quality materials and sturdy shape. The tent has a hexagonal base to make the best use of available space, making it comfortable for three adults and their luggage. It is, however, better suited for two adults and two children.
It is made from a high-quality fabric coated with silicone for extra waterproofing. Toogh is also designed to block out UV rays. Large double doors and mesh windows allow excellent ventilation. The porch is small and cute, lending extra points to the tents looks and use.
Pros
Waterproof
Excellent ventilation
Easy to set up and pack
Spacious, but best for 2 adults
Good center height
Cons
Hexagon shape may make it feel more cramped unless space is used well
The unusual shape might be a bit problematic with air mattresses
8. Coleman Instant Pop-Up Canopy Tent and Sun Shelter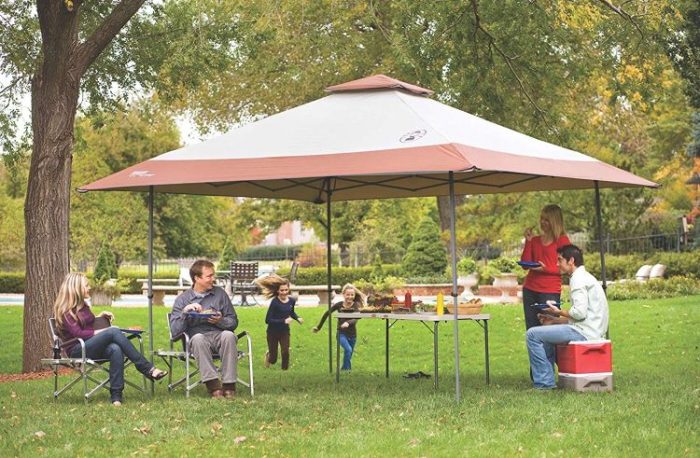 Coleman pop up tent canopy is a pretty simple and useful tent. It would be incorrect to think of all pop up tents with the express purpose of sleeping in. Pop up shade tents or canopy tents are as popular and very much as useful.
Coleman instant canopy tent creates a communal place for people to gather and is useful for places where rain or lots of sun is to be expected. The canopy is water-resistant for rain and made with a UV guard material to handle the sun. Its 2-way roof vents ensure good ventilation.
Measuring at 13×13 feet, this tent provides a much better area than conventional 10×10 pop up tents and only takes a little extra place in storage. Coleman Instant Pop-Up Canopy Tent takes about three minutes to set up. It comes with pre-attached poles that make it easy to place or pack away this tent.
Pros
Convenient to store
Easy to set up and pack
Good area coverage as a pop up canopy
Cons
Heavy, causing troubles with portability
Doesn't hold well in heavy rain
Needs to be secured well to hold up against strong winds
9. Wnnideo Instant Pop Up Tent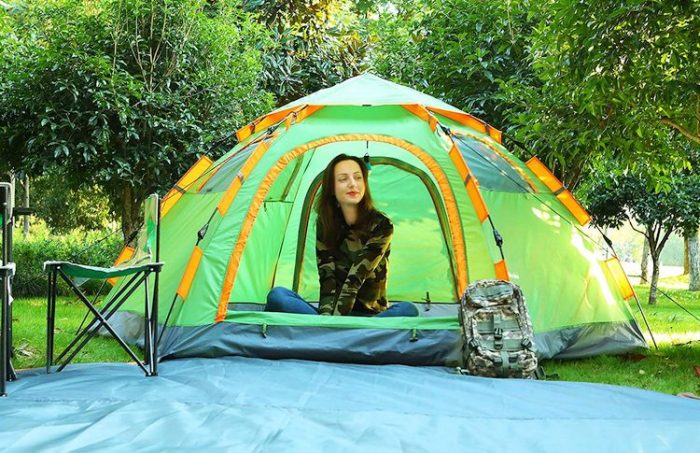 In terms of looks alone, the Wnnideo Instant Pop Up tent is quite similar to the Toogh we saw earlier. Its spacious design can accommodate up to 5 people in relative comfort, though I'll say four is a good number.
This wonderfully lightweight tent has been designed to withstand wind and rainfall. It performs admirably well in both capacities, though heavy rainfall can be a bit too much to handle. Wnnideo is also UV resistant, so it's a pretty nice package where features are concerned.
Wnnideo Instant Family Tent has excellent ventilation with two large doors and windows. As a lightweight tent, it is pretty good for camping. It is fairly portable, but given the size, I'm still not quite convinced about its use with hiking.
Pros
Lightweight
Fairly good waterproofing
Excellent ventilation
Cons
Not useful for heavy rain
Inner pockets for storage are practically tiny
10. Gazelle T4 Pop-Up Portable Camping Hub Tent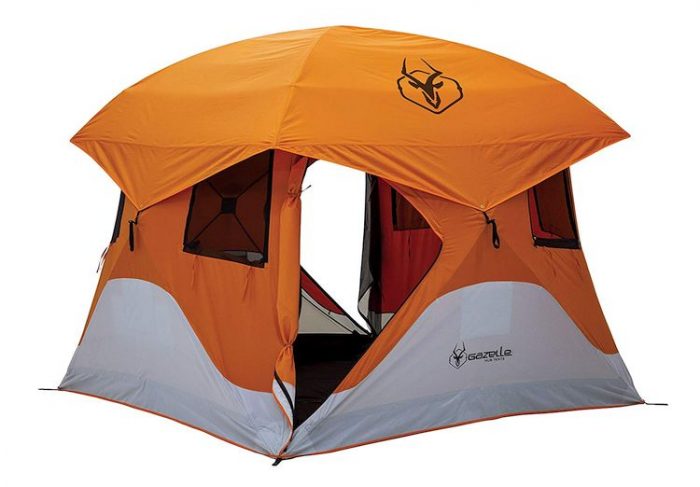 If you find most comfort in tents with a higher center height, the Gazelle T4 is the tent to look at. It takes a couple of minutes to set up and requires some extra effort compared to regular pop up tents, but it promises better comfort. The height goes to 6.5-feet, so this is a pop up tent you can stand up in.
Made from Oxford fabric, the waterproof tent has fully taped seams for extra water resistance. Plus, the removable bathtub floor makes it easy to clean. The promised floor space is 61 sq. feet, which is pretty generous, and most of it is usable thanks to the vertical positioning of the tent walls.
Two large doors and six windows make the Gazelle T4 a ventilation paradise where you won't have to worry a bit about airflow. The tent is well-made and robust. It has some trouble against stronger winds, but that is to be expected given the high center height and general shape of this tent.
Pros
Excellent, robust construction
High center height makes it comfortable
Acceptable waterproofing
Great ventilation
Cons
Packs into a 67.5-inch duffle bag. The dimensions can hamper portability unless you have a large car/vehicle
Expensive
Finding Your Way To The Best Pop Up Tent
Getting hold of the best pop up tent isn't purely about features, but about your requirements. All of these tents listed in our pop up tents reviews have proven themselves to be capable. Some tents are better suited for the beach in great weather, others work wonders on a camping trip. So keep your requirements first, and the features on offer next. With that in mind, you'll certainly find something that works for you on this list!