A good night's rest can sometimes elude you on your camping trip. It can be due to any number of factors – uneven ground, pebbles, or your air mattress simply not feeling right. A camping cot can be your solution to these troubles. You can place it inside the tent, on the ground, and if you've got the right gear, you could even use a cot tent. Let's take a look at some of the best camping cots that can accompany you on your next trip!
10 Best Camping Cots In 2019
Deciding On The Most Comfortable Camping Cot
Weight And Portability
Where camping is concerned, weight and portability are always important factors. Many modern camping cots can be collapsed and folded, making them easier to move. While this works for most people, some may need a bit extra.
For example, backpacking or a long hike simply wouldn't work if you have to drag along a small suitcase-sized cot. In these cases, you employ lightweight cot that can be folded into a small bag. Either way, you should be able to find a cot that meets your needs. This type of cots can be fairly expensive, and portability remains a difficult issue with cots.
How Comfortable Is My Camping Cot?
Many people find camping cots to be an upgrade over air mattresses or camping mats. A cot gives you a great sleep surface unencumbered by surface problems of the tent floor. When purchasing a cot, make sure its frame is not designed in a way that hinders your comfort.
This includes the metal finish, but more importantly, the lack of metallic or solid support very close to the weight-bearing areas. Lying on a cot won't be fun if a metal bar keeps poking at your hips!
That said, structural integrity is as important. A creaky frame will annoy you, but it will be infuriating for other people sharing the tent with you.
If you expect cold weather, you will need insulation for your camping cot. It's best to have a mat or even a mattress at hand to protect you from the elements so you can sleep comfortably.
Size Of The Camping Cot
Standard-sized cots are often designed to save space while keeping the user comfortable. You could very likely fit 10 cots in a 10 person tent, in place of three queen size air mattresses these tents can usually hold.
A standard-size cot isn't always the most useful. You may want more length or width, or even a cot big enough to fit two! So don't back away from buying cots that catch your fancy, even if the only extra feature you want from your cot is a cup holder!
Padding On Your Chosen Cot
The sleeping surface of a cot is often covered in a soft mat. There's no way to say if a mat works right for you. The best way is to test it a bit. Or, you could add an extra layer of comfort and buy a mattress or extra layer of padding for extra comfort.
Best Camping Cot Reviews
1. Coleman ComfortSmart Cot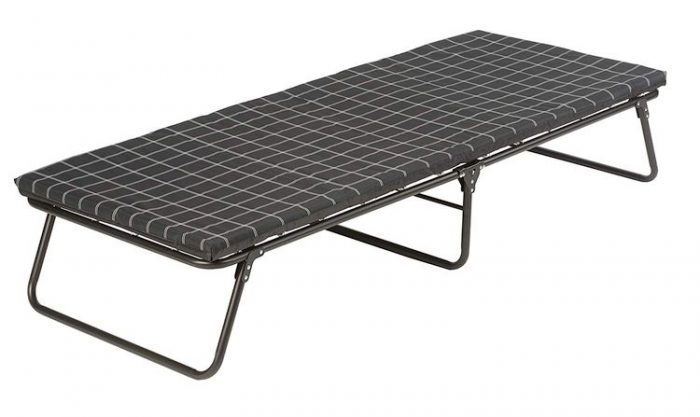 A very popular option, the Coleman ComfortSmart Cot offers comfort with a hint of luxury. Its solid steel frame can handle a weight of about 300 pounds, so unless you need a special cot, this one will do wonderfully.
The cot is 30-inches wide with a length of 80 inches. The most attractive feature is the inclusion of a thick foam mattress. While this adds to the comfort, it also causes problems with portability and packing away the camping cot.
For one, the tent and mattress need to be moved separately And as you can guess, the "thick" mattress needs plenty of space of its own to work.
Pros
Excellent price point and value for money
Comfortable
Easy to set up and pack away
Cons
The cot can start sagging after repeated use
Can get noisy and squeaky after a few uses
2. TETON Sports Adventurer Camp Cot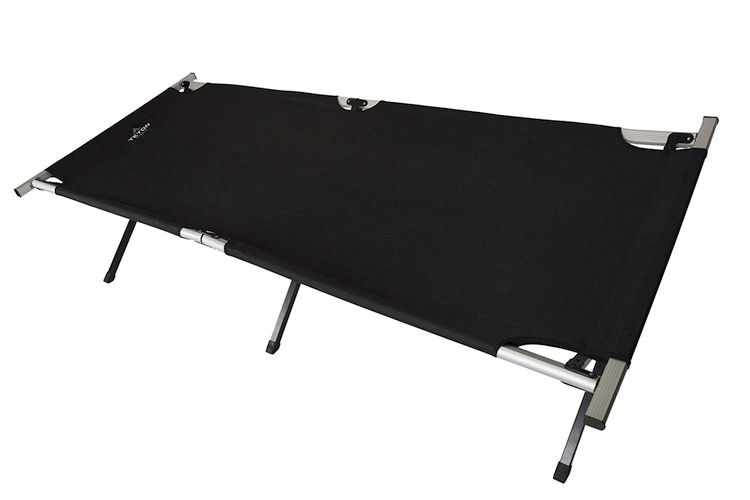 TETON Sports Adventurer Camp Cot is strong and robust and built to handle weight with relative ease. The claimed maximum limit for this cot is 400 pounds. Of course, it is thoroughly unlikely an average person will ever that test that weight.
There are no extra components like a mattress here, just a nice fabric on the cot. TETON Adventurer camp cot includes a way to hook up two cots together so you get a double-wide cot. That makes it set up for two person cot, but nothing changes in terms of comfort for both people. It's great in appearance, support metal bars on the edges will form a solid boundary between the cots.
Like others, the cot sags when someone sits/sleeps on it. This means the support bars continue to be a real boundary for this cot, even when linked together with another cot.
It weighs about 20 lbs and folds neatly for easy portability. Some concerns about the longevity of this cot do exist, but its good looks and price point make this cot worth recommending.
Pros
Looks good
Good value for money
Can be attached to another cot
Robust in terms of handling weight
Cons
Doubts over product longevity
The fabric can get saggy after a few uses
3. Kamp-Rite Tent Cot Kwik-Cot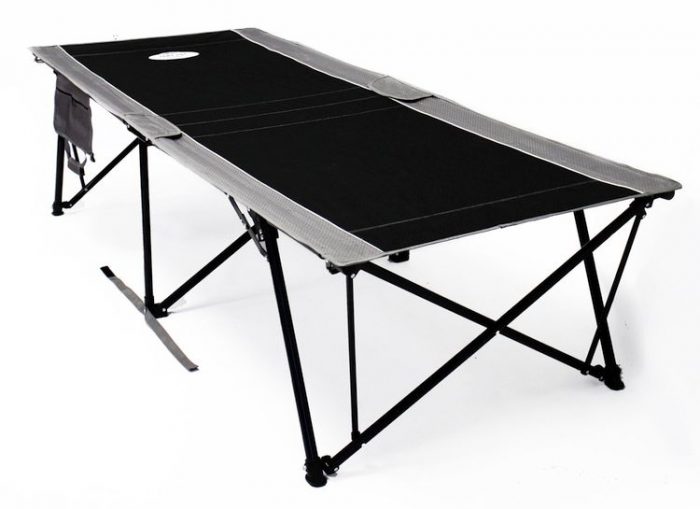 Kamp-Rite is pretty much the de facto brand name for cot tents, it only stands to reason that they offer useful camping cots. This is a robust and spacious cot by virtue of the extra width it offers. It doesn't sag as dramatically as some other cots, which also makes it suitable for side sleepers.
Kamp-Rite Kwik-Cot has a high-quality construction and isn't prone to creaking with the movements of the sleeper. You'll find pockets along the side of the cot, where you can place your quick-access items like a flashlight, eyeglasses, or phone.
Pros
Sturdy and robust construction
Less prone to creaking
Suitable for side, back, and stomach sleepers
Easy to set up
Cons
No locking mechanism to keep the legs of the cot in place
Wide width of the oversized cot, though useful, may take a toll on available space in your tent
4. Helinox Cot One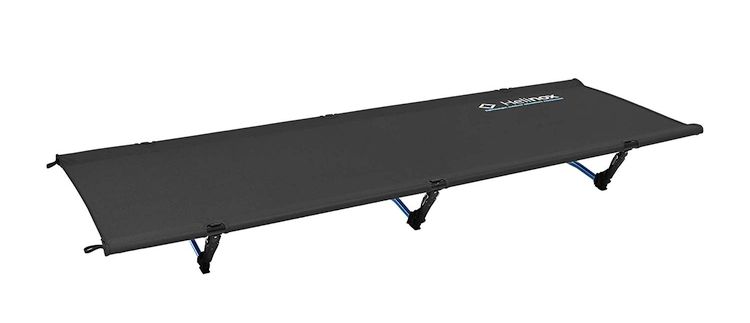 Helinox cot is very quick to set up and very comfortable to sleep. I suppose it should have those qualities, considering the massive price tag it carries. After set up, the cot sits 6.5 inches above the ground. If you want to go higher, you can purchase leg extensions and go to a height of 15-inches. At dimensions of 75×27 inches, it seems to be lacking a bit in width, but it's comfortable enough for that small deficiency to be ignored.
The sleep surface is excellent, and you can enjoy your rest without a worry. Side sleepers will also find this cot comfortable. Helinox Cot One weighs just under 6 pounds in weight, making it easily portable.
Pros
Lightweight
Excellent sleeping surface works for all sleep positions
High-quality, robust construction
Cons
Expensive
A wider width would be appreciated
5. ARAER Camping Cot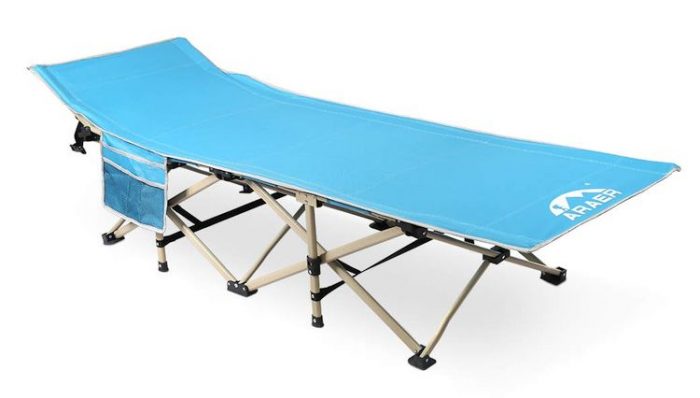 ARAER Camping Cot is a heavy duty cot designed to support up to 450 lbs of weight. Oddly enough, it's only 26.4-inches wide, so unless you intend to stack weights on this cot, the max weight is pretty much irrelevant.
The cot is designed to be durable, comfortable, and portable. Rather than folding, this one rolls neatly into a bundle that can be carried with ease. It weighs about 16lbs, so it isn't quite ideal for hiking trips, but as a regular cot, the Araer is pretty good.
Pros
Robust and durable
Fairly comfortable for all sleep positions
Lightweight and easy to move
Cons
Could use more width
Upward angle towards the top is unusual
6. Magshion Portable Military Fold Up Camping Bed Cot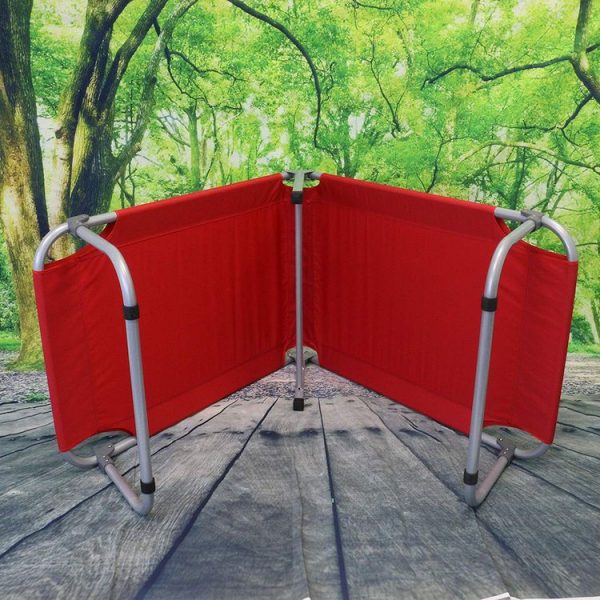 The simple, but well-priced Magshion Portable Military Fold Up Camping Bed Cot is available in several color options. The cot is well-built and robust. Though it is rated for 300 lbs, anyone near that weight won't really enjoy sleeping on this cot.
It has a support column running through the middle, and heavier people will find it poking against their body. Its dimensions are 72×24.5 inch, which is perhaps acceptable for a person with average height and build. Although things would have been way more comfortable if the cot was a bit longer and wider.
Pros
Sturdy
Good value for money
Very easy to set up
Cons
The cot sags, making it difficult for heavier people
The width seems too low
7. KingCamp Strong Stable Folding Camping Bed Cot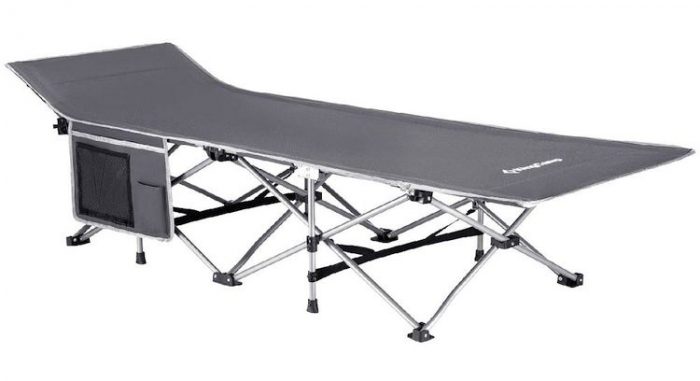 This solidly build cot has its weight just short of 16 lbs. Much like the Araer we saw earlier, this one rolls into a neat bundle, making it easy to move. KingCamp Strong Stable Folding Camping Bed Cot is built for comfortable sleeping and is accepting of most sleep positions.
Its dimensions are 74.8×26.8 inches. Though I'd love to have a wider width, the good quality of the King Camp Cot makes a good night's sleep possible.
Pros
High-quality construction
Good for all sleeping positions (side, back, stomach)
Lightweight
Cons
The lounge-style curve towards the top isn't best for camping
Could use more width
8. BYER OF MAINE EasyCot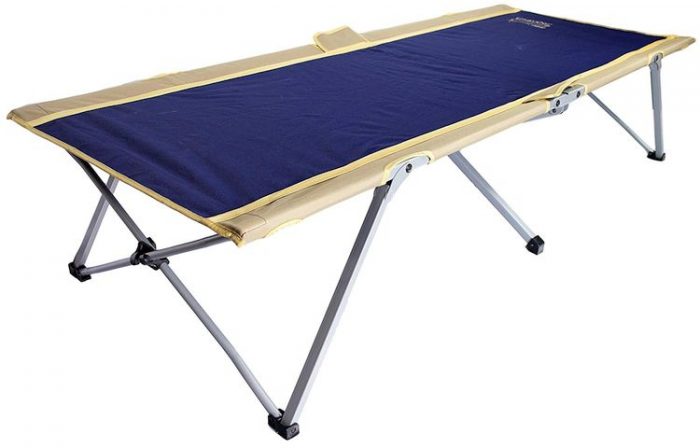 BYER OF MAINE EasyCot is remarkably comfortable and easy to set up. Struggling to set up a cot is a terribly infuriating experience, and thankfully one you won't have to deal with when using this cot. The cot is wide at 31-inches and offers plenty of room.
The one problem it does have is its weight. A 21lb cot sounds somewhat heavy, and it could perhaps trim its weight. Although that may prove difficult given how bareboned (though comfortable) this cot already is.
Pros
Comfortable with a large space for the sleeper.
Very easy to set up
Cons
Heavy
Some sagging issues
Unfit for side sleepers
9. Timber Ridge Utility Folding XL Camping Cot
In terms of dimensions, the Timber Ridge Utility Folding XL Camping Cot is quite similar to the Kamp-Rite we saw above. It is made of great quality material and does not sag uncomfortably. Side sleepers may find this slightly uncomfortable, though it is not a dealbreaker.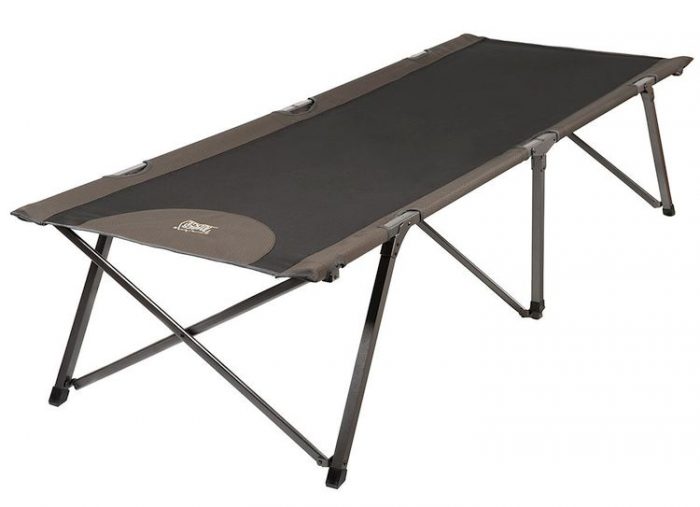 Pros
High-quality construction
Plenty of space
Cons
Some sagging
Heavy – weighs 28 pounds
10. Mountain Trails Base Camp Cot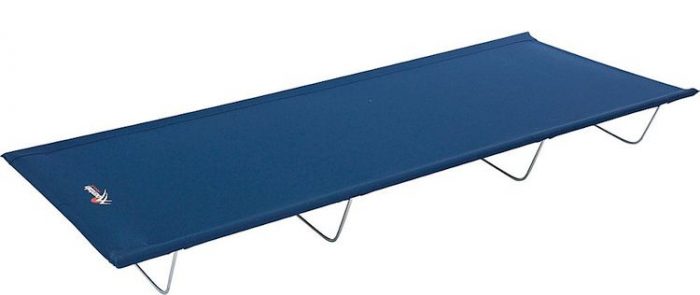 Minimalist in looks and high on functions, the Mountain Trails Base Camp Cot is a pretty great camping cot. This cot is spacious, offering dimensions of 75×30 inches, and a height of 6-inches. The surface is pretty good and works well with all sleeping styles. Even side sleepers will find this acceptable, though some sagging will eventually show up.
It weighs just 9 pounds and can be packed neatly for easy portability. Though not as light as the Helinox Cot One, the Mountain Trails Base Camp Cot makes up for that lack by offering great value for money.
Pros
Good looks
Great value for money
Spacious sleep surface
Lightweight
Cons
Prone to sagging
Can be difficult to assemble
Picking The Most Comfortable Camping Cot
Your comfort is the key to choosing the best camping cot. Durability and reasonable price, when matched to your requirements, can be a pretty good indicator of the correct camping cot. I'll suggest you give up finding a great deal on some random cot, and instead pick a cot that works best for you. Finding a good deal becomes easier once you have the right cot selected.