Getting a comfortable sleep as you spend time in the great outdoors is a priority for many. Several people carry air mattresses along to stay comfortable, but that doesn't work for everyone. A cot tent is a great alternative, designed to be as comfortable as a regular cot and with the functionality of a tent. If conventional methods aren't working for you, buying the best cot tent could set things right.
9 Best Cot Tents
Identifying The Best Cot Tent
Clearing The Terminology For Cot Tents
To put it rather simply, cot tents are tents placed on a cot. They are often called tent cots or cot tents, but the general principle remains the same. You'll be sleeping on a cot, which also functions as a tent.
Some people also include cots that can be placed in tents. I disagree with that notion and see it as incorrect. If you placed a couple of air mattresses in a 10 person tent, it does not become a mattress tent. Similarly, if you shove ten cots in there, it does not become a cot tent. In case you are looking for a cot to place in your tent, check out these awesome camping cots.
These are small tents, and will generally hold one or two people. If you like to sleep on cots and want more space, it is better to consider a larger tent and place cots in there.
These Are Above Ground Tents
One of the most attractive things about cot tents is that these are above ground tents. You can sleep on any terrain without worrying about pebbles, stones, or uneven ground bothering you. Suitable terrain is easy to find because all you need is a surface where the cot can be placed.
They also come in handy for areas where you might expect some water pooling due to rain. Since you're off the ground, a small amount of water shouldn't be troublesome. The above ground advantage is quite similar to truck bed tents, but of course, with cot tents, you're not limited to terrain accessible to your truck.
The biggest disadvantage is the lack of storage space, so be sure you pack light for your camping trip. Cot tents, in general, are designed to be portable and lightweight so they can be convenient. They're often easy to set up and pack away, so that's another plus. In any case, it is better to practice a bit with your new cot tent at home, rather than take it straight to the great outdoors.
Best Camping Cot Tent Reviews
1. Tangkula Tent Cot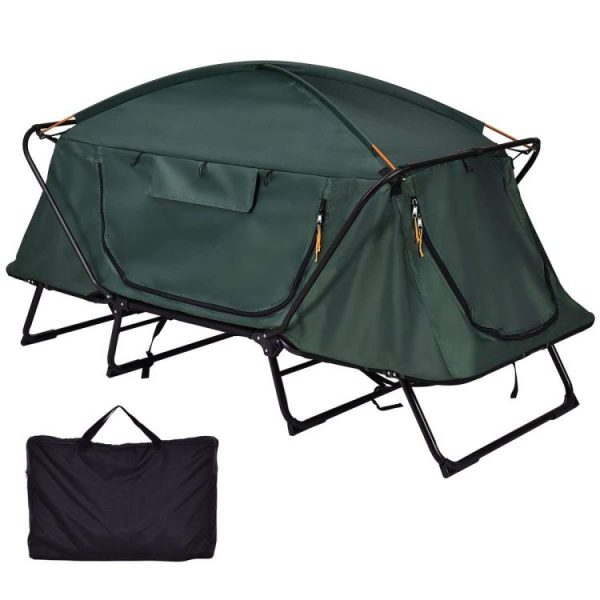 A very straightforward option, the Tangkula Tent Cot is a pretty useful product carrying most necessities in a single package. It has a thin pad over the cot for sleeping. The pad is fairly comfortable, but you may want to try it out and see if you need a mattress. There's also a mosquito net, so you can sleep undisturbed and in comfort.
The cot is 81.5×32-inches, giving you plenty of space for yourself and some luggage, like a duffel bag. You can separate the tent and cot, so if the weather is right, you can pretty much just chill on the cot. Tangkula Tent Cot has large D-shaped screening doors with zipper for easier movement.
The rainfly is sturdy and can handle rain without a problem. Roll-up windows on the tent use a loop holder, which can be a bit of an inconvenience but works pretty well.
Pros
Spacious with good headroom
Includes most features for sleeping, so you don't have to carry extra items
Sturdy construction
Cons
Can have problems with condensation
The cot itself can feel rather cheaply made
2. Kamp-Rite Oversize Tent Cot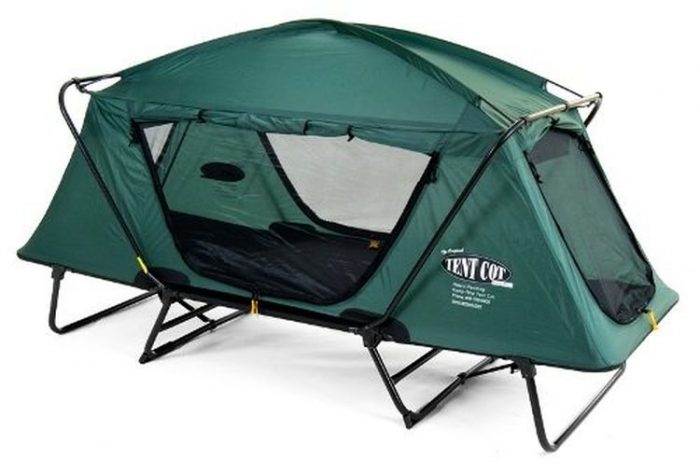 Kamp-Rite is the best in the business when it comes to tent cots. A list like this could be full of Kamp-Rite products and it wouldn't be wrong. I resisted the urge to do that, though the company is represented by multiple products on this list.
Being spacious is a big deal for most portable tents, and a bigger one for a tent cot. Kamp-Rite Oversize Tent Cot manages to do exactly that. The cot size is 90×32-inches, and the height is about three feet, not including the 11 inches the cot raises you from the ground. Its 210D rainfly can hold up to heavy rain without giving in to any leakage.
Flaps on the tent offer good ventilation and excellent airflow, although be sure to secure them to avoid condensation problems. Overhead pocket flaps are convenient to access, and a good place to stash items you want within quick reach. Versatility is an important part of this tent. When you feel like it, separate the tent from the cot, and transform it into a lounge or a chair.
Pros
Very spacious with plenty of headroom
The rainfly can handle heavy room
Durable and robust construction
Cons
Can have condensation issues, especially if flaps aren't secured correctly
Weighs 32 lbs, which is bulky for longer treks
It can get uncomfortably warm inside the tent
3. Outsunny Compact Pop Up Camping Cot Tent Combo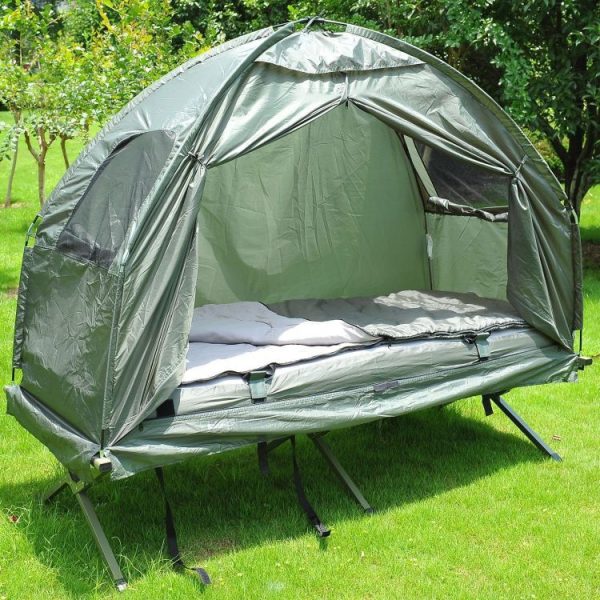 If the combination of comfort and good value for money is on your mind, the Outsunny Compact Pop Up Camping Cot Tent Combo has you covered. The feature-rich tent includes an air mattress, sleeping bag, and a pillow. A foot pump is included for the mattress and pillow. Basically, everything you need is packed into one feature-rich package.
Following the philosophy of the best pop up tents, setting up this Outsunny tent is designed to be quick and easy. Perhaps as an offshoot of the same idea, taking this tent down can be a bit cumbersome.
At 41-inches high, the tent offers plenty of headspace to be comfortable. Large-sized windows and door offer excellent ventilation to the tent. The tent and cot can be separated, although the cot cannot be transformed into a lounge or chair.
At 26 lbs, this cot tent is much lighter than the previous two we have seen. Although it is worth noting that the rainfly is mostly just a cover and won't be much help in the rain.
Pros
Spacious
Very easy to set up
Comfortable – includes air mattress, pillow, and sleeping bag
Good value for money
Cons
Minimal protection from rain
Questionable longevity
Low width of the cot tent makes it feel cramped
4. Therm-a-Rest Tent Cot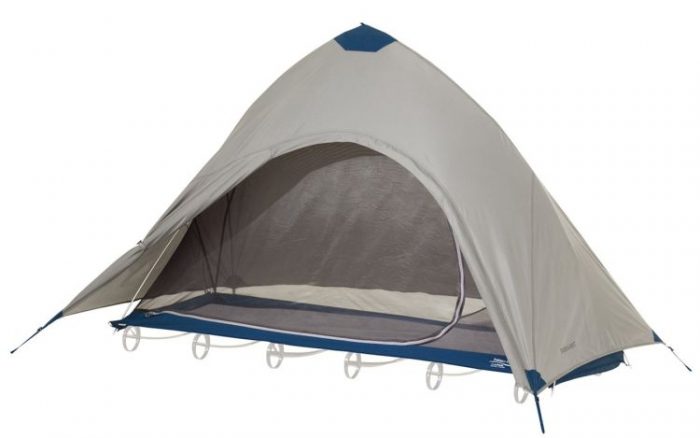 Therm-a-Rest offers high-quality tent cot gear that you can expect to be comfortable and last for years. It may take some time to set up, but the tent cot is comfortable, waterproof, and spacious. Large doors and roomy interiors make this an excellent choice.
Unfortunately, they don't quite offer a full tent cot. The tent and the cot have to be purchased separately. While this is useful for simply buying replacement parts, it's cumbersome to purchase the full tent while hunting for different parts. The silver lining is that Therm-a-Rest tent and cot can be used freely with other products.
The most remarkable feature here is that cot and tent are impressively lightweight. Put together, the cot tent weighs only slightly more than 5 lbs. If you are looking for a tent to accompany you on some serious hiking, this one is a great choice. The regular size may feel a bit cramped, so it's better to consider the large size option.
Pros
Impressively lightweight
Excellent waterproofing
Very compact when packed
Cons
Expensive
Cot, tent, and accessories sold separately
Can be difficult to set up
See the tent on Amazon and the cot
5. Winterial Double Outdoor Camping Tent Cot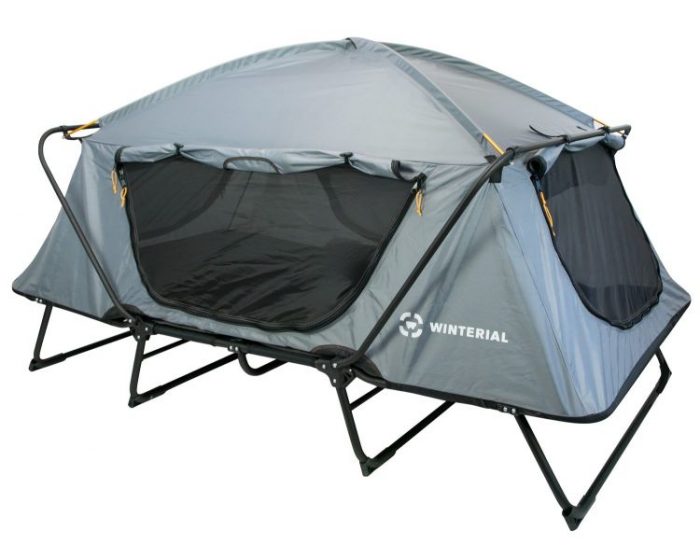 Winterial Double Outdoor Camping Tent Cot is excellent if you have company on your camping trip. Or for that matter, if you just need some extra space in the tent for your luggage! The tent is large and comfortable.
The width is about 46-inches, which is larger than the Kamp-Rite Oversize tent above. It won't quite cut it for two heavy set people, but if you're slender, it will work great. The tent is rated for 500 pounds, so weight shouldn't really be a problem.
One thing this tent does right is that there is no support bar running through the middle of the tent. Those things can take comfort away from sleeping. While two is company, this tent is great for a single person. There isn't much room for luggage with two people in the tent, but a single person will have plenty of space!
Pros
Very spacious
Excellent protection against rain
Easy to set up
The awning on the entrance is pretty great
Cons
Problems with condensation
Tiny space for luggage with two people
6. DESERT WALKER Camping cots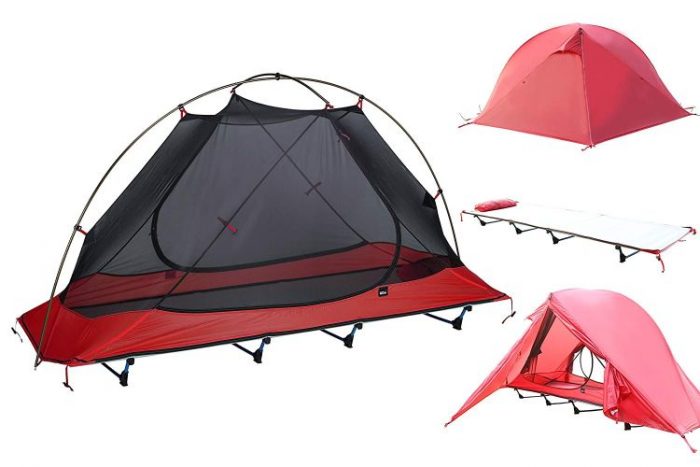 Very useful and versatile, the DESERT WALKER Camping cot is a great option for backpackers. This is a lightweight cot tent, much like the Therm-a-Rest above. The cot and tent put together weigh just about 5 lbs, and are collapsible. This makes the tent easy to move, and its compact enough to carry around without a worry.
Each side of the cot has a door, and when closed, it creates a vestibule on each side. You can use one side for storage, and the other as a regular door. When fully unfolded, the cot tent is 72.8 inches in length, and only 23.6 inches wide. It can feel pretty cramped, and if you're over six feet tall, the tent becomes far less usable.
Pros
Very lightweight
Compact and easy to carry
Easy to set up
Cons
Expensive
Cot width is rather small
7. Kamp-Rite Double Tent Cot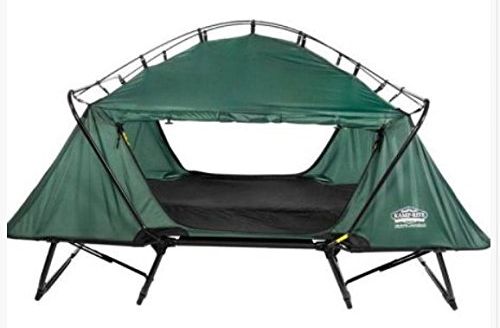 A two-person version of the Kamp-rite tent cot, the Kamp Rite Double Tent Cot measures 84-inches in length and 53-inches in width. There's 40-inch of headroom in the tent, giving you enough space to sit comfortably.
The tent has two doors and two windows, enough to keep it well-ventilated. And much like the other Kamp-Rite products, you can separate the tent and the cot. Converting the cot into the lounge and relaxing during good weather seems pretty cool.
Kamp-Rite Double Tent Cot is rated for 500 lbs, so it's pretty sturdy. This tent is quite spacious to the Winterial Double Outdoor Camping Tent Cot we saw above. However, the Kamp-Rite underperforms in one area. There is a bar running down the middle of the cot, and it can feel quite uncomfortable.
Pros
Very spacious with room for luggage
Sturdy
Easy to set up
Cons
Heavy (51 lbs)
Central bar in the cot can feel uncomfortable while sleeping
8. Ozark Trail 1-Person Instant Tent Cot with Rainfly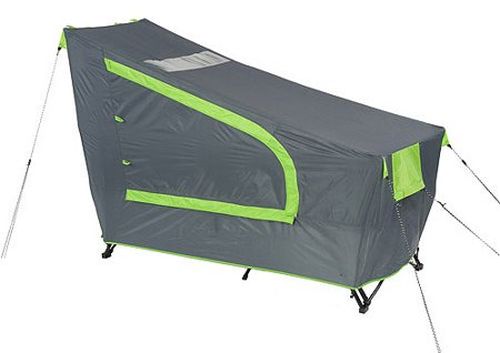 It is no surprise that the proliferate tent brand Ozark Trail has models that compete for the spot of the best tent cot. The Ozark Trail 1-Person Instant Tent Cot with Rainfly simplistic, and pleasingly quick to set up cot tent.
The tent measures 78×31-inches and has 57-inches of headspace. Very comfortable and spacious for a single person. By itself, the cot tent lacks good waterproofing, though the rainfly does its job fairly well. It won't protect you from heavy rain, but it does hold well-enough in medium rain.
Pros
Very easy to set up
Spacious
Good value for money
Cons
Questionable longevity
The rainfly can be difficult to install
9. Ozark Trail One-Person Cot Tent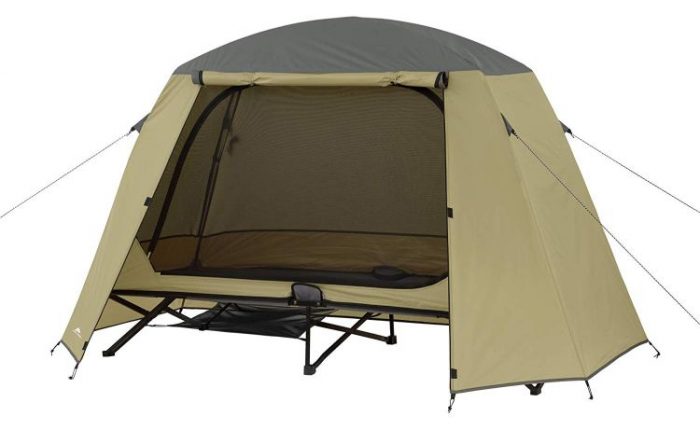 Ozark Trail One-Person Cot Tent is more spacious than the model above and much easier on the eyes! It looks pretty much the same as a regular tent, but with the advantage of sitting above the ground on a cot.
The cot size measures 85×36-inches, which provides an impressive sleeping area as well as room for storage. Ventilation suffers when you put on the rainfly and condensation is going to be a problem. But for the occasional camper, the value for money will be the most attractive part of this tent cot.
Pros
Great value for money
Spacious with room for luggage
Cons
Questionable longevity
Condensation issues
What's Your Choice For The Best Cot Tent?
When choosing a cot tent, portability and ease of set up are important features. You might also consider using a mattress or pad for better insulation and warmth while sleeping. There are a few cot tents that are incredibly lightweight and compact when packed, which can be useful for backpacking trips. However, the average camper could do as well with bulkier, but more comfortable tents. Choosing the best cot tent is about finding a tent that fits your requirements and budgets, and I'm sure you'll find one in the highly rated tents listed here.