There's always a chance of rain when you're camping outdoors. And you've probably experienced for yourself or heard of someone who's camping trip got ruined when their tent failed to keep the water out. Most modern tents come with some waterproofing. Even so, the waterproofing will need to be renewed after a while. Learning how to waterproof a tent will work in your favor. It's a simple skill, and greatly beneficial for campers. Let's get started!
Precaution Is Better Than Cure — Caring For Your Tent
Before you go around mending the waterproofing of your tent, it's worth knowing how to take care of your tent. Here are a few tips to make your tent's waterproofing last longer.
No Machine Wash Or Detergents
Washing machines are torture for your tent, and dryers are worst. Conventional cloth cleaning supplies like bleach, detergent, spot removers, or pre-soak products should never be used on tents. These things will damage your tent's waterproofing. They can also weaken the fabric and the seams, considerably reducing your tent's expected lifespan.
A better way to clean your tent is to use a clean, damp cloth or sponge, You can use a non-detergent soap to scrub areas that are soiled.
Storing Your Tent
Ensure your tent is completely dry before you store it. The tent must be stored in a cool, dry place, away from direct sunlight. This will keep your tent mold-free. It's also recommended not to keep your tent in their tight packaging for long periods.
Place A Tarp Under Your Tent When Setting It Up
A damaged floor will let moisture from the ground and plants into your tents. Waking up to water droplets inside your tent isn't going to be as admirable as morning due. To protect the flooring of your tent, consider placing a tarp whenever you set it up. This protects the tent floor and can mitigate moisture in case the floor (eventually) develops a hole.
Avoid Setting Up Your Tent In The Sun
A lot of sun exposure isn't good news for your tent and its waterproofing. Whenever possible, try to set up your tent in a shaded area. UV rays hasten up the degradation of your tent's (or rainfly's fabric), eventually causing leaks.
Use A Rainfly
A rainfly will protect your tent's fabric from the rain and the sun. Most tents are sold with a rainfly, or you could buy one separately. In case you can't find a suitable rainfly for your tent, buy a tarp in the right size. It's better than leaving your tent unprotected!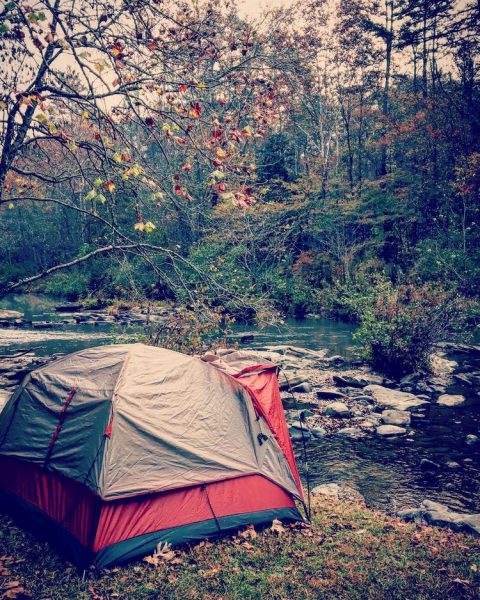 How To Waterproof A Nylon Or Polyester Tent
Most tents these days are made from nylon or polyester. Both these materials are derived from plastic and are water-resistant to some degree, but they're not unquestionably waterproof. Tents usually employ a coating to stay waterproof.
With time, this coating will degrade and require fixing to keep the tent waterproof. Here are some waterproofing methods to keep your tent going. Avoid using any homemade waterproofing spray for your tent, or taking the DIY route to sealants. More often than not, this approach causes more problems than it solves in waterproofing the tent.
Sealing A Tent's Seams
If you notice a deterioration of sealant on the seams of your tent, it's time to give the seams a boost. Seams are a very vulnerable area for water leaks, so keep an eye out for potential degradation.
If your tent has a seam tape that is coming loose, gently remove any peeling areas while keeping the intact sections undisturbed. Clean the area with rubbing alcohol and then apply the seam sealer. You can use something like a paintbrush to spread the sealer evenly.
Once done, let the sealer dry. It can take as much as 24 hours, so be patient and let it take its time. Also, be sure that you're using the right seam sealer. Silicone-treated fabrics need a different sealer than polyurethane treated fabrics.
While you're at it, apply some sealer at the points where the wall and floor of your tent meet. It's a good precautionary measure and can be fairly useful.
Fixing A Leak On The Tent Wall By Refreshing/Repairing The Urethane Coating
In some cases, the tent wall (or floor) can develop leaks as well. A common symptom here is the appearance of flakes on the affected area. If you see flakes, it's time to get to work.
Use rubbing alcohol and a sponge to wipe off the flakes and clean the area. Don't be aggressive with scrubbing – you only want the flaked areas to be removed.
After this, apply a thin and even coating of sealant on the affected area. Once the process is done, let your tent dry for at least 24 hours.
Refreshing The Tent's DWR For Effective Waterproofing
Another water repellent treatment is refreshing the DWR of your tent. A fresh rainfly beads water and sends it off to its merry path. Over time, the DWR (durable water repellency) may need some refreshing.
The best way to refresh the DWR is to first set up the tent. Once you've set up the tent, spray the DWR coating all over the tent or rainfly. After a few minutes, use a damp cloth to wipe off any excess coating. Let the spray dry for about 24 hours, and the DWR will be good as new!
Waterproofing A Canvas Tent
Cotton canvas is naturally waterproof and doesn't require regular intervention from the user to stay that way. However, if you have a new canvas tent, or are using the tent after a long time, it's better to let it go through "seasoning".
For seasoning a canvas tent, simply set it up and let it absorb some water. The fabric and fibers in the tent will swell as they absorb water, and as they dry, they will seal the tent. It's better not to take a hose to the tent, and let the process be at least comparable to natural soaking in the rain.
A simple way is to let your tent sit under sprinklers. A better way is to set it up and let your canvas tank soak in the rain. Check the weather forecast, and simply let your canvas tent soak up the rain for hours. It's okay for the tent to stay in the rain for a couple of days. Once it dries, it will be waterproof and ready for your camping trip.
5 Best Tent Waterproofing Products You Need At Hand
1. Coleman 2000016520 Seam Sealer


Coleman Seam Sealer is a very well known and effective sealing product. Use it on the seams and corners of your tent when and as needed. The bottle includes a built-in applicator pad to ensure that the sealer is applied uniformly. The applicator also prevents any accidental spurts of sealer onto your tent.
It is water-based and fast drying, but it is still better to let the sealer dry for about 12 hours. You'll probably notice that it has dried in about an hour, but it's better to give this sealer more time. The dried sealer has a clear and waxy look. It isn't garish, but if your tent originally had a clear seam, you will certainly notice the points where the sealer has been applied.
2. Nikwax Tent and Gear Cleaning, Waterproofing, and UV Protection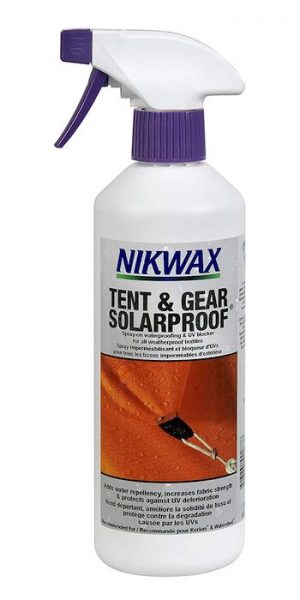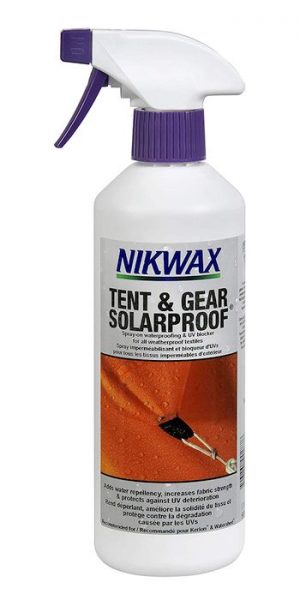 Nikwax is practically the de facto product for waterproofing a tent, tarp, or rainfly. It has one of the best tent waterproofing spray reviews, and pretty much lives up to expectations. Of course, the use goes beyond tents and it can be used on most weatherproof fabrics and materials.
The spray is water based and biodegradable, which certainly earns it some points from those of us who appreciate the great outdoors. Apart from waterproofing the spray also adds UV protection to the material, making it more desirable.
3. Gear Aid Seam Grip WP Waterproof Sealant and Adhesive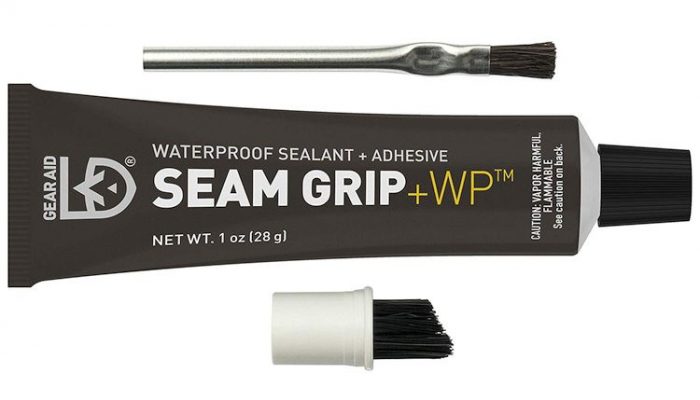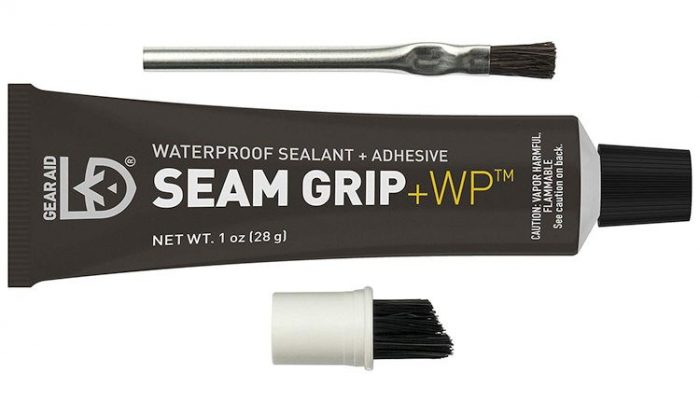 Gear Aid Seam Grip works with nylon, polyester, canvas, and vinyl. The sealant creates a "permanent" rubber seal on the fabric. This seal is flexible so it does not impede the movement of the fabric. It is also weatherproof and will handle warm and cold weather without cracking or breaking.
The sealant comes with two brushes for easy application and management. It is a bit tricky to apply but does its job pretty well. Gear Aid Seam Grip is an effective sealant for waterproofing your tent. It will certainly waterproof any seams, but its glossy and thick coat will be clearly visible.
4. Kiwi Camp Dry Heavy Duty Water Repellent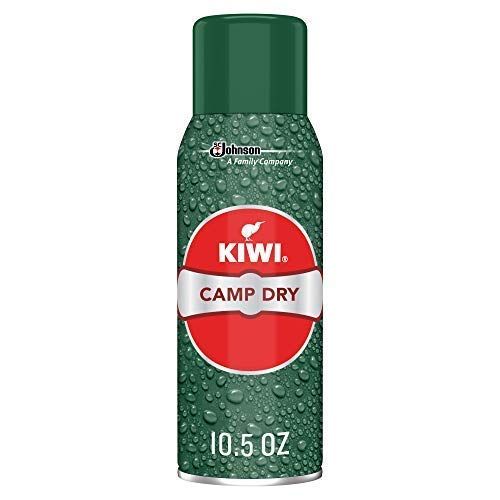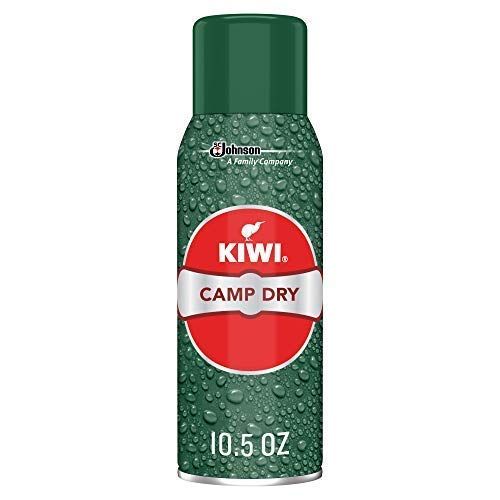 Kiwi Camp is a very effective, heavy-duty waterproof spray that won't give you any reason to complain. The company has been around for a very long time, is well-established in its niche, and is well-known for its quality.
The water repellent spray is silicone based and will work great with a rainfly or tarp. Keep in mind, this is designed to refresh a material that is built to be waterproof. It certainly doesn't magically convert random items to waterproof materials. Give it a good time to dry, and the spray will be practically invisible and odorless.
5. Texsport Polyurethane Waterproof Seam Sealer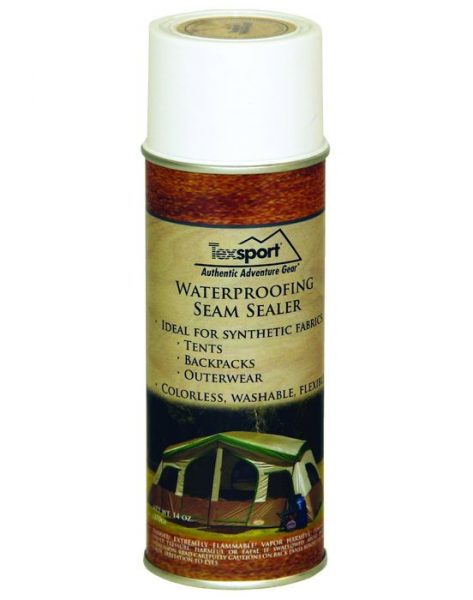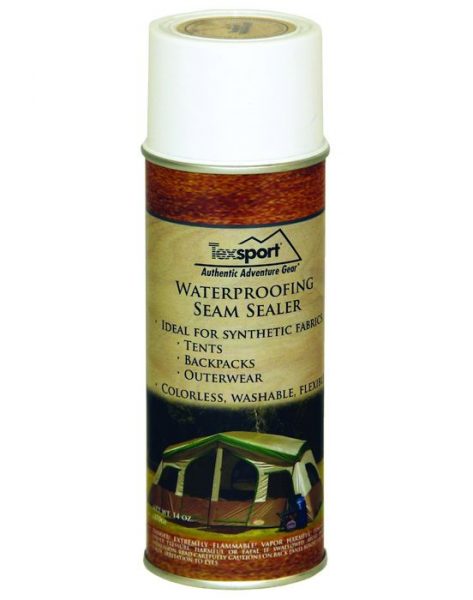 Simple to spray and use, the Texsport Polyurethane Waterproof Seam Sealer is colorless, washable, and flexible. It is easy to apply, and quick to dry. The product is practically odorless and invisible when dried, and works beautifully with most tents.
Care, Maintenance, And How To Waterproof A Tent
All waterproofing eventually degrades, and you certainly don't want to junk a nice tent. And of course, you don't want to sleep in a tent that's quick to let water through. Simple maintenance like knowing how to waterproof a tent will not only keep your tent in action for longer, it can actively contribute towards making your camping trips more fruitful. Better the maintenance you give your tent, the fewer problems you're likely to face.