Rather than pitching up several tents, families or groups may prefer to use a single, larger tent instead. For example, rather than placing children and adults into separate tents, everyone can stay together in one big tent. Being spacious and convenient, these tents are quite popular so you won't have trouble finding the best 8 person tent that suits your needs. I'll talk in some detail about the top contenders. However, if you'd like to go straight to the list, here they are in no particular order.
10 Best 8 Person Tents In 2019
What To Look For When Buying An 8 Person Camping Tent
Size Is Subjective
You can technically shove eight people into an 8-person tent. You'll all just be packed and very uncomfortable. A better number to think of is 5 or 6 people. There will be plenty of room for everyone to sleep comfortably, with space to stash your luggage.
Generally speaking, you'll have enough room to place two queen size air mattresses. Or, you could take a different route and place good quality camping cots for each person. Either way, try not to put more than six people in a tent. Should you need more space for people, it is better to consider a nice 10 person tent.
The Number Of Available Rooms
Your 8 Person Tent will generally offer a single room, or a room divider to create two rooms. Some may even offer a three room set up, though that is rare. Often, you'll also find multiple doors for your tent. Generally, these are placed at the front and back of the tent. They are often placed so that when room dividers are set up, each room has access to a door.
Headroom And Shape Of Your Tent
Tents are available in various shapes and sizes, each with its own benefits. A dome-shaped tent works pretty well at handling the elements. These tents can manage wind and offer better protection against the rain, but offer low headspace and storage space. It is likely that you won't be able to walk upright in these tents.
Cabin-style tents, on the other hand, have straight walls and offer plenty of room for luggage. They usually have a good height and you could walk upright in such tents. These tents will have more trouble dealing with the elements and are better suited for camping in mild weather.
Portability And Durability
You obviously won't take along an 8-Person Tent on a long hiking trip. However, you do want it to be easier to assemble and dismantle. And you also have to account for the effort required in taking the tent to, and from, your car.
Canvas, polyester, and nylon are the most popular choices for tent materials/fabric. Canvas is made from cotton, is waterproof, breathable, and a tent made from this material could last decades. It is, however, thicker and heavier compared to the other options.
Polyester is lighter, and nylon is the lightest. Both these materials are relatively cost-effective and easier to use, which is why you'll find that the vast majority of tents are made of nylon or polyester.
8 Person Tent Reviews To Help You Find The Best
1. Coleman 8-Person Red Canyon Tent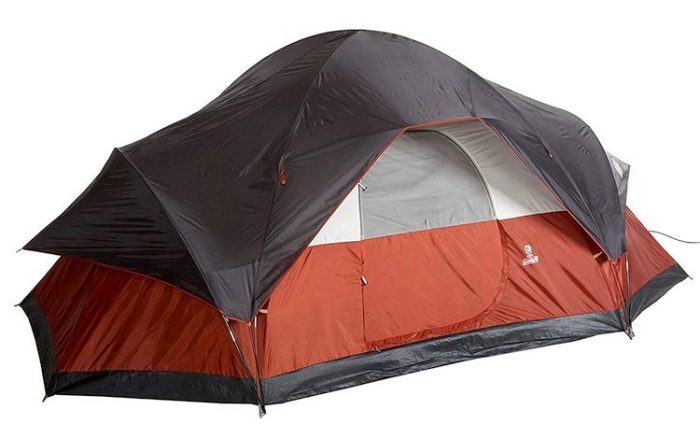 Coleman 8-Person Red Canyon Tent is a great option for families on a camping trip. The dome-shaped tent can be divided into three rooms, has a large D-shaped main door, and several windows for good ventilation. With a floor area of 17×10 feet, this tent can house six people in relative comfort. The center height is 72-inches, so you will have some room to walk around comfortably.
There is some basic waterproofing on the tent and it includes a rainfly. However, if you're expecting persistent rain, the company recommends using a sealant on the seams. In fact, it is better to waterproof this tent fresh out of the box so you won't have to worry about rain while camping.
Another troubling oversight is with the side windows. These windows have mesh openings, but cannot be zipped shut. So if you want privacy, you will have to place the rainfly over the tent and sacrifice ventilation.
Pros
Very spacious and comfortable
Can be divided into three rooms
Easy to set up in about 15 minutes
The dome structure is excellent for windy conditions
Cons
No covering for side windows necessitates the use of rainfly for privacy
Does not hold well in the rain unless you manually waterproof and seal
Takes time to disassemble and pack away
2. Wenzel 8 Person Klondike Tent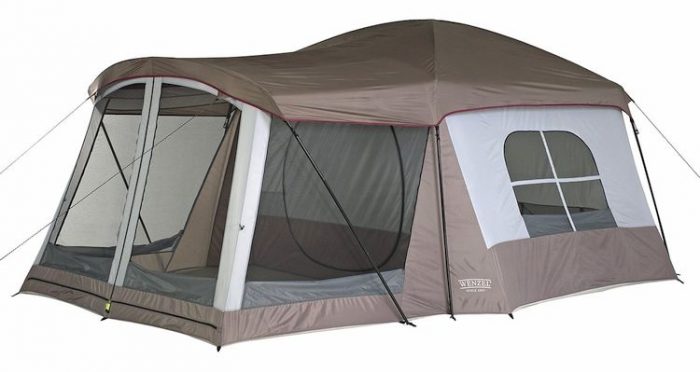 Wenzel 8 Person Klondike Tent is a big two-room tent. The larger main cabin is rated for five people, while the slightly smaller screened is good for three people. Both these rooms are large enough to hold a queen size mattress. The overall area is better suited for five, or at best, six people.
There are large mesh windows on the main cabin, with only a single door leading to the screened porch. Having just one door seems like a poor choice for a tent that must be used in a two-room setup. The tent has good waterproofing, and the bathtub floors ensure water stays out. However, the cabin-style design is not well-suited for windy weather.
Pros
Waterproofing is good enough to handle light to medium rain
Easy to set up
Spacious
Cons
Only one door
Does not hold well against wind
Included tent stakes aren't much good and will have to be replaced for better ones
3. Kodiak Canvas Flex-Bow Deluxe 8-Person Tent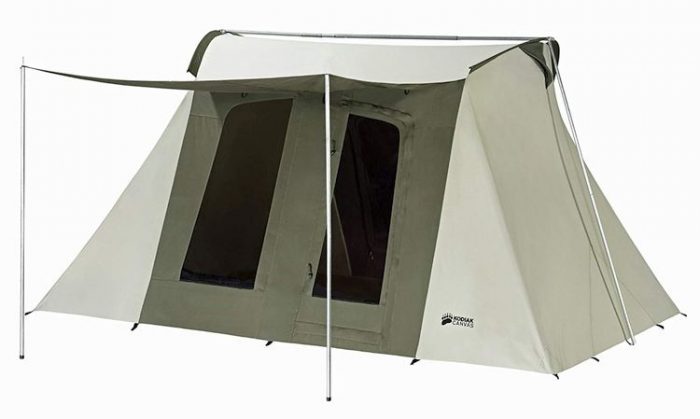 Sporting excellent looks and design, this all-weather tent can be a part of your adventures anywhere. As the name suggests, the tent is made from canvas. It is completely waterproof, breathable, and comfortable.
Speaking of comfort, the dimensions of the Kodiak Canvas Flex-Bow Deluxe 8-Person Tent are 10×14 feet, with a 6.5-feet of ceiling height. That's plenty of room, though this tent is ideally suited for up to five people.
The focus on quality is visible in every part of the tent, including the high-quality steel stakes, large D-shaped doors, and plenty of windows to keep the tent well-ventilated. The awning at the front is a nice touch and adds elegance to the design. Interestingly, the tent and awning are designed in such a way that you can keep the awning open in the rain without worrying about waterproofing.
Pros
Waterproof duck canvas is breathable and comfortable
Excellent design and looks
Well-insulated
Very durable
Cons
Heavy, due to canvas being a heavier material
Expensive, due to canvas
4. Coleman 8-Person Elite Montana Tent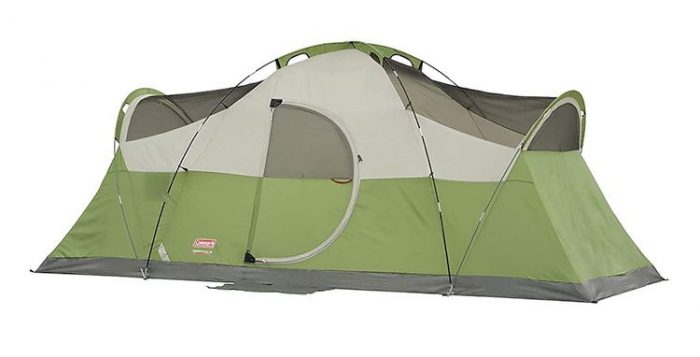 Another popular tent from Coleman, Elite Montana is pretty much a twin to the Red Canyon Tent we saw earlier. Measuring 16×7 feet, Montana is slightly narrower, though with similar space.
While the tent performs fairly well against wind, it doesn't do well against rain. You will have to use a sealant and put in some extra work if you intend to visit any place with rain. The side windows cannot be zipped shut and will require the rainfly placed over them for the sake of privacy. However, this sacrifices ventilation and the tent may become warm and uncomfortable.
The Elite version of Montana offers significant improvement over the regular Montana tent. For starters, the tent has much better waterproofing, and the windows are self-rolling for better ventilation. Another addition is the inclusion of a built-in light and switch.
Pros
Performs well against wind
Color-coded poles for easier set up
Good ventilation and waterproofing with the 'Elite' variant
Cons
No room dividers
Using the rainfly sacrifices ventilation
5. NTK Tents Laredo GT 8 to 9 Person Sport Camping Tent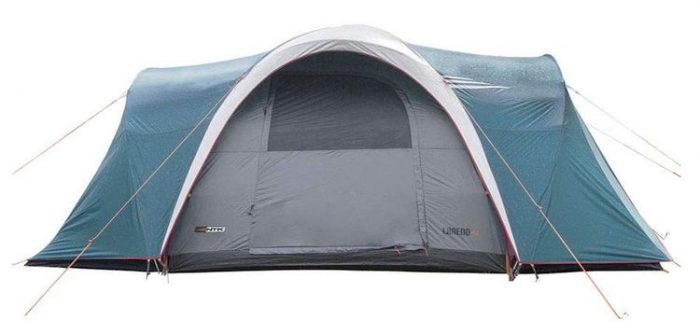 NTK Tents Laredo GT is a wonderfully usable tent with great features. This tent doesn't leave much to be desired in terms of waterproofing, ventilation, and comfort. Its waterproofing is among the best on this list, second only to tents using canvas.
Laredo GT has a large D-shaped door, the center height is 6.2-feet, and it weighs in at an impressively lightweight 24 pounds. My only gripe with this tent is that it can be difficult to set up and take down. It isn't terrible but could be so much easier.
Pros
Excellent waterproofing
Great ventilation
Lightweight
Cons
A bit difficult to set up and pack up
Has only one door
6. TETON Sports Sierra 12 Canvas Tent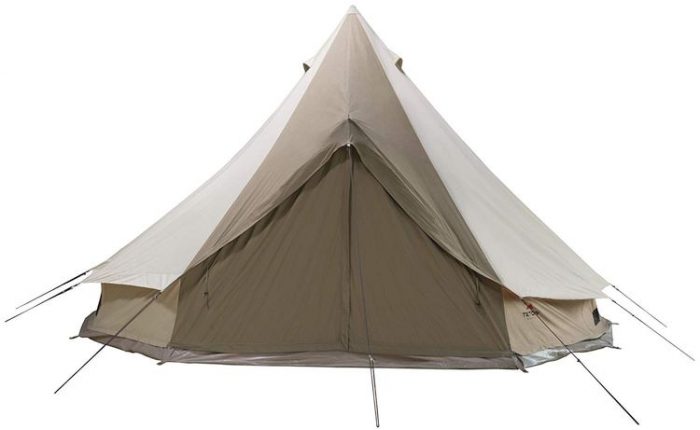 Made from canvas, this bell-shaped tent is great for all seasons. You can also work some customizations on the TETON Sports Sierra 12 Canvas Tent. It can be used as a full tent or a canopy. The canvas is comfortable, breathable, and completely waterproof.
The tent uses a 2-pole assembly and is relatively easy to set up. Its carbon steel stakes are strong and hold well against the wind, while the canvas protects you against the rain. Measuring 12×12 feet, the tent is spacious and will comfortably house 5-6 people with plenty of headroom.
Pros
Waterproof and breathable
Holds well against wind
Very wide door for easy movement
Great ventilation
Cons
Expensive
Complicated to set up
7. CORE 9 Person Extended Dome Tent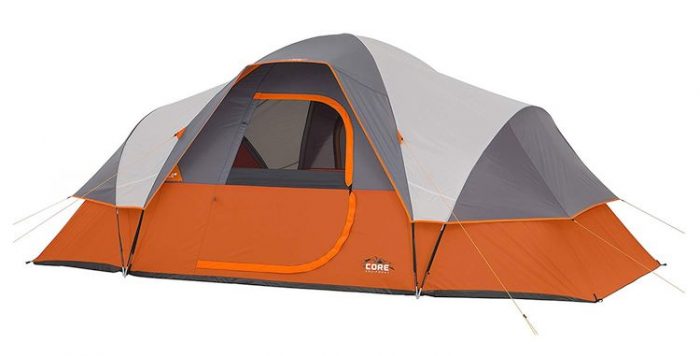 As its name implies, the CORE 9 Person Extended Dome Tent has a wee bit of extra space, and so it will hold 6-7 people comfortably. You can fit three queen size air mattresses in this tent, but that will not leave much space for anything else. Keep in mind, all the tents listed here can actually hold the advertised number of people (eight, or in this case, nine). Only, everyone will be cramped, tightly packed, and with practically no room for luggage.
The tent is water resistant and will hold up admirably in rainfall. The large, adjustable vents and windows ensure the tent has excellent airflow even with the rainfly covering up the mesh roof.
Pros
Very spacious
Excellent waterproofing
Good ventilation
Cons
Questionable longevity
The material seems cheap
8. Coleman 8-Person Instant Family Tent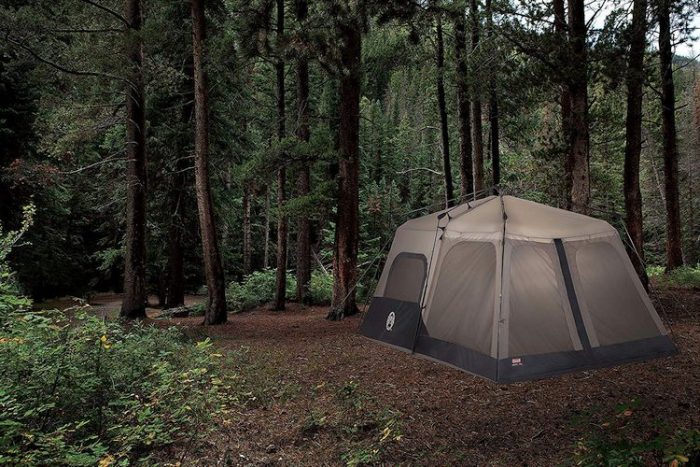 Coleman 8-Person Instant Family Tent is spacious and very easy to set up. Coleman claims that the tent can be set up in a minute, competing with what the best pop up tents can offer. Dimensions of this tent are at 14×10 feet, making it very spacious. The cabin-style construction also works in its favor, allowing a larger amount of space to be available. A rather striking feature of the tent are its large, screened windows that ensure you'll not have to worry a bit about ventilation.
The tent uses Coleman's patented WeatherTec system. For better waterproofing, the bathtub floor is welded with inverted seams of the tent. Interestingly, or rather, annoyingly, while Coleman talks a big deal about the waterproofing of this tent, it does not include a rainfly! Alas, the rainfly isn't the only thing missing.
The shape of the tent necessitates the use of good stakes. Unfortunately, the included stakes aren't quite up to the task, so you will have to buy better stakes separately. This is one of the most spacious and better performing 8-person tents available. But that effect's kind of soiled by the experience of purchasing components separately. Or worse, not realizing that until you're already at a campsite.
Pros
Very spacious and comfortable
Excellent ventilation
Good waterproofing with the bathtub floor
Cons
Rainfly must be purchased separately
Stakes included in the package aren't much good
9. DANCHEL Cotton Bell Tent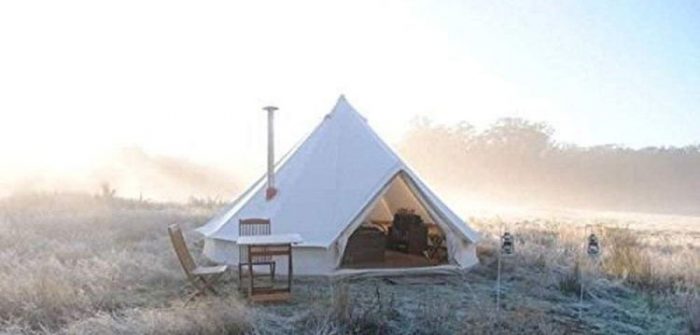 DANCHEL Cotton Bell Tent is in a unique position on this list — this 8 person tent can actually house eight people comfortably. The 5m (16.6-feet) diameter variant of this tent has an area of 216 square feet and a declared capacity of eight people.
The tent is made from canvas, which keeps it waterproof, breathable, and comfortable in any weather. DANCHEL Cotton Bell Tent comes with plenty of accessories. The tent includes room for two stoves. Though this is a 4-season tent, the need for a second stove is unlikely. To that end, one of the spots can be used for other purposes like air-conditioning, solar panel line, or just a regular power cable.
A thick PVC floor insulates and waterproofs the tent from the ground. Strong steel supports and poles ensure that it stays in place and is well protected against wind. A large front door and several windows ensure that the tent has good ventilation.
Pros
Feature rich
Spacious and comfortable
Completely waterproof and breathable
4 Seasons tent
Cons
Expensive
Very heavy due to the weight of the tent, stakes, and other accessories
10. Eureka! Copper Canyon Three-Season Camping Tent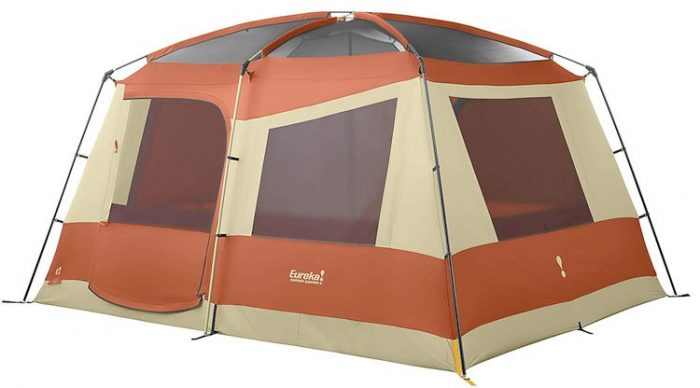 Being tall is what works great in favor of this cabin-style tent. Eureka! Copper Canyon Three-Season Camping Tent has near vertical walls and almost 7-feet of headspace. This combination gives it plenty of room to be comfortable for about 4-5 people, considering the floor area is small.
The large windows and doors provide great ventilation, and being spread around the tent, they offer great panoramic views. A room divider can be placed in the center of the tent to create two rooms, each with its own door. This is a freestanding tent, which makes it easier to set up. Unfortunately, being a cabin-style tent, this also means that the tent is only good for mild weather. This is a useful tent near some beach, as long as you don't expect strong winds or rain.
A deeper look at its construction, and you'll realize that this tent can't handle tough weather conditions. The waterproofing is inadequate, the floor is too thin, and it won't hold well against winds. Place it in a mild weather condition though, and its home field advantage shines with great views, easy set up, and wonderful ventilation.
Pros
Good ventilation
Freestanding
The windows are great
Cons
Works best with (very) mild weather
Is expensive, more so since the construction quality doesn't distinguish itself
Thin floor fabric
Getting The Best 8 Person Tent
For families and small groups, 8 person tents are a great fit. Many people have come to regard them as family tents, and their popularity has seen a steady increase. Choosing the best 8 person tent comes with your understanding of available space, camping conditions, requirements, and an understanding that these tents don't often house eight people comfortably. It's probably best to consider 8-person tents as a measurement of volume, rather than that of housing capacity.