A pop up changing tent has a simple job – ensuring your privacy. You can use them while camping, at the beach, festivals and events, and other similar situations. The activity isn't the big part, the concern is privacy. Many tents available in the market fail at this task. To make your search for the right tent a little easier, I've thinned the herd a bit to make it easier to find the best pop up changing tent. Take a look at these highly rated tents and our reviews, so you can make an informed choice.
10 Best Pop Up Changing Tents In 2019
Features That Make The Best Pop Up Changing Tent
Privacy And Opaqueness Of Your Tent
The biggest reason anyone wants a pop up changing tent is the privacy it offers. Whether you're using it to change clothes, take a shower, or something else, the reason you're in a pop up tent is privacy. Many cheaper tents fail to deliver at this primary premise.
The thin sheets that cheap tents are made from practically turn semi-transparent in sunlight. That's a hard pass for poor quality pop up changing tents. You want a tent with a thick, opaque material that keeps the inside of the tent away from prying eyes. Some tents even include a lining for added privacy.
To Floor Or Not To Floor
Does your pop up changing tent need a floor? A floor could be useful if you intend to use the tent as a shower. It could also work well if the tent is being used as a changing room at your camp. A festival or party where a pop up changing tent for dancers and performers has been set up could see the floor as optional.
If the tent is being used as a port-a-potty or lavatory replacement, a floor would be unnecessary. For cases like these, the minor benefits a floor offers aren't worth a cleanup that comes after!
Size Of The Tent
Being spacious isn't the top priority for these tents. Although there could be situations where you prefer to have more space at hand. Your backyard pool party probably won't need a large or oversized tent.
However, if you're out camping for several days, a larger pop up changing tent that lets you take a shower becomes very attractive! Or maybe you're of larger than average build and find smaller tents annoying restrictive.
The height of the tent isn't to be overlooked either. Granted, you'll only be spending a few minutes in the tent, but a 6-foot person struggling to get changed in a 5-foot tent isn't a pretty experience.
Best Pop Up Changing Tent Reviews
1. WolfWise Pop-up Shower Tent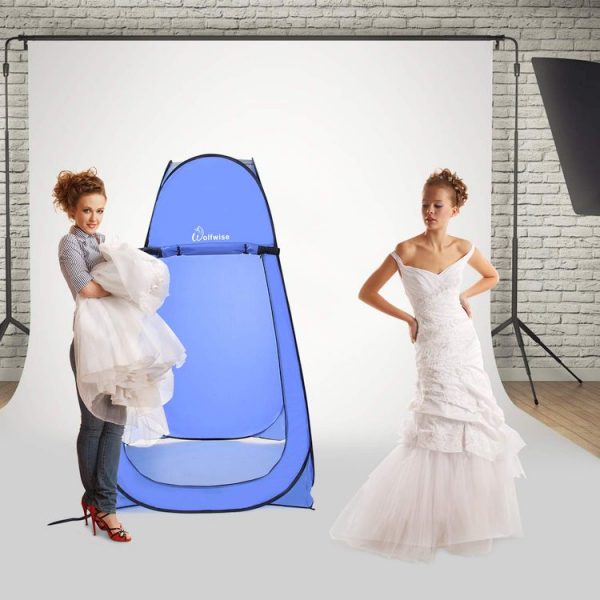 WolfWise Pop-up Shower Tent is a versatile and easy to use tent that can easily stand for most requirements. The floor of the tent is square, measuring 47.5-inch per side, and its height rises up to 75.8-inches. A mesh at the top of the tent provides ventilation.
Since this is presented as a shower tent, there is a flap near the top to insert a shower tube. Inside the tent, you'll find one side bag to hold your stuff and a clothesline for your wet clothes or towel. The tent is waterproof and the material is thick enough to protect your privacy.
WolfWise Shower Tent is quick to set up and could match the best pop up tents in its set up time. It is also easy to take down and pack away. The lightweight tent weighs less than 5 pounds and due to its shape is susceptible to wind. Make sure to stake it down well so a random gust of wind doesn't blow your tent away!
Pros
Thick, good quality material protects your privacy
Good dimensions for convenient use
Useful for practically all changing tent applications
Easy to set up and take down
Cons
Taking down the tent is easy, but it is difficult to put back in its carry bag
Not enough height for comfortable showering by anyone above average height
2. GigaTent Portable Pop Up Changing Room Tent + Carrying Bag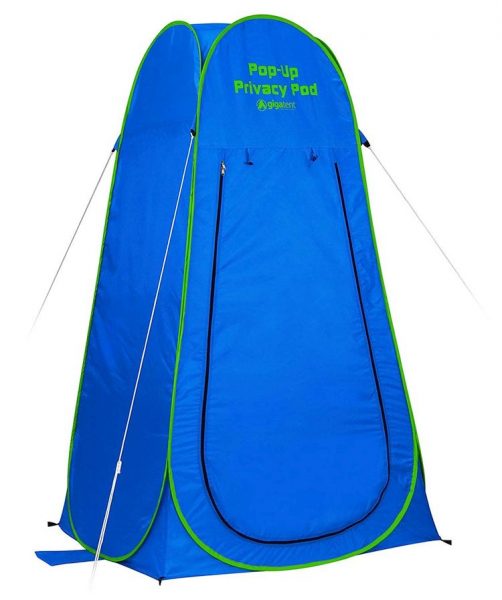 Remarkably easy to set up and very lightweight, the GigaTent Portable Pop Up Changing Room Tent makes for a very suitable option. It is very well priced to make it an attractive purchase. The tent is fairly spacious with the base dimensions at 40-inch each, and a height of 6-feet. There is no mesh or window to aid in ventilation.
The tent fabric is thick, but silhouettes will show on a bright day. It loses some points on account of low privacy. Lightweight and tall, the tent can be blown away by a gust of wind, so stake it down carefully. It is perhaps best used indoors as a pop up dressing room tent.
Pros
Lightweight, weighs just 4 pounds
Fairly spacious
Very easy to set up and take down
Cons
The material used is somewhat translucent
No ventilation
3. Ozark Trail Instant 2-Room Shower/Changing Shelter Outdoor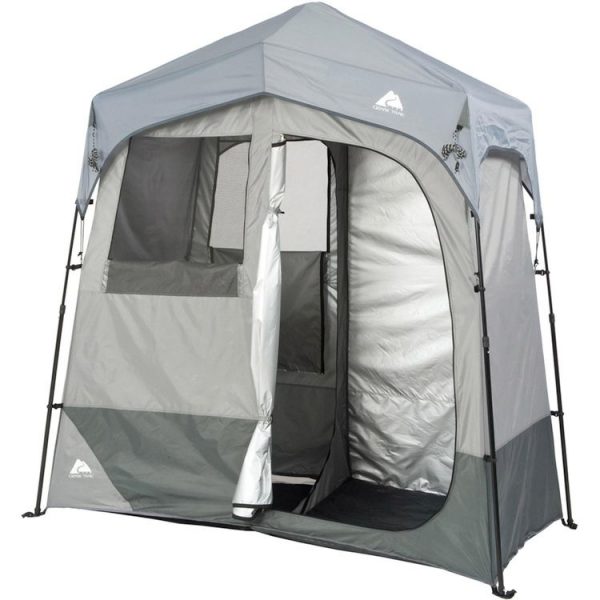 Imagine being on a vacation with the family in a nice 8 person tent. It's a pretty picture. Give yourself a little more luxury with a spacious and feature-rich shower and changing shelter. Ozark Trail Instant 2-Room Shower/Changing Shelter includes a 5-gallon solar heated shower.
The solar-heated shower is a bag placed towards the top of the tent. If you don't place the rainfly, heat from the sun will gradually warm up the bag and the water. As the name implies, the tent has two rooms. One can be used as a shower, while you can use the other as a changing room. There's a door separating the two rooms, so you can conveniently shower, move to the dry area and change.
The inconvenient part is that there's no way to feed a shower line to the tent. So if you're not satisfied with the shower system already placed in the tent, tough luck! The hanging bottle lowers the usable height of the tent, so taller users will have to stoop.
Pros
Spacious, with separate rooms for showering and changing
Includes its own solar heated shower
Quality fabric with additional coats to ensure privacy
Windows for ventilation
Cons
No room to insert a hose or shower line
Water bag for shower lowers usable height of shower area
Questionable longevity
4. WolfWise Easy Pop Up Privacy Shower Tent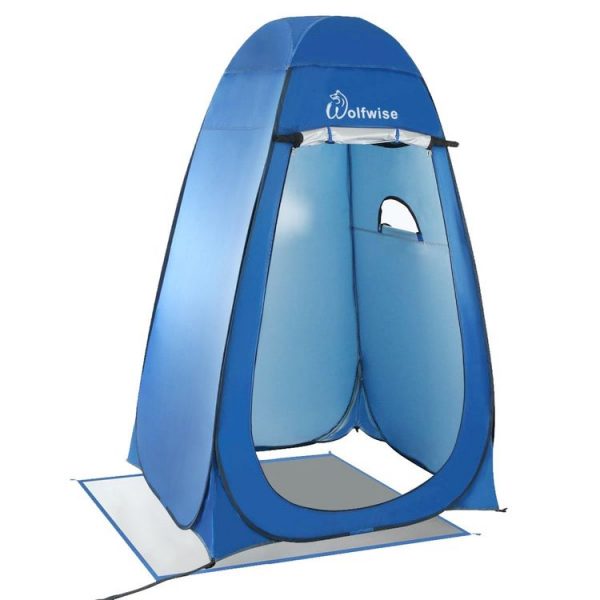 A "premium" version of the WolfWise pop up we saw earlier, the WolfWise Easy Pop Up Privacy Shower Tent does everything better. While the dimensions stay the same, the fabric is darker and thicker. Plus, there's an additional silver lining for increased privacy.
Use of a thicker, higher quality fabric makes the tent more durable. Better zippers make using the tent more convenient. The one thing that doesn't change is the fact that the tent will have to be secured with stakes to prevent it from flying away. But then that problem is practically unavoidable.
Pros
Excellent privacy, even in terrible lighting, the silhouette will be unclear
Spacious
Good quality construction
Removable flooring
Cons
Shower line has to be placed through the window rather than the top
Needs better stakes and pegs
5. Leader Accessories Pop Up Shower Tent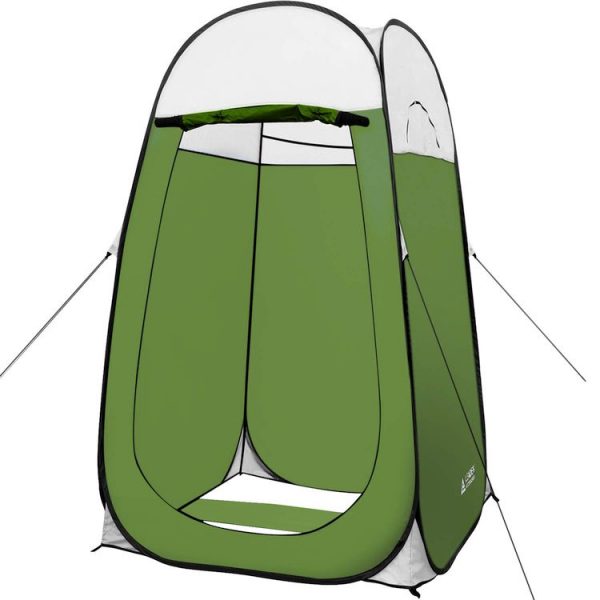 The greatest benefit this tent offers is its height. It is 78-inches high, giving enough room for most people to stand up straight. The shower line is placed slightly lower though, but it isn't that big of a problem. A mesh at the top of the tent gives it ventilation.
Leader Accessories Pop Up Shower Tent has a large D-shaped door. Its zippers leave much to be desired, but they work fairly well. The tent is quick and easy to set up, though packing it away can be a challenge.
Pros
A height of 78-inch is suitable for tall people as well
Spacious
Good construction
Very easy to set up
Cons
Zippers should have been better
Can be difficult to pack away
Stakes included with the tent are worthless
See color and purchase options on Amazon
6. Green Elephant Pop Up Utilitent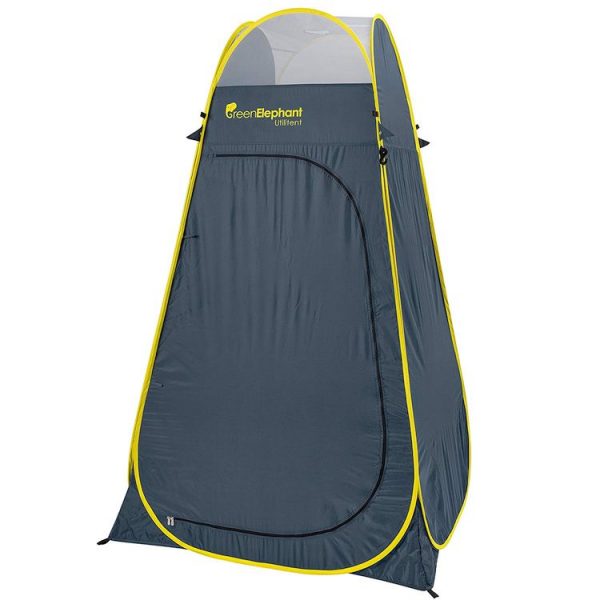 One of the more popular tents, Green Elephant Pop Up Utilitent is a well-made tent with a good height. At the ground, each of its sides measures 3.11-feet, but the height goes on to an impressive 6-feet 10.7-inches. That's plenty of room for most people. Due to the very design of pop up changing tents, the available area tapers towards the top. So though taller people can stand straight, they may feel a bit uncomfortable.
The shower opening at the top is pretty useful and makes the best of height available in the tent. A ventilation spot along the rainfly at the top of the tent is also a good feature, keeping the tent well-ventilated.
Pros
Good height makes it comfortable for tall people
Shower opening at the top makes optimal use of the height
Good ventilation
Cons
Small cross-section at the top can feel uncomfortable for tall people
Takes a little more effort to set up, as compared to other pop up charging tents
7. Lightspeed Outdoors Xtra Wide Quick Set Up Privacy Tent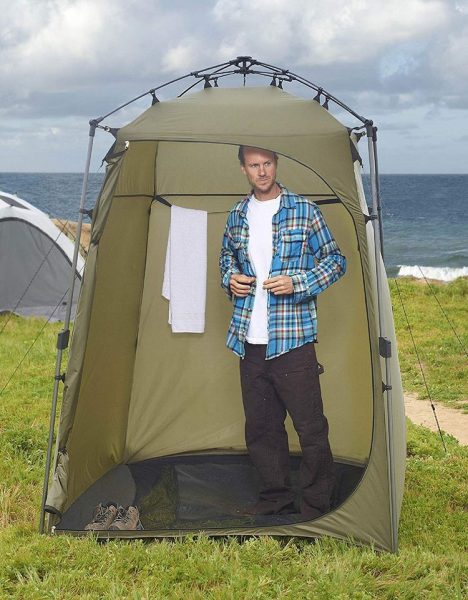 The biggest selling point of this Lightspeed tent is that it is "Xtra Wide". Most pop up changing tents give up spaciousness in favor of portability. Lightspeed Outdoors Xtra Wide Quick Set Up Privacy Tent is more concerned with comfort and goes beyond the bare-necessary dimensions seen in most changing tents.
Its base is a square with each side measuring five feet. That's impressively more compared to most other tents, and it makes all the difference in terms of available space. It does fairly well with height as well, going about 79.5-inches high. On the tent's roof, you'll find two meshed skylights for better ventilation. They also let the sun through for easy heating of a showerbag. The bag holder can manage up to a well-sized three gallon shower bag.
All that space comes at the price of weight. While the conventional and smaller tents weigh as low as 4-5 pounds, this one weighs 16 pounds. A big part of this weight are the threaded telescoping poles used to set up the tent.
Pros
Very spacious, and offers a lot of room
Good height
Excellent ventilation
Floor can be removed (clipped up to tent wall or placed down)
Thick fabric is great for privacy
Cons
Significantly heavier than conventional changing tents
Pricier compared to other tents on this list
8. KingCamp Oversize Outdoor Portable Shower Tent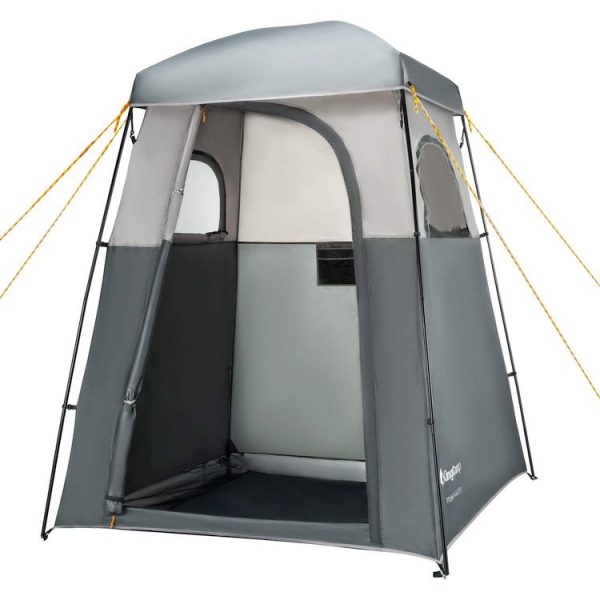 Much like the Lightspeed Xtra Wide, the KingCamp Oversized Shelter Tent places comfort first. It offers even more area than the previous tent, going 66-inches per side on the base, and 85-inches in height. There's a shower bag holder at the top, which can handle a bag of up to 3 gallons.
Apart from the top mesh screens under the removable rainfly, the tent has two mesh windows on its sides for better ventilation. The tent has a fixed mesh floor with a center polyester floor. This makes it very well suited for showering, but a little less so for a potty tent.
Pros
Plenty of space
Easy to set up and pack away
Excellent ventilation
Cons
Shower bag holder is flimsy
The floor is non-removable
9. PARTYSAVING 6 FT Portable Privacy Outdoor Pop-up Room Tent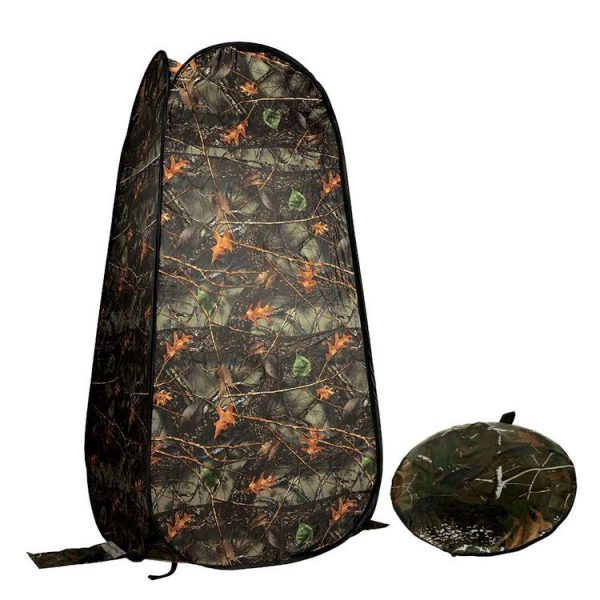 This tent seemingly has all the qualities you can expect from a pop up changing tent. Yet it seems weirdly shaped, and almost looks like a laundry bag. Useful as a beach changing tent, or better, indoors, PARTYSAVING 6 FT Portable Privacy Outdoor Pop-up Room Tent has a good amount of space. The dimensions at the base are 47×40 inches, and the height is 76-inches. The entry is spacious and practically the entire panel/wall can be used as the door.
Pros
Easy to set up and pack
Big and spacious door
Fairly good height, making it convenient for taller people
Cons
Flimsy material with questionable longevity
Does not work very well in terms of privacy, a silhouette will be visible in light
Open ceiling
10. Campla Portable Pop up Dressing/Changing Tent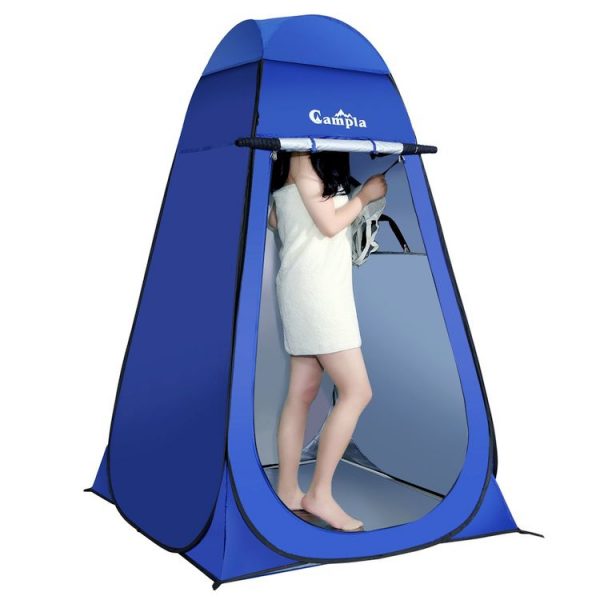 Campla Portable Pop up Dressing/Changing Tent is designed to be spacious and somewhat large, especially at the base. Each side on the base has the length of 47-inches, and the height goes up to 75-inches.
Those are excellent dimensions and you can expect the tent to be spacious. While the height will allow taller people inside, even those with a height of 5'10" might feel uncomfortable. The larger problem here is that the wall taper rather steeply towards the top. Potentially, this can make this changing tent appear less spacious than desirable.
Pros
Good ventilation with mesh roof vents and zipper window
Spacious base with good height
Removable bottom mat
Easy to set up
Cons
Can be complicated to pack away
No mesh on window
Pop Up Privacy Tent Makes Things Convenient
Pop Up changing tents are convenient and versatile. The use of these tents isn't limited to camping trips. They can as easily be used for beach trips and parties at home. Similarly, they have commercial uses, like changing tents for dancers during concerts, photoshoots, or similar uses. Their versatility and ease of use is what makes these tents so popular.