Having a nice camping trip with the family requires a spacious camping tent. Just like at home, it is cool to have a nice porch where you can sit and relax. It's a pretty relaxing home away from home feeling. Most modern family tents have a small compartment that functions as a porch. Of course, most tents have these areas screened to protect you from nuisances like bugs. Here are our top contenders for best camping tents with screened porch options.
Top 10 Camping Tents With Screen Room In 2021
Some Considerations For Purchasing A Camping Tent With Porch
Space And Room Availability
While a small, 2-person tent can show off a screened room, these tents are mostly used by groups and families. When you're purchasing a tent for a family, always be generous with the space on offer.
Remember you have to put some luggage in the tent too. Rather than stacking luggage and people to make the tent work, go a size bigger. It is not rare for a 6 person tent to be only comfortable for four adults and their luggage.
Many larger tents also offer ways to create rooms. This can offer everyone some privacy. If the rooms have their own doors to the outside, there will also be less disturbance as people move about.
Ease Of Putting Up A Tent And Portability
Larger tents obviously won't be featherweights, but they certainly should be portable. A lightweight tent isn't just easy to transport, it is also easy to move from your vehicle to the camping site.
A tent that is easy to set up won't trouble you too much, and you have to spend countless hours trying to figure it out. It can be a serious problem with larger tents! If you have trouble putting tents up, consider larger pop up tents to make things easier.
Tent Height
Spacious as these tents are, they generally also have a good height. In most cases, you will be able to walk around freely without having to stoop or bend. If you are exceptionally tall, give a thought to tent height.
Weatherproofing And Material Quality
Not all tents are built for all seasons. Some fare better on the beach, while others can do well in winter. Waterproofing to hold out the rain, and a sturdy structure that can stand against the wind is exactly what you want. Even if you're not expecting any rain, your chosen tent should have some waterproofing to stand against showers.
Quality of stakes needs a second look for most value for money and cheap tents. If you feel the stakes are lightweight or poor quality, invest in better quality stakes. The small amount you spend will be much better than the inconvenience of your tent getting ripped by wind.
There is an inherent limitation to waterproofing on tents that have screened porches. You can't keep that porch dry in the rain unless you take overly dramatic (and perhaps unnecessary) measures to make it happen. Keep the waterproofing worries to the main cabin of the tent.
It is for the same reason that tents with screen rooms deal with the issue differently. Many tents skip the flooring for the porch, thus saving on packing space, weight, and costs. Although there are disadvantages here, considering that the area is pretty much left to the elements.
Several tents choose the other route and will offer good, waterproof flooring for the porch. Well, it will still get wet in the rain, but it does offer better protection. You may even be able to use this area as an additional room during clear days/nights.
The Best Camping Tents With A Screen Porch
1. Wenzel 8 Person Klondike Tent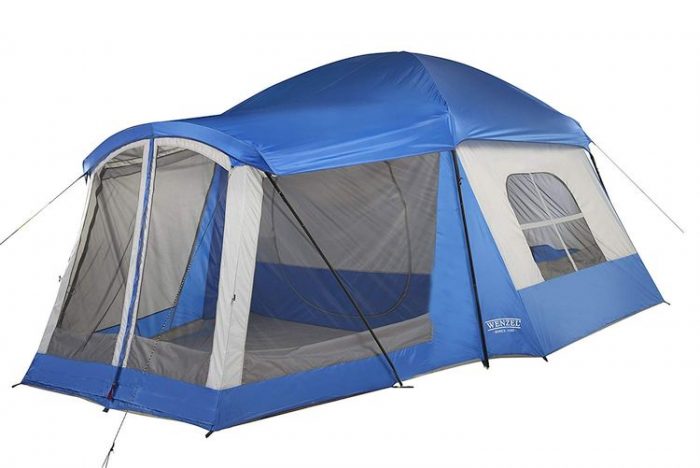 A large, cabin-style tent, the Wenzel 8 Person Klondike Tent can actually fit the advertised number of people. Though if you plan to use cots or queen size air mattresses, take that number down to four. The cabin style also gives it a good height, so people can stand upright inside the tent.
It covers a total area of 11×16-feet and has quite a large screen room at 9×6-feet. The screen room has a bathtub-style floor that will protect it from moisture and ensure it stays dry. The spacious screened porch is also a good place to remove dirty shoes and gear so the sleeping area can stay clean. Those swayed by a larger screened porch will certainly find this tent attractive.
Speaking of swaying, cabin tents generally aren't that good against strong winds. Wenzel Klondike holds up fairly well against the rain, but a persistent rainfall will result in leaks. The tent is easy to set up by two people, though a single person can do the job as well.
Pros
Spacious room with excellent height at 78-inches
Screened porch is large and protected against the elements
Simple setup with detailed instructions sewn in the tent
Good value for money
Cons
Doesn't hold up well against a strong wind
No hole for electric cable(s)
2. Coleman WeatherMaster 6-Person Camping Tent with Screen Room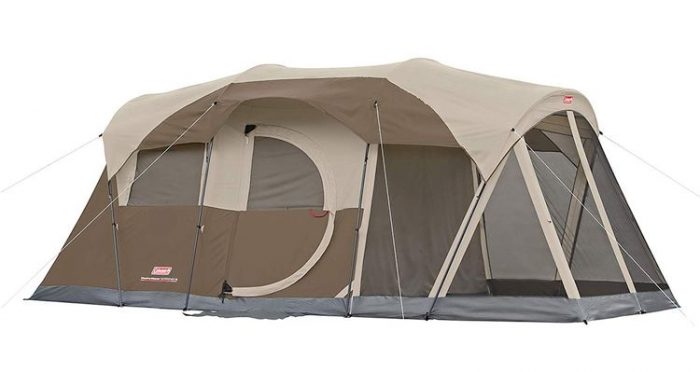 Coleman tents know their way around the block, and this 6 person tent seems pretty much on the mark. The tent is equipped with Coleman's WeatherTec system, which includes patented welded floors and inverted seams designed for better weatherproofing. A rainfly helps the tent manage rain, and weather-resistant zipper ensures things keep running smooth even in rain.
Though the interiors receive strong floors and good waterproofing, the screen room has been left out. So it is an easy access for rain as well as insects. That's a pity, because the spacious 9×6-feet screen room looks rather enticing. Cool as it is, the tent definitely could have been better if more attention had been afforded to the screened porch.
Coleman Weather Master 6 Person Tent is easy to set up and should take less than 20 minutes. The spacious interiors have room for two queen size air mattresses. If those are the mattresses of your choice, you may want to consider this one as a 4 person tent.
Pros
Thick bathtub floors inside the tent are waterproof and comfortable
Excellent weatherproofing
Spacious
Cons
No flooring on the screened porch
Needs better quality stakes
3. Coleman Dome Tent with Screen Room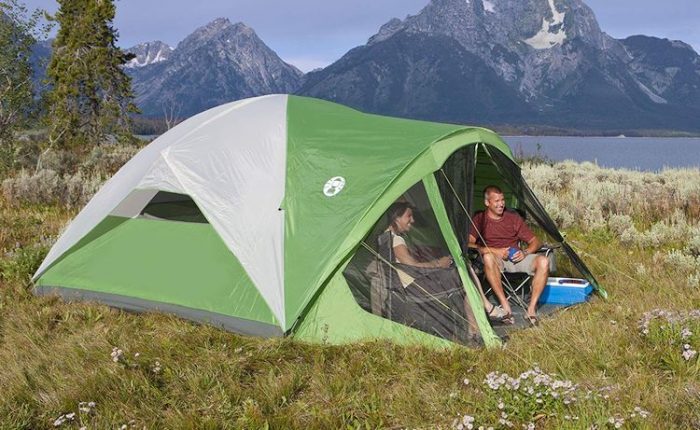 This Coleman tent is quite similar to the previous one. However, the Coleman Dome Tent (or better, the Coleman Evanston camping tent) pays better attention to its screening porch and includes a bathtub floor for waterproofing and an overall better experience. What it does lack compared to the previous one, is the lack of a port to manage electrical wires.
Being Dome shaped rather than a cabin, the tent is better equipped to handle rough weather like heavy rain and high winds. It also includes Coleman's WeatherTec system for overall better weatherproofing. The tent is available in 6-person and 8-person variants, both of which have enough room for two queen size air mattresses. The 8-person tent will have some space left open with the mattresses, but the 6-person feels packed.
Pros
Spacious screened porch with weatherproofed flooring
WeatherTec system is capable of handling regular weather issues
Easy to set up
Cons
Removing and packing tent can be a bit difficult
Should use better stakes
4. Tahoe Gear Zion 9 Person 3 Season Family Camping Tent And Screen Porch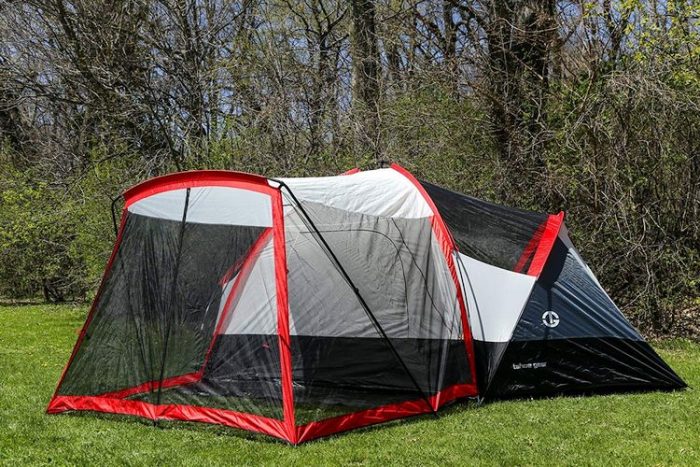 Built for use by families, the Tahoe Gear Zion has plenty of space that it puts to use with style. The tent is relatively easy to set up, thanks in part to its shock-corded poles. Taking it down is less intuitive and the instruction booklet is of little help since it includes only diagrams.
The sleeping area is massive and has tons of room. Its large windows and mesh roof don't just make great views possible, they also give this tent excellent ventilation. The screen porch with this tent is large and imposing, offering plenty of space to sit and lounge. It only has partial flooring, which is a bit of a downer. Although functionally, the partial flooring is good enough to keep gear and dirty shoes away from the sleeping area, thus helping it stay clean.
Pros
Spacious and well-made for family use
Large screened porch
Relatively easy setup
Cons
Instruction booklet isn't very helpful
The tent can feel a bit flimsy
5. Nemo Wagontop 8P Camping Tent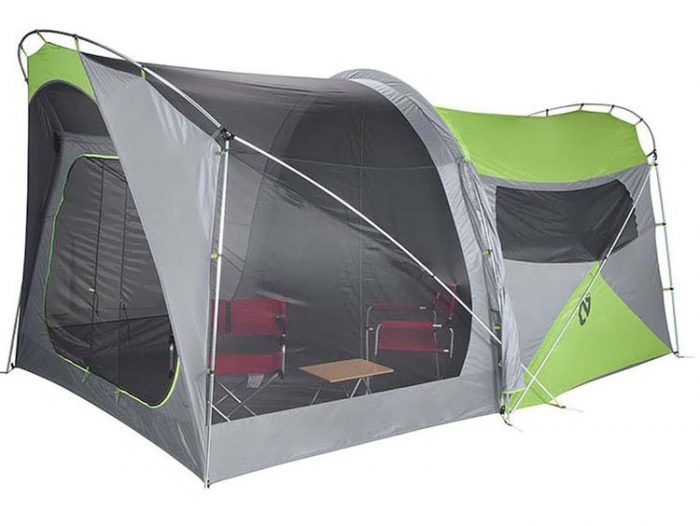 Nemo Wagontop is the most expensive tent on our list. The high price is largely due to the quality of materials used and some innovative systems implemented for the tents. Apart from the main sleeping area and the screened porch, the Nemo Wagontop has a vestibule that provides extra space for the tent.
Should you need a larger entryway, or just want some more sun, the fabric over the vestibule can be pulled back. The screened porch area is particularly generous and seems almost to compare with the area of the tent itself. It has a waterproof floor, massive screened windows, and a huge door. All of these make the screened porch a great area to spend some time in.
This tent does not include a rainfly and instead relies on its superior quality fabric and coatings to keep water out. The tent poles are made from aluminum that are lightweight and provides good strength.
Pros
High-quality construction
Waterproof
Excellent screened porch with plenty of space
Cons
Expensive
Instructions provided are terrible at their job
6. Gazelle T4-Plus Pop-Up Portable Camping Hub Tent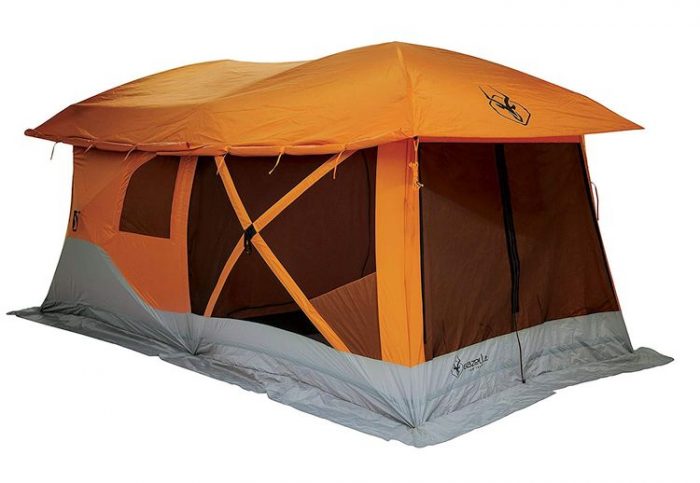 Gazelle T4-Plus is a simple pop up camping hub tent. It is remarkably easy to set up and the job can be done in less than 2 minutes. Packing up is similarly convenient. The spacious main sleeping area is joined by a large screened porch area. Its rainfly is also easy to attach and remove, adding more convenience.
The screened porch and the main room have a thick floor. Each room's floor can be individually removed to allow for easier cleaning, and if you prefer, some customizations.
Pros
Plenty of room
Easy to set up and remove
Good waterproofing
Cons
While removable floor sounds great as an idea, practically it can leave empty spaces while being reattached – thus becoming troublesome
Easily troubled by strong winds
7. Timber Ridge 8-Man Log Cabin Tent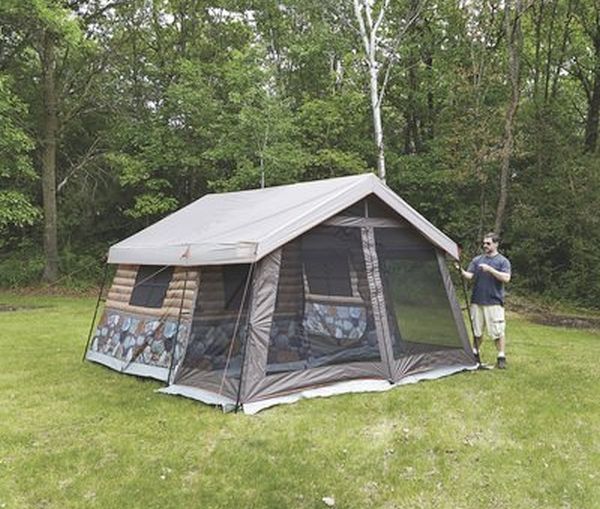 This tent has a slightly different look than conventional tents. It wanted to be a log cabin, and now carries the print detailing such a structure. This is a framed tent attached on steel poles, making it very resilient.
It has a massive sleeping area that can house enough people comfortably. Equally impressive is the large screened porch that this tent has to offer. The porch is wide, large, and thanks to the paintwork and shape of the tent, it looks like a "real" porch. As camping tents with screened porch go, this one does the job impressively well.
Pros
Big, impressive screened porch
Excellent height of tent
Very spacious interiors built on a solid frame
Cons
Heavy, leading to limited portability
Included stakes aren't very good or dependable
8. Large 10 Person Family Cabin Tent w/Front Porch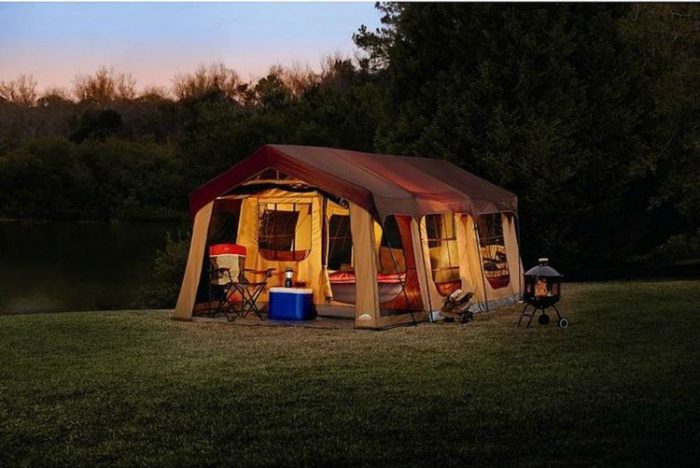 This massive tent is quite similar in shape and function to the Timber Ridge tent we just saw. Once you have secured it well, this tent will be able to withstand a good amount of rain and wind. The large windows on all sides ensure good ventilation. There's also a small door at the back in case you need privacy.
Overall size for this tent is 20x10feet, and you can add a divider to separate rooms for privacy. The screened porch is generously sized and can easily accommodate several people sitting in some luxury. The porch has a detachable floor that makes it easy to clean, gives you more options to play with.
Pros
Waterproof
Spacious tent with room dividers and extra door
Very well ventilated
Generous screened porch with removable floor
Cons
Heavy, limiting portability
Floor under porch can be loose, or even fall short of the required length
9. Ozark Trail 9-Person Instant Cabin Tent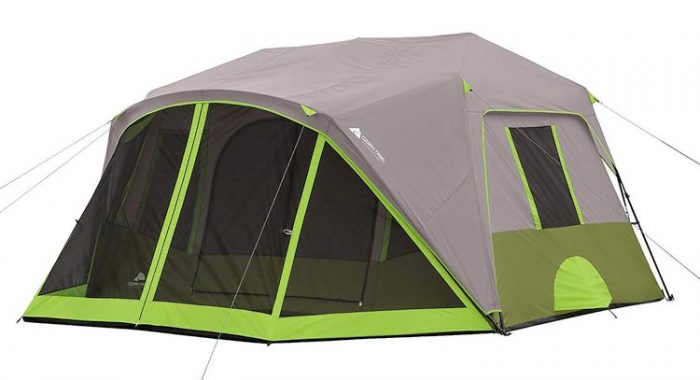 It would be pretty tough to not mention at least one representative from the famous line of Ozark Trail Tents. The cabin tent is very simple to put up and takes its form within seconds. Interior space on the tent is generous and is rated for 7-9 people, though I'd rather go with the lower limit. Ozark Trail Instant cabin tent is waterproof, though it will have trouble in a downpour. On the other hand, it does not perform all that well against strong winds. Make it a point to do away with the stakes sold with the tent, and get better, higher quality stakes.
The screened porch on this tent exists. It is present, but it's nothing to write home about. Even with the limited area, the screened porch is devoid of a floor. So you do risk water and moisture around the feet, plus there's a good chance of insects simply waltzing in.
Pros
Good value for money
Simple and quick to set up
Cons
Cannot deal with heavy rain
The included stakes are flimsy
10. Tahoe Gear Carson 3-Season 14 Person Large Family Cabin Tent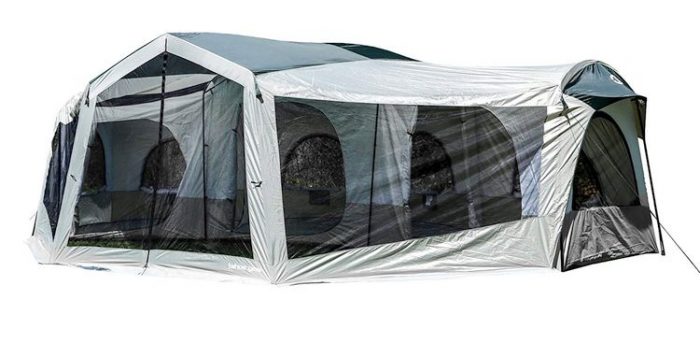 Tahoe Gear 14-person tent is massive. Rather than put everyone in one huge room, this tent has three rooms for greater privacy and convenience. Each room's doors go through the screen porch, which is as wide and impressive as the tent itself.
Center of the tent ceiling stands at 7-feet tall, so it is easier for everyone to walk upright. Ventilation is excellent thanks to six huge windows, and the large screened porch. It does take some time to set this tent up, though it is understandable given the large size and weight.
Tahoe 14 person tent is water resistant, and includes taped fly seams and polyethylene bindings. Be sure to secure this tent well, because its large size does make it something of a target for the wind.
Pros
Spacious, huge tent with three rooms
Great ventilation
Acceptable waterproofing
Cons
Complicated and time-consuming to set up
Included stakes are ridiculously inept at their job
Finding The Best Camping Tent With Screened Porch
So here it is, my list of the best camping tents with screened porch. This is not a ranking, the listed tents cover way too many requirements for such a focus. Where it does shine in relevance is bringing you the best tents in several categories so you can make an informed purchase.