Blackout tents have made their mark. To put it simply, these tents are made from materials that reduce glare in the tent. The tent no longer acts as a diffuser for sunlight, but can actually block it.
Advantages for insulation and better sleep quality follow with the blackout coating on tent interiors. These sun blocking tents are an innovation poised to go a long way. It is likely that we will see a lot more of these tents in the coming years.
The philosophy (and technology) here is straightforward. You could consider the coating on these tents analogous to blackout curtains at home to keep the outdoor lights away. A coating along the tent interiors blocks unglight. Sleep inside these tents won't go away with the break of dawn and they won't get uncomfortably hot after a day in the sun.
5 Best Blackout Tents In 2021
1. Coleman Dark Room Sundome Tent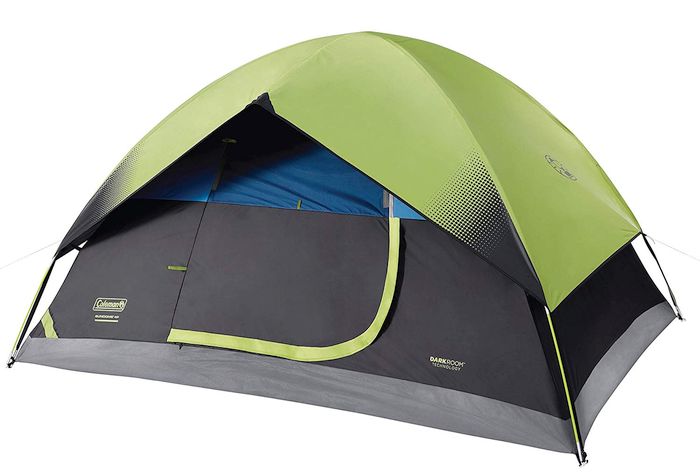 Coleman Dark Room Sundome Tent is a variant available in its very popular Sundome line. Like most sundome tents, the dark room tent too boasts excellent weatherproofing and space. An additional advantage is that the dark room tent keeps the interiors protected from sunlight. The dome shape keeps the tent protected from wind, and its Coleman's patented WeatherTec technology provides excellent waterproofing.
Welded bathtub floors and inverted seams mean rainwater can't find easy access into this tent. Add to that superior waterproof coating on the tent fabric, and you can imagine yourself being pretty safe from rain. The overall available area for the six person sundome tent is 10×10 feet and its 6 feet center height makes it one of the best tall tents available.
As you can very well guess, the dark room properties of this tent plays a big role in making it one of the best. Coleman says the coating prevents 90% of the sunlight from entering the cabin. I feel the number is a bit inflated because the dark-out does not cover the entirety of the tent. While the dark room material really may block 90% of the sunlight, it is present only on the rainfly and windows.
That still leaves a big chunk of the tent body uncovered. So yes, you'll get a fair amount of sunlight in there. It is still darker than an average tent, but I'd prefer if my dark room was actually dark.
Pros:
Good windproofing and waterproofing
Dark Room technology performs well where it is present
Plenty of space and generous center height
Cons:
Dark room technology does not cover the entirety of the tent
Can pose some problems when packing away
See current discounts for this tent
2. Ozark Trail Dark Rest 10-Person Instant Cabin Tent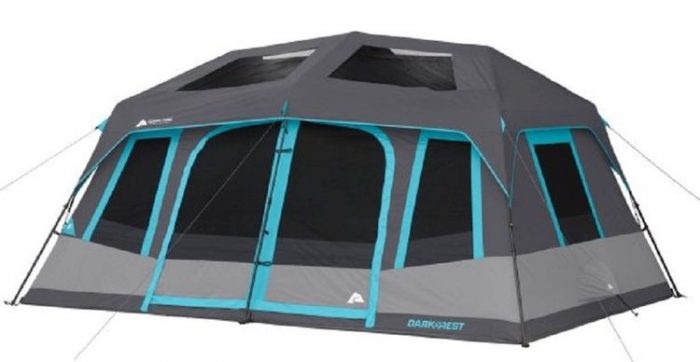 Ozark Trail Dark Rest tent is one of the most well-made and spacious tents. This is one of the reasons it is our choice as a top 10 person tent. It's also available in a six-person variant, though it gets less awesome there. As an instant cabin tent, it is claimed that this tent can be set up in just 2 minutes. Well, it may take a couple of minutes longer, but it is still pretty fast to get a 10-person cabin tent going.
The highlight of this tent is, of course, the Dark Rest technology. The interiors are covered in black and serve to block out the sun. This has pretty much the same effect as Coleman's dark room system. To be clear, Ozark trail's coating is not as effective as that from Coleman. However, this coating goes throughout the tent and so the results produced are comparable.
An included room divider can bisect the tent into two equal parts, each with its own door for entry and exit. The large windows work well together to get ventilation and airflow going and give great support to the vents placed along the tent.
In plain numbers, this freestanding tent offers 140 square feet of usable area. That's a pretty good number, though obviously, it won't be much good at holding 10 people in comfort. If you've got rooms drawn and queen-size airbeds placed, this tent is good enough for 5-6 people. When I say that number, I mean people living comfortably with enough space to move around, walk, and sleep conveniently.
Pros:
Dark Rest technology works wonderfully
Great ventilation and airflow
Easy to set up and pack away
Cons:
The material seems flimsy
Stakes/pegs included with the tent are practically useless
3. Quechua Waterproof 2 Second Pop Up Camping Tent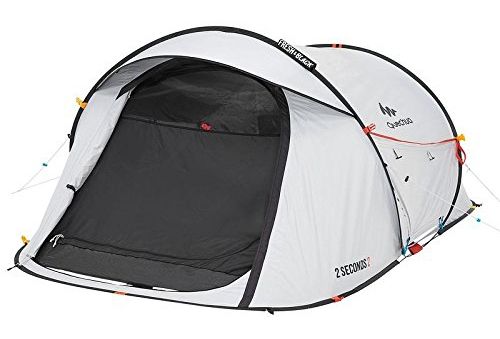 Quechua Waterproof 2 Second Pop Up Camping Tent is one of the best pop up camping tents available. It is also a luxurious and wonderfully advanced camping tent that employs innovative technology.
For starters, this tent is waterproof and windproof. The company claims that it can withstand bouts of tropical rain (200mm every hour per meter squared) without springing a leak. It is also rated capable of withstanding winds rated Force 6, going as fast as 50 kph. Now that is some excellent weatherproofing.
Our biggest interest at this point is in the blackout capabilities of this tent. On that point, Quechua claims that its patented exterior fabric can reduce sunlight by as much as 99% even in broad daylight. Practically speaking, it does pretty much live up to that claim. As such, the interiors of the tent remain dark and relatively cooler than their surroundings in summer. It feels like a small convenience, but one that is difficult to give up once it has been experienced.
As a pop up tent, it really does take it about two seconds to pitch this tent. Or rather, for this tent to pitch itself. Packing it up is a little more work, but if you know how to fold a pop up tent, things get better. I'd go so far as to say it becomes easy with some practice.
Quechua Waterproof 2 Second Pop Up Camping Tent weighs about 7.3 lbs for its three person variant. I'll say it is heavy enough to not be the first choice for hiking, but it's great for car campers.
Pros:
Excellent waterproofing
Very good windproofing
Blackout tent works marvelously
Cons:
Expensive compared to other tents in its category
Ventilation leaves much to be desired
4. Coleman Carlsbad Darkroom Tent With Screen Room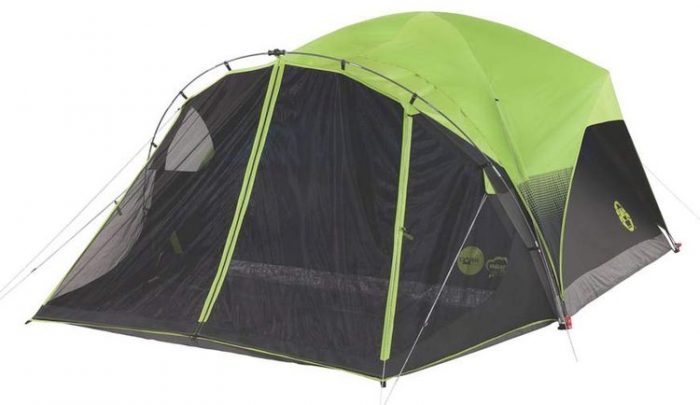 Coleman Carlsbad Darkroom Tent is an impressive and spacious tent with great features. It has the same excellent capabilities as the sundome tent, with the added goodness of a screen room and slightly better dark room. The main part of this tent is the dome structure that opens up into the screen room. This tent is available in two sizes, the four person tent and the six person tent. Both variants have a screen room. I'm partial to the six-person tent, which is being reviewed here.
The main room of the tent offers a floor area of 10×9 feet and a center height of 5feet 8inches. The screen room has an area of 10×5 feet. It is worth noting that the screen room has no floor, although Coleman does provide mats that can be placed there.
Its main room, however, has all the features you would expect from a good tent. It is large, spacious, and yes, wrapped in the dark room fabric. Again, it is the rainfly that has the dark room fabric and does most of the work blocking the sun. Since it is the rainfly blocking the sun, other parts of the tent remain susceptible to sunlight. As a result, even though the main room is darker than most tents, it can't be about 90% darker as promised by the darkroom technology.
Coleman has done a good job in waterproofing and weatherproofing the tent. The rainfly extends slightly over the windows, so the waterproofing is better. It also allows ventilation to work better, even if it is raining outside.
Pros:
Good waterproofing and windproofing
The Darkroom technology works great where employed
Spacious and comfortable
Good ventilation
Cons:
No floor for the screen room
Marginal protection against rain for the screen room
See more of this tent on Amazon
5. Coleman Rocky Mountain 5+ Tunnel Tent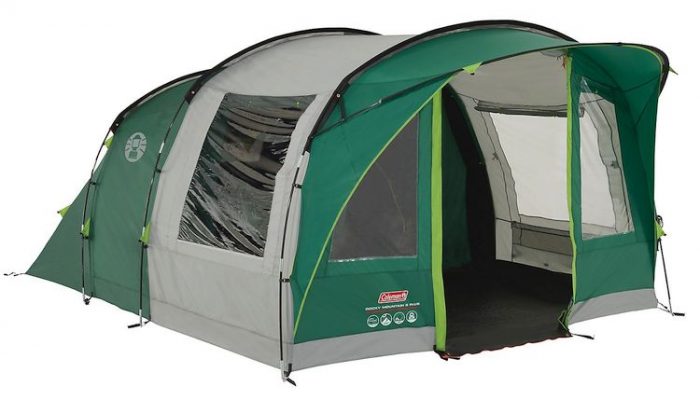 Coleman has picked up blackout tents in a big way. The company already offers several blackout tents and is very likely to add more to its lineup. Coleman's lineup is pretty expansive anyways, and they've found ways to bring dark rooms to their tents.
Rocky Mountain 5+ Tunnel Tent is a very interesting Coleman darkroom tent. Designed for five people this tent is large enough to be divided into two bedrooms and a living room. The tunnel-type tent offers a total usable area of 120.5 square feet. Now that is spacious! Its living room area is located right with the door of the tent. It is pretty well enclosed, setting this one apart from tents that have a screened porch.
Made from high-quality materials, the tent effectively blocks the sun's rays and has a rating of SPF 50. What's even better is its waterproofing! This tent is rated for 4500mm of water and you can expect it not to break a sweat even in heavy rain.
Coleman claims that the bedrooms of this tent are designed in a way that eliminates 99% of the sunlight from entering the bedroom. Both bedrooms have been lavishly bestowed with the blackout coating to ensure sunlight does not enter these rooms unless you want it to.
A double floor layer on these bedrooms also adds to the comfort. The living room area is large and open. Two PVC windows in there allow light to enter the tent, and do make for a rather pleasant situation.
Pros:
Very comfortable blackout tent
Excellent waterproofing
Spacious
Cons:
Can struggle with airflow
The bedrooms can feel too small
Are Blackout Tents Worth It?
Short answer, yes! Blackout tents offer a good solution to insulation as well as increased comfort in a tent. With the tent absorbing the sunrays, the interiors remain relatively cooler in the summers. A darker sleeping room also means you get to sleep better. It is very likely that these tents will continue to improve and gain more favor with customers.