Camping in luxury, or glamping (glamorous camping) as it is often called, is very popular. Canvas bell tents are excellent companions for this activity. Carrying a heavy tent and some items of creature comfort isn't difficult with car camping, especially when you have glamping in mind.
To be clear, the best bell tents are often expensive and heavy. Additionally, some expertise is necessary to put up these heavy tents. Often, they are permanent features at camping/glamping grounds or festivals. Visitors may rent these tents as necessary.
However, if you're willing to put in the work, there's no reason you can't have your own tent. Bell tents give you the luxury of spaciousness and comfort while spending time in the great outdoors. Finding the right bell tent isn't just about space, comfort and luxury play a big role as well.
Best Bell Tents For 2021
Top 9 Canvas Bell Tents (Reviews)
1. DANCHEL Cotton Bell Tent with Two Stove Jacket (Top and Wall)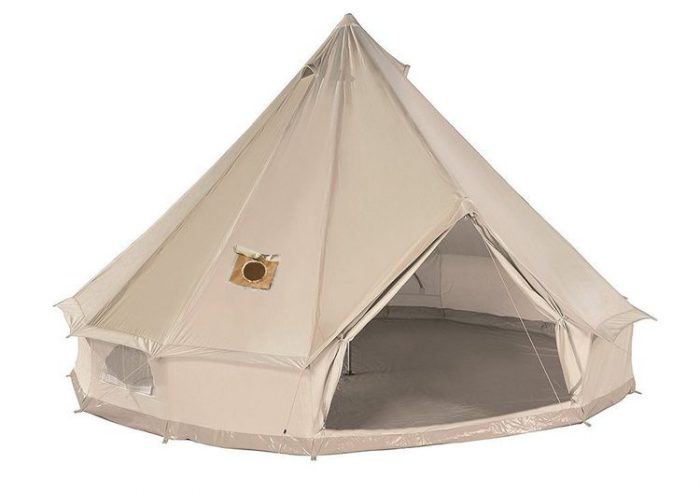 This is an excellent tent with a great price point. DANCHEL Bell Tent is a four seasons canvas tent, with excellent arrangement for all seasons. The tent is available in the most common sizes (3,4,5, and 6m), each with two stove jackets.
You could very well put both stove jackets to use, but they recommend the top jacket be used for the stove. The second jacket (wall) can be used for other applications like an air-conditioning tube, power cord, or a solar panel line.
The tent is made from 300GSM cotton canvas. Its floor is made from PVC and can be attached/removed by means of a zipper. The tent uses a steel pole, steel stakes, and aluminum sliders for its ropes.
2. PlayDo 4-Season Waterproof Cotton Canvas Bell Tent Wall Yurt Tent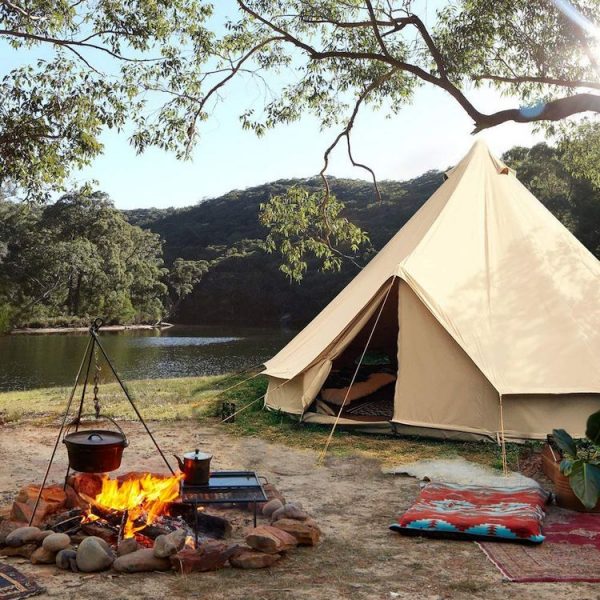 PlayDo 4-Season Waterproof Cotton Canvas Bell Tent Wall Yurt Tent comes with stove jacks placed in the roof and wall. In that sense, it is quite similar to the Danchel tent we saw above. Other similarities include a thick PVC floor that is both rugged and waterproof.
This 4 season bell tent includes small windows at the back, though the entrance is massive and looks cool. Roof vents work with these windows to manage airflow and keep the tent well ventilated. Though if you want a different look and more air, you can roll up the tent walls and convert it into a large canopy.
3. Dream House Outdoor Waterproof Cotton Canvas Bell Tent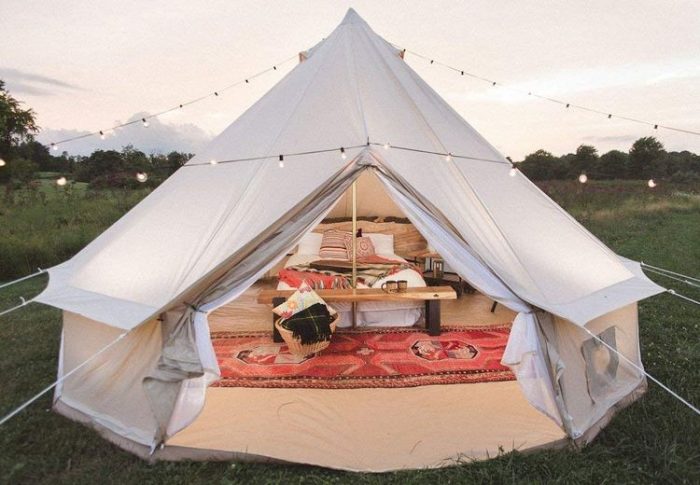 Another cool bell tent, the Dream House Luxury Canvas Yurt Bell Tent has a stove jacket in its wall, and its large doors and windows covered by mesh. For additional help with waterproofing, the canvas is covered in a PU coating, and the seams are taped for better water resistance.
You can enjoy this cool bell tent as a four season tent. Having a stove will help with winter, while the excellent ventilation is excellent for summer. Like most other bell tents on our list, the walls of this tent can be folded up as well. That gives you a nice and airy (almost) canopy-style tent to enjoy.
4. Stout Bell Tent – Ultimate Series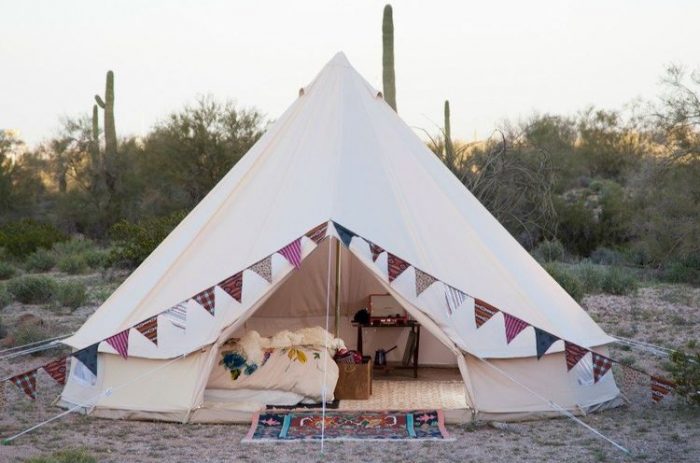 Stout Bell Tent – Ultimate Series performs as well as you would expect from a good quality canvas tent. The waterproofing is great, and the breathability of the fabric really does make a difference. This tent has one stove jacket on the roof, and you can put it to good use when necessary.
A see-no-ums mesh screen on the doors and windows keeps the tent well ventilated, but without the risk of insects getting in. Stout Bell Cotton Canvas tent is available in "double-wall" and single wall variants.
In the double wall variant, the mesh lines the walls of the tent as well. So when you feel like it, you can simply roll up the walls, while having the mesh protect the interiors from insects and similar problems.
5. Psyclone Tents Luxury All Weather 8-10 Person Cotton Canvas Yurt Tent House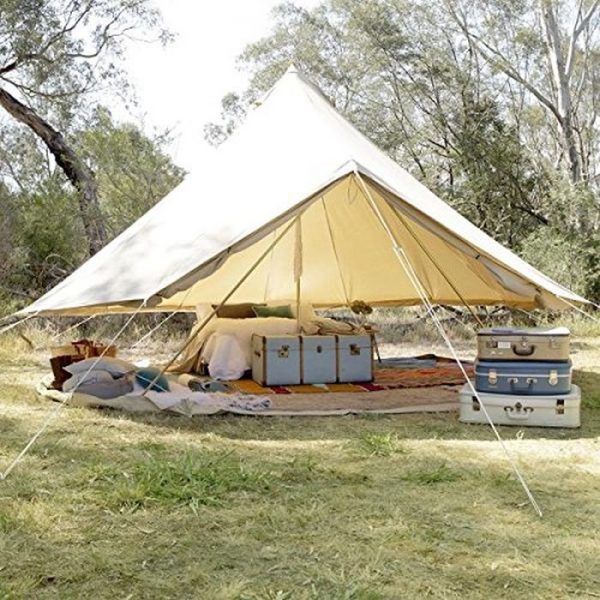 This Psyclone tent adds a touch of polyester to the canvas. The tent fabric is made from 340 gsm polyester cotton canvas blend with waterproof treatment. That makes it lighter, easier to dry, and slightly improves the waterproofing. Floor of the tent is a solid 520 gsm PVC groundsheet, which is impressively robust. Quality and pricing of this tent are comparable to similar models of a Soul bell tent.
There are four windows on this tent, accompanying the large door, they ensure excellent ventilation. All four windows and four roof vents are covered in no-see-um mesh to ensure airflow without worrying about bugs. It is slightly more expensive than some other tents on this list. However, the quality of materials used is an excellent explanation of the price.
6. TETON Sports Sierra Canvas Tent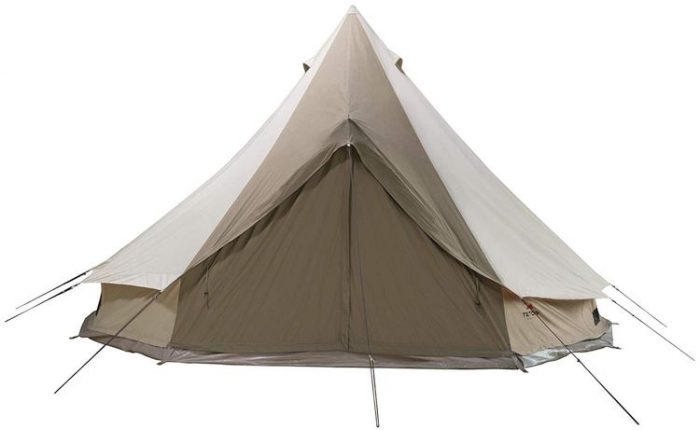 TETON Sports Sierra 12 Canvas Tent is a popular canvas tent. Its entry-level pricing with great quality certainly does work in this tent's favor. The tent uses a two pole assembly for easier setup, and oversized door makes quite an impression. Mesh screen doors are independent of the main doors, so you can let the big doors go free without worrying about bugs.
Walls of the TETON Sports Sierra can be folded away to give it a canopy-style look. Bell style tents do look great with the walls folded away. And if you're out glamping, the space does look and feel pretty good, especially for a gathering or party.
7. Outsunny 16' Waterproof Four Season Canvas Yurt Bell Tent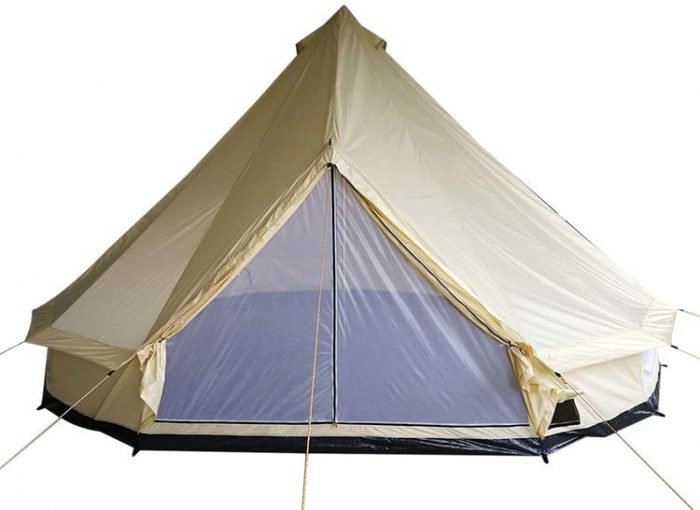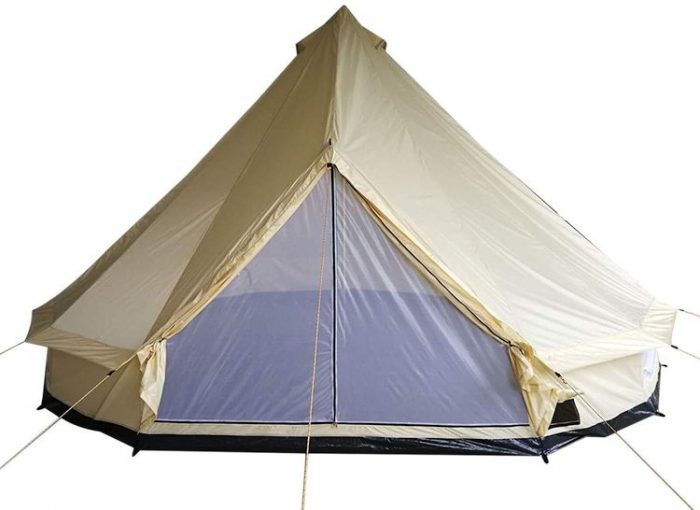 Outsunny Four SeasonCanvas Yurt Bell Tent is my choice for the best polyester bell tent. As you can guess, the biggest advantage of using polyester over canvas is its price. Although clearly there are other advantages as well; the tent is lighter, easier to dry, and less susceptible to molding.
Of course, it does suffer a bit in the realm of longevity, and won't last nearly as long as a canvas tent. Though that isn't due to any lack of quality of construction. The tent is made from robust 210D polyester fabric and includes and impressive waterproofing coating.
Spacious interiors of the tent are laid over in diameter of 16-feet, making it a useful 10 person tent. Do remember that though rated for 10 people, a tent of this size will house about six people in comfort.
8. White Duck Outdoors Avalon Canvas Bell Tent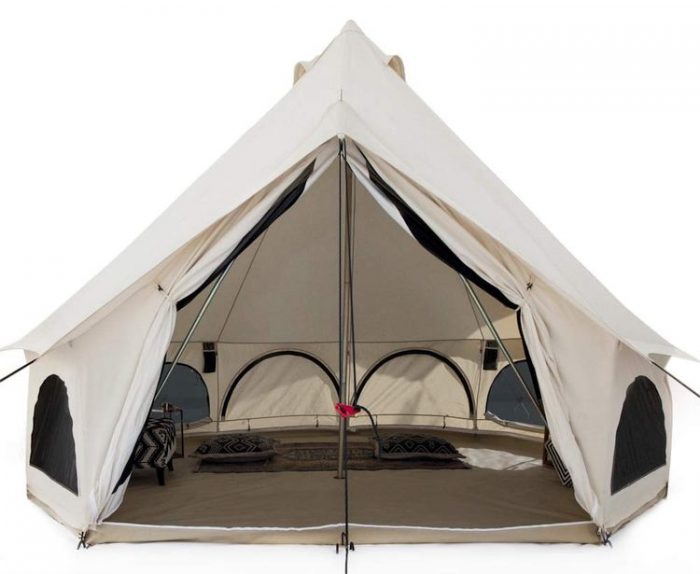 White Duck Outdoors Premium Avalon Canvas Bell Tent is one of the best luxury tents for camping. And for glamping! The tent is made from 100% army duck canvas, and treated with silicone to enhance waterproofing without compromising breathability. A high-density PVC groundsheet provides additional waterproofing and comfort.
Its massive entry door can be covered by a no-see-um mesh. The same is also true for windows on this tent. Four of the seven windows on this boutique tent have a three-layer feature. The layers are a no-see-um mesh, clear PVC screen, and a canvas flap. The remaining three windows do not have a mesh and are designed to use as attachments for an (optional) sleeping pod.
9. UNISTRENGH 4 Season Large Waterproof Cotton Canvas Bell Tent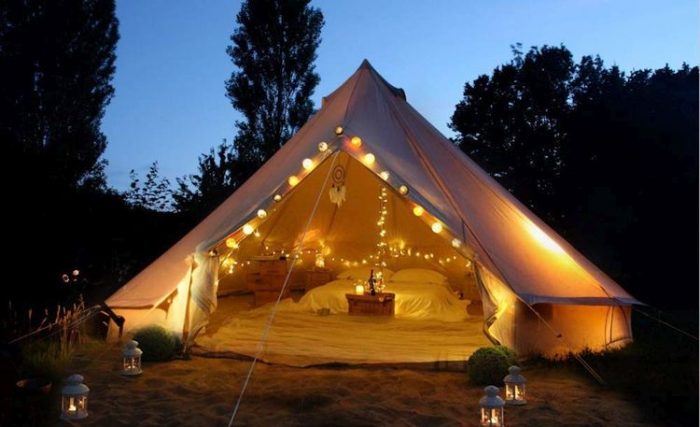 Available in several size options, the Unistrengh canvas bell tent is another fine canvas bell tent. This one is available in several sizes, going all the way from 3m to 7m. Each variant includes a stove jacket in its roof. Again, I'd suggest skipping the 3m version and starting with the 4m bell tent as the minimum for your choice. The bell tent with stove is intended to work as a four season camping tent, allowing inhabitants to stay warm in the winter.
Canvas fabric used for this tent is 300gsm, the flooring is 540gsm PVC, and the porch and windows are covered in no-see-um mesh. That would be necessary, considering the massive door that this tent has. It's a well-formed tent with excellent options that certainly do attract attention.
Picking A Canvas Bell Tent
Bell Tent Glamping — Why Is Canvas The Material Of Choice?
Canvas as a tent fabric is superior to the conventionally used nylon and polyester. Canvas is breathable, and that reduces conventional tent problems like condensation. It is also better at waterproofing, and in general, is more rugged and has a larger lifespan than synthetic fabrics.
The material fares better with the weather as well. You'll find canvas tents are better at keeping heat out in summer and are warmer than their surroundings in winter. So if glamping and luxurious accommodation are important, a good canvas tent is a clear winner.
You could get a nylon or polyester bell tent, but it's rarely worth the trouble. A blend for your fabric is a better option. Canvas is made from cotton, but not all canvas tents use 100% cotton. Many tents use poly-cotton, a blend of polyester and cotton. A well-made polycotton canvas tent has better waterproofing, is lighter, and is quicker to dry.
What Are The Advantages Of A Bell Tent?
A big draw for bell tents is the available center height. You can stand up straight and walk about in a bell tent, without having the stoop. They're also relatively easier to set up and pack down, so campers don't spend a lot of time in getting their accommodation ready.
It helps that bell tents are aesthetically pleasing, and looks are a big draw. These tents have been popular for a long time, and their familiar shape encourages people to consider these tents.
Of course, these tents aren't just relying on looks and familiarity. The sleek shape of bell tents is very useful for camping. The setup is robust and holds well against wind and rain. When used as a four-season tent, the bell shape avoids pileup of snow on the roof, keeping the tent comfortable.
Choosing The Right Size — Popularity Of The 5m Bell Tent
Bell tents are circular in shape, and their size is generally measured as diameter. They are commonly available in sizes of 3, 4, 5, and 6 meters. Personally, I'd say 4m and 5m bell tents are in something of a "Goldilocks Zone". In terms of size, 3m is too small, and 6m is too large.
A 4m tent can house 3-4 adults in comfort, while a 5m bell tent is good enough for 5-6 people. Of course, if you're more inclined towards glamping, a 5m tent for two people will give you plenty of space. The available space makes things comfortable and luxurious, which is why these are often the tents of choice for luxury camping.
Enjoying Your Camping Trip With The Best Bell Tent
With glamping becoming ever popular in the USA, several options have popped up for a more luxurious camping style. Amongst the most popular tents in this category are canvas bell tents. A camping trip with the best bell tent for company adds a dimension of luxury.