Buying a decent tent doesn't necessarily have to involve forking over boatloads of money. There are plenty of tents available that make this essential piece of outdoor gear affordable. Finding the best tent under 200 takes a bit of effort, but the results are worth it.
This is a decent price range to find tents in various sizes. Not just 1-2 person tents, you could get great family tents in this range too! Here's something to remember. Our goal isn't to buy cheap, flimsy tents. What we want is good value for money and quality tents that can provide it.
Top 10 Tents Under $200 For 2021
1. Eureka! Solitaire AL One-Person Backpacking Tent — Best Budget Backpacking Tent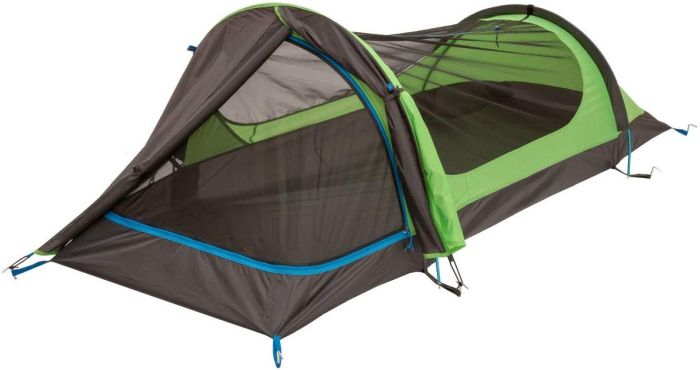 Coming in at just under $100, Eureka Solitaire AL offers all necessary features for a great price. The one-person tent has a simple two-pole design that makes it easy to setup. The tent can be ready to go in just a few seconds.
Eureka Solitaire comes with an integrated rainfly that can be rolled back to expose the mesh body of the tent. This is great for ventilation and stargazing and adds convenience to this three-seasons tent. To keep things waterproof, the rainfly and tent floor are made from 68D 185T polyester taffeta that has a waterproof rating of 1500mm.
As the best budget backpacking tent, the Solitaire AL remains weight conscious and weighs just 2 pounds and 10 ounces. When pitched, the tent has an internal area of 21.5 square feet. It has a width of 2'8" and a length of 8'.
The available area is comfortable enough for one person, but there won't be enough room for anything besides the necessities. If you're tall, this tent probably won't have enough room for your backpack to fit inside.
Pros:
Excellent budget backpacking tent
Acceptable waterproofing
Lightweight and folds into a small package
Cons:
May not be spacious enough for tall people
Zippers close at a weird angle and leave some space
2. Kelty Salida Camping and Backpacking Tent — Best Backpacking Tent Under $200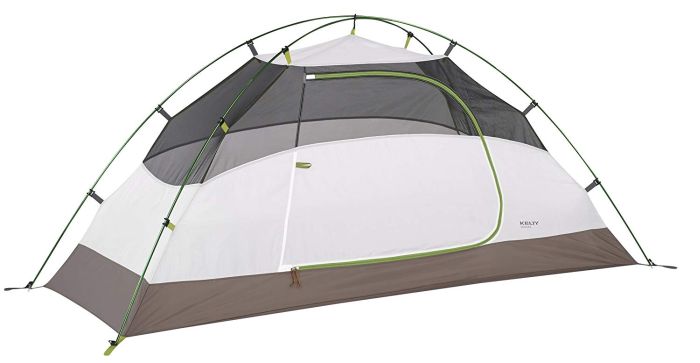 Kelty Salida is a more spacious and sturdy tent for your backpacking and car camping voyages. The tent top is made from 40D no-see-um mesh to ensure good ventilation, while the body is made from 68D Polyester. The tent floor is made from 68D nylon and is rated waterproof for 1800mm.
Dimensions of the Kelty Salida Camping and Backpacking Tent include a 38-inch center height, length of 86-inch, and a floor area of 20 square feet. A vestibule area of 6.5 square feet is available for extra storage and is fairly spacious. The packaged weight of the tent is 3lb 14oz and the minimum weight is 3lb 6oz. It packs down to 11×14 inches for easy tent packaging in your backpack.
The lightweight tent is color-coded for easy setup and takedown. An included rainfly goes all around the tent and ensures it stays waterproof. The dome-style shape of the tent also keeps it grounded in wind. Though this is a freestanding tent, it would be sensible to use ground nails to properly secure it.
Pros:
Lightweight and easy to manage
Good waterproofing
Plenty of space as a one-person tent
Good ventilation
Cons:
Not sufficiently lightweight
Does not include gear loft
3. Mountainsmith Morrison 2 Person Tent — Best 2 Person Tent Under 200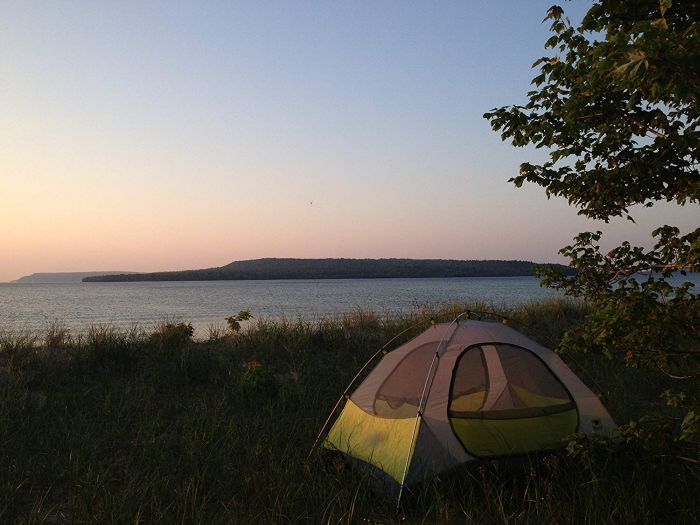 Mountainsmith Morrison 2 Person Tent is big, spacious, and colorful. The tent has two large doors along its length on both sides and two vestibules for extra storage. As a 2-person tent, this makes it very easy for both people to store their gear and get in/out of the tent easily without disturbing the other person.
As the dimensions go, the tent has a center height of 43-inch, length and 92-inch, and width at 56-inch. I'd say the width is just sufficient to get two people into the tent, though not enough to keep them comfortable. And this is one of the more spacious tents! To clarify, this isn't something wrong with this tent, but it's more of a generic dimension measurement used in the industry. I'd consider this more in line with a comfortable 1-person tent. But yeah, it's pretty good for two people if you're backpacking. If you're car camping, go a size higher for two people – and that holds true not just for this one, but for most tents available in the market.
Mountainsmith Morrison does pretty good on waterproofing. The bathtub floor ensures water stays out. The floor is made from 190T polyester and has a polyurethane coating rated for 5000mm of water head. The rainfly is similarly capable; made from 185T polyester and with a polyurethane coating rated for 2000mm.
Pros:
Excellent ventilation
Holds well against wind and rain
Bathtub floor and taped seams for better waterproofing
Detachable ceiling loft and mesh storage pockets
Cons:
The aluminum poles could be sturdier
Check current price and discounts
4. ALPS Mountaineering Meramac 2-Person Tent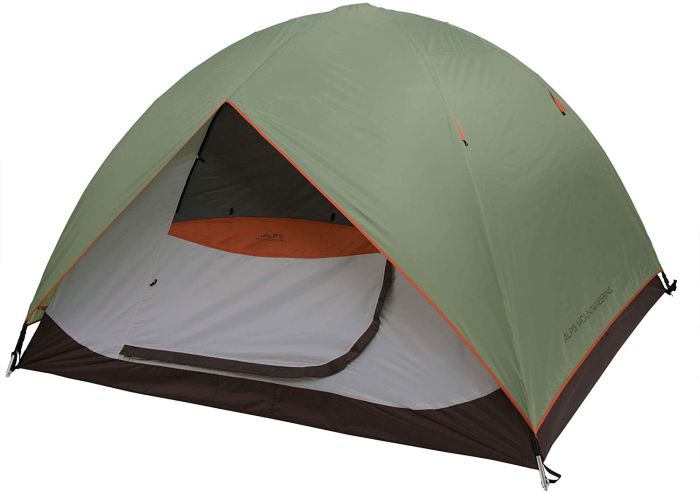 ALPS Mountaineering Meramac 2-Person Tent is cozy and comfortable. It has two large D-shaped doors for easy entry and exit on each side. The large mesh windows and mesh roof panels work perfectly well for ventilation.
When draped in the polyester rainfly, the tent maintains sufficient ventilation. The rainfly forms an awning over each door in an attempt to keep the doors safe from rainfall. Made from 75D 185T polyester, the rainfly has a waterproof coating rated at 1500mm. The floor is made from 75D polyester taffeta and rated at 1500mm.
Meramac is spacious with a width of 60-inch, a length at 78-inch, and center height at 48-inch. You'll have plenty of room for your gear, though there are no vestibules for additional storage area. There are some flaws with this tent, but it is incredible value for money and the best budget tent available.
Pros:
Spacious and well-ventilated
Sufficient protection against rain (not for heavy rain)
Two large doors for convenient entry and exit
Excellent value for money
Cons:
Tent floor is thin, and practically the same as rainfly
5. ALPS Mountaineering Zephyr 2-Person Tent — Best Lightweight Tent Under 200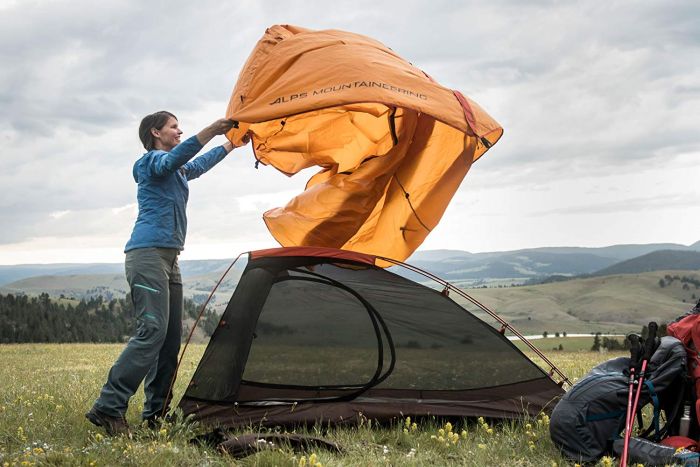 ALPS Mountaineering Zephyr is a hardy and more advanced sibling to the Meramac that we just saw. This 2-person tent is very good for camping and backpacking, especially in the sub-200 price range. Its total weight is 5lbs 8oz, though it can be stripped down to just 4lbs 11oz.
Though it makes savings in weight the tent remains spacious. It has a floor area of 7'4"x4'10" and a center height of 38-inch. The walls are made from mesh for excellent ventilation and include two large D-style doors on either side.
Putting on the included polyester rainfly adds two vestibules for additional storage space. The rainfly is made from 75D 185T polyester and coated to withstand a 1500mm hydrostatic head. The tent floor is similarly made from 75D 185T polyester, but it has a more robust coating and is rated at 3000mm.
Pros:
Spacious
Well-ventilated
Excellent value for money
Simple to set up and pack away
Cons:
The floor could be more robust
6. Marmot Crane Creek Backpacking and Camping Tent — Best 3 Person Tent Under 200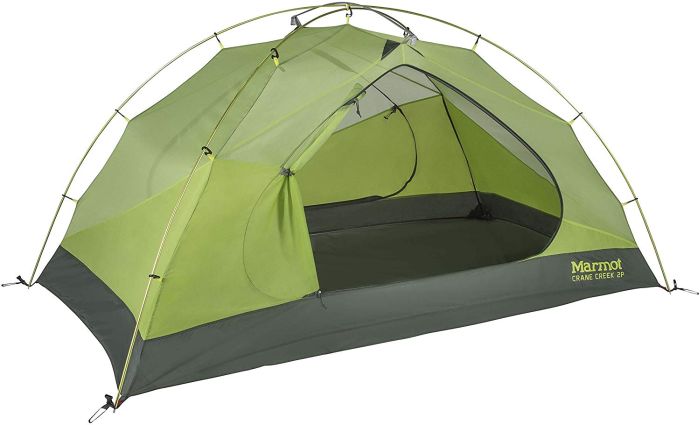 Durability and good quality make the Marmot Crane Creek the best 3 person tent under $200. To be clear, this tent is technically listed above $200, but its sales price is usually below the magic number. It offers a generous center height of 46-inch though it is not as generous with the width, which is 63-inches. The available length is 88-inch.
I find the width to be rather constricting in a 3-person use. It is fairly good for two people, but a short straw for three, with barely enough room. The overall available area is 42 square feet. The tent weighs 6lbs 5oz, though you can strip it down to 5lbs 13oz.
Marmot Crane Creek tent has a seam-taped floor and rainfly for better waterproofing. Its large D-shaped doors offer easy entry and exit. Two overhead vestibules are made available for extra storage space.
Pros:
Good ventilation
Acceptable waterproofing – it will stand mild to medium rain
Simple to set up
Cons:
Can feel too small for three people
7. Teton Sports Mountain Ultra 4-Person Tent — Best 4 Person Tent Under 200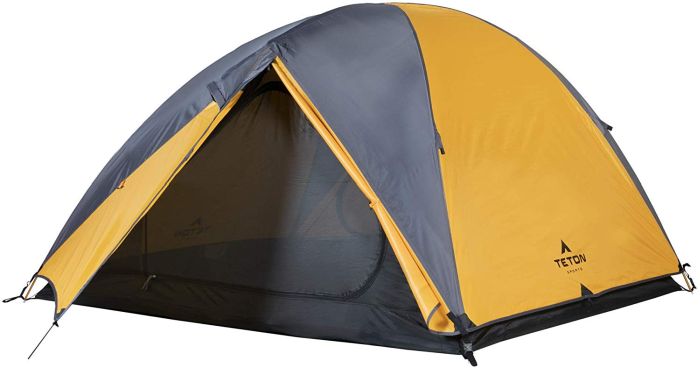 Teton Sports Mountain Ultra 4-Person Tent is a versatile tent with great value for money. The tent is available in 1,2,3, and 4-person variants, each of which is well-suited for its purpose. Its body is entirely mesh, though the floor is a thick, bathtub style with sufficient waterproofing. The included rainfly puts up quite a performance as a 75D 3mm ripstop material rated for 3000mm.
Dimensions of this tent are 98"x83" length and width. The numbers are fairly standard for 4-person tents, though not exactly comfortable for four people. It has a center height of 59-inch, which is fairly spacious and convenient.
It is best to buy a footprint with this tent. A few earlier versions of the Mountain Ultra included footprints. The current version doesn't include a footprint, so you'll have to manage that on your own.
Pros:
Excellent ventilation
Sufficient waterproofing
Good center height
Cons:
Construction can feel cheap at some points
8. Coleman Sundome 6-Person Tent — Best 6 Person Tent Under 200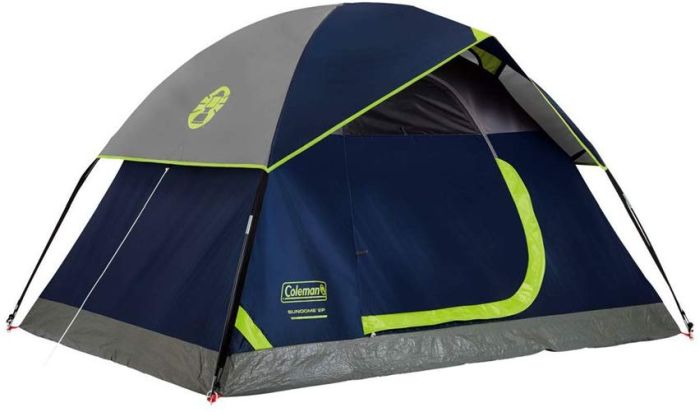 Coleman Sundome tents are first in line as the best budget tents available. Incredible value and great features have made the Sundome a very highly regarded tent. It is available in several sizes, and in this particular variant is the best 6 person tent under 200.
It does pretty well on weatherproofing as well, and is generally seen as one of the best tents for rain and wind. A good part of those laurels comes from Coleman's WeatherTec system where taped and inverted seams, welded bathtub floors, and weather-resistant fabric offer good value.
As a 6-person tent, Coleman Sundome offers a floor area of 10×10 feet and has a center height of 6-feet. That's plenty spacious and convenient.
Pros:
Excellent value for money
Spacious
Good weatherproofing – can stand against wind and rain
Cons:
Overall construction feels somewhat flimsy
Included tent poles and stakes are below average
9. CORE 6 Person Instant Cabin Tent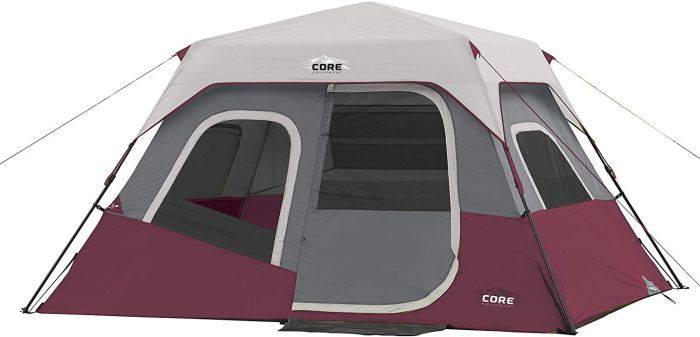 CORE 6 Person Instant Cabin Tent is an excellent cabin-style family tent with plenty of room. With a center-height of 72-inch and a floor area of 11×9 feet, there's enough headspace for most people to walk around upright. Its cabin-style construction makes the tent feel more spacious, thanks to the extra headroom.
To offer waterproofing, Core has used its H2O block technology in the construction of this tent. This includes the use of water-repellant fabric in construction, sealed seams, and taped rainfly, and rain-resistant doors with window seals. Overall, you can expect the tent to hold up in medium rain, and while it will take a beating in heavy rain, it might not be terrible.
Pros:
Acceptable waterproofing
Plenty of space, thanks to cabin-style design
Gear loft and large wall organizer add value and use
Cons:
The tent floor could be thicker/better
Check current price and discounts on Amazon
10. Wenzel 8 Person Klondike Tent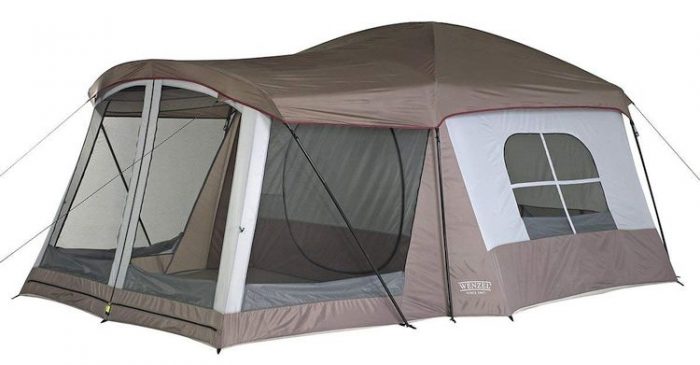 Wenzel 8 Person Klondike Tent marries excellent value to a good quality tent. This tent is spacious, comfortable, and one of the best camping tents with screened porch you can buy. There are two rooms in this tent – the screened porch and the main room. It has only one exit, which is located in the screen room.
Its large windows, mesh roof, and strategically placed vents certainly help with ventilation. Thanks to the vents, putting on the rainfly does not disrupt ventilation. Wenzel calls waterproofing on its tents Weather Armor technology. The fancy name comes with standard tent waterproofing approaches like coating water-resistant polyurethane on the tent body. It offers average waterproofing, and the windows remain susceptible to rainwater.
The tent is spacious with an area of 11×16-feet, and 6.5-feet of headroom. Most people will be able to walk around in this tent without having to stoop or hunch. The large tent is easy to set up and can be conveniently handled by 2 people, although where necessary, one person can do the job as well.
Pros:
Excellent value
Very spacious tent
Good ventilation
Cons:
Doesn't hold up well against wind
No electric port
Hitting The Right Quality And Expectations
Getting the best tent under $200 for your next camping trip does not have to be a fruitlessly frugal exercise. As the list here shows, there are plenty of high-quality and well-regarded tents available in that budget. So take a look and dive in to find one that fits your purpose.