When planning a trip to the great outdoors, it is important to look for the best tent for rain and wind. If you expect just mild weather all the way through your trip, perhaps any tent could do. But it runs the risk of ruining your vacation with just a freak shower. Most tents are water resistant and many tents claim to be waterproof. However, even the best waterproof tent could need your attention to be adequately waterproof. Let's see how it works!
15 Best Waterproof Tents For 2019
Quick Pointers For A Tent That Can Stand The Elements
Fabric And Hydrostatic Head Measurement
The most commonly used fabrics for tents are nylon and polyester. Waterproof tents may also use canvas, but this material is heavier and more expensive. A very popular option is polyester coated with polyurethane for waterproofing a tent.
Hydrostatic Head Measurement is used to define the waterproofing of a fabric. Generally speaking, this is measured by filling a tube with water and placing it over the tent fabric. At a certain level, the water goes through the coating and starts seeping into the fabric. This number becomes the HH (Hydrostatic Head) rating of a fabric. Most waterproof fabrics have this number at higher than 1500mm.
Ventilation
All tents run the risk of condensation and compromised waterproofing. A tent with good ventilation will avoid water vapor building inside the tent. This prevents the water vapor from condensing on the walls of the tent and your belongings.
Construction And Maintenance
Irrespective of how good the waterproofing of a tent is, it is bound to degrade with time. Maintenance is thus an important aspect of keeping your tent waterproof for years. Knowing how to waterproof your tent will go a long way in keeping your tent well-maintained.
Another problem point for waterproofing is the seams of the tent. Seams create small holes in the tent fabric, and water will eventually find a way inside through them. Many manufacturers combat this problem by using inverted seams that are not exposed to tent exteriors. In most cases, you will have to use a seam sealer to keep the tent waterproof.
15 Top Waterproof Tents Review
1. Coleman Sundome 4-Person Tent
The Coleman Sundome is a well-built tent with some excellent options and features you can count on. This is a 4-person tent, but expect it to be comfortable for about three people at best. There are plenty of color and size options so this tent is conveniently accessible for most requirements.
Personally, I find the dark-room option to be very useful. The dark room coating provides better insulation to the tent and also blocks light from coming in, making it more convenient for sleeping.
The dome shape keeps it well protected from wind and lets the tent stay more stable. But the star here is the waterproofing. Waterproofing for this tent comes from Coleman's well-received WeatherTec system. This involves inverted seams, bathtub floors that are welded to the tent body, and zipper cuffs made from weather-resistant fabric. The floors are made from 1000D polyethylene, thus ensuring good waterproofing.
Dimensions of the tent are fairly generous, measuring 9×7 feet and a center height of 4-feet 11-inch. Other features include large windows and ground vents for easy ventilation.
Pros:
Excellent waterproofing
Works well in the wind
Good ventilation
Reasonably priced
Cons:
The overall construction of the tent feels flimsy
Tent stakes and poles are below average
2. MSR Elixir 3P Tent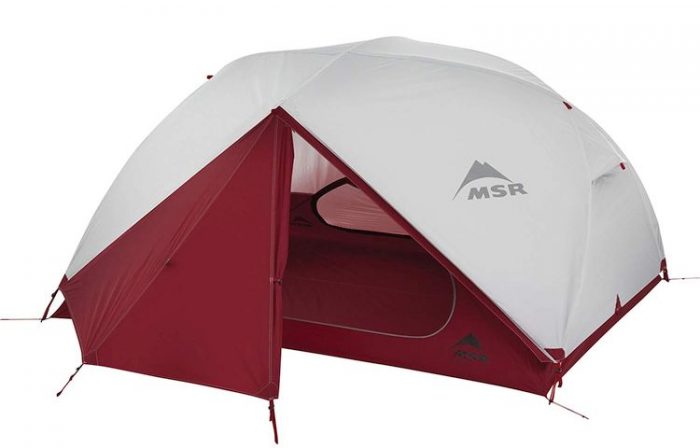 MSR Elixir is a pretty cool tent to bring along to your hiking trip. This is technically a three-person tent, but if comfort is any value to you, it's more a one or 2-person tent. As a freestanding tent with color-coded poles, it is reasonably easy to setup. MSR includes a footprint as well as a rainfly with the tent.
Since our focus here is waterproofing, the Elixir is not one to disappoint. A lot of people swear by the quality of these tents, and with good reason. MSR Elixir is one of the best waterproof tents available on the market. And of course, the footprint counts for some waterproofing too.
There are vents and mesh windows/roof in the tent for ventilation. Its rainfly extends past the tent and works with the vestibule to ensure you have some ventilation even if it is pouring outside. Once fully set up, the tent has a large and comfortable sleeping area. There's also a vestibule for extra storage space.
I wouldn't say this is expensive, but it isn't exactly cheap especially when compared to its competition. But that's a small price to pay for quality. That becomes more important when you're hiking and not car camping. A car camper will have shelter if the tent starts leaking. For a hiker, the tent is a big deal.
Pros:
Good quality construction
Excellent waterproofing
Can hold its own against wind
Cons:
A bit pricey
May need to be seam-sealed for proper waterproofing
Check latest price and discounts
3. Eureka Copper Canyon 8-Person Tent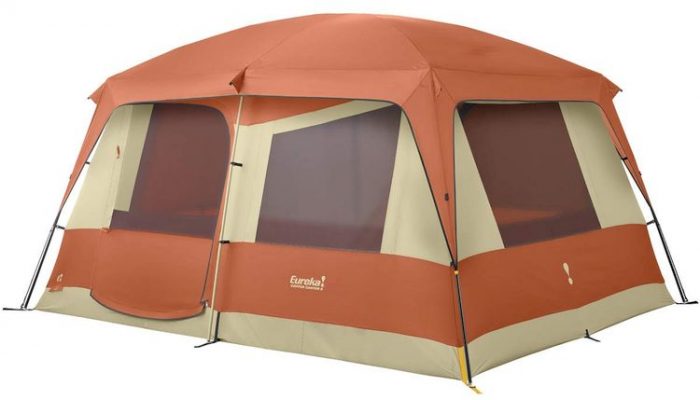 Eureka Copper Canyon 8-Person Tent is large, spacious, and comfortable. That's a big part of why Eureka Copper Canyon is one of our favorite 8-person camping tents. As a cabin style tent, the goal here is spaciousness, and that is what it fulfills rather gracefully. It will hold about six people in good comfort, with enough room for everyone to walk about freely and store their gear. Two gear lofts and six storage pockets help with increasing available storage.
A detachable curtain can be put to use in dividing the tent into two rooms. In this setup, each room gets some privacy, and its own door to enter or leave the tent. The available ground area is 13×10 feet, and the center height is 7-feet, good enough for most tall people to walk around comfortably.
The tent has six large windows that work with its roof to provide excellent ventilation. Once the rainfly is fully set up, this waterproof camping tent is ready for work. Eureka makes use of Stormshield polyester for its rainfly, a material with excellent hydrostatic head measurements.
Its biggest drawback is that the tent won't hold up well in wind. That's just a tradeoff cabin-style tents have to make between space and windproofing. Another problem point is the floor, which though adequately waterproof, is not thick enough to deal with persistent rainfall. To be fair, this problem is largely due to the big size of the tent. The smaller variants like the 4-person tent aren't particularly vulnerable from their floor.
Pros:
Very spacious
Good ventilation
Freestanding
Adequate waterproofing
Cons:
Does not stand well to wind
The floor material is too thin for comfort
4. Coleman Evanston Dome Tent with Screen Room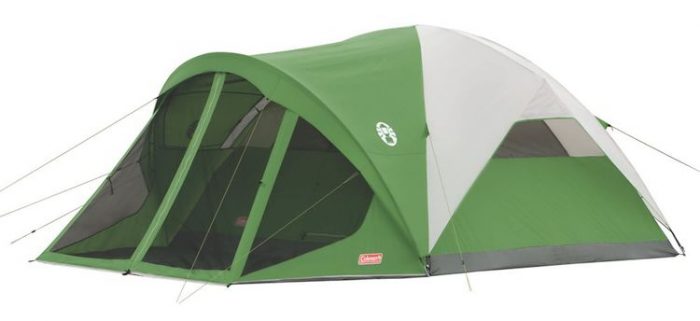 Comfort and pleasure come together for the Coleman Evanston Dome Tent. Like most tents, the capacity is lower when comfort comes into play. If you are considering the possibility of rain, I'll say this tent is best used by a small family – two adults and a child.
Coleman Evanston has two rooms. The larger, main room forms the primary room, followed by the smaller screen room. There is only one door for the tent, and that goes through the screen room. The tent utilizes polyester taffeta 75D for its construction, which gives it a fairly good waterproofing rating.
Once the rainfly is fully set up, you don't have to worry much about water coming into the tent. The rainfly also strategically covers the side windows of the tent, while leaving them open. This means you don't sacrifice ventilation for waterproofing. Additional waterproofing comes from Coleman's patented WeatherTec system. The bathtub floors are welded with the tent body and the seams are inverted. Its dome shape also allows the Coleman Evanston to hold its ground against the wind.
I particularly like the screen room, and the porch area is my favorite feature in many tents. However, it isn't quite that good for waterproofing. By virtue of its construction, it must rely on mesh walls and doors, and thus fall victim to rainwater. Thankfully, the main room of the tent does not have any problems with waterproofing.
Pros:
Excellent waterproofing of main room in the tent
Holds up well against wind
Spacious and comfortable
Reasonably priced
Cons:
Rainwater can pool up in the screen-room area
Can be somewhat difficult to pack away
5. TETON Sports Mountain Ultra Tent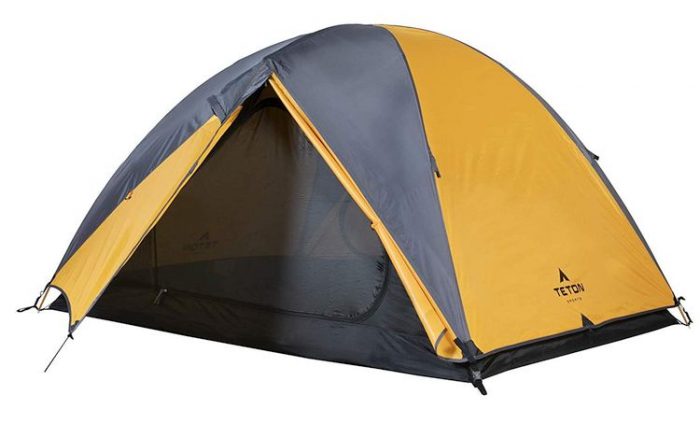 TETON Sports Mountain Ultra Tent is available in four variants, which go from one person to four-person versions of the tent. The overall design remains the same with each variant, though of course, the weight and size does increase. Mountain Ultra 2 is a pretty good example of this tent. Large enough to house two people, and lightweight enough for hiking.
When setup, the tent measures 82.5×63-inch and center-height of 45-inch. The rainfly is adequately waterproof and includes vents that help the mesh body of the tent with ventilation. Adding to the waterproofing is the thick, tub-like floor. It forms a comfortable base for the inhabitants of the tent, and won't let water inside the tent.
Its dome style shape and good curvature is an excellent defense against wind. Overall, you can be confident of staying dry even in a particularly nasty rainfall. Total packed weight of the tent is 6.2 pounds. Slightly excessive for hikers, but a good deal for the price.
Pros:
Excellent waterproofing
Can stand wind
Lightweight enough for hiking
Thick floor keeps water out
Cons:
Heavier than most tents for hiking
Construction feels cheap at some points
6. Wenzel 8 Person Klondike Tent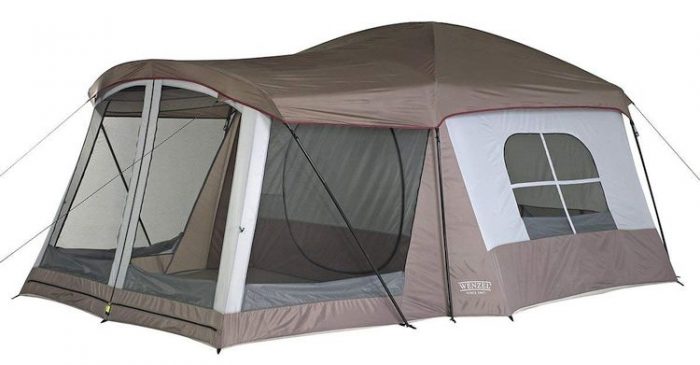 Wenzel 8 Person Klondike is a well-regarded tent. It has been previously featured here as one of our top choices for best family tents. As an 8-person tent, it is spacious and comfortable. In terms of design, it is pretty similar to the Coleman Evanston tent we see on this list. As such, its practical use in this category remains remarkably similar to Evanston.
If you're expecting rain, this tent is best suited for two adults and maybe 1-2 children. Occupants of this tent should be able to sleep comfortably in the main room. I think it's best to not consider the screen room as a sleeping area for this style of tents, but more a recreational area or porch. And that's even more important if you're expecting rain. By very virtue of its use, the screen room cannot be waterproof. The main room, however, should be, and is waterproof.
Wenzel utilizes Weather Armor technology for waterproofing. That is a fancy way to say that the polyester fabric of the tent is coated in water resistant polyurethane. I would have preferred a hydrophobic coating, but this isn't a bad deal either. The large windows provide good ventilation, but remain susceptible to rain. Thankfully, the window seams are waterproof, and the windows can be closed.
Pros:
Good waterproofing for main room
Spacious
Excellent ventilation
Cons:
Included stakes are low-quality
Insufficient waterproofing for screen room
7. Featherstone Outdoor Backpacking 2 Person Tent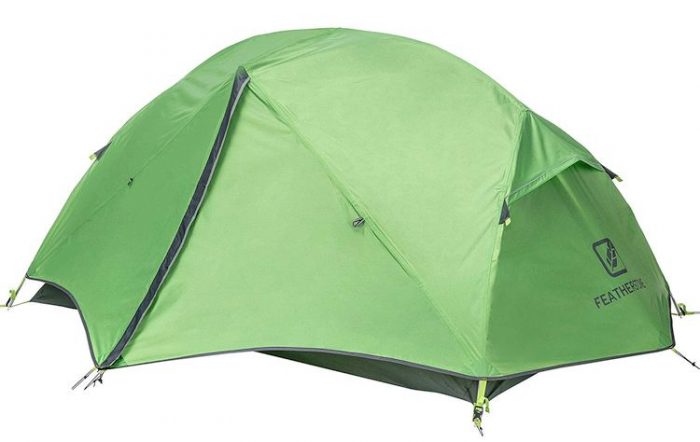 The company claims that Featherstone Outdoor Backpacking 2 Person Tent is the tent for ultralight camping. I'd say it is close to that claim. The full-pack weighs 6-lbs, which is a bit on the heavier side. You can take the weight down a notch to 5 lbs for trail setup, or go ultra-light at 3.8 lbs with just the rainfly, footprint, and poles.
Featherstone tent has put in some genuine effort in its waterproofing. A bathtub floor design, taped seams, and waterproof fabric make an excellent combination. The well-constructed body can stand its ground, even for heavy rain.
With an eye on convenience, the two-person tent has one door on either side, and two vestibule areas. The idea is to give both occupants good storage space, and also allow easy entry and exit of the tent. If you use the vestibules for storage (as you are likely to), some part of the door will be obstructed. It isn't a massive problem, but still something to keep in mind.
Pros:
Convenient for hiking and backpacking
Good waterproofing
Windproof
Adequate ventilation
Cons:
Could have a lighter weight
Tent doors can be obstructed by vestibules
8. Weanas Professional Backpacking Tent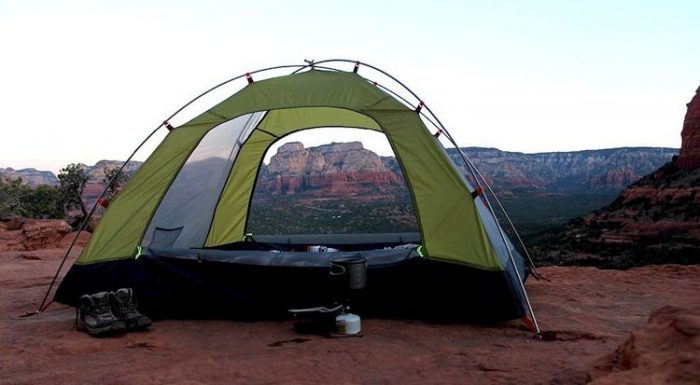 As a sucker for awnings, I have to say the Weanas Professional Backpacking Tent has a pretty good look. The tent is available in several cheerful color combinations and convenient sizes. For our current purpose, let's consider this 2-person tent.
The rainfly contains well-placed ventilation openings to ensure the tent remains breathable even in a downpour. Its large doors and vents work together for excellent ventilation. The fabric for the rainfly and tent is waterproof and is rated for 4000mm Hydrostatic Head. The floor is rated for 5000mm. Now those are impressive numbers. However, as we know, the biggest problem for waterproofing a tent is its seams. To better handle that issue, the tent uses fully taped seams.
The rainfly is made from 201T polyester with PU coating, and the tent body is made from 150D Anti-Tear Oxford Cloth. With a weight of just 4.8 pounds, this tent is an impressive contender for the best waterproof tent to buy.
Pros:
Excellent waterproofing
High-quality materials
Windproof
Cons:
Could use better ventilation
Low-quality stakes put a damper on an otherwise excellent tent
See current price and discounts
9. Winterial 3 Person Tent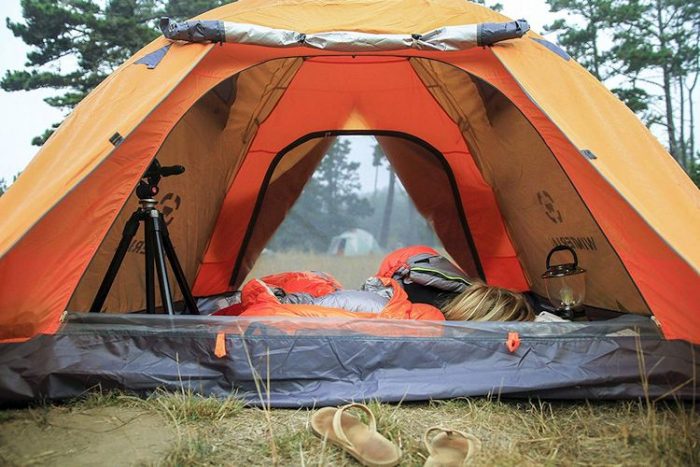 In several respects, this Winterial 3 Person Tent is very similar to the Weanas Tent that also shows up on this list. The awning of this tent adds a touch of luxury, or well, at least some good looks! Weighing just 4.4 lbs, the tent can also be a good companion for hikers. There are two doors on the tent for added convenience, and the vestibules offer extra storage space. The rainfly is fairly waterproof, and includes ventilation screens for better airflow.
Pros:
Adequate waterproofing
Lightweight
Cons:
Could use better ventilation
Low-quality stakes
10. NTK Laredo GT 8 to 9 Person Tent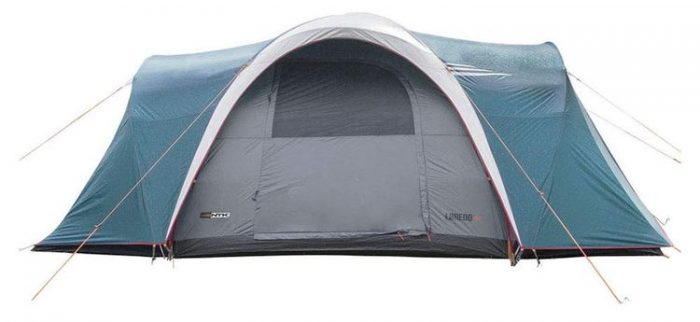 When it comes to waterproofing and comfort, the NTK Laredo has been one of the consistently well-performing tents. Designed for 8-9 people, the tent can hold 5-6 people comfortably. The large tent has color-coded poles for easier setup. An included room divider can be employed for creating two rooms in this tent, each with its own door. Both of these are large, D-style doors that make entry and exit easier.
All doors and windows are covered in ultra-thin no-see-um mesh, so you get all the air, and none of the bugs! For its dimensions, the tent has a center height of 6.23 feet, while its length and width measure at 15×10 feet.
Well designed to keep water away, the tent has a rainfly made from double layer 190T polyester laminated with polyurethane coating. The rainfly is rated capable of staying dry even with a 2500 mm water column. The rainfly is complemented by a thick heavy-duty seamless polyethylene floor. An inner silver coated layer on the floor keeps your tent better insulated, and its antifungal qualities surely make the floor a better match. Overall, the bathtub style construction of the floor adds excellent waterproofing to this tent.
Rainfly of the Laredo GT extends over the doors, covering one of the most important areas vulnerable to rain. You won't risk getting water into the tent every time you open the door.
Pros:
High-quality materials
Top-quality waterproofing
Windproofing
Spacious and comfortable
Good family tent
Cons:
The rainfly is made from a very thin material – though durable, it remains at risk
Poles could be of a better quality
11. NTK HUNTER GT 8 To 9 Person Tent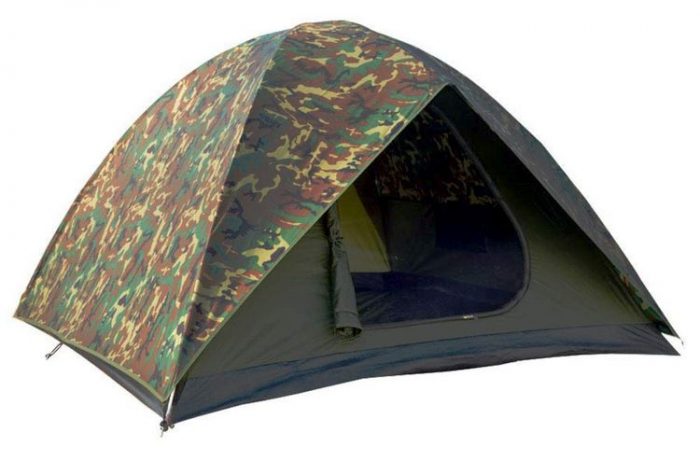 Quite like the NTK Laredo that we saw on this list, the NTK Hunter GT is an excellent and spacious tent. As the name implies, this is primarily geared for hunters. And if the name wasn't enough, the camo rainfly should be a pretty good hint. Practically speaking, this big dome style tent is the same as the NTK Cherokee GT, except the color scheme. The large dome style tent has an available floor area of 10×12 feet and a center height of 6.1 feet.
This tent is big on waterproofing. NTK Hunter GT rainfly is made from 190T polyester coated with polyurethane. Its floor is a seamless, antifungal, bathtub-style construction that is adept at keeping water out of the tent. The rainfly is rated for 2500mm of Hydrostatic Head. This tent does suffer in ventilation due to the noticeable lack of floor vents. Once the rainfly is wrapped, there is very little room for airflow. On the plus side, its shape provides excellent windproofing.
Pros:
Excellent waterproofing
Comfortable and spacious
Windproof
Cons:
Below average ventilation
No-see-um mesh underperforms at its job
12. TOMOUNT Or Hikergarden 8-Person Tent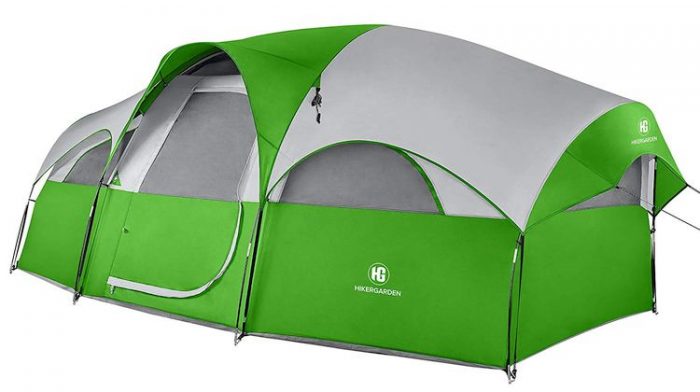 This tent carries along under the names of TOMOUNT or Hikergarden. While a capable tent, I feel it suffers under the yolk of overzealous marketing. If we step aside from those tall claims, it is still a capable tent. However, the tall claims made by marketers end up breeding doubt.
Coming back to the topic, or more specifically, to the specifications, the rainfly is rated for 4000mm water head. The rainfly extends over the windows and doors for better protection against the rain. Each of the windows and doors are covered in no-see-um mesh and offer good ventilation. Its large doors make entering and exiting the tent easier.
Pros:
Good waterproofing
Excellent ventilation
Comfortable and spacious
Cons:
The fabric quality could be better
The poles feel weak
13. SPRINGBAR Highline 6 Person Canvas Tent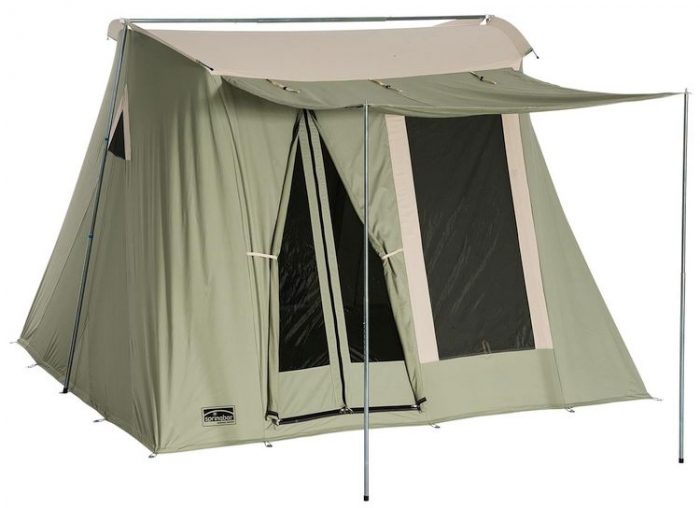 SPRINGBAR Highline 6 Person Canvas Tent is the representative of canvas tents on our list. The tens is made from 100% Cotton Duck Canvas finished to be watertight. This material is accompanied by a heavy-duty vinyl floor that furthers this tent's waterproofing. Steel poles and steel stakes put together with high-quality guylines make this tent stay stable in winds.
Canvas is an excellent material for tents. It is breathable, offering better airflow, and it takes to waterproofing quite naturally. Better qualities of canvas also make this material suitable for 4-season tents. Canvas is a durable material and you can expect these tents to last for several years. The downsides of these tents are that they can be expensive and heavy when compared to polyester and nylon tents. Springbar Highline has a floor area of 10×10 feet, and a center height of 6.5-feet. Its large windows and doors are covered in no-see-um mesh.
Pros:
Excellent waterproofing
Windproof
Great ventilation
High-quality materials
Cons:
Expensive
Heavy – the tent weighs 74 lbs
14. Naturehike Cloud-Up Tent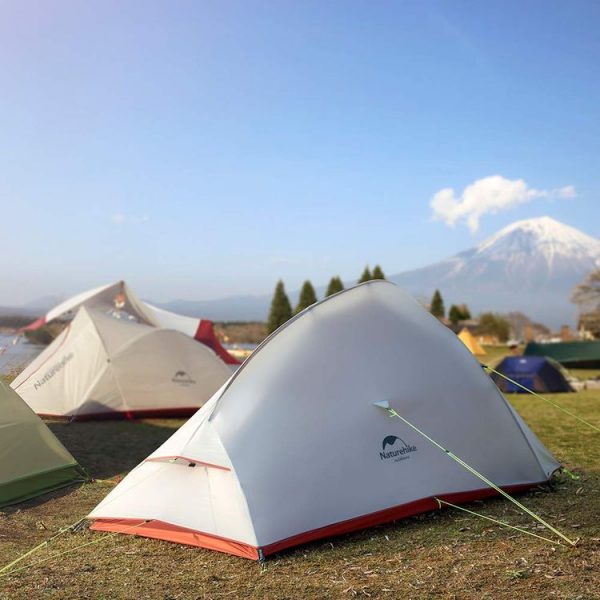 Available in 1, 2, and 3-person variants, Naturehike Cloud-Up tents are available in several colors. I'm going to stay with the 2-person tent for this review. Built for hikers, the tent weighs just 3.75lbs. It is fairly lightweight, and convenient for hikers to carry.
The tent is made from 210T nylon mesh, and the rainfly is made from 210T rip-stop nylon with silicone coating. Water resistance of the rainfly is 3000mm, and it is rated for UV 50+ sun protection.
Dimensions of the tent are 83×49 inches and a center height of 39-inches. When set up, Naturehike Cloud-up gets an outer vestibule for more storage space. The rainfly covers the mesh body of the tent pretty well and keeps the tent safe from rain. Ordinarily, this would hamper airflow and ventilation, but the rainfly keeps room for air circulation, thus keeping ventilation going.
Pros:
Lightweight and good for hiking
Good waterproofing
Windproof
Cons:
Tent floor could be better
The included stakes aren't good enough
15. Toogh 5-6 Person Camping Big Horn Tent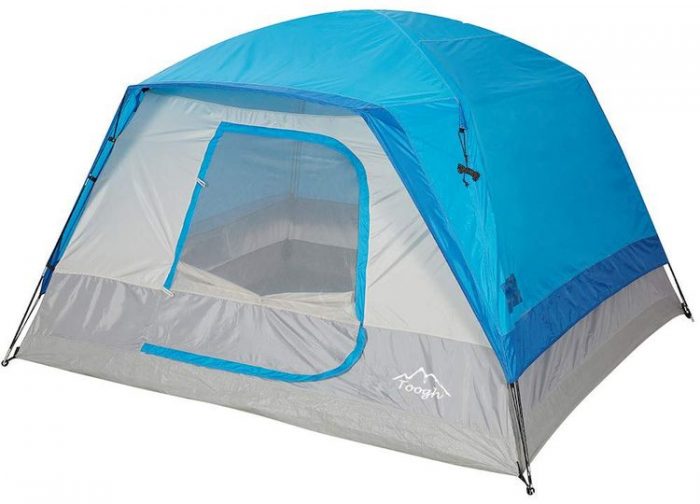 Toogh 5-6 Person Camping Big Horn Tent is spacious with a cabin-style design. It has a floor area of 9×10 feet and center height at a very generous 74-inch. As a tent for a small family or group, this can be very convenient.
Big Horn Tent has its fabric made from high-quality materials to ensure quality as well as better waterproofing. Its rainfly is made from 210D oxford fabric coated with silicone for better performance. The tent floor is made from PE and is rated at 3000mm of water head. The high-quality barrier and floor create an excellent barrier against water. I'd still seam seal the tent before use, but other than that there isn't much to worry about.
The tent has one door for easy access and exit. There's a window on the door that works with other windows around the tent to ensure good airflow. The mesh roof of the tent works pretty well in this regard, and ensures the tent has good ventilation. It does slow down a bit when the rainfly is attached, but stays adequate.
Pros:
Good waterproofing
Spacious
Well ventilated
Cons:
Ventilation is sub-optimal with rainfly attached
Aluminum ground nails/stakes included with the tent feel rather flimsy
A Tent That's Your Best Companion For Rain And Wind
Having a waterproof tent along for your camping trip is important. At the very least, a moderately well-designed tent makes sure that the end of your camping trip is not a hostage of bad weather and rains. The list here is a selection of the best-regarded weather proof tents available. When you pick the best waterproof tent, make sure to check the tent and practice before you leave for the trip. Contacting the manufacturer to confirm waterproofing, and if you need to seam seal the tent before use can be immensely helpful. At the very least, you can be sure that the waterproof tent actually holds up to rain.