Camping gear is also about making the best of available space. The weight you can carry and space you have can both be at a premium, and this can often cause problems for tall people. Being comfortable in your tent is imperative. All the more better if you can bring your gear in as well. Here are some best tall camping tents – these tents aren't necessarily tall, but they are built to be comfortable enough for tall people. Take a look!
10 Best Tall Camping Tents For 2019
Top Tents To Consider
1. Columbia Sportswear Pinewood 4 Person Dome Tent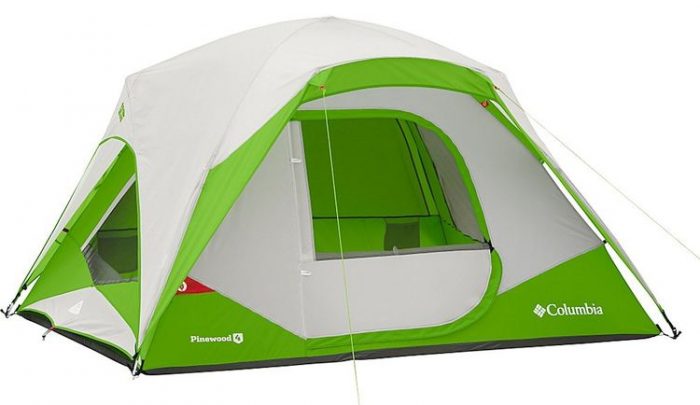 Pinewood 4 Person Dome Tent is very well made and can be a rather comfortable dwelling for a tall person. Technically a tall 4 person tent, this is best used by 2-3 people comfortably. Like most tents, the advertised number of people, and those it can comfortably accommodate are different numbers.
Where it does stay true, is its convenience for tall people. From the general construction of this tent to sleep area, many characteristics are bound to be helpful for tall people. The extra-high awning ensures easier access in and out of the tent. When fully set up, interiors of the tent measure 9×7 feet, and have a center height of 59-inches.
These are generous dimensions for a tent in this category. Plus, the dimensions are large enough for a tall person to sleep comfortably and have enough room for their gear. The center-height is large enough to allow convenient movement. It obviously won't allow you to stand up, but for a small tent, it is convenient.
Columbia Sportswear Pinewood tent has a double door construction and four large windows, so ventilation is never a problem. The rainfly provides sufficient cover to the doors and windows in rainy weather. Interiors of the tent have two storage pockets, a gear loft, and an electric cord port.
Pros:
Easy to set up and pack
Great ventilation
Room enough to fit a queen-size airbed
Cons:
Lower mesh ventilation panels cannot be closed
Could have better waterproofing
2. TOMOUNT 5 Person Tent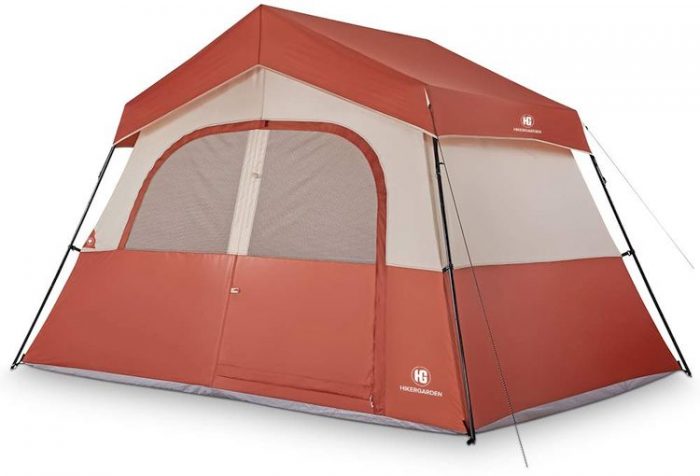 TOMOUNT 5 Person Tent is a spacious and well-constructed tent that is spacious and convenient for a tall person. When fully set up, the dimensions of this tent are 10×8 feet, with a center height of 76-inches. While the sloping roof won't really allow a tall person to stand up comfortably, you could get by with stooping ever so slightly.
The company says their tent is spacious enough for placing two queen size mattresses. I'd take that claim with a grain of salt, then throw a whole bag of salt over it. Putting two TwinXL mattresses there is pushing it, there is no way queen mattresses make it.
One large D-style doors in the front make it easy to enter and leave the tent. A mesh window at the side of the door, and windows at the opposite end help ventilation. The lack of windows on the sides is noticeable, and ventilation does suffer a bit once the rainfly is placed. On the plus side, the tent has good waterproofing, has an interior gear pocket, and electric cord port.
Pros:
Spacious with a good center height
Good waterproofing
Comfortable
Cons:
Below average ventilation
Takes effort to set up and pack away
3. Pacific Breeze Easy Setup Beach Tent Deluxe XL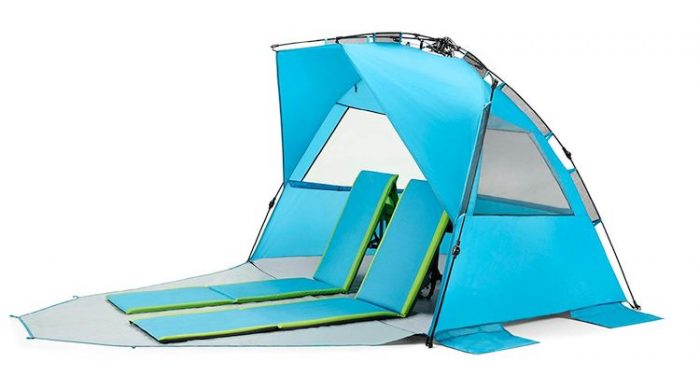 This conveniently sized beach tent is large enough to hold tall people with ease. It is worth noting that this beach tent is designed as a shelter. Around 3-4 people can sit inside the tent, but it is not meant for anybody to spend the night.
The door on the tent can be opened to become an "extended floor." When placed, it creates a nice area where you can sit and chill at the beach. The tent fabric offers UPF 50+ protection, and its large windows offer great ventilation for enjoying the breeze at the beach.
Pros:
Lightweight and easy to carry
UPF 50+ sun protection is great for the beach
Very spacious and convenient
Cons:
Questionable durability
Limited privacy
4. MSR Hubba Hubba NX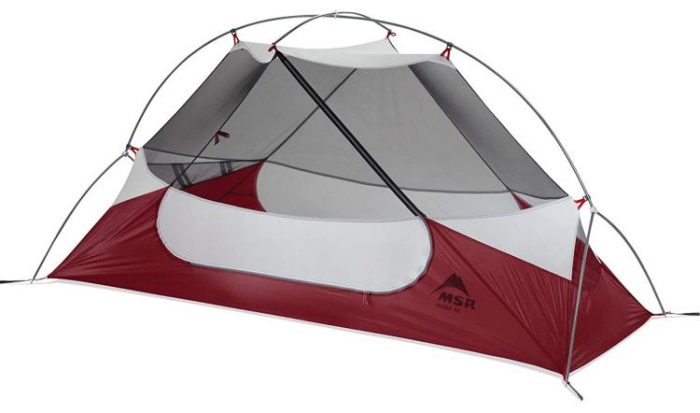 MSR Hubba Hubba NX is a lightweight backpacking tent that really can hold two people in relative comfort. With its complete setup options, the tent weighs merely 3.5 lbs and packs down to a compact 18×6 inches. Enterprising campers are known to reduce the weight to just 2lbs by only packing the necessities for this tent.
This very versatile and capable tent is available in two options; regular and with Xtreme waterproof coating. Choosing the latter adds more than a 100 bucks to your bill, but makes the tent very capable of handling rain. MSR claims that this Xtreme coating lasts at least three times longer than conventional waterproof coatings.
The large doors on this tent make it easy to get in/out of the tent, and can conveniently handle tall people as well. Being a compact 2-person tent, it does well with a 39-inch center height. When set up, the tent offers an internal floor area of 29.5 square feet and a vestibule area of 17.5 square feet.
Pros:
Lightweight and packs compact
Plenty of space for two people
Large vestibule area for storage
Excellent waterproofing and windproofing
Durable material
Cons:
Expensive
Even waterproof models need to be seam-sealed by customers before use
See price and discounts on Amazon
5. Coleman Steel Creek Fast Pitch Dome Tent with Screen Room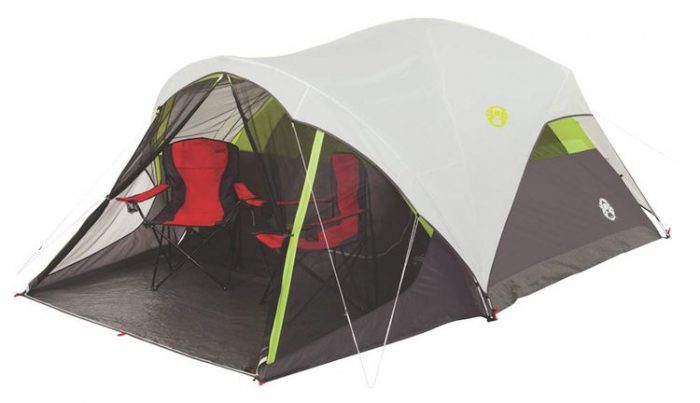 Coleman Steel Creek is a 2 room, 6 person dome tent that is great for family vacations. The main cabin/room measures 10×9 feet and has a center height of 5-feet 8-inch. The screen room has dimensions at 10×5 feet, and both rooms are large enough to accommodate a queen sized mattress each. Forget the mattress for the screen room, I like it as a good place to lounge and rest during vacation.
This tent is equipped with Coleman's WeatherTec system for better waterproofing. It has a bathtub-style floor with welded seams, inverted seams for sewing, and zipper cuffs made from weather-resistant fabric for greater protection. Extended awnings over the windows add another element of protection.
Other notable features of this tent include color-coded poles, storage pockets, and an electric port.
Pros:
Good waterproofing for main cabin
Spacious
Good ventilation
Convenient to setup
Cons:
Insufficient waterproofing on the porch/screen room
Can be difficult to pack away
6. CORE 6 Person Instant Cabin Tent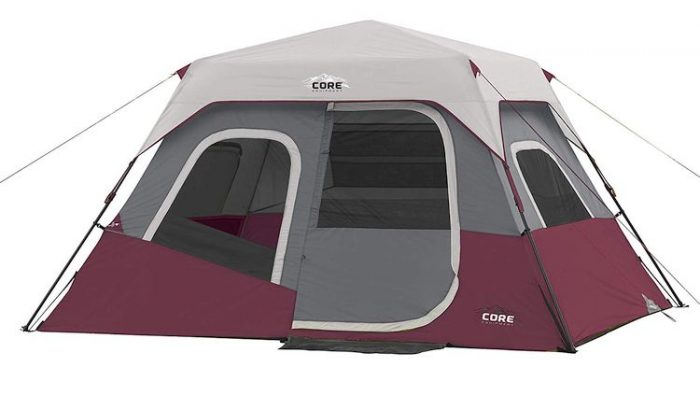 When you want tents tall enough to stand up in, cabin tents are tough to beat. This Core 6 Person Cabin tent has a center height of 72-inch. That's good enough height for a tall person, and can allow them to walk around comfortably. A large D-style door on this cabin tent makes it even more convenient for tall people. Core says that the tent is easy to setup and can be completed in just 60 seconds.
The tent is large enough to allow space for two queen size air mattresses to be placed. However, that will practically take over all the area, and there won't be much left to walk around or to place your gear. The several mesh windows around the tent work with its mesh roof and ground vents to ensure good ventilation.
To offer good waterproofing, Core has employed its H2O block technology for this tent. This involves using water-repellent fabrics, sealed seams, fully taped rainfly, and rain-resistant seals on windows and doors.
Pros:
Excellent center height – tall enough to stand up in
Very spacious
Easy to set up
Adequate waterproofing
Cons:
The tent does not hold up well in wind
Questionable construction quality
7. Kelty Grand Mesa Tent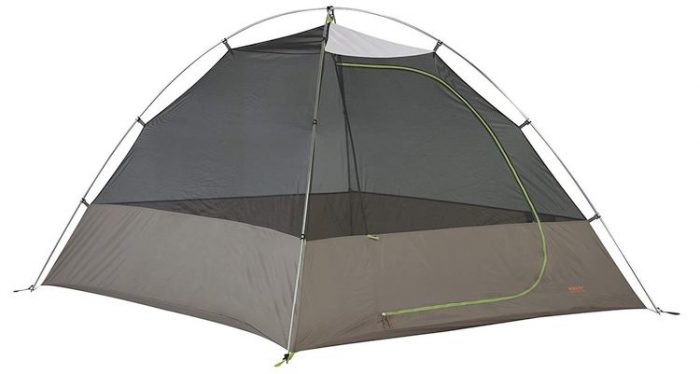 Kelty Grand Mesa 4-person camping tent offers excellent features and construction. Built for performance, this freestanding tent has dimensions of 98x80x56 inch, the floor and vestibule areas are generous. The three-season tent is designed to be easy to set up and pack away. It includes color-coded stakes for easy set up.
Its full mesh body makes ventilation easy. However, it also sacrifices privacy to achieve this ventilation. Once the rainfly is put into place, the ventilation area decreases dramatically and leaves little room for airflow. Tall people will find the 56-inch center height and the oversized D-style door to their liking.
Multiple mesh storage pockets on the interiors and gear loft loops give you plenty of room for storage. The fully taped seams work to make waterproofing of the tent better. While the seams to help, the onus of protecting the tent's full mesh body is entirely on the rainfly. It does its job pretty well, but I'll suggest supplement it with a tarp where possible for added protection from rainwater.
Pros:
Large mesh panels for storage
Oversized D-style doors make it more convenient for tall people
Cons:
Below average waterproofing
Ventilation suffers when rainfly is placed
No privacy without rainfly
Check current price and discounts
8. Coleman 6-Person Dark Room Sundome Tent
Coleman 6-Person Dark Room Sundome Tent is a whole world of comfort where a good sleep is your priority. In basic design, it is quite similar to the Coleman Steel Creek tent we see on this list. Therefore, let's start with the big feature here – the dark room.
Coleman says its technology blocks 90% of the sunlight entering a tent. This has two benefits, the first is that it provides insulation for your tent. Without the sun's rays heating things up in your tent, it will be much better insulated. This keeps the tent cooler through the day, which can practically be a lifesaver on those hot days!
The second benefit, of course, is better sleep! You can't carry those heavy darkout curtains to camping, but with the tent itself doing most of the work blocking light, you will be able to rest more conveniently. Other notable features of the tent include the WeatherTec system for waterproofing. Here, the bathtub floors with welded seams offer better waterproofing. Add to that inverted and sealed seams, and you have an excellent recipe for waterproofing.
Pros:
Spacious with good center-height for tall people
Large doors are convenient to use
Dark room is excellent for insulation and resting
Acceptable waterproofing for the main cabin
Cons:
Since there is little protection for the screen room, rainwater pools on its floor
Can be difficult to pack away
Dark room coating only present on rainfly and windows, leaving big gaps of regular material
9. ALPS Mountaineering Lynx 1-Person Tent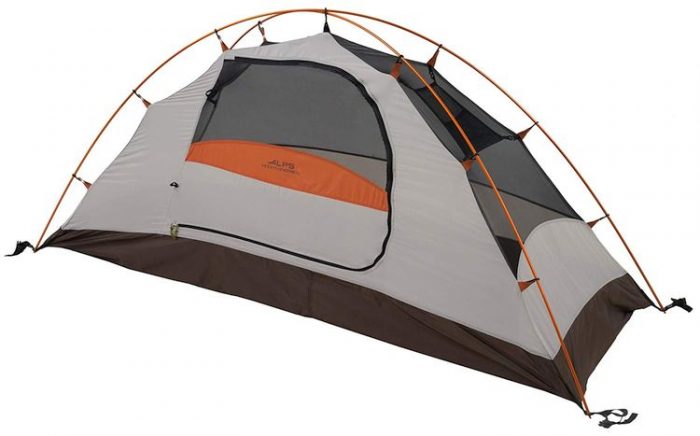 For the solo tall hiker, the ALPS Mountaineering Lynx 1-Person Tent is a worthy companion. The biggest feature working in favor of tall people here is the length of 7-feet and 6-inches. While only a large cabin tent can boast to be a 7 foot tall tent, this single person tent can offer more than 7 feet in length! The width is more modes at 2-feet 8-inch, so you will have to be more careful about using your space.
Extra storage is available in the form of vestibules, and the half-mesh walls help with better ventilation. For a high-quality construction, the tent makes use of 75D 185T polyester fly, 75D 185T Poly Taffeta floor, and 7000 Series aluminum poles. The total weight of this tent is 4 lbs 1 oz, though enterprising hikers can reduce it to 3 lbs 5 oz.
Pros:
Easy to setup and pack away
Convenient length for tall campers
Excellent construction
Lightweight enough for hiking
Cons:
Can feel cramped due to low width
Using the vestibule can make the door feel small
10. Toogh 3-4 Person Camping Tent
Toogh 3-4 Person Camping Tent is a tall camping tent with high-quality construction that makes it worthy of note. One of the best instant tents available in terms of setup time, this tent also fares very well in packing it up. To speak numbers, the tent has a center height of 5'5", which is very convenient for a 4 person tent.
The company highlights the high-quality construction of this tent with the 210D Oxford coated with silicone. Similarly, the tent floor is made from 210T fabric. Both fabrics are designed to be waterproof, with the tent fabric rated waterproof at 3000mm, and the floor rated waterproof at 10,000mm water.
Pros:
High-quality construction
Quick to set up and easy to pack
Good waterproofing
Cons:
The hexagonal floor can feel inconvenient
Tent seams could have been sewn better
The Tall Tent For You
Length and height can both come at a premium when picking the best tall camping tents. If you prefer to hike or camp solo, the focus should be on a tent that offers good length and convenient center height. Car campers can take more freedoms and look for a large tent or big cabin tent that goes tall and has a good length as well as enough height for standing up straight in the tent.