Florida has a great deal of natural beauty to attract campers. The climate is suitable for camping throughout the year, and the beautiful beaches, lakes, and wilderness are very attractive. You might have to use an air conditioner in your tent for a few days in the summer. However, the weather is balmy, if not temperate, for most months. There are plenty of options for experiencing the best camping in Florida.
Florida Campgrounds And Parks
We have divided the best camping locations of Florida into campgrounds, RV parks, and beaches. The lists are not mutually exclusive. For example, a campground could still have RV locations and beach access.
1. Hillsborough River State Park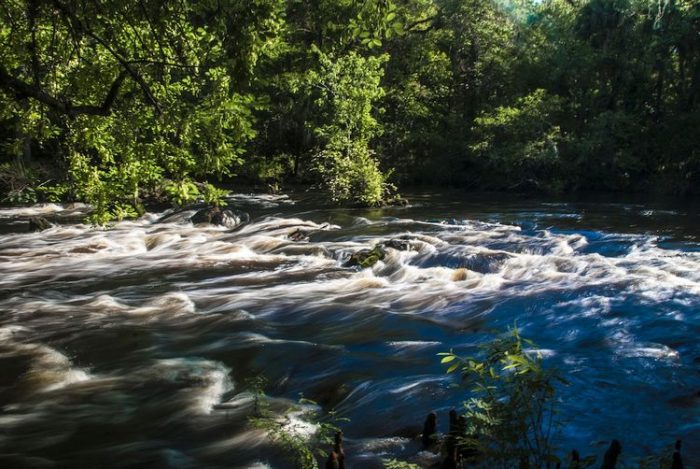 Located very close to Tampa, Hillsborough River State Park is an eclectic mix of nature and history. In its 112 sites, the park offers space for tents and RVs. Each site is equipped with water, a picnic table, and a fire ring. Each loop also contains showers with hot water and laundry facilities. Amenities also include several picnic areas, pavilions, playgrounds, and even a half-acre swimming pool!
There are primitive camping sites available as well, if you would rather do camping the old way without all the bells and whistles. By virtue of its location, the park allows fishing, paddling, and canoeing on the Hillsborough River. This is one of the rare locations in Florida that have Class II rapids.
Biking and hiking trails go through forests of oak, sabal palm, and hickory. The trail goes on for about 7.5 miles, giving you enough time to explore and enjoy the wilderness. Hikers can also visit Fort Foster State Historic Site, a reconstructed fort that saw some action during the Second Seminole War.
2. Anastasia State Park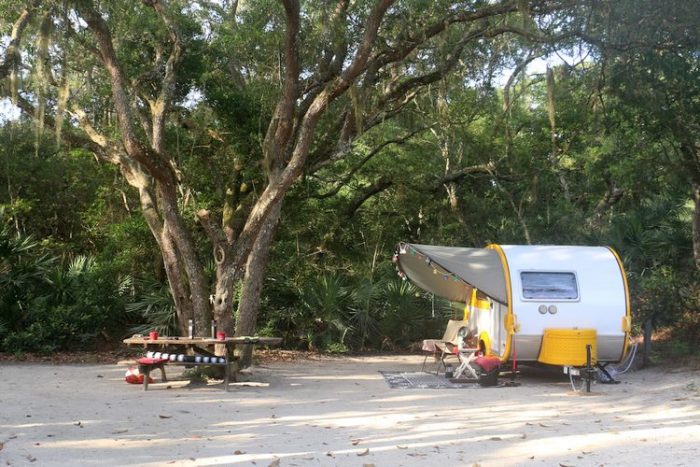 Anastasia State Park has beautiful white sand beaches spread over 1600 acres. Tidal marshes and ancient sand dunes make this park a great location for campers looking for something that's off the beaten path.
The unique location also means that the park is full of wildlife and has a diverse ecosystem. It's especially great for birding, though fishing is an important activity as well.
Numerous species of shore birds and waterbirds can be seen at the Florida Birding And Wildlife Trail. There are bald eagles, owls, and song birds to enjoy as well. Fishing is popular, but it may require a license.
Boating and bicycling are available as well. For water activities, visitors can enjoy surfing, swimming, paddling, and boating. Hikers can enjoy the Ancient Dunes Nature Trail that goes up for about four miles of pristine beach. There are 139 campsites for RVs and tents, all with access to electricity and water.
3. Hatbill Park
Hatbill Park campsite is located in a free, 15-acre county park. A weekend permit allows you to spend time with a free permit. Though it allows campers to visit for free, the park does not skimp out on necessities.
The park is available for tent as well as RV camping. This is an open-field camping site and there are no trees, so it is best to camp here during the cooler months. Located a small distance from Orlando along the St. Johns River, the park allows several water-based activities.
4. Camp Venice Retreat
Camp Venice camping facility allows visitors to enjoy their stay in an RV, tent, or a cabin. Each campsite has access to electricity and water. Campgrounds also include modern restrooms, hot showers, and a heated swimming pool. The camp is close to the town of Venice, Visitors can enjoy some time in this town and enjoy its Northern Italian Architecture, as seen in Florida.
The campsite is close to golf courses, beaches, and other attractions. Located along the Myakka River, the camp also offers boating, canoeing, kayaking, and fishing.
5. Ginnie Springs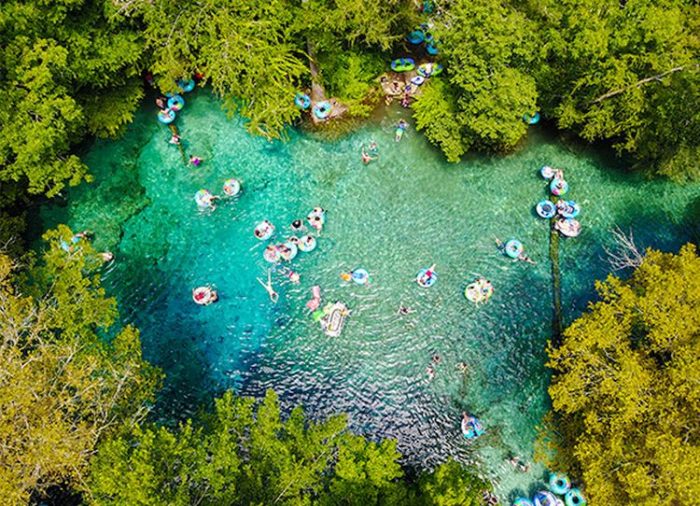 Ginnie Springs is a delight with its crystal clear waters and freshwater cave diving. This is a somewhat unique location to enjoy, and deserves some love from visitors. The location includes cottages and tent sites. There are several tent sites around the springs. Some of these have great a great view of the river and springs, some have picnic tables and grills, etc.
The most sought-after activity here is scuba diving in the Ginnie Springs and Devil Springs system. Novice divers are allowed to dive under supervision. Certified divers will have more things to do, including exploration of 30,000 feet of passageways in the Devil Spring System.
There are some other great water-based activities available as well. These include swimming, snorkeling, tubing down the Santa Fe River, canoeing, kayaking, and paddle boarding.
6. Potts Preserve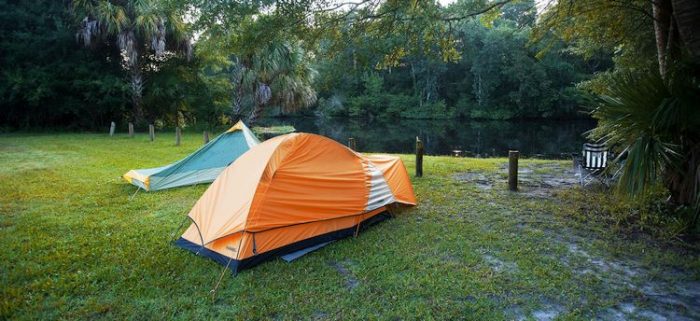 Potts Preserve is an 8500-acre preserve that offers primitive camping for free. The preserve is a wetland that plays a crucial role in the Tsala Apopka Chain of Lakes and the Withlacoochee River systems. It's also an important habitat to wildlife.
There are plenty of activities to enjoy in this preserve. It has several miles of tracks or hiking and biking. Visitors so inclined can also enjoy horseback riding and hunting. As water plays a big part in the existence of the park and its location, visitors get to enjoy several water-based activities. These include boating, fishing, canoeing, and paddling.
7. Manatee Springs State Park Campground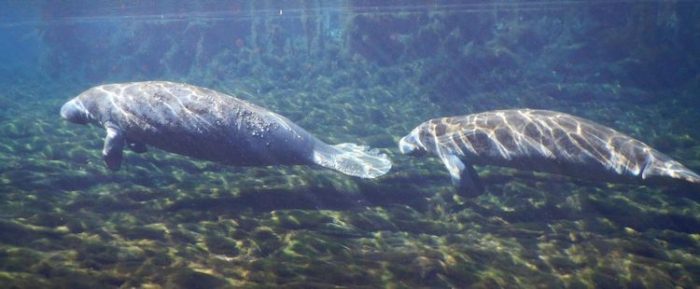 Quite like its name, Manatee Springs State Park Campground offers great sightings of Manatees. An 800 foot boardwalk runs through cypress forests and overlooks the magnificent springs that are the major attraction of this park. Manatees can be seen during the cooler months, though other animals and fish can be seen year-round.
The park has 80 campsites in three loops. Each of the loops enjoys its own hot shower. All campsites have electricity and water. Various campsites can accommodate RVs and tents.
Given the location of this park, most of its activities are centered around water. Visitors here can enjoy scuba diving, snorkeling, paddling, boating, and fishing. Hikers can enjoy the 8.5 miles of trail in the park. Wildlife viewing is available along the boardwalk.
8. Big Cypress National Preserve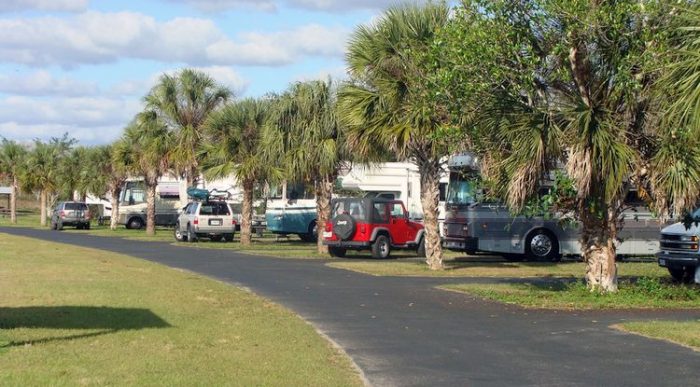 The vast swamplands of this national preserve attract a lot of campers. There are several campgrounds available, each varying in the amenities on offer. Some are good enough for RVs and include water and electricity. Others are primitive sites with very limited amenities.
Primitive campgrounds at Big Cypress National Preserve are accessible for hikers, though offroad vehicles can also be employed. For the latter, visitors must request a license from the park. Activities available include hunting, fishing, kayaking, canoeing, bird watching, and hiking.
9. Wright Lake Recreation Area Campground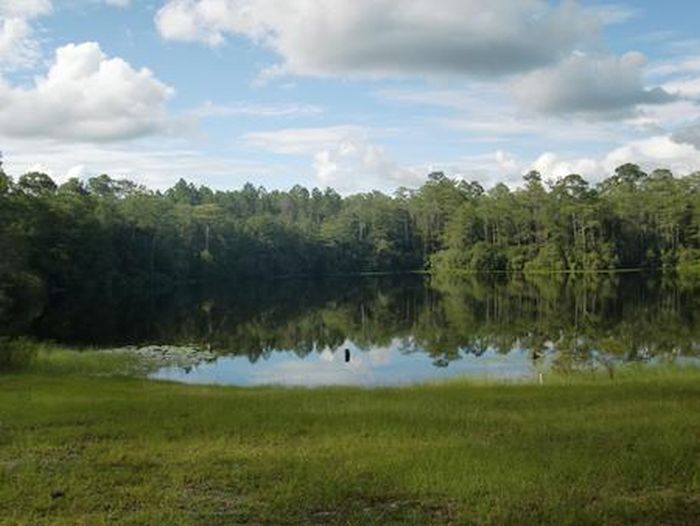 Located in the Apalachicola National Forest, the Wright Lake Recreation Area Campground is a scenic lakefront full of activities. You could choose to camp primitive, but the 18 campsites in this area or all well-connected with amenities. The campground has access to picnic tables, grills, tent pads and fire rings.
The white beaches of the lake are an obvious invitation to relax and enjoy your time. Other activities include fishing, swimming, and boating. A trail goes around the Wright Lake, and offers views of the flora, fauna, and scenery of this campground.
10. Hopkins Prairie Campground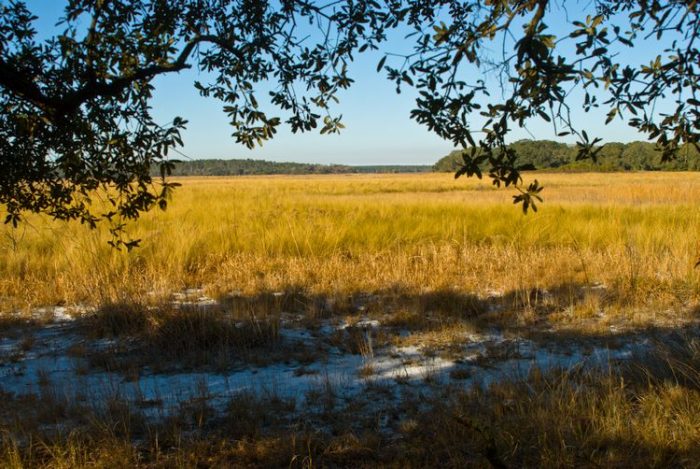 Hopkins Prairie Campground is scenically located along the Florida Trail in the Ocala National Forest. Grasslands surround the area, while the campground itself is located in a hammock of oaks. A more idyllic setting could not be asked for! This is one of those rare seasonal campgrounds in Florida and is open for October 1 – June 1.
Visitors can enjoy fishing in the ponds and shallows around the campground, or take the route to the nearby Lake George. Other activities include horse riding, bicycling, and hunting.
11. Dead River Landing Recreation Area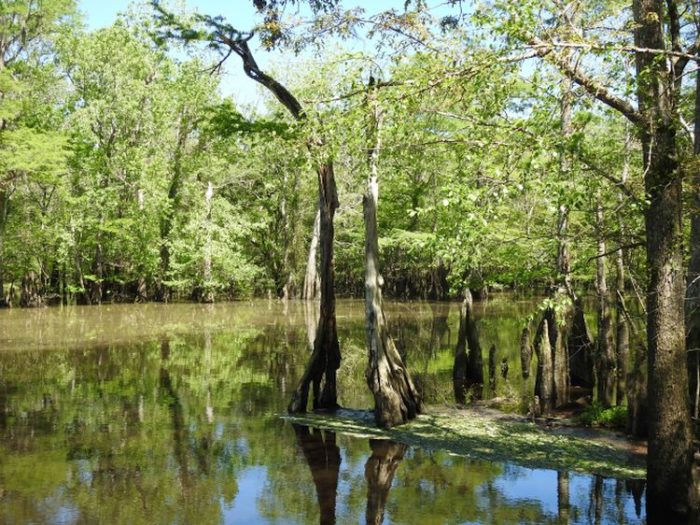 Dead River Landing Recreation Area has campsites that can be used for tents and RVs. Located along the Seven Runs Creek, the campground is more on the primitive lines and amenities like water, power, and waste disposal hookups are not available. There are arrangements with a charcoal grill at each camping pavilion, and the campsites are equipped with a picnic table, charcoal grill, and fire ring.
The park is located in the Choctawhatchee River Water Management Area in Ponce De Leon. It offers concrete boat ramps and water-based activities are available. Visitors can enjoy boating, fishing, and canoeing. The Choctawhatchee River has a large variety of fish species, and anglers find it amazing.
12. Jones Hungryland Wildlife Management Area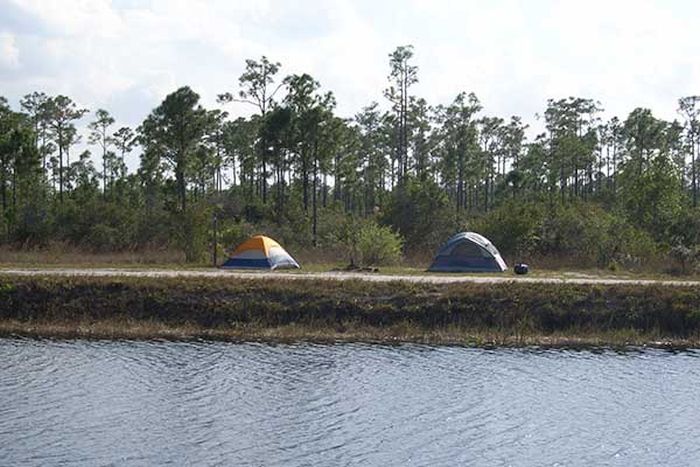 Located on the eastern South Florida coast, this scenic campground offers only tent camping sites. There are a ton of activities available, including hunting, fishing, hiking, biking, and horseback riding. The Great Florida Birding and Wildlife Trail offers a unique view to exotic species like bald eagle, snail kite, limpkin, wood storks, herons, and egrets.
There are several trails and roads to explore. Bikers and hikers can enjoy these trails and several canal roads located in the Jones Hungryland Wildlife Management Area.
13. Dinner Island Ranch Wildlife Management Area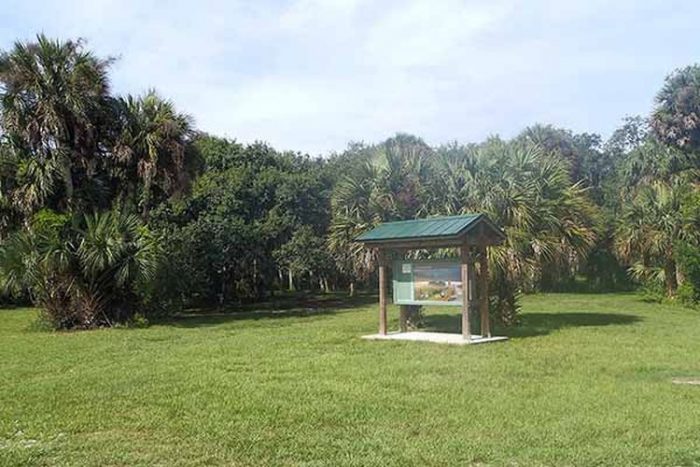 Dinner Island Ranch Wildlife Management Area has two campgrounds open to visitors. Kowechobe Camp can be used by RVs, while the Hammock Campground is meant for primitive tent camping. There's plenty to do here, including hunting, fishing, wildlife viewing, hiking, horseback riding, and bicycling.
Permits for the camping sites are free, but they must be reserved in advance. There are several named and numbered roads for hikers and bicyclists to explore. Fishing is a popular activity here, though it is limited to bank fishing along canals or the shallow ponds in the area.
14. Everglades National Park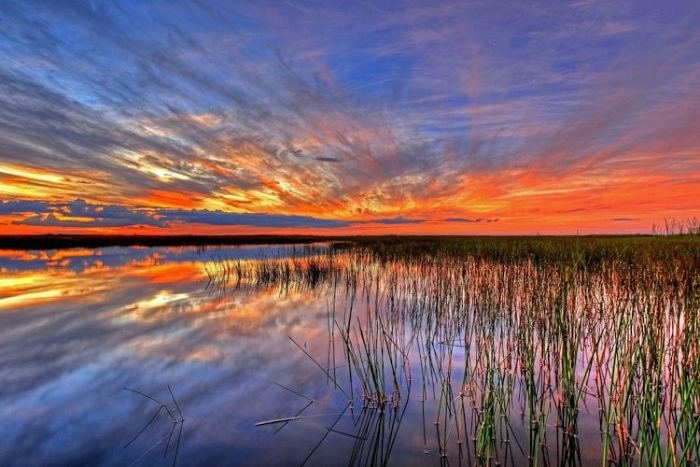 Everglades National Park in Florida offers three campgrounds for visitors. Flamingo Campground and Long Pine Key Campground and popular amongst visitors. The third option is Backcountry Camping that requires a license and allows access to remote reaches of the park. Flamingo Campground is the larger and more popular one, with 235 drive-up sites available, including 41 with electrical hookup.
The National Park is also preparing to start its Eco-tent services from October 1, 2019. This area is dedicated to glamping and luxurious stay in the park's eco tents.
As for the location itself, the Everglades National Park is very well known for its beauty and rich views. This wonderful landscape is a World Heritage Site, International Biosphere Reserve, and the largest subtropical wilderness in the United States.
Enthralling Florida Beach Camping Locations
1. John Pennekamp Coral Reef State Park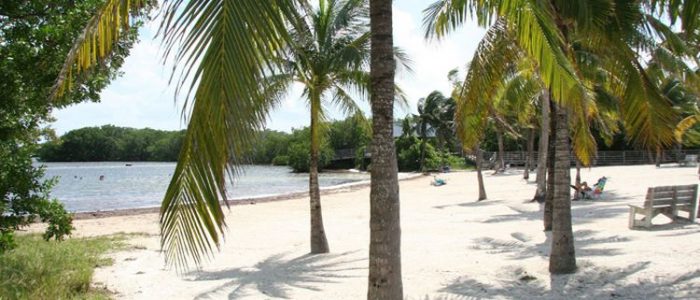 Natural beauty shines brightly in the brilliant waters of the John Pennekamp Coral Reef State Park. As the first undersea park in the United States, this one encompasses approximately 70 nautical square miles. As an aquatic wonderland, this park is full of amazing activities. Visitors here can enjoy snorkeling, scuba diving, canoeing, and kayaking. Fishing and swimming are permitted in designated areas.
The visitor center at the park has a 30,000-gallon saltwater aquarium as its major attraction. For campers, the park offers 47 full-facility RV campsites. Several picnic areas are scattered around the park and include barbecue grills.
2. Bahia Honda State Park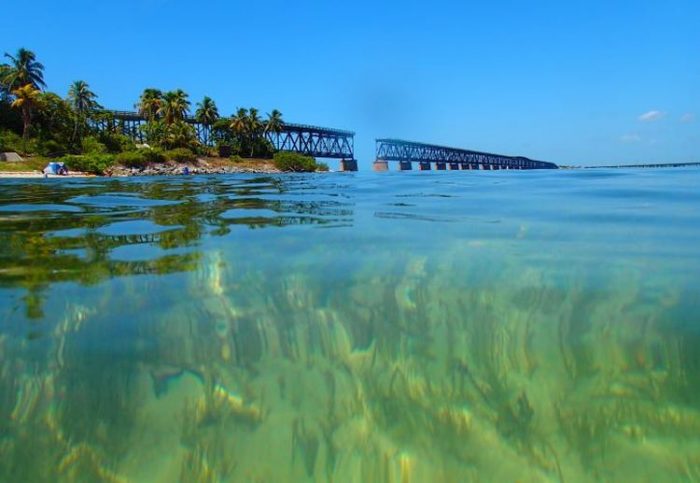 Revel in the breathtaking views of the Florida Keys at Bahia Honda State Park. Sandspur campsites in this tropical paradise offer camping via tents, RVs, and even boats. The boat camping experience is quite an attraction on its own, and all campsites include amenities like water, electricity, and park facilities.
Visitors can also enjoy the park's natural trail, that goes from southwest end of the island in the Calusa area and leads you to the top of the Old Bahia Honda Bridge. Other activities include boating, snorkeling, fishing, scuba diving, swimming, bicycling, and birding.
3. Gamble Rogers Memorial State Recreation Area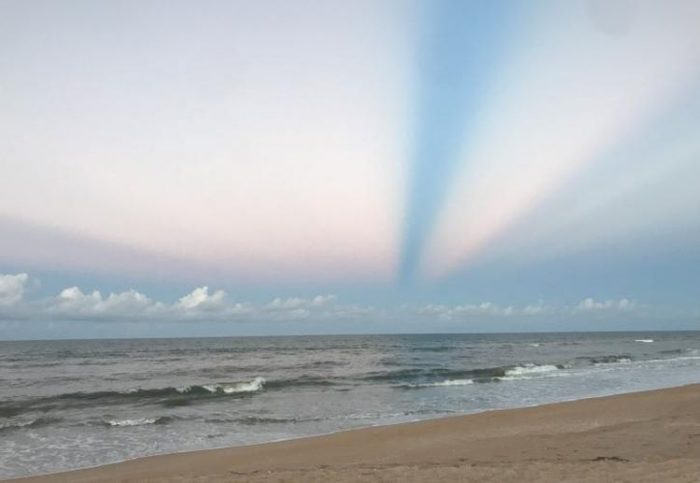 Gamble Rogers Memorial State Recreation Area is a small park located between the Atlantic Ocean and the Intercoastal Waterway. Covering an area of 145 acres, the park offers two campsites has two campgrounds.
One campground is located on the primary dune along the ocean, while the other is placed along the riverside. Each of these has 34 sites that allow tent camping as well as RVs. All sites have water, electricity, a picnic table, and a fire ring.
Activities available include boating, fishing, paddling, hiking, and surfing. Amongst the amenities, a small Bedtime Story Camper Lending Library is notable for offering picture books to kids.
4. Dry Tortugas National Park
Garden Key Campground in the Dry Tortugas National Park offers Florida beach camping like no other. The campground is located along the red walls of the historic Fort Jefferson. Located 70 miles from the shore, the island is accessible via Yankee Freedom Ferry.
The park offers several activities, including snorkeling and birding. Its unique location and history certainly are worth note, and the campsites located far away from civilization offer a unique perspective and view.
5. Cayo Costa State Park
Charlotte Harbor area and Cayo Costa State Park is marked by pristine, untouched beaches. The island park is accessible only by boats and offers Boat Camping as well as primitive camping for visitors. There is no electricity or water for boat camping. Primitive camping sites do have access to potable water and other amenities like picnic tables and ground grill.
Due to its unique location, the park offers a ton of activities. The pristine beaches here are of course the biggest attraction, though visitors can also enjoy boating, fishing, scuba diving, snorkeling, bicycling, and swimming.
6. Fort Pickens Campground
Fort Pickens Campground is one of the two campgrounds managed by Gulf Islands National Seashore. The other campground is located in Mississippi. Fort Pickens Campground is massive and offers around 200 campsites located in loops A through E. All loops offer tent camping, and some offer RV camping as well.
This developed campground has access to several amenities. All loops except D have electrical hookups. Campsites are well-located and offer easy access to the beach. The historic Fort Pickens, which gives the campground its name can also be explored.
7. Henderson Beach State Park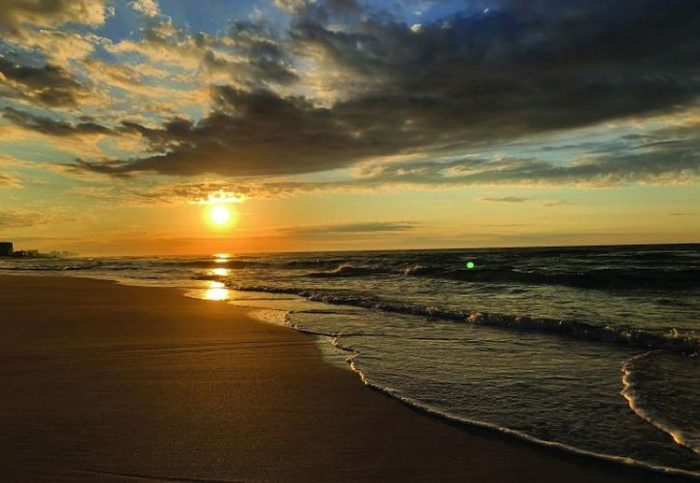 Located along a beautiful shoreline and great views, Henderson Beach State Park is a very popular destination. The white sand beaches and great weather are recommendations enough for this park. All campsites can accommodate tents and RVs, and have access to electricity, water, picnic tables, ground grills, and clothesline posts.
Apart from camping, this park is also a popular destination for events and celebrations, including weddings and family reunions.
Activities popular at the park include fishing, swimming, hiking, wildlife viewing, and bicycling.
8. Biscayne National Park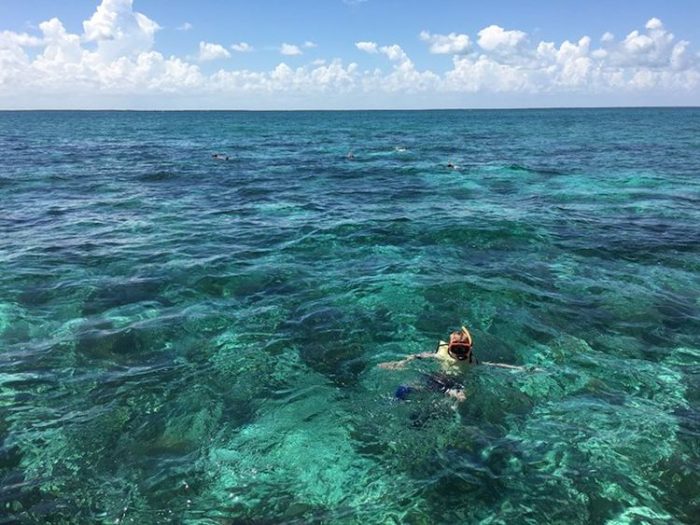 The beautiful Biscayne National Park is rich in natural beauty and activities for visitors. Biscayne is home to several species, including many threatened and endangered species. Its natural wonders are amazing, and yet it is only a small distance away from downtown Miami!
Camping is available at several areas in the park, the popular ones being Elliot Key and Boca Chita Key. Both these campgrounds are accessible via boats, and offer amazing views of the bay, ocean, and Miami skyline.
RV Parks In Florida For Camping
1. Boyd's Key West Campground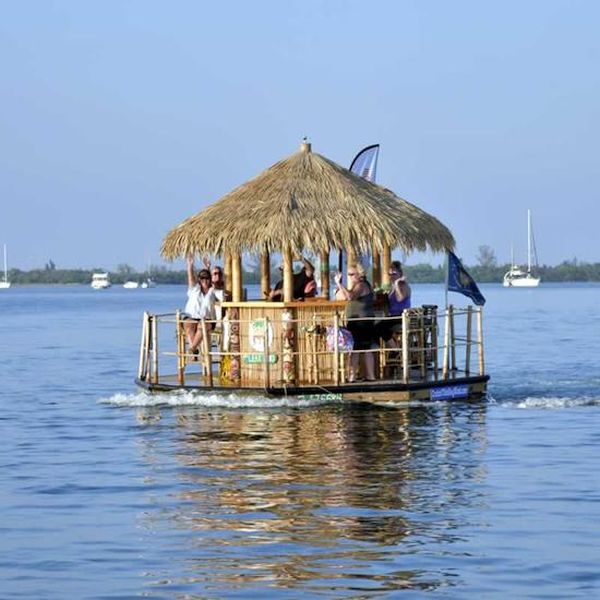 The southernmost campground in the continental US, Boyd's Key West Campground offers oceanfront RV camping with many amenities. Most campgrounds offer full hookup with water, sewer, and electricity. Other amenities like cable TV, picnic table, and concrete patio are also available.
Most campsites have an amazing view of the waterfront, and visitors have access to several water-based activities like boating. The campground also counts a swimming pool, boat ramps, and game room amongst the many amenities and services on offer.
2. Bluewater Key RV Resort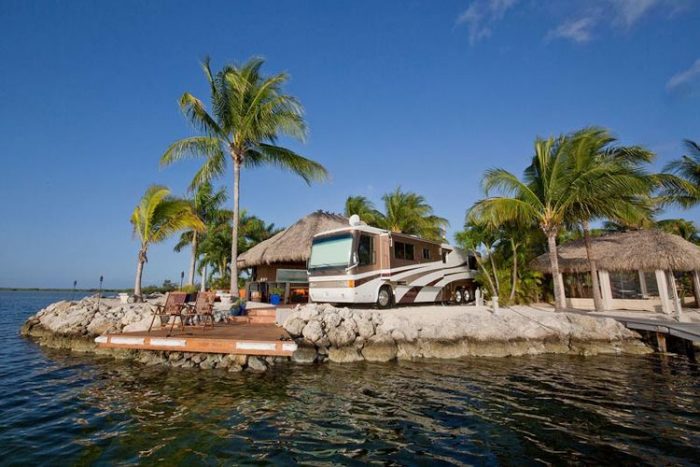 Blue waters at the Bluewater Key RV Resort are an amazing sight to behold. There is an unmistakable touch of luxury at this RV Resort, and it flaunts its unique offering. The individually-owned, landscaped, and spacious lots don't just offer room for an RV, but also include a Tiki Hut.
There is no dearth of amenities in this resort, and visitors have access to laundry, clubhouse, and freshwater pool. Community docs with rentable boat slips, basic Wifi, HD cable TV, and a golf course are other notable offerings.
3. Grassy Key RV Park and Resort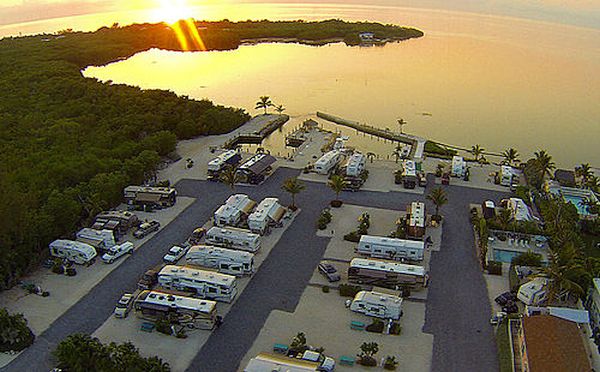 Located in Marathon and overlooking amazing views of the gulf, Grassy Key RV Park and Resort is an amazing destination for RVs. The resort can handle recreational vehicles and motor coaches of all sizes. Indeed, its campsites are designed with big rigs in mind.
As you enjoy the gravel lots with picnic tables, you also have access to amenities like laundry, clubhouse, boat basins, cable TV, and free basic wi-fi. All sites have full-hookups and offer water, electricity, and sewer connectivity.
4. Kings Kamp RV Park and Marina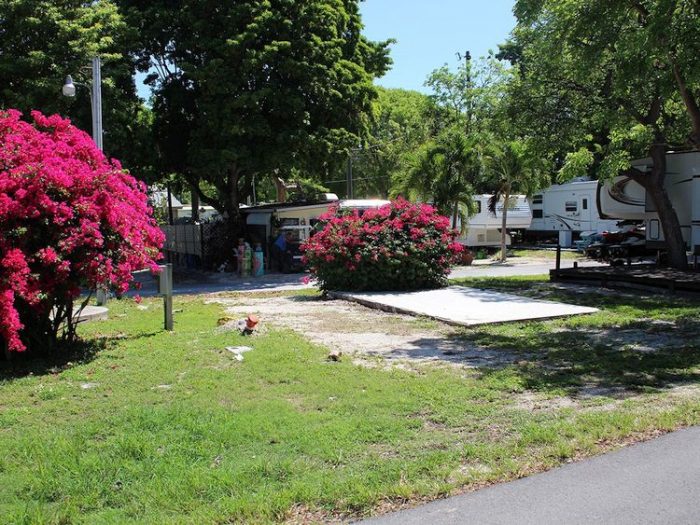 Kings Kamp is a location built for holidays. It offers accommodation for RVs, tents, motel, house cottage, and even yacht mooring. There's plenty to do here as the park's strategic location allows access to John Pennekamp Coral Reef State Park and the Key Largo Hammock Botanical State Park.
Apart from the views and activities of these state parks, the Kings Kamp itself is an excellent site to enjoy. You get amazing views and an idyllic scenery. Sites at the park can accommodate RVs up to 40 feet, and offer full hookup including water, electricity, and sewer. Cable TV and free wi-fi are also available.
5. Florida Caverns State Park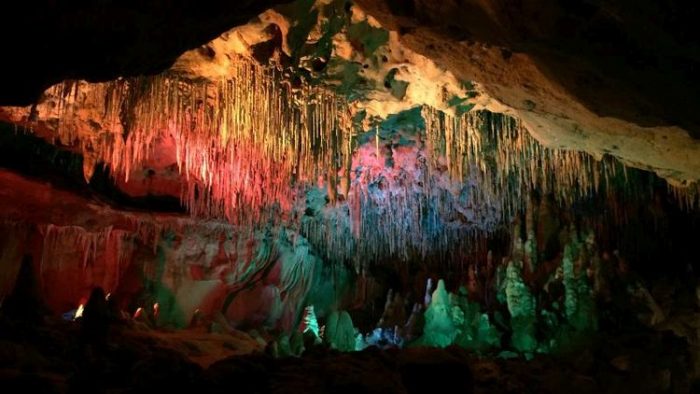 Florida Caverns State Park is one of the more unique locations, simply by virtue of the main attraction being the park's limestone caves. Sprawling across 1,319-acres, the park offers several sites for RV and tent camping.
While exploring the caves is certainly the main attraction here, visitors can also enjoy other activities like horseback riding, paddling, bicycling, and boating. Guided tours through the cave passageways offer another amazing and unique activity.
6. St. Lucie Campground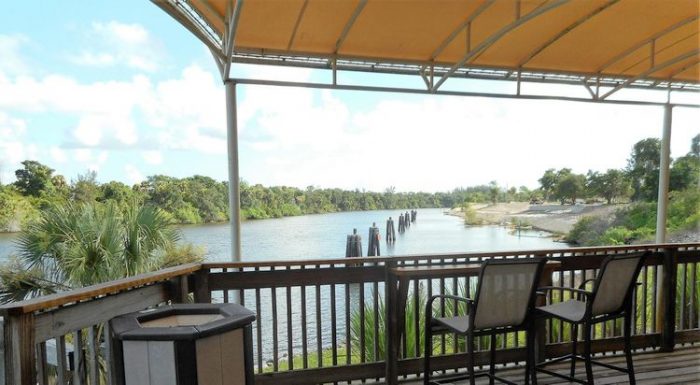 Located along the St. Lucie Canal, the waterfront RV sites offered at this campground are quite a joy to behold. The campground offers waterfront sites for RVs and tents, and cruiser sites for boat campers. All RV sites have electric and water hookups. Other amenities include a visitor center, picnic shelter, and playground.
The proximity of this campground to Hobe Sound National Wildlife Refuge is a plus for its location. St. Lucie Campground is 25 miles from the second largest freshwater lake in the United States, Lake Okeechobee. The lake is a popular attraction. It sprawls across 451,000 acres, but is just 9-feet deep on average!
7. Oscar Scherer State Park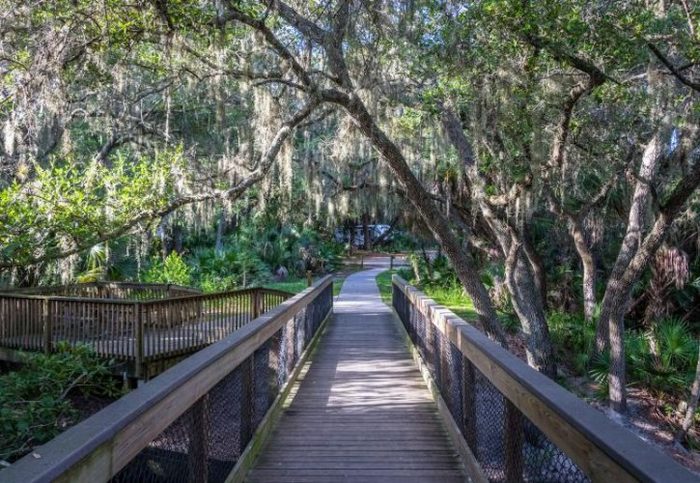 Oscar Scherer State Park is a very popular destination for wildlife lovers. Surrounded by major highways and housing development, the park plays an important role in preserving the habitat for the Florida scrub-jay. It is also home to another important species, the Bald Eagle.
Hikers and bicyclists can enjoy the 15-miles of trail available at this park. The three-acre Lake Osprey presents opportunities for boating, paddling, fishing, and snorkeling.
The campgrounds here offer sites for tents and RVs. Each RV site is equipped with electric and water-hookups. All sites also have picnic tables and grills. The maximum RV length each site can accommodate is 36 feet.
8. Fiesta Key RV Resort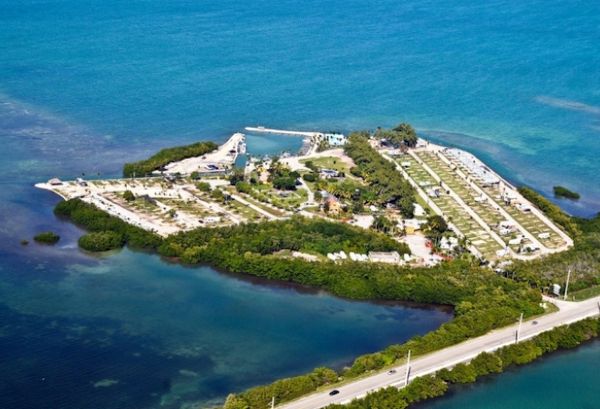 Fiesta Key RV Resort offers tent camping and RV camping. The waterfront sites overlook the Gulf of Mexico and have stunning views. Located along 28-acres of tropical waterfront, this resort is practically an island of its own. Amenities available at the resort include on-site restaurant, beach bar, free WiFi hotspots, pool, and a spa, to mention a few.
9. Disney's Fort Wilderness Resort, Orlando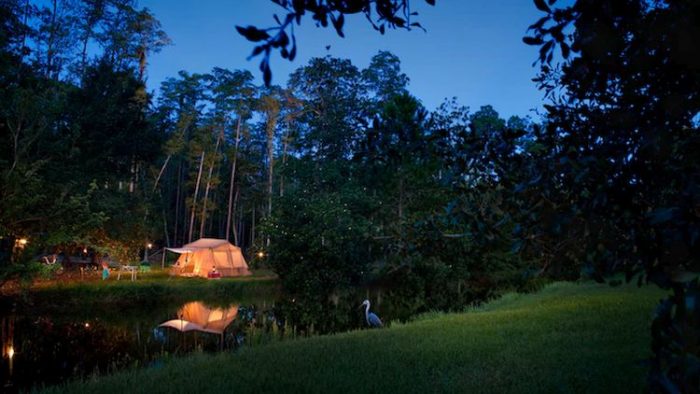 Fort Wilderness Resort in Disney Orlando is spread across 750 acres and has room for tent and RV camping. The magic of Disney is visible in the well-maintained campgrounds, fireworks shows, and of course, easy access to the magic kingdom!
The pine and cypress forest has four types of campsites. RV camping locations here can accommodate a maximum RV size of 45-feet. The campground has access to woodland trails, pool areas, and water slides. Animals like armadillos, rabbits, ducks, and deer roam the grounds and create a more lively environment for this resort. Recreation activities include archery, horseback riding and canoeing, amongst several others.
Picking Your Destination Of Choice
There are a plethora of options for best camping in Florida. The state has amazing and rich campgrounds spread across its beaches, forests, and unique geographic features. Modern, full-service campsites, as well as primitive locations that are far away from civilization, are both available for the enjoyment of campers. All you have to do is pick a spot, and this list will help narrow down the choices.