Wisconsin has been blessed with great natural beauty, and campers get to enjoy it at its pristine best. The state bordered by Lake Superior, Lake Michigan, the Mississippi River, and Chequamegon-Nicolet National Forest has a great deal to offer for camping. There is no dearth of camping location and sites in Wisconsin. We look at 24 locations that offer the best camping in Wisconsin.
Wisconsin State Park Camping Locations
1. Wyalusing State Park

Located at the meeting point of the Mississippi and Wisconsin rivers, Wyalusing State Park has amazing views and fun activities to offer. Bluffs rising 500 feet above the rivers offer an amazing view. You can even pitch your tent at these bluffs! Talk about a great view greeting you the moment you open the tent door.
Camping enthusiasts can find joy in hiking the many trails of this state park. And given the location, there's also the lure of fishing, boating, and kayaking. This confluence of rivers offers a lot of activities on the water. The land too is rich in views and activities.
Some cabins are available in Wyalusing State Park, for those who wish for a slightly different experience. Only one of the cabins has electricity, so you will still be plenty close to traditional camping ways.
2. Governor Dodge State Park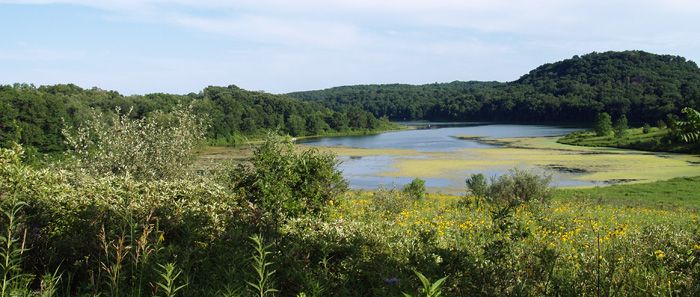 Located about 48 miles west of Madison, Governor Dodge State Park is one of the biggest state parks in Wisconsin. Within the bound of 5350 acres, the park offers something for everyone. There are camping sites for backpackers, groups, RVs, and equestrian sites as well.
The two lakes within the park offer opportunities for swimming, boating, and kayaking. Just be sure you get your fishing and hunting license. There is plenty to do for giving your horse some exercise and exploring the park. Steep and rising bluffs and the trails attract backpackers and hikers. A waterfall can be seen right at the beginning of one of these trails, setting the mood just right for a rewarding hike.
3. Devil's Lake State Park
Devil's Lake State Park is located just 3 miles south of Baraboo. As the largest and most visited state park in Wisconsin, the park offers plenty of activities. The lake itself is just 360 acres in the vast park, but it offers the largest set of activities. It's sandy beaches of this top rated park certainly are a bonus for those camping in the summer.
There are several campsites in this park, though most of them are near the lake. You can go fishing, kayaking, boating, canoeing, and more! If you're not in the mood for water activities, there are several amazing trails to explore, and high quartzite bluffs to get panoramic views. Hunting and fishing licenses will be needed.
4. Mirror Lake State Park Camping
Mirror Lake State Park camping is great for some peace and quiet. The lake from which the park gets its name is obviously the major attraction here. There are two campsites, located close to each other and the lake. RVs, tents, and group campers can all get suitable accommodation at these sites.
At the lake, visitors can enjoy boating, kayaking, canoeing, fishing, and some other activities. This is a no-wake zone, so boats with engines are not allowed on the lake. Your time there won't be interrupted by loud roars of engines on the water.
There are several trails to enjoy as well. Mirror Lake is surrounded by ancient rock formations that are a wonder to behold and a pleasure for hiking and backpacking. These natural surroundings of the lake prevent strong gusts of wind from reaching the lake. The calm and placid deep blue waters of the lake look especially inviting.
5. Harrington Beach State Park

This park is located a small distance from Milwaukee at the shores of Lake Michigan. Harrington Beach State Park campground has room for RVs, tents, and several group camping sites. Plenty of picnic sites are sprinkled across the landscape. Visitors can enjoy the beauty of Lake Michigan and its marvelous sunrises.
There's room for fishing, boating, and several trails for hiking and backpacking. The mile-long sandy beach and the scenic quarry lake are other attractions. An observatory in the park is great for those who enjoy astronomy.
6. Rock Island State Park – Washington Island

Rock Island State Park is a great experience, and that is foreshadowed by the journey it takes to reach this park. The first leg of your journey will be a ferry ride from Door County to Washington Island. You can bring your vehicle along on this ferry, though it will have to be left behind on Washington Island.
Another ferry ride from Washington Island takes visitors to the Rock Island State Park. There are plenty of stone buildings on this island, built by an investor who used to own the island. Many of these cabins can be booked as well.
There are two campsites here. One for backpackers that faces Lake Michigan. The other looks at Green Bay and includes sites for backpackers as well as group camping locations. Swimming and fishing opportunities are available.
7. Big Bay State Park
Located on Madeline Island, Big Bay State Park is located on the northernmost reaches of Wyoming. The park has great views of Lake Superior and offers swimming and fishing. There are boating opportunities as well, but boats must be launched from outside the park as there are no launching facilities at the park.
You can enjoy 1.5 miles of sandy beaches and 1.3 miles of boardwalk in this park. The park includes family campgrounds, group camping areas, and several picnic areas.
National Forest In Wisconsin And Parks
1. Saint Croix National Scenic Riverway (National Park)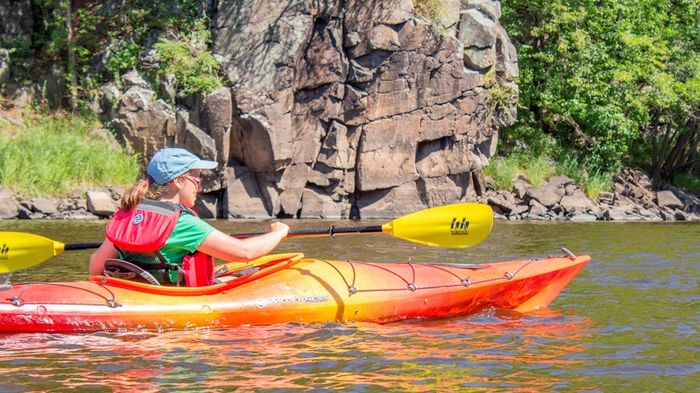 This park covers a 212-mile stretch that forms a border between Wisconsin and Minnesota. Saint Croix National Scenic Riverway is a great spot for paddling, boating, and fishing. Some people even hike along the rivers and enjoy the scenic views.
Pristine waters of the St. Croix and Namekagon rivers will keep you company along this park. This is a beautiful out-of-the-way spot for camping and vacation. There are some camping spots, sites, and cabins available at various spots along the park. You can also pick your own location to pitch your tent.
2. Chequamegon National Forest
Chequamegon-Nicolet National Forest is spread over 1.5 million acres. This land is used for several purposes, including campgrounds. Those out camping can choose from the most common options including RV camping, group camping, cabins, campgrounds, and dispersed camping. Several locations cater to each of these options – which makes sense considering the area of the park!
The massive area offers a lot for hiking – there are 800 miles of trails in this national forest! You can also enjoy biking, fishing, and offroading. A taste of history is seen in the giant quartz deposits that were discovered by Native Americans several centuries ago.
Door County Campgrounds
1. Peninsula State Park
Door County, Wisconsin is the doorway to several amazing camping locations in the state. Door County campgrounds are beautiful, like the Rock Island State Park already mentioned above. But there's more to see! Peninsula State Park covers 4000 acres and offers over 450 campsites.
An amazing family camping site, the park offers activities and entertainment that include summer theater, golf course, sand beach, and an old lighthouse. Conventional camping activities are available too. There's hiking, fishing, swimming, and boating to enjoy.
2. Egg Harbor Campground & RV Resort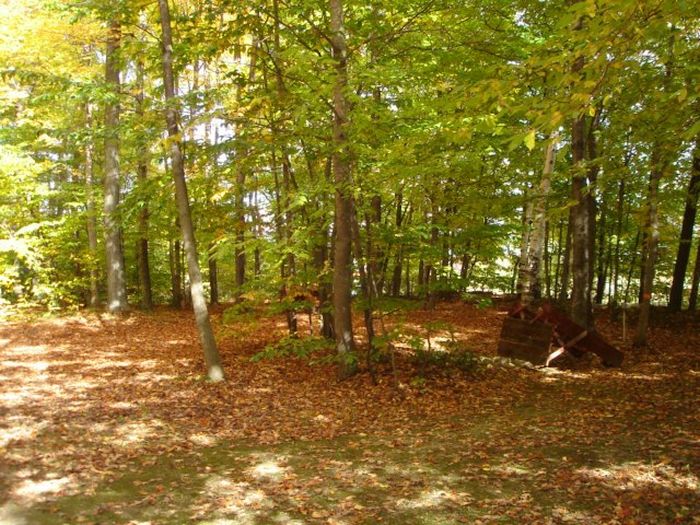 One of the best family campgrounds in Wisconsin, Egg Harbor Campground & RV Resort has plenty of camping activities as well as recreation for kids. Some activities here are game room, volleyball court, swimming pool, and a playground area.
Located in the famous and historic Door County, includes cabins, RV sites, and campgrounds. You can also indulge in art galleries, winery tours, and golf courses.
3. Rustic Timbers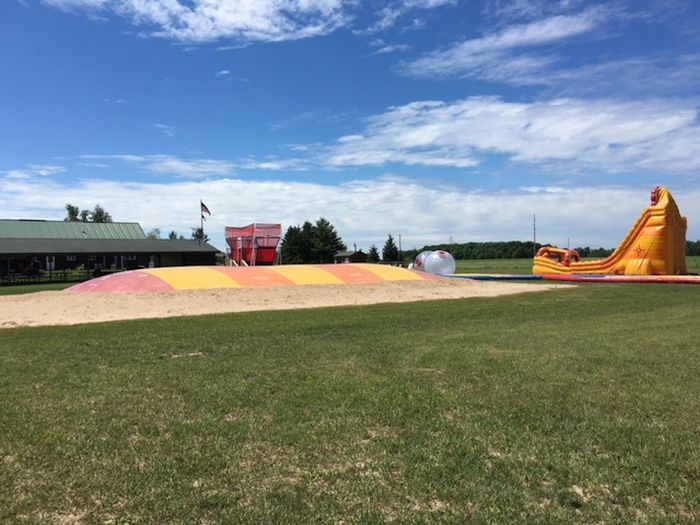 Located in Door County at a small distance from Egg Harbor, Rustic Timbers has a lot of fun activities for adults and children. Kids will appreciate the water slide, obstacle courses, peddle carts, and trampoline. You can also launch a boat to enjoy Lake Michigan and revel in other water activities.
Campgrounds here are good for tents as well as RVs. Customers can also choose cabins for their stay. The 160 acre property also includes wonderful wooded locations that are a pleasure to behold.
Other Amazing Locations For Family And Campsite Vacations
1. Wisconsin Riverside Resort
Located very close to the famous Governor Dodge State Park, the Wisconsin Riverside Resort is an excellent private campground for RVs. It includes a campground and rustic parking sites, but the RV sites that overlook the Wisconsin River take the cake.
Visitors at the resort can also enjoy canoe, tube, and Kayak trips on the Wisconsin River. Other things to look forward to include cabins, mini golf, live weekend entertainment on river stage, 3000 gallon fish tank, and a lot more!
2. Smokey Hallow Campground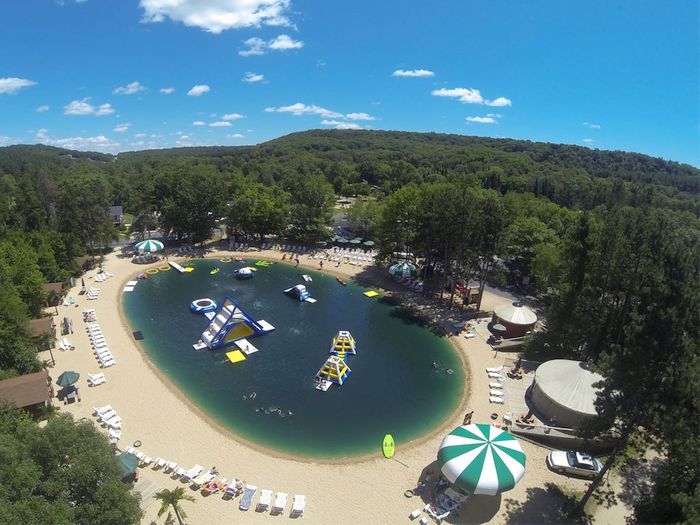 Located in Lodi, the Smokey Hallow Campground is all about family fun. There are several fun and creative activities for the whole family, and the kids and the adults will enjoy themselves thoroughly. There's a good mix of free and paid activities so you don't have to reach into your pocket every time you see something interesting.
Firetruck water fights, dance parties, inflatables, sundae bars, and great dining, they've got it all. And yes, the few things I've listed here aren't even close to the full range of activities they offer. It's a fun place with a lot to do.
3. Holiday Shores Resort
Located along the Wisconsin River, the Holiday Shores Resort offers a lot of water-based fun and activities. It has an excellent location, and the resort uses it magnificently. There can be no complaints about the beautiful sandy beach, which also includes inflatables and swimming areas. In the resort, you'll also find a heated pool, gaming arcade, drive-in movie theater, etc.
Since it is located on the waterfront, the resort offers a ton of activities related to water and the Wisconsin River. You can enjoy the Wisconsin Dells, and take a closer trip to the river with their watercraft rentals. Boats available in the inventory include pontoons, paddle boats, paddleboards, jet skis, and ski boats.
For accommodation, the resort offers cabins, regular campsites, and RV sites. Everything is made far more interesting and fun. Apart from the several included facilities, the campsites also offer a well-planned event calendar.
4. Buckhorn State Park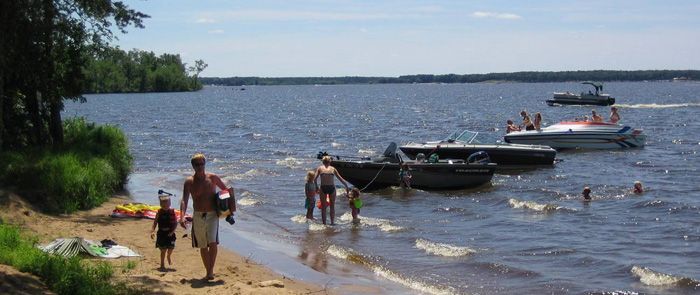 Love water activities? You'll love Buckhorn State Park. Located on the Castle Rock Lake, the park is full of people who take to the water on boats, pontoons, and skis. The park is spread over more than 8,000 acres and includes several sites for group camping, backpacking, and family camping.
Most of these campsites are located along the Wisconsin River, which is the chief attraction here. Castle Rock, which used to be an island in prehistoric times is a nice site to see and enjoy as well. Although, most of the things in this park are about the river.
There are several trails for hiking as well, and the views are nice. However, it is the boating and pontooning that are the highlights here. Going along the river, watching the glorious sites of the Buckhorn State Park is an experience unto itself.
Even though we'd like there to be plenty more free camping in Wisconsin, the park requires fees for vehicle admission and camping. If you intend to spend time hunting or fishing, you will need a license as well. The good part is, the fee is mostly nominal and is used for the upkeep and maintenance of this park. Wisconsin uses a similar system for many State Parks.
5. High Cliff State Park
High Cliff State Park was named so creatively because, well, it is located on a high cliff! Or more specifically, the limestone cliffs of the Niagara Escarpment are what give this park its name. Located along Lake Winnebago, the contrast of the high cliffs and the lake creates quite an amazing view to enjoy at this state park.
The combination of massive limestone cliffs overlooking Wisconsin's largest inland lake creates a lot of possibilities for activities. You can enjoy hiking, fishing, swimming, backpacking, boating, and horse riding in this park. The large marina offers plenty of watercrafts to enjoy your stay and explore the park. A public golf course near the park increases the range of activities and entertainment available.
Family and group campgrounds are located near the lake, and the area has several picnic shelters as well. Easy access cabins are available to those with disabilities. A prominent feature is the 12-foot statue of Winnebago Indian Chief Red Bird. The statue is placed on some granite and overlooks the lake.
6. Whistle Stop Campground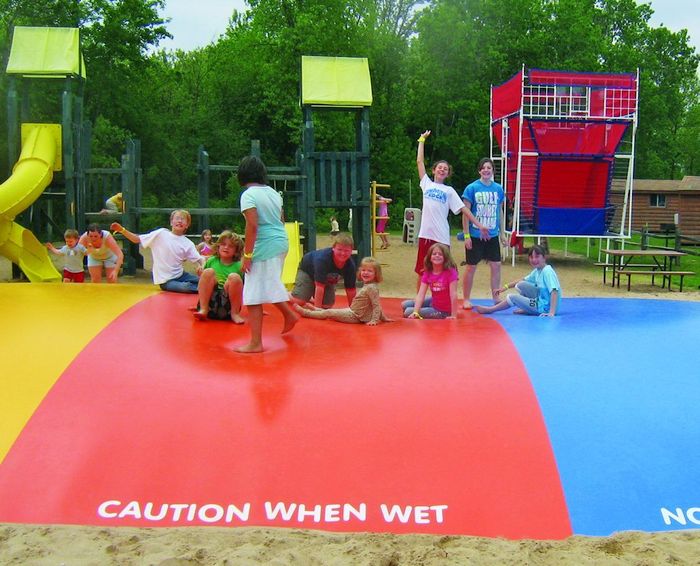 This is a relatively new campground that has been around for barely two years now. What the Whistle Stop Campground lacks in age, it makes up in activities and services on offer. In terms of accommodation, the campground offers tent sites, group tent sites, and RV sites. Many of these sites have full hookup and are very well situated.
Several of the campsites are large enough for placing a 12-person tent or bigger. If you prefer, you can stay in the available cabins as well, many of which can be used by 10-12 people, thus being ideal for groups.
There are a lot of features and activities to enjoy here. One unique service or activity that definitely deserves mention is a little train. This train takes guests from the campground to Little Amerricka, a small but fun-filled amusement park. An amusement park in my camping trip? Heck, yeah! Children certainly are going to love it, and adults love an amusement park just as much!
Other things to look forward to include an interesting event calendar, swimming pool with water toys, playground, volleyball, water wars games, and a lot more. There is no dearth of activity or fun at this campground.
7. Black River State Forest
Easy to access and with several activities, the Black River State Forest is a great place for your camping vacation. This state park has several campgrounds, including three family campgrounds and two group camps.
The activities here include hunting, skiing, off-roading (ATV), hiking, and backpacking. Black River state forest puts restrictions on moving firewood. This is important and helpful in helping the forest and the environment, since moving wood can inadvertently cause transmission of tree pests and diseases to a different area.
You can enjoy your time in a primitive off-site campsite, or allow yourself some luxury with modern camping amenities that include bathrooms and showers. When you've been on the trail for a while, showers and good bathrooms look exactly what you want to rest and relax.
8. Gordon Dam County Park
Gordon Dam County Park is located along the St. Croix Flowage, and enjoys an amazing waterfront view. The water shore is lined by thick lines of trees that take on a colorful and amazing appearance in autumn.
The park is located in Douglas County and includes 33 camping sites, 12 of which have electric hookup. Though it covers a relatively small area, the park does have a ton of activities and features to enjoy. Since it is located right next to a water body, it allows visitors to swim, fish, and boat in the waters. There is a decent range of tracks available, and make hiking and camping more fun.
Though there are several activities to enjoy, I also find sitting by the water and watching the trees to be a calming, almost cathartic exercise. There's also a "watchable wildlife" area that highlights local fauna that resides in this county park.
While it does not offer any over the top services, the location and beauty of this park are a draw by themselves.
9. Kickapoo Valley Reserve
The beautiful and colorful Kickapoo Valley Reserve benefits greatly from being situated along the Kickapoo River. There are several camping options and grounds available on this reserve. What is interesting and fun is the location of campsites within this reserve.
The locations are dispersed throughout the reserve and are suited for various activities or groups. While practically all of these are primitive camping facilities, some are accessible by means of a vehicle. Others require a little more work. Some sites can only be accessed by a canoe, while others will need you to hike before they can be reached.
Activities you pick at the reserve will obviously depend on the campsite you choose. Or, you could say the activities you prefer will choose the campsite for you! While this is true in some degree for every campground, it is more relevant here considering the accessibility of these campsites.
Some of the popular activities in the Kickapoo Valley Reserve include hiking, biking and horseback riding. Hunting, fishing, and trapping are other activities to consider. The view here is wonderful, and is a driving force behind the reserve being a popular social spot. You can book this as a site for weddings, family reunions, birthday parties, and other ceremonies.
10. Ice Age Trail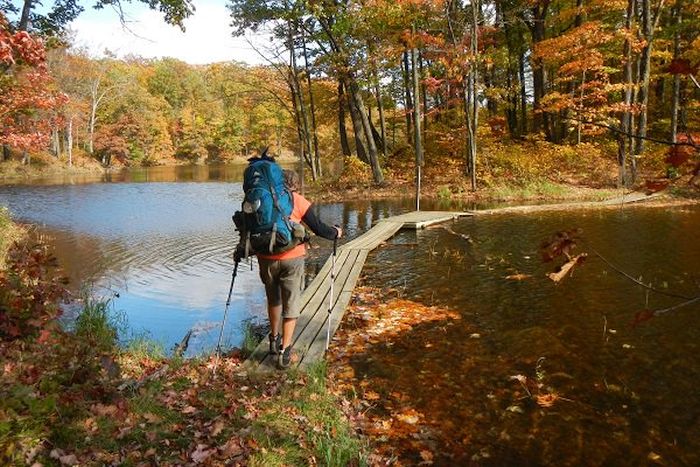 A treat for the primitive camper and a walk along history, the Ice Age Trail is a 600 miles (out of a planned 1200 mile) trek in Wisconsin. Designated as a National Scenic Trail, the route largely moves along the terminal moraine from the last Ice Age.
Hikers on this trail enjoy pristine wilderness, and will get the pleasure to see several lakes that come along the path. The trail goes through several The trail covers a good part of Wisconsin and goes through several state parks. A thru-hiker can, therefore enjoy the wonders and views of several amazing locations in Wisconsin.
There are plenty of hunting and fishing opportunities on this trail. Though a hiker must, of course, be careful of the weight and food they carry. Increasingly popular, this is one of the best locations for free camping in Wisconsin. Ice Age Trail may not be as popular as other National Scenic Trails like the Appalachian Trail, but it is rising fast in popularity.
Enjoying Opportunities For Camping In Wisconsin
Its pristine natural beauty naturally attracts people for experiencing best camping in Wisconsin. The wealth of state parks, national forests, and private camping sites not only offer a variety of choices, but also a range of activities. There is something amazing in here for campers, whether they prefer to go primitive, or if they enjoy some luxury. Since there are 15000 lakes here, and the great lakes are neighbors of Wisconsin, a lot of camping sites have water-based activities. Yet, there are amazing trails for hiking and enjoying yourselves.