Sacramento is known for a lot of things, ranging from technology to legislation, and the good ol' gold rush. However, in these considerations, people often forget one amazing thing about Sacramento – it is very close to beautiful, natural sites that are great for camping. With that in mind, we'll look at amazing sites for camping near Sacramento. Be prepared to be surprised and to enjoy these recommendations!
10 Camping Sites Near Sacramento That Are Totally Worth It
1. Lake Tahoe KOA
Though a small distance from Sacramento, Lake Tahoe KOA is an amazing site for camping. Pros and beginners alike will find this location amazing. Heck, you could even come here with the kids and everyone would have a great time.
Located about four miles from Lake Tahoe, this location offers amazing possibilities. You'll find everything from primitive camping with no amenities to hotel rooms that offer every creature comfort human civilization has created.
Conventional activities here include fishing, boating, kayaking, swimming, and jet skiing. If you do not want to spend all your time around water-based activities, you can spend your time exploring several trails along this area. Exploring the pine trees and enjoying the trail will certainly add more fun to your trip. There is no dearth of activities or fun near this area. You will even find parasailing, hot air ballooning, and horse riding within short distances.
Of course, not everyone is built for roughing it out in the great outdoors. If you feel camping by the river is not for you (or are simply angling for a comfortable night stay), you can use several hotels available in this area. The luxuries on offer here include golf courses and casinos.
2. Irish Creek
There are no bells and whistles for camping at Irish Creek. The biggest thing on offer here is great scenery mixed with some peace and quiet. These campgrounds are located near the El Dorado Forest. It uses its location for its best, using the hills and ponds in the area to create a site that is extremely pleasing to the eyes. If tent camping is what captures your interest, this is one of the most lush sites you can find near Sacramento.
Unlike the Lake Tahoe KOA we mentioned above, there isn't a long list of activities to do at Irish Creek. Instead, you will be enjoying the more traditional setup where hiking, biking, and camping are the easiest available activities.
This area also carries marks of history as one of the notable places during the Gold Rush. While the gold rush and the importance of the Irish Creek are both in the past, it remains welcoming to visitors who arrive here to camp. Or those who come to relive the glory of the old days of the gold rush!
3. Ponderosa RV Campground – Sacramento RV Parks
As the heading says, the Ponderosa RV Campground is one of the better-known RV parks near Sacramento. However, the park offers services beyond RVs and you can enjoy conventional tent camping in this park. Those looking for a touch of luxury can get themselves a cabin.
As such, the Ponderosa behaves like most campgrounds, and offers a ton of amenities and activities to its visitors. Its location in the foothills of the Sierras is well-suited for many activities. The most popular one is white water rafting, for which this park is pretty famous, and is one of the biggest draws to this park. Other water-related activities are fairly popular too, and you can see people enjoying kayaking or fishing.
The campground also offers some traditional activities like camp games and swimming pool. If that doesn't cut it for you, you can head on to the surroundings and enjoy wineries, golf, and casinos. Skiing is an option too!
4. Cal Expo RV Park
Cal Expo RV Park is located very close to Sacramento. In fact, it is located very near the Cal Expo Center that hosts several important events every year, including the California State Fair. As such, the park is good not just for camping, but also for attending the numerous events that take place at the Expo Center.
The RV Park offers conventional facilities including electric hookup, pools, and showers. Being near, or rather, practically in Sacramento also offers this RV park a unique access to the city's restaurants, malls, and other facilities. It is also remarkably close to American River Bike Trail, championship golf courses, fishing, rafting, and bird watching facilities.
It is something like offering the best of both worlds. A nice and quiet campground, and yet very much in reach of major cultural and commercial centers of the city. Other facilities offered by the Cal Expo RV Park include free Wi-Fi, laundry, and recreational trails.
5. Imperial Manor MHC
Offering a somewhat interesting outlook, the Imperial Manor MHC (55+) targets visitors that are at least 55 years of age. While short stays are available, the park encourages those who intend to stay around for longer stays. The idea is to allow the seniors to see and explore Sacramento at a leisurely pace.
The park is well-maintained and reasonably priced. It offers full hookup to 30 RV sites, and includes extra amenities like laundry and a pool. With a location that is near most of the local attractions, it attracts a fair share of tourists and long-term guests. This RV park is within a reasonable distance from Historic Old Sacramento, McKinley Park & Rose Garden, and the Crocker Art Museum.
6. Pamsterdam
Pamsterdam is a very well-kept property that is placed at a convenient distance from Sacramento. Like some other entries on this list, this isn't just your average campground. Pamsterdam does offer the peace and quiet one expects from a campground, but it also offers a whole lot more.
To start, there are several conventional features of a campground that are made available to visitors. These include kayaking, fishing, and birdwatching.
This is also the part where it takes a slight departure from conventional campgrounds. Pamsterdam has solar power generators placed at several locations throughout the grounds, and uses the power to provide services to its patrons. Apart from the aforementioned kayaking and fishing, users can also enjoy wine tasting, check out the art studio on the location, and even go for skydiving!
As a trendy new campsite/ campground in the Californian prairie, Pamsterdam is doing very well. And its innovation in some directions (like solar panels) will hopefully soon find its way to campgrounds around the county.
7. Sly Park Recreation Area
Sly Park Recreation Area is a more "traditional" campground near Sacramento. Located at a reasonable distance from Sacramento, the Sly Park gives viewers access to, and a great view of the Jenkinson Lake. Its conventional styling also makes it one of the most visited parks near Sacramento.
Jenkinson Lake provides visitors with a full suite of activities to enjoy. There's water sports, kayaking, canoeing, boating, and others. There is a wide range of campsites available, going from regular and ADA sites to larger family sites. Pinecone sites that are placed mere feet from the lake and have an excellent view.
8. Folsom Lake SRA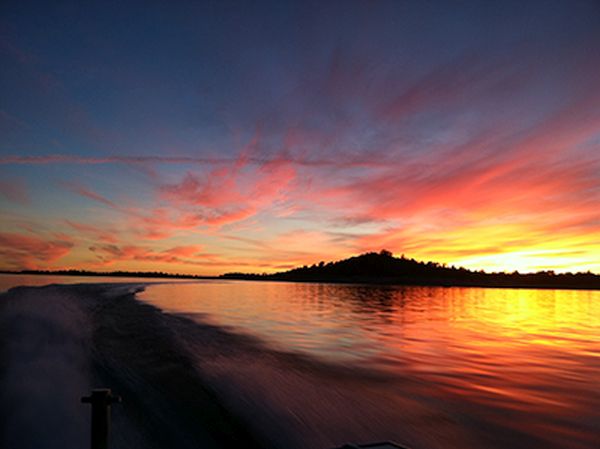 Folsom Lake SRA is located at the foothills of the Sierra Nevada mountains. As an RV camping site, it can hold 69 RVs, and offer full hookups and showers. You could even get a big rig into this RV park! This RV camping site is located just 25 miles from Sacramento, and provides an excellent camping location for RVs.
Since it is located by the Folsom Lake, the camping area offers several water-based activities. Fishing, water-skiing, and boating are the most popular facilities that are accessed in the park. Visitors can also enjoy several trails that benefit from the park's location at the Sierra Nevada foothills. Horseback riding is another fairly popular facility that can be availed at the Folsom Lake SRA.
9. Coloma Resort
Coloma Resort is a camping site that keeps its patrons in relative luxury. There are several campsites available at this resort, and all you have to do is make your choice. You could go the conventional route and pitch up your own tent, get an RV, or just rent one of the several cabins that have been built here.
Amenities available at the resort include free Wifi, ziplining, a swimming pool, and a climbing wall. As you can guess, most of these amenities will be absolutely loved by kids! For those who are looking for a little extra, the location of the resort brings in some fun.
Coloma Resort is built right next to a river. This location allows some of the classic activities like swimming and fishing. However, those who want to get their adrenaline pumping can try white water rafting as well. It is a short distance from the Resort, and is very enjoyable and fun.
10. Vineyard RV Park
Located very strategically, the Vineyard RV Park is at a 30-minute drive from Sacramento and very close to San Francisco. It is also very close to other attractions like the Six Flags Discovery Kingdom and the Benicia Historical Museum.
Not only is it strategically located, this large park offers several interesting features. Visitors have access to Wi-Fi, playground, and laundry services. There is room for 174 RVs in this park, with full hookup, big rig access, showers, and cell reception.
The biggest selling point of park is its location in proximity to major cities and entertainment centers. There is very little that the Vineyard RV park offers by itself in terms of activities and fun. Vineyard RV Park is also great for Napa Valley tours, since the location is close to the starting point of Napa Walking tours.
Where To Go Camping Near Sacramento
There are some amazing locations for camping near Sacramento. Many of these offer some great amenities, and their location is amazing for several activities. However, given the location and importance of Sacramento, many campsites near Sacramento also serve the purpose of allowing tourists and campers easier access to Sacramento, its malls, and its heritage.