Under Armour is best known for its apparel, but its offering of boots is increasingly gaining traction. These have turned out to be amazing and comfortable boots that are sought after by many people in active roles. People who love the outdoors to those who work for the police, fire department, and military – all have good things to say about these shoes. Our Under Armour boots reviews will focus on the popular offering, the Valsetz Tactical Boots.
Under Armour Valsetz RTS Pros And Cons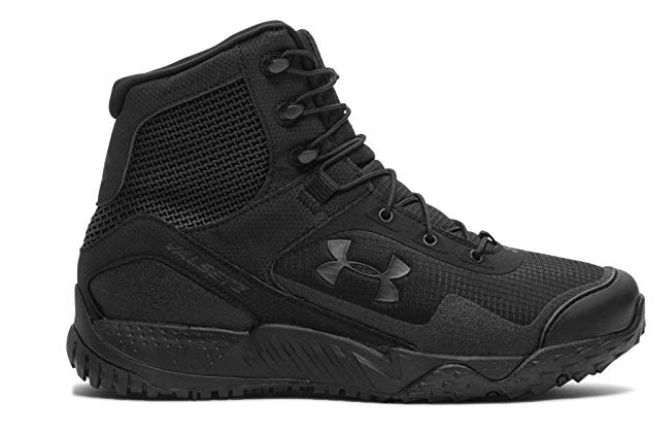 Pros
Excellent comfort
Fairly resistant to weather conditions
Good ankle support
Good fitting
Feel lightweight
Cons
Questionable durability
Low value for money
Under Armour Valsetz RTS Reviews
Appearance And Design
There are no faults to be found with Under Armour where the looks and feel of these boots is concerned. The boots are available for both genders, the most noticeable difference being the size. Other than that, there is little by way of differences between boots for either gender.
The boots are fairly well constructed, and look capable of handling demanding situations. Their appearance is unassuming, yet dignified, lending credence to the brand and the asking price. Available color options include Black, Coyote Brown, Desert Sand, and Ridge Reaper Barren.
These boots are fashionable and tactical. You can expect them to work very well under several conditions. They're good on a sidewalk, they're as good on a trail. This is one of the reasons these shoes so often show up with people who have demanding jobs and need great shoes.
Construction Of The Valsetz Tactical Boots
Under Armour Valsetz RTS boots are built to be reliable and comfortable. The boots are made entirely from synthetic materials. For many of us, that's quite a surprise, since some leather is expected to be present in tactical boots. Under Armour shows that belief is a myth.
The synthetic materials work incredibly well, and indeed, you end up seeing and admiring the viewpoint of UA. Well, the boot does make use of synthetic leather, and its rather skillful use with textile is what makes this such a great choice.
A defining feature here is the 7-inch high ankle with a TPU shank. The TPU also shows upfront as a TPU cap for protecting the toes. Its sole is a lightweight rubber lug that offers excellent traction. It's also soft and seems flexible. This is another thing that makes you doubt the usefulness of the shoe at first glance. However, once you wear the shoe and use it, the ingenuity of this soft sole becomes clear.
Other notable features in construction are the upper treated with an abrasion-resistant film, weather-resistant finish, antimicrobial liner, and Under Armour Micro G footbed insulation. This is a good set of features for a boot. These features make their appearance felt and appreciated with the use of these boots.
Under Armour Valsetz Tactical Boots In Use
The Comfort Equation
Comfort is, without a doubt, the biggest selling point of these boots. They don't feel as heavy as their classification as tactical boots would make you expect. These are convenient enough to be used by people who spend a significant amount of time on their feet. Whether you're on a trail or a cop walking the streets, the shoes stay comfortable and don't trouble your feet. Some people who have these boots also say that they had no trouble running while wearing these boots.
Valsetz boots have been consistently considered to be a match to casual shoes when it comes to comfort. A big part of this is made possible by the brand's ClutchFit technology that ensures the shoe you have is exactly your size. To achieve this end, UA sells its shoes in a large variety of sizes, and even covers possible half-sizes for most of the range. Therefore, there is a good chance that you get boots that fit your size comfortably.
The importance of this part becomes clearer when you consider other features that UA offers in these boots for better comfort. For one example, there's the Micro G technology. This is a lightweight foam that is quite similar to memory foam. It is sensitive and responsive, with its primary job being to add more stability to the shoes, without compromising on comfort.
Similarly, the use of EVA (ethylene vinyl acetate) for the midsole keeps the shoe lightweight. While this material chips away weight from the shoe, it also absorbs shock as you walk.
Working Their Way Through Usability
The general shape of these boots intends to give greater stability and support to the ankle and heels. A part of the brand's ClutchFit technology, the shape of the shoe contours and changes to match the wearer's feet. This creates a sensation of the shoe gripping and hugging the back of your feet. It feels like a perfect fit, and almost a second skin. Eventually, these end up reducing the risk of blisters.
Since the intended users of these shoes are going to wear these for a very long time, dealing with odor can become a problem. To reduce odors, UA has made use of an antimicrobial liner inside the shoe. It kills off any microorganisms that may have caused odors, and keeps the shoes feeling fresher. While this setting puts up a great fight, the shoes are not free of odors, so do make it a point to clean and air them every chance you get.
Apart from these factors, the boots do a pretty good job at being weather-resistant. They aren't exactly waterproof, but their water resistant finish works admirably well too. You can deal with some rain or water in your path, without worrying about your feet getting drenched. Those of us intending to take these shoes outdoors certainly can appreciate these features. Wet feet are a terrible thing to deal with when you're out on a trail!
The water-resistant coating also extends to its use with snow. The boots will handle some snow without causing much trouble. It is worth noting that these are not winter boots. So if there is snow on the ground, it is better to consider a different boot to wear.
Areas Where The UA Valsetz Is An Average Shoe
Besides odor control, one area where the UA Valsetz could do better is breathability. It ties into odor control but deserves a mention because it is functionally a different area. The padding and ClutchFit add great comfort to the boot, but they also drastically limit its breathability.
This can lead to the Valsetz sometimes feeling warm. It rarely gets to the point of sweaty hot, but depending on your use, there is a small possibility of discomfort. On the other hand, this makes these shoes great for winter. Still, remember these are not snowshoes and should not be expected to perform as well at locations that have significant snowfall.
Under Armour Valsetz RTS Problem Points
There are two major problems with these shoes. These are longevity and value for money. Several customers say that the sole of the shoes tends to fall off after a consistent use of about 4-8 months. That's a really small window for the longevity of a shoe. And, well, these aren't exactly cheap boots!
Given their questionable lifetime, these boots do pose a problem for the value for money proposition as well. Valsetz Tactical Boots are squarely targeted at professionals like cops, firemen, and military personnel. However, these professionals could end up spending an inexcusably large amount if they only depended on these shoes. The questionable longevity coupled with a high price does not paint a pretty picture for the wallet.
Under Armour Valsetz 2.0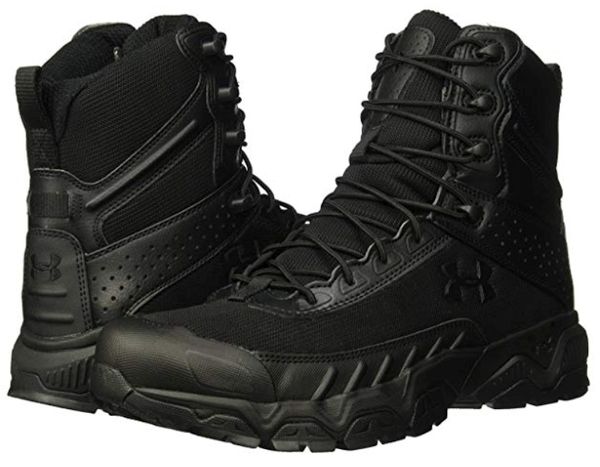 UA Valsetz 2.0 is where the company has tried to fix problems troubling the Valsetz RTS. This boot is designed to have a similar comfort and profile, but offer a longer lifetime. There are some cosmetic changes as well, though they don't particularly stick out. It's the same ClutchFit ankle and TPU-protected toes. The same comfort, and hopefully better performance.
So far, it seems to have worked out. There are hardly any complaints of the Valsetz 2.0 giving up on its sole or something similar. But then again, these boots are barely just over a year old in the market. So far though, I remain cautiously optimistic about the value and longevity of these boots.
See Under Armour Men's Valsetz 2.0 On Amazon
Tactical Boots To Pick
Despite the questionable durability, the Under Armour Boots reviews continue to speak highly of the Valsetz tactical boots. And these boots are worthy of that praise. The comfort they offer is simply amazing. And the ease with which these boots take to trail and firm ground is another factor that works in their favor.