Hydro Flask and Yeti are both very well-known brands and offer great gear. Yeti pretty much sparked a revolution in coolers and Hydro Flask did the same with insulated steel bottles. Where do these brands stand for their performance in reusable insulated stainless steel water bottles? We put the bottles to the test with this Yeti vs Hydro Flask comparison.
Hydro Flask Pros And Cons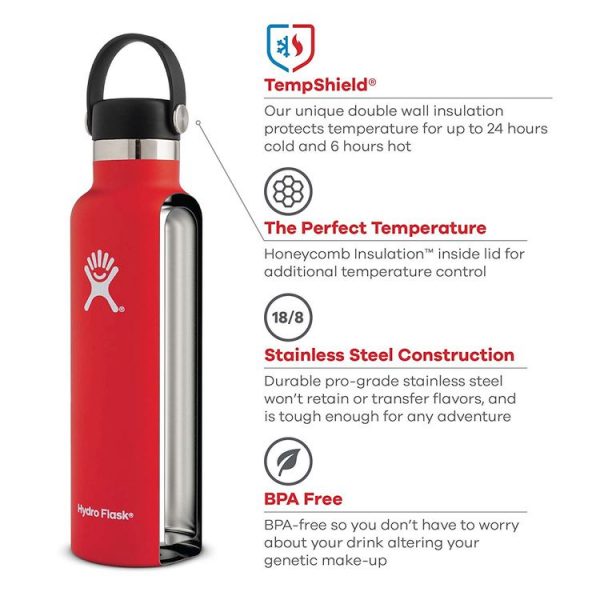 Pros
Excellent selection of colors
Good range of sizes
Good insulation
Durable
Cons
Bottles are not dishwasher safe
Can be difficult to clean
See Hydro Flask bottles on Amazon
Yeti Rambler Pros And Cons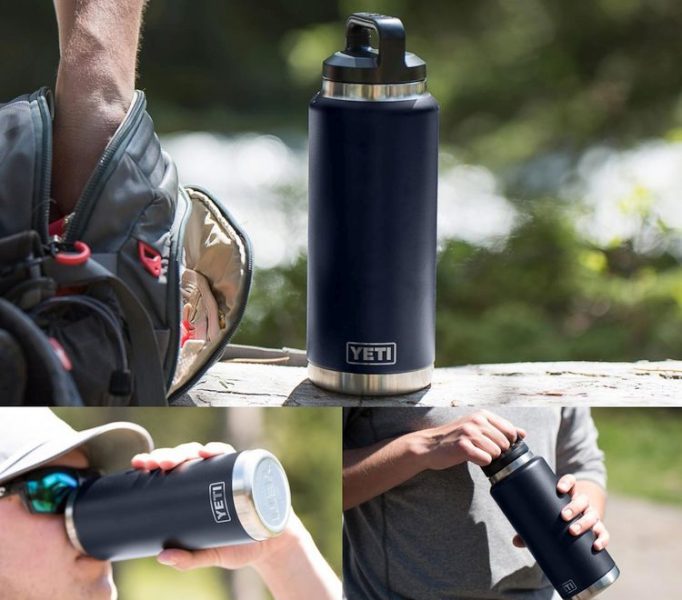 Pros
Dishwasher safe
Durable
Good insulation
Customization options for logos and art
Cons
Expensive
Limited color options (as compared to Hydro Flask)
See Yeti Rambler 36oz bottle on Amazon
Yeti Water Bottle Review — How Good Is The Rambler?
Bottle Size And Specifications
Yeti Rambler is available in a good variety of size options. Conventional Rambler bottles are available in 12oz, 18oz, 26oz, and 36oz sizes. There is also a 12oz bottle made with kids in mind. Should you want a larger volume, the Rambler is also available as a half-gallon (64oz) and one gallon (128oz) jugs.
All bottles are available with stainless steel exterior. However, Yeti also offers DuraCoat colors for each bottle. The range of colors is somewhat limited, but there is still a good variety of colors and patterns available.
Something that catches the eye here is the ability to customize these bottles. Yeti Drinkware Rambler bottles can have customized logos or text according to consumer requirements. Although this is not extended to Rambler Jugs.
Customizations can be placed on the front or back of the bottles and include a selection of designs. Users may also choose their own custom monograms, text, or logos. Some of these customizations will add an additional cost to your water bottle. In any case, the customizations are an important factor, and certainly do draw people to the Rambler. What's even better is that the customizations are not limited to Business Customers, and anyone buying a bottle can choose their preferred customizations.
Yeti Rambler Lids And Caps
The default cap for the Rambler is its TripleHaul cap. It fits snugly over the bottle and can be carried by placing three fingers through the cap. This makes it somewhat more convenient to carry the bottle, especially as compared to brands that barely allow two fingers to be placed.
There is also a variety of other caps and lids available. The Magdock cap, where a magnet holds the cap once it is removed is pretty useful too. I personally like the 5oz cup cap, which, as its name implies, adds 5oz cup as a cap to the bottle. A simple job, but pretty well done.
You can also pick the straw cap or chug cap. All of these caps are leakproof and dishwasher safe, adding to the convenience of these caps.
See Yeti Rambler Bottle MagDock Cap on Amazon
Check price for Yeti Rambler Bottle Cup Cap on Amazon
Construction And Durability Of The Yeti Water Bottle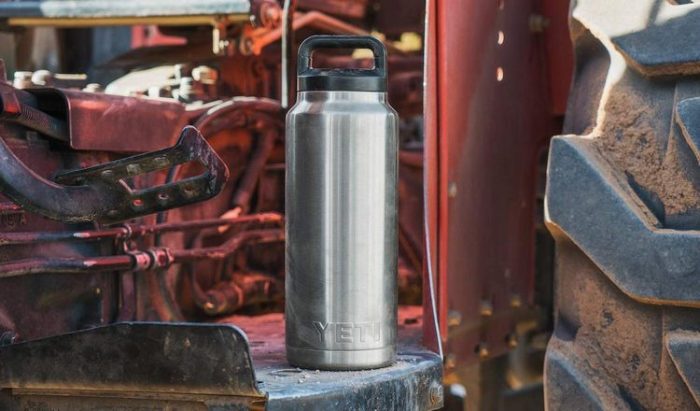 Yeti water bottle is constructed from 18/8 food-grade stainless steel. The material is popular for use, and does not add (or absorb) taste, odor, or bacteria from the contents of the bottle. It also ensures a solid and durable construction, giving the bottle a long life.
Rambler bottles are built to be solid and are resilient to normal wear and tear. They hold up admirably well against some scratches that are bound to show up over long term use. While the steel bottle exteriors do seem to be very resilient, it is only natural that the colors will degrade with time. Even though the DuraCoat colors are designed to hold up well, they can't be expected to be free from scratches.
In this sense alone, you can expect the plain steel exterior Yeti bottle to last longer than its colored counterparts. Functions and quality of the bottle, of course, remains intact, but the exteriors will show their age.
The bottles are built to be easy to use and have a wide mouth. Yeti says this larger diameter is placed so that when drinking from the bottle, the upper rim of the bottle is placed well over the nose of the user. This makes it more comfortable to use as compared to other bottles.
Insulation And Use
Rambler water bottles from Yeti offer excellent insulation. Yeti claims that the bottle can keep cold drinks cold for up to 24 hours, while the hot drinks will last comfortably for 12 hours. Insulation on the bottles lives up to this claim. In the group of double-walled insulated bottles, Yeti Rambler surely has one of the better performance.
For cold beverages, you can expect excellent performance, and you will notice barely any temperature change for the first six hours. Hot beverages do lose their temperature faster, although there will not be any significant change for the first six hours there either.
One great thing about these bottles is that they are dishwasher safe. You can put your Yeti Rambler and its caps in a dishwasher and let it do all the cleaning. Having to clean bottles manually has been one of my biggest gripes. But, if I'm to be honest, the double-wall insulation isn't quite there yet when it comes to dishwasher use. Grudgingly, I'll recommend you take up manual cleaning of these bottles.
Hydro Flask vs Yeti Rambler — A Comparison
You can read our full Hydro Flask review here.
Pricing And Value
Hydro Flask and Yeti are both premium brands. You will be paying a good amount for a Yeti or Hydro Flask bottle. For a comparison between both these brands, you will pay more for a Yeti than a Hydro Flask for comparable bottle sizes.
Add the fact that Hydro Flask bottles sometimes also go on sale and can be bought at a lower price. Yeti, however, is not much in favor of sales. It is very likely that Yeti water bottle will be purchased at its marked price.
Size And Volume Choices
Yeti Rambler bottles are available in 12oz, 18oz, 26oz, and 36oz. For larger volumes, the Rambler jugs are available in 64oz and 128 oz size. Hydro Flask bottles are available in 12oz, 18oz, 32oz, 40oz, 64oz, and 128oz size options. Both bottles have the niche covered with available size options. There is a fair amount of variety here for most users, and both brands sufficiently cover the most popular requirements.
Insulation
Both brands claim that they can keep cold drinks cold for 24 hours, while hot beverages stay hot for 12 hours. Both Hydro Flask and Yeti stay pretty true to that claim. You can expect your bottle from either brand to perform sufficiently well where insulation is concerned.
However, since we are doing a comparison, it is worth mentioning that Yeti outdoes Hydro Flask on insulation by a hair. For practical purposes, the difference is negligible. A regular user is unlikely to ever notice a qualitative difference between the insulation of either brand. However, on purely technical terms, Yeti has a slightly better performance.
Color And Finish
Hydro Flask offers several color options and gradients. The exterior of these bottles has a powder coat, which makes it convenient to hold the bottle. You're unlikely to lose your grip on a Hydro Flask bottle even if your hands are sweaty – the powder coat makes sure of that. The overall finish is clean and pleasing. Hydro Flask handles its appearance very well, and customers agree that the bottle, at the very least, looks worth its price.
Compared to Hydro Flask, the Yeti Rambler has a smaller choice in terms of exterior colors. For a very long time, Yeti only offered the bottles in the regular stainless steel finish. Now, customers can choose DuraCoat colors for their YetiRamblers.
What I find most impressive about the Yeti Rambler's appearance is the choice to customize your bottle to your preference. Users can add designs, monograms, text, or upload a logo to be added to their bottle. These can be placed at the front and back of the bottles, according to user preferences. Some of these customizations add to the cost of the bottle. The customizations are not available with all sizes and color options either.
Still, I think it is a pretty interesting choice to have. If you want pretty colors and gradients, Hydro Flask is an excellent choice. Rambler is great for customizations. Hydro Flask is taking a stab at customization with the MyHydro option. It is somewhat limited in scope as compared to Yeti's customization. Some finetuning would be necessary before it the tool is useful, let alone a serious challenge.
I stay partial to the powder-coated exteriors of the Hydro Flask. They're just easier to handle outdoors, and that makes a big difference in my book.
Caps And Lids
Where caps and lids are concerned, Hydro Flask offers the Straw Lid, Sport Cap. and Straw Cap. None of these are dishwasher safe or leakproof. They work magnificently though, and create a great set that goes very well with the bottles. I'm especially fond of the sport cap, because it allows a single-handed use of the bottle. That comes in handy in several situations.
Yeti Rambler caps and lids for its water bottles in several varieties. There's a MagDock, Bottle Cup Cap, Straw Cap, and Chug Cap. All of these are leakproof and dishwasher safe. They also offer excellent usability and add value to the bottle.
Yeti's Triple Haul cap is easy to use and makes it more convenient to carry the bottles. Since the handle is wide, you can use about three fingers to lift and carry the bottle. Not that it is always necessary, but it sure is convenient in several circumstances.
It is worth pointing out that even the leakproof lids and caps must obey the laws of physics. There are circumstances and situations where your bottle develops enough pressure that the contents become difficult to handle. In these cases, there is likely to be some spill from the bottle. This stands true for either brand.
If your bottle cap is stuck due to pressure and won't come off easily, it is better not to force it open. In these cases, contact the manufacturer for instructions on what to do next.
Cleaning
I'd say this one goes straight to Yeti, as the bottles are dishwasher safe. The caps and lids are dishwasher safe as well. Hydro Flask bottles, lids, and caps are not dishwasher safe.
Like I said before, it is always better to wash your double-walled stainless steel bottles manually. It is a chore, but one that must be done anyway. However, there are times when we would rather not do it. In these cases, having a dishwasher-safe bottle sure does come in handy.
Warranty
Hydro Flask offers a lifetime warranty. Yeti offers a limited 5-year warranty. Both warranties are subject to responsible use and expected wear and tear conditions. These companies have fantastic customer service, and there's a good chance most warranty concerns will be solved amicably and with good results.
Also check out our other Hydro Flask comparisons:
Hydro Flask vs S'well
Fifty Fifty vs Hydro Flask
Takeya vs Hydro Flask
Klean Kanteen Vs Hydro Flask
Yeti Or Hydro Flask — Who Has The Upper Hand?
In our comparison of Yeti vs Hydro Flask, it is tough to say which one has a definite upper hand. Yeti made great performance in some categories, while Hydro Flask did well in others. Functionally, these bottles have very little differences, even if one edges over the other in some specific considerations. You can't go wrong with either choice. They're both high-quality, resilient, and offer similar levels of insulation.
See Yeti Rambler 26oz bottle on Amazon
Check the current price for Hydro Flask bottles