Hydro Flask and Swell (or S'well, if you share their love of apostrophes) are both reusable water bottles that we consider in the premium segment. Both brands are well-known and have picked up a good share of followers. Even as they compete, there are a lot of similarities between Hydro Flask and S'well. The similarities and differences will make a showing as do this Hydro Flask vs Swell comparison to see where each bottle stands.
S'well Pros And Cons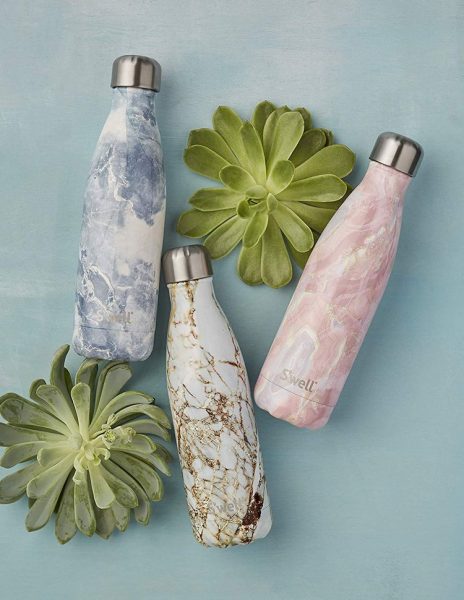 Pros
A large variety of colors and patterns
Several size options
Some choices in terms of shape
Good insulation
Durable
Cons
Can be difficult to clean
Not dishwasher safe
See S'well storefront on Amazon
Hydro Flask Pros And Cons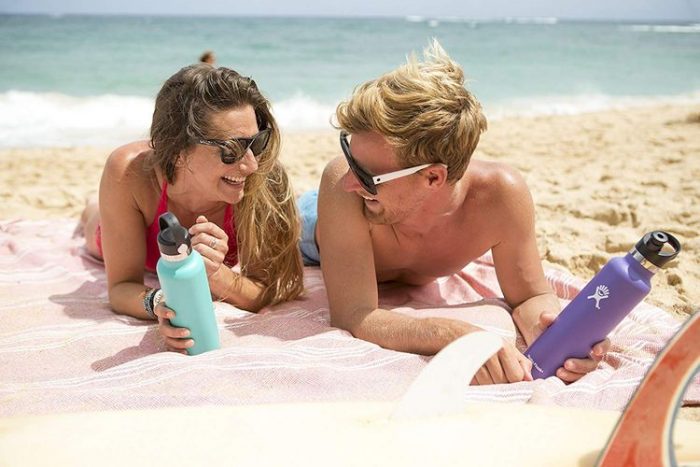 Pros
Several color and pattern options
Several size options
Good insulation
Durable
Cons
Can be difficult to clean
Not dishwasher safe
See Hydro Flask storefront on Amazon
Custom your own water bottle? Visit Ecoway to learn more.
S'well Review — What Makes It Work?
Bottle Size And Specifications
Swell is another well-known player on the market for the stainless steel reusable water bottles. Well, the segment is still young, and there is already plenty of competition. Although that should be expected seeing how fast the market has grown. S'well is the creation of Sarah Kauss, an entrepreneur from New York.
At its launch, S'well had a limited range of options, with the bottles available in 9oz, 17oz, and 25oz sizes. The range has now grown, and while these mentioned sizes remain the bedrock, Swell is now also available in larger bottles called Roamers available in 40oz and 64oz sizes.
The company has also launched the S'ip line of bottles, which are available in 10oz, 15oz, and 23oz sizes.
Swell bottles have conventionally kept with the classic water bottle shape, topped by a metallic cap. The Sip line takes a slightly different shape, although it is still a more conventional water bottle shape. These stand apart from the competition, because most of the segment has followed the jug-like shape of the Hydro Flask.
It's also interesting that Swell has focused on the more common range in terms of volume. Between S'well bottles and S'ip, the brand has a fairly good range for the 9-25 oz volume bottles.
While the size range has expanded continuously, one thing that always was in the ballpark of Swell is the designs and patterns. There's a very wide range of designs and patterns available for these bottles. Where looks are concerned, you certainly have a ton of choices with S'well.
See price and discounts for 17oz S'well bottles
Check price and options for 23oz S'ip by S'well
Caps And Lids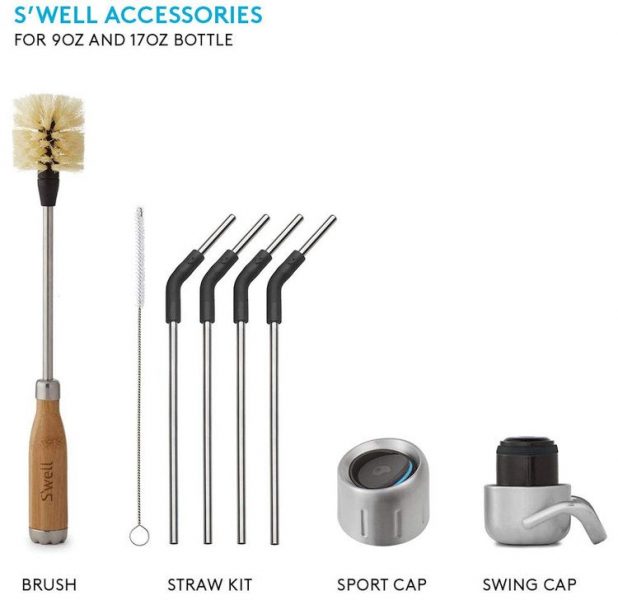 This is another area where Swell has made a considerable improvement. At its launch, the bottle only offered the classic metallic cap. It was useful but limited the bottle for use in a home or office environment. Of course, there was nothing to stop someone from taking the bottle outdoors, but it won't be nearly as convenient as other bottles that offer more variety and uses with caps and lids.
Now, S'well offers some accessories. Chief among these is the Sports Cap for bottles. There is no straw lid, however, the brand does offer a pack of stainless steel straws to be used with the bottles as necessary.
However, cap sizes are not standard and vary by bottle capacity. It is a bit inconvenient, because S'well does not go the route of conventional wide mouth and narrow mouth bottles that are prevalent with the competition. Additionally, placing this cap right takes some effort and care. An improperly placed cap will increase the risk of leaks and also reduce the benefits of insulation.
See Swell Sports Cap on Amazon
Construction And Durability Of S'well Bottles
Swell bottles are made from 18/8 food-grade stainless steel. This is a high-quality material that does not retain any taste or odor from the contents it holds. In the same vein, it does not impart any taste or odor to the beverages either. All bottles and caps/lids are BPA free.
The bottles are built to be durable. Your S'well bottle can last for a few years without a problem. And that is the biggest requirement from stainless steel water bottles. However, the patterns on these bottles may not last that well. They are susceptible to regular wear and tear. The visibility of random scratches and bumps is more dependent on the pattern of the bottle here than the material itself.
It won't negatively affect the bottle's performance. But if patterns and designs are important to you, it is worth considering this before you commit to purchasing these bottles.
Like all double-walled stainless steel vacuum bottles, the Swell is not dishwasher safe. It will have to be cleaned manually. It isn't much of a problem, but I think it's inconvenient. Having to clean bottles is an annoying chore. And while I am thankful for reusable bottles, my lazy self does wish there was an easier way to clean them.
Insulation And Use
Swell bottles have a stainless steel double-wall insulation. Their claim is that the insulated water bottle keeps hot beverages hot for 12 hours, while cold contents of the thermos bottle can stay cold for 24 hours. That's more or less in line with the claims made by most of the competition. Swell does stay by its claims. You can expect the bottle to work very well in keeping your beverages at the right temperature.
The construction of the bottle ensures there is no condensation on the surface, so there's one less thing to worry about! Roamers, or the larger 40oz and 64oz bottles apparently have a triple-wall insulation. According to the company, a layer of copper is added for better insulation, and to ensure these bottles perform to the same insulation use as other bottles.
S'ip bottles also boast the same insulation and similar times. Although they perform slightly lower than the S'well bottles. Interestingly, the company has named its insulation technology Therma-S'well.
As an aside, I am used to companies and marketers throwing around buzzwords for their products and technology. S'well is not different. However, the sheer number of buzzwords thrown around here is annoying. And that's compounded by their love for throwing an apostrophe everywhere. It would be s'well if they could c'hill a b'it.
Swell vs Hydro Flask — A Comparison
You can read our detailed Hydro Flask review here.
Pricing And Value
For most of our comparisons, we find that Hydro Flask is the expensive bottle. Not this time! S'well is generally priced higher than Hydro Flask for comparable sizes. There isn't much of a difference between these bottles in terms of quality or value. And yes, in some way both of them carry a (relatively) high price tag since they are considered premium water bottles. How much you want to spend on either is entirely subject to your opinion of each brand.
Colors, Shape, And Finish
There is a wide range of colors to pick from in water bottles offered by Hydro Flask. Again, this is one category where Hydro Flask generally has an edge over the competition. And again, this is also where S'well has an upper hand on Hydro Flask.
S'well has an excellent range of colors and patterns on offer. You practically have a lot of options to work with where color, patterns, and design are concerned. In this case, S'well is well ahead of Hydro Flask. Plus, there are more patterns to pick in the S'ip range from S'well.
Where shape is concerned, Hydro Flask is available in the jug-style shape and design that it adopted, and which can be seen on several water bottles in this category. S'well has a more traditional water bottle shape, with the tapering top leading to the cap. The S'ip range also has a unique shape that tapers slightly at the bottom, going towards the top in a flask-like style. I'm inclined to have a more favorable view for the S'well here, since the shape seems more convenient.
One point that works in favor of the Hydro Flask is that it offers narrow mouth and wide mouth bottles. Users here can get a better choice of what they find convenient for use.
Both of these bottles have excellent finish and looks. I find the powder-coated exteriors of the Hydro Flask more useful, and believe it will last longer as compared to the finish of the S'well. The S'well looks good, no doubt, but the powder-coated exteriors of the Hydro Flask offer more function. The Hydro Flask is likely to last longer if only the appearance of the exteriors is to be considered.
Caps And Lids Available
Hydro Flask has a good variety of caps and lids available. You can get the sport cap and straw lid easily, and enjoy their use. S'well does have a sports cap, but it is not as easy or convenient to use as the Hydro Flask variants. Plus, Hydro Flask is generally easier to use and pick up even if you have sweaty hands, so the sport cap there is more useful.
In a way, this also reinforces the idea that Hydro Flasks are good to be used practically anywhere. On the other hand, S'well bottles are best used in a home or office environment. Their outdoor use, if not questionable, is at least inconvenient as compared to Hydro Flask.
Bottle Sizes
Swell water bottles are conventionally available in 9oz, 17oz, and 25oz sizes. There are Roamers available in the larger 40oz and 64oz sizes. If we were to also consider S'ip bottles from S'well, the sizes are 10oz, 15oz, and 23oz. As you can see, there is a tolerably large variety of sizes available.
In comparison, conventional Hydro Flask sizes are 12oz, 18oz, 32oz, 40oz, 64oz, and 128oz. While Hydro Flask surges ahead in the largest size available, both brands have a good presence in the more popular range.
Insulation
Both brands offer comparable insulation. The claim is that the bottles can keep cold beverages cold for 24 hours, while the hotter ones stay in hot for 12 hours. Hydro Flask and S'well stay true to these claims. There isn't much difference in either brands insulating capabilities, so we can consider them both equal where insulation is concerned.
Just to add specifics, Hydro Flask uses its TempShield technology for insulation. S'well uses Therma-S'well. There isn't much visible difference between either technology.
Also see other brands compared with Hydro Flask
Klean Kanteen Vs Hydro Flask
Takeya Vs Hydro Flask
Fifty Fifty vs Hydro Flask
Yeti vs Hydro Flask
Which Bottle Makes The Cut?
Where do we stand after this comparison of Hydro Flask vs Swell? It isn't easy to pick the best water bottle, because these brands make a convincing argument for their case. If the appearance of the water bottle is a significant factor for you, the S'well has more to offer with its designs and patterns. Hydro Flask though is easier to handle, can be taken for outdoor adventures, and is even priced lower.
See buying options and discounts for Hydro Flask wide mouth bottles
See buying options and patterns for S'well 25oz bottle