Stainless steel bottles are increasingly popular for hydration. As we move away from plastic, these reusable bottles have gained more importance. The double-walled insulated water bottles are an undoubtedly superior choice since they can keep the desired beverage at the right temperature for several hours. Hydro Flask is the best-known brand in this category, though there are several worthy challengers. We put this to the test with our Takeya vs Hydro Flask comparison and see where both brands stand.
Hydro Flask Pros And Cons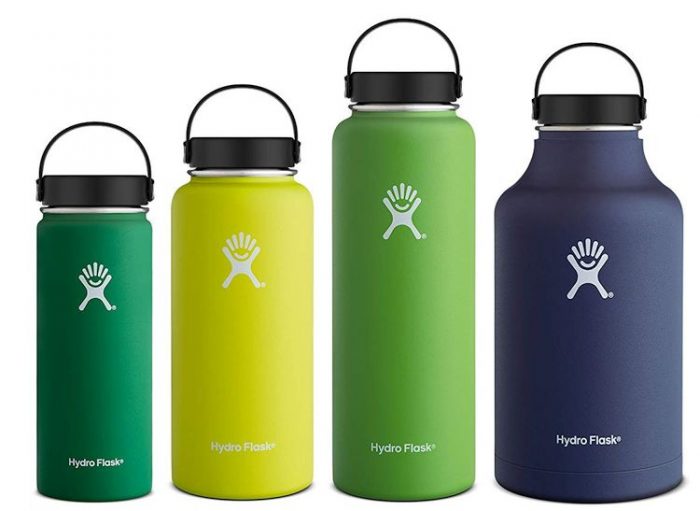 Pros
Excellent insulation
A wide range of sizes available (12oz to 128oz)
Vibrant color options
Durable
Cons
The bottles are not dishwasher safe
Most lids and caps are not dishwasher safe
Can be tough to clean
See Hydro Flask storefront on Amazon
Takeya Thermoflask Pros And Cons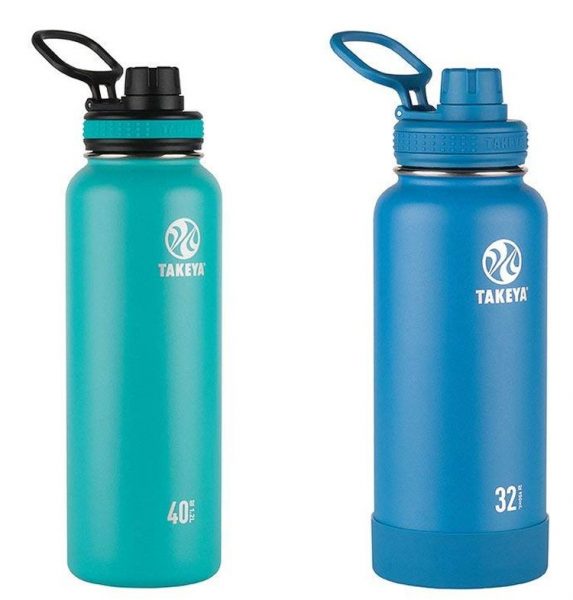 Pros
Great value for money
Good insulation
Wide range of sizes available
Durable
Cons
The bottles and caps/lids are not dishwasher safe
Can be inconvenient to clean
See Takeya ThermoFlask bottles on Amazon
For more comparisons, also see Klean Kanteen Vs Hydro Flask — Battle Of The Bottles
Visit this site to learn more if you want to custom your own water bottle.
Hydro Flask Review — What Makes It So Popular?
Bottle Size And Specifications
Hydro Flask bottles are available in a wide range of size and volume options. These go all the way from kiddies sized 12 oz bottles to 128 oz flask built for groups. More specifically, the sizes include 12, 18, 32, 40, 64, and 128 oz options. That is a huge range, and can conveniently cover most requirements that come its way.
There are several color options available for each bottle size. Those looking for something extra might find the gradient color options and special edition colors to be gratifying.
The size and color option combinations offered by Hydro Flask are tough to beat. It is, even if in a small way, a contributor to the success of this brand.
Explore some size and color options for Hydro Flask bottles on Amazon
Caps And Lids
Caps and lids are important from the point of view of usability. There are two things to know about Hydro Flask caps and lids. First, not all of them are leakproof, and second, not all are dishwasher safe. This generally works out okay, because not everything needs to be leakproof or dishwasher safe. Sure it would be preferable if they were, but their lack is not a terrible loss.
Popular ones are the Flex Cap for the standard mouth or wide mouth bottle, Hydro Flip and Straw Lid for the wide mouth bottles. Sport Cap is a good choice for the standard mouth bottles.
As an example, the Sport Cap is not leakproof. However, this cap also makes it possible to use the Hydro Flask with a single hand.
The Flex Cap is available in different colors, but the others are limited to black. All caps and lids are made from high-quality materials and are BPA-free.
Construction And Durability Of Hydro Flask Bottles
Hydro Flask bottles are made from 18/8 stainless steel. This is a durable and popular food-grade material. The material ensures that the container does not retain or transfer taste to the ingredients of the bottle. This seems like a rather obvious choice, but you'd be surprised how many materials and bottles fail at this premise.
The bottles are generally available in wide mouth and standard mouth variants. The wide mouth variant is good for adding ice cubes to your beverages, thus helping them stay cold for longer. Of course, ice cubes could also be pushed through the standard mouth, but it is not as convenient for this purpose.
Hydro Flask bottles are built to be durable. They feature robust construction overall. For added convenience, the exteriors are powder-coated. Powder coating helps give the exteriors a longer lifespan. Also, the bottles remain easy to pick and handle even if you have sweaty hands. Small scratches or dents are bound to show up after continued use, the powder coating does a good job at keeping them hidden.
A downside of this approach is that the powder coating is not dishwasher safe. Well, Hydro Flask bottles in general are not dishwasher safe. The insulation and powder coating both play a role here. On the plus side, the finish is positively magnificent.
Hydro Flask bottles are (relatively) expensive ones in the insulated stainless steel bottles niche. The clean and vibrant finish makes them look very much worth the price.
Use And Insulation Of Hydro Flask
All Hydro Flask stainless steel bottles are double-walled and insulated. They use TempShield insulation and claim that the bottle will keep cold beverages cold for up to 24 hours, and hot beverages hot for 12 hours. It would be normal to expect these numbers to be exaggerated, and they are, but only ever-so-slightly.
While it is obvious, it should still be mentioned that the temperature is a gradient. Cold beverages in the Hydro Flask won't suddenly warm up after 24 hours! They continue to get warmer with time, and 24 hours is more a soft limit for the expected temperature. The bottles do perform admirably well for the first few hours. You can expect the ingredients to be at practically the same temperature after 6 hours (as compared to where they started).
The same logic is true for hot drinks as well. However, you should be extra careful while pouring hot drinks into the bottle.
Hydro Flask recommends that the exterior of the bottle not come in contact with hot liquids. This can damage the finish and affect the longevity of the bottle.
It is a pain to clean these bottles. There are cleaning accessories available that should help, but the bottles require a fair bit of effort. It is more true for the standard mouth bottle than the wide mouth, but the effort is certainly there. The process is not terrible, it is just inconvenient.
Takeya ThermoFlask Review — A Worthy Contender?
Bottle Size And Specification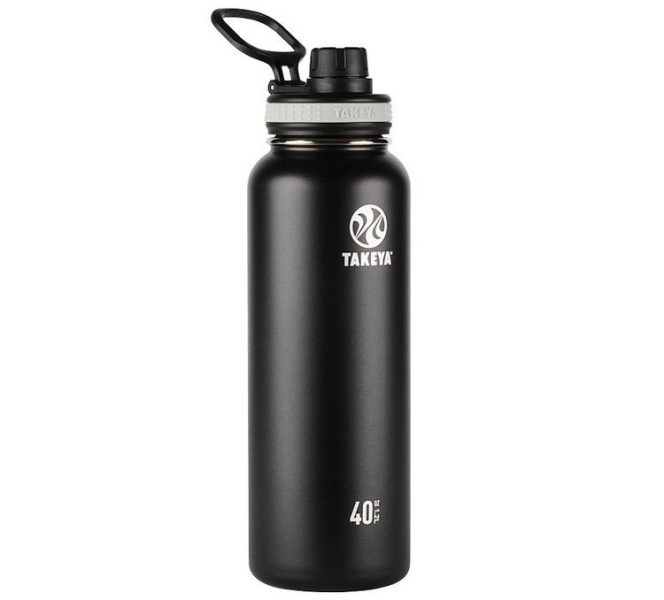 Takeya ThermoFlask bottles are available in several size and volume options. You can find bottles in 18, 24, 32, 40, and 64 oz sizes. These cover the most popular options, and should be fairly sufficient for most users. Takeya 40oz is perhaps the most popular, and they've recently also added 14 oz bottles for use by children.
The bottles are available in several options in terms of color and finish. Exteriors of Takeya ThermoFlask is powder-coated. They've also launched a new Al Terra range with crackle texture.
Explore some size and color options for Takeya ThermoFlask on Amazon
Caps And Lids
There is a good variety of lids and caps available from Takeya ThermoFlask. The most popular being the spout and straw lid. Takeya does not offer color options for the lids per se but each lid has a band with the brand name that can be of a different color.
The lids aren't quite leakproof. However, just as is the case with Hydro Flask, this doesn't mean that the bottle will go on leaking its contents. Most of the caps and lids are not dishwasher safe either.
All Takeya ThermoFlask caps and lids are made from high-quality materials and are BPA-free.
Some Takeya caps and lids can fit on Hydro Flask bottles, and vice versa. Although the compatibility is not guaranteed. If anything, Takeya seems to be downplaying this supposed compatibility.
See Takeya Caps and lids on Amazon
Construction And Durability Of Takeya ThermoFlask Bottles
Takeya ThermoFlask makes use of food-grade 18/8 stainless steel. This ensures good quality, and prevents transfer of flavor or taste between the bottle and the beverage it is holding. The material is durable and the bottles can reliably be expected to last several years.
ThermoFlask is available in Active And Originals variants. All bottles are powder-coated for a better finish and relatively easier handling. You can lift the bottle or manage the lid with sweaty hands without worrying about the bottle slipping. The powder coating also helps extend the longevity of the bottle. It hides any scratches or dents that are likely to show up with normal use.
These bottles are not dishwasher safe. The powder coat and insulation both play a part here, and the bottles must be cleaned manually.
If powder coated exteriors don't quite catch your attention, Takeya has recently launched the Al Terra line. These bottles have a "crackle texture" and come with an earthy color palette to choose from. Interestingly, these bottles have lids the same color as the bottle – a slight departure from Takeya's conventional black-colored lids. It is an indication of the company's evolving design and presentation, which is likely to bring more options for the consumer in the future.
See Takeya ThermoFlask Al Terra bottles on Amazon
Insulation And Use
Takeya uses the classic double-walled insulation, that this segment is best-known for. In matters of insulation, Takeya's claims are similar to those of Hydro Flask. The bottles will keep cold beverages at temperature for 24 hours, and hot ones for 12 hours. In terms of insulation, the performance is admirable and leaves little else to be desired.
ThermoFlask Active line fares better than the Originals in terms of insulation. The small bump of better efficiency can be placed at the use of insulated caps and lids.
Just like the Hydro Flask, the bottles need to be cleaned manually. And yes, the job is no easier than what you would expect with the HydroFlask.
There is no specific warning against the contact of hot liquids with the bottle exterior. However, as we know, the powder coating doesn't quite enjoy contact with hot water or beverages.
Takeya Originals Vs Active
There are some differences between the Takeya Thermoflask Originals and Active lines.
Active is more of a wide mouth bottle as compared to Takeya. The other functional difference is that the lid of the Takeya Active range is insulated as well.
Other differences between the variants are more on the cosmetic side of things. Lids on the active line are colored, rather than the conventional color stripe. Takeya ThermoFlask Active line also has access to colored silicone protective bumpers.
Hydro Flask Vs Takeya — The Battle Royale
Let's see how both these brand fare when pitted against each other in some of the most popular metrics.
Pricing And Value Are Central To ThermoFlask Vs HydroFlask
The biggest thing working in favor of the Takeya ThermoFlask is its price and the value on offer. On an average, you could get two Takeya ThermoFlask bottles for the cost of one Hydro Flask bottle. As you see, there is great value in terms of cost here, and that certainly plays in favor of Takeya.
Let's see how much of the cost factor plays in favor of the Takeya when other features come into play.
Insulation
Both companies claim a similar level of insulation. A hot drink will stay hot for 12 hours, and a cold one for 24 hours. There is no standard scale for hot or cold. So these claims are simply variables where numbers need to be filled.
For a hot beverage, if you start at 130 degrees, Hydro Flask will lose 20F in six hours, and 34 in 12 hours. For a similar setup, Takeya thermoflask will lose 24F in six hours, and will be 36F cooler in 12 hours.
For a cold beverage at 35F, HydroFlask will add 3F in 12 hours, and 8 in 24 hours. The same numbers for Takya could be 6F for 12 hours and 16F after 24 hours.
Keep in mind, these numbers depend on several local environmental factors, and should not be considered standard results.
Overall, I'd say the insulation offered by both these brands is fairly comparable. Hydro Flask could be considered marginally better, but for practical uses, the difference is negligible.
Design And Finish — Thermo Flask vs Hydro Flask
This is an area where Hydro Flask shines. It does very much look like the price tag it carries. The bottles have an excellent finish and gloss is tough to match. Takeya ThermoFlask is not ugly by any means. In fact, it is a fairly good looking bottle. However, place them both together, and where Thermo Flask vs Hydro Flask is concerned, Hydro Flask is the winner. In terms of appearance alone, ThermoFlask does look cheaper vs Hydro Flask.
Takeya ThermoFlask Versus Hydro Flask — Where To Go
Where Takeya vs Hydro Flask is concerned, these are both excellent products. If your only benchmarks are usability and insulation, you can't go wrong with either of these brands. Hydro Flask has an edge where insulation is concerned, but it can be considered negligible. If you put impetus on finish and brand value, Hydro Flask is the way to go. For budget and value for money, the Takeya ThermoFlask is the better choice.
See HydroFlask storefront on Amazon
See Takeya ThermoFlask bottles on Amazon