Two very popular brands in the double-walled insulated bottles market are Hydro Flask and FiftyFifty. Both of these brands have a lot to offer to customers and have quite a following. If you are purchasing a bottle, it makes sense to compare Fifty Fifty vs Hydro Flask to see which bottle works best. There are very subtle and small differences between the brands, and their larger similarities have sparked quite a few rumors. Let's see where these two brands stand.
Fifty/Fifty Pros And Cons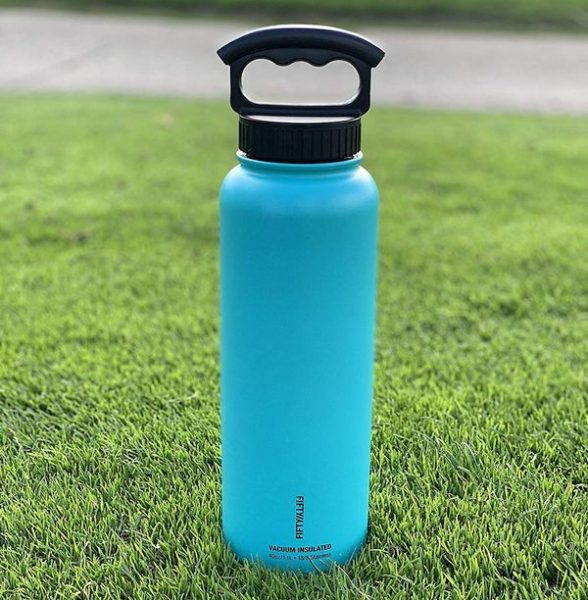 Pros
Good insulation
A wide range of colors and options
Logo customization for corporate customers
Durable
Several sizes available
Cons
The lids and caps are not very reliable
Can be difficult to clean
Bottles and the lids are not dishwasher safe
See Fifty Fifty bottles on Amazon
Hydro Flask Pros And Cons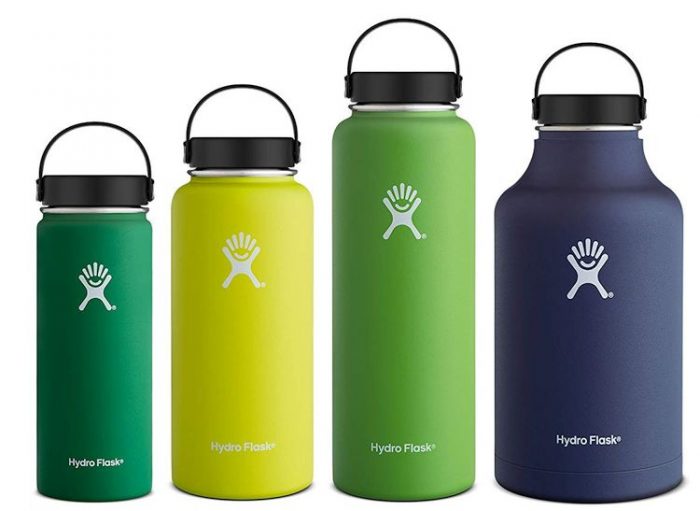 Pros
Good insulation
A large range of colors and options (more than Fifty Fifty)
Durable
Several sizes available
Cons
Can be difficult to clean
Bottles are not dishwasher safe
Most lids and caps are not dishwasher safe
Buy Hydro Flask bottles on Amazon
Fifty Fifty Water Bottle Review
Bottle Size And Specifications
Fifty/Fifty water bottles are available in a fairly large array of sizes. The conventionally included sizes are 12oz, 18oz, 25oz, 34oz, 40oz, and 64oz. These cover a fairly large range and can be useful in most practical circumstances. At 12oz, the bottle is geared more towards use by kids, while the 64oz bottle with its large volume can be used for a variety of purposes.
Each bottle has plenty of color and customization options available, giving customers something of a latitude in picking up the bottle for their choice. Not all sizes have the same variety of color options. It is the more popular sizes like 25oz and 34oz that get a wide color selection and even some patterns to pick. It is worth pointing out that these sizes just have more options than others, and it does not mean that the others lack in options.
Fifty Fifty offers an interesting choice for Business Customers. These customers can get their logo laser engraved or screen-printed on the bottles. A minimum purchase requirement must be met for this option, as would be expected from most business purchases.
Fifty Fifty Lids And Caps
For most sizes, Fifty Fifty offers two lid and cap options. A two or three finger grip cap, or a flip top are the most common lids/caps available. Sport cap, standard lid, and straw lid are also available, though they may have to be purchased separately.
A continued problem with Fifty/Fifty lids is that the inside rubber gasket will wear and eventually break. That is not the problem you want to have with a bottle that is supposed to last years. As a fix to that issue, the company offers free replacement lids where necessary. The attempt to fix the problem is appreciable. I'd rather not have to deal with it in the first place.
See options on FIFTY/FIFTY Straw Cap Lid for Wide Mouth Bottles
See current price for Fifty/Fifty Wide Mouth Easy Grip 3 Finger Lid
Construction And Durability For The 50/50 Water Bottle
FiftyFifty bottles are made from 18/8 food-grade stainless steel. This is a very popular material for stainless steel products for consumer use and is seen in most quality water bottles in this niche. The steel does not add any taste or flavor to the contents it is holding, and will not retain any odors either. That makes it more convenient to use than several other products.
Powder-coated exteriors of the FiftyFifty bottles are resilient and can live with conventional wear and tear. The design also makes the bottle more resistant to dents and scratches that come with normal usage of the bottles. These marks won't show easily, and your bottle will retain its looks for a long time.
Since it is a dual-wall insulation, there aren't any worries about condensation forming on the exterior of the bottle. As an added benefit of the powder coating, users can lift the bottle without trouble, even with sweaty hands.
The wide mouth bottles are also relatively easier to use. You can add your beverages to these bottles relatively easily. This works great for hot and cold beverages alike since they can be put into the bottle without fear of spillage. You certainly don't want hot liquids coming in contact with the powder coating. Similarly, it is a lot easier to add ice cubes to the wide mouth bottles.
Insulation And Use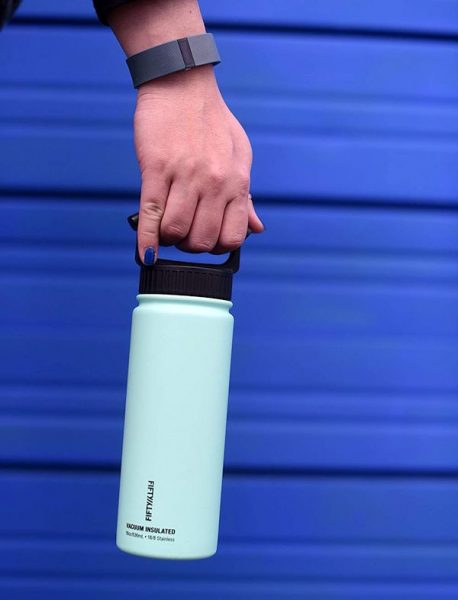 All water bottles from FiftyFifty are double-walled and well-insulated. Most of these bottles, including similar brands, provide better insulation than the conventional thermos. That is perhaps one of the reasons these are also called thermos bottles.
Speaking for numbers, FiftyFifty claims that the bottles will keep cold liquids reasonably cold for 24 hours, while hot beverages can be expected to last 12 hours. The bottles perform very well for the first few hours, though the efficiency decreases as time passes. It works especially well for cold beverages, where you can expect the contents of the bottle to be practically at the same temperature even after six hours. Well, they do gain a couple of degrees, but nothing too drastic to shy away from being considered cold.
The bottles are relatively easy to carry and can very well last under normal wear and tear. A larger problem with these and most insulated stainless steel bottles is that they are relatively tough to clean. They cannot be cleaned in a dishwasher, so all cleaning will have to be manual. Cleaning accessories are readily available, but it takes some effort to clean these bottles.
For a detailed review of Hydro Flask bottles check out our Takeya vs Hydro Flask comparison.
You may also want to read Klean Kanteen Vs Hydro Flask — Battle Of The Bottles
FiftyFifty And Hydro Flask Controversy/ Rumor
A persistent rumor about FiftyFifty and Hydro Flask has been going around for a long time. The rumor is fed by the fact that bottles from both these brands have very similar construction and performance. In fact, the most visible difference between either is the small difference in sizes. Some people say that bottles for both brands are built in the same factory, with the same materials, and to the same specifications. They just get a different brand name slapped on.
As the Fifty Fifty vs Hydro Flask story goes, the rumors are practically self-sustaining. Hydro Flask was founded by a couple, Travis Rosbach and Cindy Morse.
As the rumor mill goes, when the couple split, they divided their assets 50/50, including the patents and technology for Hydro Flask. Cindy Morse started a new company, and named it, well… Fifty/Fifty.
Of course, there is no real evidence, but the rumor gets pushed anyway. I'd recommend not putting stock in the rumor mill. It certainly shouldn't direct your purchase of either bottle.
Fifty Fifty Vs Hydro Flask — A Comparison
Pricing And Value
Cost is a dominating factor when you consider Fifty/Fifty vs Hydro Flask. Both brands claim similar features and are very similar in appearance. Yet, FiftyFifty is priced significantly lower than Hydro Flask. If you put stock in the rumor and believe that FiftyFifty shares the same technology as Hydro Flask, the scales can change significantly.
However, rumors are rumors. If pricing is your sole concern, the FiftyFifty certainly is an attractive option on its own merit, rather than those of rumors. Those considering Hydro Flask can consider getting a better price when the bottles go on sale.
Size And Volume Choices
FiftyFifty bottles are available in 12oz, 18oz, 25oz, 34oz, 40oz, and 64oz sizes. Hydro Flask bottles are available in 12oz, 18oz, 32oz, 40oz, 64oz, and 128 oz options. For the most common categories, the sizes are quite similar. Although given the relatively lower price of FiftyFifty, it seems like a good value. You'd be paying less for a 34oz bottle of FiftyFifty, as compared to a 32oz bottle of Hydro Flask.
Color And Finish
Both these brands make several color options available for the bottles. In the sheer number of available choices, Hydro Flask has the edge. FiftyFifty has an excellent array of colors available as well. While generally Hydro Flask beats its lower-priced competitors in quality of finish and gloss, it doesn't seem to be a factor here. FiftyFifty does not look like a Hydro Flask knockoff.
It is worth mentioning that the silicone bottle boot on the Hydro Flask does not (yet) have an equivalent with FiftyFifty. The boot offers some qualities like making the bottle more silent when placed and providing an additional protective layer. It does not have a major impact on performance per se, but can be considered a valuable addition.
Insulation
Both brands claim similar insulation figures i.e. 24 hours for cold beverages, and 12 for hot beverages. Given the similar quality of construction and insulation, none of these brands shines over the other in absolute terms.
Caps And Lids
Both brands offer a similar variety in caps and lids. Common addons like Sport Cap and Straw Lid are available for both these bottles. However, FiftyFifty lids are known to develop problems and cannot be expected to last over significantly longer durations. Hydro Flask lids perform better on this metric, and last longer than their FiftyFifty competitors. Caps and lids for both brands are BPA-free.
FiftyFifty vs Hydro Flask — The Reckoning
Now that we have gone over both brands and their differences in detail, I hope it made your decision of picking one brand over the other easier. Going by FiftyFifty vs Hydro Flask insulated water bottles, both brands have excellent options and choices to offer. If price is your primary concern, FiftyFifty is worth its promise of value. Over a bigger picture where I consider smaller points, I'm more inclined towards Hydro Flask. Maybe it's just the brand value that seems more comforting!
Buy Fifty Fifty bottles on Amazon
Buy Hydro Flask bottles on Amazon