Getting the best 12 person tent is suitable if you're going camping in a large group. It is often more convenient to pitch one big tent rather than several small ones. Plus, the larger tents can be more comfortable with the available living space and headroom. Let's take a look at the highest rated options available.
9 Best 12 Person Tents In 2019
Quick Notes On Buying A 12 Person Tent
Capacity Of A 12 Person Tent
Many manufacturers declare the capacity of a tent by placing cots or sleeping pads on the available floor area. It is unlikely that any of us will actually want to sleep in such a tight-packed condition. So, it's better to consider the number as a maximum. While the real number depends on individual preferences, you could consider a 12 person tent good enough to house 8-9 people comfortably. If comfort is your top priority, you should consider these tents best for about six people.
This isn't specific to 12 person tents and generally applies to all tent models, like 10 person tents. It's better to have a realistic number of people in mind when you decide to purchase a tent like this.
Adding Comfort To Your Tent
Large, 12 person cabin tents are practically meant for car camping. So, rather than going for a bare-boned camping experience, many people prefer to bring along some luxury. Pop up changing tents are simple things to consider. They can give you some privacy for changing clothes, taking a shower, and can also be used as a potty room.
Speaking of shower tents, a large group really should not sacrifice showering on a camping trip! Get a portable shower so you aren't forced to sacrifice hygiene with your camping experience. Similarly, portable camping heaters are very useful and popular accessory with campers. And of course, you should travel with LED lights for your tent. Most tents have hooks to place lanterns, and LED lanterns work great with these setups.
Waterproofing And Maintenance Of Your Tent
Not all tents are sold with full waterproofing. So check if your tent needs additional treatment before you take it camping. Knowing how to waterproof a tent is an essential skill for camping. Because even if your tent is waterproof, it is going to need some maintenance sooner or later.
Consider placing a tarp beneath your tent when you set it up. This is good for waterproofing as well as long life of the tent. Many people add floor protectors to the inside of their tent as well.
9 Best 12-Person Cabin Tents
1. CORE 12 Person Instant Cabin Tent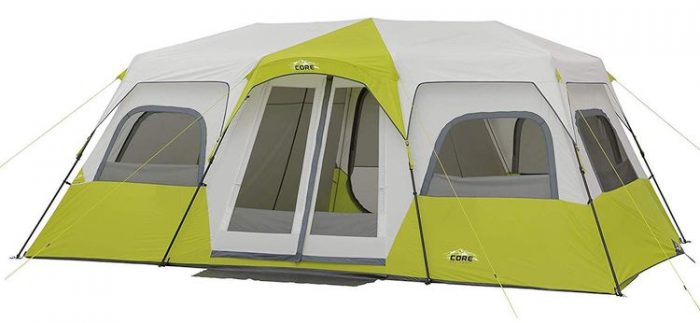 The magic word in CORE 12 Person Instant Cabin Tent is "instant". CORE claims that this massive 12 person tent can be set up in just two minutes, which is pretty impressive. The spacious tent is big enough to put in three queen size mattresses, yet have enough space to walk around freely and place your gear.
You can use dividers with the tent to set up three rooms – each with a queen size bed. There are two entrances to make it easier for people to enter/leave the tent. As a large cabin tent, the CORE is susceptible to wind. And it does very little to prevent that problem. The poles especially don't seem strong enough to handle the pressure wind would put on them.
Pros
Very spacious and comfortable (floor area 18'x10')
Center height of 80-inches
Waterproofing good enough to handle medium showers
Quick and easy set up
Internal storage pocket space and loft
Cons
Susceptible to wind
Poles seem rather flimsy
Questionable longevity
2. Tahoe Gear Prescott 12 Person 3-Season Family Cabin Tent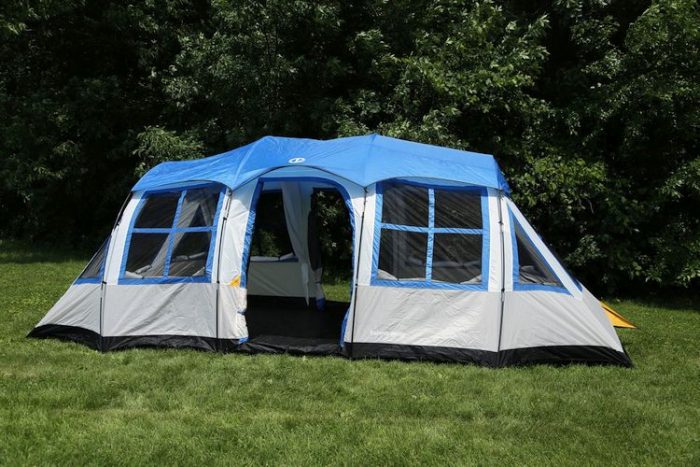 Tahoe Gear Prescott is an excellent 12 Person tent to take car camping with you. The tent has two large doors for easy entry/exit and is big enough to hold three queen size mattresses. However, if putting three mattresses will block one of the doors, so it may not be the best option.
You can make use of the included room divider to separate the tent into two rooms. One room is small, covering about one-third of the tent, while the remaining space will go to the other room. The tent has a thick polyester body and rainfly, which along with the taped fly seams should keep it waterproof.
Pros
Spacious
Excellent value for money
Good waterproofing
Roomy center height of 78-inches
Fairly easy to set up
Lighter than most tents in its category
Cons
Questionable longevity
No internal storage
3. Eureka Copper Canyon 12-Person Tent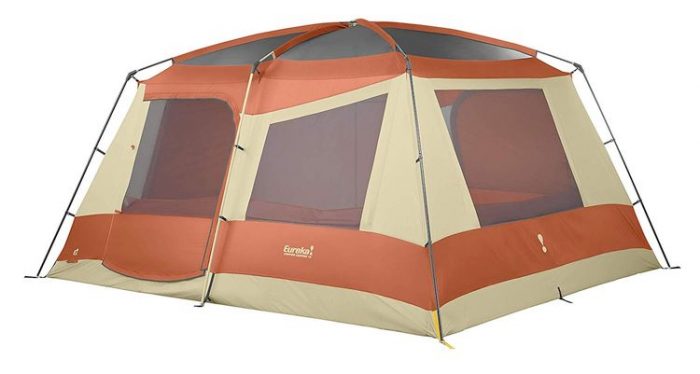 Eureka Copper Canyon 12-Person Tent makes great use of available space and height. It has a spacious, almost square-ish floor area, and an excellent height comfortable for most people. The waterproofing is fairly acceptable and you won't have trouble in medium showers.
Like the previous two tents, the Eureka Copper Canyon 12-Person Tent has two doors for convenience. You can also pull a room divider to create two rooms in the tent for additional privacy. What this tent truly lacks is a good floor, so be sure to place it on a ground mat for your comfort, as well as the longevity of this tent.
Pros
Makes great use of available space
Acceptable waterproofing
High center height of 84-inches
Storage space in inside pockets and roof lofts
Cons
Questionable value for money
The tent floor is flimsy
4. CORE 12 Person Extra Large Straight Wall Cabin Tent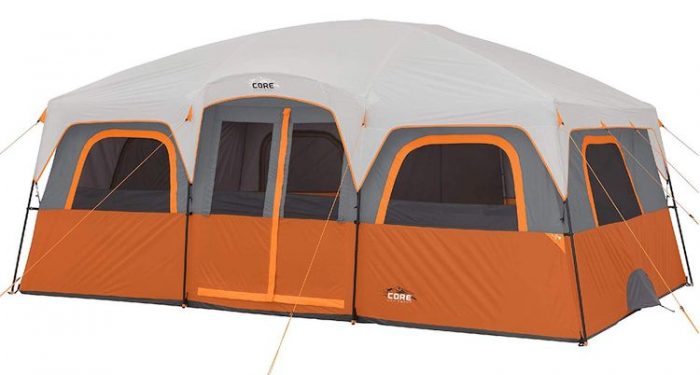 CORE 12 Person Extra Large Tent is actually slightly smaller than its sibling we saw above. It has a floor area of 16'x11', though it shines in center space with a height of 86-inches. The walls on this tent are pretty much straight, creating an illusion of greater available space.
The tent makes use of its extra available height for storage as well, and you get great internal storage space and a loft. Setup is fairly convenient with color-coded poles to lead the way. A room divider can be used to create two rooms inside the tent. There are two large doors in the tent, one D-shaped and the other T-shaped. Should you set up rooms, each room will have its own door.
Pros
Relatively convenient to set up
Makes excellent use of available space
Good waterproofing
Generous center height
Cons
Susceptible to wind
Zippered panels could be handled better
5. Ozark Trail 11 Person 3 Room 14′ x 14′ Instant Cabin Tent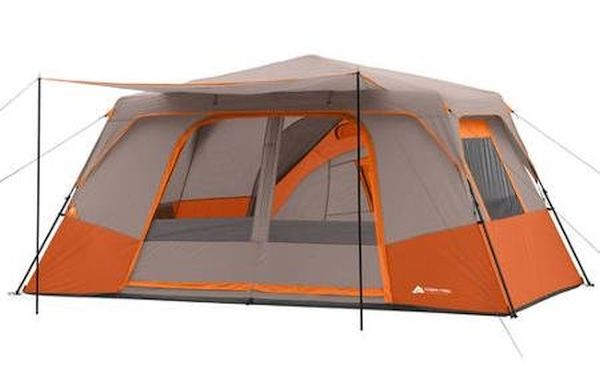 This is one of the smaller tents in this category, yet an excellent choice due to a relatively cheap price. While the price is an attractive factor, this Ozark tent has looks going in its favor too. The awning works pretty well with the overall aesthetics of the tent and gives it something of a dignified look.
The tent has two rooms with its construction, a larger cabin area, and a slightly smaller private back room. Should you need more rooms, the cabin includes a room divider, creating a total of three rooms for your tent. Each of these rooms is capable of holding one queen size air mattress. Though once you place two of those in the cabin, there won't be much room left for anything else.
Pros
Good value for money
Good looks
Pockets for storage
Center height of 76-inches
Cons
Questionable longevity
Average waterproofing
6. Tahoe Gear Bighorn XL 12 Person Teepee Cone Shape Camping Tent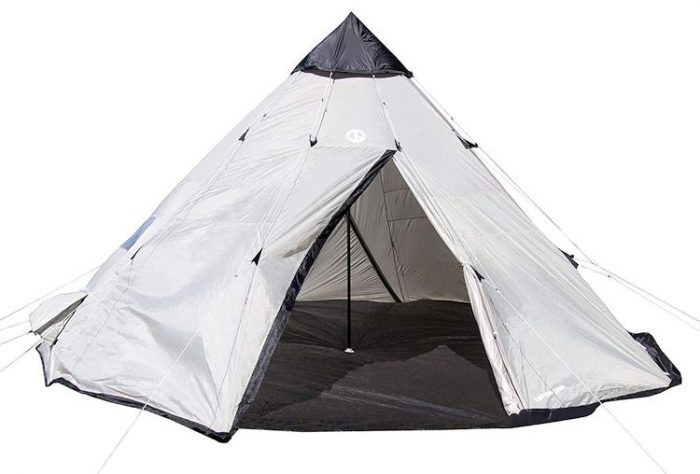 Teepee tents look pretty cool. Although the conical shape takes over some usable floor space, these tents perform much better than cabin-style tents in rain and wind. Tahoe Gear Bighorn XL 12 Person Teepee Cone Shape Camping Tent makes up for its conical shape with a much larger floor area.
It measures 18-feet in diameter, and the usable floor area is somewhere around 220 square feet. Now that's spacious – spacious enough to actually house 12 people in relative comfort. You can place four queen size mattresses in this tent, and everyone can sleep comfortably. The tent has two large doors for easy access, adding to the convenience. It's also very well priced and offers great value for money.
Pros
Great performance against wind and rain
Very spacious, could actually house 12 people
Relatively easy to set up
Great value for money
Cons
Relatively low usable height compared to cabin tents
No mesh on the doors
7. Grand Canyon Northwest Territory Grand Canyon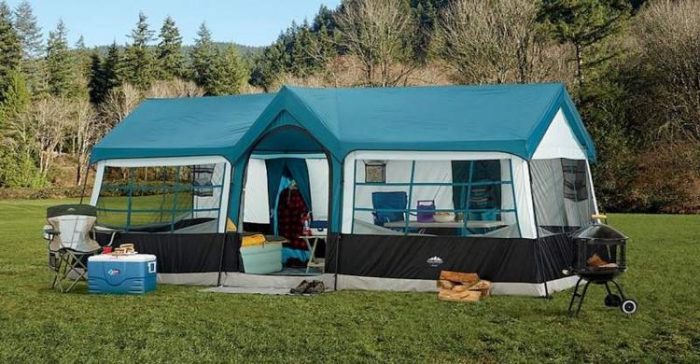 I have to say I love the home-like shape of this tent! Grand Canyon Northwest Territory Grand Canyon is very spacious and offers a floor area of 240 square feet. Again, this tent could house 12 people easily. You can easily shove in four queen size air mattresses into this tent, and still have room for gear. It seems pretty great as a large family tent.
The tent has removable dividers inside, and you can customize it to have various room configurations. Apart from having one big room, you can also divide it into two or three rooms. The tent also includes two closets at the back for extra storage space. This tent is sufficiently waterproof, using bathtub-style floors, a rainfly rated at 1200mm, and walls at 600 mm rating.
Pros
Very spacious
Customizable room options
Good looks
Sufficient waterproofing
Closets for storage space
Cons
Expensive compared to other tents in this category
Fairly heavy
8. Guide Gear Teepee Tent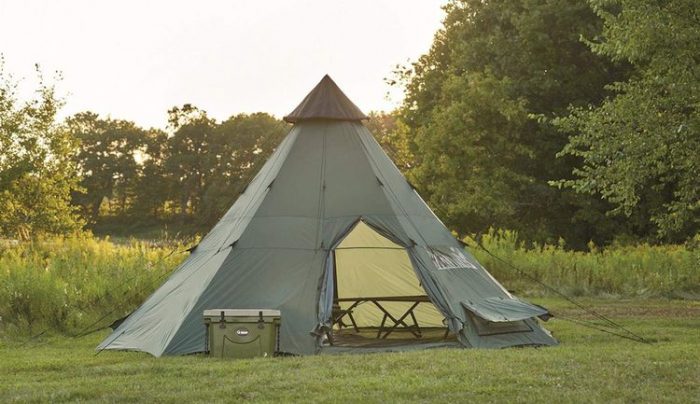 Guide Gear Teepee Tent has a diameter of 18-feet, much like the Tahoe Gear Bighorn we saw above. This tent is very spacious, and actually capable of housing 12 people. The usable floor area is about 220 sq.feet, so you have plenty of room.
The shape of the tent allows it to perform well against wind and rain, keeping you comfortable. Unfortunately, the performance of the fabric is below average for waterproofing. It's good for light rain but won't perform well in medium to heavy showers. Still, it's excellent value and very lightweight when compared to several other tents in this list.
Pros
Very spacious
Performs well against wind
Excellent value for money
Lightweight
Cons
Unimpressive waterproofing
9. NTK Super Arizona GT up to 12 Person Camping Tent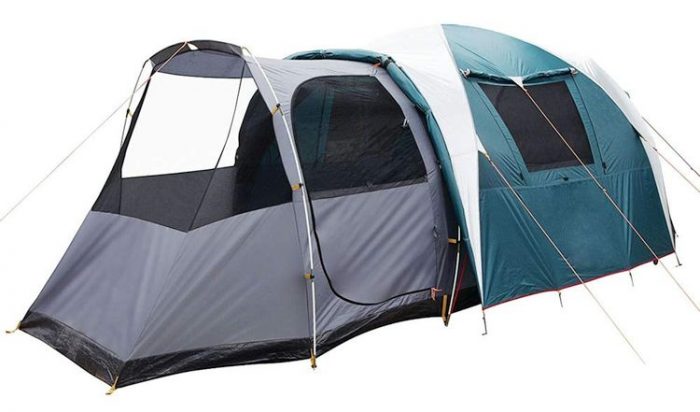 NTK Super Arizona GT up to 12 Person Camping Tent uses its dome style shape with expertise. The rainfly is double layer 190T polyester with a polyurethane coating and is rated for 2500 mm water column. Bathtub-style construction of the tent floor adds another layer of protection against water. This tent is capable of withstanding rain and you won't have to worry about getting wet.
You can use a room divider to create two rooms, each of which will have access to the tent's large D-shaped doors. This dome-shaped tent has a center height of 81-inches and plenty of room people and their gear.
Pros
Waterproof
Holds well against wind
Comfortable and spacious
Cons
Window flaps are attached to rainfly, and can only be maneuvered from the outside
Taking Your Pick Of The Best 12 Person Tent
All of the tents listed here are high-rated solid contenders to be the best 12 person tent. Considering the expected weather for your camping location, and your preferences regarding value and comfort should make it easier to find a suitable tent.