Maintaining good hygiene while camping is important. Staying out in nature has a way of covering people in grime and pushing some grit under the fingernails. And of course, a good shower after a day of hiking or exploring nature is a welcome experience. The need for a portable shower is evident for camping. Your choice for the best portable shower for camping will depend on the weight you can carry and the comfort you want. Let's take a look at some of the best available portable showers to find one that fits just right.
Best Portable Showers For Camping In 2019
What Are The Most Common Types Of Portable Showers?
Choosing the right portable shower depends on how hot you want your water, and how much weight you can carry. Both of these are correlated. If you're going car camping and are willing to carry some extra weight, you could very well have a nice hot shower. Other options vary from having water that is heated enough to be not cold or just fashioning a shower from whatever water you have available.
A portable camping shower goes very well with pop up changing tents. Many of these tents have room for a shower hose, and some even include showers with the tents.
Solar Camping Showers
These are the cheapest and lightest option available. Most solar camping showers include a black bag or a similar mechanism to absorb the sun's rays. Since the only medium of heating you have is sunlight, these can take a long time to heat up. Depending on the time and the sunlight available, the water temperature may only be slightly warmer than the average temperature.
These are simple and lightweight options. The bags available for solar camping showers vary in size, generally ranging from 2-5 gallons. If you intend to use these showers with a changing tent or something similar, be sure that your tent is rated to handle the weight of the shower.
Battery Powered Showers
Battery powered showers aren't as concerned about heating water as they are with pumping it. You place the pump in a container full of water and let the water flow to the showerhead. Depending on the model, battery-powered showers may use something like cell batteries, a generator, or rechargeable batteries.
Propane Powered Showers
If you want hot water in your shower while camping, propane powered showers are what you want. Coils and burners in these showers use propane to heat up the water, and you will have hot water in minutes, if not seconds. Many propane powered showers also join up with battery powered showers to pump water so will enjoy the water in relative luxury.
As you can guess, propane powered showers are expensive compared to the others, and the full setup can add significant weight to your gear.
10 Best Portable Showers For Camping (Reviews)
1. Advanced Elements 5 Gallon Summer Shower / Solar Shower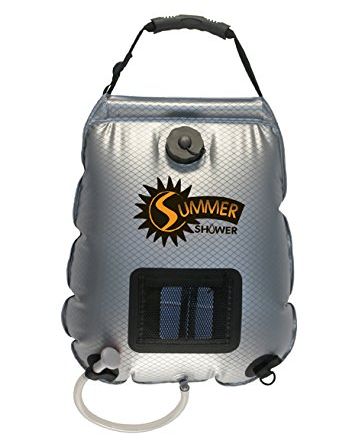 Most solar camping showers are plain black bags, depending on the color to absorb the sun's rays and heat up the water. Advanced Elements 5 Gallon Summer Shower relies more on modern technology to warm water. It still uses a black layer to absorb the heat, but it does so with a more efficient approach to solar energy.
This solar shower makes use of a 4 layer construction. Its outermost layer is a reflector panel, followed by an insulator panel, and finally, the solar panel that heats up the water reservoir. Heating rays of the sun travel through the first two layers but are retained in the solar panel. This heat is then transferred to the water.
The insulator and reflector panels lower heat loss from the water. This allows water to heat up sooner and stay warm for longer. A gauze keeps you informed of the water temperature. Advanced Elements Summer Shower has a side pocket where you can store sundry items like shampoo and soap. Water flow can be easily managed through a valve.
Efficient as it is, it will take a few hours to warm up the water. Also, keep in mind that the water flow is dictated by gravity, so you will have to place this solar shower higher.
Pros
Efficient solar shower
Large 5-gallon capacity
Good insulation keeps water warm for longer
Easy to use and carry
Cons
Solar showers do need a lot of time to warm water
The bag support strap seems flimsy and is a weak point
2. Coghlan's Solar Heated Camp Shower, 5-Gallon
Coghlan's Solar Heated Camp Shower, 5-Gallon is a well-priced, low-tech solar shower. Unlike the Advanced Elements solar shower we saw above, this one doesn't put in as much effort in insulation or efficiency.
It's a simple, low-tech, black colored non-toxic PVC bag that absorbs the sun's rays to heat up water. And that isn't a bad thing! It will heat slower and to a slightly lower temperature than its high-tech cousin, but it makes up for it in weight and cost. Coghlan's Solar Heated Camp Shower barely weighs 12 ounces and can hold five gallons of water. You can use the large valve with the shower to regulate water flow.
Pros
Lightweight
Large 5-Gallon capacity
Value for money
Cons
PVC bag
Takes a long time to warm water
3. Ivation Portable Outdoor Shower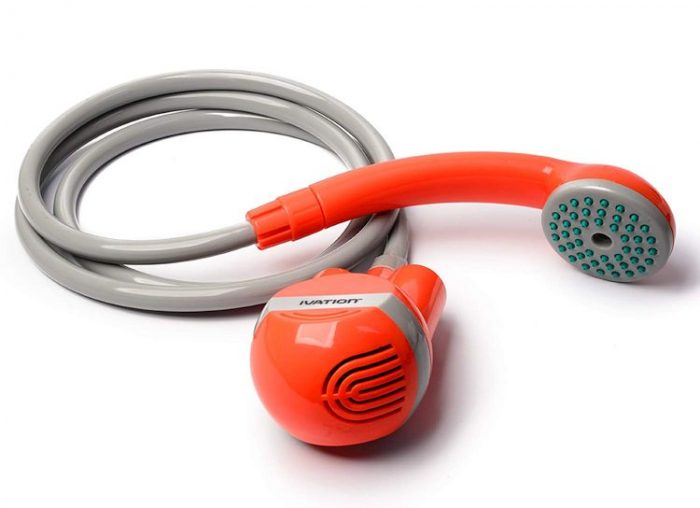 This battery powered shower is both simple and excellent. You can drop the pump in a bucket of water, and it will start a steady stream of water flowing from the showerhead. Keeping things simple, the unit includes one single-touch on/off switch. The package includes a hook and a suction cup to conveniently place the showerhead, if that's needed.
Power for the pump comes from a rechargeable battery. The charger can work with a computer via USB port, or through a standard 12v car adapter. Once fully charged, the battery can keep the shower running for one hour.
Pros
Simple and convenient to use
Compact and easily portable
Rechargeable
Can be recharged via computer USB port or 12v car adapter
Cons
Only one water-flow speed
Additional adapter needed for car charging (base charger cannot be used over 5v)
4. ZODI Outback Gear Extreme SC Hot Shower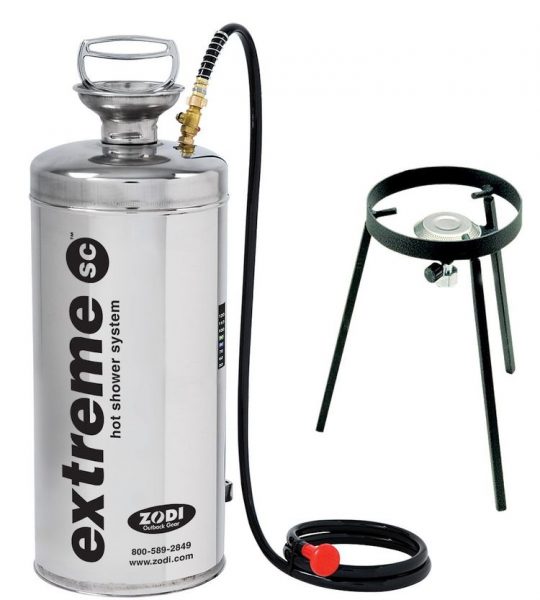 ZODI Outback Gear Extreme SC Hot Shower includes a stainless steel water tank, a 10,000 BTU burner, and a 6-ft shower hose with a showerhead. You will need a propane cylinder for the stove/burner. The operation is relatively simple. Fill up the tank with water, and place it on the stove. The water tank has about three-gallon capacity and should be heated enough in about five minutes. A gauze at the side of the tank will keep you informed of the water temperature.
If the word "Extreme" in the name encouraged you to think it was related to water temperature, let that belief slide. The recommended water temperature for ZODI Outback Gear Extreme SC Hot Shower is about 100-105 degrees Fahrenheit. Once you reach that point, remove the water tank from the burner.
It includes a manual pump for the water, and once you're done pumping the tank, you should have a steady water flow for about 2-3 minutes. You can pump while the tank is on the stove, but taking it off the burner is a safer option. The 6-foot hose is convenient, and should you need more water, you can simply pump the tank again.
Pros
Simple and quick heating
Burner can be used as a cooking stove
Easy to handle valve controls
Cons
Needs manual pumping every few minutes
Expensive
5. Camp Chef HWD5 Triton Water Heater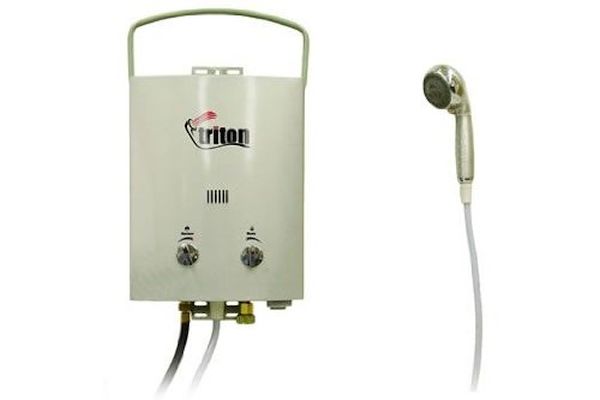 Camp Chef HWD5 Triton Water Heater will give you hot water for your shower in a few seconds. The portable shower can heat water in the range of 80F to 150F. You can select water temperature settings on the heater itself.
The shower head has four settings; off, mist, shower, and jet. Its temperature range is pretty good, and 150F is practically a very high temperature for a shower. The heater needs two D cell batteries for igniting the propane. You'll have to set up the heater in a way that it can receive a continuous flow of water. It heats up 1.5 gallons of water per minute to 38F, with a minimum flow of 0.5 gallons/minute heated to 102F.
While using this shower for camping, you will need to ensure a steady flow of water. It's best to use a pump for the inlet to better regulate water flow. Dimensions of the Camp Chef HWD5 Triton Water Heater are 12"x15"x4", and it weighs 15lbs.
Pros
Relatively higher water heating temperature
Very quick at heating water
Multiple settings for the showerhead
Compact dimensions
Cons
Showerhead construction seems cheap
Several consumer complaints about the burner going off randomly
6. Nemo Helio Portable Pressure Shower with Foot Pump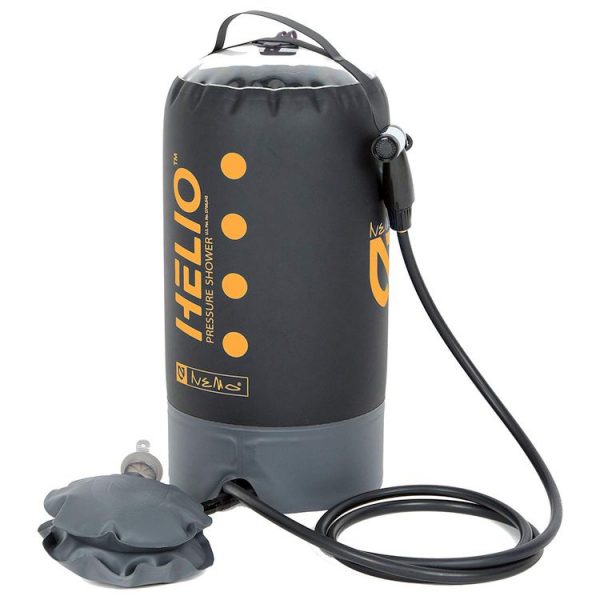 Nemo Helio Portable Pressure Shower with Foot Pump is an amazing solar powered camping shower to take along on your trip. The water heating part here is basically the standard (but larger) bag that holds about 11 liters of water.
On the plus side, you don't have to rely on gravity to guide water to you. Nemo Helio includes a foot pump you can use to push water through its neoprene hose. It will require a bit of effort, but the shower is far more satisfying than the weak stream of water gravity can afford in other solar powered bags.
Pros
Simple to use
Foot pump builds enough pressure for the shower to feel nice
Does not require additional accessories
Cons
Requires continuous effort to keep the water flowing
The water takes a long time to warm up
7. Sea to Summit Pocket Shower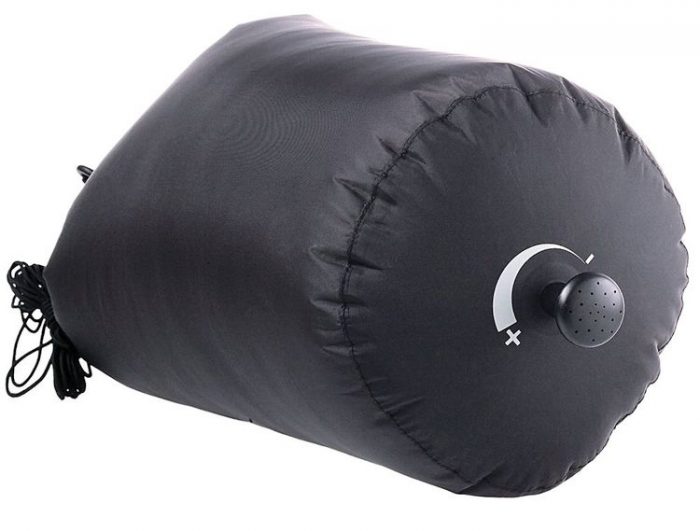 Another solar shower, the Sea to Summit Pocket Shower intends to be more versatile than its competition. When not in use, this shower can be folded into a tiny pouch measuring just 3"x6". That's an impressive size, considering the bag can hold 10 liters of water when put to use.
The showerhead is attached directly to the bag and used as a valve. A hose obviously would have been useful, but I guess they were more focused on keeping it easily portable. Sea to Summit Pocket Shower bag is made from 70D nylon fabric to ensure quality. If you don't need it for water, you can actually use it as a dry sack to store clothes/luggage!
Pros
Very easy to transport (can be pocket-sized)
Uses solar power for heating
Versatile bag can also be used for storing clothes
Cons
No shower hose
Very slow to heat water
8. Zodi Outback Gear Zip Shower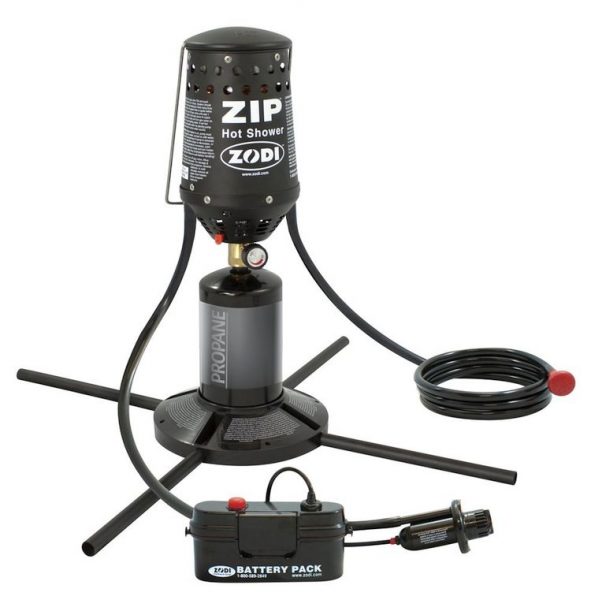 Zodi Outback Gear Zip Shower is an impressively comprehensive and complete propane camp shower. The shower needs a 16.4-ounce propane cylinder and 4 D-cell batteries to work. The propane cylinder sits on the base and attaches to the Zip Shower above.
Ignition can be triggered by the battery pack, and water flow is managed by an included submersible pump. The heated water then travels to the heater, where it is warmed up near-instantly and moves on to the shower hose. A gas valve on the heater lets you adjust water temperature, going to a max of 100F.
Its simple and straightforward function makes Zodi Outback Gear Zip Shower a great piece of gear.
Pros
Simple and straightforward use
Very quick heating
Gas valve allows temperature management
Submersible pump makes it easy to supply water
Cons
Water flow cannot be regulated
Included pump can be slow compared to water flow volume required for efficient heating
9. Simple Shower Portable Camping Shower
Simple Shower is, well, a simple, lightweight showerhead that can attach itself to practically any bottle. Just fill a bottle with water, attach this showerhead, and get to work! You can simply turn the bottle upside down and let gravity do its job, or if you're using a compressible bottle, give it a push for added pressure.
Made from recycled plastic, Simple Shower Portable Camping Shower weighs just 2 oz and is pretty useful as a backpacking shower.
Pros
Simple to use
Lightweight
Made from recycled materials
Cons
Water bottle empties way too fast
10. Big Kahuna Portable Shower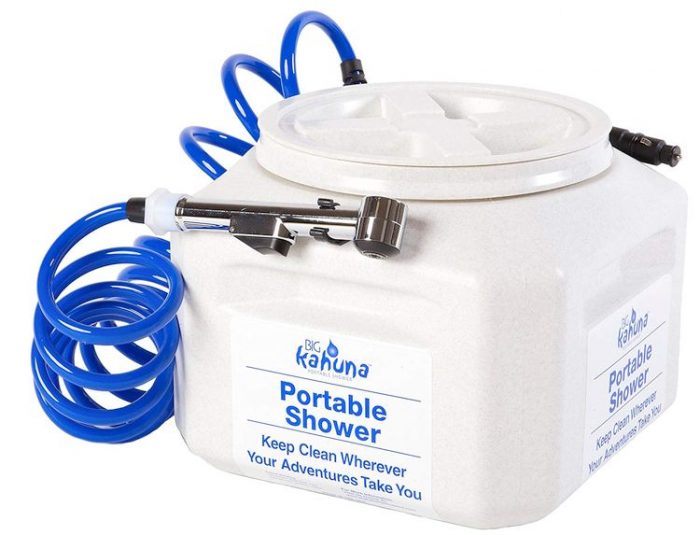 Big Kahuna Portable Shower is a big white box available in three different sizes related to water volume. The three available water capacity ratings of the shower are 4.7, 8, and 13 gallons. Colored in bright white, the shower claims to absorb the sun's UV rays to heat water. That claim seems counter-intuitive and questionable, considering a black colored vessel has traditionally been seen as the best method for passive heating through solar energy.
Anyways, the shower includes a pump that connects to any car's 12v supply to start pumping water. An 8-feet coiled shower hose gives you ample length to maneuver the shower. Included clips and hooks make it possible to place the showerhead right so you can take a bath without holding the shower.
It is generally recommended that you use a conventional 110V heating element to heat the water. The 110V heating element is not included with this product. Additionally, since a 110V supply is difficult to come by on a camping trip, you are left on the mercy of whatever heat the white solar-powered shower generates. In comparison with a conventional solar camping shower, this one seems way overpriced.
Pros
12V power supply makes it convenient for car camping
Can hold a lot of water (depending on model)
Cons
Doesn't actually heat water by much
Questionable value for money
Choosing Your Best Portable Shower For Camping
As we've seen, each type of shower has its own ups and downs. Keeping them in mind will make it easier to choose the best portable shower for camping. If you value higher water temperature and quicker heating, propane powered showers are your best bet. On the other hand, if you wish to travel light and can set aside several hours to allow water to heat, solar powered showers are an excellent and economical choice.