A simple, one person tent is a great companion when you wish to explore the great outdoors by yourself. You could have company, but often it makes better sense to carry one-person tents rather than a large tent for a group. The best one person tent should have essentials like waterproofing and ventilation, and being lightweight enough to carry makes things all the more convenient. You don't necessarily have to spend big on your tent, and we'll discuss some amazing budget tent options as well.
5 Best One Person Tents To Pick In 2019
5 Best Budget Backpacking Tents Under $100
Some Tips To Help You Choose The Best One Person Tent
Your One Person Tent Should Be Lightweight
Weight of the tent is an obviously important consideration for your backpacking and hiking trips. While a heavier tent won't be much trouble for car camping, you want the backpacking tent to be just a few pounds.
There are tents that weigh slightly more than 1lb, though more common versions usually add on a few pounds as a tradeoff with the cost. Realistically, you'll be looking at a tent weighing less than 5 pounds, and that's a good number.
Interior Space And Comfort For Your Tent
Practically speaking, most one person tents won't give you much room. In most cases, you'll have enough room to crawl into your tent and lie down. There might be some extra space for storing some gear and essentials, but that's about it.
Most of these tents aren't made for relaxing throughout the day. The practical use is to set up camp, sleep, pack it up in the morning, and walk away. If you tend to get claustrophobic or need extra space, consider choosing a two-person. Most of the tents listed here have two-person options available as well.
There's a good chance you'll need a mattress or a sleeping pad. In any case, keep an eye on any additional weight you add to your gear. You can also consider a lightweight cot tent for added comfort.
Tent Materials, Camping Seasons, And Condensation
Tent cost and material have a trade-off, but don't buy some cheap product that doesn't offer protection from the elements. These tents are practically worthless; worse, they're dangerous. Most one person tents are three season tents. Generally made for spring, summer, and fall, these tents should hold against anything but extreme cold and snow.
The tent you choose must be waterproof and hold well against the wind. A lot of these factors are affected by the choice of tent materials. The most popular material for tent fabric is nylon with a waterproofing coating. High-quality tents will find a way to make the material thick, robust, breathable and waterproof. Cheaper tents, on the other hand, will simply pick a thinner fabric, and perhaps sacrifice some breathability.
Condensation is another problem to handle. In the confined space of a small tent, the water vapor your body emits at night will start to form water droplets on the tent and other stuff. Even just a touch to the tent could practically leave you drenched and uncomfortable. Well ventilated tents help minimize the problem. Breathable fabrics also help dramatically reduce condensation.
How Long Does Your Tent Take To Set Up And Pack?
At the end of a day of long hiking, the last thing you want is to spend hours pitching up a tent. Plus, there's a good chance you'll start to pitch the tent as the daylight is fading. Even if you're with a group, setting up your tent is your responsibility. Choose one that is easy to set up and as easy to pack away.
Freestanding tents can be pretty useful, given their ease of setup and a wider variety of locations available. However, if conditions make a non-freestyle tent necessary, practice a bit before your camping trip. Knowing how to deal with the guylines, poles, and stakes will help speed things up on your trip.
5 Best 1 Person Tents Reviewed
1. Snugpak The Ionosphere 1 Man Dome Tent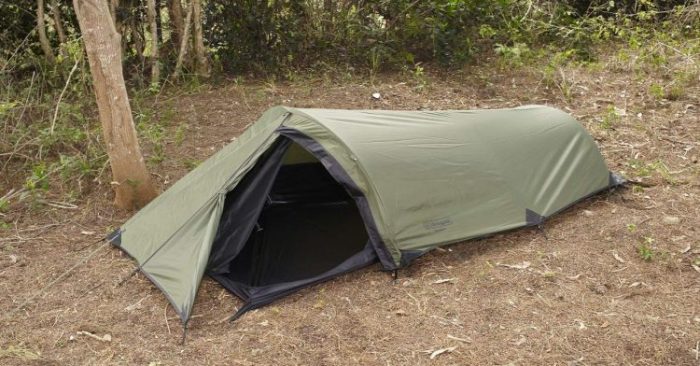 Snugpak The Ionosphere 1 Man Dome Tent is pretty spacious for a one man tent. The inner tent is made from nylon with a polyester mesh, which gives it excellent ventilation. The outer layer is a polyester rainfly with a polyurethane coating for waterproofing
Overall dimensions of this tent are 94"x39"x28", which makes it pretty roomy even for a tall person. The tent comes with a repair kit and weighs just about 3.5 pounds, making it a very good hiking tent. This is not a freestanding tent, so you should know your way around setting up guylines and stakes.
Pros
Spacious
Lightweight
Made from durable high-quality material
Holds up well against wind and rain
Cons
Tent pegs are thin and sharp, which can cause problems
Zippers feel flimsy
2. Nemo Hornet Ultralight Backpacking Tent
As you can guess, a big selling point of the Nemo Hornet Ultralight Backpacking Tent is its weight. Minimum trail weight of the tent is just 1 lb 15oz., which makes this ultralight tent quite a breeze to carry on backpacking trips. Even with the tiny weight, the tent is sturdy and spacious.
Dimensions of the tent are 87×43-inches, giving it plenty of space. There's also a vestibule area where you can store your gear while keeping your sleeping area clutter-free. The tent fabric is nylon, with 15D nylon used for the floor, and 10D for the rainfly. The nylon mesh on the inner layer works well with the rainfly to keep condensation problems away and give this tent great ventilation.
The tent is semi-freestanding and has color-coded guylines to go along the aluminum pole for easy setup. Nemo Hornet is built to be waterproof, and the tub floor construction helps keeps things waterproof.
Pros
High-quality construction materials
Very lightweight
Easy to set up and pack away
Spacious
Cons
A groundsheet will likely be needed to protect the floor, hampering weight reduction
3. MSR Hubba NX 1-Person Lightweight Backpacking Tent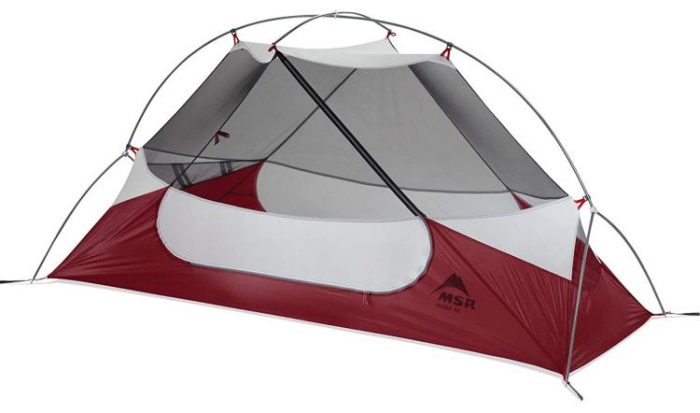 MSR Hubba NX is another lightweight tent with double walls, a side-entrance, and a vestibule. The tent fairs pretty well with space, and you can make good use of the vestibule for storage. On complete setup, the tent weighs 2.9 lbs, and its minimal setup option will knock down the weight a bit and bring it to 2.5 lbs.
This is a semi-freestanding tent. The weight savings between the minimal and full setup largely come from removing the stakes and guylines. Structurally, the tent is very well made and easy to set up. It has good ventilation, and condensation problems will be kept to a minimum. You might want to use a footprint to better protect your tent.
Pros
Waterproof
Fairly spacious
Well ventilated
Can be used as a freestanding tent
Cons
Stakes/Tent pegs are thin and needle-like
Low available width can make the tent feel cramped
4. Naturehike Cloud-Up Ultralight Backpacking Tent with Footprint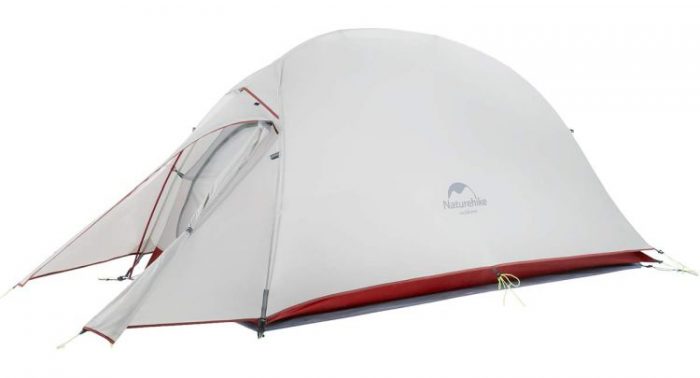 Naturehike Cloud-Up is a well-made tent with great value. I had a mental debate wondering if I should place this in the sub-$100 tent category since it is pretty close to that mark. The tent has double walls, with the inner tent made from 20D nylon mesh. The rainfly is made from 20D nylon, coated with silicone for waterproofing. Full set up weight of the tent is 3.5 lbs.
While the seller claims the tent is good for all seasons, I'm going to place this solidly as a three-season tent. The construction quality is fairly good, but it doesn't quite strike as a tent that can handle snow. Dimensions for the inner layer of the tent are 83"x39"x40", making it fairly spacious. The outer layer forms a 24inch long vestibule for additional storage space.
Pros
Freestanding
Good value for money
Spacious with good storage area
Cons
Poor ventilation can cause condensation
Can be a bit problematic to set up
5. Big Agnes Copper Spur HV UL Backpacking Tent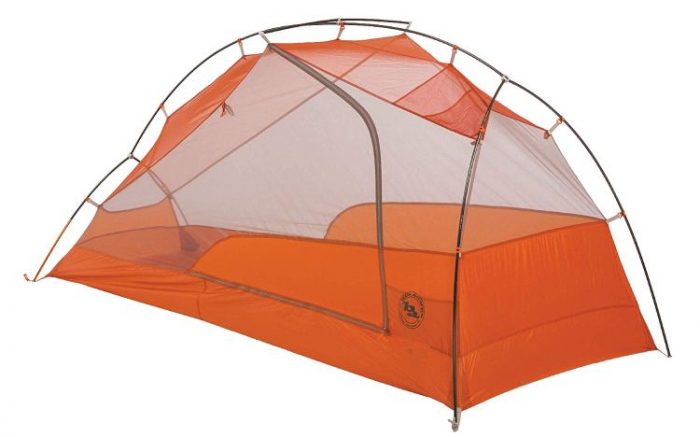 Lightweight with a dose of comfort, the Big Agnes Copper Spur HV UL Backpacking Tent is pretty enticing. Trail weight of this tent is just 2lb 2oz, while the full weight is 2lb 8oz. The lightweight tent has a floor area of 20 sq.ft. which is acceptable, and a height of 38-inches.
A vestibule and internal pockets give you plenty of room to store your stuff. Big Agnes Copper Spur has excellent waterproofing and will hold its own against the wind as well. To increase the life of the tent, it is recommended you use a footprint.
Pros
Lightweight
Well ventilated
Fairly spacious
High-quality construction
Cons
The higher price may not match with value for money
Best Budget Backpacking Tents Under $100
An expensive tent isn't on everyone's list. Sometimes, you want value for money, and an entry-level tent for a quick trip. This selection of budget backpacking tents is aimed at good value while keeping the necessary features available.
1. Winterial Single Person Personal Bivy Tent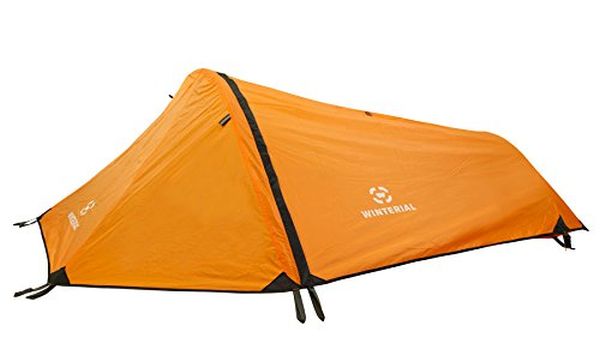 Winterial Single Person Tent is a pretty useful tent, as long as you understand its limitations. Priced well below $100, this tent offers great value and use as an entry-level tent. It weighs slightly less than 4 lbs when packed, and has the dimensions of 90"x28"x38". The width does leave a bit to be desired, but it should work if you have a slender frame.
Waterproofing on this tent is acceptable, and it should work fine in mild weather or light showers. If you get into heavy rain, this tent won't be much help. The ventilation is average, and there are likely to be issues with condensation. On the plus side, the tent is remarkably easy to set up and a novice should be able to set it up with ease.
Pros
Great value for money
Easy to set up and pack away
Low weight
Large zippered doors for easier access
Cons
Condensation can be an issue
Waterproofing will not hold up against heavy rain
Low width may not be comfortable
2. Eureka! Solitaire One-Person, Three-Season Backpacking Bivy Style Tent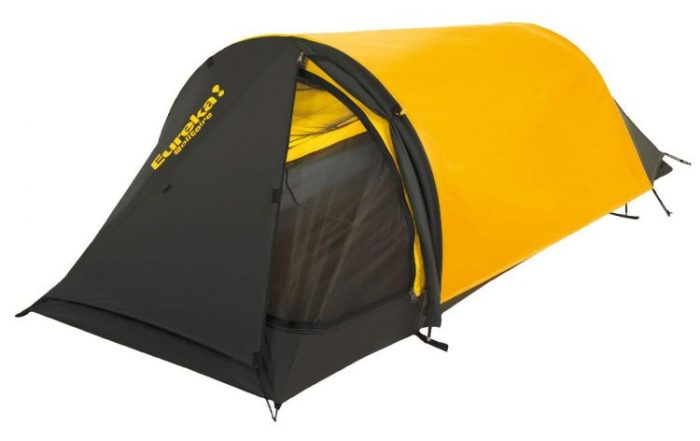 Eureka Solitaire has the interior tent covered in a no-see-um mesh. The outer rainfly is made of polyester and has a fabric coating for water resistance. Interiors of the tent measure 96"x32", and include zippered pockets to provide more storage space. A small vestibule gives you more storage space for your stuff.
The tent weighs just about 3 lbs and folds down to a compact size. It is a pretty convenient piece of gear to bring along for your backpacking journey.
Pros
Compact when packed
Good value for money
Very lightweight
Cons
Questionable longevity
Included fiberglass poles appear to be unreliable
Can be tricky to set up
3. ALPS Mountaineering Lynx 1-Person Tent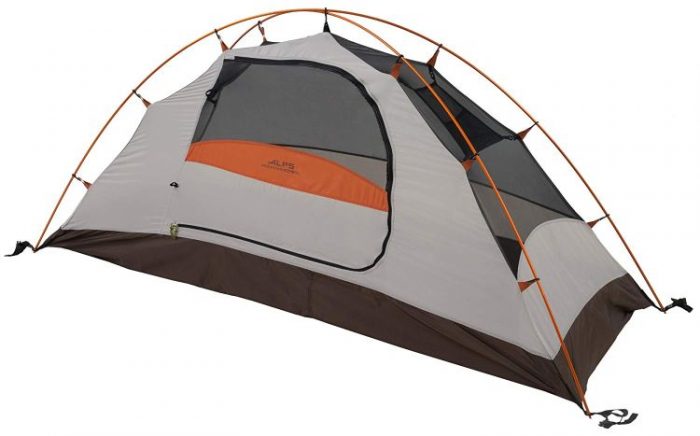 ALPS Mountaineering Lynx 1-Person Tent is one of the most popular tents in this category. While it does have its limitations due to price, this tent could compete with higher priced models. The tent is easy to set up and uses two aluminum poles to stay sturdy.
With a weight of almost 4lbs, the tent surely is slightly heavy, but it makes it up with other features. The tent is spacious, offering a floor area of 90"x32". You'll find storage pockets, gear loft, and a vestibule to maximize available storage space. The door can feel a bit small, especially with the vestibule in use. Ventilation is handled by the tent's half mesh walls and you won't find much trouble with condensation while using this tent.
Pros
Excellent value for money
Reasonable weight
Minimal condensation issues
Good storage space
Cons
Can feel cramped
Using the vestibule storage can make the door feel smaller
4. Andake Ultralight weight One Man Camping Set
Andake Ultralight weight One Man Camping Set is another popularly used camping tent. The biggest draw for this tent is the weight; weighing just 1.6lbs, the tent is great for camping and folds down to a compact size.
The tent material is silnylon, which is quite a pleasant surprise at this price range. It is more reliable and stronger than standard nylon, and you can expect it to last a few camping seasons. Andake Ultralight is difficult to set up and is designed more as a shelter than a full tent. You will need to add other accessories to actually make it livable. Storage options are limited even for a one person tent, which can be an issue.
Pros
Ultralightweight
Silnylon is a quality material that is durable and waterproof
Good quality zippers
Easy and compact to pack away
Cons
Difficult to set up
Needs additional accessories to be livable
Low storage space
5. TETON Sports Mountain Ultra Tent; 1 Person Backpacking Dome Tent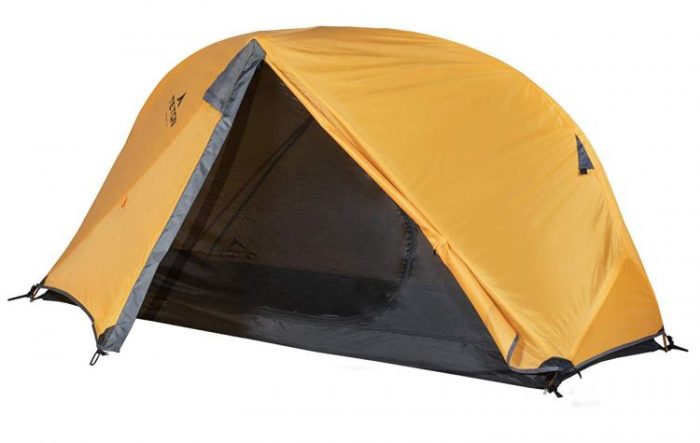 Base size of 82"x32" and weight of 3lb3oz make this a useful 1 person tent. TETON Sports Mountain Ultra has a micromesh for better ventilation and a clip-on rainfly for waterproofing. The tent package also includes a footprint for better longevity and enhanced waterproofing.
Where value for money is concerned, this Teton tent is a step above its competition. It is very well priced for its features, is easy to set up, and as easy to pack away. With a floor area of 82"x32", the tent offers plenty of room. The center height is good enough to allow even a tall person to sit comfortably.
Pros
Good value for money
Fairly spacious
Good ventilation
Cons
Heavier than most tents in this category
Some issues with waterproofing
Best One Person Tent For Your Camping Needs
The list above gives you a look at some of the highest rated and best one person tents available on the market. Weight and price are the most common motivating factors for backpacking tents. You should, however, also consider issues with waterproofing, condensation, and windproofing. If mild weather is all you're expecting, you can give yourself some leeway in selecting a tent. Those expecting tougher weather like heavy rain should put greater thought and effort in picking their tent.