Camping in hot weather often brings around an appreciation of modern cooling methods. Even purists find a place in their heart for a tent air conditioner for camping after dealing with stuffy and humid nights. You can try things like ventilating your tent or setting up camp at a nice spot. None of that is very helpful when its 100°F outside. Camping in the summer is fun, and a good air conditioner helps keep that fun alive!
Camping Air Conditioners Of Note
Top 10 Best Camping Air Conditioners
Here are our top choices for camping ac units. The products are not listed in a particular order of ranking. To be exhaustive, products across the spectrum have been included. This list includes portable air conditioners, fans, water evaporative coolers, and others to match various requirements for cooling during camping.
1. LG 5000 BTU Portable Air Conditioner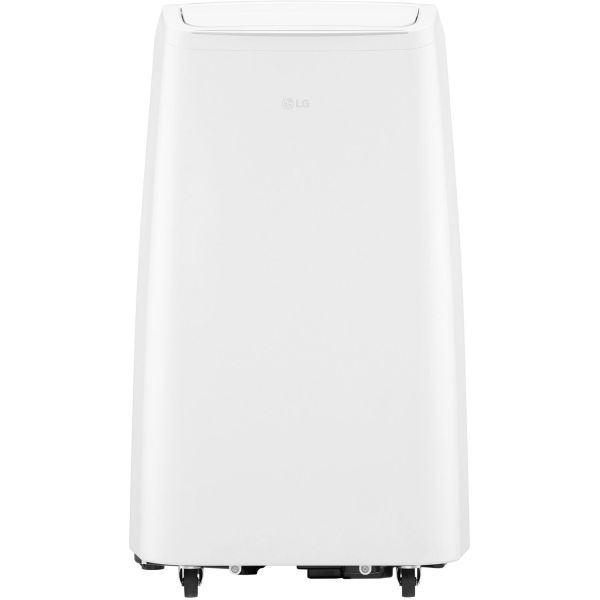 LG Portable Air Conditioner LP0818WNR is a small, portable unit that is pretty quick on cooling. Like similar portable air conditioners, this one is made for use in your home to cool down a room up to 200 sq. ft. in area. Of course, if you have adequate power supply and a place to put the vent, you can very well use it for your camping tent as well.
What sets this unit apart is the speed with which it gets to work (and show results). You will feel the effects of cooling fairly quick after switching on this unit. The air discharge at the top is pretty efficient in this regard and makes the cool air effect felt pretty quickly. The presence of a dehumidifier works fantastically as well. Bringing humidity under control can greatly enhance comfort.
The air conditioner itself has an LED display, while the included remote has a more detailed LCD display. The air conditioner includes a dehumidifier, which should make your tent more comfortable. Once the collector tray is full of water, the mini ac unit will shut down until the water is removed.
Pros
Quick to cool
Remote control
Portable unit is easier to move
Very powerful
Cons
Needs continuous power supply which may not be available at all campsites
Manual intervention needed to remove dehumidifier's water
2. Hessaire Products MC18M Mobile Evaporative Cooler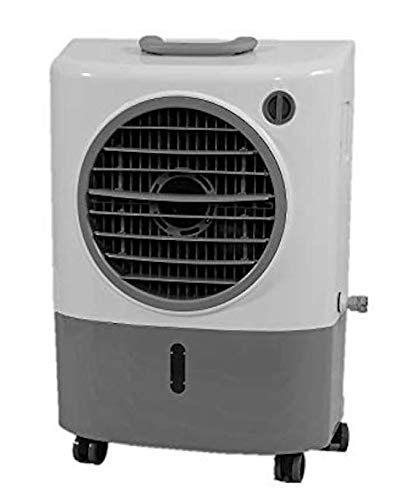 Hessaire's MC18M evaporative cooler is efficient, yet powerful. It is easily portable and requires low power; factors that make it a very convenient choice for camping. Its electricity consumption is rated at 0.7A/82W. That shouldn't be much of a problem if you've got an electrical supply available.
In conventional mode, it works as a simple fan with three speeds available on its rotary switch. These are low, medium, and high. Should a cooler gust of wind be required, simply switch on the built-in pump. Once the pump is operational, the machine uses water to cool down the air significantly.
Hessaire MC18M cooler makes use of a wide area evaporative material for more efficient cooling. And that works wonderfully. The small size is a blessing for portability, but it's also a small problem for usability.
The cooler will run out of water in 3-4 hours if the pump is employed. And the pump needs to be refilled manually. So while it does score great in terms of portability and cooling, it has the downside of needing manual intervention. Having to refill the cooler at night doesn't sound like much fun. Though you may not necessarily want the cooler to run for the entire night, in which case this isn't much of a problem.
Pros
Requires low power to function
Portable and powerful
Can work as a fan or evaporative cooler
Cons
Manual intervention needed to refill water for cooler
Does not work well in areas with high relative humidity
3. Frigidaire FFRE0533S1 5,000 BTU Mini-Compact Air Conditioner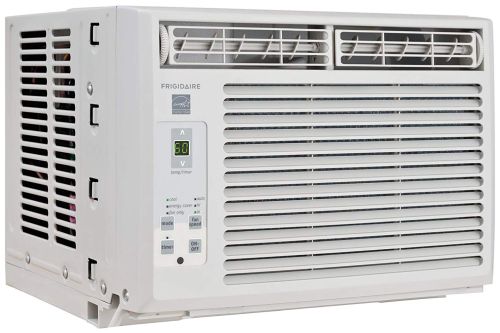 Frigidaire Mini-Compact Air Conditioner is an excellent choice for cooling down your tent. This relatively lightweight unit is designed as a compact window AC. However, it can be conveniently moved and used to cool a tent. The air conditioner is excellent at cooling and offers great value for money – features that have helped make it one of the best-rated air conditioners.
Since it is window-mounted, it won't take up a lot of space inside your tent. Though you will have to put in some extra effort to install it at a tent window or create a sock for installation. The air conditioner is convenient to use and can be pretty useful for a standard family tent.
The 5000 BTU air-conditioner is rated for a 150 square feet area, which should be enough for a tent. Its low-noise factor is definitely a plus, making it unobtrusive. You can count on this air conditioner to not rattle and disturb your sleep. For added convenience, you can rely on the electronic controls that include a display of information, like displaying the set temperature.
The included full-function remote comes in pretty handy in managing the settings for the Frigidaire AC. You can use the controls for managing temperature, or deciding the direction for airflow. It has a low power start-up which can come pretty handy.
Frigidaire Mini-Compact air conditioner also offers dehumidification, removing 1.1 pints of water per hour. However, manual intervention won't be necessary to remove the water.
Pros
Excellent value for money
Good cooling
Compact size
Cons
Window-style AC can feel bulky, even if lightweight
Requires tent with air conditioning window or similar setup
4. HONEYWELL 10000 Btu Portable Air Conditioner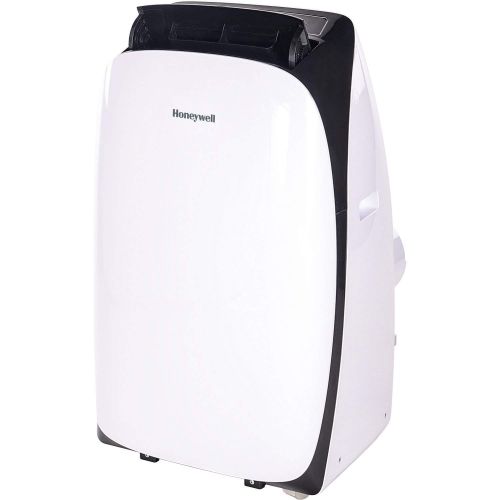 Sleek lines on the Honeywell AC bode well for its looks and design. Thankfully, the unit isn't all looks and provides excellent, consistent cooling. HONEYWELL 10000 Btu Portable Air Conditioner is a powerful unit, and yet it isn't noisy. That's not to say its noiseless, but the consistent whirr is more of a white noise that can be conveniently ignored.
The unit is excellent for large tents and can work with multiple rooms. Installation is quick and easy, and the air conditioner can be controlled via remote. It is an easy to maintain air conditioner, thanks to quick access to its air filters.
Pros
Powerful at 10,000 BTU
Easy controls and setup
Easy maintenance
Cons
Dehumidifier bucket will need manual intervention once full
5. EdgeStar AP8000W Portable Air Conditioner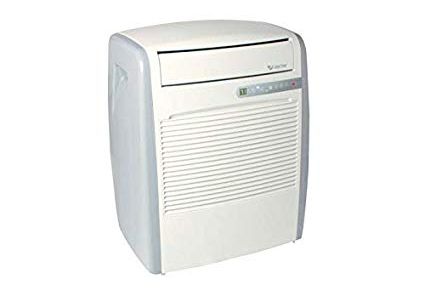 EdgeStar AP8000W Portable Air Conditioner is not the most powerful unit out there, but it makes up for it with the convenience on offer. It is rated for 4,600 BTU, which is good enough for a medium-sized or family tent. The avowed cooling area for this air conditioner is between 150 to 250 square feet.
Dehumidifier function on the AC can take out 50 pints of moisture per day. This small portable AC also adds an additional convenience by including a direct drain option and exhaust hose to expel collected condensate without requiring manual intervention.
The portable air conditioner can be controlled via remote. Its full-function remote can direct the cooling, as well as the direction of the cool air. EdgeStar AP8000W has a three-speed fan, along with directional louvers to manipulate airflow.
An interesting feature is that the unit is 24-hour programmable, so you can set it to start cooling before you enter your tent. Or, perhaps have it turn up during times where you know heat is causing trouble.
Pros
Easy to move and set up
Remote control
Impressive cooling features
24-hour programmable
Cons
Can be slow to cool
Can be somewhat loud when cooling
6. MightyKool A 12V Air Conditioner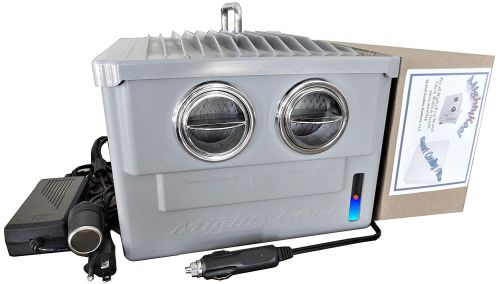 Named like some unimaginative superhero, the MightyKool A works off a standard 12V port. If a 12V source is not accessible, a 110-volt Converter can be employed. To its credit, the MightyKool does a decent job of cooling. The two outlets blast cold air out at 25mph, with a view of getting maximum circulation and distribution for cool air. Small and battery-powered as it is, the MightyKool can work well as a small RV air conditioner.
Of course, its use isn't limited to an RV. Provided you get a battery in place, this 12V air conditioner can be used to keep you cool in your tent. Its size and portability make it adept as a mini portable camping AC. Rather than working passively as a unit blowing cool air off the top of the ice, the MightyKool A works more actively for cooling.
Though it isn't fully an evaporative cooler, it does get some inspiration there. This cooler works off water for efficient cooling. Although unlike evaporative coolers, it does not need quick refills of water. The biggest downside for this cooler is the noise. Cooling and the forceful distribution of air is pretty loud.
Pros
Excellent at cooling
Good air distribution
Can work on 12V DC or 110V AC converter
Does not need frequent water refills
Cons
The unit can be loud
Cooling capacity is limited to those in the immediate effect of air outflow
7. COSTWAY 10000 BTU Air Conditioner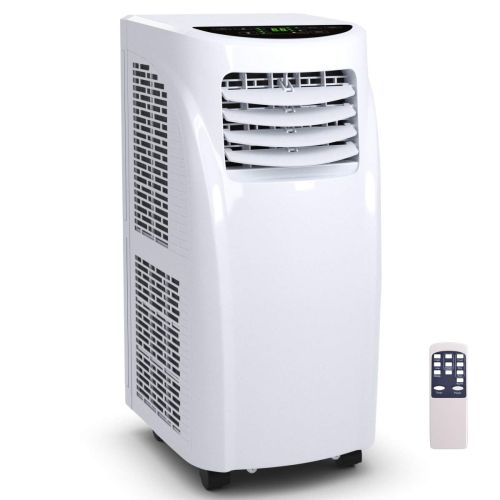 At a rating of 10000 BTU per hour, you can depend on this air conditioner to cool things right down. Temperature setting range for the AC varies from 62.6 °F to 86 °F, which is pretty standard and convenient.
It may start with the default setting where the temperature is displayed in the Celsius scale. Depending on your preference, you may want to change the scale, or at least remember that it has been set on Celsius.
Most of the functions can be controlled via remote. You can set the Costway Air Conditioner to work on simple fan mode where it has access to two speeds. Or just let the powerful AC run and cool down your tent. There's an included 24-hour programmable timer that should make it convenient to schedule cooling.
While the unit can be loud, the noise can be reduced by setting it to sleep mode. Once in sleep mode, the AC quiets down to let you sleep. It won't be completely silent, but the overall noise will reduce considerably.
Pros
Powerful cooling
Easily portable
24-hour programmable
Sleep-mode function reduces noise
Cons
Noisy outside sleep mode
Drain hose connector for dehumidifier can be somewhat leaky
8. Mikkin Mini Personal Space Air Cooler – Battery Powered Air Conditioner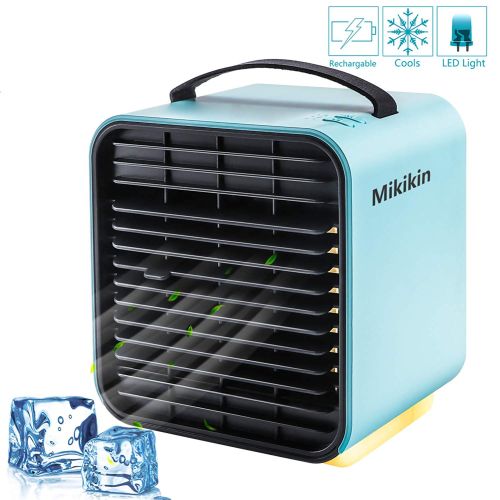 Mikkin Mini Personal Space Air Cooler is a tiny device that works off evaporative cooling. For added convenience, this small unit makes use of a rechargeable battery. When needed, all you have to do is plug it into a USB socket and the battery gets recharged.
With small dimensions at 4.72Lx5Wx5.2H inches and a weight of 0.5 kilos (~1 lb), the cooler is portable and easy to store. As an evaporative cooler, it makes use of water for cooling. Once you will it up with water, the small cooler gets to work cooling.
The small unit and fan can't really keep up with the requirements of cooling. So, they also recommend placing ice cubes for an enhanced cooling effect. To that end, it's more of a mix of passive and active cooling. Additionally, it can't cool down an area, so it is better used as a personal cooler.
Manufacturers of the unit also claim that it uses "negative ions" to cleanse the air of PM 2.5 particles. I'm more inclined to think of that as a load of marketing BS. The small cooler also includes a built-in LED light, which some people might find helpful.
Pros
Small unit that is easy to carry
Battery-powered
Lightweight
Cons
Very limited cooling
Prone to leaking with even small movements
9. Auka Personal Air Cooler – Arctic Air Cooler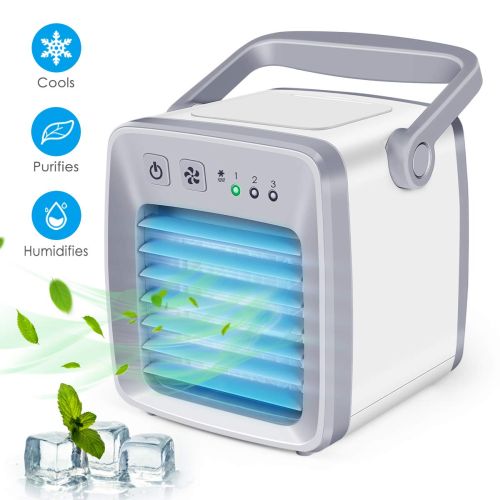 Auka Personal Air Cooler, or personal ac, is very similar to the Mikkin cooler that we see on this list. To be clear, there are many such products available, some carrying the "Arctic Air Cooler" moniker that I added to the heading here. There won't be any Arctic cooling. These products are basically fans, with some added cooling thanks to their use of water or evaporative cooling.
Within those parameters, the Auka Personal Air Cooler works fairly well. Once evaporative cooling kicks in, you can expect cool air from the cooler. It's worth noting that this is a personal cooler, and its effects are limited to the person towards whom the cooler is directed. There's apparently also an air purifier aspect, though I wouldn't put much stock in that.
Pros
Small area with acceptable cooling effect
Light and portable
Cons
Limited cooling effect
Prone to leaking
10. Black+Decker BPACT14HWT Portable Air Conditioner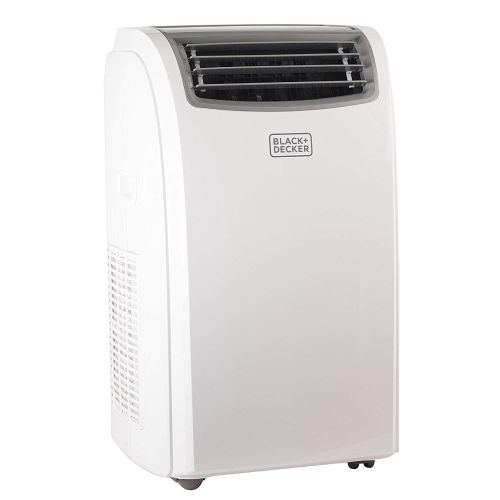 Black+Decker BPACT14HWT Portable Air Conditioner is a versatile unit with great functions. With 14,000 BTU at its beck and call, this air conditioner will cool down a room very quickly. That also stands true for its use as a camping air conditioner.
The cooling effect is quick and shows very well that it's worth the 300-350 square feet claim that the company makes. Another interesting thing is the inclusion of a heating system. So this AC comes in handy in not just the summers, but the winter as well. Admittedly, the heating is low-power compared to the cooling, but it's still a nice feature to have.
Programmable, electronic controls on the AC can allow programming up to 24 hours in advance. Apart from its heating and cooling features, the Black+Decker AC can be used as a fan and dehumidifier as well. If you use it as the latter, don't forget to use a hose that safely empties into a collection bucket.
Pros
Powerful and quick cooling
Programmable
Can be used for heating as well
Cons
Bucket-less design can get problematic
Noisy
Camping Air Conditioner Buying Guide
Active Or Passive Air Conditioner?
Choosing an active or passive air conditioner is perhaps the biggest choice to make here. In simple terms, a passive air conditioner will generally not require any major modifications to your tent. Most likely, these air conditioners are fans. Some units may also offer cooling by blowing air over ice and such. Most effective in terms of cooling here are evaporative units that use water to cool down the air.
A full air conditioning system might require changes or special accommodation in your tent. This is generally aimed at having a suitable exhaust that carries out hot air away from the tent. These systems will actively cool down air, circulate it, and may also offer dehumidification. Portable air conditioners like these can be more expensive than passive units.
A special mention should go to the Zero Breeze Portable Air Conditioner, which offers cooling in a portable, battery-powered package. Though aimed at being camping air conditioners, these are currently expensive with questionable value for money.
Budget And Portability
If you have access to a power supply and are car camping, a portable air conditioning unit may be the best choice for cooling. However, if budget is an issue, a fan or air cooler is worth looking into. Even a small portable air conditioner for camping can end up costing several times more than a fan. Keep your budget and requirements in mind when looking for the best camping air conditioner.

FAQs For Using A Camping Or Outdoor Air Conditioner
1. How do you keep a tent cool in the summer?
An important part of keeping your tent cool in the summer is having a well-ventilated tent. Big windows with no-see-um mesh and ground and roof vents help keep the tent well-ventilated and cooler. Place your tent in a shaded area to stay protected from the sun. Simple ideas can be used to cool your tent without electricity.
Often, none of these methods work, and you need something to actively cool things down and circulate air in the tent. An air conditioning unit will do the job for you. Depending on your needs, it can be as simple as a fan circulating air in your tent. Better cooling comes from air conditioning units that actively provide cool air and remove excess humidity.
2. Is a 5000 BTU air conditioner enough for a tent?
Short answer: yes. Longer answer: It depends on the size of your tent. A tent with a floor area of 100 square feet will be fine with a 5000 BTU air conditioner. If your tent is larger, like a 12 person tent, think of getting a more powerful air conditioner. Most air conditioners for tent use have a range of 5000BTU-12000BTU.
Since tents aren't as well insulated as a home, your tent ac will have to put in more effort to cool a similarly sized area.
3. Will a portable air conditioner cool multiple rooms?
Portable air conditioners will provide the best cooling in their immediate vicinity. If you have a tent with multiple rooms set up, you are putting a barrier to the movement of the cold air. In such a situation, it can be helpful to keep doors to different rooms open. You can also use a regular fan to ensure better circulation of the air.
4. Can I DIY a tent air conditioner?
Yes. There are several ways you can build your very own air conditioner. Your DIY project won't be as effective as an off-shelf portable air conditioner, but it can match other passive or fan-based air conditioning units.
5. Is there any tent with air conditioner port/window?
Yes, several tents that have air conditioner ports or window are available for purchase. Built specifically for use with air conditioning, these tents also remove common air-conditioning issues in tents. Most tents built for air conditioning forego a mesh roof and velcro around windows. Both of these cannot be sealed properly and cause loss of cold air.
6. Can I rent portable air conditioner for my camping?
Yes, depending on your location or camping site. Some camping sites (especially glamping sites) offer air conditioning or will rent a portable air conditioner. You can also reach out to businesses in your area, like event rental companies to see if they have a portable ac available. Some of these companies will even set the unit up for you if needed. You can also check store rental options like those offered by HomeDepot.
7. What tents have AC ports?
Several tent manufacturers support AC ports in their tents. Finding a tent with air conditioner slot might take some effort, but it is possible to convert your tent to be AC compatible. You can also buy aftermarket accessories like AC Boot to make your tent compatible with air conditioners.
8. Are pop up campers air conditioned?
Conventional pop up campers do not have air conditioning. However, you can add air conditioning using 12V air conditioners like the Mighty Kool A, or by using portable air conditioners.
9. What is the best tent fan?
Several tent fans are readily available on the market. Highly rated fans like the OPOLAR Mini Portable Battery Operated Travel Fan and Ansee Solar Fan are worth considering.
10. How long does a battery powered fan last?
This depends on individual fans, features on offer, and batteries. Generally speaking, a battery-powered fan may last anywhere between 2-8 hours.
11. What is the most powerful portable air conditioner?
In our research, the Black+Decker BPACT14HWT was the most powerful portable air conditioner at 14000 BTU. However, the Costway 10000 BTU and LG 10000 BTU variant are worthy of note, even if they are lower in absolute numbers.
The Best Air Conditioner For Your Camping Trip
Soaring temperatures make it necessary to consider an outdoor air conditioner as part of our regular camping trips. The purist in me may balk at the idea, but hot and humid weather is enough to convince one of enjoying some luxuries. A camping air conditioner is a worthy companion in this hot weather, and certainly not one to be taken lightly. This list presents some of the best products available that can be used to cool down a tent.