Camping with family and friends is an amazing experience. Bringing along multiple tents could be one way to accommodate everyone. However, I think a better way is to employ large tents where everyone can be comfortable. These large tents can be quite elaborate. While the task may seem daunting, the best large tents usually handle the nuances so you get comfort out of the deal.
15 Coolest Large Tents In 2019
Top 15 Large Tents – Reviews And Impressions
1. CORE 9 Person Instant Cabin Tent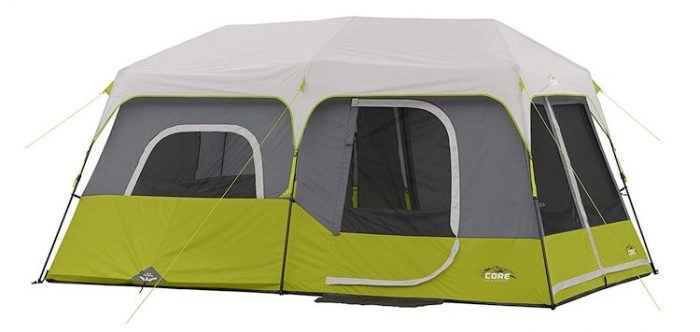 This nice looking tent is excellent for a family vacation in the great outdoors. As an instant setup tent, this one promises to be ready in under 60 seconds. That time is best achieved if two people set this tent up, though one person could do it as well.
Waterproofing is handled by Core's H2O block technology. In this system, the tent fabric is PU coated and has a 600mm hydrostatic rating. Inverted stitching for the seams and the additional precaution of taped seams helps enhance the tent's waterproofing rating.
As a family tent, this is spacious and as welcoming as a tent can be. The mesh windows and large doors work with adjustable ground vents to ensure the tent remains well-ventilated. When not covered by the rainfly, its mesh roof can help with ventilation too… or just gazing at the stars. An electrical cord access port can be pretty useful, especially if you want your gadgets running. For group camping, that can be pretty helpful.
For added privacy, a room divider can be used to create two rooms for the Core 9 Person Instant Cabin Tent. Each room is big enough to hold a queen-size mattress, has access to storage pockets, and its own door for going in/out of the tent.
Pros
Very quick to setup
Can be divided into two rooms
Good waterproofing
Center-height of 78-inches
Cons
The floor could use better waterproofing
Some durability issues
2. Hikergarden/TOMOUNT 8-Person Tent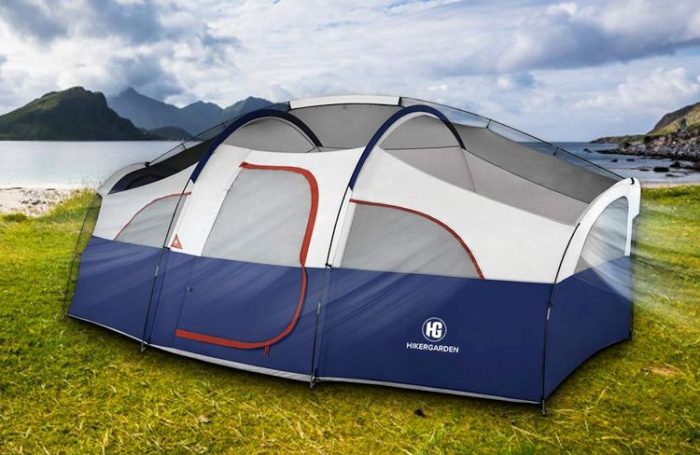 Tomount 8-Person tent has something of a conventional dome-style tent look. While conventional large camping tents in the cabin style have enough center height to let people walk around easily, the same luxury isn't available for dome-style tents. However, these perform better with regards to wind and (often) weight.
This tent comes with several facilities you'd expect in a modern and large tent. Electrical cord access, internal storage pockets, and roomy enough for three queen-size air mattresses. While it may be possible, I think shoving in three mattresses is pushing it a bit.
Two mattresses is a good number here, leaving you enough room to move and place your gear. A room divider can be employed to get two rooms out of this tent, each capable of holding an air mattress.
Ventilation is easy with the large D-style door with mesh, five windows, and the mesh top. However, once the rainfly comes on, the ventilation ends up suffering a bit. Dividing it into two rooms with just one door placed in the middle ends up being a bit awkward.
Pros
Spacious as a dome tent
Good waterproofing
Cons
Could use better ventilation
Included instructions aren't very helpful
3. Tahoe Gear Bighorn XL 18′ x 18′ 12 Person Teepee Camping Tent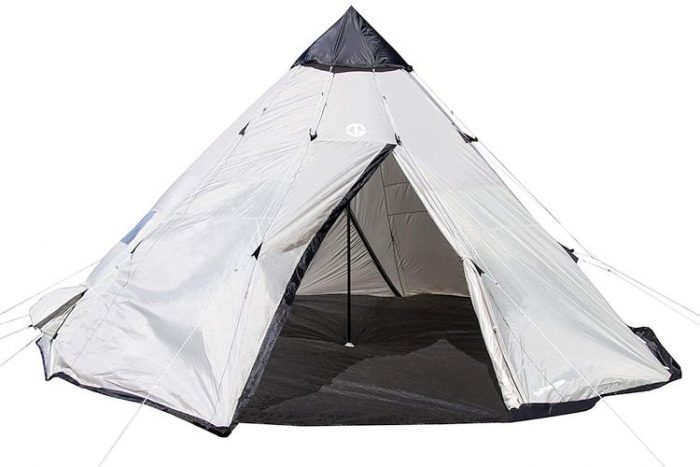 Tahoe Gear Bighorn XL is one of the best 12 person tents available. As you can guess, this large and spacious tent is also one of the best family camping tents. It handles wind and rain with relative ease, so your family doesn't run the risk of waking up by soaking in water.
Tapering walls of the Teepee tent don't quite allow the freedom of height that a cabin does, but there's still enough room to walk about freely. On the plus side, this tent is massive enough that you could drop four queen-size mattresses and still have enough room to walk around.
Four windows work with the roof for ventilation. The windows have additional plastic covers so you can have a good view. On the downside, the use of plastic erodes ventilation. A mesh would be preferable, but I guess that could end up creating waterproofing problems. In terms of waterproofing, the polyester fabric is rated for 1000mm. It isn't impressively high, but the general shape of the tent helps with the waterproofing.
Pros
Very spacious
Performs well in wind and rain
Can house 12 people in comfort
Good value for money
Cons
Lack of mesh door/windows hampers ventilation
The guylines can be difficult to handle
4. NTK Cherokee GT 8 to 9 Person Dome Camping Tent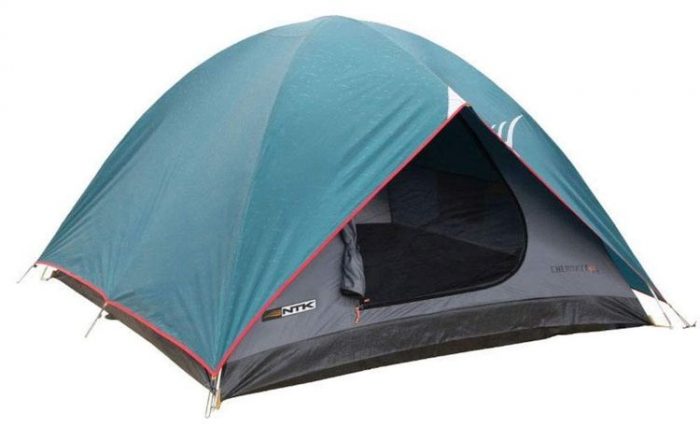 NTK Cherokee GT is an impressive dome tent. It hits the sweet spot on the checklist of several requirements for a large tent and does it with style. Floor size available is 10×12 feet, and the center height is 6.1 feet. With those dimensions, there's a good chance you'll be able to walk around upright in the tent.
Place two air mattresses, and you'll have a nice sleeping area with plenty of space left for movement and gear. The inner tent has large windows with no-see-um mesh that also covers part of the roof. Together with the large doors, these offer good ventilation.
However, once you put on the rainfly, the ventilation decreases. It isn't terrible, but it's nothing worth writing home about. The rainfly is made with 190T polyester and coated with polyurethane. It rated for 2500mm water. The floor is thick polyethylene and does a good job waterproofing as well as insulating the tent from the ground.
Pros
Excellent waterproofing
Plenty of space
Can be divided into two rooms if necessary
Cons
No-see-um mesh is average at its job
No floor vents
5. OZARK Trail Family Cabin Tent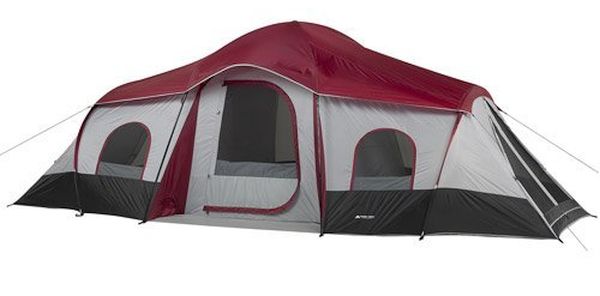 OZARK Trail Family Cabin Tent is a popular family tent. It's also incredibly good for group camping, considering it has a ton of space and offers some privacy to its inhabitants. This is one of the best 10 person tents, offering almost 180 sq ft of area, and a center height of 78-inches.
There are two room dividers in this tent, which help create three rooms. Each of these rooms has enough space to put a queen size bed. Each room also has its own door to enter/leave the tent in privacy without disturbing people in other rooms. Six windows work with the large doors to present enough ventilation to this tent.
Waterproofing is acceptable, even if not impressive. The rainfly works well and the taped fly seams help reduce any additional troubles you may find with waterproofing. Keep in mind, this tent may have trouble with sustained moderate rainfall.
As long as you're expecting good weather or a drizzle, this tent is a great companion. Other worthy features include an e-port, mud mat, shoe pockets, and organizational pockets for other items.
Pros
Spacious with well-thought features
Three rooms, each with its own door
Large windows for good ventilation
Cons
Waterproofing is perfunctory
Included stakes aren't useful
6. Wenzel 8 Person Klondike Tent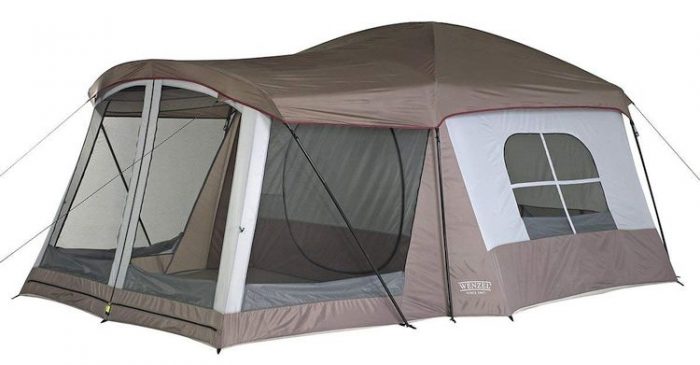 Wenzel 8 Person Klondike Tent is an interesting and fun design for a family vacation. Conventionally speaking, it is an 8-person tent. The tent is made in a two-room configuration, where the larger room is the full tent, while the screen room serves as the second room.
There's a single point of entry, where large doors lead you to the screen room, which opens up into the tent room. Though it is officially an 8-person tent, I'd say it's better suited as a small family tent. Use the tent for sleeping, and the screen room becomes something of a living room. Just rest and enjoy there during the day.
The screen room could be used as a sleeping room as well, though the convenience is a bit questionable. The large mesh windows and doors of this tent, together with the sleeping room, give it great ventilation. Plus, there's the mesh roof, though you could let it stay covered with the rainfly. A bathtub floor covers the tent and the screen room, so waterproofing isn't much of a problem.
Pros
Waterproofing is good enough for light to medium rain
Spacious
Well-designed
Cons
Only one door
Zippers could be better
7. Mountain Trails Grand Pass 10 Person Tent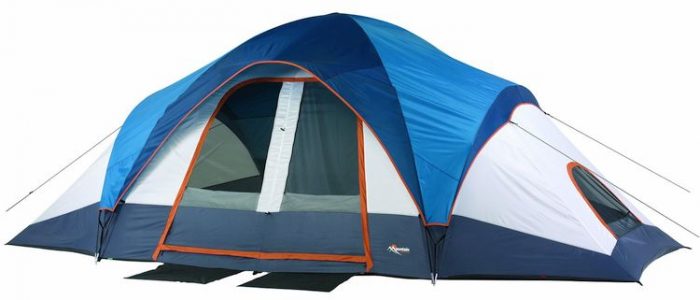 Mountain Trails Grand Pass 10 person tent is spacious and has lots of room. You can easily place two queen size mattresses in there and still have a lot of space available for other stuff and to walk around. Half the point of a large tent is comfort, so I'll suggest making good use of the empty space rather than trying to fill it up with sleeping bags or single mattresses.
There is a room divider available that bisects the tent into two parts. Each of these can hold a queen-size mattress and have access to one side of the door. Windows and vents have zippers for easier access. Since some vents aren't fully shielded by the rainfly, they might have to be closed during rain. It's efficient, but it loses on ventilation.
Pros
Relatively easy to set up and pack away
Very spacious
Two room configuration, each with its own door
Cons
Below average ventilation
Questionable longevity
8. NTK Super Arizona GT 12 Person Tent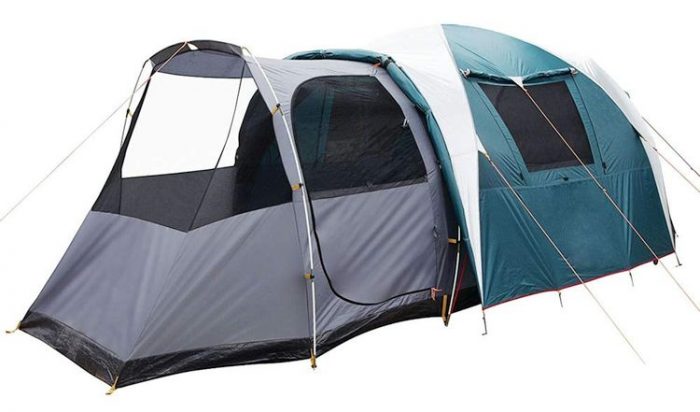 NTK Super Arizona GT is a huge tent with plenty of space to use. It measures 20.6×10.2 feet, and even though dome-shaped, it offers a generous center height of 6.9 feet. A lot can be done in an area like that. However, given the shape of the tent, it's still only good for about two queen-sized mattresses.
The plus point of this configuration is that there will be a tone of space left over. You can use it not just for your gear, but also for other little luxuries like chairs. A room divider can be brought in to divide the room into two and offer greater privacy.
NTK Super Arizona GT has a rainfly made from 190T polyester and coated with polyurethane. It has been rated for 2500mm water column. The floor is made from polyethylene with a silver layer that helps with better insulation. Together, both these offer excellent water protection.
Pros
Excellent waterproofing
Can be divided into two large rooms
Quality construction
Cons
Available space could be better utilized
Windows are best manipulated from outside the tent
9. Kodiak Canvas Flex-Bow 6-Person Canvas Tent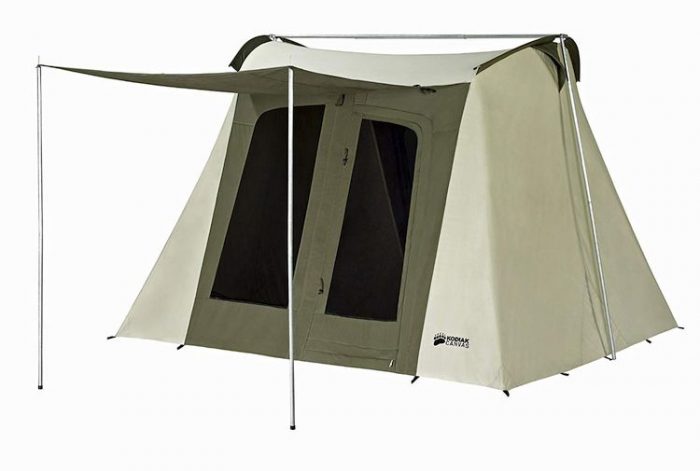 Kodiak Flex-Bow is a popular, and one of the best canvas tents available. Unlike most other tents on this list, this one maintains a somewhat smaller profile and is rated for 6-people. Small as it is, the tent still manages to be spacious enough.
This tent has a floor area of 10×10 feet, though its near-vertical walls work with that area, and help make the tent feel more spacious. Being made from cotton duck canvas and infused with Kodiaks's well known Hydra-Shield system.
By virtue of this, the tent fairs great at waterproofing. Another advantage is that duck canvas adds to the breathability of the tent, making it far more comfortable. The floor of the tent is made from vinyl reinforced by polyester. However, it must pay the price, and that comes in the shape of a heavier tent and higher price.
I'm especially fond of the large door at the front and the option to create an awning. The large D-shaped doors and huge windows offer excellent ventilation, which works beautifully with the natural breathability of canvas.
Pros
Canvas offers excellent waterproofing and breathability
Plenty of usable areas
Excellent ventilation
Cons
Expensive
Heavy, and thus a bit difficult to move
10. Browning Camping Big Horn Tent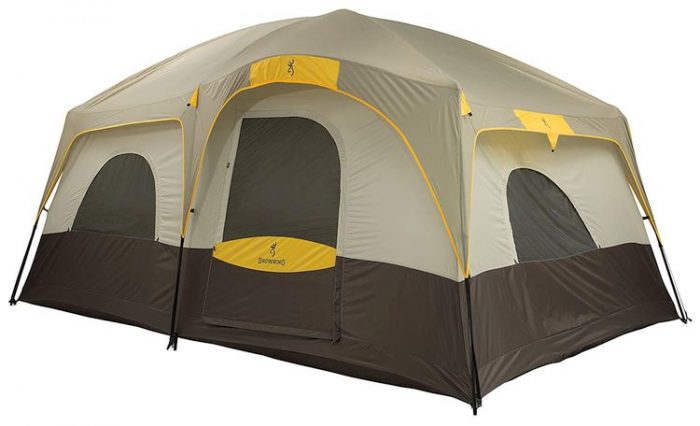 Browning Camping Big Horn Tent is a cabin-style tent. Its near-vertical walls give it an excellent center height as well as a lot of usable area. The "extra tall" center has a height of 87", which gives an appearance of being very spacious. There's plenty of room not just for people in the tent, but also for their gear and other stuff.
The two-room tent has two large doors, six windows, and a mesh roof. Even with the roof covered by the rainfly, there's still enough ventilation to keep the tent comfortable. The giant windows would generally lead to leakage during rain.
Thankfully, the good construction and attention to detail means that the Browning Camping Big Horn tent does not have to deal with that specific problem. Given the size of the tent and its large windows, the waterproofing is truly impressive.
A divider can be placed in the center of the tent, dividing it into two rooms, each with access to its door. The good construction is carried on in other parts of the tent. While the poles are fiberglass, the tent uses steel uprights. Similarly, the pegs provided are made from steel and can be relied upon to hold this tent in place.
Pros
A lot of headspace
Good waterproofing
Plenty of space and storage options
Cons
Roof mesh isn't fine enough to block some insects
The bathtub floor could have a better construction
11. Coleman 2000028058 Tent 17X9 Weathermaster
Rated for 10 people, this Coleman Weathermaster tent has some great features to offer. First off, the weatherproofing is top-notch. The tent uses Coleman's well-regarded WeatherTec technology.
In this case, the seams are inverted to prevent them from being the weak-link in waterproofing. The bathtub floor is welded with the tent body to prevent needle holes and thus make the tent have better protection against water. In a similar vein, the windows are placed at an inclined angle that prevents water from collecting around or entering through the windows.
With the threat of wind and water out of your plate, you get to choose more on fun with your friends and family. The spacious tent has room enough for three queen size beds. Should you choose to divide the tent into two rooms, each room will hold a single queen size mattress. You'll still get plenty of space around to walk and freely place your gear as necessary.
Pros
Spacious 2 room tent with a door for each room
Quality construction
Cons
Waterproofing only holds for medium rain
Rainfly leaves much to be desired
12. Coleman Prairie Breeze Lighted Cabin Tent
Coleman Prairie Breeze Lighted Cabin Tent is a clean design with the 9-person cabin-style tent offering some great features. WeatherTec system is apparent and well-employed in this tent. The inverted seams and welded bathtub floor fare great at keeping water out, and the inhabitants of this tent comfortable.
An interesting feature here is the built-in fan and LED-light system. These simple additions still need an external supply for power, but they score well in terms of usability. The center height is enough to let people walk comfortably in the tent. Panoramic views can be enjoyed through the large windows of this tent.
Pros
Good waterproofing
Plenty of space for comfort
Integrated fan and LED are useful
Cons
Does not hold up well in wind
The included stakes and guylines are not effective
13. Standing Room Family Cabin Tent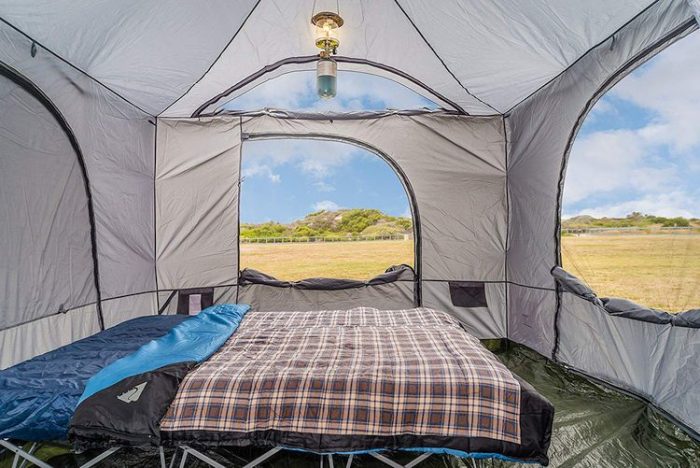 Standing Room Family Cabin Tent takes its name quite literally. With a center height of 8.5 feet, there is a lot of standing room in this tent! There's a big focus on waterproofing the tent. Rather than the mesh roof that is so common in this category, these tents have a full ceiling.
A rainfly can be added on top to further improve waterproofing of this tent. Tent fabric is 150D polyester, and the bathtub style floor adds another layer of protection against water.
Things risk getting bland with a solid fabric for the roof of the tent. That's why there are two zippered skylights to watch the stars. There are no windows as such, but each side of the tent has a massive door. Working with the double zippers, these doors may be used as windows as well.
Family Cabin Tent measures 10×10 feet, but is extendable. That's why each side of these tents have those big doors. Tents can be joined together to create larger, more intricate tents useful for family and group vacations.
Pros
The tents are spacious
Multiple tents can be stacked together to create larger tents
Good waterproofing
Cons
Lack of no-see-um mesh for doors and windows
Closed zippers during rain can drastically reduce ventilation
14. Pacific Breeze Easy Setup Beach Tent Deluxe XL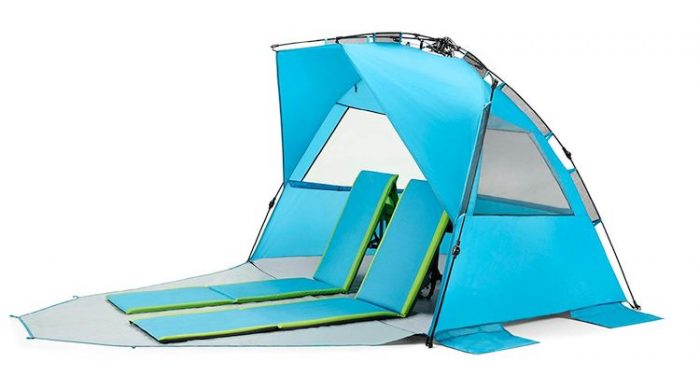 As its name implies, the Pacific Breeze Tent Deluxe XL is built for the beach. As such, the tent body offers UPF 50+ sun protection. Its three large windows offer excellent ventilation and will enable you to enjoy the breeze on the beach.
This is a large tent, but it is small compared to others on this list in terms of volume. A major reason there is that this tent is designed as a beach shelter, not (necessarily) a tent where you spend the night. It will hold 3-4 people, though that's mainly for sitting and talking, not sleeping.
An interesting aspect is the "extended floor". It can be placed in front of the tent. This floor provides a barrier for people who would like to be outdoors, but not in direct contact with the ground. The tent has a water-resistant PE floor that makes it better for its intended use. Five sand pockets and four stakes can be used to hold the tent in place.
Pros
Lightweight and easy to carry
UPF 50+ protection is great for the beach
Spacious and easy to place
Cons
Limited privacy
Questionable longevity
15. Coleman Evanston Dome Tent with Screen Room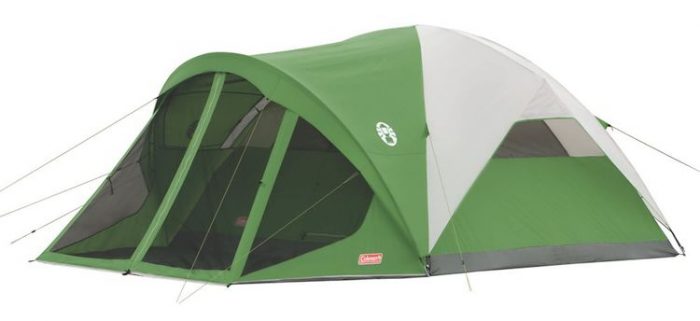 Coleman Evanston Dome Tent is of our top choices for a camping tent with screened porch. Available in 6 person and 8 person variants, this is a spacious and well-constructed tent worth considering. This is a 2-room tent where the screen room forms one room, while the fully enclosed tent forms the other.
Both of these rooms can hold a queen size mattress. Although, the screen room will be pretty much packed once a mattress is placed there. This is especially true for the 6 person variant of this tent.
Coleman's WeatherTec system is used for patenting. This is characterized by inverted seams and welded bathtub floors. Evanston dome tent goes one step further with a rainfly that covers the windows. This arrangement gives the tent additional cover and there's less worry about water seeping in from the windows during rain.
Evanston's 8-person variant has a floor area of 15×12 foot and sports a 6.1-foot center height. There's only one door, and it leads from the screen door to the outside. This can feel a bit problematic, especially if you need to go out and someone's sleeping in the screen room.
Pros
Spacious and comfortable
Waterproof floors for the tent and the screened porch
Good waterproofing
Cons
Packing away the tent can be difficult
The included stock stakes are not of much practical use
Quick Tips To The Best Family Camping Tents
Choosing The Right Size Tent
Manufacturers use a very spartan method to decide the capacity of a tent. For example, an 8-person tent implies that a tent can fit eight average-sized people placed in sleeping bags. While not totally out of the realm of possibility, such an arrangement is impossible in practical circumstances.
All of us like our comfort, and would actively avoid sleeping in such an arrangement. Those using mattresses might see the number drop further. Plus, there is a requirement of space for luggage and gear.
Basically, do not buy a tent that fits your exact number requirement. Go substantially higher. A 6-person tent is best suited for a camping trip with 2-3 people!
Portability And Setting Up
Even if you're going car camping, the tent has to be brought out and carried to the car. You'll also have to spend time and effort setting it up. A lightweight tent that is easy to set up and pack away will be very convenient for use.
It is worth pointing out that canvas times are usually heavier and can take more effort. Yet, the useful and comfortable camping vacay they offer beats these inconveniences.
On Purchasing The Right Large Tent
Camping is more fun with a group and with family! It's a nice time to bond, without the distraction of gadgets, but with nature forming the stimulus. Picking the best family camping tents can take some effort, so take some moments to check the reviews here. These are some of the best-rated and highly-regarded tents. They also cover a substantial variety of tents available for the sake of individual preferences.