Instant tents take away the pain and time required to pitch your tent. That's their biggest benefit and USP. Size of the tent is an important factor, especially when you're out camping with the family. Nobody wants to spend hours pitching a tent in these scenarios, and that should put the best instant tents on your radar. In this article, I'll present reviews of the best tents available for 2019.
10 Top Instant Tents For 2019
Best Instant Tents For 2019: Reviews And Opinions
1. Toogh 3-4 Person Camping Tent
Toogh 4 person camping tent boasts construction from high-quality materials. The overall design and quality construction allow the tent to stay upright in heavy rain and wind. Its outside fabric is 210D Oxford coated with silicone. It is rated at a waterproof level of 3000mm. Similar consideration for waterproofing has gone into the tent floor, which is made from 210T fabric and rated for 10,000 mm water.
They perform fantastically as instant tents. Toogh claims the tents set up in mere seconds and can be packed away in under a minute. That may sound too far off, but as pop up tents go, this tent is pretty quick to set up.
What makes this work so well is a special hydraulics-based system placed towards the top of the tent. When setting up the tent, the structure of the tent automatically opens up due to the pressure applied with the hydraulics. When it's time to pack it up, the same system makes it easier to wrap up the tent. You could liken it to a giant umbrella in some aspects.
The walls of the tent slowly taper towards the top, giving it a convenient center height of 5'5". That's plenty of headspace for a tent this size and makes it convenient to sit upright. A hexagonal design aids in the quick setup and packing of the tent.
There's plenty of space for you and your gear. And though Toogh says it's a 3-4 person tent, I'd say it's a more a 1-2 person tent, with gear. It would be possible to fit two adults and a child there, but it might end up feeling cramped.
Pros
Quick to set up, and easy to pack
Good waterproofing
Using the door as awning is a good option
Good construction with high-quality materials
Cons
The hexagonal floor might present some challenges in placing air mattresses
Tent seams could use a better sewing
2. Coleman Cabin Tent with Instant Setup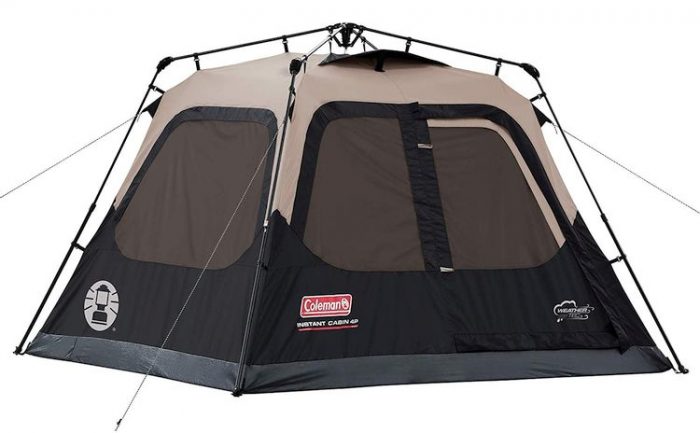 Coleman Cabin Tent with instant setup is available in 4-person and 6-person sizes. It also ties in with their "Dark Room" line. As instant setup goes, these tents can be setup in under a minute. Packing them away will take a little longer, but it's not troublesome.
For better waterproofing, the tents use Coleman's well-regarded WeatherTec system. Among other things, this involves inverted and taped seams for better waterproofing. Another feature is the "welded floors" that match with the body of the tent and prevent water from seeping in. Made from 150D polyester, the tent has solid credentials in terms of waterproofing.
The tent body is made from Polyguard 2X double-thick fabric to be rugged and strong. Tent poles are pre-attached to speed up the process of setting up the tent. Theoretically, all you have to do is extend and secure the tent, and it will be good to go.
An integrated, vented rainfly is included with the tent body. This helps with waterproofing, and of course, in quicker setup of the tent. There is little reason to complain about the integrated rainfly, but if you are expecting heavy rain, I'll suggest you carry along another rainfly. It just makes better sense!
Interior dimensions for the 4-person tent are a floor area of 8×7-feet and center-height of 4-foot 11-inch. You obviously won't be able to stand upright, but it is pretty spacious for sitting and general movement. There's enough space for a queen-size bed and some luggage inside the tent. However, it is better used as a 2-person tent rather than a 4-person tent.
Pros
Very quick to setup
Adequate waterproofing
Solid construction and high-quality materials
Cons
The off-sided door might take some time getting used to (and still feel inconvenient!)
While it has large windows, the tent can struggle with ventilation
3. Abco Tech Portable Cabana Beach Tent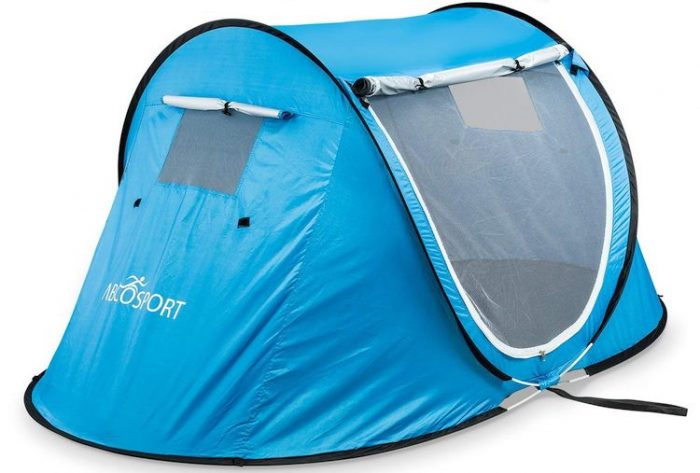 Portable Cabana Beach tent has pretty much instant setup as a pop-up tent. All you have to do is open up the tent from its storage box, and it will pop into a full tent right away. This is pretty much a conventional pop up tent, and as such is the easiest tent to set up by yourself. While setting up a pop-up tent is easy, learning how to fold a pop-up tent requires some practice.
The longer sides are characterized by two massive doors – one for each side. These doors sport large mesh windows, and a rainfly to cover them up. The smaller sides have mesh windows too, though they are smaller in size.
A downside is that the covering of these mesh windows can only be manipulated from the outside. That makes this a bit questionable where privacy is concerned. On the plus side, the inner zippered screen and the outer nylon layer make for very generous windows and give this tent excellent airflow.
As a beach tent, it has fabric designed to be UV resistant. Although, the stakes supplied with it won't hold up on a beach. If you do take it to the beach, be sure to get better stakes. The fabric is water-resistant, not waterproof. It won't hold well in the rain, although a small drizzle won't be trouble.
Measurements of the tent are 88.6×47.2 inches. The center-height is 37.4-inches. Realistically, this is comfortable for one person with some gear. Two people could be accommodated in this tent. Though in that scenario, comfort becomes questionable.
Pros
Very easy to set up
Well-priced
Excellent ventilation
Cons
Window/door coverings managed through outside the tent
Water-resistant, not waterproof
4. Gazelle 30400 T4 Pop-Up Portable Camping Hub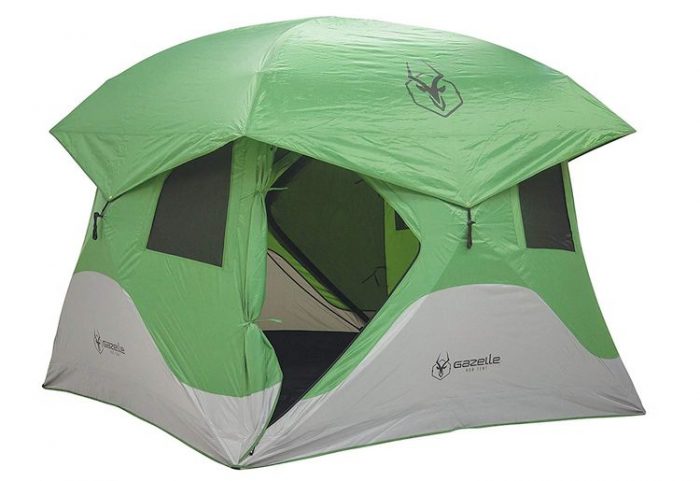 Gazelle 30400 T4 Pop-Up Tent is excellent where comfort and convenience are concerned. The most imposing feature here is the 78-inch center height, which is a rare find in 4-person tents. A person could stand up straight and walk around in this tent, rather than having to crouch or stoop.
It takes something of a cabin-style approach, and the walls are practically vertical. This approach frees up plenty of room and you get the best use out of the 61 square-foot floor. That's enough room for a queen-size mattress, with plenty of space for gear and walking.
Where instant setup is concerned, you can pitch up this tent pretty fast. It clocks slightly slower than the competition at 90-seconds, but still conveniently fast. Integrated poles with a pop-hub design make it a breeze to set the tent up. In fact, a larger portion of the stated set up time is getting the rainfly in place.
Gazelle T4 tent does fairly well with waterproofing as well. Taped seams and a well-designed rainfly enable the tent to withstand moderate rainfall. The polyester floor is secured pretty well, but it is removable for easier cleaning of the tent. If the weather is clear, you can take off the rainfly and watch the stars through the mesh roof.
Pros
Easy and quick setup
Comfortable and spacious tent with good center height
Excellent ventilation
Acceptable waterproofing (moderate rainfall)
Cons
Higher price compared to similar products
Packs into a 67.5-inch duffle bag; the dimension can hamper portability
5. QOMOTOP Fast 60 Seconds Easy Set Up Tent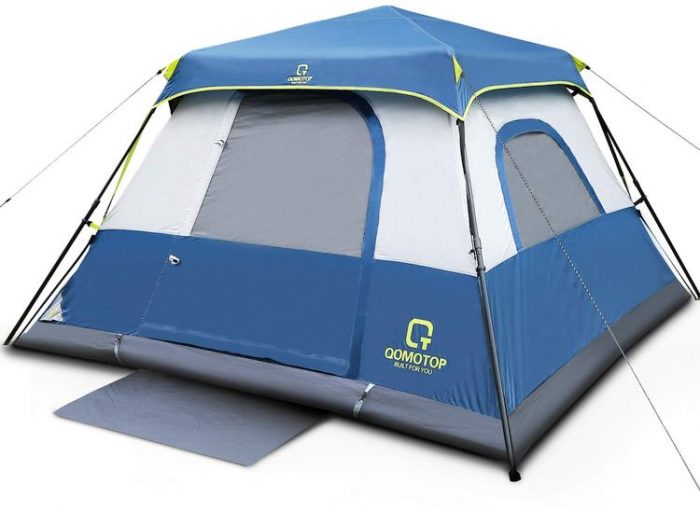 QOMOTOP tent is available in 4-person and 6-person variants, and has some thoughtful features that make it useful for camping. I'm quite partial to the gate mat. It's a simple addition with an impact. Soiled shoes or dirty gear can be removed there, and the mat wiped off to keep the tent clean. The electrical cord port is pretty handy as well.
The manufacturer claims a 60-second set up for the tent. That is true in practice as well. Telescoping poles are pre-attached to the inner tent. A few steps is all it takes to get the tent ready.
For the 6-person tent, the floor dimensions are 10×9-feet and the ceiling height is 66-inches. That's plenty of room to walk about and stand up straight. You could place two queen-size mattresses in there and still have enough room for your gear and enough walking space.
For waterproofing credentials, QOMOTOP tents have PU taping for the seams, and a PE floor welded at the corners. Three zip-up windows, mesh roof, and ground vents ensure the tent has good ventilation.
Pros
Easy and instant set up
Acceptable waterproofing
Good ventilation
Cons
Packing the tent can take some effort
6. Hewolf Waterproof Instant Tents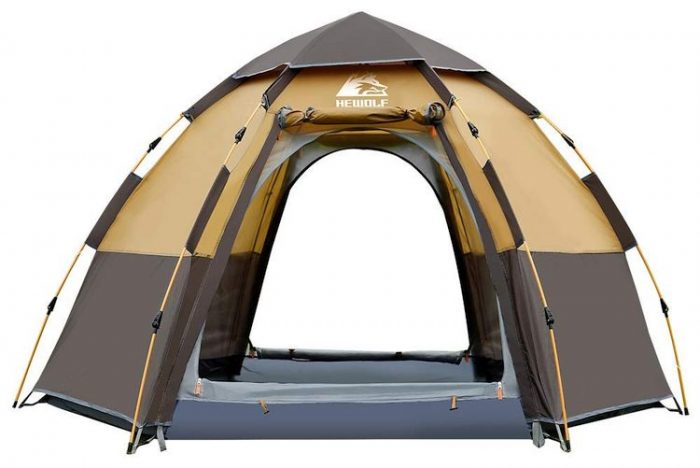 Hewolf Waterproof Instant Tent is pretty similar in function and looks to the Toogh instant tent that is also included in this list. As an instant setup tent, the Hewolf tent can be pitched in about 60 seconds. Pitching starts by placing the tent vertically, and engaging its top so the structure can support itself. After that, it's a few seconds of getting everything in order and placing the rainfly.
Inner and outer layers of the tent include UV protection and are made from 190T polyester cloth. Its waterproofing rating is PU2000, which means the tent can be expected to fair well under rain.
The large D-shaped zipper doors make it easy to move in and out of the tent. Both doors can also be set up as an awning, which is an excellent feature. It would be cool if a mesh could be added with the awning, making this an instant tent with screen room. Although, that's probably a tough ask for a small instant tent. The tent setup is also great for ventilation, and the mesh screen for doors can keep the interiors safe from insects.
Pros
Convenient setup
Good waterproofing
Spacious with a good center height
Doors can be made into awnings
Cons
Hexagonal floor can present some challenges in setting up a mattress
Does not hold up well in windy conditions
7. CORE Equipment 4 Person Instant Dome Tent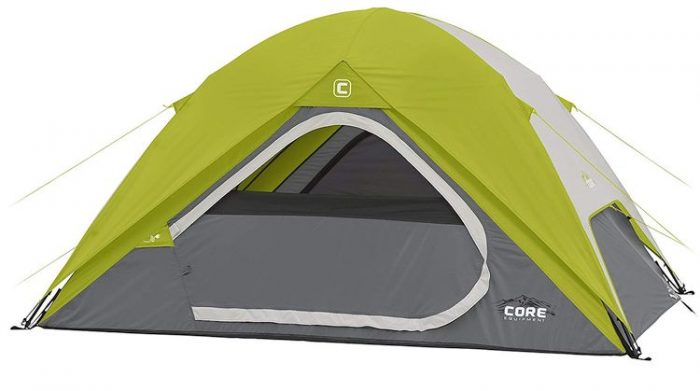 Core claims a 30-second setup for its instant tent, and that isn't far from the truth. The pre-assembled frame of this tent accelerates the setup. All it needs is unfolding the legs of the tent and extending them. A "click" sound makes it clear that the leg is in position. And that's about it for the setup of CORE Equipment 4 Person Instant Dome Tent.
Made from 100% polyester, this well-built dome-style tent can withstand winds with relative ease. Core has also put an effort into waterproofing this tent. The fabric is made from H2O block technology, which makes it water-repellant. Sealed seams, taped rainfly, and attention to door and window seals make it a good waterproof tent.
As a 4-person dome tent, it wouldn't be expected to have a convenient center height. Yet, it manages 54-inches, which is pretty convenient for this shape. You can fit a queen mattress inside this tent and still have enough room to place your gear.
For ventilation, adjustable air vents near the ground, which work with the mesh ceiling for better air circulation. The large D-style door is convenient and makes it easy to get in/out of the tent. Overall, this is a good tent with high-quality materials. Attention to waterproofing and comfort are worth notice.
Pros
Instant setup under 30-seconds
Convenient to pack away
High-quality construction
Excellent value
Cons
Struggles with airflow and ventilation
The tent floor could use better waterproofing
8. ALPS Mountaineering Lynx 1-Person Tent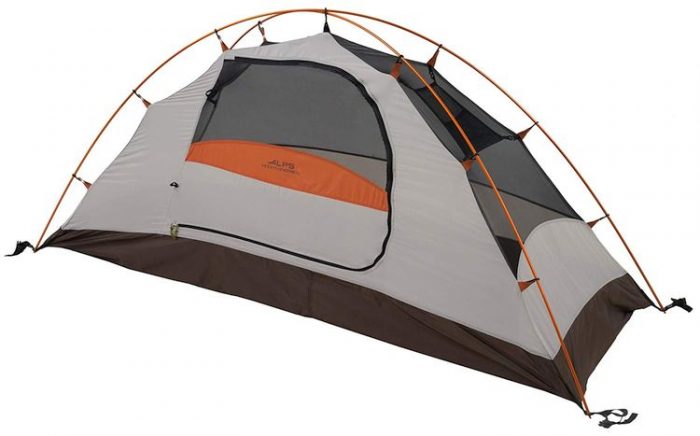 ALPS Mountaineering Lynx 1-Person Tent is lightweight, freestanding, and fast to set up. It takes about a couple of minutes to set this tent up, and a similar time to pack it away. Weighing just about 3 lbs, it packs into a small bag and is convenient to carry for a hike.
The tent body has a mesh roof for excellent ventilation. This also works well with the large D-style door that makes it easy to get in/out of this tent. Should there be a chance of rain, you can put up the rainfly that does a fairly decent job at protecting this tent from water. Putting up the polyester rainfly also adds a vestibule, giving you extra space for storage on this tent.
ALPS Mountaineering Lynx 1-Person Tent has the floor and rainfly made from 75D 185T polyester, and the seams are factory sealed. The poles are made from durable aluminum.
Dimensions of the tent measure 90×32 inches, and the center height is 36-inches. That accounts for plenty of comfortable space for one person, and enough space for a backpacker's gear.
Pros
Easy to setup and pack away
Lightweight enough for hiking
Good quality construction
Cons
Included stakes aren't very good
The rainfly is average at best
9. Oileus Instant Pop-Up Camping Tent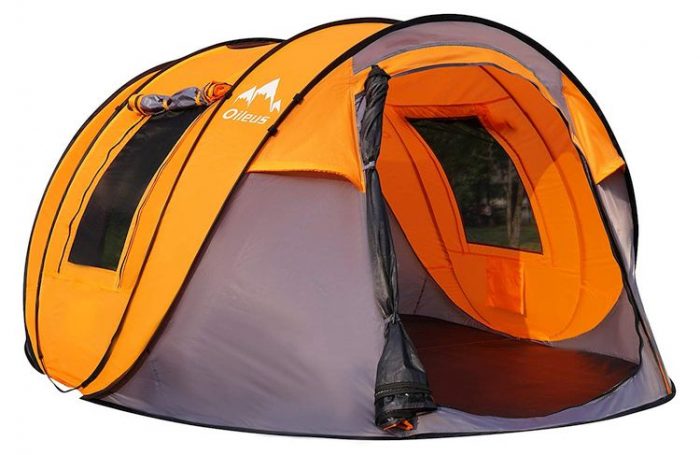 It is impressive that even as a large tent, the Oileus Instant Camping Tent can be setup as easily as a pop-up tent. Unstrap the tent, and it is good to go in seconds! Now that's the quick tent setup we can love. On the downside, packing this tent up is a bit of a chore.
The construction material is largely 210T polyester. It is sturdy and well-built, and you can expect it to be rugged. The tent includes a roof cover to protect against some rain, but do not expect it to be waterproof. Manufacturers of the tent make it clear that this is a water-resistant tent, not a waterproof tent.
The biggest draw for this tent is its spaciousness. A floor area of 80×60-inches and a center height of 51-inches make this a very convenient tent. You could place a queen-size mattress in there and still have plenty of room to walk around.
Pros
Very quick to set up
Spacious
Well-ventilated
Cons
Can take time to pack
Water-resistant, not waterproof
10. ZOMAKE Pop Up Tent 4 Person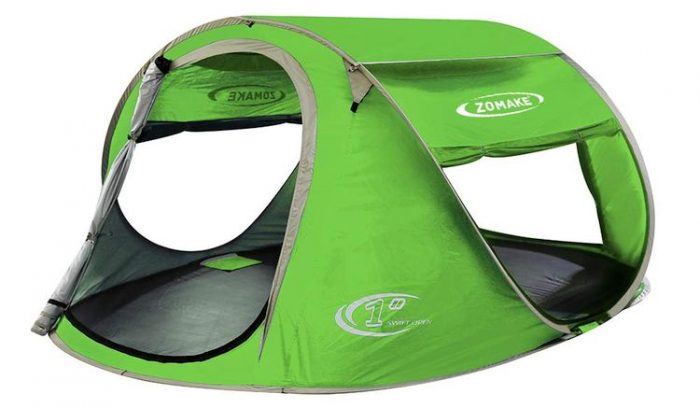 As a pop up tent, the Zomake sets up in just a few seconds. All it needs is unstrapping, and voila, the 4-person tent is all set to go. Ventilation is no problem for this tent. It has a mesh roof, two large doors with mesh, and two massive windows with mesh.
The cover for the roof and the tent body are all made from 90T PU-coated silver ANTI-UV polyester fabric. These offer a UV protection rated at UPF 50+. Its floor material is 210D Oxford. This is a beach tent, and won't hold off rain any more than a slight drizzle. Of course, the large, spacious tent is a pretty good setup for the beach.
Dimensions for this tent are 95×71 inches, with 39-inches placed for center height. When folded, it is a disc about 80cm in diameter.
Pros
Quick and easy to set up
Very well ventilated
Spacious
Cons
Difficult to pack away
When packed, the disc diameter is 80cm (~31.5-inches) which is fairly large
Buying Guide For Easy Set Up Tents
Setup Time And Instant Pop Up Tents
Regular instant set up tents need some time to complete their setup. While instant pop up tents will be ready in seconds, other instant tents average around 60 seconds. The latter may take more time to set up, but they are usually also easier to pack away. So don't weigh on just the time, but take other factors into consideration. Of course, if you are choosing an instant set up tent, going beyond two minutes for set up is not that fruitful.
Practice With Your Tent
Once you've bought the tent, don't just leave it alone until you need it for the camping trip. Set the tent up and see how well you can set it up, and pack it away. This also helps to find any troubles with the tent, that would be near-impossible to solve while on a camping trip. You'll be well acquainted with your tent when it's time for a camping trip, and setting p and packing will be easier.
Additionally, check the waterproofing of your tent. If it doesn't perform well, you may need to spend some time on maintenance and other miscellaneous tasks.
Tent Capacity And More
It is worth remembering that when manufacturers say tent capacity, they usually mean the number of people that can be accommodated side-by-side in the tent. For practical uses, this is likely to be uncomfortable, and leave no space for your gear. When you buy a tent, be mindful that its practical use capacity will be much lower than the advertised number. For example, a 4-person tent is generally comfortable for two adults.
Portability is another important factor. While car camping allows you greater latitude with the size and weight of the tent, it still has to be carried, packed, and managed. Other factors worthy of attention are the presence of storage pockets, ventilation, and tent shape related to your intended use.
The Best Instant Tent For You
As you can see in this list, there are pros and cons to picking any tent. That is true for any product one can buy. However, by looking at the list through your specific requirements, you can narrow down your list, or even choose the best instant tent. Being fit for your specific use is what makes a tent worth your hard-earned money.