Teepee tents are great for fun and practical for camping. From games for kids to serious camping for adults – these tents can do it all. The simplicity and versatility make these tents a great choice. Best teepee tents often have a simple geometric design, but with excellent qualities like ventilation and available space. Bring in modern materials and design, and you've got seriously good tents for camping. Let's see the cream of the crop!
Top 15 Teepee Tents In 2019
Factors To Consider When Picking Up A Teepee Tent
Size And Setup Difficulty
In some respects, the size of a tent and its setup difficulty are directly related. Larger sized tents need more effort in setting them up. The general wisdom is to pick a tent slightly larger than the number of people it is supposed to inhabit.
For example, if you intend to have four people in a tent, purchasing a 6-person tent can be better. While a four-person tent is very likely to hold four people, they'd be closely packed without much room for movement or gear.
Keep in mind, larger tents often need more people to set them up. See the manufacturer's instructions, and make sure you have the right number of adults to set up the tent. Struggling for hours trying to put up a tent is no one's idea of fun. On the same note, do a practice run of setting up the tent before you leave for your camping trip. It helps – a lot!
Tent Materials, Weight, And Waterproofing
All of these are important factors, and they're all closely related. The tent materials and fabric you choose decides the tent's weight and can have an impact on waterproofing. Most popular tent fabrics tend to be waterproof or will be water-resistant at the very least.
Most modern tents are made from nylon or polyester. These are lightweight, are treated for waterproofing, and have a fairly good lifetime. Another popular material is cotton canvas. This material is breathable, easily treated for waterproofing, and can last several years. As a downside, cotton canvas tends to be heavier and more expensive.
Even if you purchase a waterproof tent, check how well it performs. Some tents may need waterproofing, especially along the seams.
15 Best Teepee Tents Reviewed
1. DANCHEL 13ft Light Weight Tipi Family Tent for Camping 4000 Pro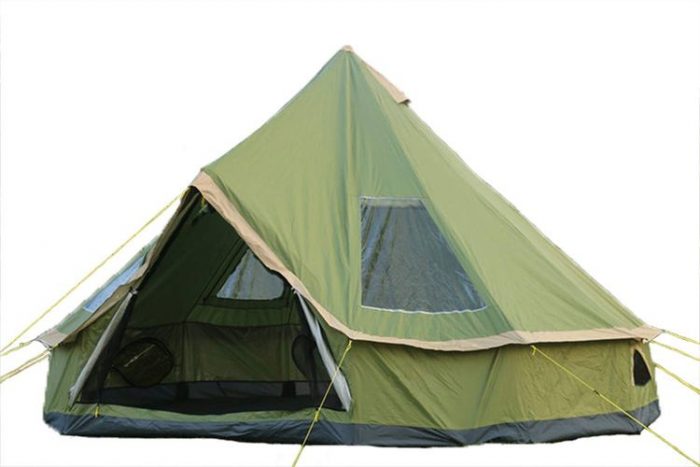 Danchel Camping 4000 Pro is designed as a yurt tent. The very spacious tipi tent has a diameter of 13-feet (4 meters) and a maximum center height of 8-feet (2.5 meters). An advantage of the yurt style is that most of the ground space covered by the tent is actually usable.
A classic teepee tent would slope towards the top right from the ground. However, using a yurt means that its vertical walls allow more usable space. Danchel's tent is made from 300D Oxford fabric coated with silver. Amongst other benefits, this gives the tent a UV protection of up to 99% and a waterproof rating of 5000mm. The bottom sheet is made from 300D Silver coated ripstop plaid oxford cloth, and offers the same waterproofing and UV protection.
A large door makes entering and exiting the tent very comfortable and easy. Ventilation is provided by five large windows and three vents on the roof. Additionally, the tent includes two transparent windows that can be covered or can stay open to give you a clear view even if it is raining.
Weighing at 25 lbs, the tent is designed for use by 5-8 people.
Pros:
Good quality fabric
Spacious interiors
Large doors and windows for ventilation and natural light
Cons:
Can be difficult to pack away
Lacks stability in wind
See more about the tent on Amazon
2. PlayDo 4-Season Waterproof Cotton Canvas Bell Tent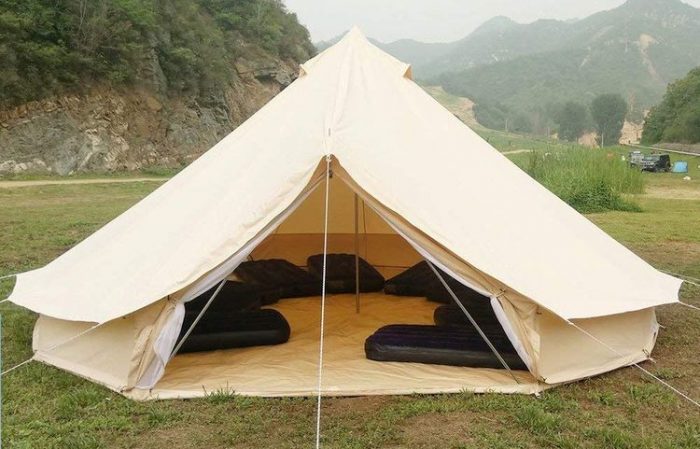 PlayDo 4-Season Waterproof Cotton Canvas Bell Tent attempts to bring in comfort and luxury, while trying to stay in a budget range. Well, canvas tents can't really be cheap, but they sure can try to not be overly expensive. Styled as a yurt, this bell tent is available in several sizes, and even has an eye on glamping.
The tent fabric is made from 300gsm cotton fabric and is treated to be waterproof. Additional care has been taken in the form of taped seams for better waterproofing. PlayDo calls this a 4-season tent and believes it to be useful for winters as well. For additional comfort, the tent comes with stove burning vent placed at its roof. This sleeve can accommodate a five-inch diameter for a wood-burning stove.
Pros:
Breathable canvas provides ventilation and comfort
4-season tent
Zippable windows with no-see-um mesh
Includes stove sleeve
Cons:
Heavy
Costs significantly more than comparable non-canvas tents
3. Winterial 6-7 Person Teepee Tent, 12′ x 12′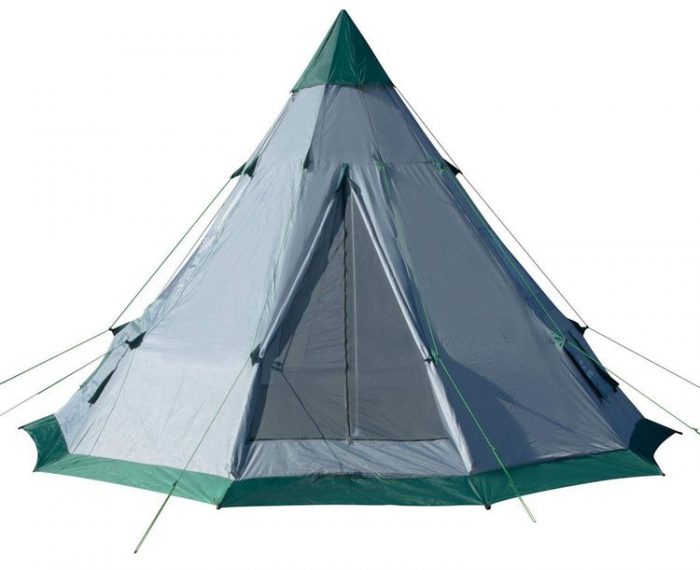 This Winterial tent is a classic teepee tent. Its shape and form are very like what you'd imagine, and it does very well bring along the benefits of teepee tents. With a diameter of 12-feet, the tent is very spacious and can be comfortably used by a family for camping.
Winterial 6-7 Person Teepee Tent fabric is 210T Polyester. A "rain cap" is placed at the top of the tent for additional waterproofing. The tarp for the base is fairly good at waterproofing as well. Still, I would not rely on this tent where anything above mild to moderate rainfall is expected. This is a good tent, and it might hold up for a while in heavy rain. But I prefer not to be a betting man when in the great outdoors.
The advertised capacity is 6-7 people, but I'll say a comfortable number is more in the range of 3-4 people. Even choosing four people may be pushing it. The biggest benefits of this tent are that it weighs just 15lbs, and its large windows and door offer considerable help with ventilation.
Pros:
Lightweight
Acceptable waterproofing
Zippered doors on two sides for easy access
Comparatively easy to set up
Cons:
The tent needs a lot of stakes and lines
Packing it away can be troubling
See current cost and discounts on Amazon
4. DANCHEL 4-Season Family Cotton Bell Tents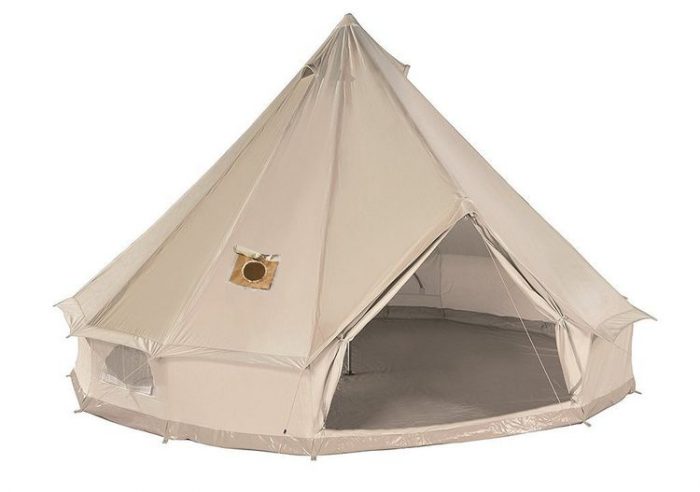 DANCHEL 4-Season Family Cotton Bell Tents are available in several size options, going all the way from 10-ft diameter to 20-ft diameter. These tents are designed to be large and spacious. Plus, the overall luxury treatment doesn't fail to catch the eye, making this one of the best teepee tents available.
The tent is made from 285GSM cotton canvas fabric and is rated waterproof for 3000mm water column. A 540GSM PVC floor provides a thick layer for the ground, and provides solid waterproofing for this tent.
Danchel has included two stove jackets on the tent, one placed at the walls and the other at the roof. Vertical balls of this bell tent are connected via zippers. These can be removed for better ventilation, and to create a canopy-style tent that's especially useful for warm summer months.
Pros:
Two stove jackets offer more options
Vertical walls can be removed or added conveniently
Excellent waterproofing
Good ventilation
Cons:
5. Tahoe Gear Bighorn XL 18′ x 18′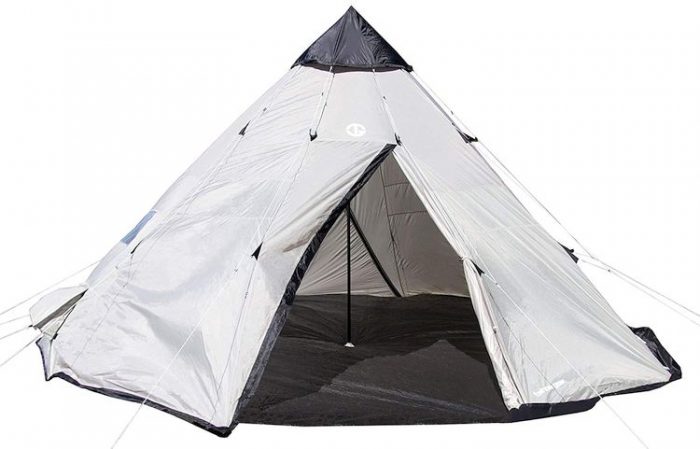 A classic teepee tent, the Tahoe Gear Bighorn XL is made from high-quality polyester and has a durable floor to add to waterproofing. A rain cap placed at the tip of the tent helps in keeping rainwater out, and adds more usability to this tent.
The large, strategically placed windows and vents ensure that it has good ventilation. It's pretty good at combating humidity and condensation buildup. With a diameter of 18-feet, the tent is designed to accommodate 12 people and is indeed one of the best 12-person tents available right now. Again, keep in mind that the advertised number is usually higher than the number of people that can be comfortably accommodated in a tent.
Being a big tent, the Tahoe Gear Bighorn XL includes two large doors for easy access. It is priced for great value. However, the fact that it lacks mesh on the doors is the fly in the ointment here.
Pros:
Spacious tent
Good ventilation
Performs very well against wind and rain
Good value for money
Cons:
No mesh on doors
Floor and sides of the tent don't zip up, so there's always a gap
6. Vidalido 12'x10'x8'Dome Camping Tent 5-6 Person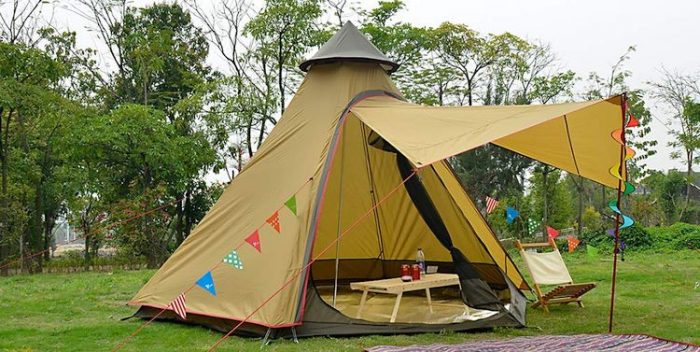 Vidalido 12'x10'x8'Dome Camping Tent is an interesting take on teepee tents. This tent looks pretty conventional, but it's the extra effort put into the awnings that gives it an interesting look. The tent material is anti-tear 190T patterned polyester and 150D Oxford fabric. Steel poles are put into service to ensure the tent stays upright in winds.
Extra care has been put into waterproofing the tent with careful stitching, taping, and caulking. Doors and windows of the tent are covered in high-density no-see-um nylon mesh designed for better ventilation. The tent structure has been set up for easy portability. Though I certainly won't take it hiking or mountaineering, it is acceptable for use with car camping.
Pros:
Well-ventilated
Relatively easy to set up and pack away
Acceptable waterproofing
Cons:
Tent fabric feels flimsy
Provided instructions aren't very useful or helpful
7. Wenzel 11.5 x 10 Foot Shenanigan 5 Person Teepee Camping Tent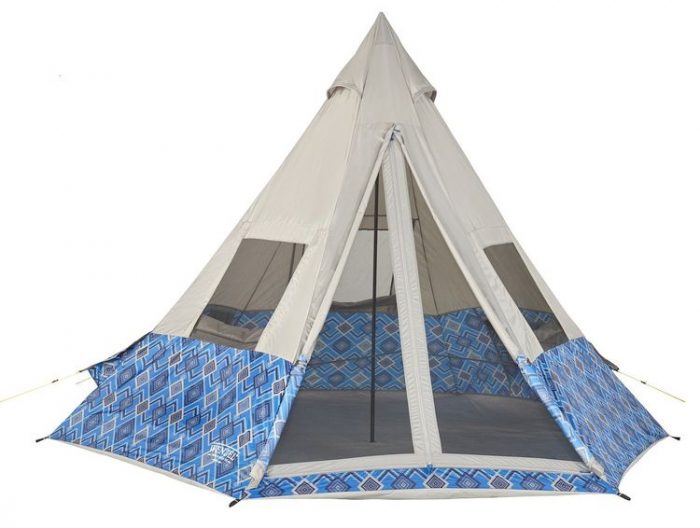 When Wenzel named their tent Shenanigan, they probably meant it as a warning! The Wenzel 11.5 x 10 Foot Shenanigan 5 Person Teepee Camping Tent can be weirdly temperamental, though it makes up for it in usability and a good price point.
The tent has a single-pole setup and can be put in place rather quickly. Its large door goes along with three windows for good ventilation, but the tent doesn't stop at that. There are vents on the roof and at the bottom of the tent to ensure airflow stays optimal. Made from polyester, this tent can withstand light to medium rain, though I'd prefer the rain stayed on the "light" side.
I'll also give it points for its good looks. It's a bit refreshing to see a tent that isn't afraid of flaunting patterns!
Pros:
Very easy to setup and pack away
Great starter tent
Good ventilation
Cons:
The tent feels a bit flimsy
Waterproofing is only good for a light drizzle
8. Pep Step TeePee Tent For Kids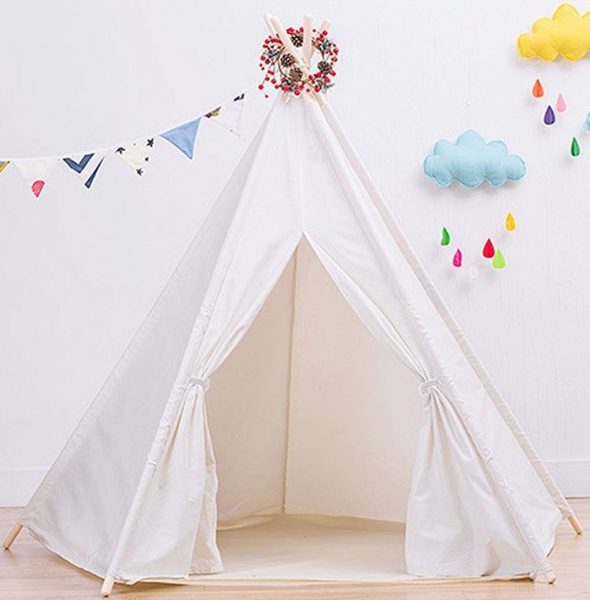 A simple and playful kids teepee tent, the Pep Step TeePee looks cute and useful. The tent fabric is made from 100% natural, unpainted cotton blend canvas. This is a superior material for kids tents and poses no health risks. Use of canvas does make the tent slightly expensive, but it also makes for a kids tent with fewer worries about their health and use of the tent.
The tent is held together by pine wood poles, which are free of chemical odors and harmful substances. For added convenience and a full setup, the tent includes a floor covering, curtains, and windows.
Pros:
High-quality natural materials
Canvas construction
Built to last
Cons:
Expensive
Pinewood poles are held together by flimsy plastic/ PVC connectors
See more reviews and current price
9. MallBest Kids Play Tents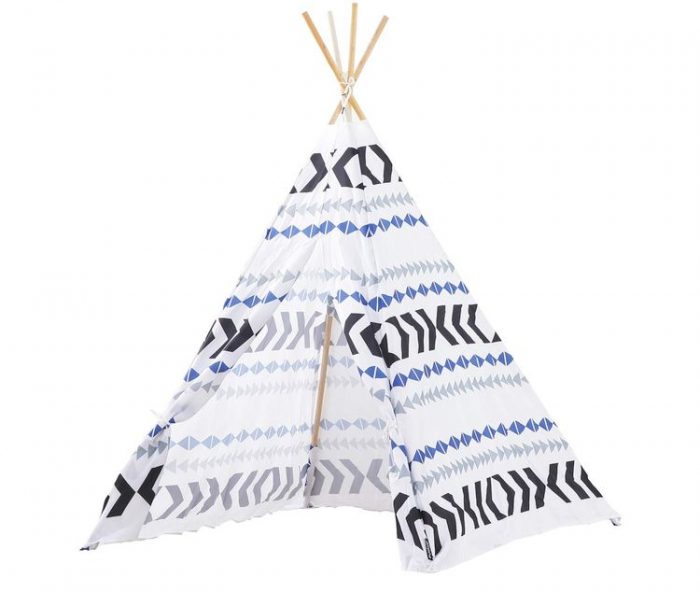 A teepee for kids, the MallBest Kids Play Tent is a simple and useful tent. The primary fabric used in this tent is polyester, though for whatever reason, the company mentions canvas in its description. The tent is held together by poles made from wood and takes on a very classic teepee tent appearance.
Practically speaking, this is a bareboned tent – a polyester sheet held together by wooden poles. On the plus side, the pattern on the fabric is playful, the tent is easy to set up, and offers good value for money. In most cases, the polyester can simply be wiped clean. I see this as a huge win for kids' tents!
Pros:
Good value for money
Easy to setup
Interesting patterns and design
Cons:
Incorrect description/ claims by the seller
Included instructions are not very helpful
10. Hill and Gully Teepee Tent for Kids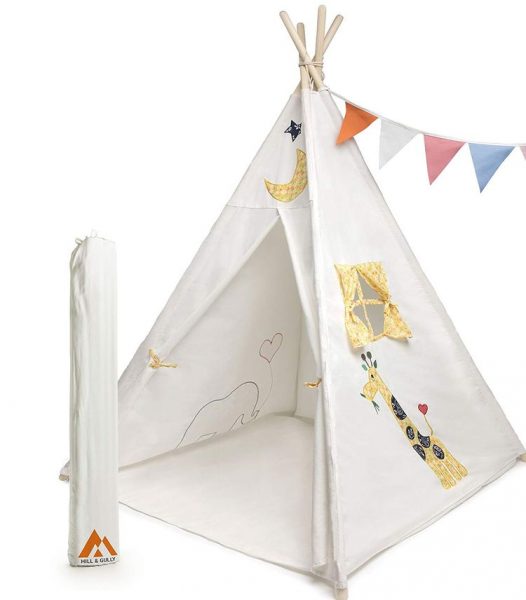 Hill and Gully Teepee Tent has beautiful illustrations that make it more lovable for use as a tent for kids. I love that little window and its small curtains. It isn't much, but it definitely is cute. Put together with other illustrations and little touches, this does look like a very fun tent for kids.
The tent is made from cotton canvas and is held together by poles "derived" from New Zealand pine wood. According to the seller, the tent has been independently lab tested and has a Child Safety Certificate 0-12 by CPSIA.
Pros:
High-quality materials
Excellent quality and attention to detail
Has a child safety certificate
Easy to set up
Cons:
Check for discounts and see more information
11. Ozark Trail 7 Person Teepee Tent
OZARK Trail Family Teepee Tent is designed to hold seven people, and makes available 105 square feet of space. The teepee design allows a maximum center height of 92-inches, which is generous. But then as is the case with most teepee tents, do not expect more than 2-3 people to be able to stand upright in the tent at any given time. It's simple geometry, unlike the (relatively) flat walls of cabin tents, teepees don't quite allow everyone to enjoy the center height.
For better ventilation, the oversized door is accompanied by four windows and three vents. The available space is enough to accommodate two queen size mattresses. The lack of a center pole frees up more inside the tent. For added convenience and better protection against the elements and rain, Ozark Trail 7 person teepee tent includes a sewn-in PE floor.
Pros:
Very easy to set up and pack away
Good ventilation
Good value for money
Cons:
Waterproofing holds up only to mild rain
The tent struggles with wind
12. Hasika 12fx10x8ft Lightweight Teepee Tent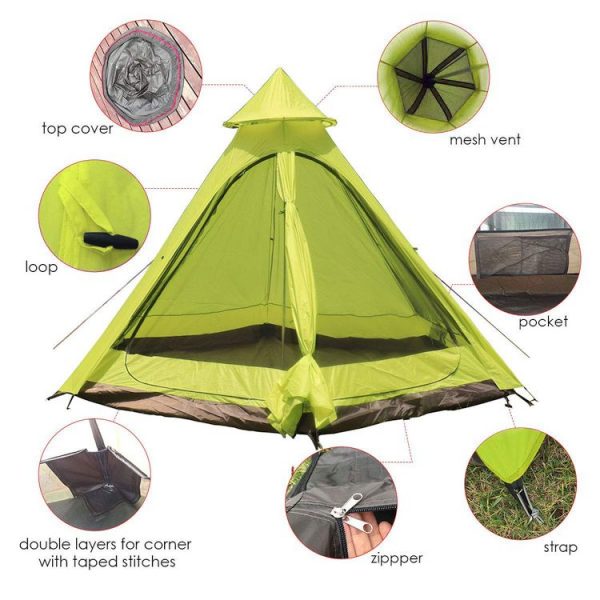 The interestingly styled Hasika Lightweight Teepee Tent is made from 190T polyester treated for waterproofing and rated at 3000 mm. The fabric is complemented by the groundsheet, which is made from 201D Oxford fabric and rated at 4000mm waterproof index.
This is a dual-layer tent, with the inner layer being a mesh fabric. The outer layer is the rainfly. A design like this is pretty common for most tents, but somewhat rare where teepee tents are concerned. Overall, the setup works pretty well, with one disadvantage that it takes down airflow a notch. On the plus side, this tent has better waterproofing than its competition.
Hasika says the tent is good enough for four people. I think that may be pushing it, especially with the central pole taking up space.
Pros:
Good waterproofing
Easy to setup
Lightweight – weighs just 13.6 lb
Cons:
Below average ventilation
The mesh body feels flimsy
13. MIER Ultralight Tent 3-Season Backpacking Tent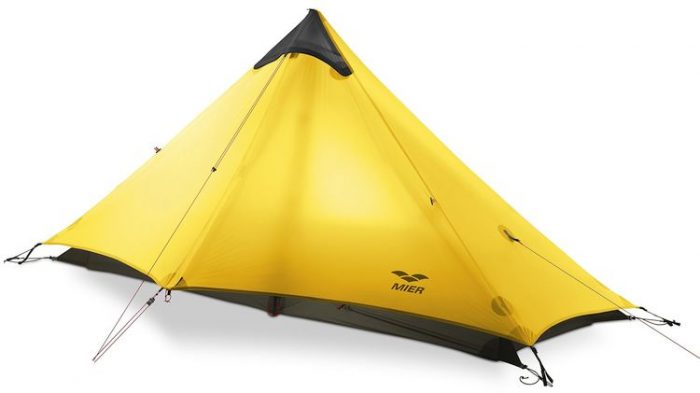 MIER Ultralight Tent 3-Season Backpacking Tent is an intriguing single-person teepee tent. It still maintains the broad conical shape we expect from teepee tents. However, as an ultralight single person tent, it gets a lowered height. The teepee tent/ pyramid shape still gives it enough of a center height for a person to sit up upright – a luxury for lightweight single person hiking tents.
Weighing at just 1.7lb, this is a tent you can take along mountaineering or hiking. Given its unique positioning, I'd say it is the best teepee tent we have for hiking! The rainfly is made from 15D nylon, treated for waterproofing and rated at 5000mm of hydrostatic head. Going the extra mile, the rainfly is seam-taped and has a water-repellent coating. The bathtub floor of the tent is made from 20D nylon. With silicone/PU waterproof coating, this has a rating of 6000mm.
The tent is relatively easy to set up and has great ventilation. The rainfly covers the mesh body pretty well but leaves out enough space for good airflow. Oddly enough, the tent does not include the trekking pole needed to set it up, and it must be purchased separately.
Pros:
Lightweight tent is great for hiking
Excellent waterproofing
Simple to setup and pack away
Cons:
Trekking pole must be purchased separately
The tent can feel cramped
See the price and more reviews for this tent
14. River Country Products One Person Trekking Pole Tent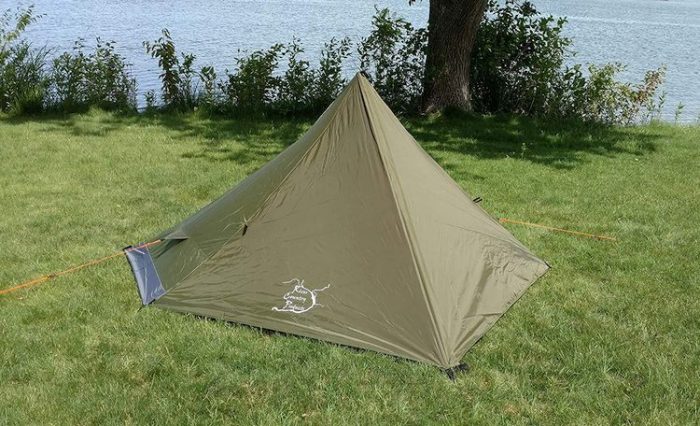 Another single person teepee-style tent, the River Country Products One Person tent adds some spaciousness and height. Weighing just 2.8 lbs, the tent is useful for hiking and does take to that role pretty easily.
The mesh body of this tent is covered by a rainfly for waterproofing. A thick bathtub floor adds to the waterproofing and overall comfort of this tent. The mesh body of the tent offers some ventilation, however, that is limited once the rainfly comes into play. To tackle this problem, the tent includes a rear-roof vent for the rainfly. It helps, but is not optimal.
You will need a trekking pole to setup the tent, though it is not included in the package and must be purchased separately. Ultralight hikers may want to skip the pole and instead tie the tip of the tent to an overhanging branch to maintain its shape.
Pros:
Lightweight enough for hiking
Acceptable waterproofing
Simple to setup and pack
Good value for money
Cons:
Condensation can be a problem
Trekking pole is not included with the tent
15. TETON Sports Sierra 12 Canvas Tent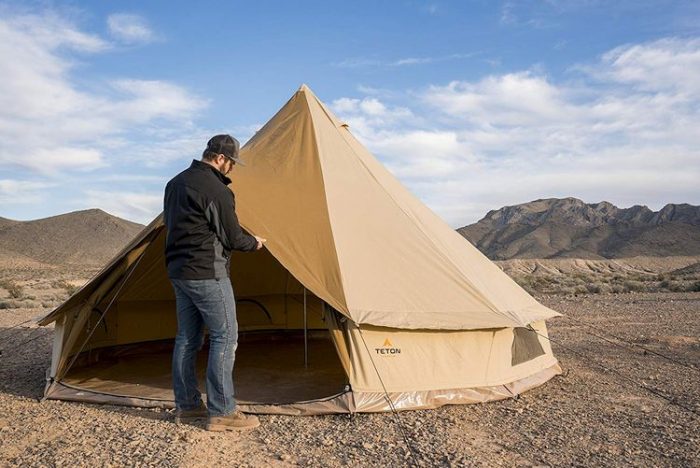 One of the best canvas tents available, the Teton Sports Sierra is spacious and comfortable. The tent has a diameter of 12-feet, and offers a usable area of 113 square feet. Teton has employed high-quality canvas for the tent, which repels water and keeps the tent breathable. Reinforced seams also come into play in keeping this tent waterproof. These features add to the waterproofing and ventilation of the tent. It certainly brings more comfort to this luxurious tent.
Its heavy-duty welded floor works perfectly with the canvas, and plays a role in waterproofing and prolonging the life of this tent. Oversized doors and windows on the tent are covered with no-see-um mesh. These work together with the vents on the tent to ensure good ventilation.
Once you remove the zippered connectors, the vertical walls of the tent can be folded away. Teton Sports Sierra tents can be used as a full tent or a canopy.
Pros:
Excellent ventilation
Waterproof
High-quality fabric
Long-lasting tent
Cons:
Expensive
The tent is heavy to carry and move
Finding A Teepee Tent That Fits Your Style
Having taken on the auras of classic and nostalgic, teepee tents continue to hold an important place due to their usability and comfort. The best teepee tent you choose must bring the aforementioned factors to the table, especially in terms of your requirements. Listed above are some of the best tents that have also received rave reviews. Our hope is that the list will be useful for you in finding a tent that meets your preferences.