Hiking is fun and rewarding, which is why serious hikers will happily spend a pretty penny on gear. Occasional hikers though may not share the same views. Besides, some serious hikers too could intend to keep their hobby under a tight budget. The right hiking boots are absolutely necessary for a good hike. Though you don't always have to spend big bucks to get good shoes. There are several quality boots available at an affordable price, so let's take a look at the best hiking boots under 100 bucks.
Best Budget Hiking Boots For Men In 2019
5 Coolest Boots Women Should Pick For Hiking
A Quick Buying Guide To Hiking Boots
Are Hiking Boots Worth The Expense?
Yes, they are. Average running or walking shoes cannot replace the use of hiking boots. When you're on a trail, you want your shoes to be comfortable, anti-slip, and capable of handling the terrain. Hiking boots are built exactly for this purpose. They keep your grip on the terrain solid and provide support for your feet and ankles. As you navigate uneven terrain with a backpack on you, the importance and use of hiking boots becomes very clear.
Important Qualities For Best Cheap Hiking Boots
Basic requirements for a hiking shoe remain quite the same as in any other boot. There are also some specialized functions to consider.
Fitting: An obvious concern, fitting of the shoe is important. A hiking boot should conform to the shape of your foot, and fit snugly. Boots that are too loose or tight can cause problems like blistering. Ill-fitting shoes, even slightly different from your size can make it tough to negotiate terrain you encounter while hiking.
Support: People have different kinds of feet, and support becomes a big part. You don't want the boot to fit the contours perfectly. Some advanced boots like the Under Armour Valsetz Tactical provide extra support to the heels and ankles.
Waterproofing: Rains, wet ground, or even a small stream may have to be handled by a hiker. Wet feet are uncomfortable and poorly managed shoes don't help a bit.
Durability And Comfort: The overall construction of the shoe decides the comfort and durability. Seams placed at the right points, and soles designed to withstand compression are going to play a big part.
5 Best Hiking Boots Under 100 Dollars For Men
1. NORTIV 8 Men's Waterproof Hiking Boots – Best Hiking Boots Under $50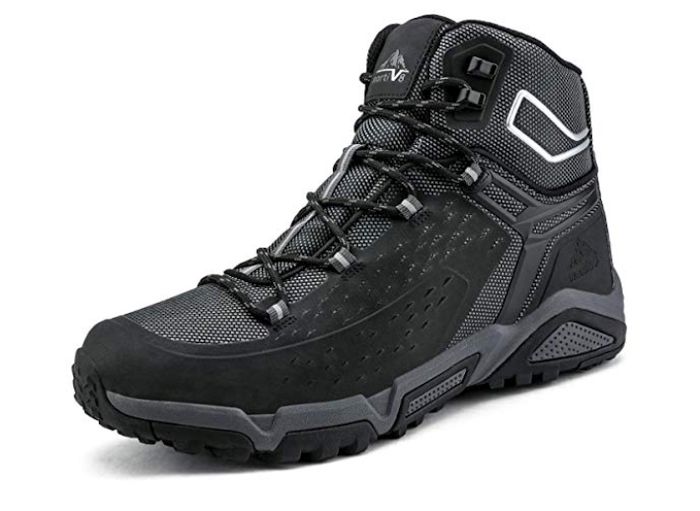 Designed to be rugged and convenient for a hike, these shoes pack in a lot of features. Exteriors of these shoes are designed to be breathable as well as waterproof. A water-resistant synthetic upper encloses the rubber toe cap to enable the shoes to stay comfortable and light. A waterproof fabric lining and mesh tongue/collar lineup pretty well with the overall look of these shoes. The soft collar offers additional support for the ankle, while keeping it comfortably managed.
Soles of this shoe have surprisingly good traction for this price range. Nortiv 8 has used a durable rubber outsole for these shoes. Patterning with multi-directional lugs explains the excellent traction this shoe has.
Its midsole has cushioned EVA to better support your foot. A removable and comfortable memory foam footbed conforms to the shape of your foot. It's also a good thing this is removable, considering foam will compress after some time. When necessary, you can simply replace the memory foam footbed and continue to enjoy the conforming and "weightless" feel that memory foam provides.
Pros:
Excellent price range
Good quality build
Lightweight
Impressive traction
Cons:
Questionable longevity
The shoe leans more towards being water-resistant, not waterproof
2. Clorts Waterproof Men's Hiking Boots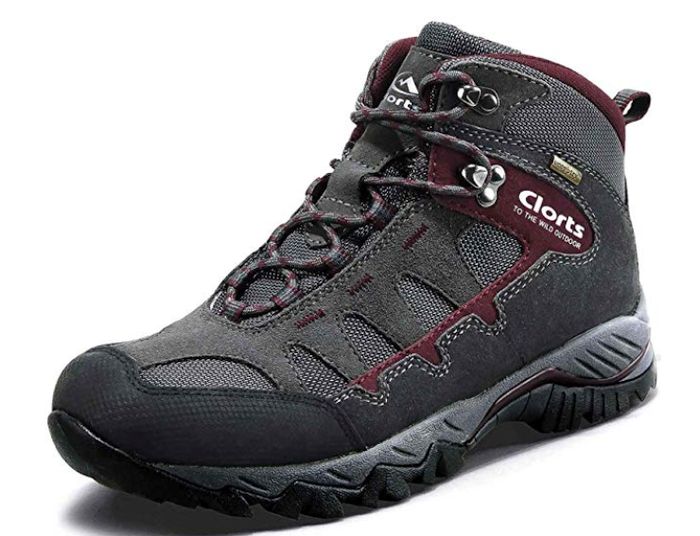 Clorts says its name comes from a mix of "Climb" and "Sports". Going by the name alone, the company should have an obvious dedication to boots for the great outdoors. These shoes are built to follow the same philosophy. Clorts says the shoes are designed for long-term comfort and offer several qualities that play well with classic requirements for hiking boots.
Exteriors of the shoe are covered in suede leather and waterproof nanofiber membrane. This setup makes the shoe waterproof, while allowing the fabric to remain breathable. The rubber outsoles have deep lugs for better traction. This is followed by EVA midsoles with soft and comfortable insoles.
The combination of these soles lets the boots be comfortable and soft for the feet while providing excellent traction and staying skidproof for the trail. A rubber toe cap is placed to provide extra protection and stability for the toes. The shoes offer excellent comfort for the heels and solid support for the ankles. The boots feel comfortable and convenient, and are light enough to be walked in for the entire day.
Pros:
Good traction and grip
Comfortable for soles and good support for ankles
The boots feel soft and comfortable
Cons:
Waterproofing is below average
Could do better with breathability
3. Hanagal Men's Tangula Waterproof Hiking Boots
A solid and robust looking exterior defines the appearance of the Hanagal Men's Tangula Waterproof Hiking Boots. The boot lays claim to German SympaTex Waterproof Breathable technology. As the name implies, the company says that the boots are waterproof and breathable. I think that's a bit of an overstatement on both accounts. Exteriors of the shoe are made from Nubuck leather complemented by padded nylon mesh collars.
Soles of these shoes are made from Vibram Rubber, which offers excellent traction and grip for the boots. Insoles of these shoes are designed with spring-back technology. The idea here is to avoid compression while maintaining a snug and comfortable grip for the shoes.
Pros:
Rugged looks and design
Waterproof
Good traction
Cons:
Lacks breathability
Questionable longevity
4. Nevados Men's Boomerang II Mid Hiking Boot
Nevados Men's Boomerang II Mid Hiking Boot puts a premium on comfort and value. Suede is the primary material on the exterior, with mesh showing up for breathability. Its rubber outsole has well-placed lugs to ensure good traction. Though allowing some breathability, the nylon mesh upper also tries to keep water out of the shoe. Even so, I'd say this shoe falls more on the water-resistant side than the waterproof side.
Molded EVA midsoles are designed to provide greater comfort for your feet, while the brushed nylon sockliner adds more comfort and life to the interiors of these boots. The shoe uses carbon rubber cupsoles. They're pretty solid for use and function, but reduce the lifespan of these shoes. After wearing the shoe a handful of times, you may very well start noticing that compression is setting in. That said, these hiking or camping shoes are priced to be cheap, and are very comfortable as long as they last.
Pros:
Comfortable
Reasonably priced
Good value
Cons:
Low life-expectancy
Water resistant, not waterproof
5. RAX Men's Quick Drying Slip-Resistent Aqua Water Hiking Shoes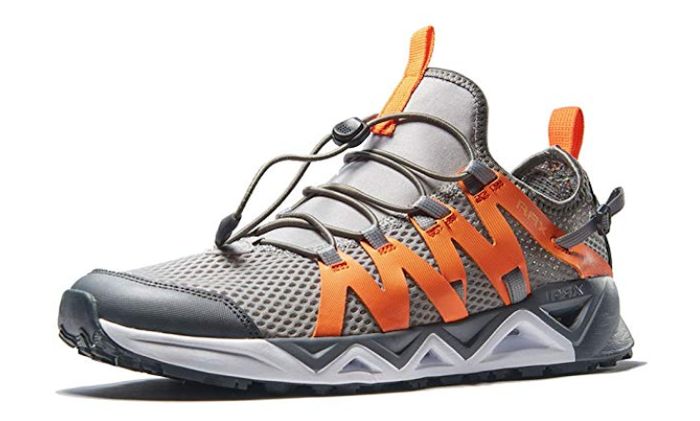 RAX Men's Quick Drying Slip-Resistent (sic) Aqua Water Hiking Shoes are lightweight shoes designed for water hiking. There is no point of waterproofing here because it makes little sense to have one for water hiking. What it does have is arrangements to draw out sooner, and being remarkably lightweight is one of those.
These arrangements include double slope drainage to take water away from the shoes quickly. As they remove water, they also enhance airflow, helping the shoe to dry faster. In the same vein, the shoes have hollow insoles. While soft and comforting to the foot, the hollow insoles too are quick to give up water and dry up rather quickly.
Interestingly, the slip-resistant rubber outsoles work pretty well and keep your grip and traction firm even in wet and slippery areas. The toe of the shoe is wrapped in rubber for added protection.
Pros:
Lightweight
Pleasing design
Good traction and slip-resistant
Cons:
Not for long-term use in water
Questionable longevity
5 Best Hiking Shoes Under $100 For Women
1. Timberland Women's White Ledge Mid Ankle Boot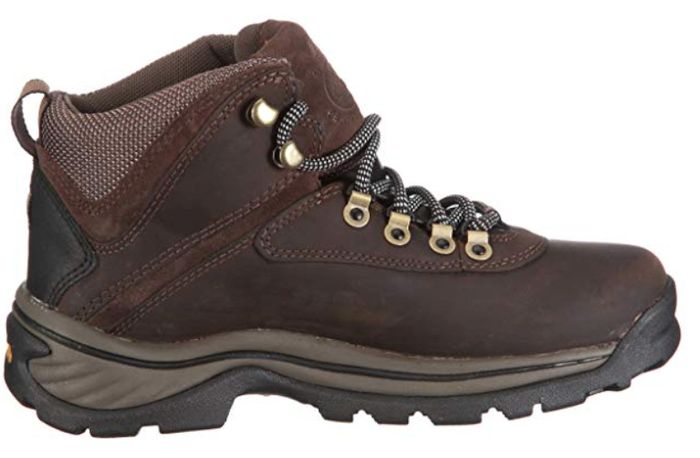 As a brand for the great outdoors, Timberland needs no introduction. Timberland Women's White Ledge Mid Ankle Boots are available in a variety of options and price ranges, though it remains on the reasonable side. These quality shoes have soles made from rubber and body made from leather. The boots are designed to be waterproof and are seam sealed for better results.
Its rubber outsole is backed by a cushioned EVA footbed for greater comfort. The dual-density midsole has excellent cushioning and provides comfort and support for your feet. They go up to the ankle and provide excellent support, though being the mid-ankle type, these boots can sometimes chafe against the ankle. That is rare, and for the most part the shoes remain comfortable and very breathable.
Pros:
Excellent build quality
Waterproof
Comfortable and reliable
Cons:
Can sometimes chafe against the ankle
The shoes can feel heavy
2. BomKinta Women's Hiking Shoes – Cheap Hiking Boots For Women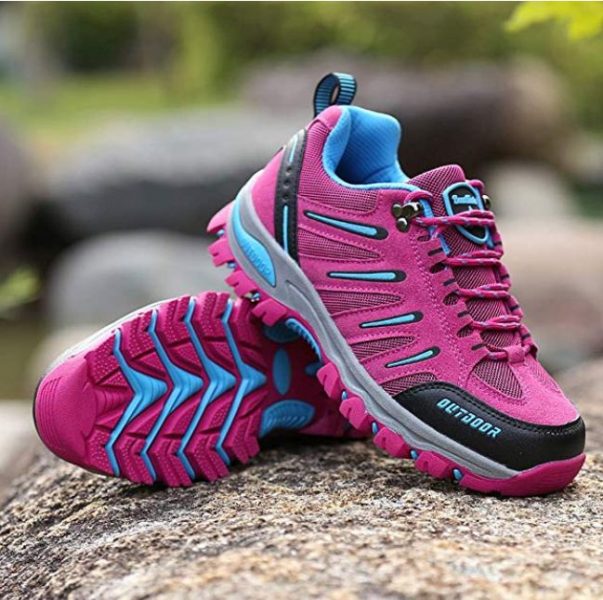 BomKinta Women's Hiking Shoes may not be the best choice for regular hikers but are pretty good for those who go to the outdoors occasionally. These cheap hiking boots are a fairly good choice if you are going to spend some time in the outdoors.
Soles for these shoes are made from wear-resistant polyurethane, while the body is made from a combination of suede leather and mesh. The shoes have pretty good traction on regular terrain, though it reduces a bit when water is involved. Breathability for these shoes is excellent, because the mesh covers a fair percentage of the body. On the other hand, waterproofing is practically absent for the same reason.
Overall, the shoes are comfortable to wear and have excellent color options. I have to say I like their brightness a little better considering the largely drab selection available for hiking boots. BomKinta hiking shoes tend to run a little on the larger side of things.
This can be a common problem for several shoes, which is why boot-shoppers often wonder where to buy hiking shoes. A good choice is to get the right fit in a showroom, especially for beginners. Those looking for the convenience of online shopping can pick big 5 hiking boots or Amazon.
Pros:
Low and affordably priced
Good selection of covers
Breathable
Cons:
The insoles should have been a bit softer
Low expected lifetime
3. KEEN Women's Koven Mid Hiking Boot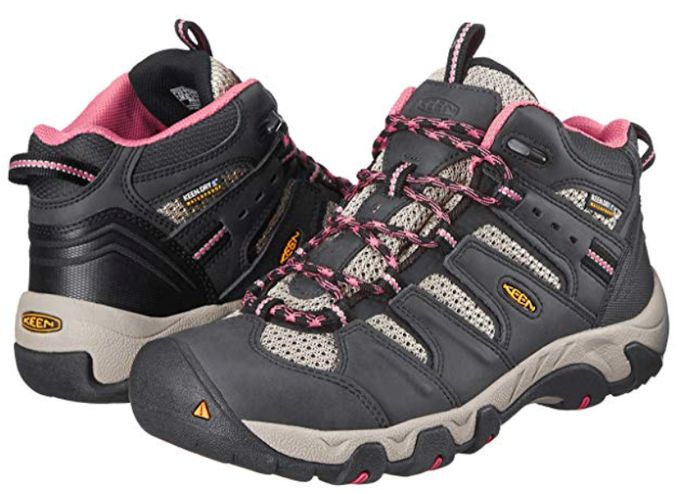 These well made quality hiking boots are priced just below the $100 mark. KEEN Women's Koven Mid Hiking Boot aims to be comfortable and reliable. The synthetic outsole has multi-direction lugs for better grip and traction. Its midsole is made from compression molded EVA foam for greater comfort. The removable EVA foam sole is easy to replace, though it lasts fairly long and there's little to no reason to complain about it anyway.
KEEN Women's Koven Mid Hiking Boot rises comfortably to the ankle and offers great support and comfort to the heel as well. The body of the boot is made from a combination of leather and breathable mesh. It is breathable and your feet stay comfortable throughout a full day of hiking. KEEN says the shoe is waterproof as well, though I'll consider it to be more of a water resistant boot. It won't be fazed by some splashes, but don't expect it to keep dry in the rain or if you step into a puddle.
Pros:
Excellent construction
Durable
Good support
Comfortable
Cons:
Water resistant, not waterproof
See current price and discounts
4. Hi-Tec Women's Skamania Mid-Rise Waterproof Hiking Boot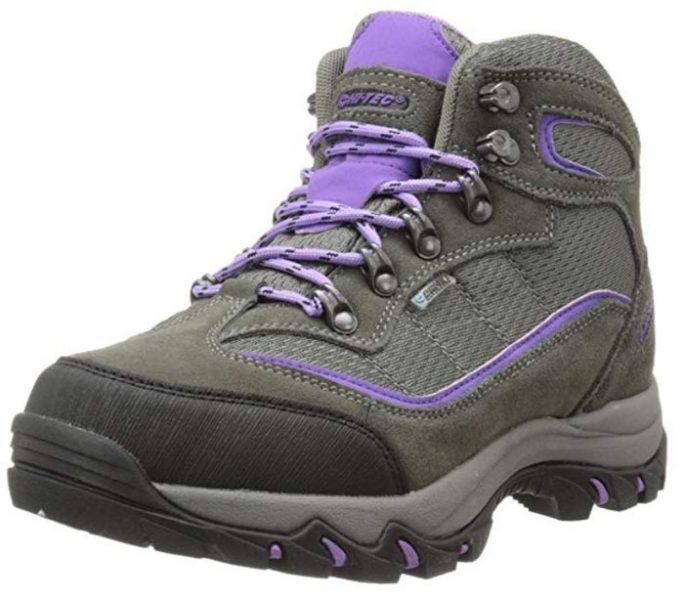 Hi-Tec Women's Skamania Mid-Rise Waterproof Hiking Boot has a body made from a combination of suede and mesh. The boots are breathable and waterproof, which can be a somewhat rare combo in this particular price range and category. Rubber soles on these boots provide excellent grip and traction, leaving little to worry about.
A compression molded EVA midsole adds to the comfort, absorbing most impacts so you stay more comfortable. The removable EVA footbed is comfortable and well-formed to give conforming support to the foot. It cradles the heels nicely and provide adequate support for the ankles. Well, the molded insole is remarkably thin and could be easily missed if you weren't looking for it.
Pros:
Good quality construction
Waterproof
Good support for ankles
Cons:
The insole should have been more pronounced for comfort
Limited support for heels
5. Clorts Women's Mid Waterproof Hiking Boots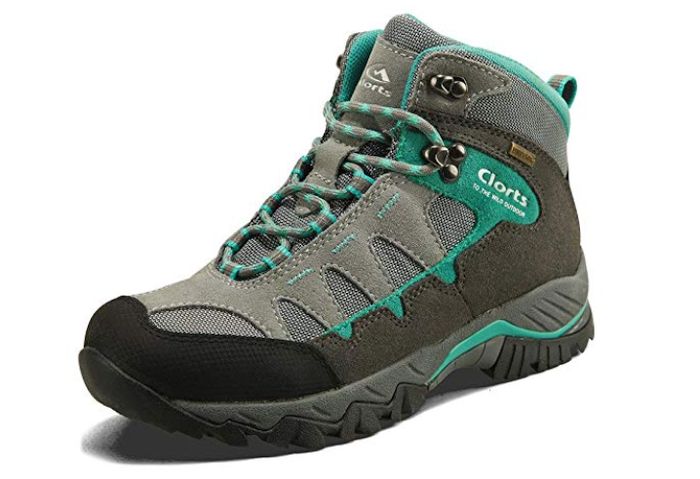 Clorts Women's Mid Waterproof Hiking Boots are very well designed to be comfortable and convenient for use as the best hiking boots. Priced well under the $100 range, Clorts says the shoes are waterproof, breathable, durable, lightweight, durable, and supportive – basically everything you could ask for from your hiking boots.
Exterior of the shoe is made from 70% leather and 30% mesh. A waterproof membrane keeps the water out, but lets the air in, thus keeping the shoe breathable. Going for the mid-cut height, the boot covers the ankle pretty well and offers excellent support. A heel pull makes it easy to wear the shoes without having to work to break them in. Removable dual-density sockliner cushions bring more comfort to your feet and work with the EVA midsole to make your hike easier.
The rubber outsole of the boots has multi-directional lugs for better traction. Corts Boots are anti-skid, and their traction is going to come in handy for your hike.
Pros:
Comfortable
Breathable
Durable boots
Excellent traction
Cons:
Waterproofing is inadequate
The boot could have better arch support
Making The Affordable Shoe Decision
Quality gear is an investment into yourself. Conventional hiking boots can be expensive, and though they may be worth the cost, you may want to stay within a budget. This selection of the best hiking boots under $100 should help you choose a well-regarded, and highly-rated shoe that fits your purpose just right.