Taking a quality cooler along for your camping trip helps keep your food safe and your drinks cold. While box style coolers are a popular choice, but for anywhere you expect some movement, wheeled coolers are better. Simply because pulling a cooler on wheels is easier than lifting a big cooler. We dived deep to find the best coolers with wheels that offer excellent mobility and insulation.
Best Wheeled Coolers For 2019
Deciding On A Wheeled Cooler
Wheel Size And Handle Height
Wheel size is an important part of convenience for your cooler. Larger wheels are generally easier to move and won't be as easily fazed by random obstacles in their path. Tiny wheels will limit movement and run a greater risk of scratching or rubbing the cooler against the ground when on uneven terrain.
Handle height is simply a measure of how easily you can move your cooler. You shouldn't have to stoop down to make the cooler move. Some coolers make use of retractable handles, some use collapsible pipes to lead to the handle. Either way, the idea is that you should be able to pull the cooler while walking straight. A cooler that makes you bend to move isn't the best choice. Wheels and handles should make things easier for you, not the other way round.
Cooler Size And Storage Capacity
Linked closely to each other, both these factors will affect your decision. This is basically down to your requirements. Some coolers also offer multiple compartments to store items separately. When you buy a cooler, keep the 2:1 ratio in mind. You'll want two parts of ice for every part of the items you want to be cooled.
Material, Insulation, And Cost
Not all coolers are created equal. Better insulated coolers will keep the contents cold for days, while the more average ones could croak out on cooling in hours. With modern high-quality coolers, you have to think of how many days the ice will last, rather than if it will last through the day. Rotomolded coolers are generally better quality, and if you want a cooler with better performance, this is the way to go.
Large coolers have traditionally been the domain of hard coolers. However, soft coolers in these sizes are also appearing on the market now, so there are more choices available in terms of materials as well.
Cost remains an important factor. However, with the variety and quality of coolers available, you can get a good quality choice within a reasonable price range.
15 Best Coolers With Wheels Reviewed
1. YETI Tundra Haul Portable Wheeled Cooler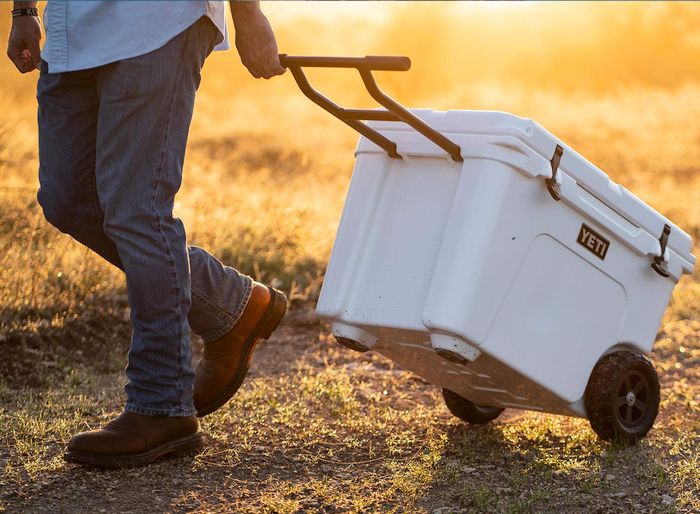 Yeti pretty much overhauled the world of coolers when they released their rotomolded coolers more than a decade ago. The company has maintained a high-quality and cooling and is a go-to for many people where coolers are concerned. Yeti Tundra is a well-received line of coolers, and it has stayed that way with their portable cooler additions as well.
Haul is the first wheeled cooler offered by Yeti. It expands on the Tundra line by adding wheels to the coolers and is the best roller cooler currently available. This is also one of the more expensive coolers available, but the company has customers convinced that Yeti quality is worth the price. I don't quite disagree here. For the premium in price, Yeti coolers do tend to be reliable.
Yeti Tundra Haul has a welded aluminum arm with a comfortable grip. The curved design of the handle tracks both sides and makes it easier to haul. The wheels are solid, single piece construction that is impact- and puncture-resistant.
As for the cooler itself, it is still Yeti's well-regarded rotomolded construction and permafrost insulation. You can expect items in the cooler to stay cold for days. There are people claiming that the cooler held its goods for more than a week. The cooler weighs 37lbs when empty. Once you've filled it up, it might very well be a two-person job to get it on/off the car.
Pros:
High-quality construction
Can stay cold for days
Wheels are impact resistant and puncture-resistant
Cons:
Expensive
Not compatible with dry goods basket
2. Igloo Glide PRO Cooler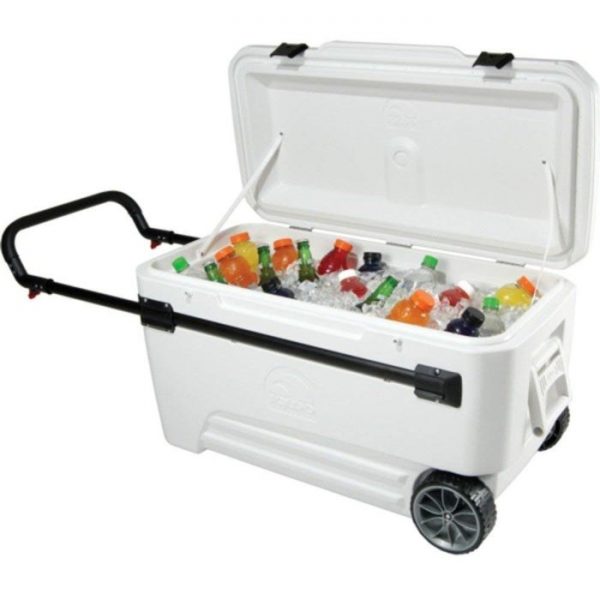 Igloo Glide PRO Cooler offers 110 quart of storage, which makes it a pretty good option when you're in a group. Telescopic handles attached to the cooler make it convenient to carry. These "slide and lock" handles run along the side of the cooler. They offer support for the body of the cooler and also make it easier to haul it along.
Oversized tires are placed along the cooler and move comfortably to add to this large cooler's mobility. The construction is largely polyethylene, which is a capable material, but questionable in terms of durability. For a cooler this size, the body could sustain damage even with one poorly placed bump. Insulation comes from ultratherm foam, which is fairly competent at its job.
The lid is kept in place by zinc-plated metal hinges. By themselves, these hinges are pretty good. However, considering the body of the cooler, they can sometimes struggle to keep the lid in place.
Pros:
Good value for money
Large cooler space
Large wheels make it easy to move
Cons:
Not durable
Lid can have trouble staying in place, causing loss of cooling
3. Coleman 42-Can Soft Cooler with Removable Liner & Wheels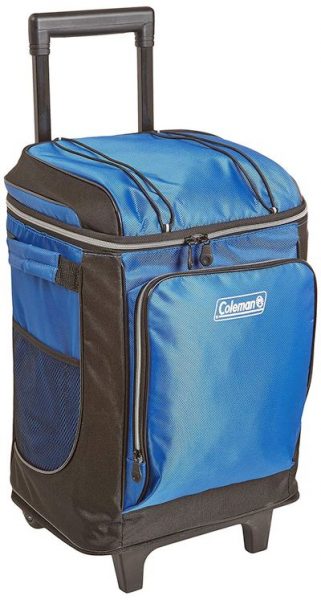 Large coolers have traditionally been the domain of hard coolers. That is changing now as capable soft coolers like the Coleman 42-Can Soft Cooler make an appearance. As the name implies, this cooler is large enough to hold 42 cans. Its removable liner has been treated with antimicrobials to be resistant to odor, mold, mildew, and fungus. Being removable, the liner is also easier to clean.
A telescopic handle is provided to make moving this cooler easier. The wheels are relatively small, which is a bit of a downer. Capable as they may be, the smaller wheels are no competition to larger wheels in terms of convenience or ease of use. The main compartment is zippered and the seams are heat-welded to stay waterproof. Coleman recommends using a hard plastic liner if you place ice in the cooler.
There are several pockets in the cooler for convenient storage. The cooler contains one large front-zippered pocket, two mesh side pockets, dry storage pouch, and lid bungees. It's worth mentioning that many of these pockets are for easier storage, and don't offer cooling. The mesh side pockets, for example, won't offer cooling to whatever you store in them.
Pros:
Soft cooler is easier to transport and move
Pockets for extra storage
Excellent value for money
Cons:
Small wheels
Cannot keep cool as long as some hard bodied coolers
Check current discounts and price
4. GiNT Rolling Cooler with Handle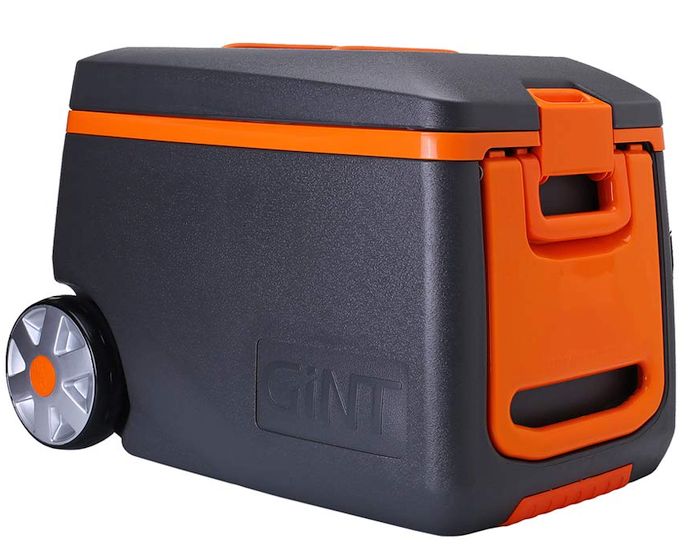 GiNT Rolling Cooler with Handle should get some praise for its looks. The cooler includes some very thoughtful features that enhance its usability. Unfortunately, it also misses out on other important features.
Let's start with the good things first. I like the overall looks and color scheme of this cooler. It looks pretty! At 53 quart, the cooler has good storage space and its large wheels work very well to move it around without trouble. Even on a beach, these wheels roll around comfortably.
An oversized handle is placed on the cooler to make it easier to carry. Once fully extended, the handle can also be used as a small table to place your drinks or cups. The cooler also includes two tie down loops that can be used for an umbrella or picnic cloth.
What's not to like is the size of the handle. It is small and will require most people to bend or slouch to move this cooler effectively. Those with below average height may still find it usable, but if you're tall, it isn't going to be easy to move this cooler. Usable as the handle is as a small table, I prefer the handle to do its job well rather than multi-task. It provides adequate insulation, but I won't trust it for keeping things cold beyond 1-2 days.
Pros:
Good looks
Oversized handle can be used as a small table
Large wheels
Cons:
1-2 days of cooling for best results
Oversized handle does not have enough length for convenience
5. Igloo Max Cold Quantum Roller Cooler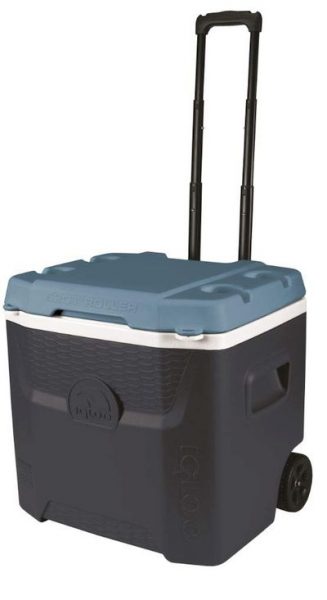 Igloo Max Cold Quantum Roller Cooler comes with a telescopic handle that includes gear hangers that can be used for adding shopping bags or similar things. The included wheels are large and conveniently placed to make moving this cooler easy. Overall, the arrangement of the handle and wheels adds to the maneuverability of this cooler.
Internal shelf ledges make it easier to organize things placed inside the cooler. Its fully insulated lid and body provide good insulation and offer storage for 2-3 days. The cooler has solid construction and can handle some rough use.
Pros:
Solid construction
Large wheels
Good value for money
Cons:
Handle feels flimsy
Consider 2-3 days of insulation for best results
6. RovR Wheeled Camping Rolling Cooler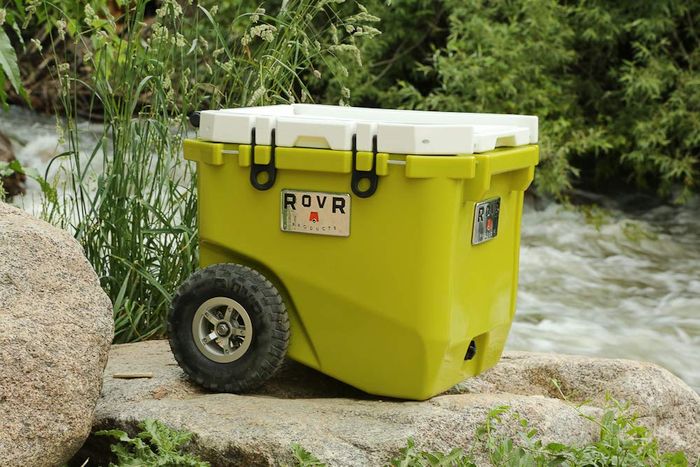 RovR Wheeled Camping Rolling Cooler is a solid, high-quality cooler. If we were to rate only on the rolling part, this cooler would be on the top. The RovR has large pneumatic wheels that are a pleasure to use. It moves with great ease and the wheels practically move with you, rather than needing to be pushed. Though puncture resistant, the wheels will deflate over time and you will have to put air in them every 1-2 months, depending on your use, of course.
The top of the cooler is a collapsible wagon bin and can be used to carry other objects. Add in the optional bike attachment, and you can tow the cooler with your bike! Now that's something to be said about the wheels here.
It performs very well as a cooler too. The rotomolded cooler has an airtight gasket and thick foam insulation. RovR Wheeled Camping Rolling Cooler can be expected to keep things cold for several days. I won't put their claim of 7-10 days outside the realm of possibility!
Pros:
Excellent pneumatic wheels are very convenient
Optional bike attachment makes it possible to tow cooler with bike
Can keep cool for several days
Cons:
Expensive
Heavy
Tires may need to be inflated every 1-2 months
7. MILEE Heavy Duty Wheeled Cooler
MILEE Heavy Duty Wheeled Cooler has large tires that move with ease. With a diameter of 7-inches, these wheels to make it relatively easy to maneuver this heavy cooler. At a capacity of 70 quarts with quality construction, this thing can get really heavy. A pressure release button has been added for the odd moments when opening the cooler becomes difficult.
The cooler has a rotomolded thermoplastic construction that allows it a longer use and a better build quality. It uses "commercial grade" insulation, which can keep its contents cold for up to six days. I think 4-5 days is a fairly good bet for practical everyday use.
What I don't like as much about this cooler is its handle. It's a nylon handle that isn't very large or convenient either. They say it is military grade nylon, which is an odd phrase because the military uses all kinds of nylon. Heck, even if was 1050D ballistic nylon, the handle would still be inconvenient.
Pros:
Large wheels for easier movement
Rotomolded body – high-quality construction
Keeps items cold for several days
Cons:
Expensive
The handle could be better
8. Coleman Wheeled Cooler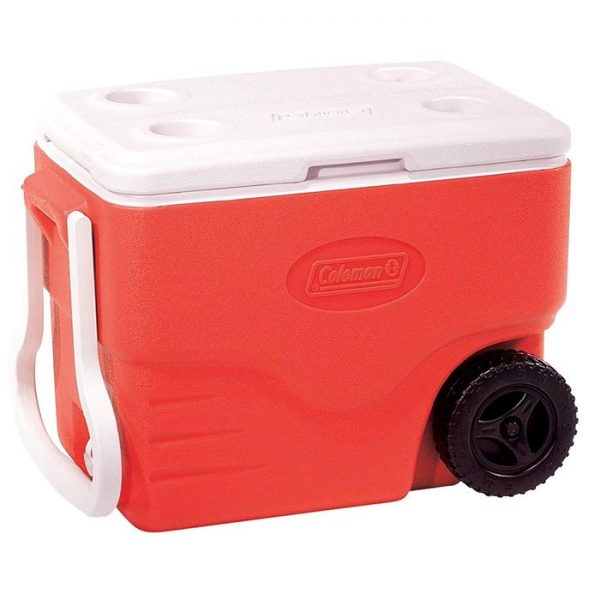 This 40-quart cooler from Amazon takes a more conventional shape, unlike the soft-sided Coleman we saw earlier. Its large, heavy-duty wheels make pulling the cooler easy. A large plastic handle at the opposite end of the cooler makes it easy to maneuver it.
Cupholders placed on the lid can't fail to make themselves useful, and really are a small, but thoughtful touch. As a cooler, the Coleman is more on the budget side of things. It's construction is fairly traditional, so expect it to keep things cold for a couple of days at best.
Pros:
Large wheels for convenient movement
Good value for money
Cons:
The body can get damaged if you put some weight on it
Overall average construction
9. VINGLI 80 Quart Wagon Rolling Cooler
Sometimes I wonder if I like this cooler because of its qualities, or because it's a pull along wagon for adults. It's a bit nostalgic for sure, but don't let that discount its cooling qualities. Its large wheels do indeed make it easy and convenient to pull along and can negotiate small bumpy terrain.
Since it has four wheels, it is also relatively easier to pull along. A large handle is in place to keep the movement convenient. Two wheels have locks so it can stay in place where required. The full capacity of this cooler is 80quart and you can expect it to keep items cool for a couple of days.
Pros:
Large wheels are easy to maneuver
Four wheels make it useful for several terrains
Good build quality
Cons:
Needs installation for wheels
Wheels need to refilled every 1-2 months
10. Clevr 80 Quart Party Wagon Cooler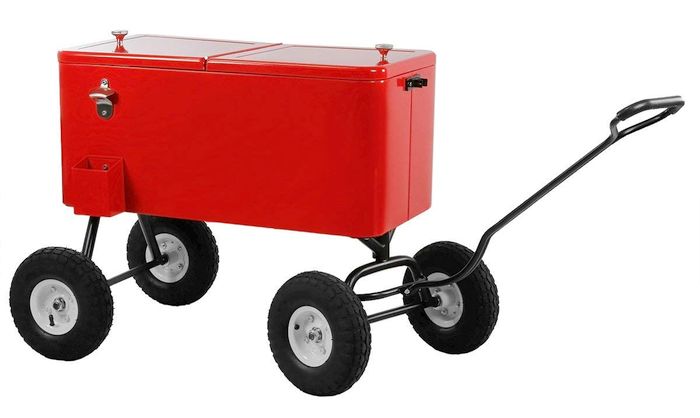 This cooler is much like the Vingli wagon cooler we saw above in the list. Clevr 80 Quart Party Wagon Cooler moves on 10-inch inflatable all-terrain wheels and is convenient as a wagon to pull along for adults. The cooler interiors are made from polypropylene and the insulation comes from foam. Its outer body is made from powder-coated steel and can be expected to last long.
Dual-hinged lids on the cooler make it easy to access compartments. This 80 quart cooler will keep its contents cold for a day, at most two days. And even that might be stretching it. It's pretty good for a day out, but don't take it along for longer camping trips.
Pros:
Large wheels are easy to move
Can negotiate some rough terrain
Good finish and build quality
Cons:
Wheels need to be installed on the cooler
Wheels need air refills every month or so
11. WYLD 75 Quart Dual Compartment Cooler with Wheels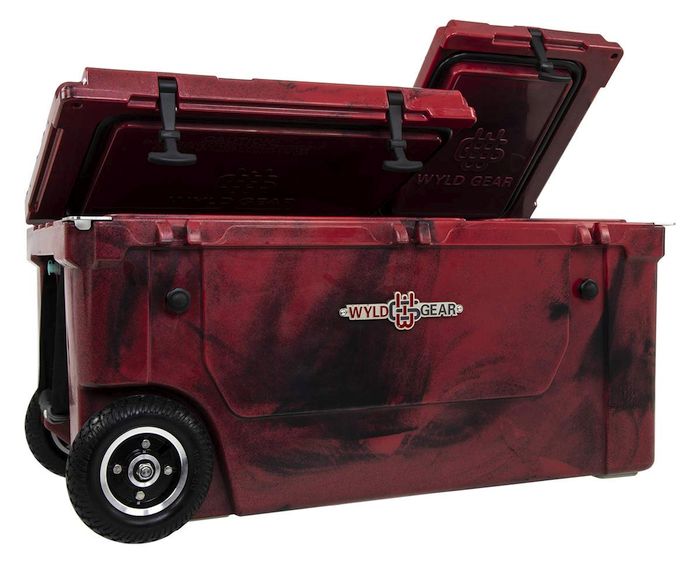 WYLD 75 Quart Dual Compartment Cooler with Wheels is an insulated double-compartment cooler that lets you organize your items easily. The cooler uses large "never flat" puncture-resistant wheels. The wheels are large and move easily. Simply put, they shouldn't give you any problem as you move this cooler to your desired location.
Its handle is made from nylon. As I've said earlier, it's not my favorite choice in the world, and losing some weight on the handle on an otherwise heavy cooler barely accomplishes much. If anything, it makes lugging around a heavy cooler more annoying.
The insulation is good quality and you can expect this large cooler to work well for a few days into your camping trip. Keeping things cold for 4-5 days won't be a problem with this cooler.
Pros:
Good insulation
Heavy-duty never flat wheels
Good build quality
Cons:
Expensive
The handle could be better
12. Igloo Trailmate Journey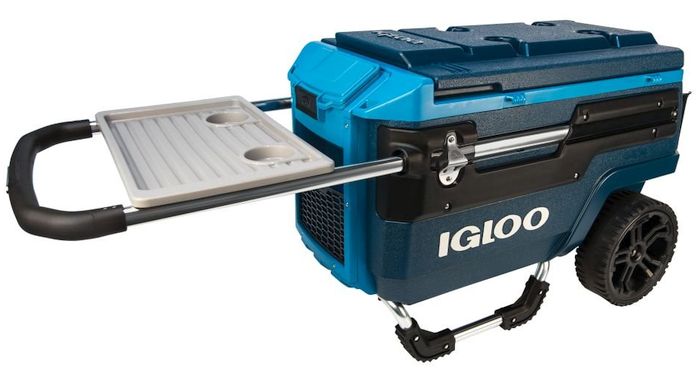 This is a nice cooler with acceptable insulation. Igloo Trailmate Journey sports oversized 10-inch never flat wheels that make their usefulness clear on most terrains. You can move this cooler around and maneuver it rather easily. Its telescopic handle is another thing to like.
While it deftly performs the functions of the handle, it also includes a butler tray. The tray can be used as a small table, and its cup holders surely will find some use. If you don't need it, the tray can be removed and stowed away under the lid. The cooler uses ultratherm insulation and claims to keep items cold for up to 4 days.
Pros:
Good insulation
High-quality oversized wheels
Telescopic handle is convenient to use
Cons:
The lid has no latch!
Several consumer complaints about one or another part of the cooler failing in a short time
13. Driftsun 70-Quart Wheeled Ice Chest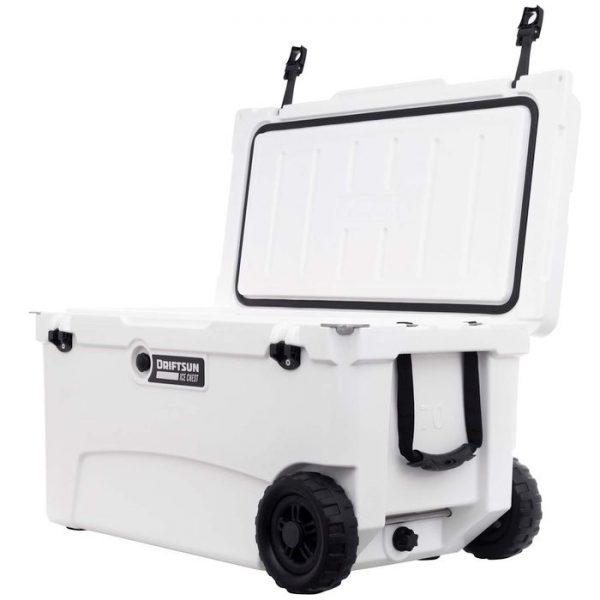 Driftsun calls its ice chest on wheels "seriously portable." I guess averagely portable doesn't sound as good, even if it is more accurate. Don't get me wrong, the portability of this cooler is not in question. But it isn't something that outperforms others in the same price and quality range.
The two large wheels on this cooler are good enough for convenient transportation, and can negotiate some rough terrain. Its wheels are also capable enough for handling the weight of this large cooler. The handle is a nylon strap.
Driftsun 70-Quart Wheeled Ice Chest has a rotomolded body and quality insulation. You can expect this cooler to keep ice contained for almost a week.
Pros:
Good quality construction
Large, easy to maneuver wheels
Can stay cold for days
Cons:
Expensive
The handle could be better
14. Arctic Zone Titan Deep Freeze Rolling Cooler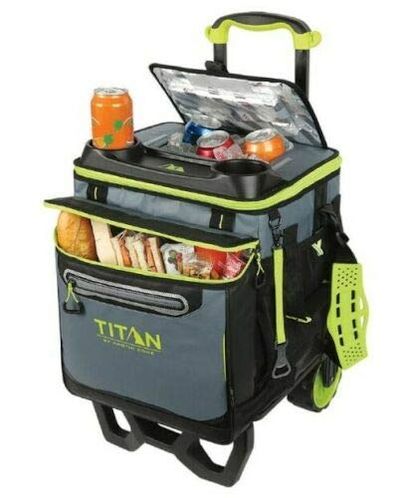 Arctic Zone Titan Deep Freeze Rolling Cooler is pretty similar to the Coleman soft cooler that also makes an appearance on this list. As the name implies, this is a soft cooler with several pockets joining the main compartment for easy organization.
The outer pockets like those on the front and the top have some insulation and can be used for items that don't need much cooling. The main compartment, on the other hand, has enough capacity to store most of your requirements. I think the two cup holders at the top are a nice touch. When not in use, one side of the cooler can be collapsed for easier storage.
It features large wheels and a telescopic handle. The cooler is easy enough to maneuver and its wheels won't give much problem when negotiating some tough terrain.
Pros:
Soft-sided cooler is easier to store when empty
Pockets for extra storage and convenience
Large wheels are easy to maneuver
Cons:
Can't keep items as cold as some hard-bodied coolers
Runs a (small) risk of leaking
Check discounts and options on Amazon
15. dbest products Ultra Compact Cooler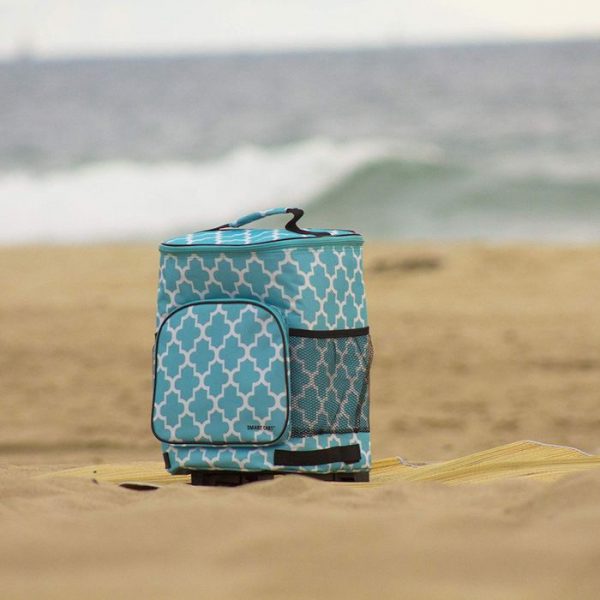 A cheap portable cooler on wheels, dbest products Ultra Compact Cooler is a usable budget choice. It won't knock the ball out of the park when it comes to insulation, but it can be fairly useful in its own right. This is not a cooler where you expect things to stay cold the next day as well. If it lasts beyond 24 hours, that's a stroke of luck!
Anyways, this is a budget cooler and it makes no bones about it. This is a lightweight and soft-sided cooler to employ when you're out to picnic for the day. There is a fair risk of leakage, because it doesn't have a waterproof zipper. I'll suggest using ice substitutes or bottled ice to go with this cooler
The tires are small, so there can be some trouble maneuvering it, but on a solid surface, it moves fairly well. The telescopic handle is quite useful as well. Several pockets are available on the cooler for easier organization. Keep in mind, this is not objectively worse than other soft-sided coolers on this list. It just doesn't perform as well, which probably is a function of its price.
Pros:
Good value for money
Easy maneuverability
Lightweight and easy to store when empty
Cons:
Slightly below average insulation
The small wheels can pose problems on some surfaces
FAQ Section For The Best Wheeled Coolers
What is the best beach cooler?
Thanks to easier mobility of four wheels, the Vingli Wagon Rolling Cooler is the best wheeled cooler for the beach. If you're looking for something more conventional, the GiNT Rolling Cooler is a good choice. RovR Wheeled camping cooler and its pneumatic wheels are worthy of note for moving on the beach.
Do Yeti coolers have wheels?
Yes. Yeti Tundra Haul adds the convenience of wheels to the well-regarded quality of the Yeti Tundra cooler
Are Igloo coolers good?
Igloo offers a good range of coolers and many of them are worth buying, depending on your requirements and preferences. Igloo Glide Pro and Igloo Max Cold coolers are safe bets if you want a wheeled cooler from this company.
What Cooler keeps ice the longest?
Yeti Tundra has the best performance where keeping ice longest is concerned. With some responsible use, you can expect ice in the Yeti Tundra to last 7-10 days. Some of its competitors come really close, but the Tundra does perform well. Yeti Tundra Haul has a similar performance as a cooler with wheels.
Hauling A Wheeled Cooler To Your Camping Trip
Keeping your food and drinks cold on a camping trip can be a challenging task. A good quality cooler will take care of that problem, even for a trip that can last several days. Best coolers with wheels take away the worry of hauling heavy coolers while on your trip. It's just more convenient to pull a cooler on its wheels than finding a couple of guys to lift one every time you need to move it. Take a look at our selection above, and you'll find very well-regarded coolers fit for most budgets.