Traveling with your backpack always carries some risk of theft. You are very likely to find yourself in crowded areas or crowded public transport. In these situations, a thief may take the opportunity to steal something from your backpack. Situational awareness certainly helps, and a backpack that isn't easy to get into is useful as well. With that in mind, we look at 18 best anti-theft backpacks that can come in handy for the safety of your property.
Top 18 Anti-Theft Backpacks
Things To Look For In A Theft Proof Backpack
Features And Security
What separates an anti-theft backpack from a regular backpack is simply the security and safety features on offer. Manufacturers approach these requirements in different ways, though they will often include one, or several of the security features listed here.
RFID blocking technology can be helpful in keeping your passport and credit card safe from possible identity theft. Hidden pockets and anti-theft zippers are other features that make it difficult for cons to reach important contents of your backpack.
Pickpockets and slash and run thefts are threats in several major cities around the world. Good quality zippers and padlocks can help to some extent. Many backpacks are also designed to be slash-proof, which means a knife-wielding thief won't be able to cut through the backpack easily. It is not as common as pick-pocketing, but it still is a viable threat.
Durability And Style
Style matters! If I'm going to carry a backpack through a city, it better look worth it. Style is as important as sense in a bag. I won't pick form over function, but a backpack worth its salt must be able to conciliate the two.
Durability is another important consideration. If you can't expect a bag to last, it is going to be pretty difficult to imagine it going against a thief. Quality of construction is an important indicator of what you really can expect from your bag – and how secure it really is.
18 Best Anti-Theft Backpacks That Topped The Charts In 2019
1. Korin Design ClickPack Pro — Lockable Backpack
This is a backpack loaded with features and sitting on prestigious design awards. Korin Design ClickPack Pro offers several interesting and useful security features, which they call TechTriple anti-theft protection. These features include TSA lock, slash resistant fabric, retractable metal wire lock, and high-quality strong YKK zippers.
You'll find five main storage pockets in the bag. The laptop pocket is large enough to hold a 15.6-inch laptop, and another special pocket to hold a tablet of up to 10-inch size. There's also a provision to charge your electronic devices as necessary.
When empty, the bag weighs 2.2 lbs. It includes its own rain cover and carrying bag. To make the Korin Design ClickPack Pro more ergonomic to use, the bag employs a unique weight-reduction system. The backpack hugs your back and its wrap-around shoulder strap helps relieve weight from your shoulders and distributes it throughout your back. They've taken care to make the fabric breathable, so it doesn't end up making your back all sweaty.
Pros:
Good looks and design
Includes several security features
Waterproof
Included USB port for electronic devices
Convenient to carry
Cons:
Expensive
No RFID blocking technology
2. Pacsafe Metrosafe LS450 — Secure Backpack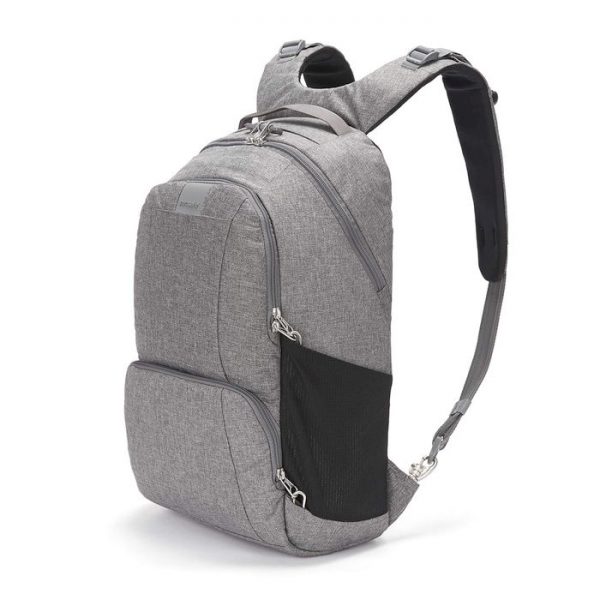 Pacsafe Metrosafe LS450 is a solid choice for a theft-proof backpack. It has several storage pockets to hold your belongings, including a padded area to hold a laptop or tablet up to 15-inch in size. Other storage options include three lockable zipper pockets on the exterior, two pockets on the sides for water bottles or similar items, and two zipper pockets for the interiors. Of these, one pocket is RFID safe, and the other can store your key or wallet clip.
The safety features on this one include lockable YKK zippers and steel mesh in the fabric to make it slashproof. You can (and should) use a padlock with those zippers. The bag is made from water-resistant polyester and weighs just 1.84 lbs.
Adjustable, padded straps make it easier to carry the bag. As an added security provision, the straps too are safeguarded from slashing by flexible, lightweight stainless steel wires.
Pros:
Stylish and good looks
Excellent anti-theft technology
Lightweight and comfortable to use
Cons:
Expensive
Not waterproof (the fabric is water-resistant)
See current price and discounts
3. XD Design Bobby Anti Theft Backpack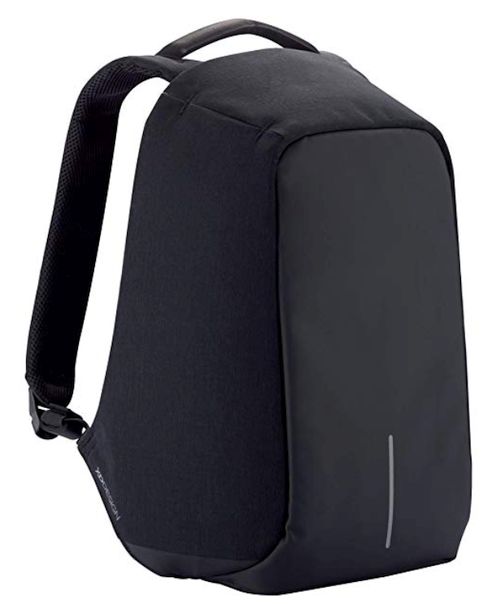 This is one of the better known and recognized anti-theft backpacks. XD Design Bobby Anti-theft Backpack includes several features for safety. These include hidden zippers and pockets, protective layers to make the bag slash/cut proof, and integrated USB charging port.
The bag is made from polyester but is coated with water-repellant materials to make it waterproof. With a total capacity of 15L, the bag is geared more towards carrying your laptop and gadgets, rather than act as luggage. Its pockets are big enough to hold a 17-inch laptop, another dedicated pocket can conveniently hold a tablet up to 12.9-inches.
An interesting feature here is how the zip works. It goes all the way around the backpack to the bottom, and allows it to be opened to a full 180-degrees angle. This makes it incredibly convenient to pack the backpack or access the items there. Its straps are designed in a way that the backpack distributes weight on the shoulders and does not put pressure on the spine.
Pros:
Good looking and clean design
Waterproof
Strong zippers and anti-cut fabric
Convenient to pack or access stuff
Cons:
Lacks RFID blocking
Expensive, yet with limited safety features
4. Kensington SecureTrek Lockable Anti-Theft Laptop Backpack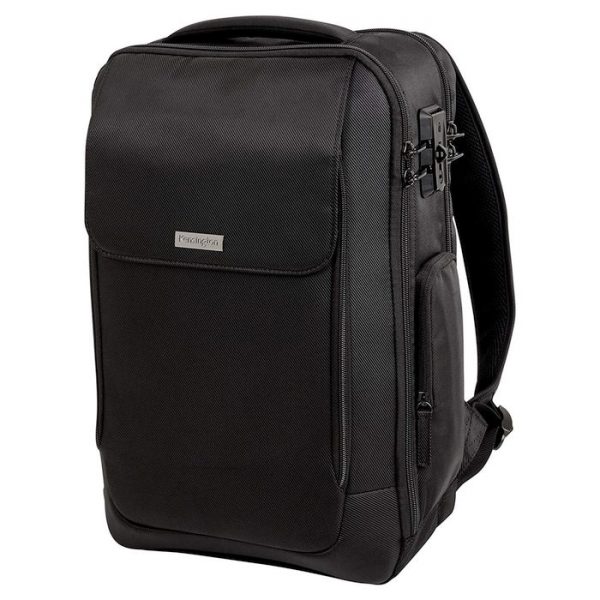 Kensington SecureTrek Lockable Anti-Theft Laptop Backpack comes in several choices for size and shape options. The 15-inch version has special pockets to hold laptops up to 15.6-inches and tablets up to 10-inches. If you want to go higher, pick the 17-inch version that allows a 17-inch laptop and a 10-inch tablet.
Kensington has bundled-in the option of buying a combination lock system attached to a self-coiling carbon steel cable. This cable can stretch for up to 6-feet to anchor the backpack. The lock is a keyless four-wheel combination. Other safety features include TSA approved travel lock and anti-puncture zippers.
Pros:
Good, clean looks
Plenty of storage space
Convenient to carry
Cons:
No waterproofing
Does not have anti-cut fabric
Questionable value for money
5. Bopai Anti-Theft Business Backpack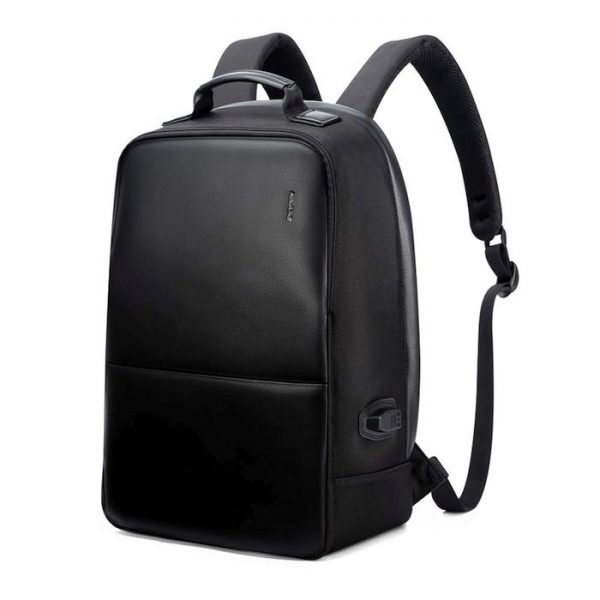 Made from water-resistant microfiber leather and including of ballistic nylon at important spots, Bopai Anti-Theft Business Backpack is one tough backpack. Safety is added by the use of a double-zippered design. At the back of the bag, you'll find a concealed pocket that can be used to store money, credit cards, or other important documents. An invisible card pocket on the strap can also come in handy.
A USB charging port adds to the convenience available. The backpack is spacious and has enough room to store a 15.6-inch laptop. Bopai backpack is easy to carry, has good storage capacity, and the construction is fairly durable.
Pros:
Convenient to use and carry
Durable construction
Fairly spacious
Excellent looks and feel
Cons:
Includes only basic safety precautions
Straps offer minimal adjustment
6. Travelon Anti-Theft Backpack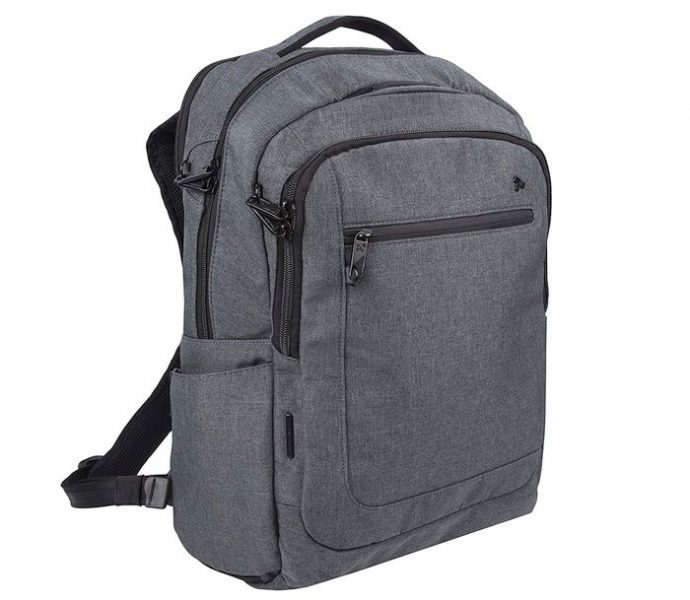 Travelon Anti-Theft Backpack is a popular choice for backpacks to consider. Its internal compartments are lined with fleece to better protect the gadgets you store. The backpack has enough space for a 15.6-inch laptop, and several of your personal belongings. A zippered pocket inside the bag blocks RFID and can be used to store your passport or credit cards. Other interesting features include a pen loop and a tethered key clip with LED light.
The body of the backpack is slash-proof and will withstand attacks. The bag has an air-mesh back panel and large straps that are comfortable to wear. It can be easily attached to a wheeled carry-on for greater convenience where necessary.
Pros:
Useful anti-theft features
Good design
Durable construction
Cons:
The bag can feel a bit bulky
7. Lewis N. Clark Secura RFID Blocking Anti-Theft Backpack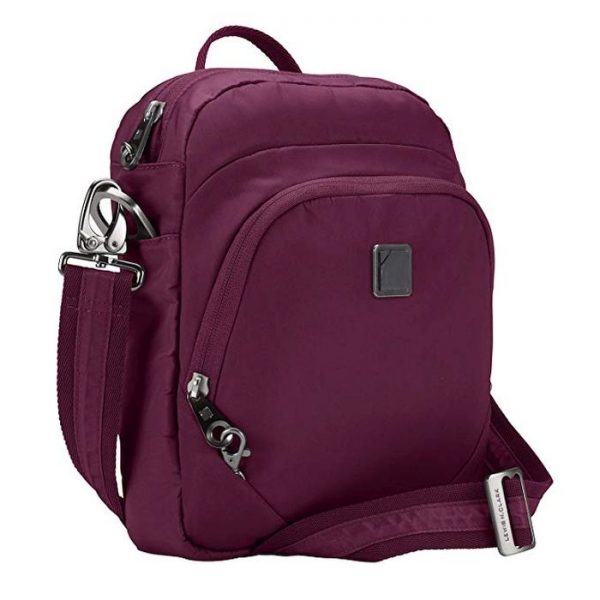 Lewis N. Clark Secura RFID Blocking Anti-Theft Backpack thrives on its versatility. You can use this one as a backpack, crossbody bag, or shoulder bag. For added safety and security, the bag has reinforced strategic areas with slash/cut proof fabric.
The shoulder straps too contain internal stainless steel cables for greater protection. Its built-in RFID shielded spots can come in pretty handy! The bag's body is made from water-resistant nylon built to withstand some rough use.
Pros:
Versatile enough to be used as a backpack, crossbody bag, and shoulder bag
Slash proof fabric
RFID-shielded pockets
Cons:
8. Travelon Anti Theft Classic Backpack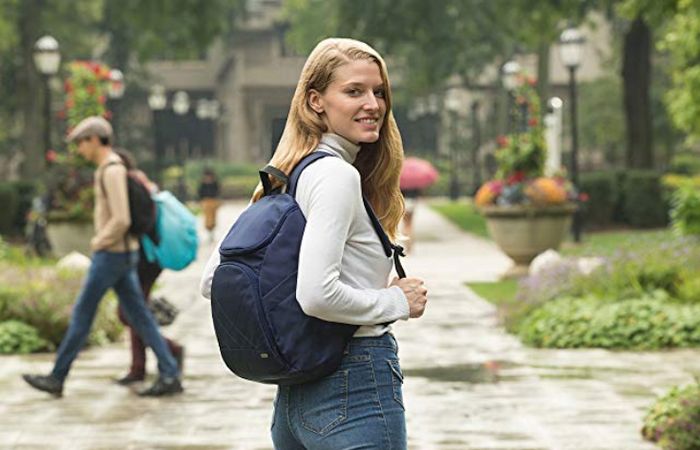 Competing with the Travelon anti-theft Urban backpack that we also see on the list, this backpack takes on a more classic style. Made from nylon with a polyester lining, the backpack has slash-resistant body and straps. I suppose they go very well with its splash-resistant body (water-resistant).
Other notable features include locking straps and compartments, and RFID blocking slots for convenient and worry-free storage of important objects. The classic look is nothing to brag about, yet I'd say it is a pretty good, classic, and elegant appearance.
Pros:
Slash-proof
RFID-shielded
Quality and useful compartments
Cons:
Water-resistant, not waterproof
Zipper quality is average
9. Oscaurt Anti-theft Travel Backpack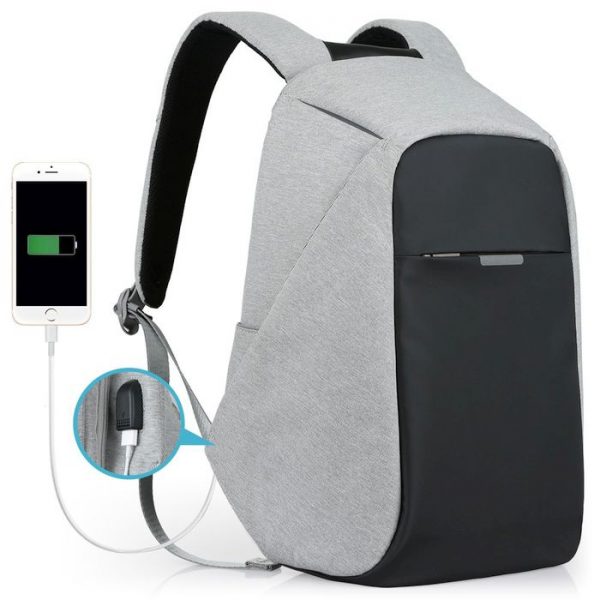 Oscaurt Anti-theft Travel Backpack has some interesting features that don't fail to get noticed. The overall design of this daypack is very clean and all zippers are carefully hidden. This forms a part of its anti-theft security credentials as well.
The zipper to the main pocket is hidden and placed towards the back of the pack. It remains easily accessible to the owner of the bag once they remove it, but anyone attempting theft will have a tough time reaching for the zipper. An adjustable main compartment and several pockets to store things make this backpack more convenient and easier to organize.
Oscuart's travel backpack is big enough to hold a 15.6-inch laptop. It also includes a USB port for easier charging and access to your gadgets.
Pros:
Good value for money
Clean design
Hidden zippers
Cons:
Anti-theft features are fairly basic
Lack of proper ventilation on the back
10. Tocode Fashion Laptop Backpack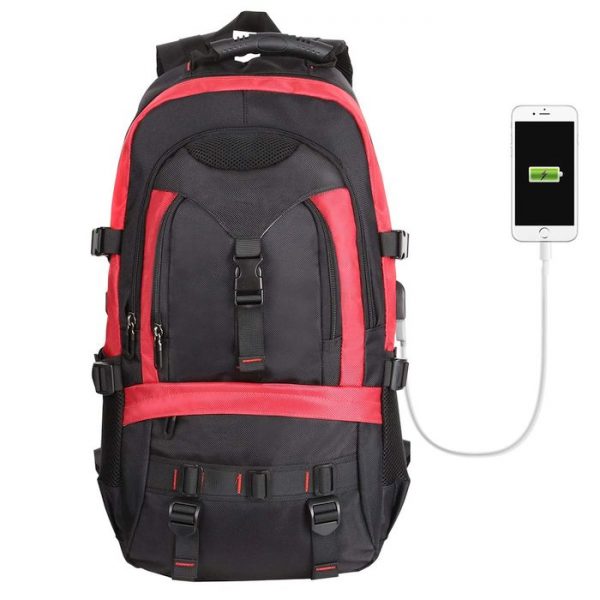 Sporting something of classic backpack looks with anti-theft technology, this backpack tries to get the best of both worlds. Several multi-purpose packets placed along the backpack make it easier to organize stuff. Tocode Fashion Laptop Backpack can hold a 17.3-inch laptop with relative ease and is spacious enough to carry a lot more stuff.
The backpack is made from heavy duty Oxford fabric. Relying on the quality of the fabric allows the backpack to store and carry a fair amount of weight. It also makes it water-resistant, but not waterproof. Added security is available in the form of a double security zipper and a three-wheel combination lock. A USB port allows easier connectivity with your devices.
In general, the features of this backpack are fairly simple. What it does better than most of its competition is the comfort in carrying it. The back of the bag has multi-panel ventilated padding that takes away a fair bit of trouble and sweat from having a backpack along.
Pros:
Good quality construction
Double security zipper
Three-wheel combination lock for added protection
Good storage space
Good value for money
Cons:
Nominal padding for laptop sleeve
Inadequate padding on shoulder straps
11. Tzowla College Laptop Backpack Anti-Theft Bag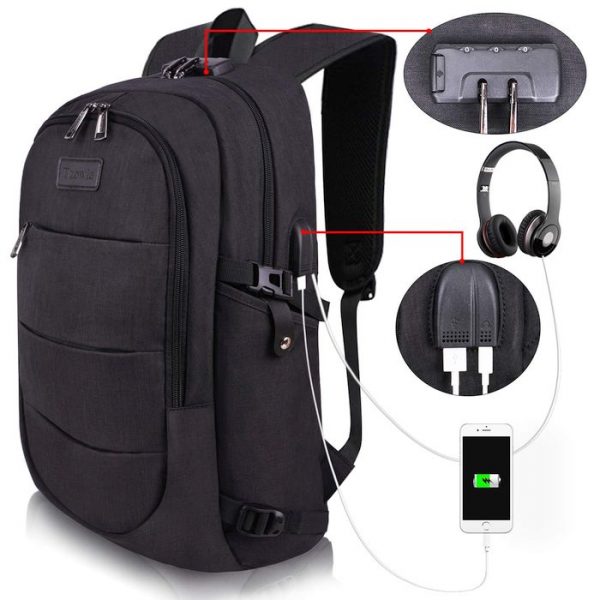 Tzowla College Laptop Backpack Anti-Theft Bag is a convenient and well-built backpack. It has a combination for added security on the main compartment, but the other pockets veer more towards the regular side of things. One feature I found very interesting here is that it includes a 3.5mm audio jack along with the USB port. It's a nice touch, and I can see several situations where that can come in handy.
As for the main compartment, it is large enough to store a 15.6-inch laptop, a tablet and other assorted items. There are several pockets on the exterior, though less protected than the main compartment that you can put to use. The bag is made from polyester and has wide straps for support and convenience. Padding on the straps is rather thin – I expected something more substantial.
Pros:
Includes headphone jack with USB port
Good construction
Spacious
Cons:
Basic anti-theft protection
Anti-theft protection available for only one pocket
Shoulder straps lack proper padding
12. Mancro Laptop Anti-Theft Backpack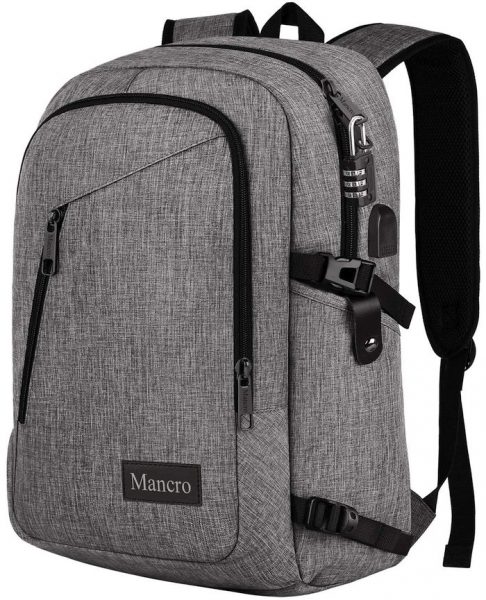 For the most part, this backpack from Mancro is a regular daypack with the anti-theft side thrown in as an after-thought. The anti-theft device here is the padlock-style combination lock. And that's about it. Technically, a lock does work well, but I expect an anti-theft backup to put in more effort.
As a backpack, it does better. It is well-designed and has several easy to access storage pockets. The main pocket is large enough to hold a 15.6-inch laptop and other assorted items. A USB port is included with the bag.
Pros:
Well-designed backpack
Good storage space
Cons:
Minimal effort for anti-theft options
13. Fintie Anti-Theft Laptop Backpack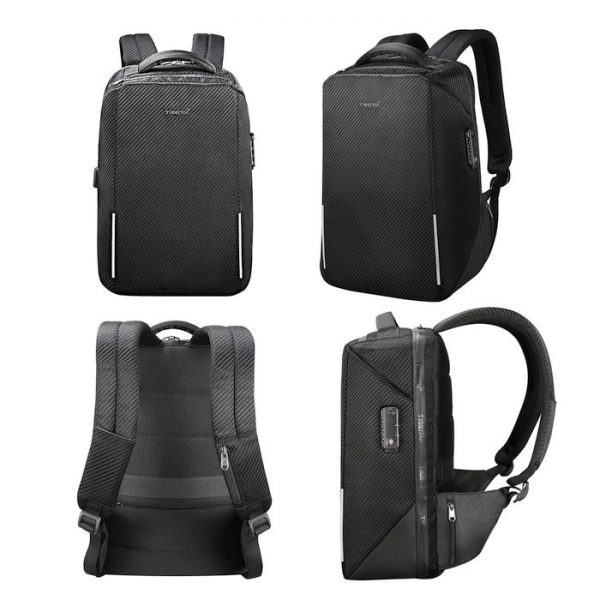 Where value for money and features are concerned, this backpack makes the top of the list. Fintie Anti-Theft Travel Backpack shows a bunch of features that are generally available in the more premium segment. The backpack is made from 800D nylon, which means it is both strong and has excellent water resistance. Its zipper is waterproof as well.
Other notable features include RFID blocking pockets, TSA approved luggage locks, and flat open design that makes it very convenient to add or remove items from this backpack. You can add a 15.6-inch laptop and a 10-inch table to their fixed sleeve, and still have plenty of space left.
Pros:
Excellent value for money
RFID blocking
TSA approved locks
Easy to add and remove items from the bag
Cons:
Can use better weight distribution over the back
14. Hanke Travel Backpack, Anti-Theft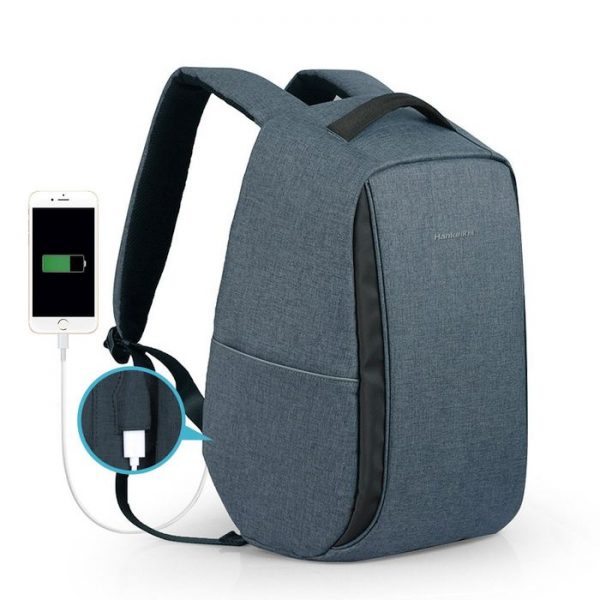 Hanke Travel Backpack is made from polyester and is impressively water-resistant. These qualities make it easy to clean and withstand a light rain without much trouble to the contents of the bag. The bag is large enough to hold a 15.6-inch laptop as well as several other items. An external USB port is made available for charging gadgets.
There's little done in terms of anti-theft preparedness. The most important feature this backpack offers there are hidden zippers. It's a low-tech simple solution, but then in most cases, you do not need slash-proof and RFID-blocking backpacks. Sometimes, just hiding away the zippers does the trick! Other anti-theft features include two hidden pockets, one placed at the side of the bag, and the other towards the back.
Pros:
Good looks and clean design
Easy to pack and organize
Cons:
Very basic anti-theft solutions
Questionable longevity
See discounts and buying options
15. Loaged Anti-Theft Laptop Backpack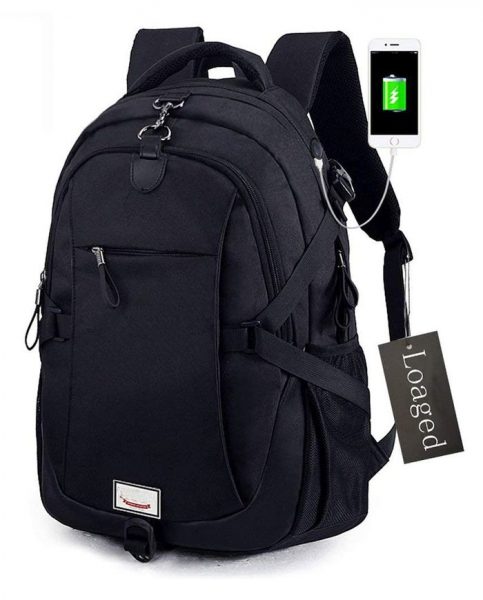 Loaged Anti-Theft Laptop Backpack puts a premium on its organizing duties as a basic backpack. Apart from the main compartment, there are two more pockets, and seven inner small pockets. The main pocket is large enough to hold a 15.6-inch laptop and a tablet.
A hidden pocket is located at the back of the bag, and is very subtle and safe to store important documents. This bag gives up the path of lockable backpacks in favor of covered front and side buckles. Though these are easier to maneuver as compared to locks, being tightly covered makes the buckles difficult to access for unauthorized uses. The person wearing the backpack is very likely to be made aware if someone jostles with the backpack trying to get hold of the buckles.
Pros:
Several pockets for organization
Comfortably padded back and strap
Spacious
Cons:
Relies on buckles in place of locks
Underpowered anti-theft mechanisms
16. PINCNEL Women Anti-Theft Rucksack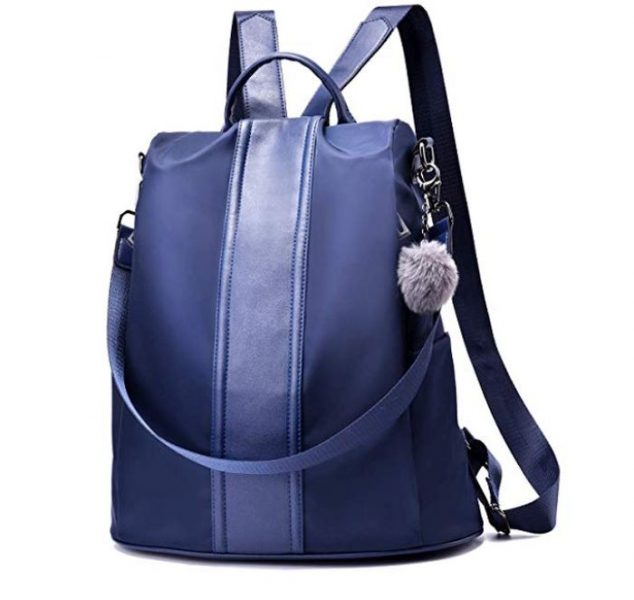 This anti-theft women's rucksack does a good job of balancing form and function. The material of choice here is durable and soft PU leather matched with nylon. Access to the bag is through a zipper placed at the back. Since there are not front zippers or access to the bag from other sides, it becomes more secure. Of course, there's still the danger of cut and run thieves, but the overall risk is minimized. It's pretty stunning as an anti theft backpack purse.
PINCNEL Women Anti-Theft Rucksack has a small storage space. If you intend to put your gadgets in there, the maximum height of a tablet or laptop it will allow is 9.7-inches. The large variant of the bag takes the maximum length to 13.3-inches. It may be smaller than conventional backpacks, but there's still enough room to store essentials and maybe add some other items as well. A few extra pockets are available for added convenience.
Pros:
Good looks
Stylish design with a choice of several colors
Easy to carry
Good value for money
Cons:
Anti-theft capabilities limited to placement of zipper
No padding on straps
The faux leather can start to peel in a few months
17. KOPACK Anti Thief Slim Laptop Backpack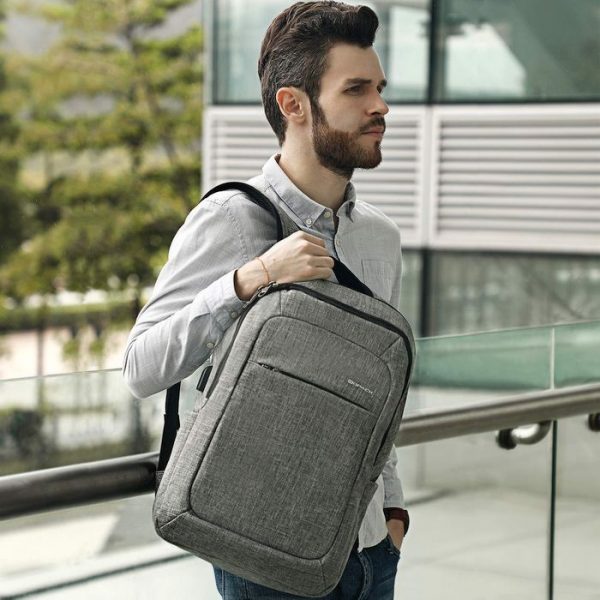 Kopack anti-theft backpack has a "hidden" laptop compartment placed at the back of the bag. The rationale is that if you're someone who regularly their tablet or laptop, the other contents of your bag should not be exposed every time you open the compartment. By giving the laptop its own pocket, this backpack compartmentalizes and organizes things slightly better. The laptop sleeve can hold a computer that's 15.6-inch in length.
The organization streak continues with more than 10 pockets and spots available all over the bag for easier storage. Its well-placed and padded shoulder straps make it more convenient to lift and carry this bag.
Pros:
Good quality anti-puncture zippers
Dual-layer zippers
Excellent organization options
Padded and well-placed shoulder straps
Cons:
Very poor waterproofing
Very basic anti-theft mechanisms
18. HFSX Anti Theft Laptop Backpack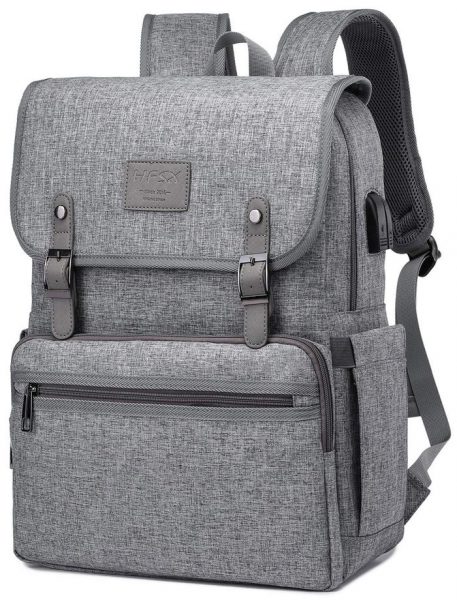 HFSX Anti Theft Laptop Backpack is made from polyester and wrapped in a simple retro-ish design. The bag has several pockets for easy storage, and even includes a USB port and a 3.5mm headphone jack. While the fabric offers some water-resistance, do not expect this bag to be waterproof.
Its main pocket is big enough to fit a 15.6-inch laptop, and several other pockets offer greater organization. Anti-theft features of this laptop are limited to covering the main compartment with a flap and securing that flap with metal shackles/buckles. I guess it's an inch above reasonable precaution, and that's putting it generously.
Pros:
Good looks and design
Includes USB and headphone jack
Several pockets for easy organization
Cons:
Questionable longevity
Anti-theft features are limited in scope
FAQs For Keeping A Secure Backpack
1. Which is the best anti theft bag?
Specific features of the best anti theft backpack are more a matter of personal preference. However, in terms of general quality, I can recommend Pacsafe Metrosafe LS450, Bobby Anti-Theft Backpack, and Korin Design ClickPack Pro as reasonable options.
2. What makes a backpack anti theft?
There is no standard definition, but several features come into play. Most common features for anti theft backpacks are slash-proof fabrics, heavy-duty and sturdy zippers, RFID blocking, locks, and backpack anchoring with locks. Other simpler systems like hiding away zippers and pockets may also be employed.
3. Are backpacks safe from pickpockets?
No. Taking reasonable precautions and being aware of your surroundings make the biggest difference. Even high-quality anti-slash fabric backpacks cannot be completely safe from pickpockets if you don't maintain situational awareness. Having good quality anti-theft backpacks goes a long way, but it's not the only answer!
4. Are anti theft bags worth it if I already own a regular backpack?
Yes, they are. Quality anti-theft backpacks bring more security to your belongings and can be especially useful when you're traveling abroad. Moreover, they reduce the risk of identity theft or credit card theft, thus making things easier for you.
5. Why do I need a slash proof bag?
Many cities around the globe have a problem with slash and run crimes. This usually involves perpetrators slashing the backpack of their victim with a knife, and running away with all the goods. A slash proof bag does not tear up easily, thanks to included metal wires in its structure. So a slash proof bag becomes a better option to have in your bag.
The Backpack For You
As we see in this list, there is a fairly large variety and items on offer for competent anti-theft backpacks. I'd say theft is a real risk, and does deserve more attention. While there are cheaper backpacks with limited anti-theft options available, my advice would be to consider full-featured offerings for the best anti-theft backpack you want in your stable. Slash proof and RFID blocking systems go a very long way in security.