More often than not, we want to take pets along for a camping trip. In most cases, having a tent large enough to hold the camping party and the tent is the best choice. Sometimes, you may want to take along dog tents to house your pet while out camping. Pet tents aren't just good for camping, they can also be used as temporary shelters for pets while in the house. It's a creative solution, and dogs and cats often like their shelter.
Top 8 Pet Tents Of 2019
Finding The Pet Tent For Your Needs
When You Need A Dog Camping Tent
If you have a relatively small tent that's just big enough for you and your gear, making space for the dog can be tough. Besides for any small tent, even a 2-person tent, having a dog with you can feel a bit crowded. The dog may disturb your sleep through the night as he/she adjusts to the new surroundings, or maybe get extra vigilant. Having to let the dog out and back in is a chore by itself.
A separate pet tent fixes these issues. The dog can have his own sleeping place, and both of you can be more comfortable. Of course, be sure that you are in a place where it is safe to use a dog tent.
Features For Your Pet Tent
You want your pet to be comfortable. The care that goes into selecting a dog tent is basically the same as what goes into picking your tent. Pick a tent that is suitable for the size of your dog or cat. Be mindful of ventilation and the ease with which the pet can enter or leave the tent.
Waterproofing is another important feature. If you are considering camping somewhere where rain is a possibility, a sturdy waterproof tent is what you want. And of course, you want your tent to be durable! Pets aren't going to give the tent tender loving care. Even the most well-behaved pet can do some damage.
Outdoor or At-Home Pet Tent
Not all tents built for your dog or cat are meant to be taken camping. There are several tents that are built for use at home. This can include tents that are placed inside your home, and those placed outside in the yard or lawn.
A nice pet-house tent can be a lovely thing that you, and your pet will both love. It also gives a unique look as a decoration spot for your home. A playful dog teepee tent or cat tent looks very cool inside a home. You can also leave the tent setup in your yard so the pets can play and rest as they like it.
Be sure to familiarize your pet with their tent before you take them camping. A cat or dog getting freaked out at their new living arrangement in the middle of nowhere is not going to be fun.
Read more: Outdoor dog poop trashcan
Best Pet Tents That Will Delight Your Pet And You
1. Yosemite Pet Dome Tent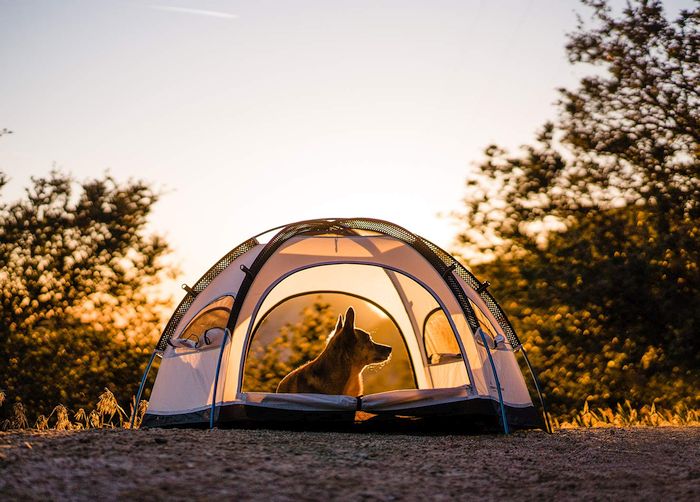 Yosemite Pet Dome tent is good enough to house your pet with comfort and great features. By all appearances, it looks like a traditional tent. Until you consider its size and general dimensions, that is. The dimensions of this tent are 48×37.4-inch and the center height is 25.5-inch.
It's not all shape, the tent makes an effort to stay true to features that are required for camping. The fabric is 70D nylon and is rated waterproof for PU 100mm. There is no seam-sealing either, so I would recommend waterproofing the tent before taking it camping. So yeah, it's good for light rain, but don't expect it to hold up in medium or heavy rain. That's kind of a bummer because, for the price they're asking, I would have liked a more outdoor-ready tent.
The tent is held in place using aluminum rods. The construction is pretty sturdy and you can expect the tent to hold up to wind. Its rainfly acts pretty nicely as well. Both the front and back doors on the tent have mesh for good ventilation.
Pros:
Good quality construction
Holds well to wind
Can handle some rain
Spacious
Well-ventilated
Cons:
No seam-sealing to waterproof the tent
Expensive
2. Petego Umbra Portable Pet House and Containment System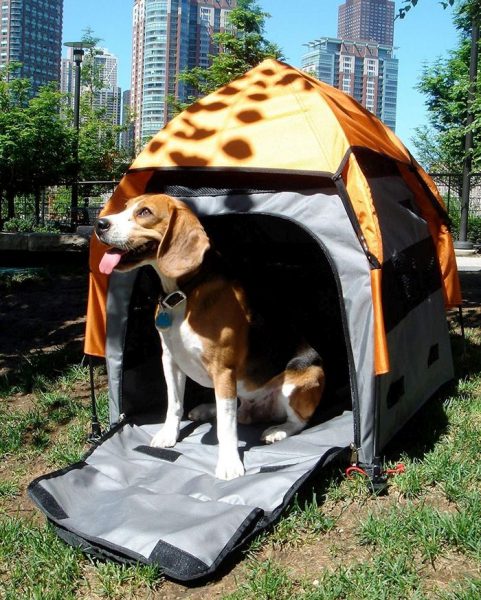 Petego Umbra Portable Pet House is available in three sizes – small, medium, and large. Each of these is well-constructed and designed to be spacious and comfortable for your pet. The medium size measures 30×30 inches and is 29-inches tall. That's quite a cuboidal shape, but a spacious one anyway. It does have all the looks of a comfy cabin tent.
An interesting umbrella-style mechanism is placed at the top of the tent, which makes it possible to set up and pack away this tent easily and quickly. On a side note, this mechanism is increasingly popular. Similar application can be seen on popular instant tents like the Toogh 3-4 person tent.
There's plenty of room for ventilation through the sides and the mesh roof of the tent. Once you put up the rainfly, the tent roof becomes waterproof. The rainfly covers only the roof, but the mesh on the sides and doors will still let water in. There's no seam-sealing either. You'll either need a better rainfly, or have your bet out the tent in case there is rain.
Pros:
Good quality construction
Easy to setup and pack away
Comfortable and well-ventilated
Cons:
Expensive
Nominal waterproofing
3. PETTOM Dog Cat Camping Tents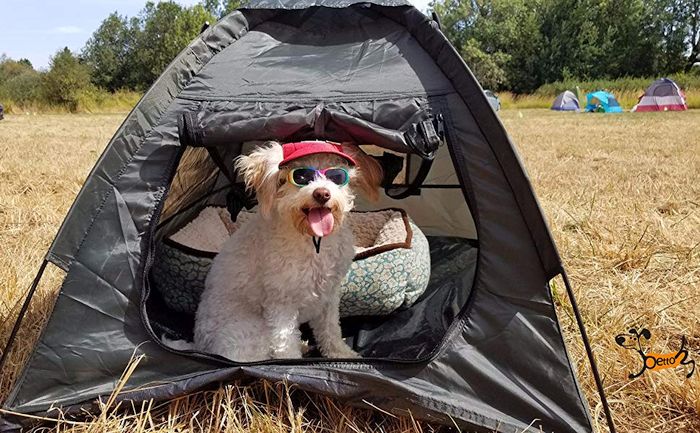 Another nice scaled-down tent for pets, this tent has breathable mesh windows on all sides, plus a large door for easy entry and exit. The large zippered doors, as well as the window flaps, can be tied up, keeping the tent well-ventilated and easy to access for the pet.
The tent measures 45.3×34.6 inches and has a center height of 28.3-inches. That's plenty of room for most pets to chill and enjoy their day out. It weighs just 2.8 lbs and is easy to carry along. What I like about this tent is that it makes a better effort at outdoor use.
The fabric of the tent is waterproof. PETTOM Dog Cat Camping Tent is made from 210D polyester and is water-resistant. That matches very well with the water-resistant tarp bottom that has been sealed for extra protection. The tent will manage to stay dry in light to medium rain. It is overall a fairly useful tent, and one that has what it takes to go into the great outdoors.
Pros:
Water-resistant fabric and tent floor
Holds up well in wind
Plenty of ventilation
Spacious
Cons:
The tent fabric feels flimsy at some parts
Can take some effort setting up
4. Winterial Outdoor Pop Up Dog Tent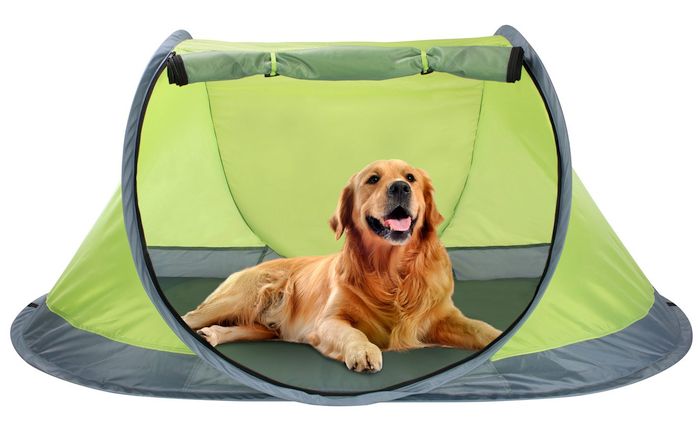 Like other tents from the brand, Winterial Outdoor Pop-Up Dog Tent is a quality product. Your pets will love this tent when they visit the beach, and they're bound to make good use of the oversized door. A mesh covers the door while the fabric can be folded upwards to allow greater ventilation.
Winterial has included a 2-inch thick pad that snaps to the bottom of the tent when needed. It adds to the comfort of this tent. Being easily removable, the pad gives you the option of not having to carry it along if it isn't needed. The lining of the tent is washable for easier maintenance.
The tent measures 64×30 inches and has a center height of 29-inches. These dimensions make it fairly usable as a large dog tent as well. It weighs just 2.6 lbs, making it fairly convenient to carry along. The fabric used is fairly durable and comes with UV protection for added safety. As a popup tent, it is really quick to setup. It's the packing away that is difficult, so do some practice folding your pop up tent.
Pros:
Spacious
Quick to setup
Well-ventilated
Included pad can help make it more comfortable
Cons:
Can take some effort packing away
Included instructions aren't helpful
5. Yolafe Portable Pet Tent Cave Bed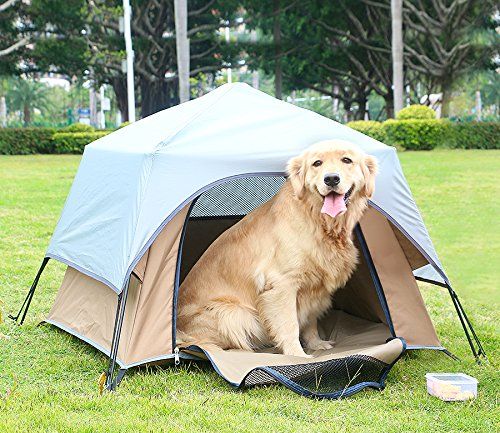 Yolafe Portable Pet Tent is a well-made tent with great features that make it fit for the outdoors. The tent fabric is 600D Oxford cloth with a PU coating rated at 1500mm. This tent is waterproof and will handle rainfall without getting your best friend wet. The high-quality fabric is also resistant to damages from claw strikes and bites, allowing this tent to be more durable.
There are large mesh windows on the doors offering excellent ventilation, and the rainfly covers most of the tent. Interior dimensions of the tent are 36×36 inches and the center height is 26-inches. The one thing that can be considered as something of a drawback here is the 5.7 lbs weight of the tent. It isn't much if you're car camping, but not very attractive if you're hiking.
Pros:
Good value for money
Remarkable waterproofing
Well-ventilated
High-quality construction
Cons:
Somewhat heavy at 5.7 lbs
6. alcott Pup Tent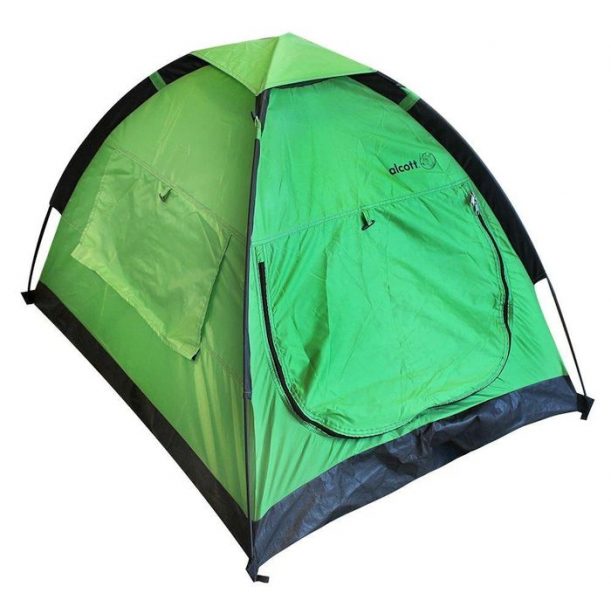 The name of the alcott Pup Tent may encourage you to think of it as a small dog tent. It is actually fairly spacious and can be used for larger dogs as well. Also, weighing in at just 1.5 lbs, this tent is great to take along for hiking as well. The tent has five mesh windows to allow for better ventilation and can be an amazingly comfortable and cozy place.
This tent is not waterproof. It has a waterproof floor which can be useful in dealing with the morning dew. However, don't expect this tent to present any protection against the rain. Dimensions for this tent are 32×42 inches, and the center height is 30-inches.
Pros:
Lightweight
Spacious
Well-ventilated
Cons:
No waterproofing
Construction quality leaves something to be desired
7. porayhut Portable Outdoor Pet Tent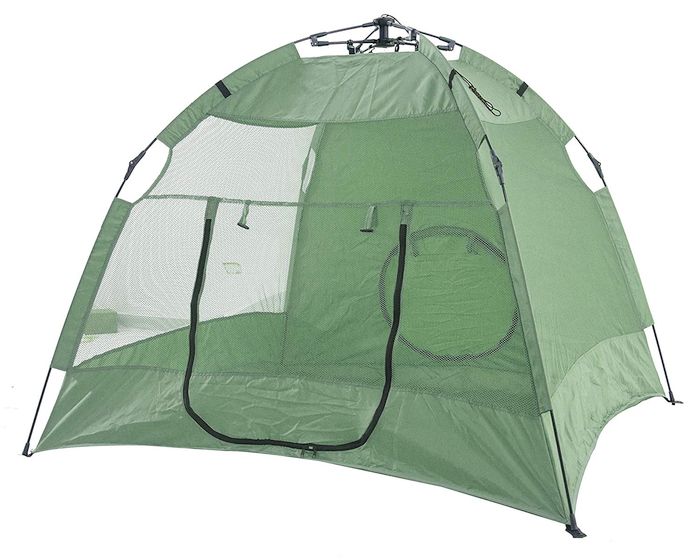 porayhut Portable Outdoor Pet Tent is large and spacious for pets to enjoy. This isn't a tent that you take along for camping outdoors, but one you place in your yard. The tent is largely made of mesh, so it is very well-ventilated. Pets will like this, and indoor cats will especially love this tent.
There are two large doors on this tent. One large zippered door can serve as a general entry and exit. The other door is in the shape of a circle, where you can add tunnels for the entertainment of your indoor cats, and maybe even dogs. Cats especially love that setup and can walk around comfortably without any distractions or trouble.
Pros:
Made from high-quality 210D Oxford fabric
Spacious
Lightweight
Cons:
Can take some effort in packing away
Questionable longevity due to low resistance to bites and claws
8. PURR…FECT FENCE Purrfect Play Tent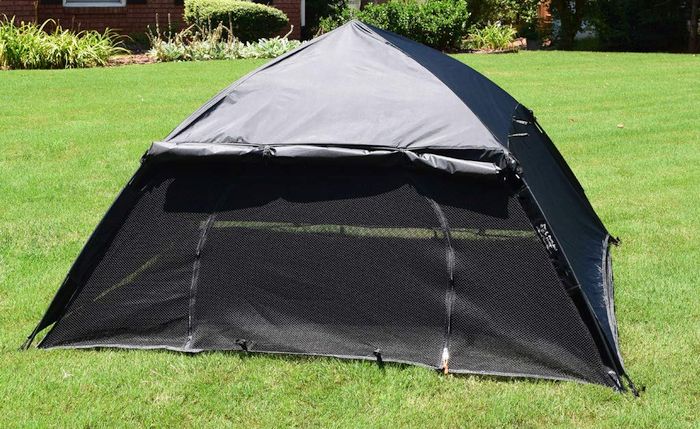 Quality construction and spaciousness are the hallmarks of this tent. The tent is purr…fect to use when you have multiple pets and would like a nice tent to cover them. The body of the tent is mostly mesh, though they have taken care to consider quality so it can withstand bites and claws from pets.
Dimensions for this tent are 76×72 inches and the center height is 40-inches. Evidently it has a greater area than some 1-2 person tents. So make good use of the area and keep your pets comfortable.
A rainfly is included with the tent to help it withstand the weather. The rainfly is waterproof to some extent, but the tent floor isn't quite designed to withstand rain. In anything beyond light rain, water will likely make its way to the tent floor.
Pros:
Quality construction
Plenty of space
Well-ventilated
Cons:
Minimal effort at waterproofing
Expensive
Picking The Best Pet Tent
Picking nice dog tents, or for that matter a cat tent requires some effort, but can be very rewarding. There is nothing wrong with sharing your tent with your pet, though it can sometimes get inconvenient. Pet tents take away that problem, and your pets and you can all be in comfort. Like your own tent, check the waterproofing of your pet's tent, especially if it has started to rain. Tents can have problems with waterproofing, and it's better to catch the problem before your pet gets soaked.