Going out into the great outdoors puts some restrictions on what you can practically take along. You'll need to prepare food and eat, and you'll need the best camping utensils available at hand. Normal home cutlery or silverware don't go along camping – definitely not when you're hiking. Even when car camping, there has to be realistic camping cutlery to carry.
Top 12 Camping Utensils In 2019
Best Camping Utensils To Consider — Top-Rated Camping Silverware
1. Full Windsor The Muncher Titanium Multi Utensil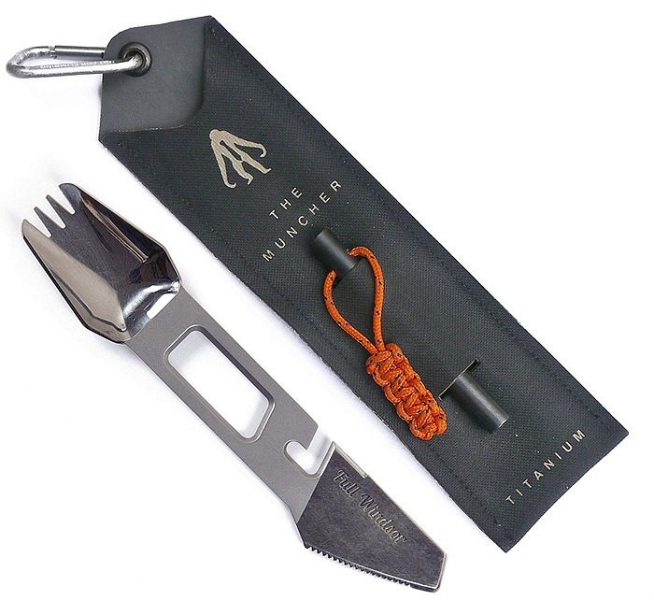 Full Windsor's "The Muncher" is a very useful multi-utensil that offers a decent lot of features in a small, lightweight package. Made entirely out of titanium, the multi utensil weighs just 0.7 oz and will barely register in the weight you are carrying. Where it does register is the usability on offer.
The Muncher can be used for multiple purposes. There's a highly-polished titanium spork on one side, a serrated butter knife on the other side. The middle of this utensil features a blasted texture that gives it an anti-slip grip. Of course, those two aren't the only noteworthy things here. Muncher also offers services as a "Can Opener, Peeler, Bottle Opener, Fire Flint, Cord Cutter, Screwdriver, Pry-Bar, and a Box Cutter".
Overall, it claims to pack 10 features in one utensil. A sheath and carabine are included for easier storage and use of The Muncher on your camping trip.
Features of Note:
Dimensions at 6.5-inches long, 1.4-inches wide, and 0.34-inch deep
Weighs 0.7 ounces (22 grams)
Works as multiple utensils, as well as a multi tool
Sturdy
Long-lasting
Relatively expensive
2. GSI Outdoors – Destination Kitchen Set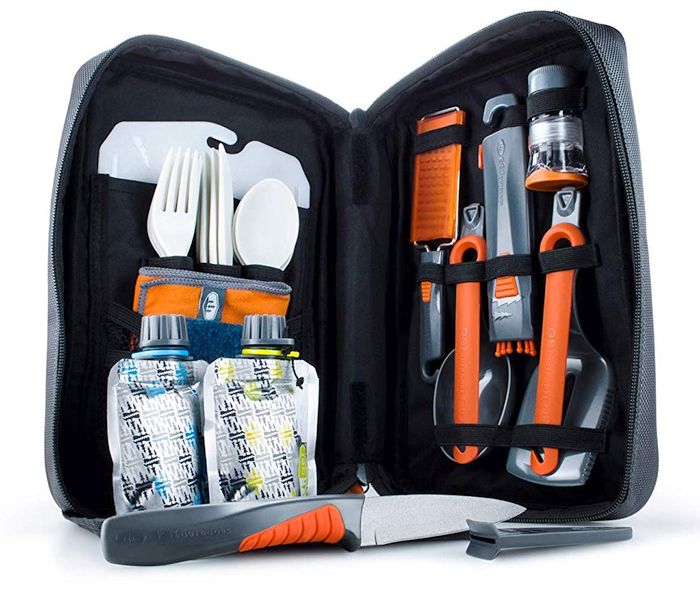 If you've got a spark of a culinary genius, it is worth it to show your skills off at a campsite. GSI Outdoors – Destination Kitchen Set provides that option. A well-formed chuck box includes eating utensils as well as serving and cooking utensils. It's a great way to bring fine dining to the forefront of your outdoor trip.
The set includes four each of forks, knives, and spoons – all plastic. While these may be on the disposable side of things, the set also has room for reusable utensils. These include a spatula, whisk, cheese grater, utility knife, and a pivot spoon and pivot spatula. Ensuring it is not outflanked in features offered, the set even includes salt and pepper shakers and a camping towel. Now that is some value!
Features Of Note:
A range of cookware and utensils
Forks, spoons, and knives are made from plastic and are disposable
Creative, compact packaging
Lightweight
Non-disposable utensils are fairly lightweight
3. Sea to Summit Alpha Knife, Fork and Spoon Set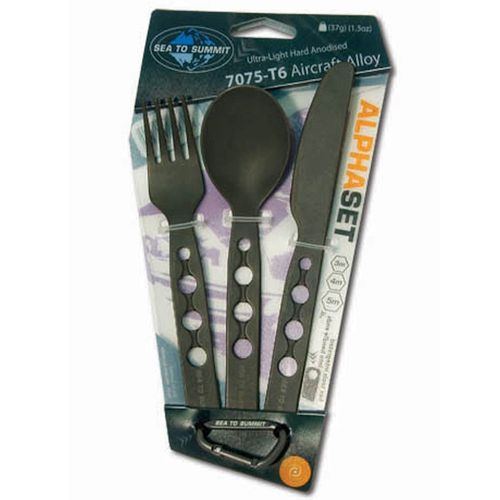 Made from hard anodized aluminum, this Sea to Summit set is one of the lightest camping utensils available. The total weight of the knife, fork, and spoon together is about 0.75 ounces, making these backpacking eating utensils very useful. A mini carabiner is included to make it convenient to carry or pack these in a backpack.
To ensure quality and longevity of the utensils, they've been made from 7075-T6 aircraft aluminum alloy. The hard anodized aluminum forms a coating to ensure that the alloy never touches your food.
While the material itself is fairly lightweight and strong, the manufacturer has also punched holes into the body of the utensils. This serves the purpose of adding a design and making them (more) lightweight. Additionally, the bottom hole on each utensil is hexagonal in shape and can work as 3mm, 4mm, 5mm hex wrench.
Features Of Note:
Lightweight
Good value for money
Made from 7075-T6 aircraft aluminum alloy
The finish on the utensils could use more work
4. BRIOST Titanium Utility Professional Cutlery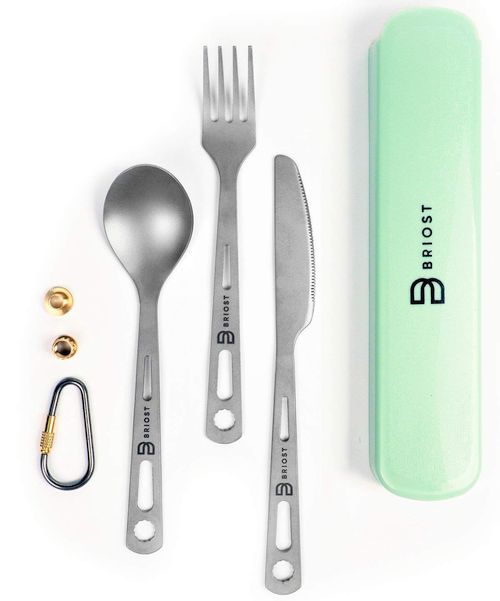 Made from titanium, Briost is available in a 3-piece and 4-piece cutlery set. Depending on the set you choose, this includes a knife, fork, spoon, and the fourth piece is a pair of chopsticks. The utensils are helpfully packed into a carry case, though you can make use of the included carabiner as well.
Being made from titanium, you can expect all the quality and longevity associated with that element. However, to be competitive as camping utensils, these utensils are relatively thin. This does not particularly affect the performance of the spoon or knife, however, the tines of the fork can end up being susceptible to bending.
Features Of Note:
Lightweight
Package includes carry case and carabiner
Good value for money
The length of the knife is 7.2-inches, fork is 6.5-inches, and spoon is at 6.3-inches
Total weight of the cutlery is 1.59 ounces
Fairly long lasting
5. Keith Titanium Ti5310 3-Piece Cutlery Set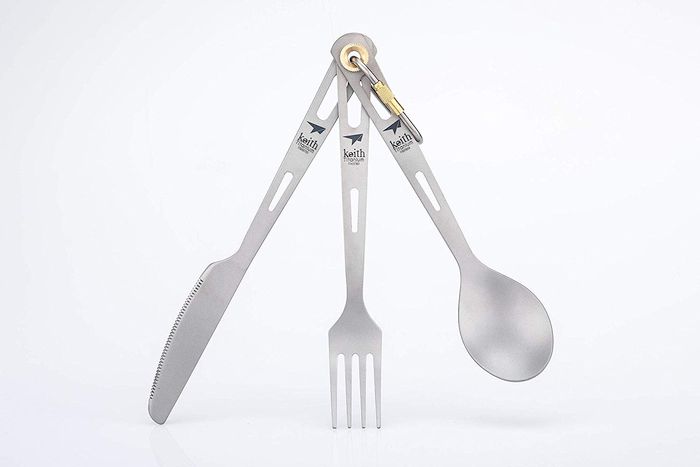 Another set of high-quality titanium camping utensils, this set includes a spoon, fork, and knife. Keith Titanium Ti5310 3-Piece Cutlery Set is pretty similar to the other titanium knife, fork, and spoon sets on this list.
A noticeable difference perhaps is that this one tends to be slightly thicker. That's great for longevity and dependability of the utensils, but it also ends up adding weight. Total weight of this set is 1.9 oz, which ends up putting this as one of the heaviest sets on our list. In short, pick this for car camping, but maybe choose something else for backpacking and hiking adventures.
The included brass nut can be employed to hold all three utensils safely in place as you place the carabiner and pack them along for your trip.
Features Of Note:
Sturdy construction
Good value for money
Package includes carabiner
Length of the knife is 7.3-inch, spoon at 6.4-inch, and fork at 6.5-inch
Set weighs 1.9 oz
Long-lasting
Check discounts and current price
6. finessCity Titanium Utility Cutlery Set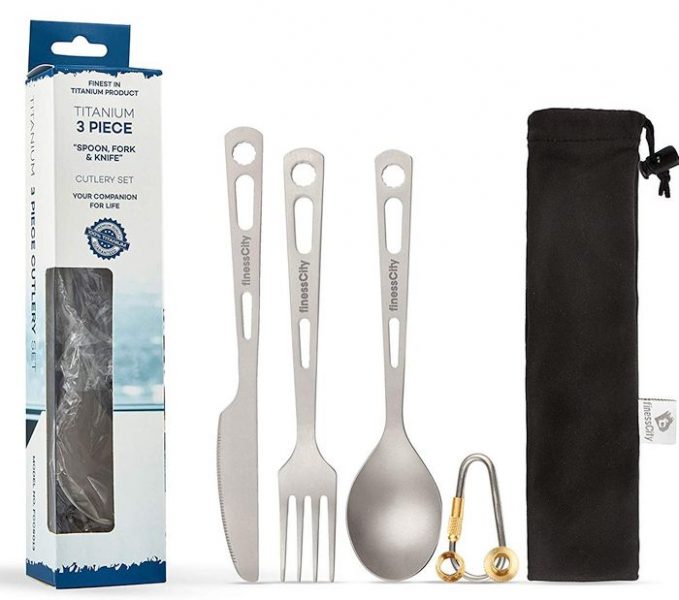 Another set flaunting the glory of Titanium, finessCity Titanium Utility Cutlery Set is available in 3, 4, and 5-piece variants. The 3-piece includes a knife, fork, and spoon. The 4-piece adds a pair of chopsticks, and finally, the 5-piece adds a titanium straw (with cleaning brush).
The cutlery isn't remarkably different in use or design compared to the other titanium offerings we have seen here. The set does, however, offer more options to fit individual needs. Plus, there's a drawstring bag to go along for storage of the cutlery. Like similar sets, you can secure the spoon, knife, and fork with a brass nut, and use a carabiner to carry them along.
Features Of Note:
Useful utensil combinations for purchase
3-piece set weighs 1.76oz
Length of the spoon is 6.3-inch, fork at 6.5-inch, and knife at 7.2-inch
Package includes carabiner
7. Light my Fire Titanium Spork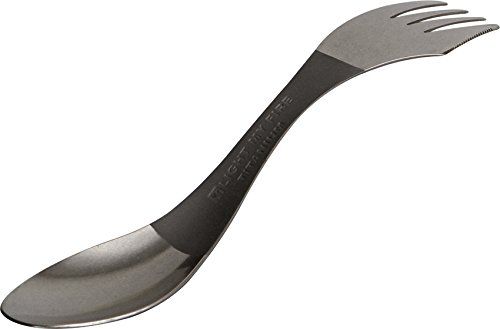 Without a hint of irony or shame I shout Light my Fire Titanium Spork. I know it isn't going to do that, but at least it's a useful fork, knife, spoon combo – and that's about all I can ask from it. One end of this utensil is a spoon, the other side is a fork.
The outer tine of the fork side is thick and has a serrated edge, allowing this utensil to pull on some knife duties as well. I wouldn't venture to say that the knife has the most convenient use here, but its presence is acceptable.
The center of this spork is given a slightly rough finish to make it anti-slip. However, it can also be used as a fire flint like Full Windsor – The Muncher, which also made our list. This durable titanium spork has a weight of 0.7 oz, and is very reliable and useful.
Features Of Note:
Excellent and useful design
Length of spork is 6.75-inches and thickness is 0.04 inches
Weighs 0.7oz
Durable and sturdy construction
8. MSR Alpine Utensil Set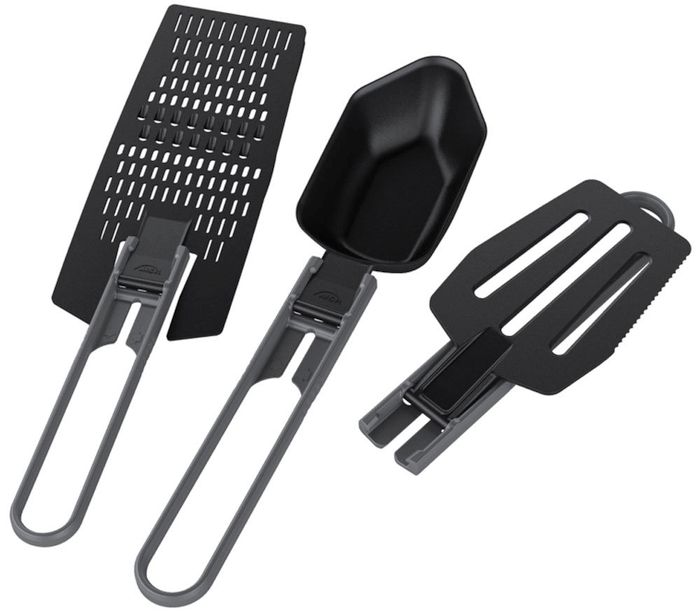 MSR Alpine Utensil Set should go perfectly well with your trip out with a family camping tent. This set is meant to bring some cooking goodness to your family camping trip. The set includes a spatula, spoon, and a cheese grater. Given its shape, the cheese grater can also pull duty as a strainer. Similarly, the spatula's serrated edge makes it useful as a knife.
The folding mechanism allows these utensils to be more easily portable, and it keeps them lightweight. Since the handle is not solid metal, the weight is practically concentrated at one end of these utensils. It's a pretty useful set, though the cooking does take a toll on the utensils. It can last a fairly long time, but this set is not a purchase for the lifetime.
Features Of Note:
Foldable handles make the utensils easy to pack away
Relatively lightweight at a total weight of 3.20 ounces
Includes spoon, spatula, cheese grater
Multi-use utensils; spatula can also be used as a knife, and grater can be used as a strainer
9. Ka-bar Stainless Steel Original Hobo All-Purpose Knife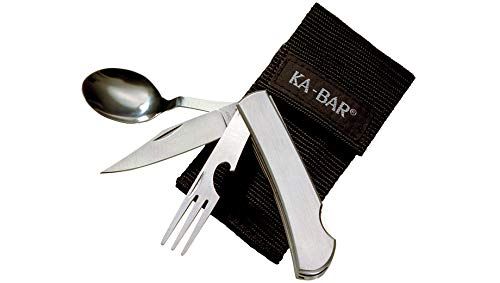 Form and function come together in the Ka-bar Stainless Steel Original Hobo All-Purpose Knife. As an "all-purpose knife" it includes three attachments, which can be folded into the body when not in use. When required, it can function as a knife, fork, or spoon.
Made from 420J2 Stainless Steel, the all-purpose knife has excellent quality and can be expected to last several years. As a folding knife, this set of utensils is compact and easy to carry. A nylon carry case is included for convenience.
Features Of Note:
Good quality stainless steel construction
Sturdy and reliable
Measures 3.75-inches when closed and 7-inches when open
Includes fork, knife, and spoon
The curved spoon is more useful as compared to the "flat" spoons often sold as camping utensils
10. Tapirus 5 Spork of Steel Utensils Set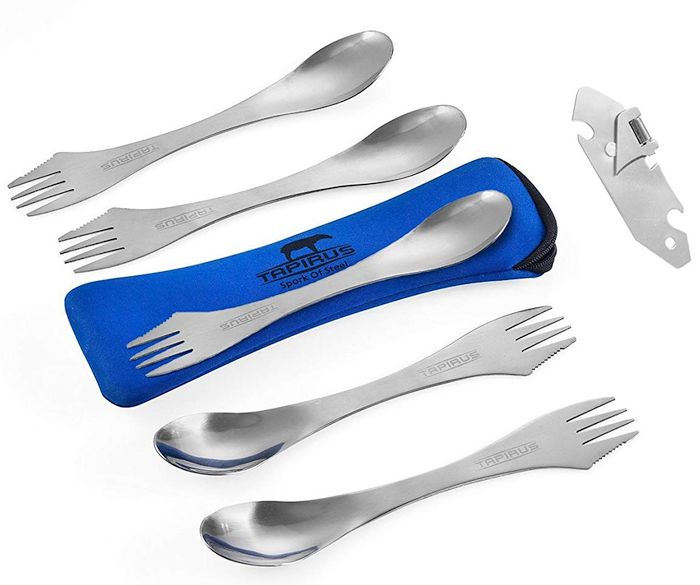 Tapirus Steel Utensils Set includes five stainless steel sporks. One end of the spork is a spoon, the other serves as a fork, and serrated edges on one side of the fork allows it to be used as a knife. The set is pretty handy for group camping. Or, you could take one or two sporks along when camping, and have the set last for several years.
The set also includes a separate can and bottle opener. Its construction is fairly solid, and you can expect each fork to last a very long time. Fork-side of this spork is practically flat, which causes some problems in terms of usability. Its spoon side is well-curved though, and has no problems. Each stainless steel spork weighs 0.147 ounces.
Features Of Note:
Good value for money
High quality and robust construction
Stainless steel sporks
Each spork weighs 0.147 ounces
Carry bag included with set
Additional can/bottle opener included
Length of the spork is 8-inches
Check for discounts and offers
11. HIKENTURE 4-in-1 Camping Utensil Stainless Steel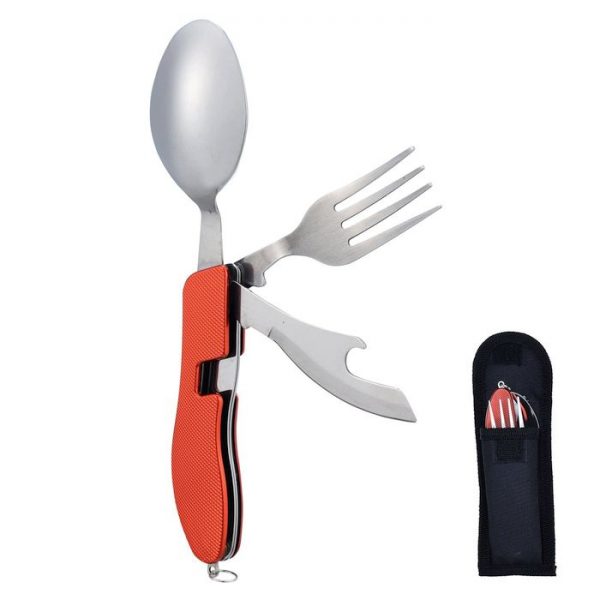 Based solely on appearance, HIKENTURE 4-in-1 Camping Utensil Stainless Steel seems to be taking its design cues from Swiss army knives. Considering its usability for camping utensils, the Hikenture knife is pretty similar to the Ka-Bar that shows up on this list. It includes three attachments – a spoon, a knife, and a fork.
Each of these attachments can be easily pulled out and put to its individual use. One end of the knife is designed in a way that lets it be used as a bottle opener. To make easy cleaning possible, the Hikenture Utensils Set can be opened up and cleaned without trouble. The detachable stainless steel utensils are designed to last for a long time.
Features Of Note:
Stainless steel utensils
Reliable utensils
Easy to clean
Measures 7-inches in length when open
Weighs 5oz
Includes a nylon pouch for easy storage
12. Tapirus Spork to Go V8 Set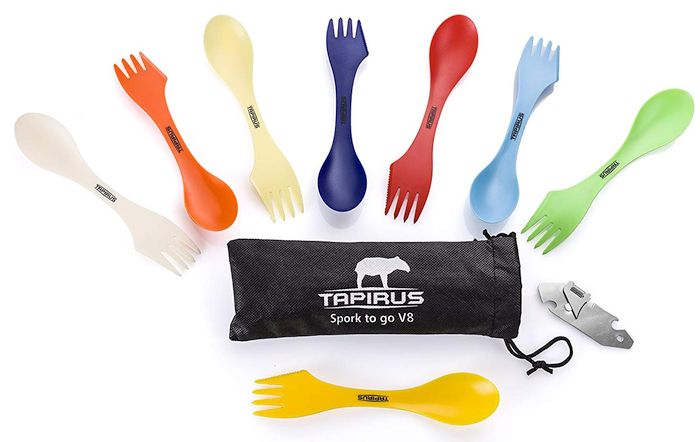 Tapirus Spork to Go V8 Set includes eight sporks, all made from plastic. The package also includes a carrying case and a can and bottle opener for convenient transport. As a set of eight sporks, it is great for group camping. Though plastic, the sporks make a valiant attempt at high quality. All these sporks are BPA-free and made from tritan. If I did not have an objection against the use of plastic for camping, I'd call these pretty good.
Each spork measures roughly 8-inches in length. One end of the spork is a spoon while the other is a fork. One fork tine is serrated, allowing this to work as a knife as well. Its spoon side is well-curved for usability, while the fork side has some curve to allow better usability.
Features Of Note:
Sporks made from BPA-free Tritan plastic
Good value for money
Include a can and bottle opener
A carrying case is included for convenience
Lightweight and dishwasher safe
Quick Thoughts On Choosing Camping Utensils
What Is The Essential Cutlery For Camping?
Spoons are pretty much a necessity. They're versatile, and in most scenarios, can be used to do everything a fork can do. Sure, eating noodles with a fork may not seem like the most ideal thing, but it's a small dip in convenience. Sporks are fairly common nowadays, and if you feel you must have a fork at the ready, a good quality spork will come in as handy.
Alternatively, you may choose to carry fork along with the spoon as well. A knife can be pretty handy as well. If you're out camping with a group, camping serving spoons and spatulas are useful as well.
Material And Weight For Your Camping Eating Utensils
Camping utensils come in a variety of materials that define the weight, cost, and usability of the items. Stainless steel is a popular material, though some may not find the cost and weight encouraging.
Lightweight aluminum and plastic camping utensils are available as well, though longevity remains an issue. If you choose to buy plastic utensils, make sure they're BPA free. Although I'd recommend skipping the plastic and choosing a solid metallic camping utensil set that will last you years.
Titanium is a favorite material with campers. Utensils made from this material are acceptable in terms of weight, and can be very long lasting. The only negative factor for titanium is the cost.
Shape, Size, And Packaging
Camping utensils come in a healthy variety of shapes, sizes, and packaging options. To the benefit of campers, manufacturers have been fairly creative and enterprising in developing the best camping utensils.
Several options are available. These include classic shaped utensils, folding spoons/forks, and utensils packed in a set. Other creative options can have cutlery packed into a Swiss army knife-like design, multi-use cutlery, and even full-fledged boxes/ packages that offer everything one could need for their set of camping silverware.
Picking The Winner
The right choice for the best camping utensils is dependent on your camping habits. Those who prefer car camping get a wider range to choose from. Campers who like to go backpacking and hiking have to seriously consider the weight and uses of the utensils. Longevity and cost are important considerations as well, especially when you want to buy utensils that can conveniently last for a lifetime.