To my mind, a hammock is the very definition of a relaxing time. And we certainly don't want some random rain to take away that pleasure. A good quality tarp handles several of those pesky problems that nature throws at us while hammock camping. Choosing the best hammock tarp is a way to stay protected against the rain, wind, and even the sun. It's impressive how versatile this simple piece of gear can be.
The All Star Hammock Tarps Of 2019
1. Hennessy Hammock Hex Rain Tarp
Made from 70D polyester and weighing 27oz, Hennessy Hammock Hex Rain Tarp is excellent at its job. It arrives folded into a neat and tiny cylindrical package measuring just 3.5×11 inches. That's compact and convenient. The tough part is getting it back to the same dimensions once you're packing it away. It is extremely tough to get it down to the same dimensions, and it will end up being packed in a way that takes a little more space.
As a tarp, it is pretty useful. Hennessy Hammock Hex Rain Tarp is hexagonal and covers a large area. It measures 120-inch in width and is 143-inch on the center-line. The large area of the tarp allows it to be staked down on either side of the hammock, as well as cover the top of the hammock. Overall, you'll find yourself well-protected from the elements.
There are a total of six tie-out points making the best of the hexagonal shape. This also allows some flexibility in maneuvering the tarp to your preferred position. This hammock tarp is coated for waterproofing, and its shape also plays along well to keep the rain out of your hammock.
Pros:
Waterproof, offering excellent protection from rain
Can be staked to the ground for better positioning
Provides some protection against the wind
The large area of the tarp provides flexibility in its use
Cons:
Can be tough to be pack away into its bag after use
Takes time and energy to pack
2. Eagles Nest Outfitters ProFly Rain Tarp, Ultralight Hammock Accessory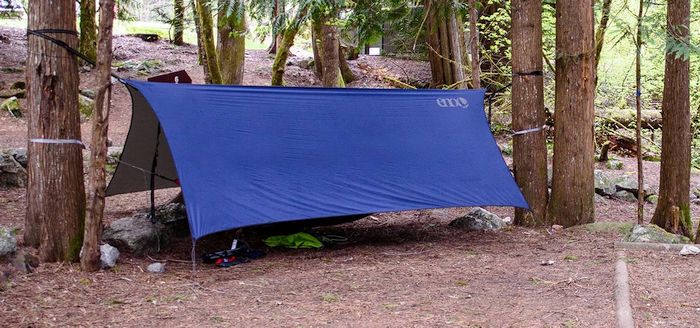 ENO ProFly Rain Tarp does a good job balancing its requirements as a camping accessory. To stay on the lightweight side of things and offer the best use, the tent is made from 70D ripstop nylon. It has a PU coating for waterproofing rated at 1000mm.
They have managed to keep its weight down to just 22 ounces. That's not the lightest of options for backpacking, but it's pretty much expected from a big rainfly that offers great features.
The hammock tarp comes with a useful stuff sack. And while it is going to be impossible to pack it down to the same dimensions as when it was factory-packed, it fits in fairly conveniently. ProFly Rain Tarp for the hammock is a hexagonal tarp with the dimensions 10'6"x6'4". Now that's plenty of tarp to adequately cover your hammock on two sides, and be tied down at six points for better security. The tarp is convenient and durable. To sweeten the pot, Eagles Nest Outfitters claims that their strap design is "tree friendly" to ensure minimal impact on the environment.
Pros:
Excellent waterproofing
Durable material
Offers some protection against wind as well
Comfortable area
Relatively lightweight
Cons:
When packed, measures substantially more than the original factory packing
3. Sanctuary SilTarp – Ultralight and Waterproof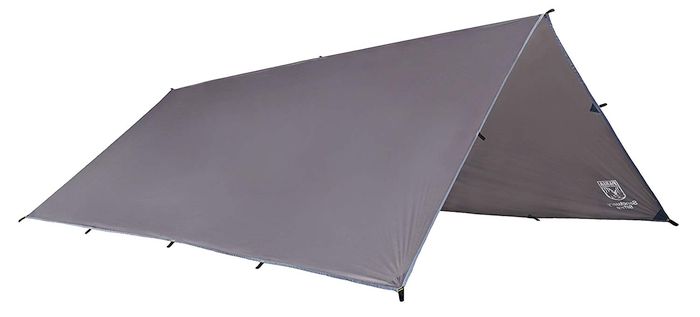 Sanctuary SilTarp makes a good effort for waterproofing and convenience. The tarp is made from 30D ripstop nylon and has a double coating of silicone and PU to offer an impressive hydrostatic resistance rated at 5000mm. It is available in several sizes, with the popular ones being a 10×8 feet flat cut, or a 12×10 feet hex cut.
The tarps include a stuff sack for better convenience. Depending on what size you choose, you can expect the tarp to cover the hammock and two sides. The hex cut being larger, of course, offers some advantages and better maneuverability, though the flat cut can win some points for its simplicity. Either way, the Sanctuary SilTarp does very well with waterproofing and protecting the hammock against the elements.
The weight has been kept manageable as well, where the flat cut version weighs just 15.5 ounces, while the hex weighs 16.5 ounces.
Pros:
Choice of sizes and shapes
Impressive waterproofing
Quality construction
Offers some protection against wind
Cons:
Can be troublesome to pack away
4. Snugpak All Weather Shelter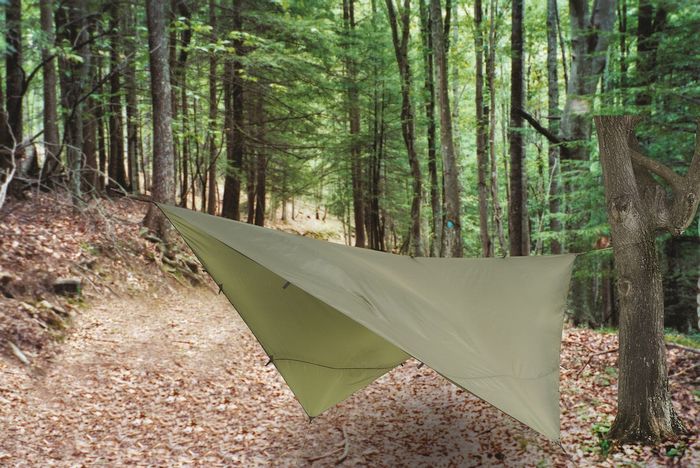 Snugpak All Weather Shelter is made from 210T Polyester rip-stop with a PU coating rated at 2000 mm. It weighs in at around 35 oz, which is a bit on the high side for a tarp that measures 10×10 feet. The pack includes eight alloy stakes and four guy lines for easier packing and placement of the tarp.
It is easy to maneuver this tarp into various shapes depending on your requirements. And yes, that includes using it to cover your hammock so you can rest comfortably. Reinforced corners with nylon webbing loops add greater structural integrity to the tent.
Pros:
Good waterproofing
Offers SPF30 protection against the sun
Comfortable dimensions
Easy to maneuver
Cons:
Heavy
Some QA issues with construction
5. Wise Owl Outfitters Wise Fly Premium Hammock Rain Fly Tent Tarp
Wise Owl Outfitters Hammock Rain Fly Tent Tarp measures in at a comfortable 11×9 feet. The hex cut tarp is made from ultralight ripstop nylon and aims to contend with the more popular ENO rainfly tarp we see further up on this list. The general push in that direction is achieved by offering a larger tarp with similar features but at a lower price.
The tarp comes with its own stuff pack and can be packed down to just 9×5 inches. Of course, it is going to be tough to pack the tarp back to those similar dimensions once you use it, but it can be brought back to a manageable size. Intended squarely as a rainfly for hammocks, the tarp is designed to conveniently cover most popular hammock configurations available.
Wrapped in the package, you'll find four aluminum stakes and six guy lines measuring 10 feet each. The tarp is made from 210T ripstop nylon with reinforced connection points for better structural integrity. It is waterproof and has taped seams to ensure you don't end up dealing with any leakage. The tent weighs 26 ounces and is competitively priced for the quality on offer.
Pros:
Quality construction
Waterproof
Competitively priced
Cons:
Some minor QA and finish problems
6. Best Choice Products Hammock Rain Fly Tent Tarp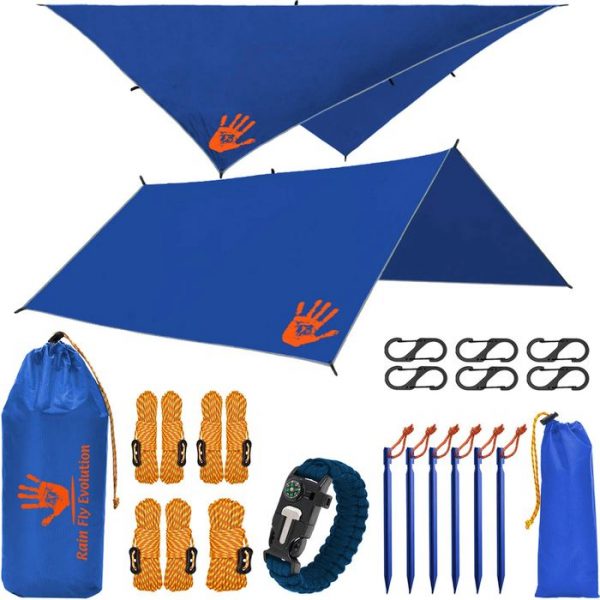 That's a nice sounding name, but perhaps we will hold off on our judgment for "Best Choice Products" a bit longer. This rain fly tent tarp is available in two sizes; viz. 10×10 feet and 10×12 feet. It comes with its own stuff sack, which along with the usuals like lines and stakes, also includes carabiners, and a "survival kit". The survival kit is a small bracelet that includes a compass, whistle, flint firestarter, and a small knife tool.
Coming back to the rain fly, it is made from diamond ripstop for better construction quality. It is PU coated for better waterproofing. The tarp weighs 25 ounces (1.5 lbs) and is easy to carry along. Again, not one of the especially lightweight hammock tarps, but with enough quality and pricing to make a difference.
Pricing indeed is a big draw here and the value offered does make it quite useful for most purposes. Those who go out camping occasionally could find the value on offer a huge draw. The company also offers a choice of colors, and combined with the sizes available, it is a fair range of options.
Pros:
Excellent value for money
Good waterproofing
Large hammock tarp presents plenty of space
Also offers some windproofing
Choice of color options
Good finish
Cons:
Slightly on the heavier side
7. Legit Camping Rain Fly Camping Tarp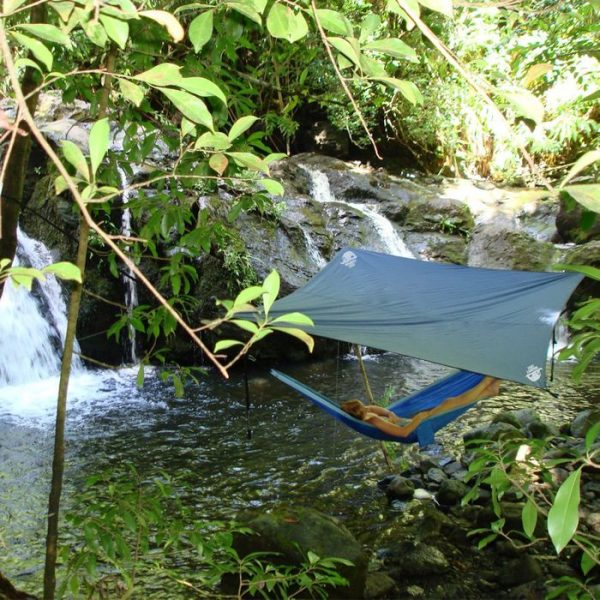 Legit Camping's tarp for your hammock is legit good at preventing rain from disturbing your peace. Measuring 10×10 feet, the tarp has a 170-inch centerline to offer more flexibility and convenience. The company goes on to claim that it can cover double hammocks, which is sort-of possible if you use it as a canopy over the hammocks.
If you use this (or any other tarp) that way, just be sure to slope it a bit to ensure that water does not end up pooling on the tarp. It may hold up and stay waterproof, but it certainly isn't worth the trouble. Legit's hammock tarp includes four aluminum stakes, six adjustable guylines, and nine guy points. This setup allows easier maneuverability and makes it possible to set up the tarp in several positions according to your requirement.
The tarp is made from polyurethane coated ripstop nylon and offers excellent quality as well as waterproofing. It also has a very competitive price, which doesn't fail to attract customers to this tarp. With all those claimed features included, they somehow decided to skip adding an instruction booklet with the packaging.
Sure, tying up a hammock rainfly or tarp isn't rocket science, but new users benefit from having clear instructions. It is far more convenient than searching the web for instructional videos while struggling to wade through the thousands of results to find the right model and manufacturer. Moral of the story: include clear instructions over random links and expecting users to search the web.
Pros:
Good value for money
Easy to maneuver
Decent protection against rain and wind
Good construction
Cons:
No instruction booklet
Can take some effort folding this back into its stuff sack
Check current discounts and price
8. OAV Hammock Tarp Waterproof Rain Fly

OAV Hammock Tarp Waterproof Rain Fly takes the waterproof part rather seriously. It has a PU coating rated for 5000mm of hydrostatic head, making it one of the more impressive rainflys available. I was a bit skeptical of the claim, as that kind of waterproofing is somewhat rare for this tarp's price point. The reviews ended up being on the positive side of things. While I did not test the authenticity of the claimed hydrostatic head, there is no reason to complain about the waterproofing offered by this hammock tarp.
The flat cut tarp is made from 40D ripstop nylon and features a six-point connect. This allows better maneuverability and uses of the tarp, while the use of nylon allows it to be sufficiently lightweight. Included in the pack are four aluminum stakes and six guylines, including a large one for use as the centerline. The centerline length is 170-inches. The total weight of this tarp is 1.9 pounds, which makes it one of the heavier options on our list.
Pros:
Excellent waterproofing
Easy to setup and maneuver
Good value for money
Cons:
9. YUEDGE Easy Set Up Portable Waterproof Camping Tarp

YUEDGE Easy Set Up Portable Waterproof Camping Tarp measures just slightly below 12-feet, ending up with dimensions of 118×118 inches. This one focuses foremost on being a tarp and its overall size makes it an excellent choice. The tent comes with four pegs and six guylines, including the centerline. All ropes measure 118-inch, giving you ample room to find uses for the tarp.
Its large size allows the tarp to be manipulated for a number of uses. We are more concerned with its use as a hammock tarp right now, and it does that job pretty well. You can comfortably cover the hammock as well as two sides with this tarp. There are other uses as well, including using it as a canopy or an extra rainfly for a regular tent. The easy maneuverability opens up a world of possibilities.
The tarp is waterproof and holds up well against wind. It isn't quite the best choice for anything more than mild weather. Its low price does come at some cost to quality, but it is fairly usable if you want better value from your rainfly. It tends to be on the heavier side, with the large size tarp weighing almost 29 oz. Not terribly heavy, but yeah, certainly noticeable where weight is concerned.
Pros:
Low cost
Easy to maneuver
Covers a large area
Acceptable waterproofing
Cons:
10. UST Tube Tarp and Camping Shelter

UST Tube Tarp and Camping Shelter is a pretty useful accessory and offers a range of functions. The tarp weighs in at 28 oz and is designed to be versatile. An aluminized reverse on the tarp works for thermal insulation as well as, allowing the tarp to be used in multiple seasons. It includes some
Its hex shape can cover a hammock fairly well, though it seems somewhat limited. Though the mentioned size is 108x96x41 inches, it feels smaller. At best, it barely manages to cover a single hammock. While the heat reflective and insulation properties are appreciable, they aren't the best bet for a four season camper. Perhaps this is better used when the temperature is on the milder side, leaning towards cool.
Pros:
Good value for money
Insulation can be useful
The material is fairly thick and seemingly durable
Cons:
What To Look For When Picking A Camping Hammock Tarp
Tarp Size And Coverage For Your Hammock
How much coverage do you expect from your tarp? This obviously depends on where you're going and the expected temperature, but choosing something that comfortably goes down the side of the hammock is better. It can offer extra protection against the wind and rain when needed without hampering ventilation.
The beauty of hammock camping and tarps is that you can always choose to be a bit more liberal with the available space, and fit the tarp's coverage to suit your needs. While a smaller tarp may be appreciable in warmer climates, good and comfortable sizes rarely go amiss.
Hammock Tarp Shape
Tarps come in a variety of shapes and can offer usability depending on your needs. Rectangular and hexagonal tarps are the most popular, perhaps because of their simplicity. A rectangular tarp is the simplest, offering a piece of fabric with four anchor points. These usually offer excellent coverage and are very convenient to use. The only downside is that they slightly hamper ventilation.
Hexagonal tarps offer more anchor points and are shaped for better ventilation. They can stay steadfast in the wind and offer good coverage. Having the corners angled inwards also helps with weight and ventilation on offer. Other options include diamond tarps, though they have only two anchor points and thus lack coverage.
Tarps And Waterproofing
Tarps are big on waterproofing. It is pretty much expected from these tarps that they be able to handle rain without much trouble. This is usually accomplished by PU or silicone coating over the tarp, with the extra protection of taped seams.
However, keep in mind that materials degrade and this applies to top-quality best hammock tarp as well. Not just the material of the tarp, but its waterproof coating will degrade as well. Check your tarp before and after every trip, and when necessary, do some maintenance. The process is practically similar to waterproofing your tent, and in most cases you can use similar products. It is, after all, pretty much like waterproofing the rainfly.
Choose A Hammock Tarp That Fits Just Right
Goldilocks had the right idea – find the right fit. Although perhaps not the best idea to go breaking into other peoples homes to do it. Maybe Goldilocks didn't have it all figured out. The tarp for you should fit your needs – whether it is insulation or ventilation. The best hammock tarp will keep you safe from the elements and be a convenient companion for your trip. Our selection here has a range of quality tarps with the most glowing reviews and usage information. Check them out to make the pick for the right one!