Tents with hinged doors are pretty cool. They give you a sensation of using a "real" door, rather than the usual zipper-style enclosure that most tents have. It just feels a bit more convenient and intuitive. We're all used to moving with conventional doors – zippers take some time getting used to.
But in the same vein, it might take some getting used to for outdoor lovers. We're used to zippers, so we might still fumble for one in some random absent minded moments. Since we're on the topic, hinged doors (usually) don't rely on zippers. Instead, they'll use velcro or a similar method to get the door to stay in position.
You don't have to pick a tent based on the door type, but it does make a difference. You'll notice Coleman dominates this particular niche. They hold the patent for hinged doors on tents, though some companies have tried their own versions with varying levels of success. If you're looking for a tent with hinged doors, you're at the right place!
Top Hinged Door Tents For 2021
Editor's Choice: Coleman WeatherMaster
Coleman WeatherMaster is quite the tent. This is, of course, a hinged door tent, but it also includes other impressive features like good waterproofing, plenty of space, and good center height.
If you want to enjoy a leisurely afternoon, the tent's screen room provides a good space. All of these features make the tent quite functional, and our top choice for this category.
Reviewed: Most Attractive Tents With Hinged Doors
1. Coleman Octagon Tent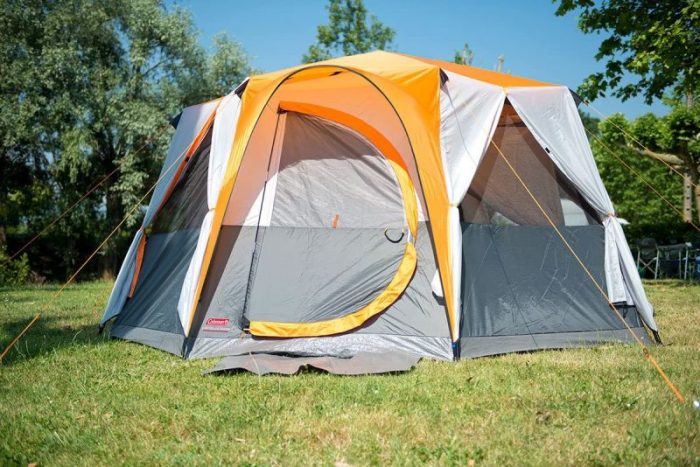 I've been quite enamored with this tent. I'd like to pretend it's all due to the features it offers. However, if I'm being honest, the answer lies in the looks of this tent. The octagonal shape goes pretty well with this tent and Coleman has used the design pretty effectively.
Coleman Octagon Tent looks pretty and the color scheme suits it nicely. Coleman calls it "the glamping tent", perhaps due to the yurt-like shape. Like the name implies, the tent has eight sides.
Six of these sides can be opened completely. Sheets on each of these sides can be pulled aside like curtains to have a full view of the surroundings. In that sense, it takes on an appearance quite similar to yurt-style glamping tents. A fine mesh covers the main body of the tent, so opening the sides won't let bugs into the tent.
So while six sides can be opened this way, the other two sides feature Coleman's patented hinged door system. These swinging doors make it easy to get in and out of the tent. The presence of two doors means that if you choose to partition the main room, each side gets its own door.
Specifications And Other Features
Coleman Octagon Tent has fairly good waterproofing. The sheet covers the sides, and a small awning hangs over the doors for some protection against rain. Additionally, the PE integrated groundsheet keeps the base of the tent dry.
This is advertised as a 6-8 person tent. A removable partition curtain is included in case you want to divide the space into two rooms. Velcro is placed around the hinged doors so they open and shut like they're intended to. You'll have to be a bit gentle, but the swinging door is an amazing experience by itself.
Octagon Tent is also available in a blackout design where the tent blocks most of the sunlight. That way, the interiors remain dark and the inside doesn't get overly bright in the day.
Pros
Spacious tent
Good looks and design
Fairly good waterproofing
Easy to set up and includes shock-corded poles
Cons
Best used in mild weather, as the tent has troubled with wind
Slightly heavy at 46 lbs
2. Coleman WeatherMaster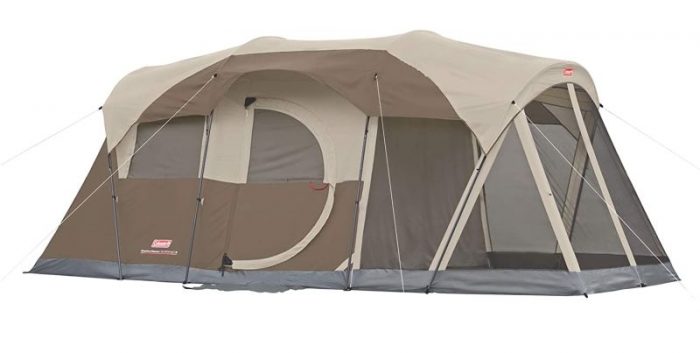 Coleman WeatherMaster 6-person tent is the editor's choice for this category. Though it doesn't have the glamorous look, it wins on its usability. The WeatherMaster has been a workhorse for a long time now, and it has proven itself worthy.
Its hinged door sits at the middle of the tent (by length). Practically, it enters the main room of the tent and is placed at the end of the screen room. The rainfly covers the tent's mesh roof astutely and even makes a small awning over the door. Windows on the tent are angled to improve circulation and to let rainwater flow-off easily.
Specifications And Other Features
Coleman WeatherMaster is built upon the company's WeatherTec technology. The system is designed to keep the tent waterproof and afford better protection against the weather. This includes taped seams, welded bathtub floor, and a wind-responsive frame. The tent fabric is polyester-coated and is made from anti-wicking fabric.
While I love that the tent has a screen room, it's disheartening to see the lack of a floor on the screen room. It is understandable because the screen room is bound to get wet when it rains. The shape of the tent ensures that rain will enter the screen room.
The main room of the tent measures 11 x 9 feet and has a center height of 6-feet and 8-inches. Its screen room is smaller at 9 x 6 feet. All windows and the screen room are covered in mesh to keep no-see-ums at bay. Interiors of the tent include small mesh storage pockets. An e-port is also available.
It's the classic Coleman hinged door tent and includes well-positioned velcro panels to get the most out of this tent. The door is also waterproof and well-protected from the rain.
Pros
Spacious, two room tent
Includes a screen room
Excellent waterproof and soundproofing
Good value for money
Cons
No floor on the screen room
The tent can benefit from better quality stakes
3. Coleman Tenaya Lake Lighted Fast Pitch Cabin Tent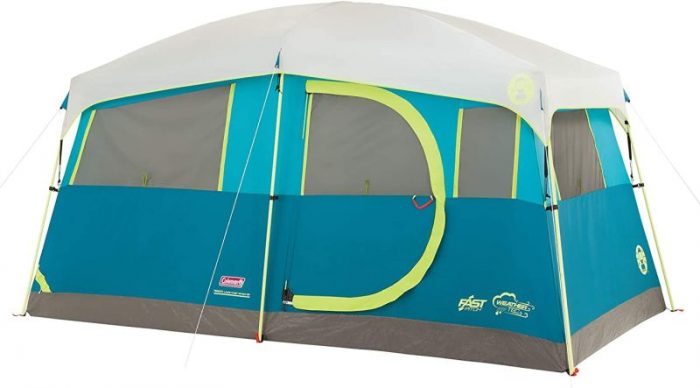 It may not be an instant tent with hinged door, but the Coleman Tenaya Lake Fast Pitch Cabin Tent can be set up quickly. This is a well-loved and well-regarded tent with plenty of positive features.
Coleman Tenaya Lake is a tent with hinged doors, which is why on this list. However, the most lovable feature here are the built-in closets with shelves and a hanger bar. Setting up the cabinets is optional, but they can be added as two little tents on the side of the tent.
Specifications And Other Features
Though it isn't an instant tent, Tenaya uses Coleman's fast pitch system and can be set up in less than 10 minutes. This is a good time for the tent available in 6-person and 8-person variants.
It uses Coleman's well-regarded WeatherTec system for weatherproofing. However, I'd say this tent is best suited for mild weather. Even though it has the bathtub floor and welded seams, it won't do well in heavy rain. Its cabin-design can't take gusts of wind either. Officially, it should be able to withstand winds up to 35mph, though I guess that's more an "under lab conditions" thing.
The six-person, hinged door tent measures 13 x 9 feet and each closet covers another 2×2 feet.
Pros
Small closets for easy organization
Spacious design
Built-in overhead LED system (8-person variant)
Cons
Waterproofing best suited for mild rain
Can have trouble with wind
See pricing and offers for this tent
4. Coleman Elite Sundome 6 Person Tent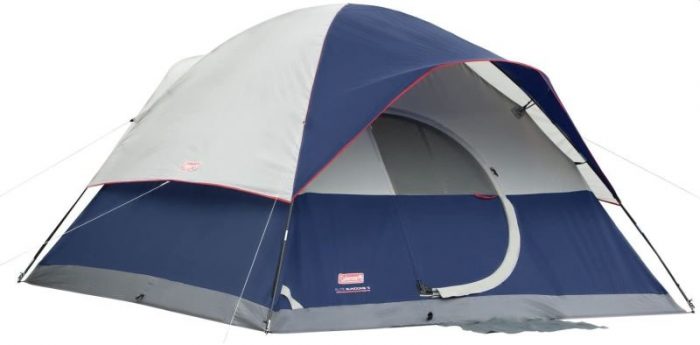 Coleman Sundome is one of the most popular offerings from the brand at the moment. It's very well priced and also offers a great quality – now that's the combo we all want. The dome-shaped tent is adept at handling rain and wind and will keep its users very comfortable.
There are just two windows on the tent, though they offer good ventilation working together with the ground vents. It's fairly lightweight for a six-person tent and can be moved around with some ease.
Specifications And Other Features
The tent has self-rolling windows covered in no-see-um mesh screens. Two doors provide access to the tent, one of which is a hinged door while the other is the conventional zipper door.
As for weatherproofing, it uses Coleman's WeatherTec system. The bathtub floors with welded seams are made from 1,000D polyethylene to ensure that the tent floor stays dry. Its rainfly is made from 75D polyester taffeta, while the inner tent is a 68D polyester mesh.
The tent includes a built-in LED ceiling light with three settings – high, low, and nightlight. The maximum output from the light is 100 lumens.
Coleman Elite Sundome has a base measuring 12 x 10 feet and a center height of 6-feet. A partition can be set up to divide the tent into two rooms, though only one gets access to the hinged door.
Pros
Excellent value and pricing
Good protection from rain and wind
Built-in LED light
Spacious
Cons
The ventilation doesn't quite work as well in hot weather
Fiberglass poles can be somewhat questionable in support
See buying options and discounts
5. Coleman Montana Tent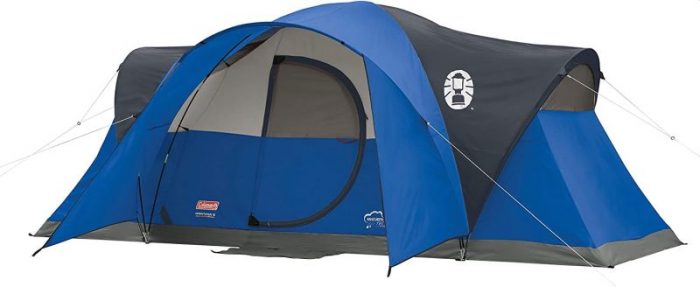 In terms of appearance, Coleman Montana is quite similar to the Coleman WeatherMaster in appearance. It has largely the same overall shape including the angled windows and location of the hinged door. In fact, the awning is a bit wider and affords greater protection to the hinged door.
Specifications And Other Features
Coleman Montana claims to be weatherproof, including protection from rain and winds up to 35mph. It might be able to withstand the wind, but doesn't quite hold back the rain. In a bid to go lower on the cost, the tent appears to have lost some of its waterproofing goodness.
As for specifications, as an eight-person tent, this one has an area of 16 x 7 feet and a center height of 6 feet and 2 inches. Small storage pockets are available near the base of the tent. Montana is also available with a built-in lighting system.
Pros
Low cost and good value
Comfortable and spacious
Acceptable ventilation
Cons
Doesn't hold up very well in heavy or sustained rain
Questionable longevity
A Quick Note On Coleman Hinged Door Tent
You may have noticed, the recommendations here are all about Coleman hinged door tents. The reason this company dominates the list is because they hold a patent to the system. While some others that have managed to get working hinged doors in action, many aren't quite there yet.
Coleman appears to have hit it big with these doors. They aren't in all their tents, but they are quite popular. It's one of those little changes you never knew you wanted until you experienced it.
Operating Hinged Doors On Tents
Tents with hinged doors use velcro to stay in position. It's a useful and excellent choice, but it requires some care. The tents are sturdy enough to not get torn away with some rough use. But no material stands to prolonged abuse.
While these very much do like to behave as if they're real doors, they aren't real doors and some caution should be employed while using them.
Most hinged doors also have zippers on the inner enclosure. This is to ensure that you can keep the tent shut and prevent unwanted visitors. Overall, the hinged door design is quite functional and very useful.
Choosing The Tent You Want
Hinged doors add value and usability to tents. Of course, this shouldn't be your only criterion, but most tents with hinged doors tend to be fairly useful. It is probably the fact that this technology hasn't seen widespread use across brands that has kept the dependability somewhat better. In any case, the easily moved doors are very useful and functional.
My top recommendation for a hinged door tent is the Coleman WeatherMaster. If you're looking for other options, take a look at the Coleman Octagon Tent, or scan the list above!